On their Instagram in early July, Roy's Art Fair announced the winners of their Degree Competition. Set up in May to help support the art degree graduates of 2020 who had their final year shows virtualised or cancelled, the prize offered much-needed promotion to young artists.
Here at Art Plugged we were lucky enough to talk to Emma Murphy, the marketing manager at Roy's Art Fair, as well as the top three prize winners: Lauren Haywood, Molly Kent, and Martyna Taraszkiewicz.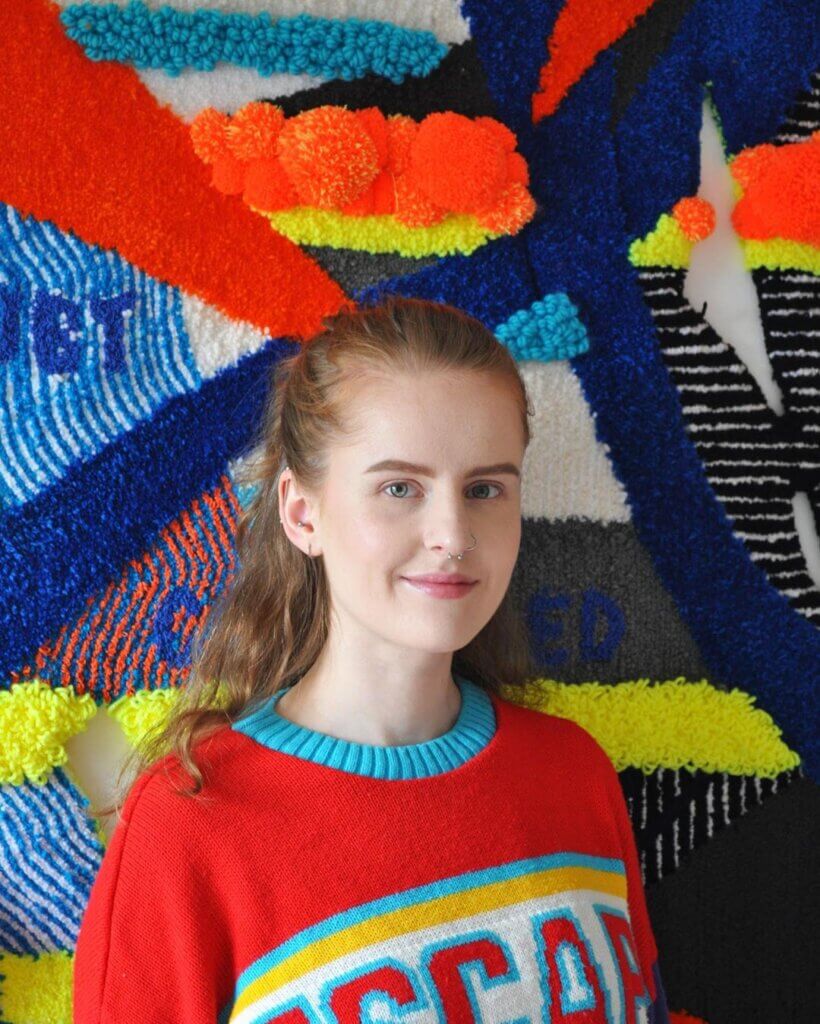 Q: First thing's first, introduce yourself! What do you make, how do you work?
A: I am a fibre and installation artist based in Edinburgh, Scotland. Through 'rug tufting', my work represents doubt in the digital age. Utilising glitch art's visual aesthetic, I intend to portray contemporary existence regarding social-media and internet living. Pieces intend to overwhelm the senses, mirroring the feeling of doubt, through the juxtaposition of colour, phrases and form. Taking the domestic form of the rug and shifting it in presentation, the objects she makes climb walls, morphing before us resembling viral/bacterial forms. This plays on the idea that doubt can be perceived as a disease that, over time, shifts and morphs to continue its hold over us.
Currently, I produce rug tuftings. Traditionally a craft, I have taken this medium into the world of fine art. The process includes repeatedly punching yarn and fibre through a backing fabric to build up areas of different colour, textures and heights to create colourful and often organic forms. I do this with the use of both machine and hand tools, as well as other fibre manipulations to bring unique surface textures to my work.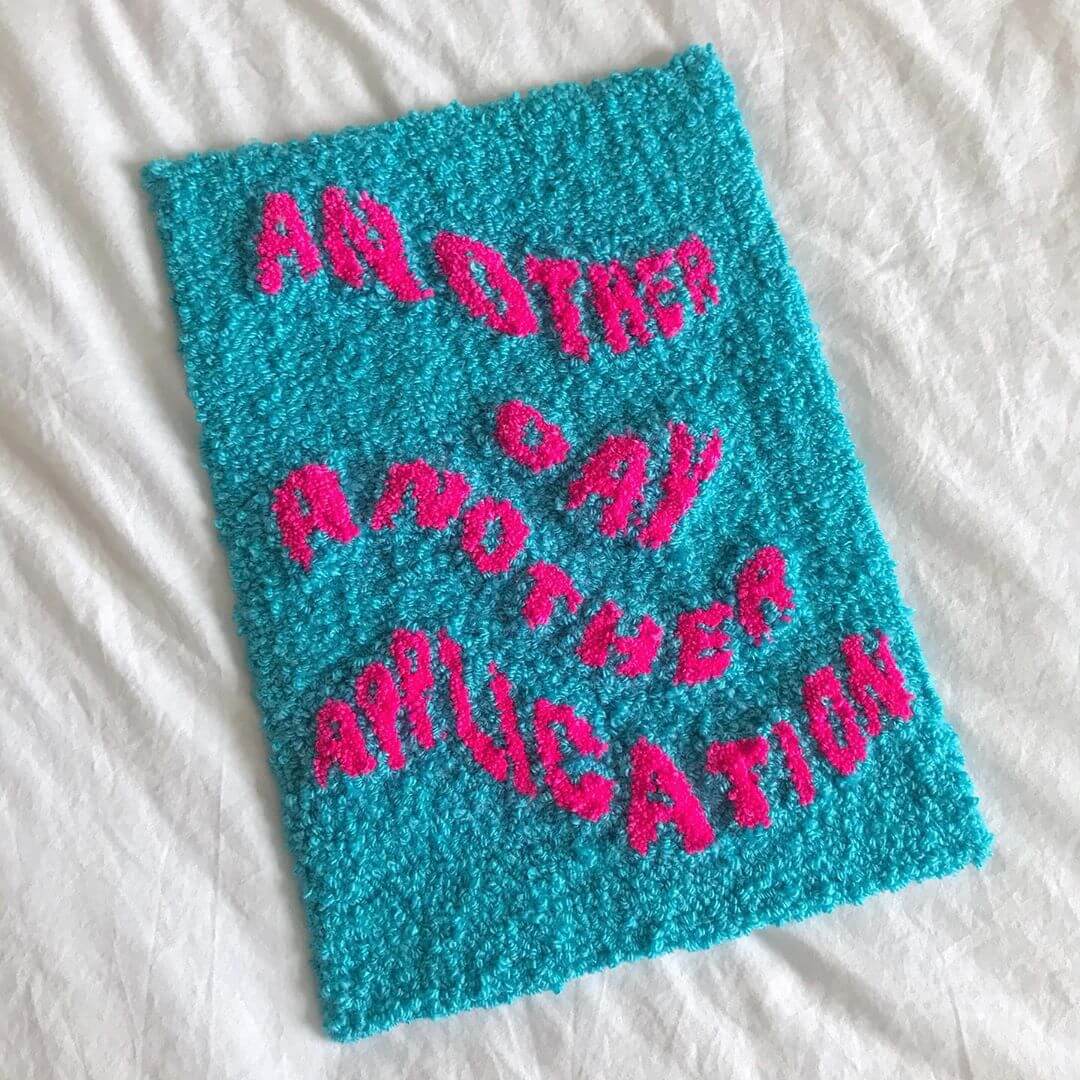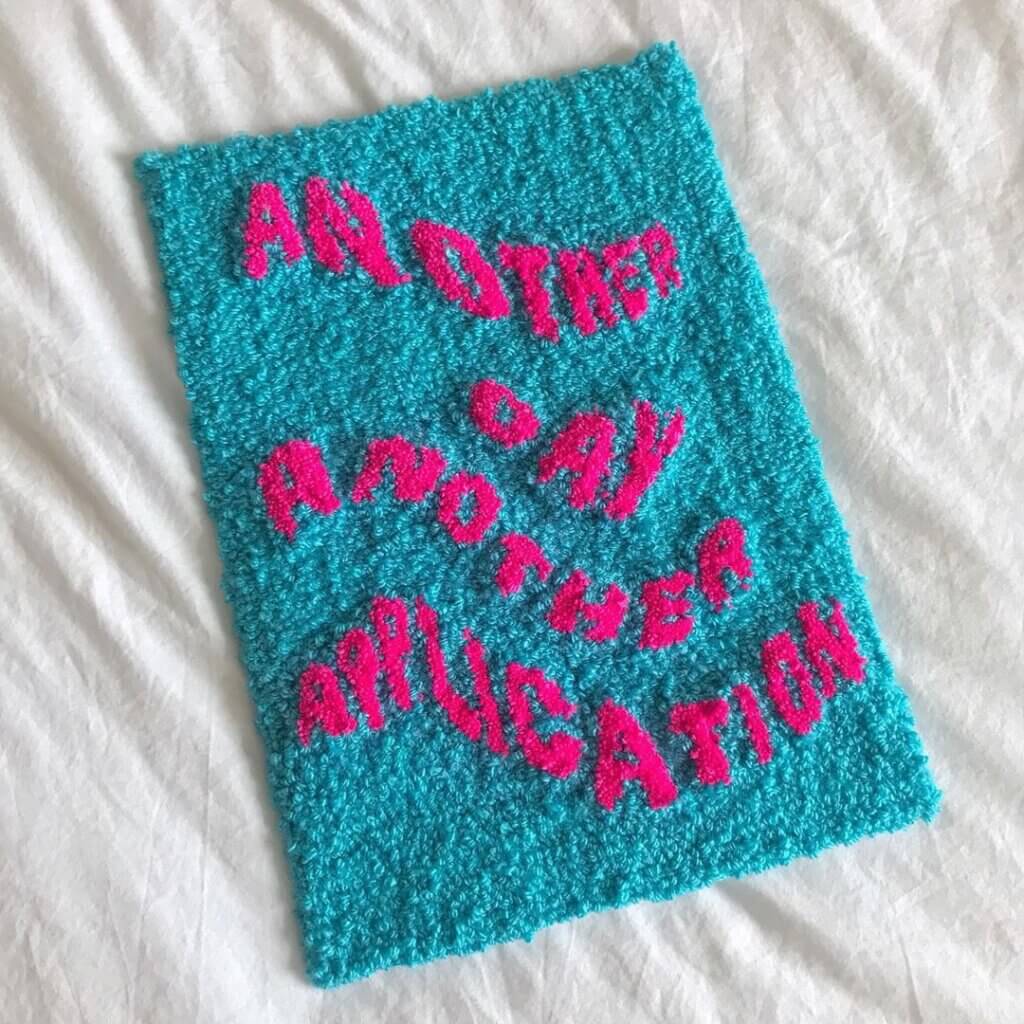 Q: What is your artistic background? Did you enjoy it?
A: I've always been creative but didn't take art seriously until A-Level – that was when university decisions were made. Fine Art was my course of choice, that's when I dedicated myself to art and even more so when starting university. I've enjoyed being creative too and from a young age. I was always painting, drawing and interested in textile crafts towards the end of primary school. Although this wasn't something I reconnected with until my first year of university. This last year I've dedicated myself to art and my chosen process, wanting to understand it as much as possible.
Q: Are there key themes in your work?
A: Key themes would include materiality, emotion (linked to mental health), paradox, colour and conflict.
Q: How did you hear about Roy's Degree Competition? Do you generally like competitions?
A: I heard about Roy's Degree Competition via Instagram. Someone I follow had shared it to their story, so I entered during the first week of the competition! This method is a great way for artists to get exposure, which is especially important whilst graduating. With physical shows and certain award opportunities cancelled, competitions like Roy's have helped create new momentum. However, I don't agree with competitions that carry large submission charges.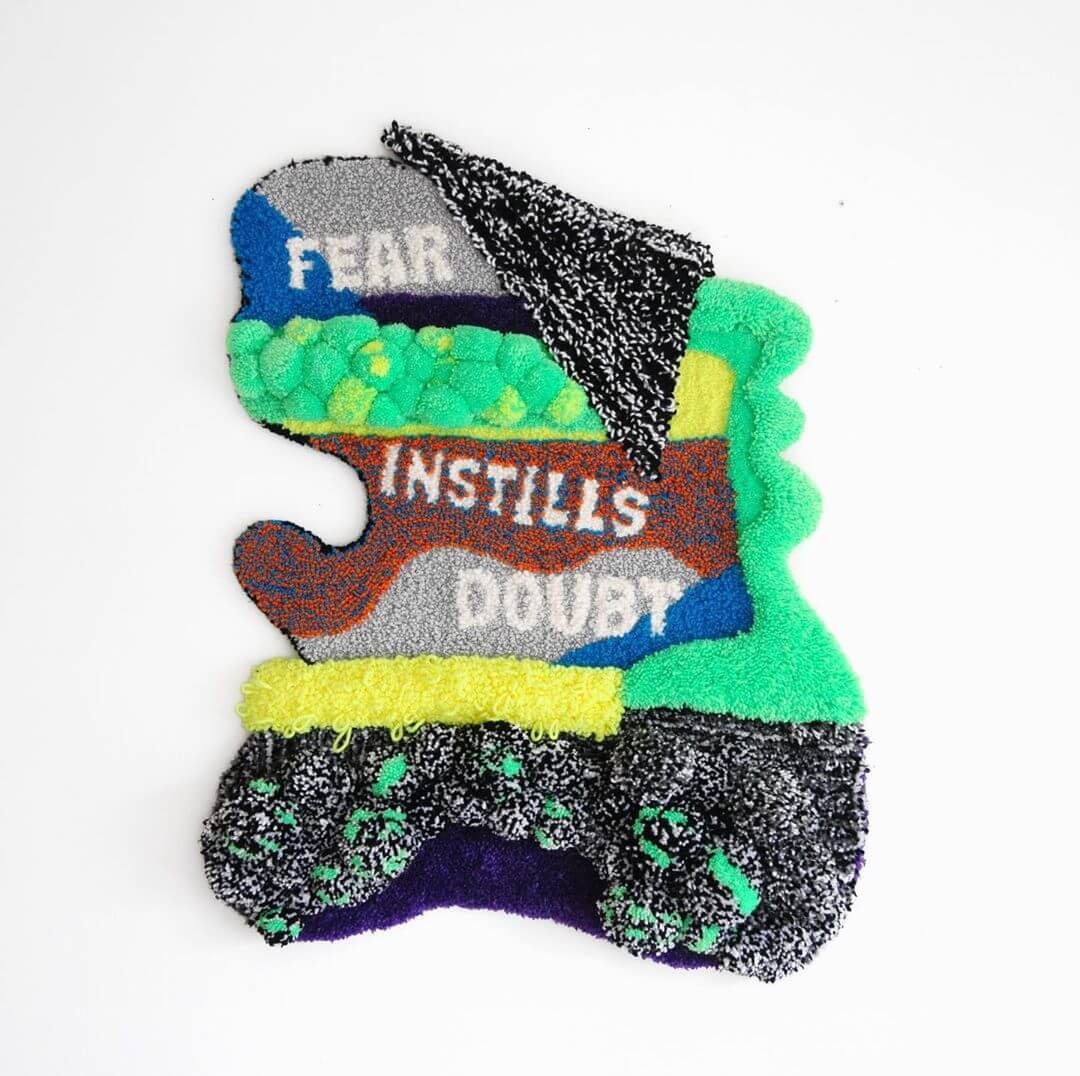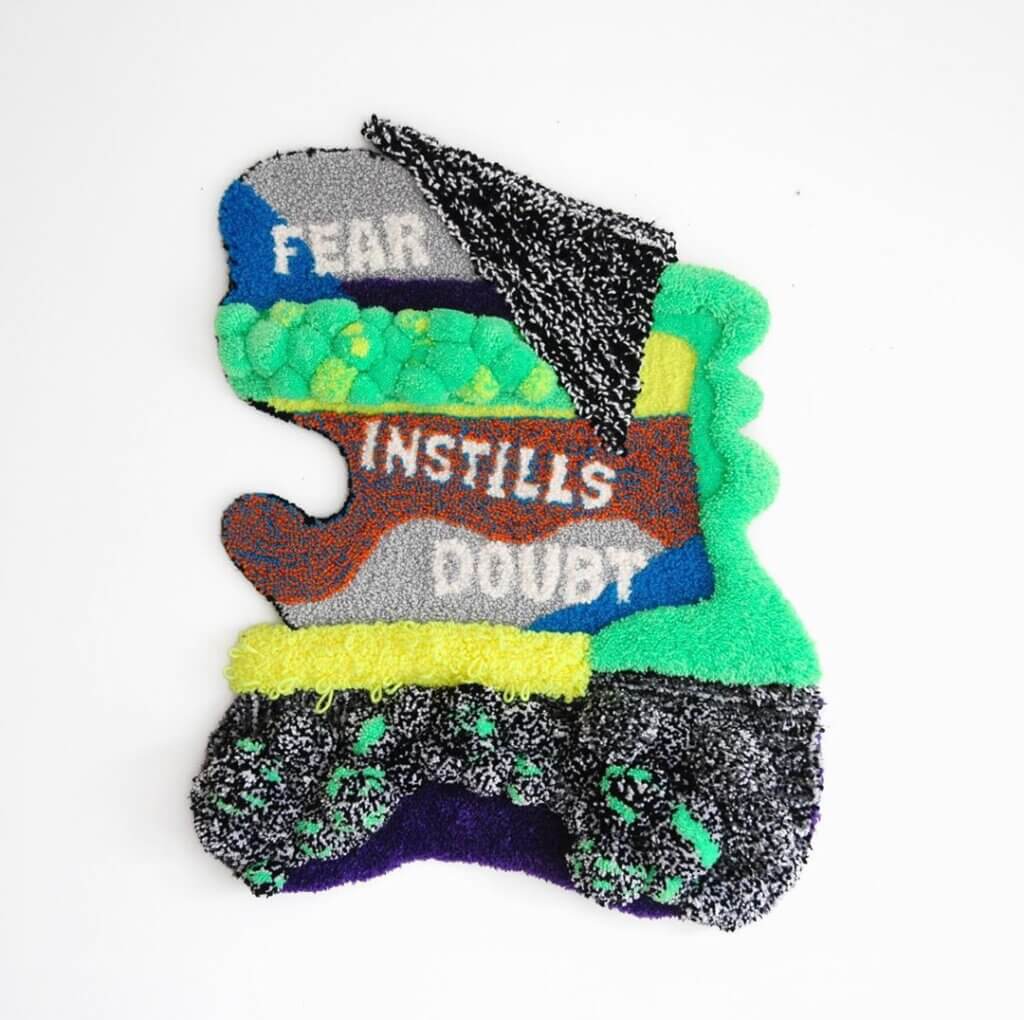 Coming from a working-class background, the prospect of spending cumulative hundreds to enter a few competitions due to prizes isn't one I feel I can make. Large entry charges widen the class gap within the arts and block a proportion of artists from career-advancing opportunities. I understand that charges need to apply for admin fees etc. but certain prizes are unapproachable for large demographics. Roys was perfect because it offered exposure and prizes with no entry fee – as a graduate this is appreciated! It feels like they want to celebrate us.
Q: What's next for you?
A: I'm planning to work part-time and continue practising as an artist, hopefully moving into a studio in the next month or so. I have an exhibition that is still hopefully going ahead later this year, and some exciting projects to work on – including an interview for a book publication. But I will also be applying to other projects to help develop my practice and collaborate with fellow creatives within Edinburgh and beyond.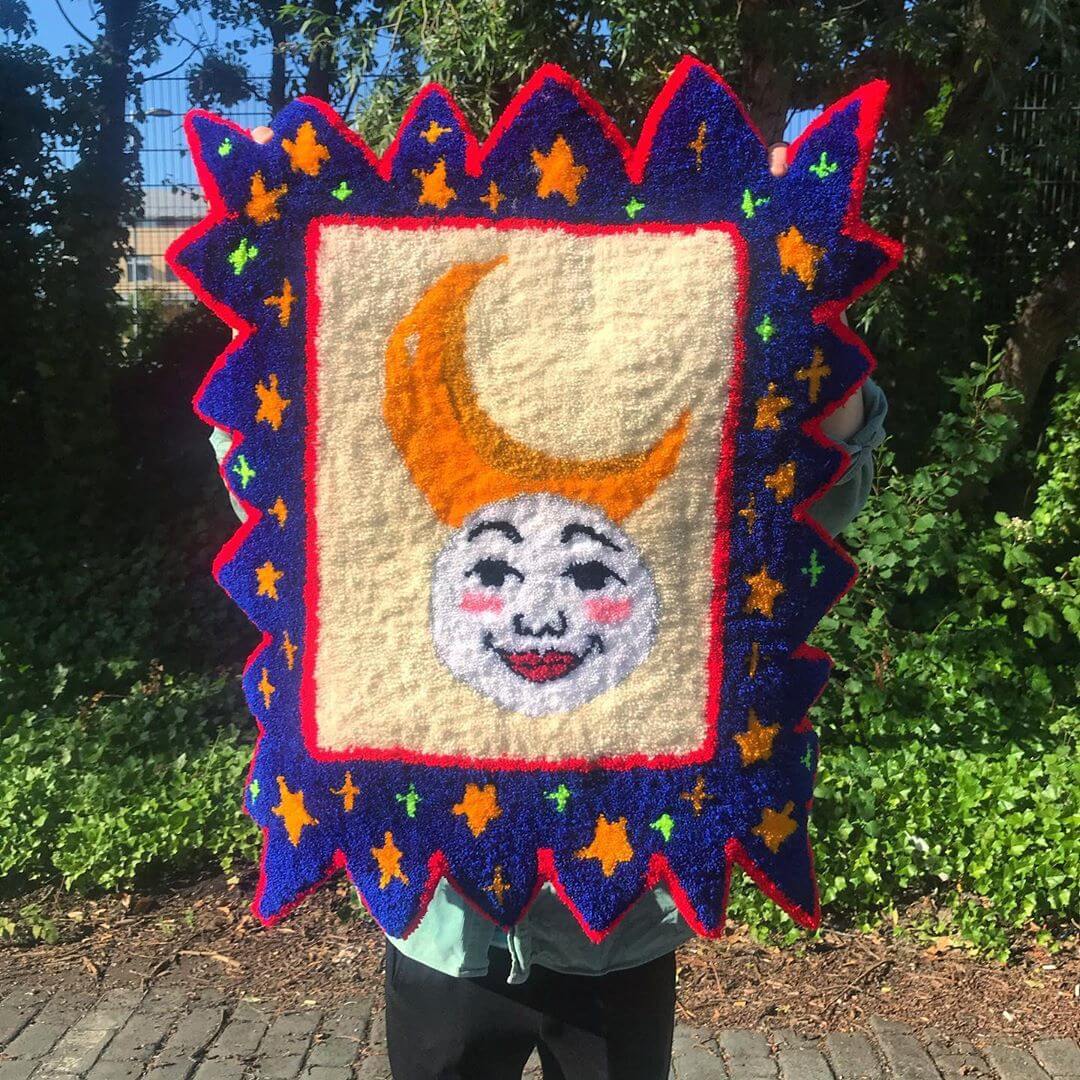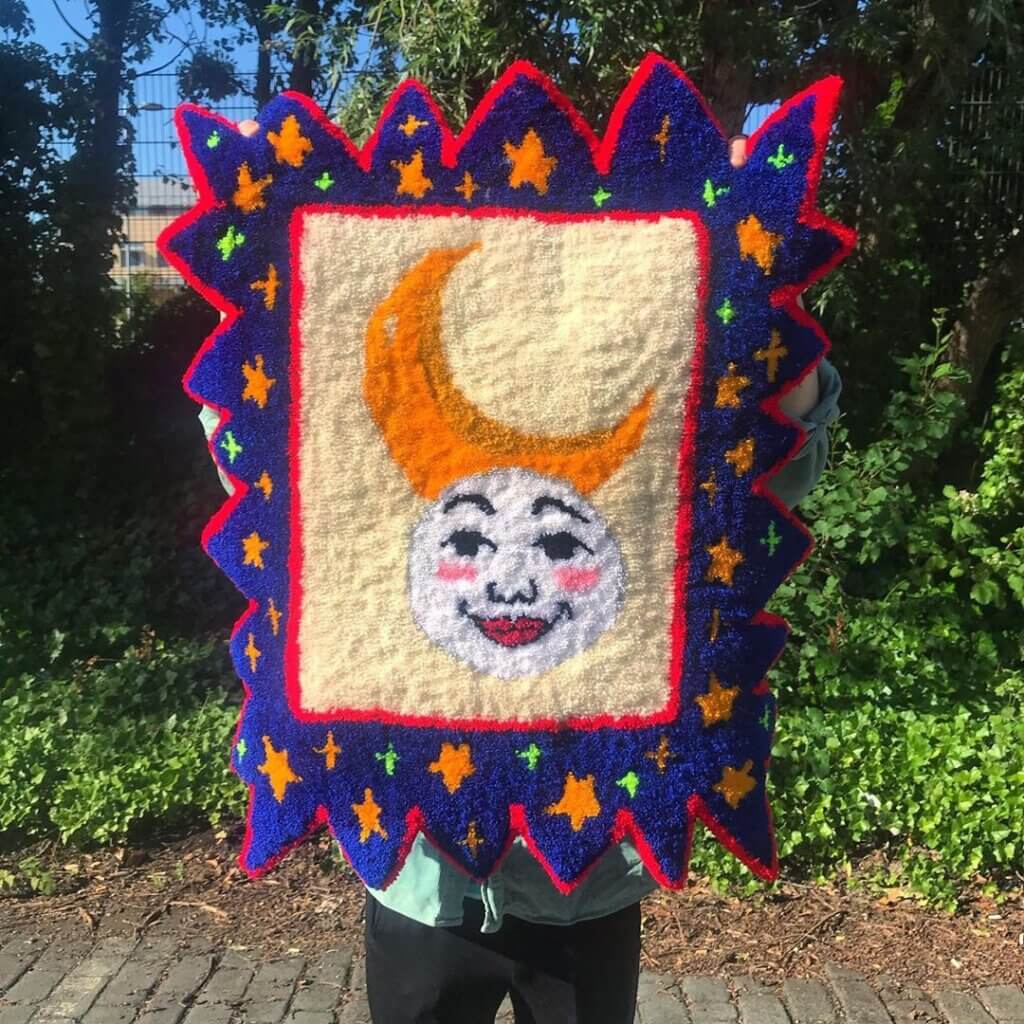 Q: How do you strike the balance between being an artist and being your own salesperson?
A: It's difficult honestly. I need to sell work to support myself, but I'm aware that I don't want to sell out – producing things purely for sale. With online insights its easy to see which pieces, in particular, are popular, and with people reaching out about purchasing work from a particular series sometimes it's easy to get caught up in sales.
Developing my practice can end up on the back burner. At the moment I'm focusing on time management – time dedicated to my practice and set time to focus on marketing. By doing this I can develop a stronger, more holistic series of work that is appropriate for sale through my gallery representation.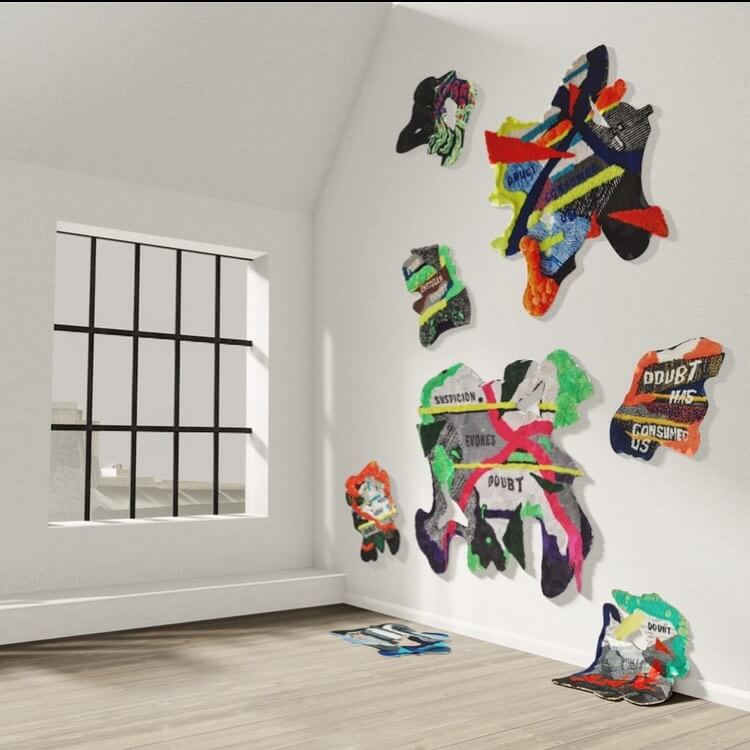 Q: Social Media as a tool for artists – pro or anti?
A: Both. My work explores the negatives of social media, including comparisons between one another and the doubts that stem from this. However, it's been pretty invaluable as a platform whilst I graduate. I've been able to jump straight into selling work – maintaining and income – when physical workplaces are unable to hire, for obvious reasons.
Also, whilst access to studios is still limited, social media has proved a great place to get in contact with fellow artists, keep up to date with one another and it's great to be able to support others even if it's through a screen.
But moderation is important, it can end up consuming you if you're not careful. I do sometimes find myself wrapped up in comparing myself to others, but platforms like Instagram have given me wonderful opportunities, and it's where I currently sell the largest proportion of my work. So all in all, it's a great tool to have.
https://www.instagram.com/mollyhkent/
©2020 Molly Kent