Canadian multi-disciplinary artist Trevor Andrew, otherwise known as GucciGhost, has had an epic—if not one-of-a-kind—journey to becoming a visual artist. He first delved into the subculture of skateboarding, which later evolved into a career as a professional snowboarder. Strapping onto the board, Andrew danced down nature's white slopes, competing in the 1998 Winter Olympics in Japan and the 2002 Winter Olympics in Utah, United States. After multiple injuries led Andrew to retire from professional competition, he turned to music during his recovery, learning to play and produce music; this led him to release music, perform shows, and sign a record deal with Virgin. He re-released his first album, "Trouble Andrew," in 2009.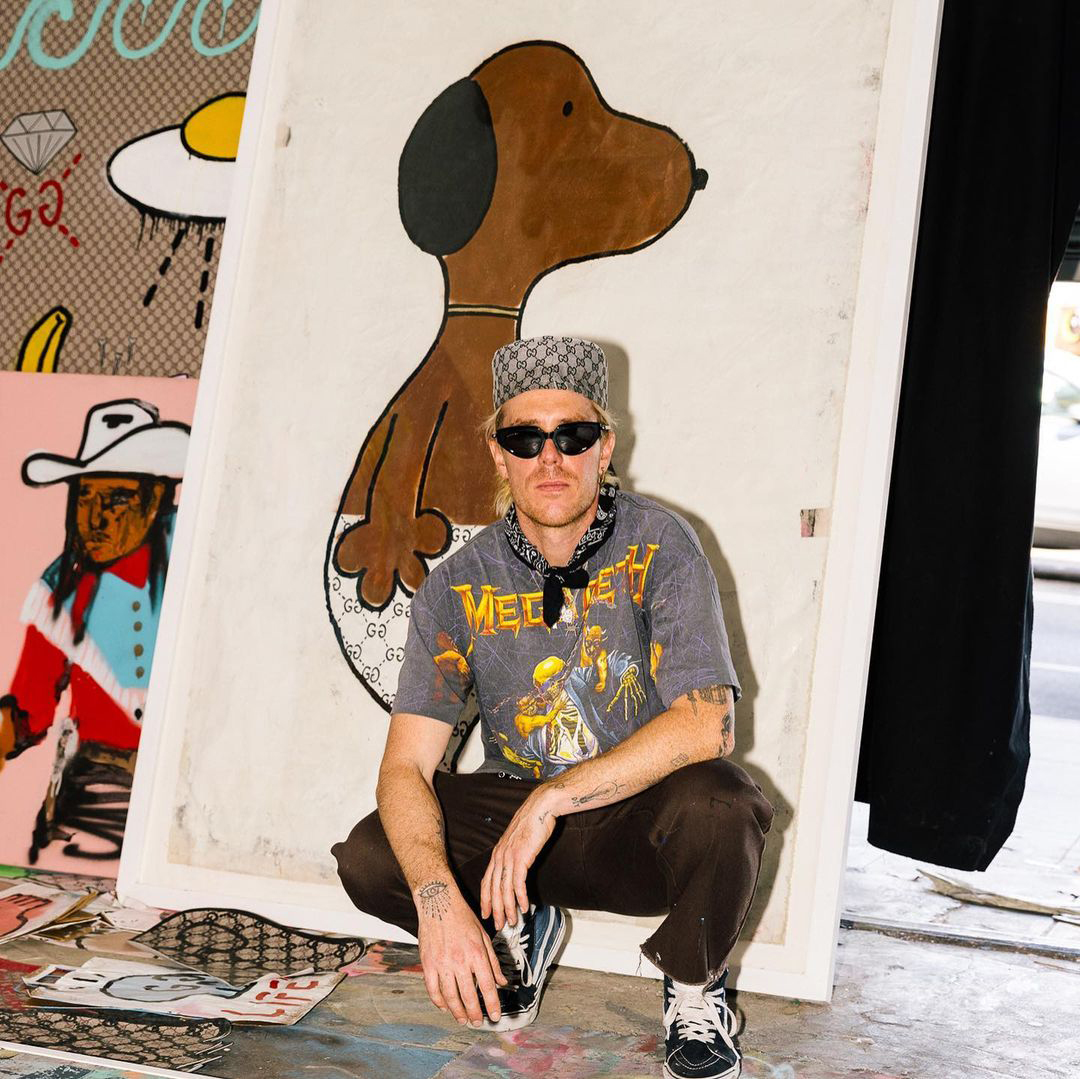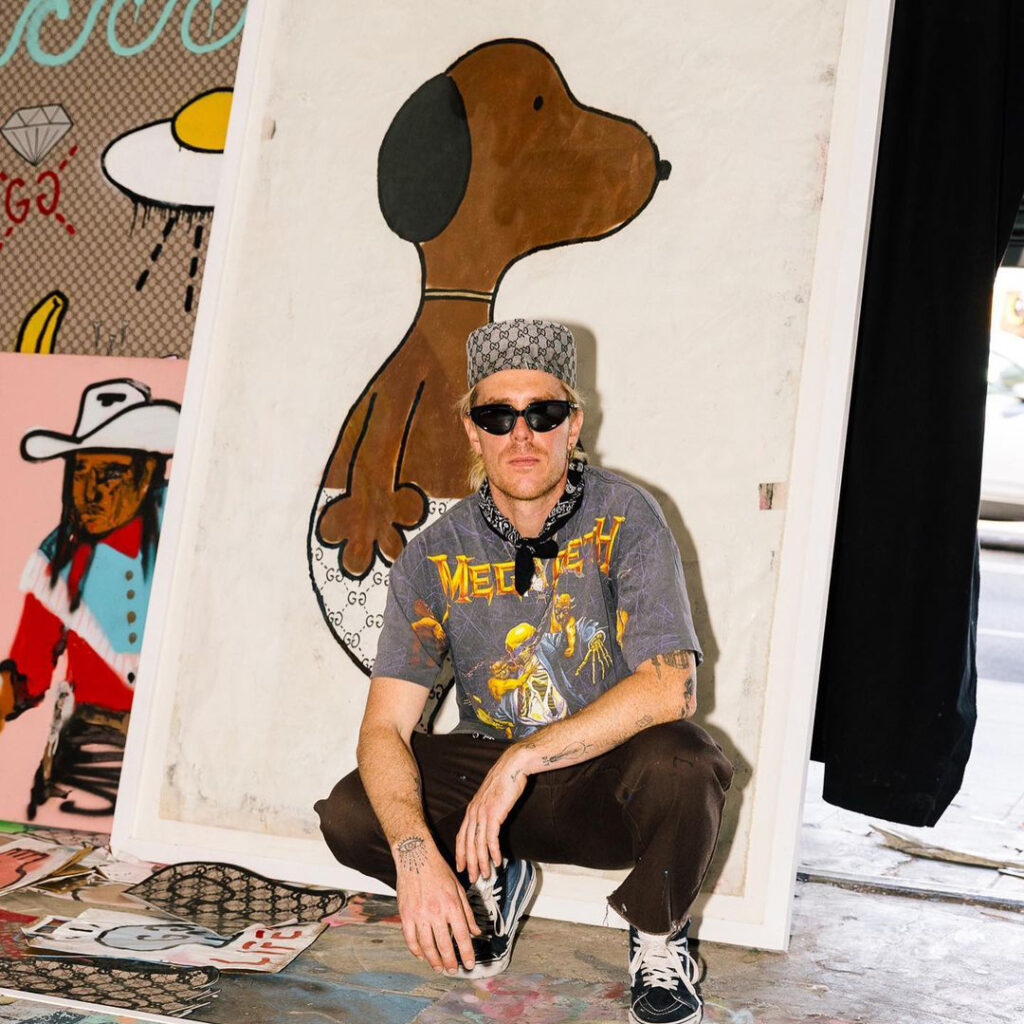 I was committed to making it work. There was no plan B.

Trevor Andrew
In 2012, Andrew conceived the alter ego GucciGhost as a last-minute Halloween costume; he skated through New York's legendary Lower East Side draped in bootleg Gucci fabric with two eye holes cut out. People immediately connected with the idea, shouting "GucciGhost" as they saw the ominous, Gucci-covered figure pass by on a skateboard. Initially intended to raise awareness for his music projects, this night changed the trajectory of his creative career, making Andrew an icon of artistic expression.
Andrew's logo fixation led him to create his symbol: a cartoon Gucci-eyed ghost. He spread it around New York City, marking anything he could find with his ghostly insignia. In 2016, Andrew's creative approach caught the attention of Gucci, kickstarting an ongoing collaboration with the fashion house. A partnership of this magnitude was unheard of at the time, flipping conventional ideas about brand IP and intellectual appropriation on its head, led to products approved by the fashion house, ranging from high-end streetwear and skirts with dripping paint to silver skull rings, graffiti-covered Marmont handbags, NFTs, and digital spaces.
When artists engage with brand iconography, they create a dialogue that extends beyond mere commerce and ventures into cultural production. In its essence, Gucci is not just a brand; it's a testament to timeless luxury, cultural influence, and the power of branding—epitomized by its distinguished GG monogram, where Andrew saw its potency and power as a visual language.
Andrew's work has been exhibited in renowned galleries like Deitch Projects, Milk Galleries, the Modern Art Museum in Shanghai, and the Victoria and Albert Museum, consequently captivating a dedicated community of collectors. His limited-edition releases, ranging from studio-floor-wiped T-shirts to prints, skate decks, and records, become instant collectors' items, often selling out as soon as they are released. Away from art, Andrew has also launched his streetwear-inspired brand, Real Buy.
His creative genius and approach ooze an aura of Warholism as he critiques our relationship with consumer culture, fashion, and art, bending the perception of what is "real" and what is luxury, serving as both a commentary and a reflection on the consumer culture of our time. After ten years since its inception and numerous successful collaborations, he is now retiring GucciGhost.
I managed to catch up with the artist formerly known as GucciGhost at the cultural crucible D'stassi Art during the immersive installation of his first London show, "Bang, Bang," which features his new body of work—an ode to the Western aesthetic that dismantles the archetypal Hollywood cowboy image of the 20th century.
Hi Trevor, How are you doing? Thank you for taking the time to speak with us. Please tell us a little about yourself, your background and what sparked your interest in art.
Trevor Andrew: I grew up in Nova Scotia, on the East Coast of Canada and out in the country. As a kid, my first real window into art was my mom. She was real creative, and she was running around doing like antiquing and going to folk art shows, and I was around all that stuff as a kid seeing Maud Lewis' work and a lot of that stuff that I really didn't realize until I was an adult how much it affected me. That and skateboarding were my window into art in so many ways.
My mom had older guys living at the house, and those guys happened to be really creative, kind of punk rockers, skater-type dudes that exposed me to so much music and videos that brought me in to see the world that I was like, "Oh, I need to get out there and go to these places". And then, just the way of thinking, skateboarding teaches you to be committed, to get one little moment of glory like landing your first Ollie; how many attempts does that take? You know what I mean?
Then also, looking at a blank parking lot and going, "How can I be creative here?" I've applied that type of energy to everything in my life and then just all the amazing art, visual art, music, films, and everything that I absorbed through that I would have probably otherwise never discovered. That's where it started for me.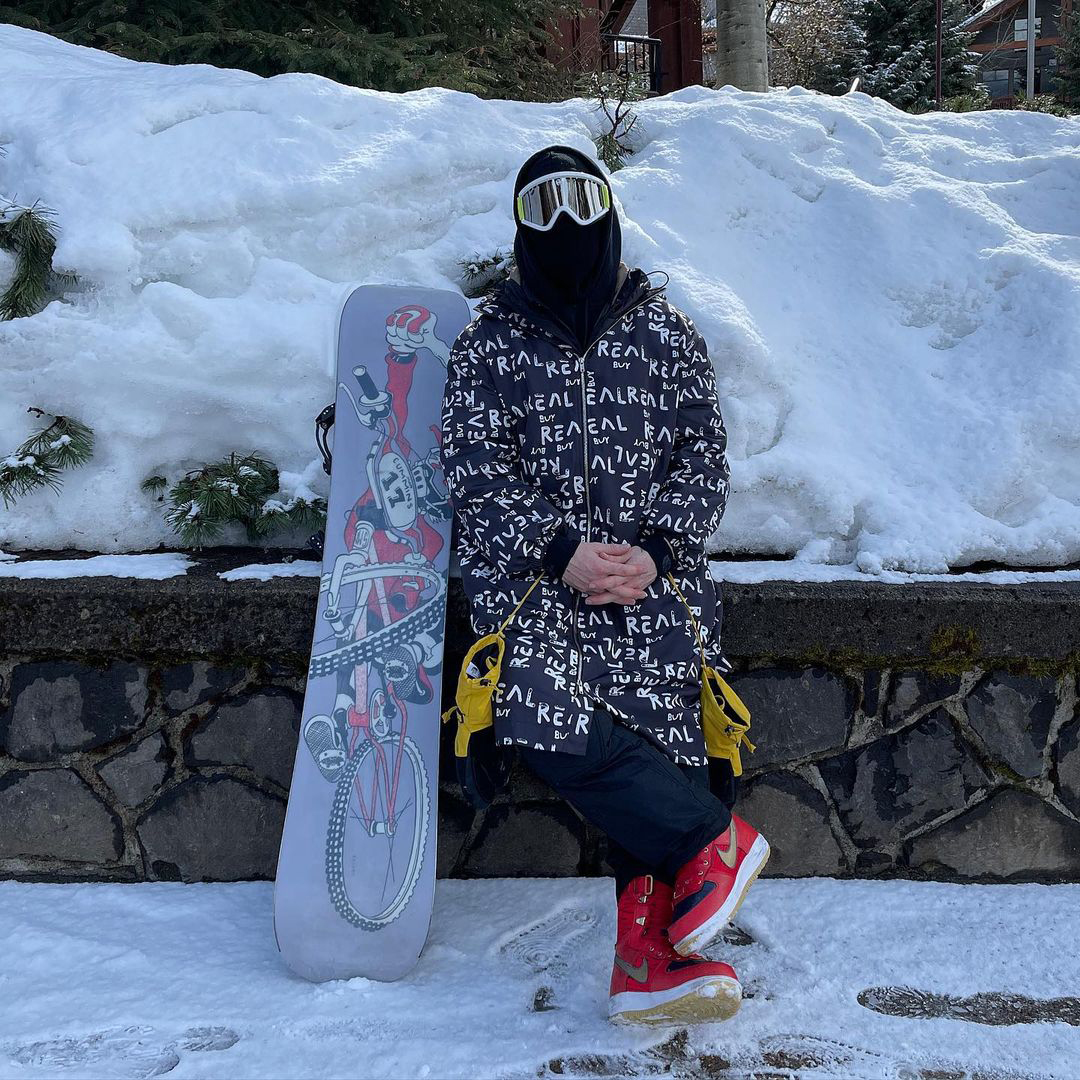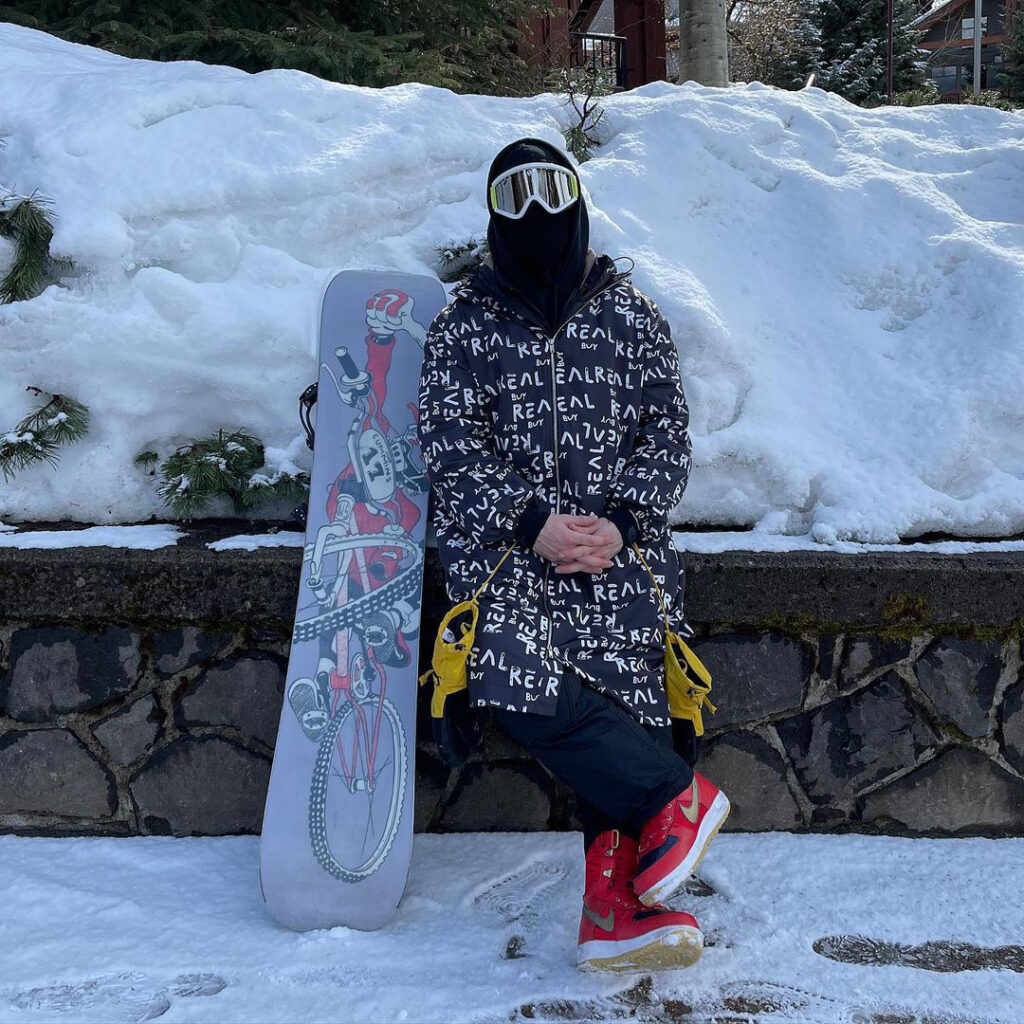 With skateboarding and snowboarding, my mom worked at the little local ski hill in Nova Scotia, and I went there every day after school and then started competing, and those older guys started bringing me around to contest. Then I left home at like 15, dropped out of school and just went for it. I was committed to making it work. There was no plan B.
Can you walk us through your journey from being a professional snowboarder to becoming GucciGhost?
Trevor Andrew: Snowboarding was a big part of my life and was an opportunity for me not only to get out and see the world and be creative on the mountains. It also allowed me to be creative, make my own products, design my own snowboard graphics and clothing and things like that, being put in a position where I was given the freedom to imagine things and had a team to help me bring those to life from there I realize that it all starts with a vision.
I got injured in my snowboarding career pretty bad. It's inevitable as a pro snowboarder. I had a couple of bad injuries: I fractured my back, blew my knee out and broke my leg, then broke all my ribs; after, I healed and got back to it. I knew that there was only a certain amount of time. I couldn't go much further with it. I pushed myself in many spaces within snowboarding contests and backcountry and the films and all that shit. From there, I remember I was going through rehabilitation, and I was in Philadelphia at the time, and I started just fucking around with making music. Because my partner, at the time, had all the stuff at the house, and I never really learned how to play music properly, but it was always affecting me so deeply.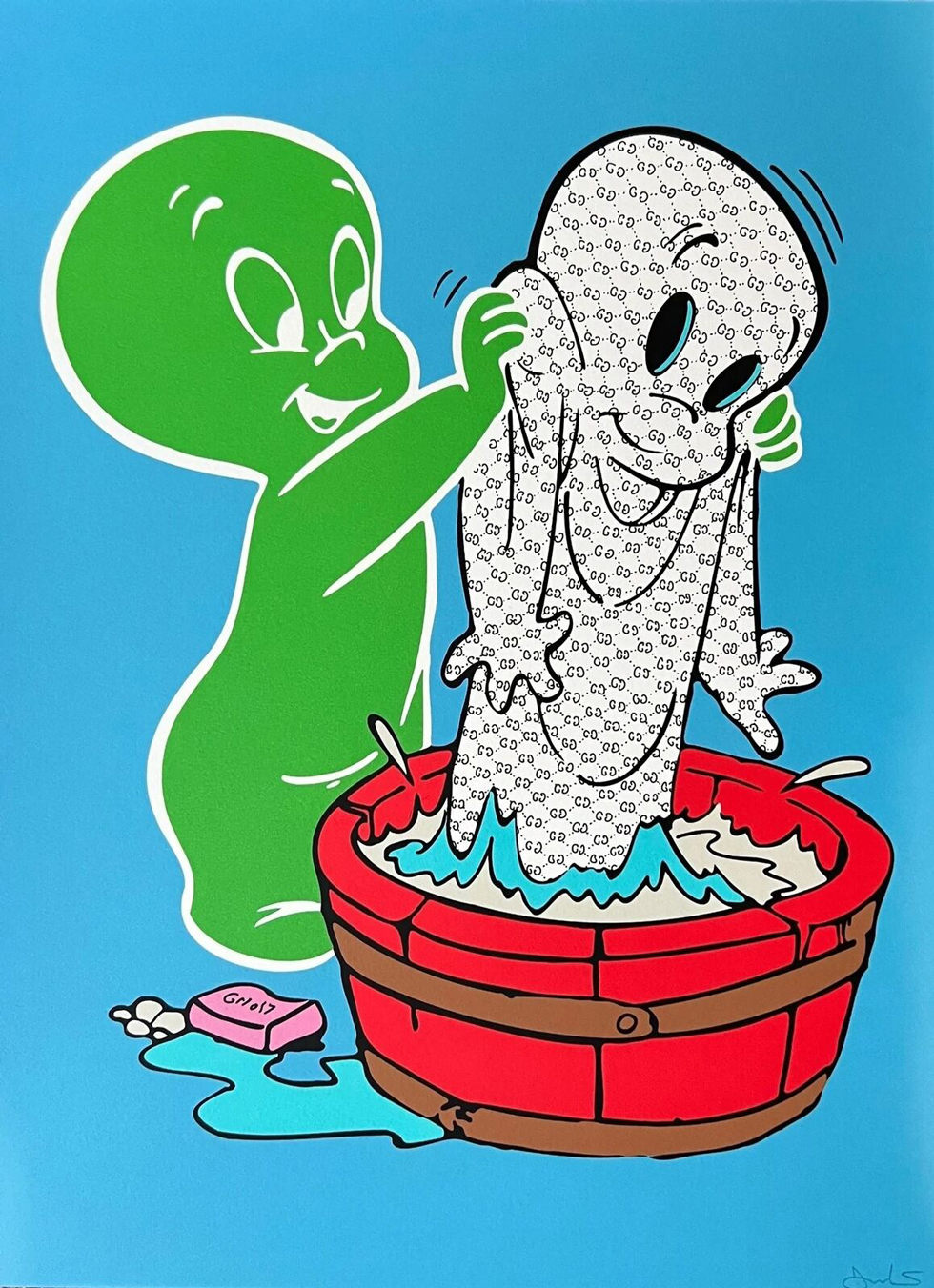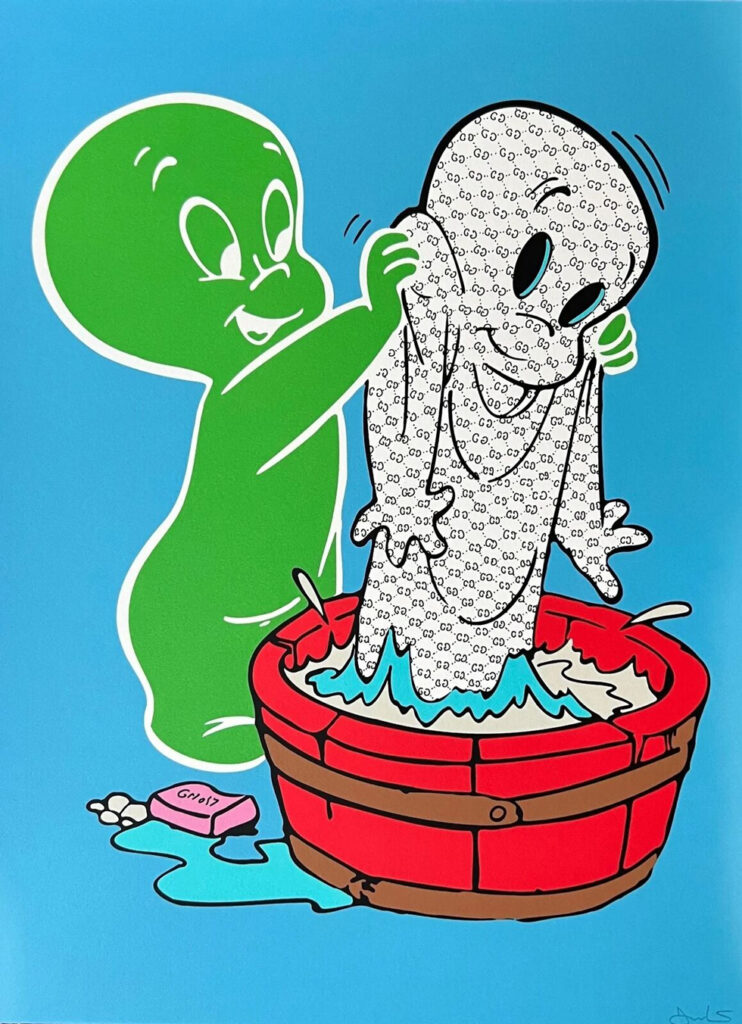 So, when I had all that time to recover, I started making music and recording it, which was my next chapter. I went from snowboarding to making music, putting it out, and then starting to do shows. I put a lot of my energy into that and then started creating this visual representation of the music.
The first project of GucciGhost was a record. A lot of people don't know that, and it was like I did this GucciGhost-themed project, and I was putting all this visual art and videos and putting the shit up in the street to bring focus to music. Then I was reimagining everything around me, all these spaces like my clothes, everything, and then it kind of – it never really – my intention was never to reach Gucci. It was to reach the people and kind of have them take a bit of the power and what's familiar from that logo, twist it out, and reinterpret it, break it down in my own way through a backend little world so that people could then discover my art and my music.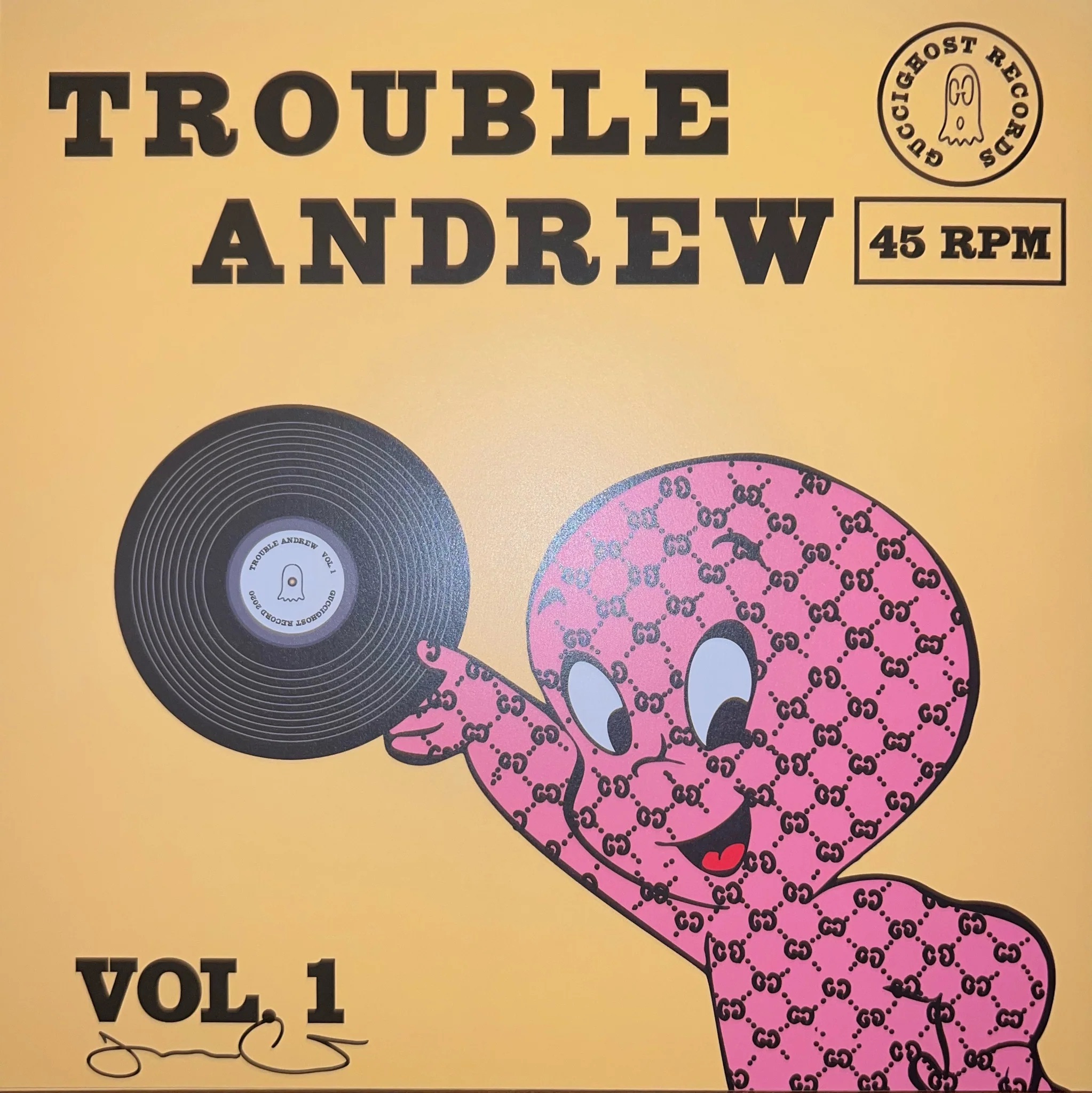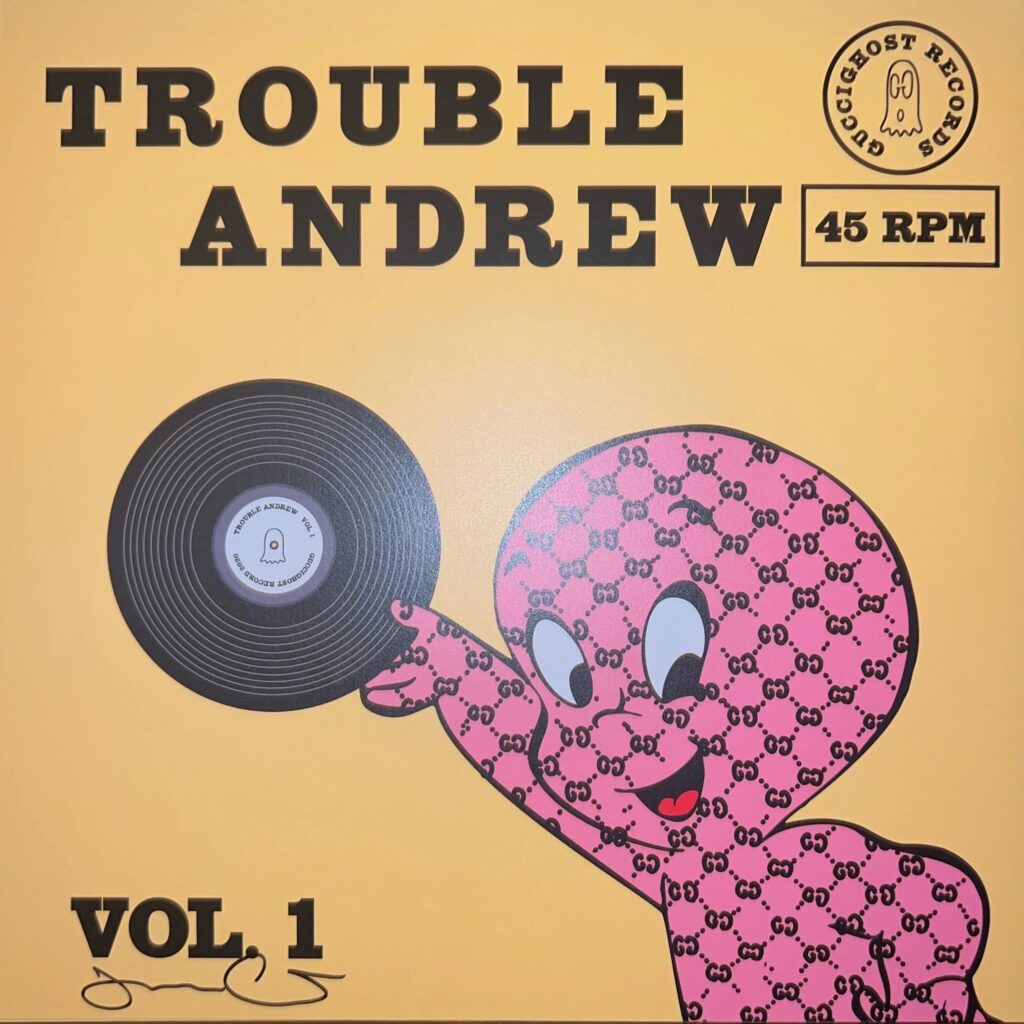 Who or what were your biggest influences during your transition from sports to the arts?
Trevor Andrew: I would say the whole time is just like people – like I said, as a young kid, being around the country and seeing all these folk arts and stuff and like Maud Lewis definitely affected me. Then, as a kid growing up, skateboarding guys like Mark Gonzales. I love what he has done; he has always inspired me. Then I think music and just travelling, just being around – I think as the young guy, being able to travel around the world snowboarding, that helped me get inspired, and I think just the more we get out in the world, the more we are going to grow as people and that we can grow as artists.
Your art has a distinct, raw, and sometimes spontaneous feel. How do you decide which mediums and methods to use?
TA: I reach for what's the most immediate thing; that's how I've always been. I'm pretty impatient; I want to translate a feeling immediately. So if there's spray paint there, if there's a can of house paint, my laptop, my phone, some recording equipment, camera, it's just like whatever is there. That's my process. It's just throwing different things at the wall and experimenting; sometimes, different things resonate at different times. Overall, no real effort to just be creative is never in vain. You do it, and it finds its time.
Continuing on from that, Trevor, can you talk us through you in front of the canvas the ways when you are creating, how do you feel, what thoughts run from your mind, and can you describe your actions and movements during the process?
TA: When I'm painting, there's always music. Sometimes I'll sit there, and I'll stare at a canvas. I'll prime the canvas, I'll stare at it for like a month or two sometimes, and I'll do some other things while I just look at it and imagine something, and sometimes it takes that amount of time for that thing just to go bomb, and then it's a pretty immediate thing, and I bang them out. So when it does feel like that, then I jump to something else, and I don't force the flow. I find the flow by accepting sometimes that even though it has been sitting there looking at me, something else might be easy to pour out of me by just trying a different way, like recording some music or something.
I was not painting for a few weeks recently because I felt slightly burned, so I started to work on a new record instead, which I made in two weeks in my garage, which made me feel refreshed; then I got back to painting again.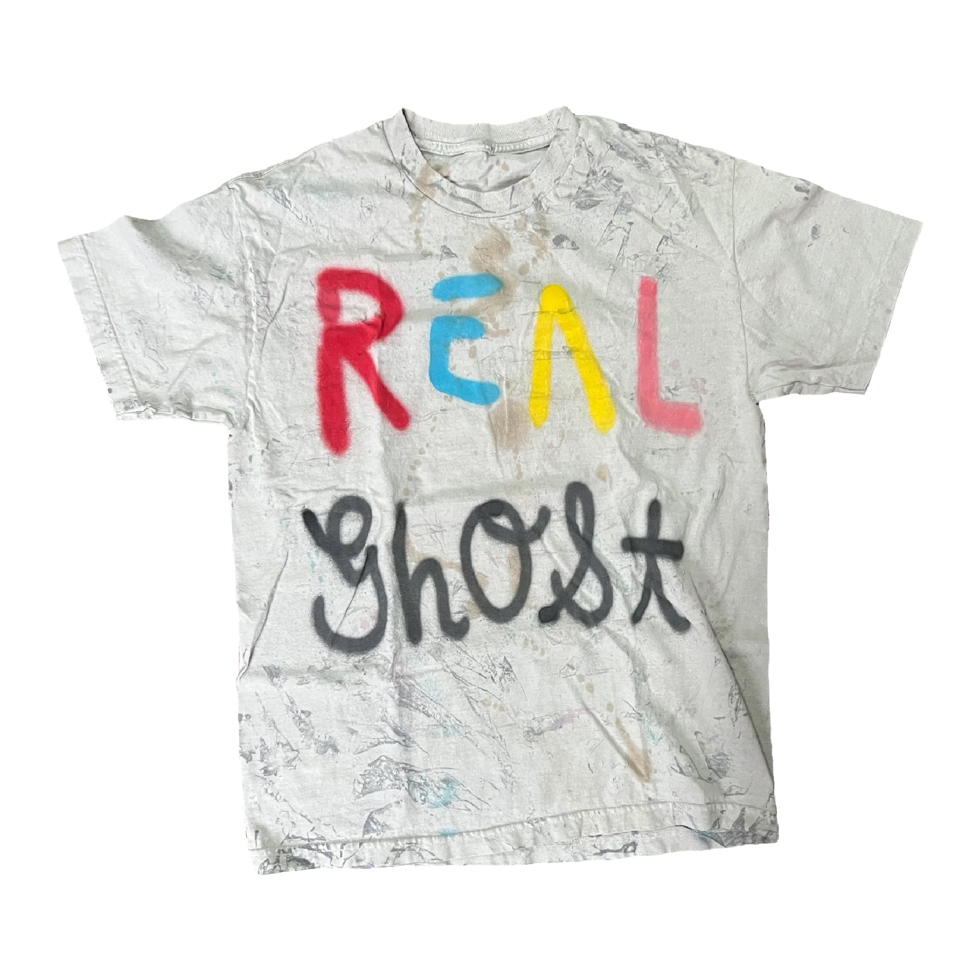 How did your collaboration with Gucci come about, and how has it impacted your personal brand and work as an artist?
TA: At a certain point, I was like three years into that project which became just a multimedium project, that I started going, "Shit! Gucci really should do this shit." At that time, everybody around me was like, "Oh, Gucci will never fuck with you. You're not a famous artist. They don't do collaborations." I was in my mind just like, "Damn! We will just take the right person." Then, three years into the project, I got a call from Gucci saying, "Hey, we want to collaborate with you. Can you come to Rome next week?" because a friend, Ari Marcopoulos, the photographer who is an old friend of mine who I know from snowboard days as he used to come on some trips with me.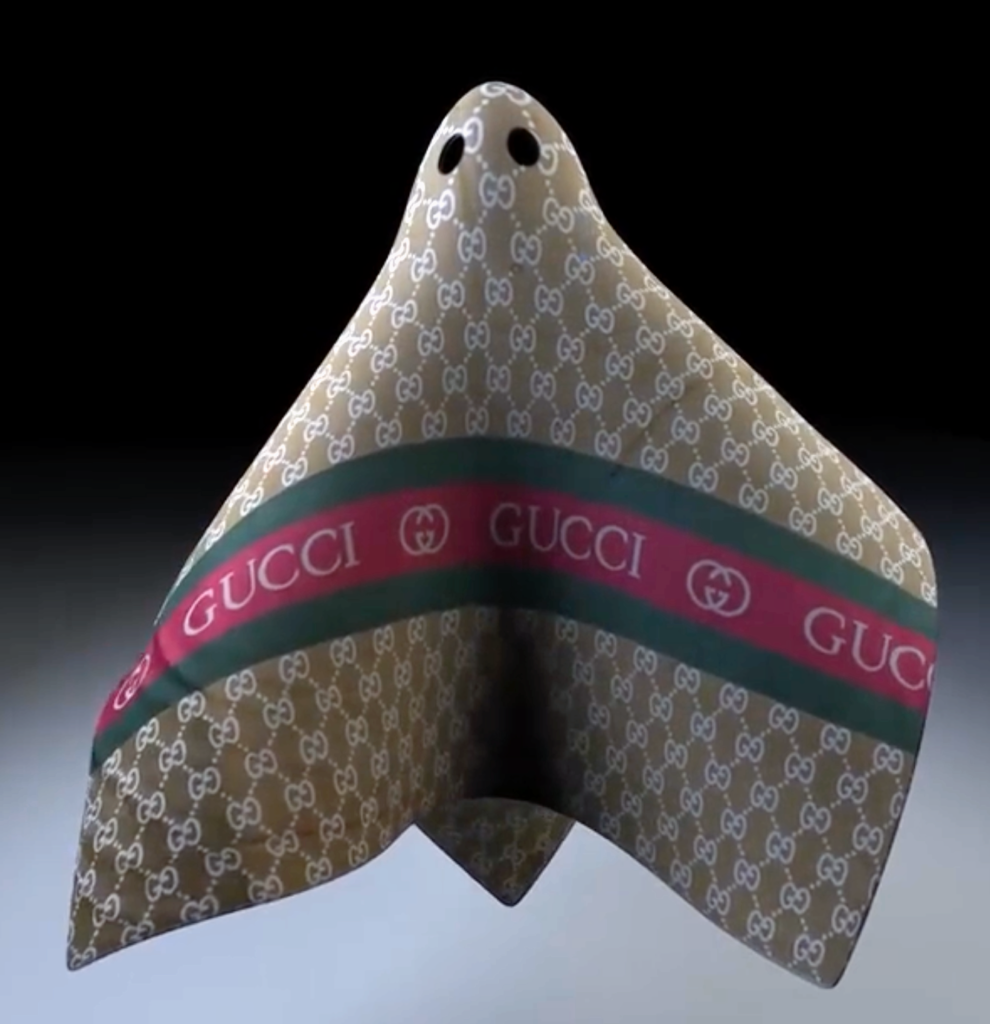 I had lost touch with him from the snowboarding years and probably hadn't seen him in ten years. I Ran into him on Halloween, the night that I actually invented GucciGhost. I had just come back from the Philippines DJ-ing a party at my friend's thing, and I was leaving, and I went to the market, and there was all this bootleg Gucci fabric. I was always into that part of it. When I would go to New York when I was younger, I was going to Canal Street buying the fake Gucci shit. It was more about that. I thought that was more unique and more special in a way. That whole Dapper Dan impact is what really resonated with me with Gucci. It wasn't Gucci Gucci.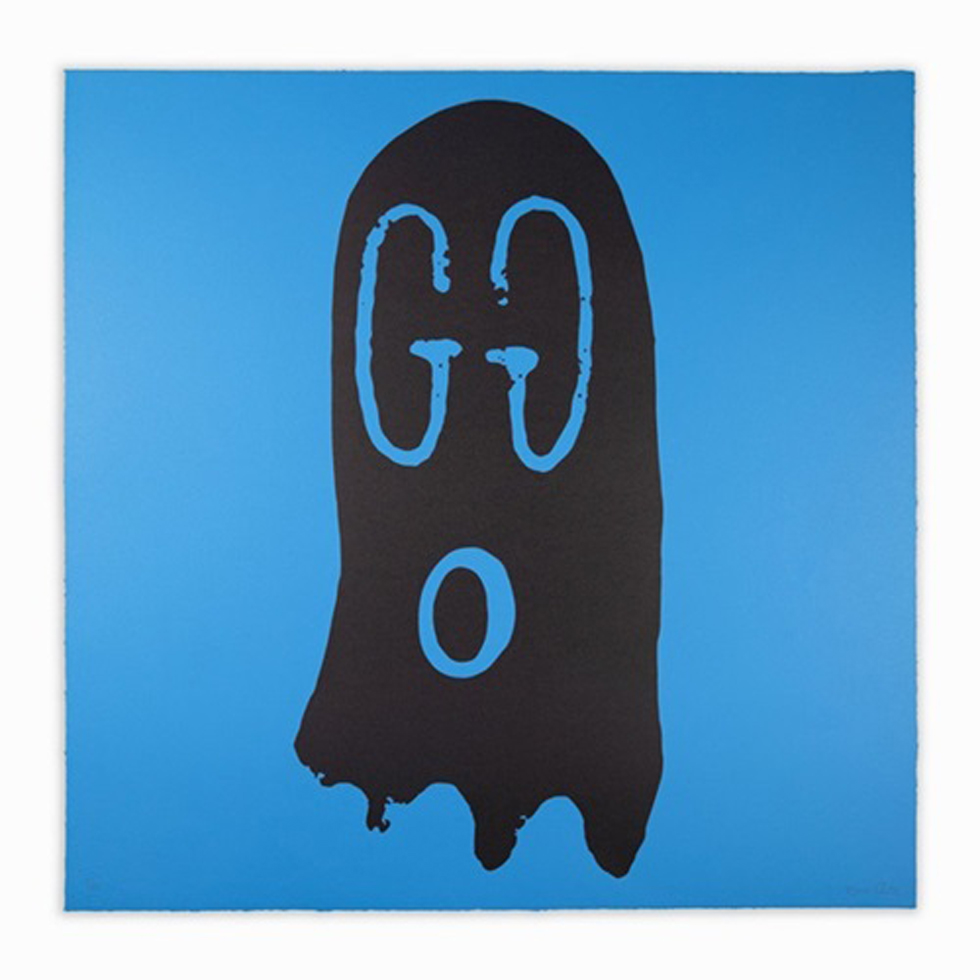 I came back, and it was Halloween two days later. I didn't have a costume, and I just cut the eye holes in the fabric and skated around New York as Gucci Ghost, and everybody immediately was just like, "Gucci Ghost!" which I thought was crazy because it wasn't a thing; people just connected. So I was like, "Oh, shit! I should start drawing this or whatever."
Anyway, I went to this party, ran into Ari, and I was like, "Yo, it's Trev!" and we started hanging out. This was like the first three years of the GucciGhost project. He was coming to the studio shooting this shit. He got commissioned by Gucci when Alessandro first got his job to shoot their lookbook. He was over there and was like, "Yo, have you heard of my friend, Trevor? He has got this thing GucciGhost. You should check it out." He just immediately got it. He was the one that was like, "Oh, yeah. I get this shit." And he was the one who was brave to take the leap of faith with me and go, "Yeah, do whatever you want. Let's go." I went there with three years of work, and since then, it has just been, yeah.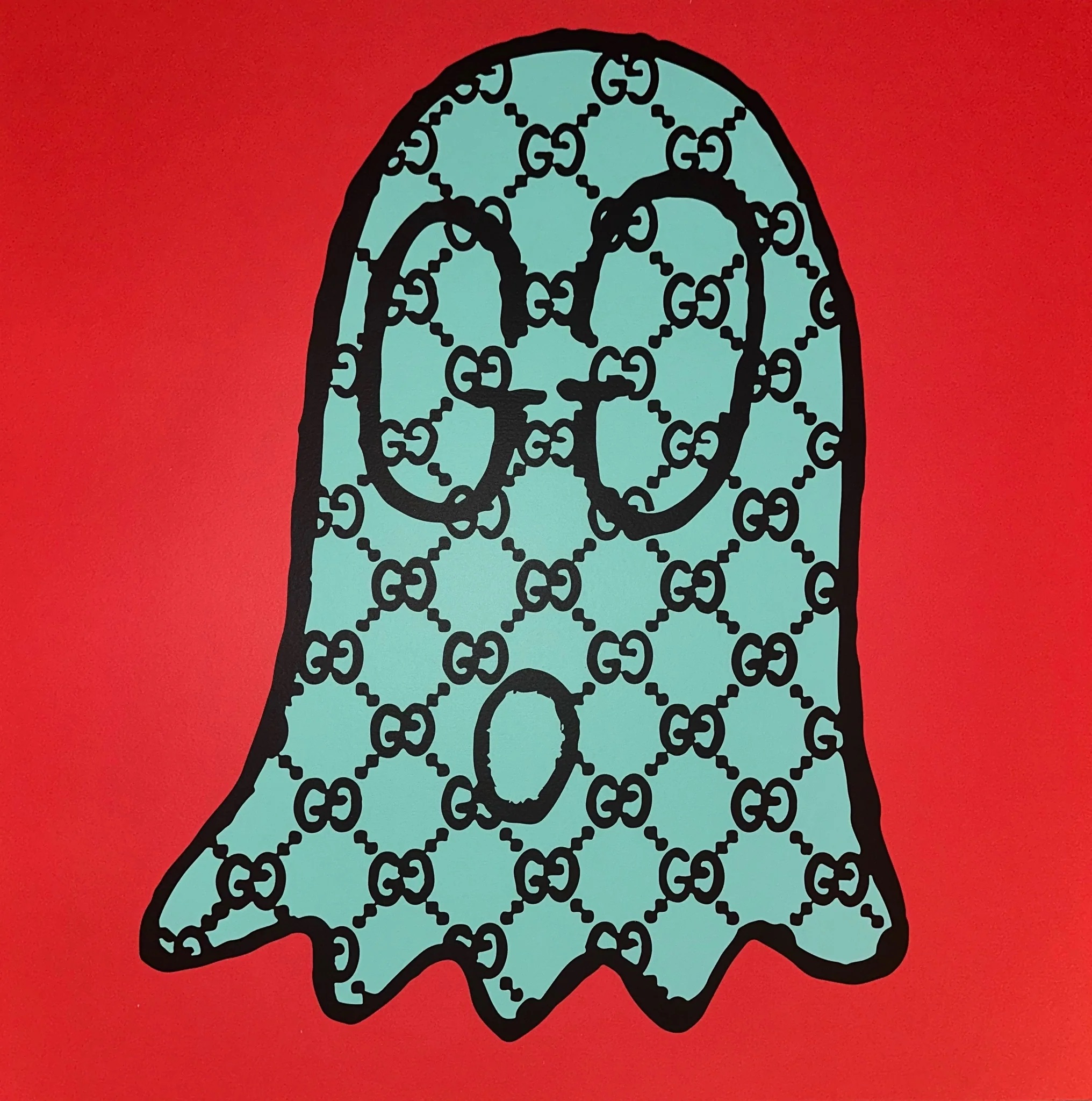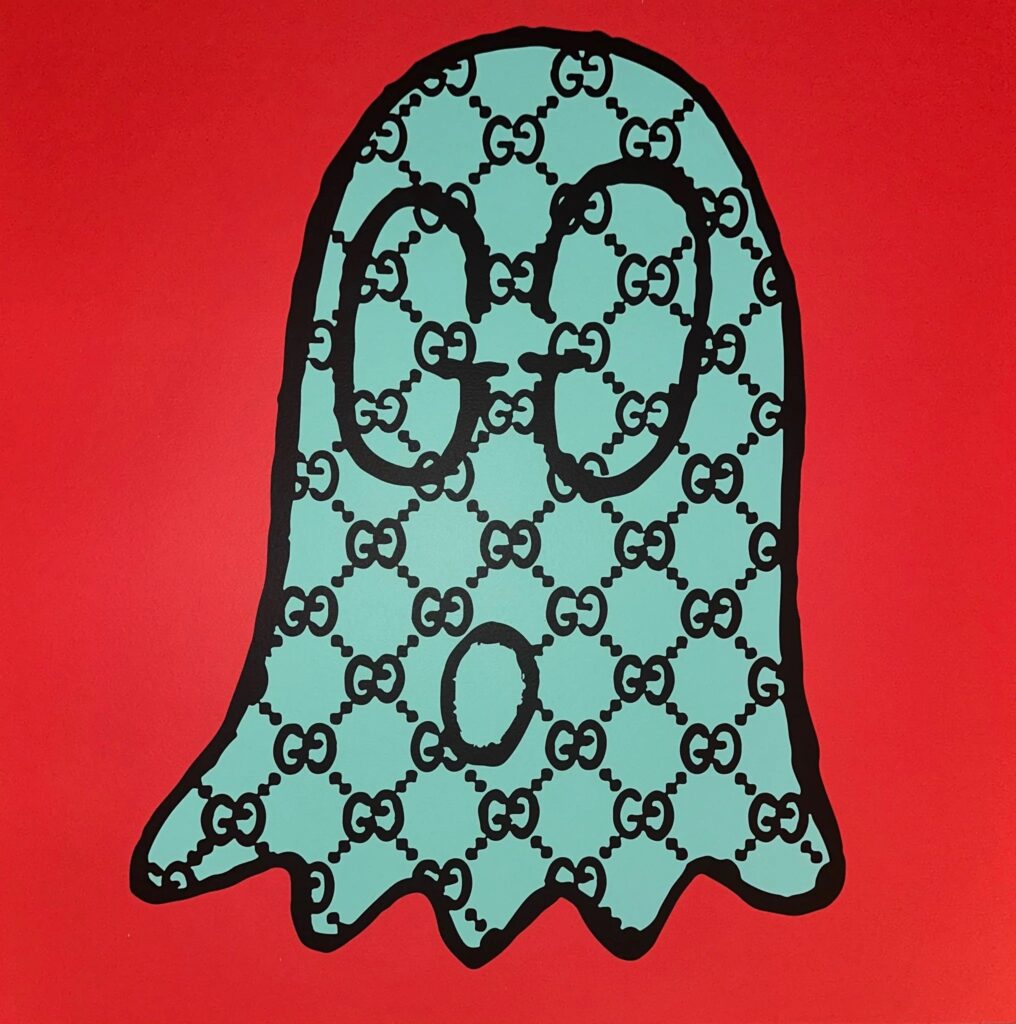 Can you explain the symbolism and inspiration behind your signature ghost design?
TA: I found my way to reimagine the logo and make it my own, creating new meaning and context by removing rigidness and perfection, bringing some imperfectly perfect and using that power to create language with it.
Your upcoming exhibition Bang, Bang, will showcase your new body of work ode to the Western aesthetic. Can you tell us more about the essence of the work and the exhibition?
TA: So, I started this series during COVID when we were locked down, and I was in my backyard. I have this little kind of shed that's like a barn, and it just happened naturally, and it wasn't an effort to think about like I want to do this because of this. I just did it. Sometimes those feelings, it's not until down the line that I realise what it's about or where it came from or something.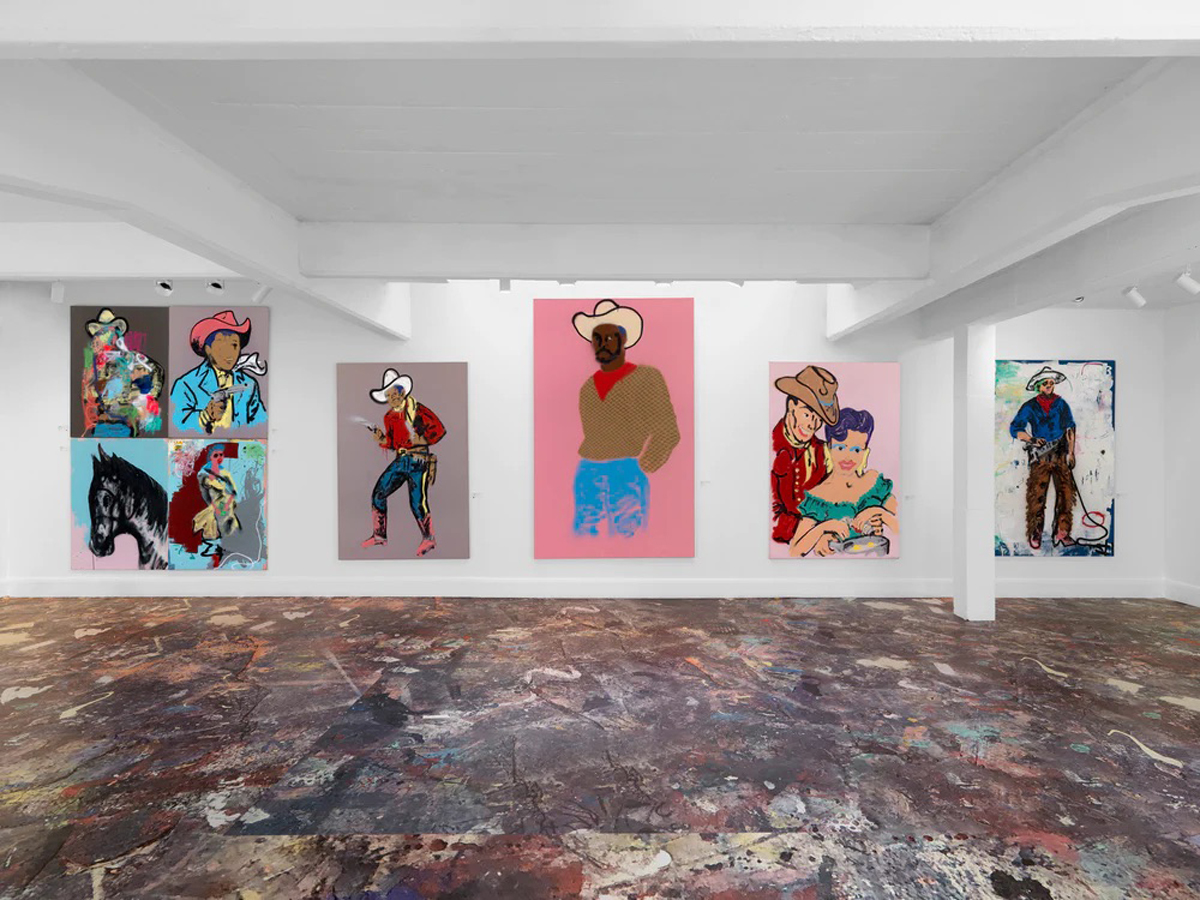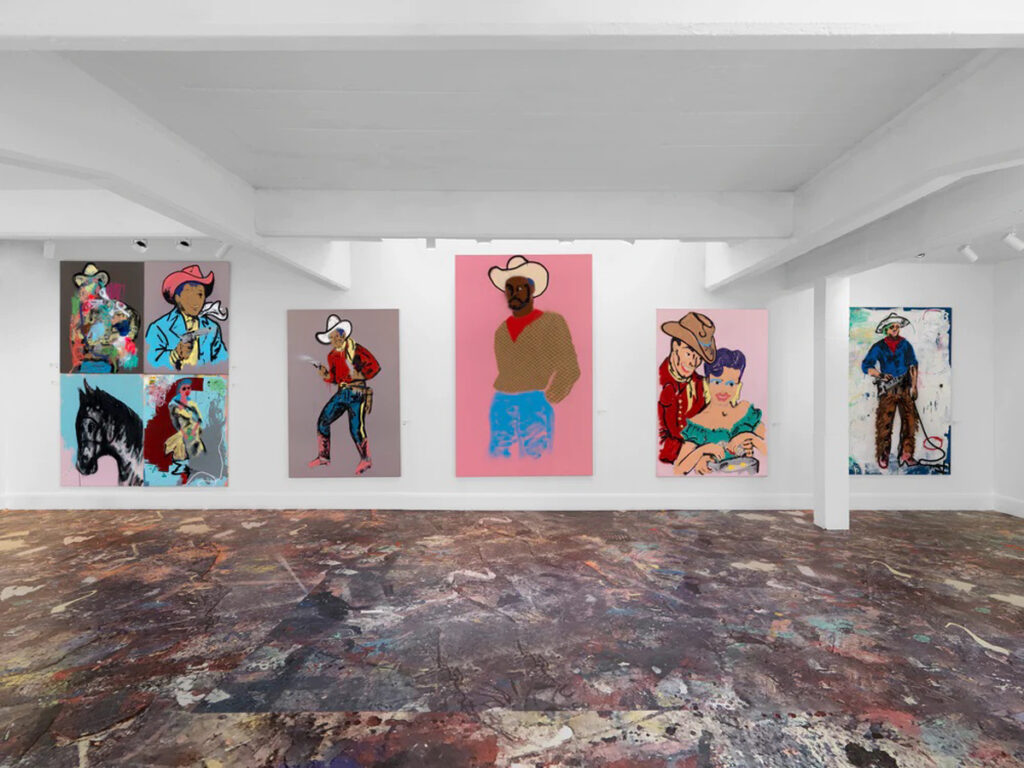 But growing up in the country and experiencing through comic books, cartoons, and movies, this kind of view of America as a young boy in Canada, out in the country, and looking at that and then becoming an adult and being in the States and then understanding that. I wanted to strip that whole thing away. I wanted to break that down in the same way that I broke down the Gucci logo. I want to break that idea down, that old kind of John Wayne kind of Hollywood bullshit thing, and do them in this disruptive way but also bring a little more balance and truth.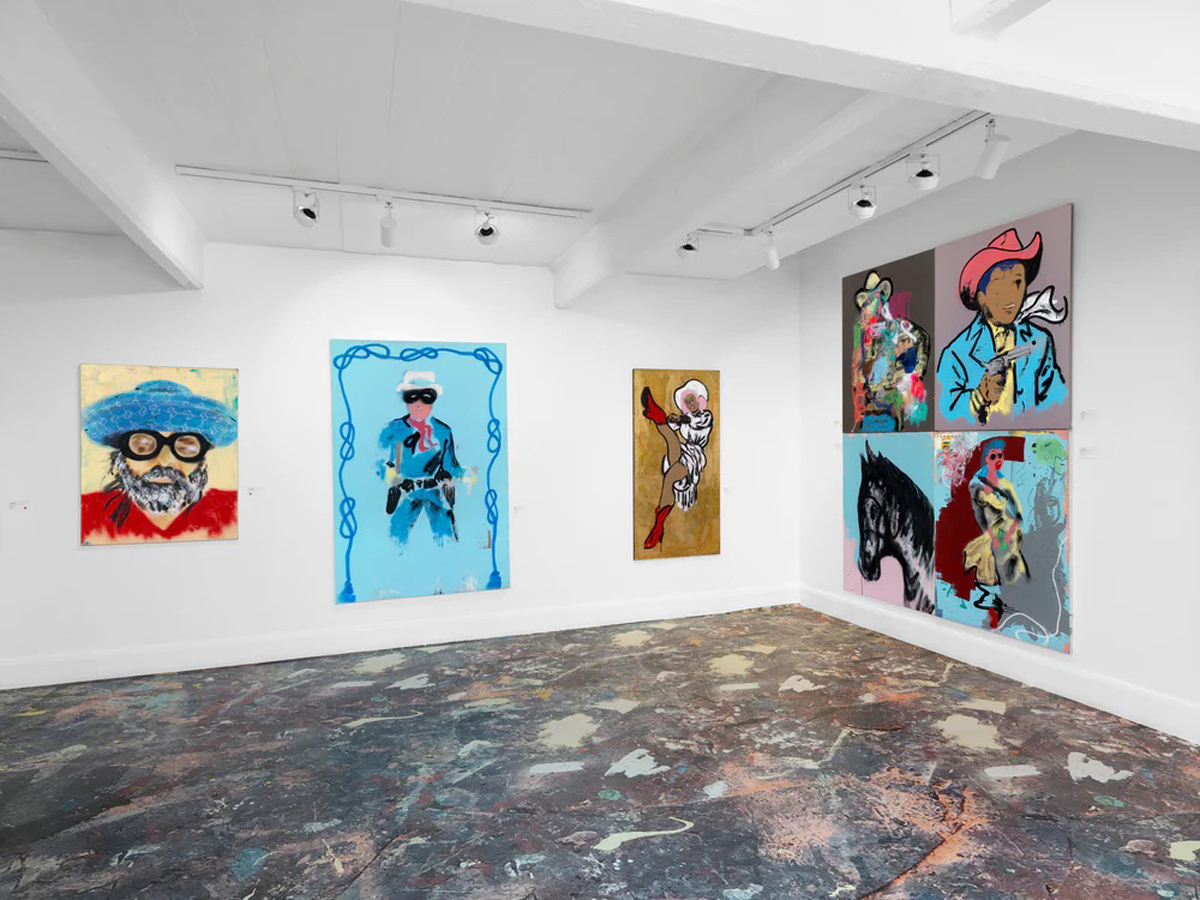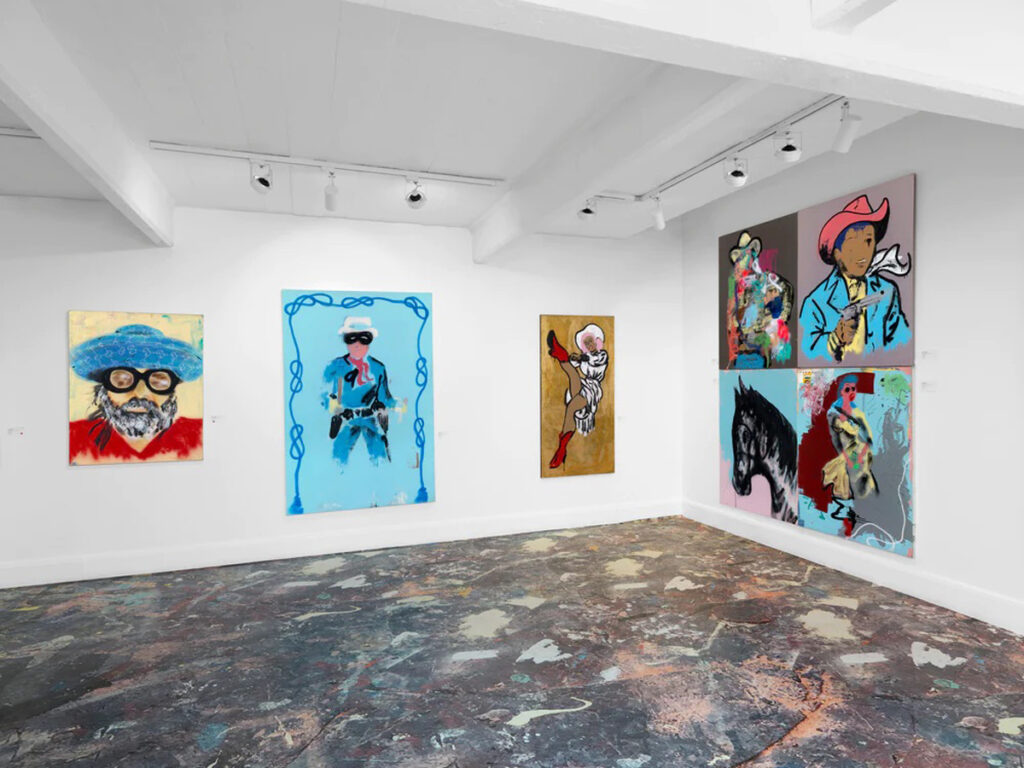 It's a thing that happened naturally because of the impact of that image. All of those – it's almost like they're all familiar, like we've all seen them before, just like we've all seen these logos. You know what I mean? And it's like they make us feel differently, like a McDonald's logo. One person will feel one way about it, and somebody else might feel a different way about it, but it's so familiar. And that's what I was fascinated about it, was that it was something that every time I did a character, it felt broken down and dismantled. In the end of the series, the last painting I did, that whole image, the silhouette of a cowboy that's gone, and I think it's where – what we're left with now, with that idea.
It's funny, too, because when I was a kid, being out in the country, I just wanted to get out of there so bad and, like, I couldn't stand country music and wanted to get into the action in the city. But now in my life, it's seeping back; just about a couple of years ago, I made a country record, and then all of this stuff is coming back to me, and I'm like, yeah, it's just a part of my childhood.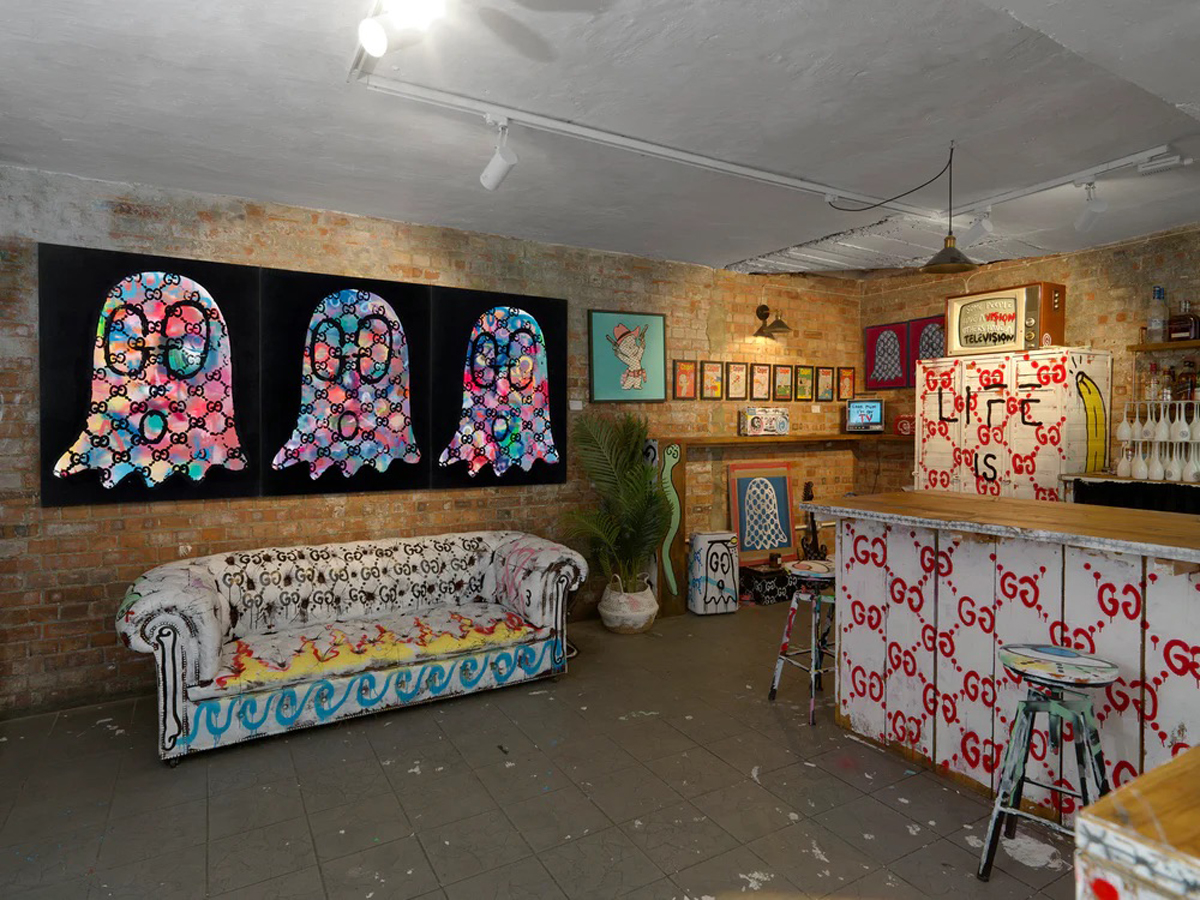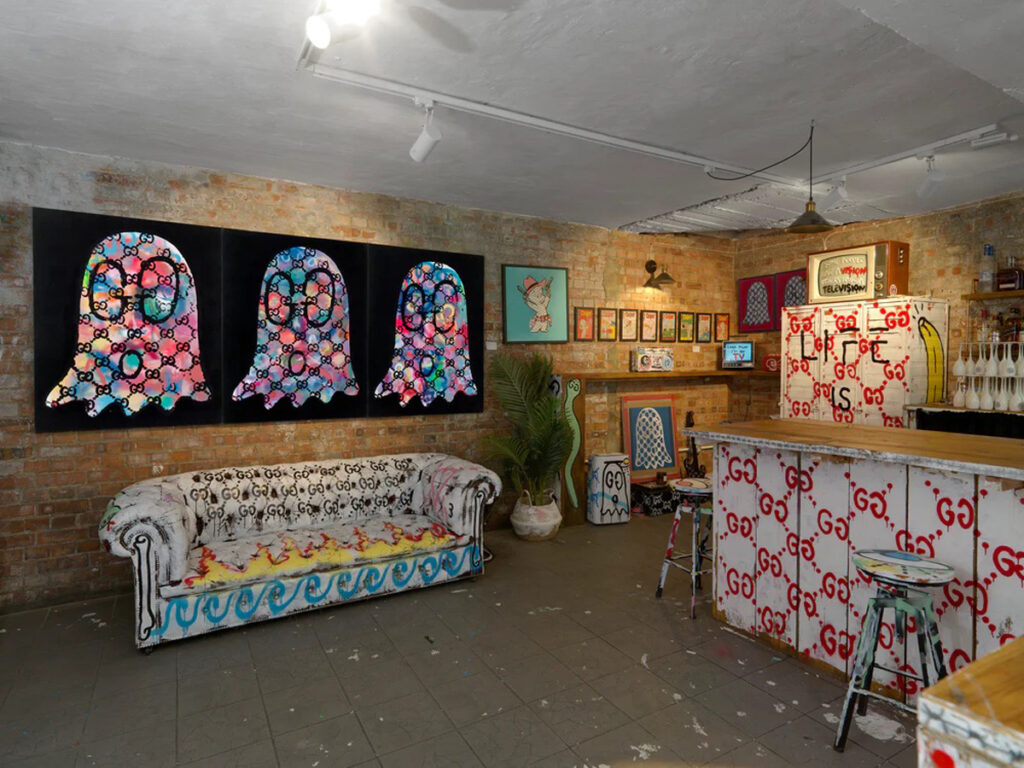 It's directly connected to this whole kind of pop culture shit. I feel like a lot of what I do, you can find in a comic. It's all there in a sense. I was so fascinated by those ads, too, back in the day, seeing like the pellet gun ad. It just impacted me, so I'm revisiting it.
What would you say has been your biggest challenge and most rewarding moment throughout your artistic journey?
TA: The most rewarding moment would be sharing art with my children. I mean, they inspire the shit out of me, how they're creative, how free children are. I think in sharing that, enjoying it with my kids and watching them and seeing how my art has impacted them too and seeing them draw a little GucciGhost and shit, that's the biggest feel-good.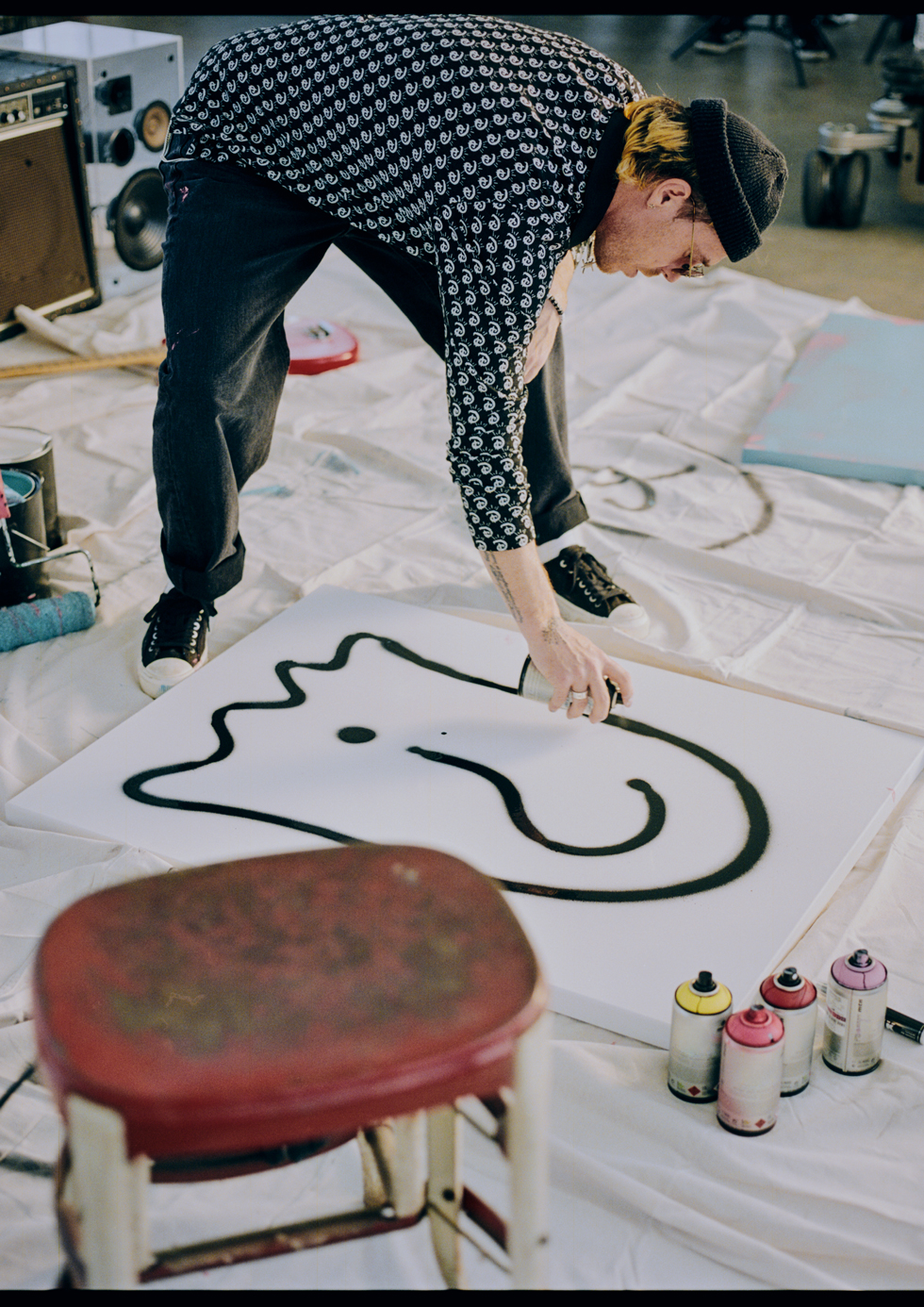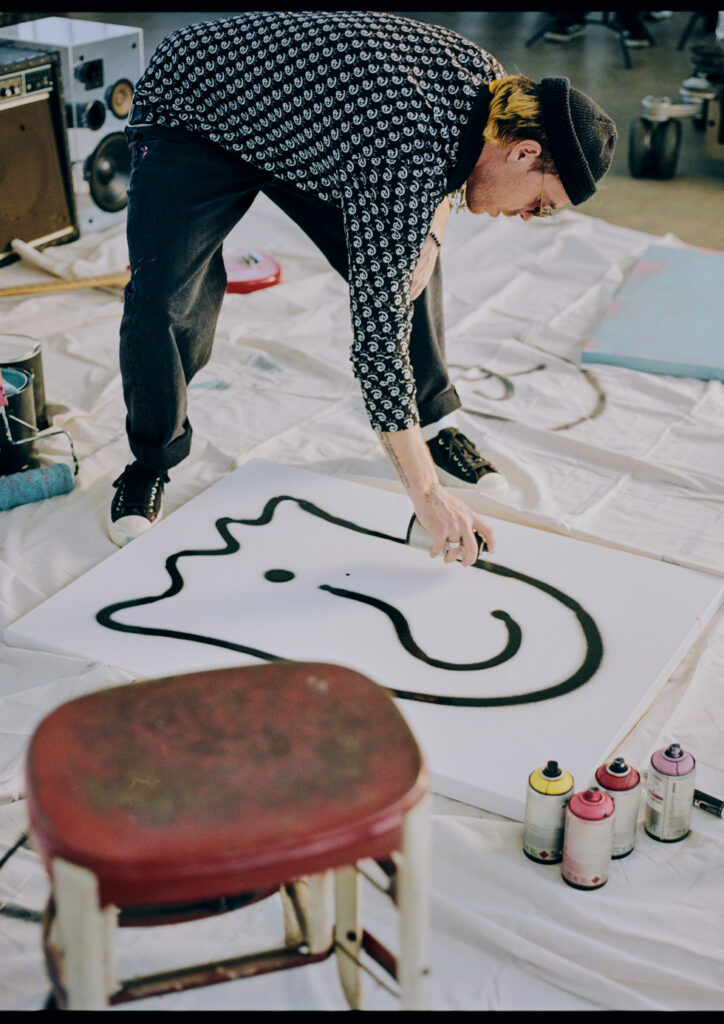 Can you give us a sneak peek into any upcoming projects or collaborations you're excited about?
TA: Well, I'm working on a book right now for the ten years of GucciGhost. I've got an amazing piece of digital art. I believe it is the completion of the GucciGhost project. During COVID, I started recreating my studio from Brooklyn, where GucciGhost was conceptualized and created before Gucci was involved, I had that space really well documented and scanned it and archived everything.
So when COVID hit, I was supposed to do this big show in LA, and I wanted to connect with people. It was very early when NFTs were just kind of emerging, and the Winklevoss brothers were starting Nifty Gateway and reached out to me about being one of the first artists to come out on the platform.
At that time, I created this what was initially intended as a PR, then became a blockchain thing it's a replica of the original space, a 3D replica, all the original 385 GucciGhost works, and it functions in a really unique way, whoever buys it then gets to determine if they want to keep it together or they can break it up and sell each piece. As each piece is sold, it removes itself from the walls just as if you came in here, bought a painting, and walked out. So you can put it back in. So I built that, and I'm really excited about it, creating the actual physical space experience and sharing that digital work.
I'm really stoked about the Disney thing. That was a huge honour to play a part in that. I've got a cartoon that I'm doing with one of my best friends, Drew Toonz, called No Work City. We are going to launch in the fall. That's like a cartoon that it's all of our friends, artists, musicians, everything. It's like a real DIY thing. It has got a lot of music in it. It's cool. And probably like 12 other things that I can't think over right now. I'm always doing something. I'm working on a new collection for my line. I have a new album coming out called Alone. I think that's it right now.
How would you like to be remembered in the world of art, fashion and music?
TA: Just being remembered is great. I've always lived in between the spaces, between the art world, the fashion world, and the music world. I don't really live in any of them. I live in between them. So, being acknowledged in different spaces and respected is a huge thing to me. People respecting the work and being inspired by it is all I'm looking for.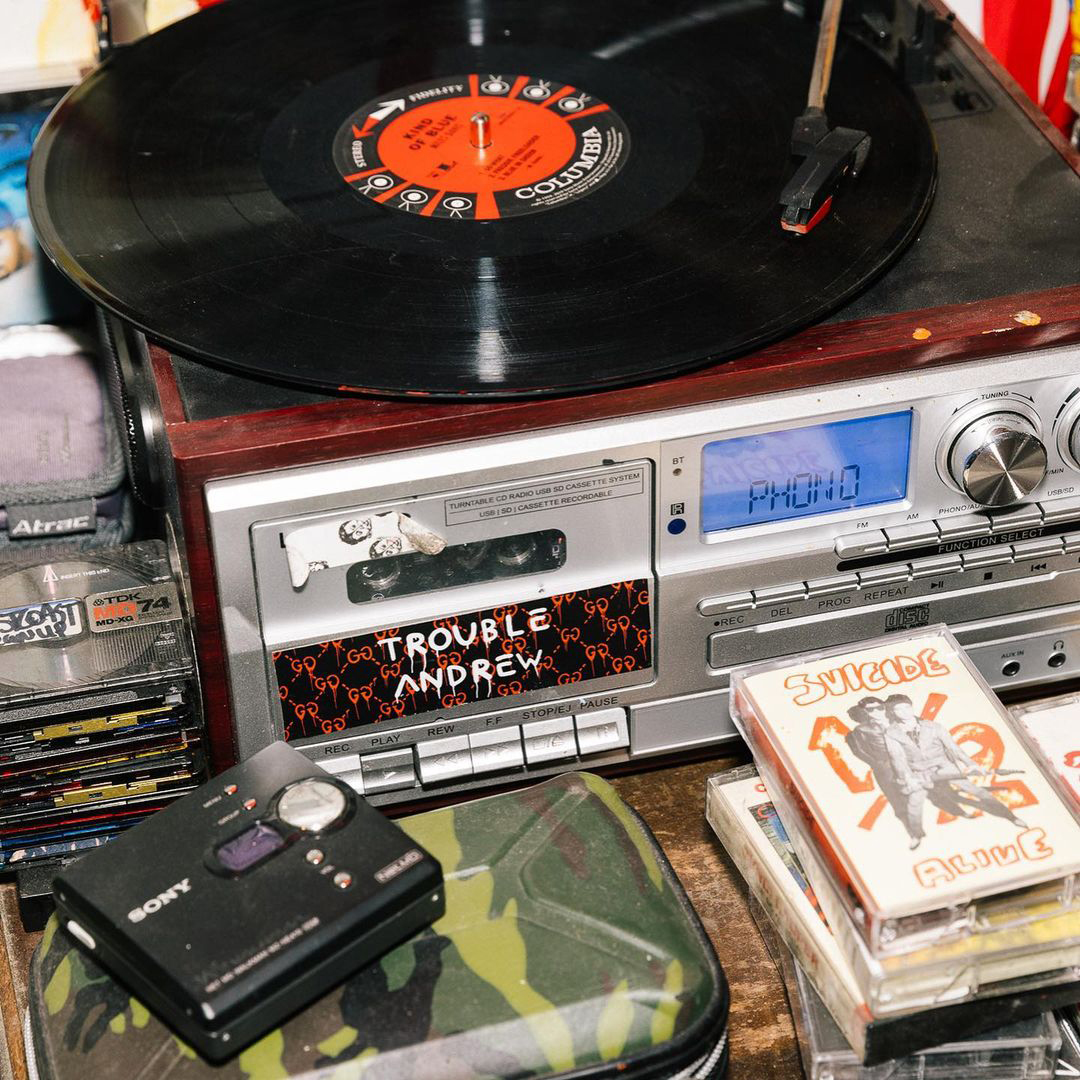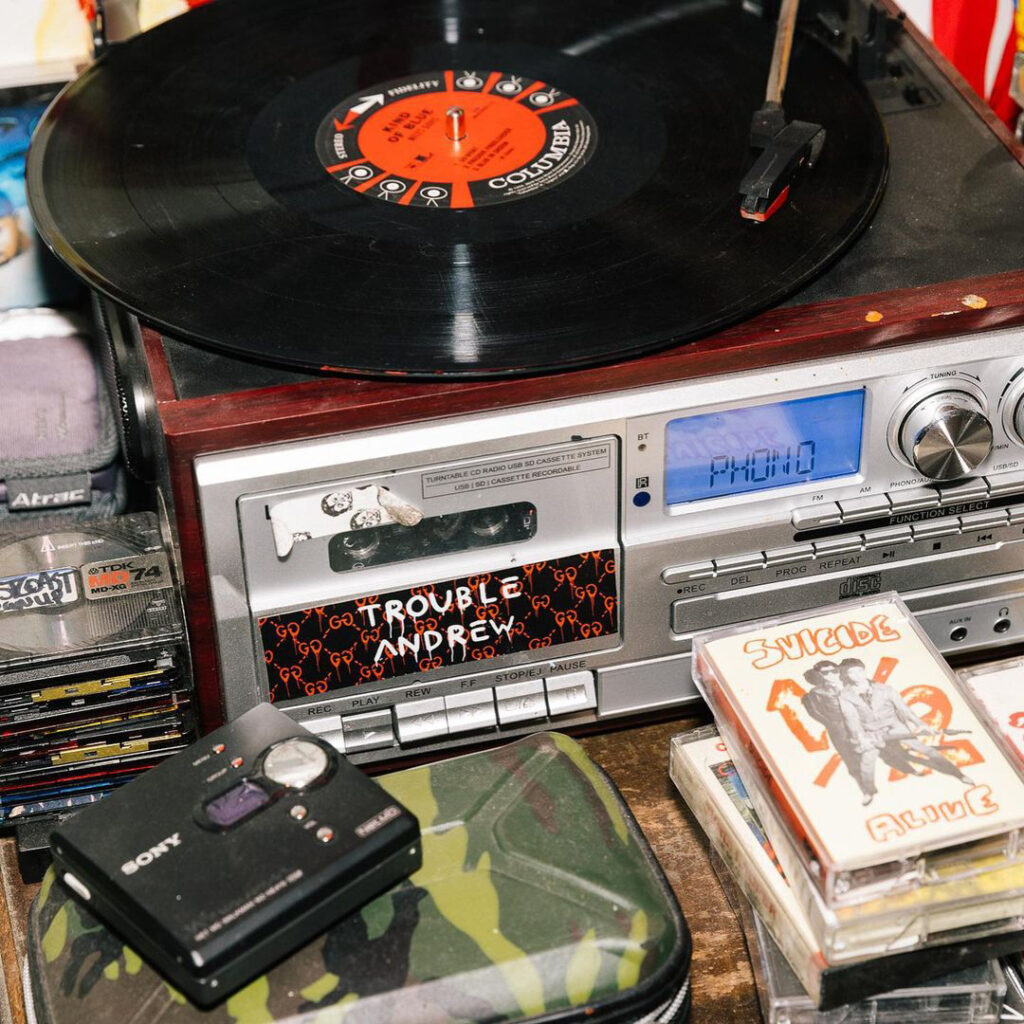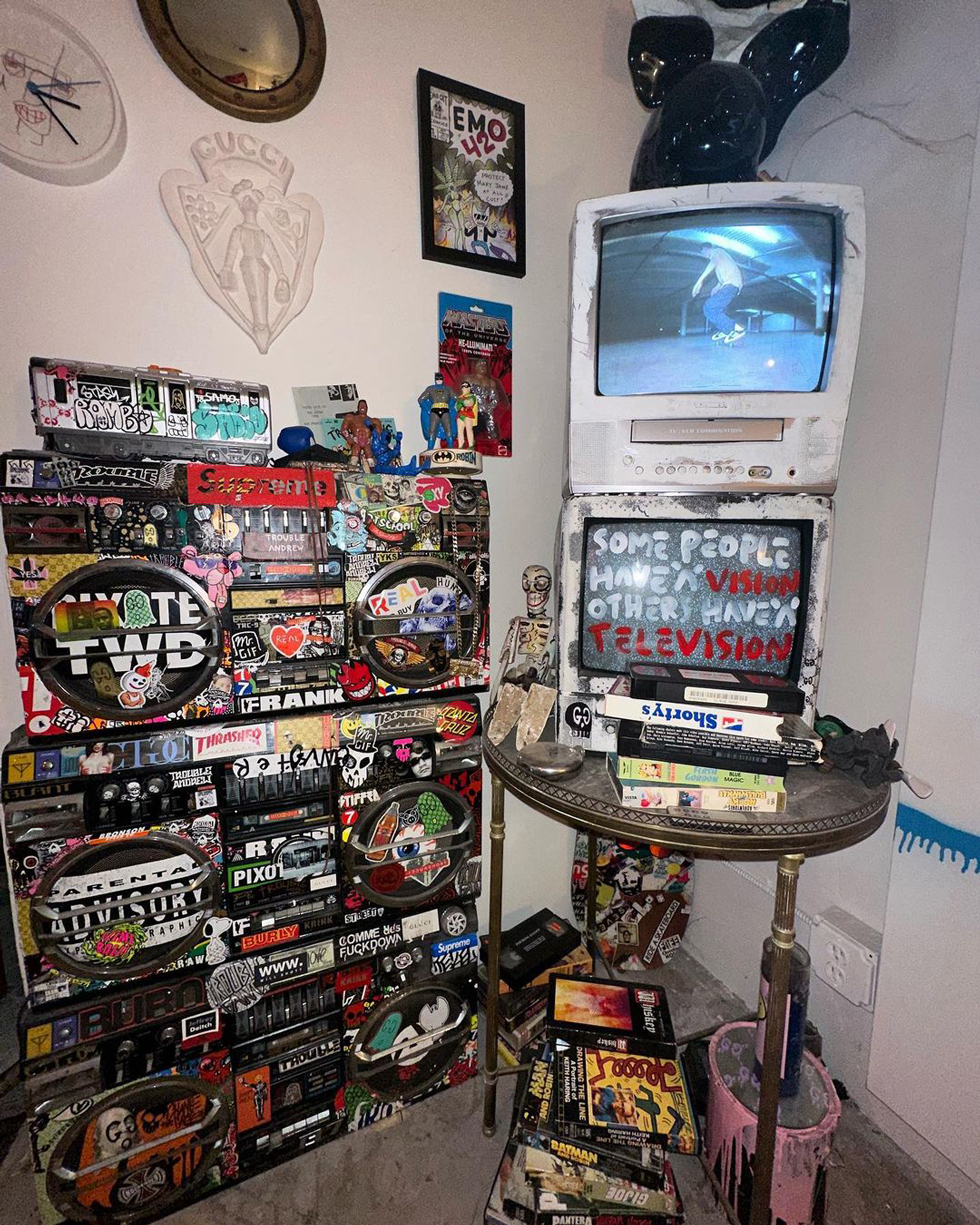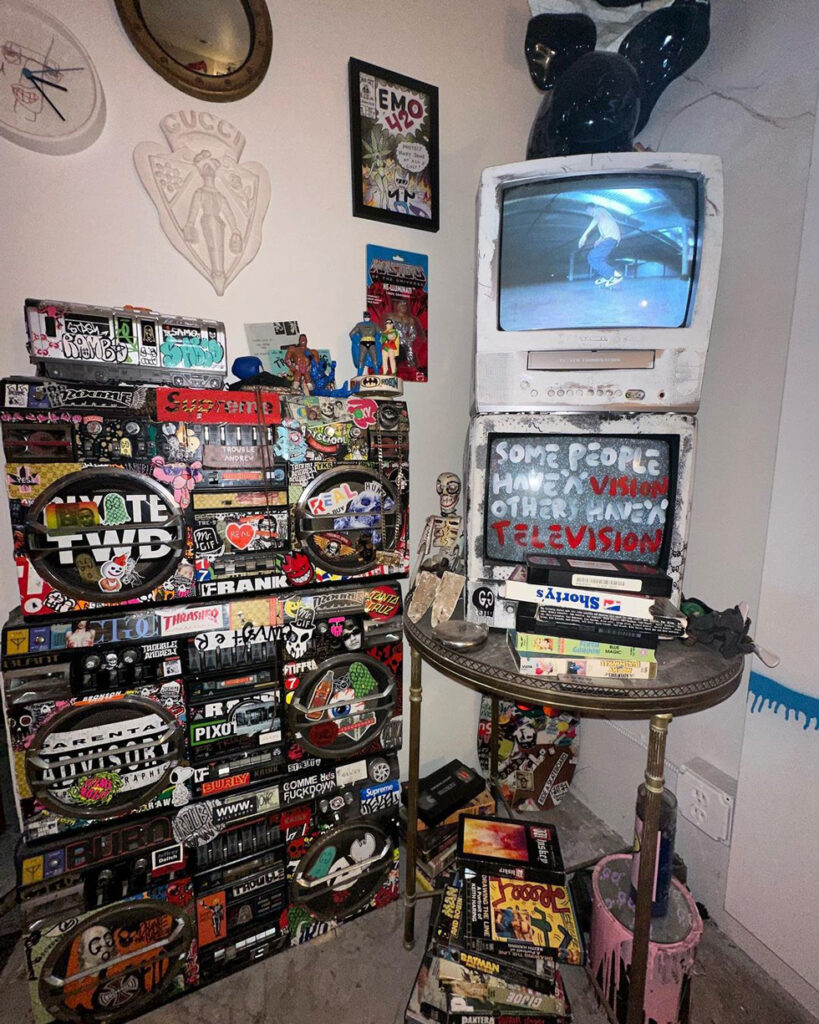 The studio holds immense symbolic value for an artist, serving as a sanctuary for creative expression. Could you kindly share three essential items that you require in your studio?
TA: Some music device, normally, I have like a tape deck and record player, so I got like a crazy collection of my favourite shit. I love listening to actual albums and listening to tapes. But I definitely like music, a tape player, a TV, an old VHS TV. I usually have like five TVs playing different movies at the same time. I've got a crazy collection of my favourite movies from when I was a kid, too, like skate movies, music shit. My VHS collection is all battle people. Then it's just obviously like the supplies, spray paint, some house paint, I don't really need canvas, but I need to find some shit. So some supplies, any paint and music and some kind of visual.
Lastly, what does art mean to you?
TA: Art means freedom. We all create. It's just a natural something that we all do in one way or another. We are creative. And so, it's part of life. It's everything.
https://www.instagram.com/troubleandrew/
©2023 D'Stassi Art, Disney, H&M, Trevor Andrew