Trevor 'Trouble' Andrew: Bang Bang
11 August – 20 September 2023
D'Stassi Art
12 – 18 Hoxton Street
(Entrance on Drysdale St)
London, N1 6NG
D'Stassi Art is pleased to present the eagerly awaited UK debut solo show of Trevor 'Trouble' Andrew – the acclaimed artist also known as Gucci Ghost, whose journey from Olympic snowboarder to creative genius has captivated audiences worldwide. 
Titled Bang Bang, the exhibition will open on 11 August and will be on view until 20 September 2023, with an exclusive limited print series releasing in conjunction with the exhibition – available to purchase from D'Stassi Art's website on Friday 28 July.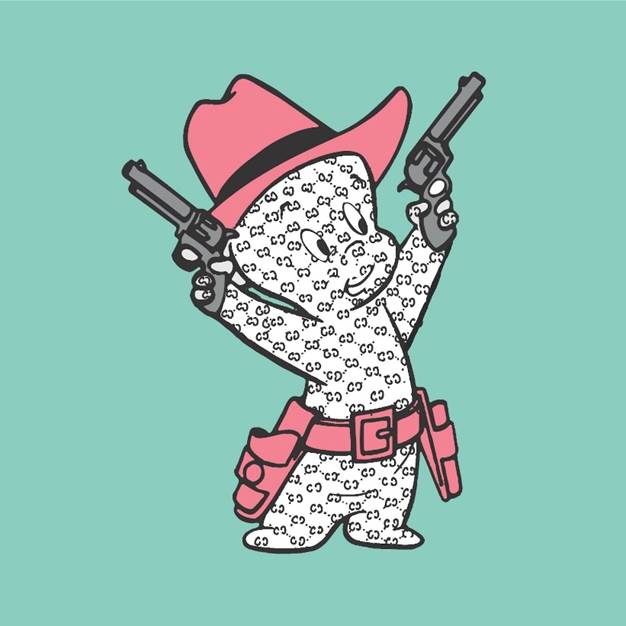 Drawing inspiration from his formative years in the Canadian countryside and its folk art scene, Andrew's new painting series is an ode to the Western aesthetic. Developed over the course of six years, his new body of work leans into nostalgia, dismantling the archetypal Hollywood cowboy image of the 20th century. Andrew's use of spray paint breathes new life into these iconic characters from his childhood, unveiling provocative and audacious reinterpretations. 
Alongside the new Bang Bang series, the exhibition will showcase select pieces from Andrew's legendary Gucci Ghost project, an ambitious endeavour that spanned a decade. Originally conceived as a musical project, it swiftly evolved into an electrifying exploration of the Gucci logo through a wide range of mediums including clothing, paintings, visual art, and digital creations. By reimagining discarded objects found on the streets and imbuing them with newfound significance, the project quickly garnered a substantial online following and culminated in a collaboration with Gucci's then-creative director Alessandro Michele in 2016.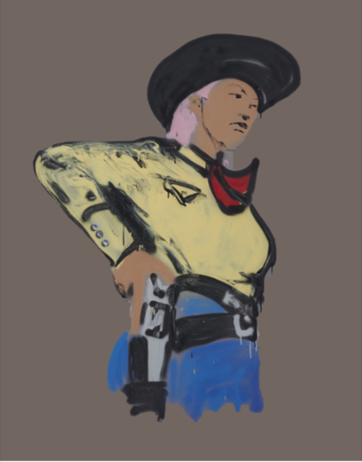 Andrew's paintings serve as a profound reflection of his life's journey – a tapestry woven with adventures, travels, and an upbringing in Canada intertwined with childhood impressions of America, shaped by the alluring spectacles of Hollywood. Having now made America his home and gaining a deeper understanding of these cultural projections, Andrew masterfully channels these experiences into his art, delving into a captivating fusion of his childhood influences such as skateboarding, with his unyielding passion for pushing boundaries across art, music, and fashion, ultimately challenging our perceptions of reality.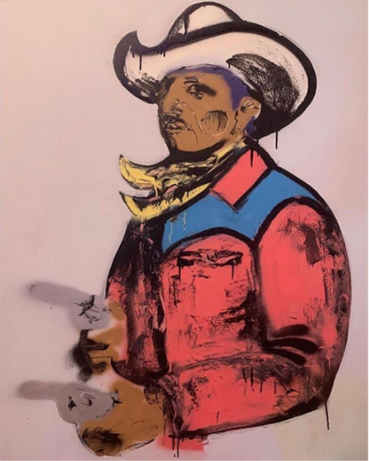 Co-Founders of D'Stassi Art, Edward Sanders and Michael Howes also said: "We have been in contact with Trevor for the past 5 years, with both of us sharing ideas on projects we could look to collaborate on together. When I saw his cowboy series I knew it was an ideal fit for a solo with us at D'Stassi Art. We are thrilled to introduce Trevor's work to our collectors and to be able to host his UK debut, this is going to be a huge moment in our programme this year."
From his remarkable beginning as an Olympic snowboarder to his collaborations with prestigious fashion brands like Gucci and Reebok, Andrew has over the years captured the hearts of luminaries such as Beyonce, Rihanna, Madonna, Elton John, and the Rolling Stones, solidifying his position as a multidimensional creative force. Revered for his distinctive reimagining of the iconic Gucci logo in the Gucci Ghost project, Andrew has seamlessly navigated the realms of fashion, music, athletics, and culture, leaving an indelible mark on each. Notably, he has collaborated with renowned brands and musicians including 2 Chainz and Lolawolf, and has also signed with record label, Warner Brothers. 
Bang Bang opens at D'Stassi Art on Friday 11 August and will be available to view for free until Wednesday 20 September 2023. 
©2023 D'Stassi Art, Trevor 'Trouble' Andrew