In the digital walls of Instagram, you may have encountered images imbued with luminosity and brilliance—photographs and objects that oscillate between reality and fantasy, awash in crystalline allure. This visual phenomenon is the oeuvre of Sara Shakeel, a multidisciplinary artist who has ascended to international prominence by transmogrifying quotidian imagery through the meticulous incorporation of crystalline structures and digital manipulations.
Initially trained in the empirical science of dentistry, Shakeel transitioned into the echelons of artistic directorship and creative conceptualization, crystallizing a novel visual lexicon that has garnered her worldwide acclaim and amassed an audience of over one million devotees on Instagram—a following that garnered her the moniker "Queen of Crystals."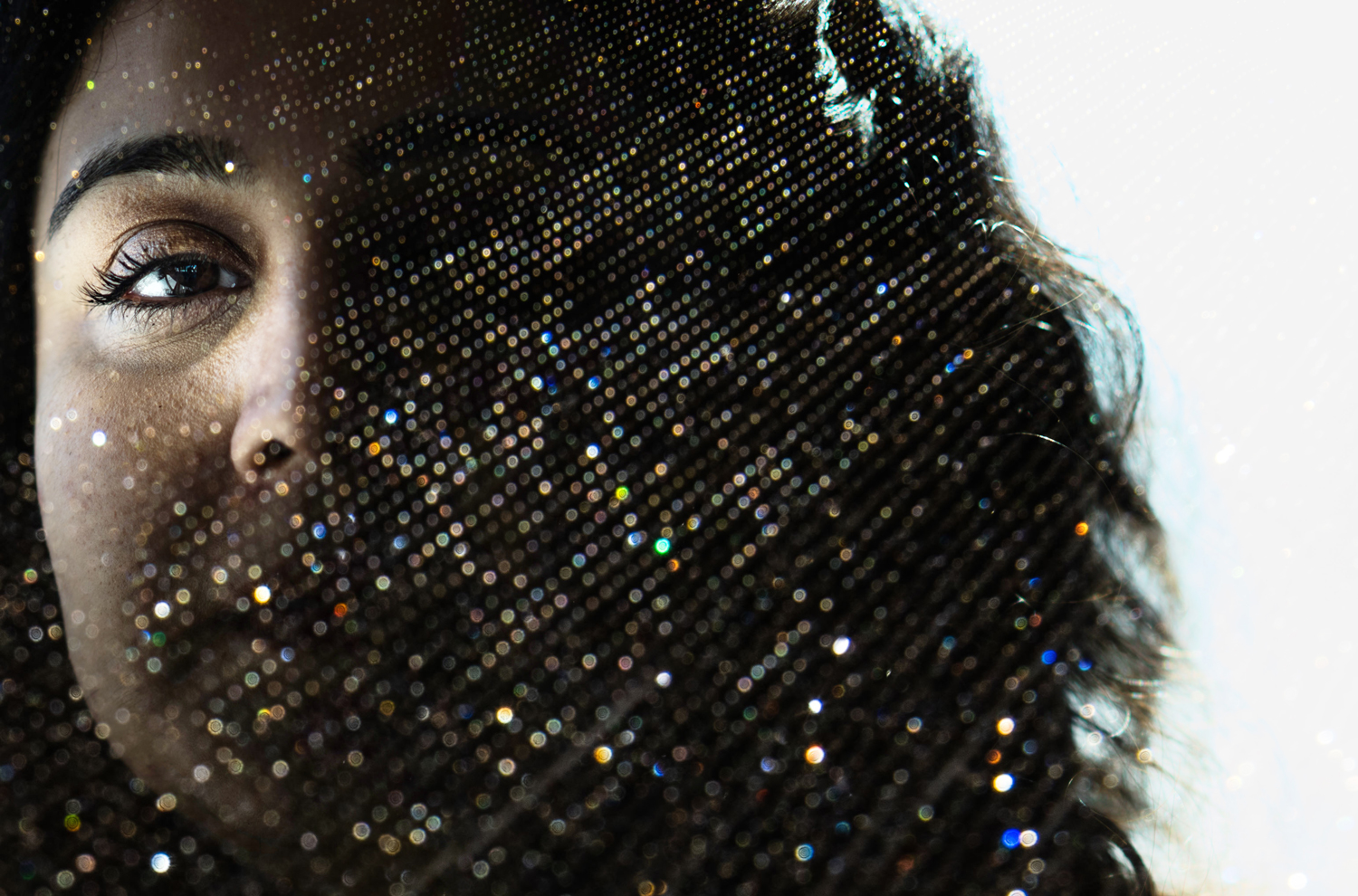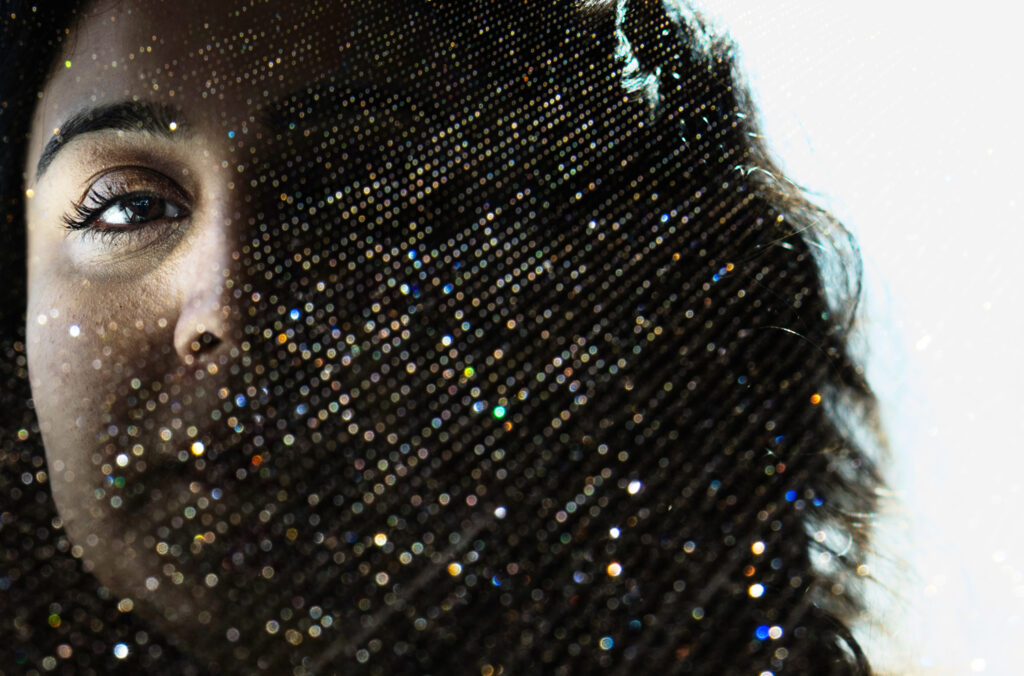 I aspire to unveil my everyday vision – a universe suffused with the allure of the commonplace, the charm of the unnoticed

Sara Shakeel
Layering her work with a playful stream of surrealism, Shakeel often explores themes of self-acceptance, body positivity, and surrealism. In her realm, dreams take shape; she is the architect, crafting marvels from the ordinary and the enchanting. Her fascination with glitter and crystals didn't begin when she started making art; this penchant originates in her memories of her grandmother, who collected Swarovski crystal figurines and jewelry. Embracing the essence of the legend of King Midas, Shakeel now digitally crystallizes everything she touches, making this uncharted territory her haven. In 2019, Shakeel was commissioned by NOW Gallery in Greenwich Peninsula for its Young Artist Commission.
This was also her first UK solo exhibition, featuring her work "The Great Supper," inspired by Da Vinci's painting of The Last Supper and her memories of family dinners. Guests stepped through a shrouded portal into an indulgent space where every detail, from tables and chairs to humble fries and burgers, shimmered in a luxurious cloak of glitter and crystals.
However, Shakeel's work has not been without ridicule. Her creativity and imagination have left her feeling like an outsider at times. Despite facing rejection and being labeled as "average," Shakeel emerged stronger, with a heightened sense of self. Her journey now involves uplifting others through her art, which serves as a conduit for conveying encouragement and positivity.
Shakeel has continued to attract many celebrated collectors and has collaborated with a string of household names, from Linda Farrow and The Wallace Museum to Evian, BMW, Browns, and Mercedes-Benz. Shakeel was also named one of Disney's Create 100. This September, "The Great Supper" will re-emerge at its original venue, NOW Gallery in Greenwich, signifying not just a temporal return but also an affirmation of Shakeel's glowing contributions. Like the glitter and crystals that adorn her work, Shakeel adds sparkle to the art world simply by being a part of it.
Hi Sara! How are you doing? Thank you for taking the time to speak with us. Please introduce yourself to those who do not know you.
Sara Shakeel: I am a contemporary – MultiDisciplinary artist known for the unique approach of incorporating crystals and digital manipulation into my artwork. Born in Pakistan, based in London, I gained popularity through Instagram where I transformed everyday images into sparkling and imaginative creations. My work often explores themes of self-acceptance, body positivity, and surrealism. This month, my sculpture The Great Supper is viewable for a limited run only at Greenwich Peninsula Design District, as part of London Design Festival 2023.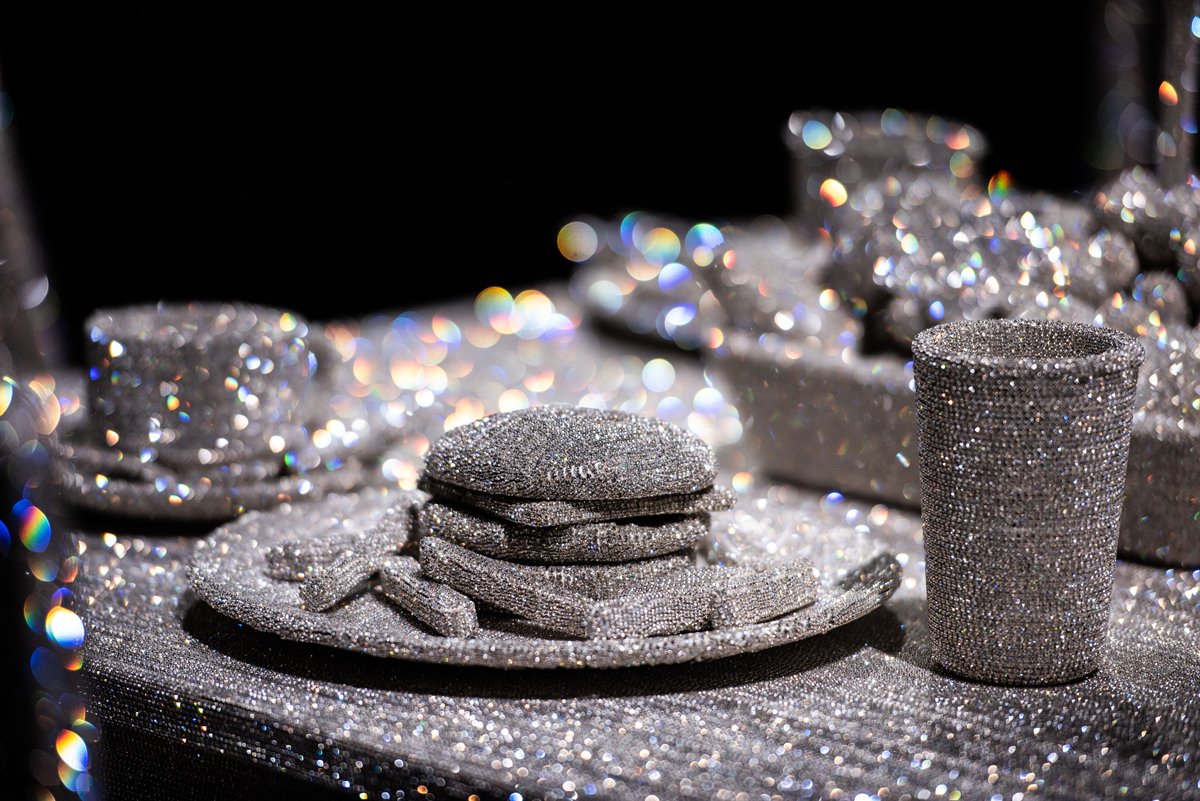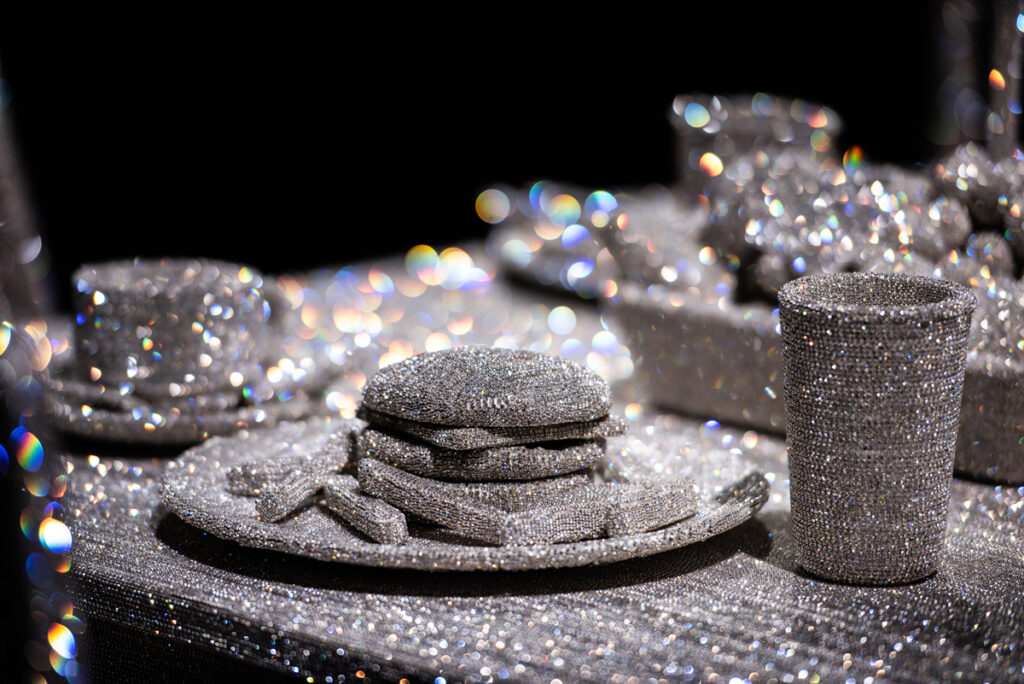 Your path to becoming an artist is interesting, as you were a professional dentist before art. Could you share some pivotal moments on your way to becoming an artist?
Sara Shakeel: During my last year of studying dentistry, unforeseen and unfortunate events disrupted my graduation plans. This isolation from my community unexpectedly ignited my creative spirit, which was a pure accident; I never knew I was an artist. To escape the sadness of not completing my degree, I stumbled upon collage art. Sharing these creations on Instagram marked the beginning of a transformative journey that changed everything.
Your art blurs the line between reality and fantasy. What message or feelings do you hope to evoke in your audience?
Sara Shakeel: Embracing hope, self-belief and self-acceptance has been paramount. Throughout my life, I've faced ridicule for my imagination and creativity, leaving me feeling like I didn't belong. This struggle was amplified in Pakistan, where art lacked serious recognition. Despite facing rejection and being labelled as 'average', I emerged not with self-hate, but with a stronger sense of self. My journey involved uplifting others through words, and now my art serves as a conduit for conveying encouragement and positivity.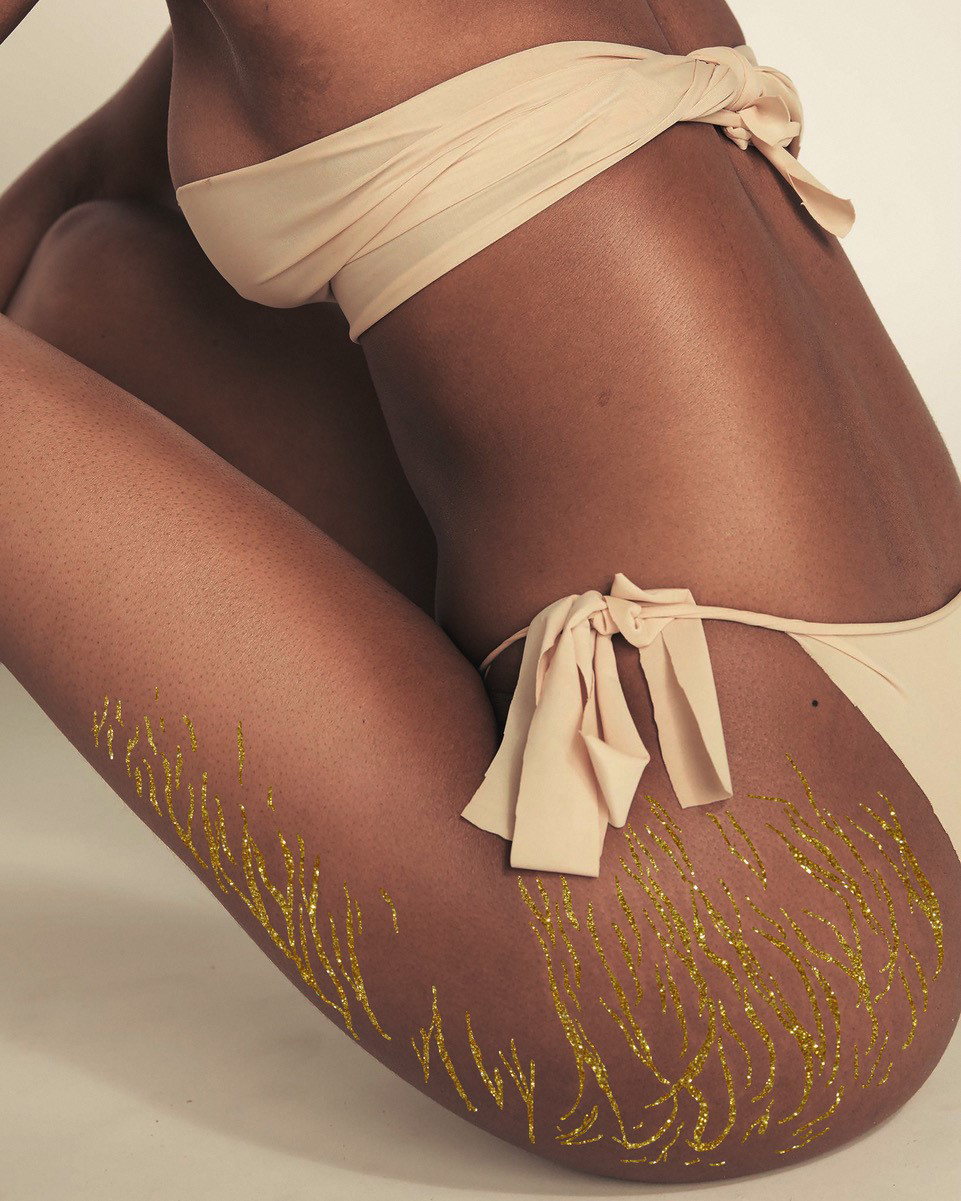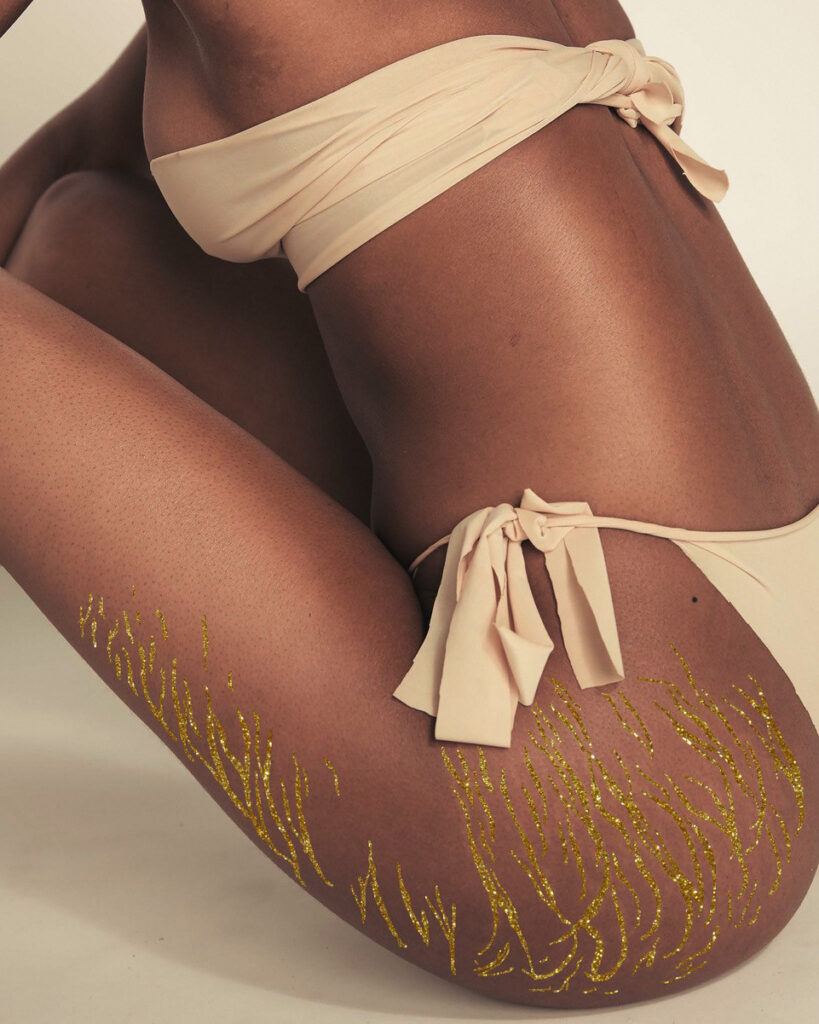 Could you walk us through your creative process from idea to final execution? The critical question is, why crystals and glitter?
Sara Shakeel: I invite you into a world that might seem strange to those outside it, yet it's at the core of my being. My life revolves around turning wild daydreams into tangible reality through careful crafting. I go beyond mere passing thoughts; as a professional dreamer, I transform my deepest visions into solid ideas. Each thought is nurtured, growing into a fully formed concept, every detail meticulously designed.
In this phase of my journey, I'm surrounded by a remarkable team of creatives who anchor my visions. Together, we're like magicians, conjuring wonders through collaboration. Simple moments, like my daughter's laughter or vibrant scenes from cartoons, spark the alchemy of creativity.
This is my realm, where dreams take shape. I'm the architect, crafting marvels from the ordinary and the enchanting.
This penchant, not in an unusual manner, finds its origins in my memories of my grandmother amassing Swarovski crystal figurines and jewellery. I vividly recall her prized cabinet filled with these captivating pieces; a spectacle that held me spellbound even as a small child. This fascination quietly etched itself into my life's canvas and persisted unconsciously.
Fast-forward to six years ago, a serendipitous encounter with a crystal pattern completely altered my trajectory. Inevitably, I delved into digitally crystallizing everything I touched. This uncharted territory became my artistic haven, the unique artistry of digitally infusing images with crystal illusions. It marked the genesis of my recognition, a milestone that will undoubtedly endure throughout my journey.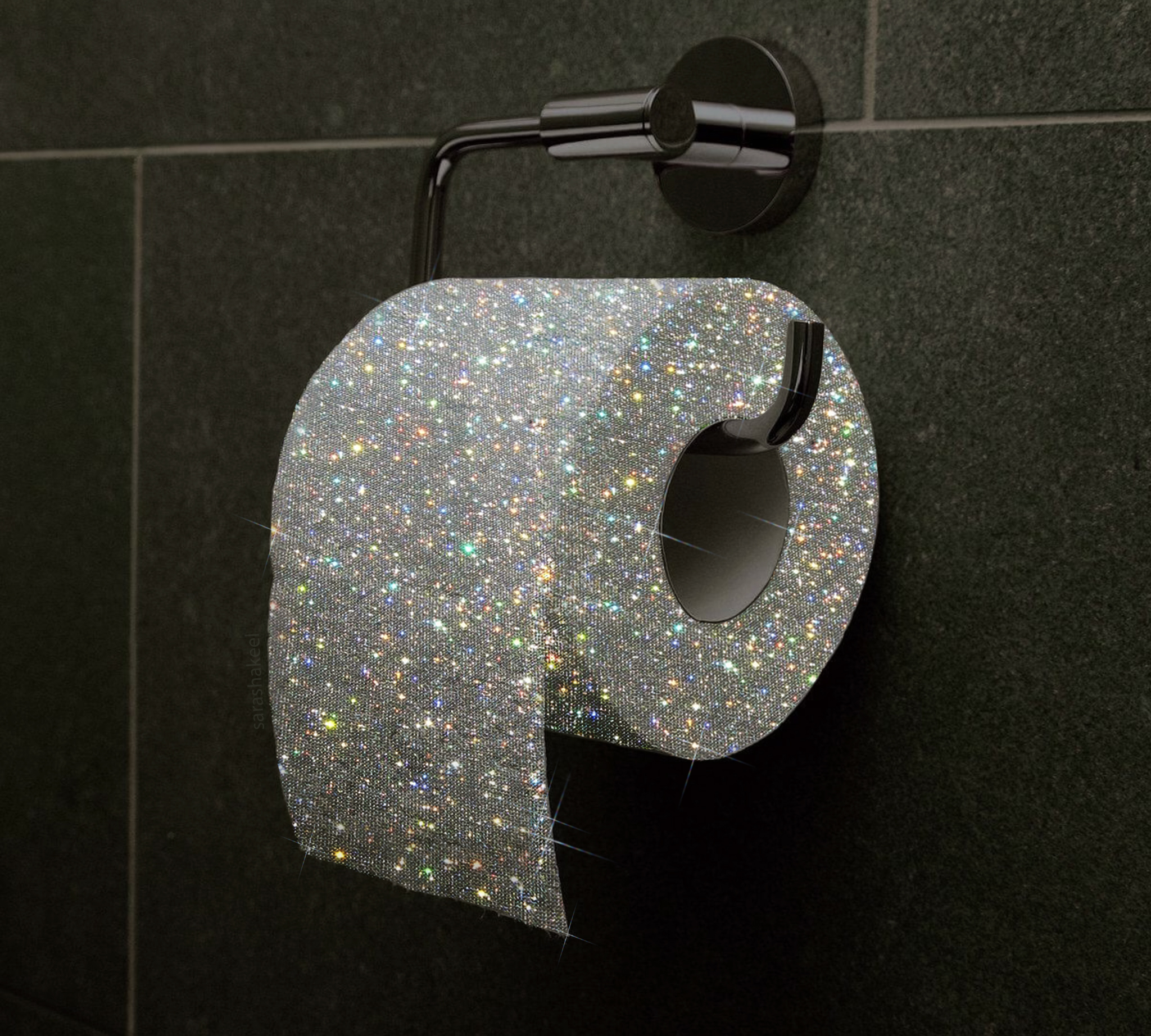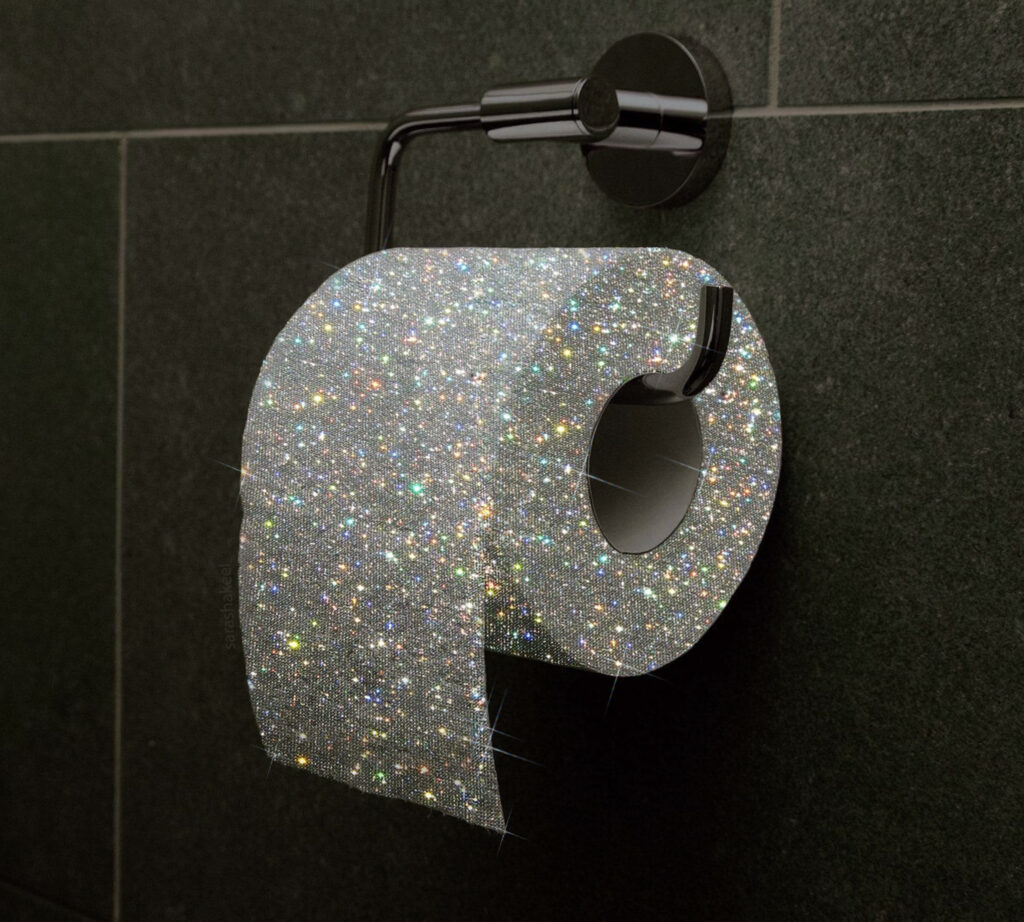 How have your experiences as a dentist influenced or inspired your artwork?
Sara Shakeel: Many are unaware that dentists master the art of sculpting teeth, a process akin to what traditional sculptors undergo. Surprisingly, my dental training equipped me with skills that now resonate in my artistic pursuits. As we're all familiar, the agony of a toothache is far from enjoyable. Dentistry elegantly merges aesthetics with alleviating pain—crafting smiles while relieving distress. It's a unique blend where I bring forth beauty through smiles and alleviate the agony of troublesome teeth.
What challenges do you face in ensuring your digital collages look organic and authentic?
Sara Shakeel: To be candid, realism isn't my aim. I aspire to unveil my everyday vision – a universe suffused with the allure of the commonplace, the charm of the unnoticed. My intent is to awaken appreciation for the seemingly insignificant, the world's hidden gems. Despite how some of my followers perceive it purely as aesthetics, my goal is to unveil my perspective of a radiant existence. This is the magic I aim to craft with crystals – they epitomise luminance. Placing such magnificence within the ordinary transmutes its essence entirely. In essence, my mission is simple: through my work, I yearn to reveal the world through the prisms of hope, joy, and optimism, more like a parallel universe.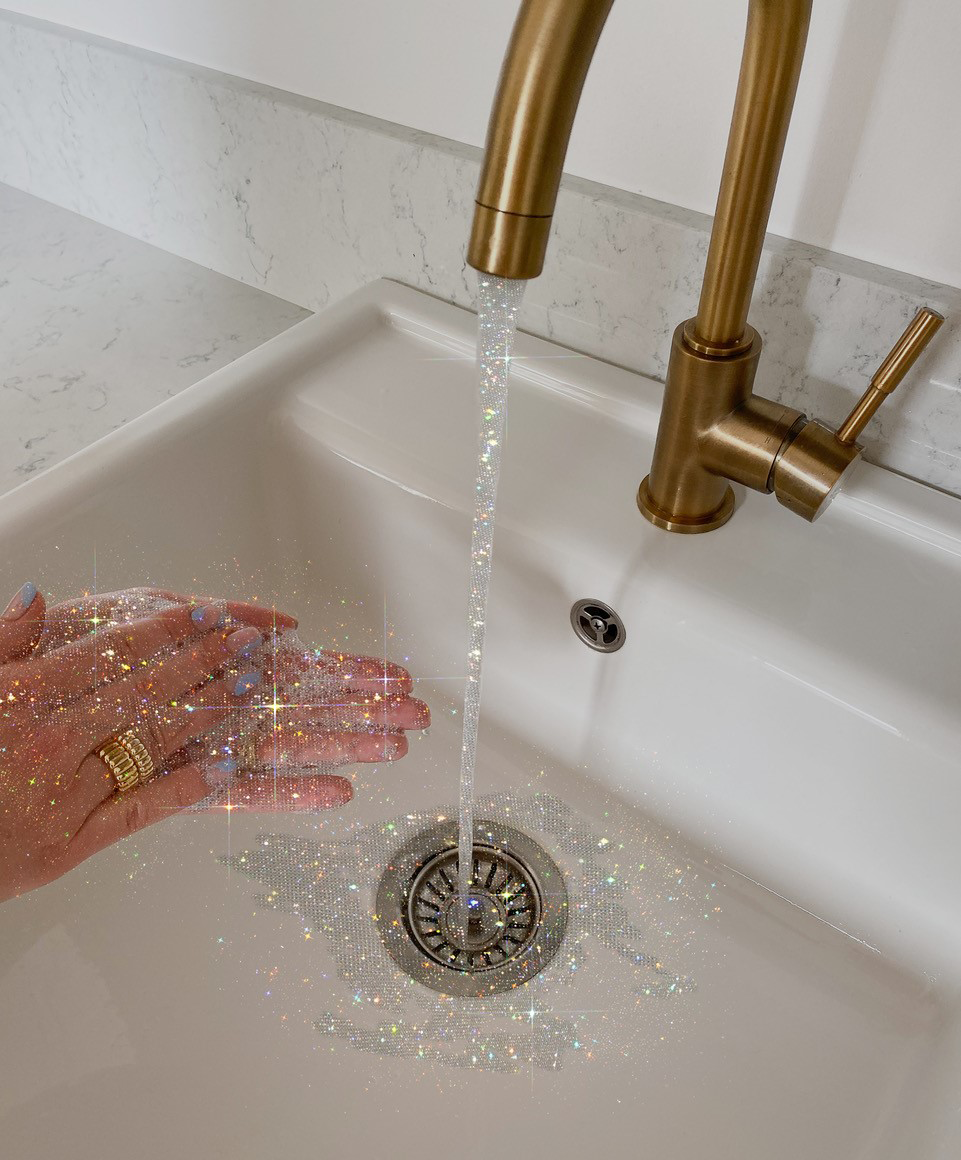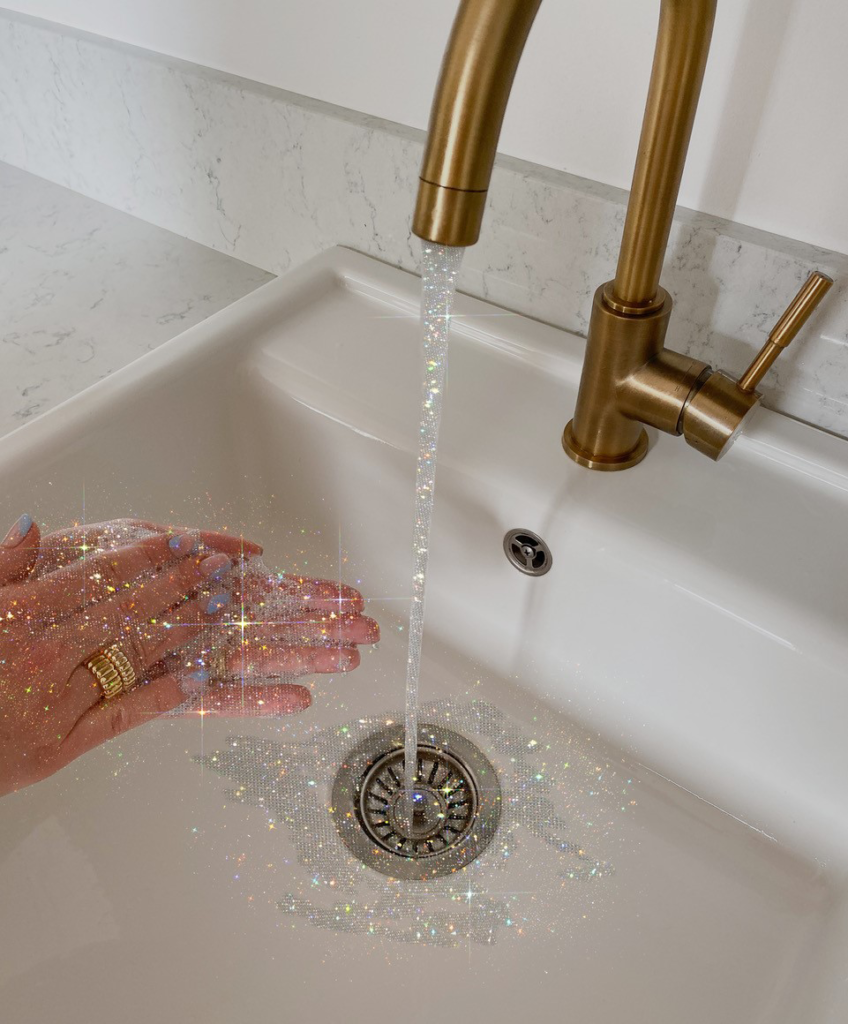 Your work has been recognized and appreciated worldwide. How does this global recognition affect your approach to creating new artwork?
Sara Shakeel: The sensation of global recognition is both grounding and electrifying, a force that resonates across the diverse tapestry of humanity. I'm a common individual from Pakistan, having spent 31 years of my life in Islamabad, the capital city. Credit goes to my family's open-mindedness and awareness, allowing me to embrace diversity, stay attuned to global currents, and be exposed to music, cinema, literature, and different cultures. The advent of the internet further enriched these experiences.
Upon relocating to London, a cultural melting pot, I discovered an innate thirst within me for this kind of immersion. Unconsciously, my soul yearned for this exposure, and now, on a daily basis, I'm nourished by inspiration. The vibrant city offers me the chance to meet new souls, to learn ceaselessly, and to absorb the myriad wonders that captivate my gaze.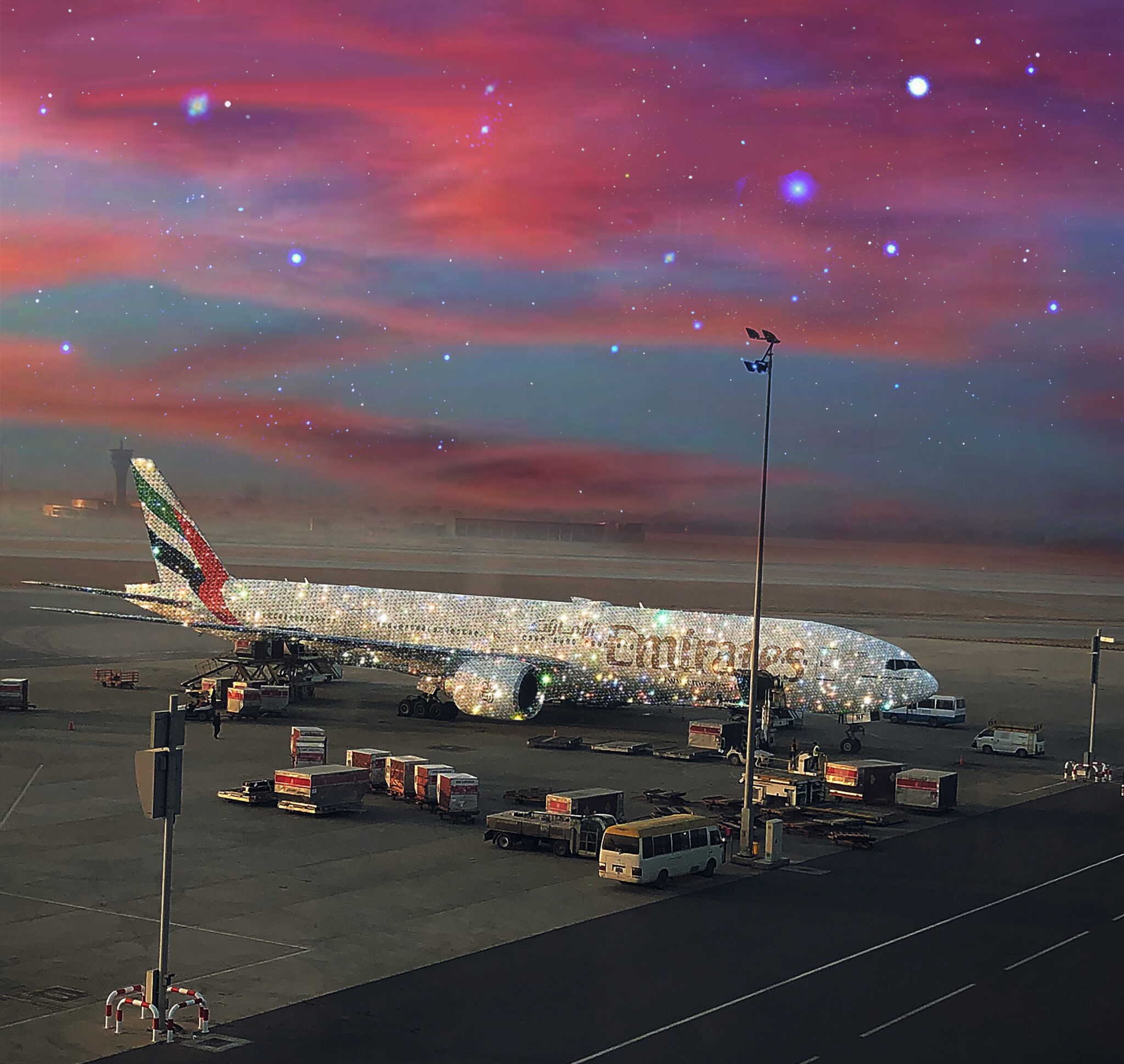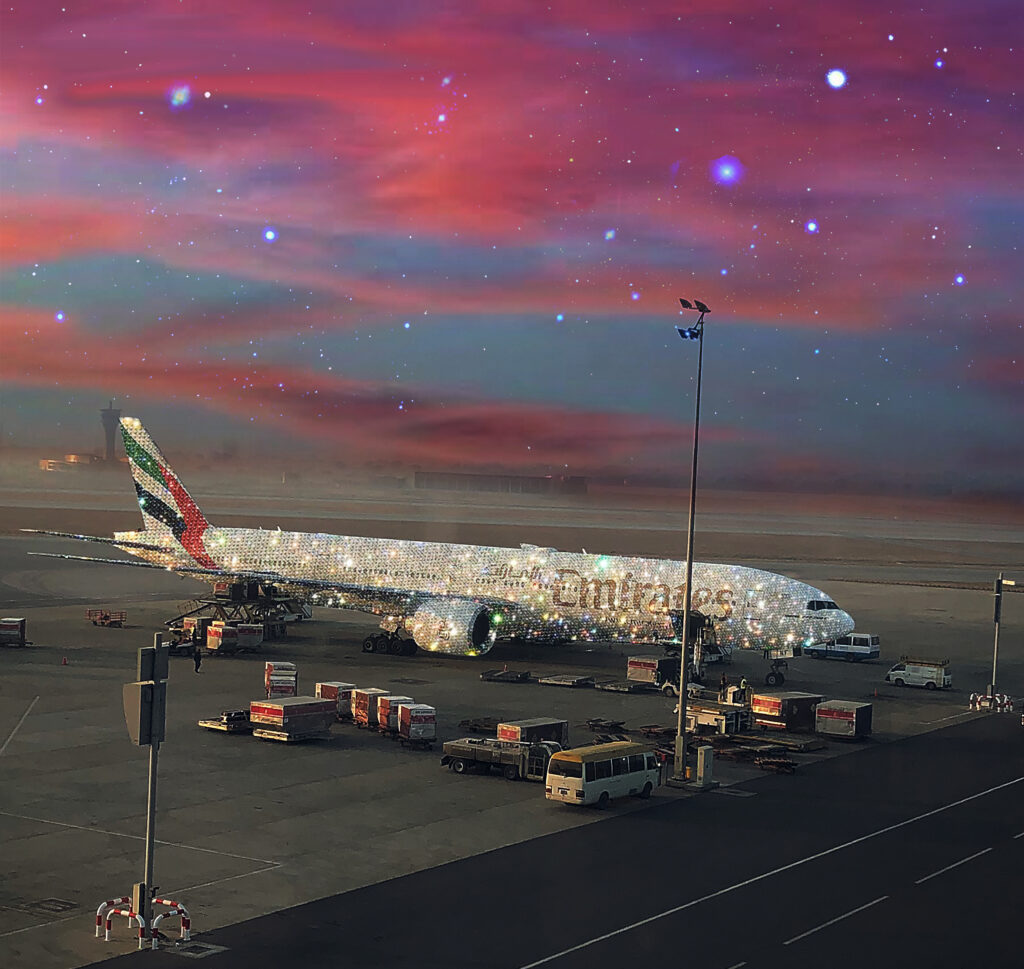 How has your process or technique evolved since you first began?
Sara Shakeel: The crux lies in continuous evolution, a perpetual journey that spans a lifetime. I never experienced formal art education, yet, a shared thread linked me with this domain – creativity. I hungered to create. Along my path, I encountered remarkable souls who acted as mentors, illuminating the enigmatic corridors of the art world. They bestowed upon me the guidance I had always yearned for. This evolution is my narrative – a trajectory from digital artist to installation creator, ultimately stepping into the role of a creative director. I've expanded my canvas, transcending the digital to manifest my art in tangible forms.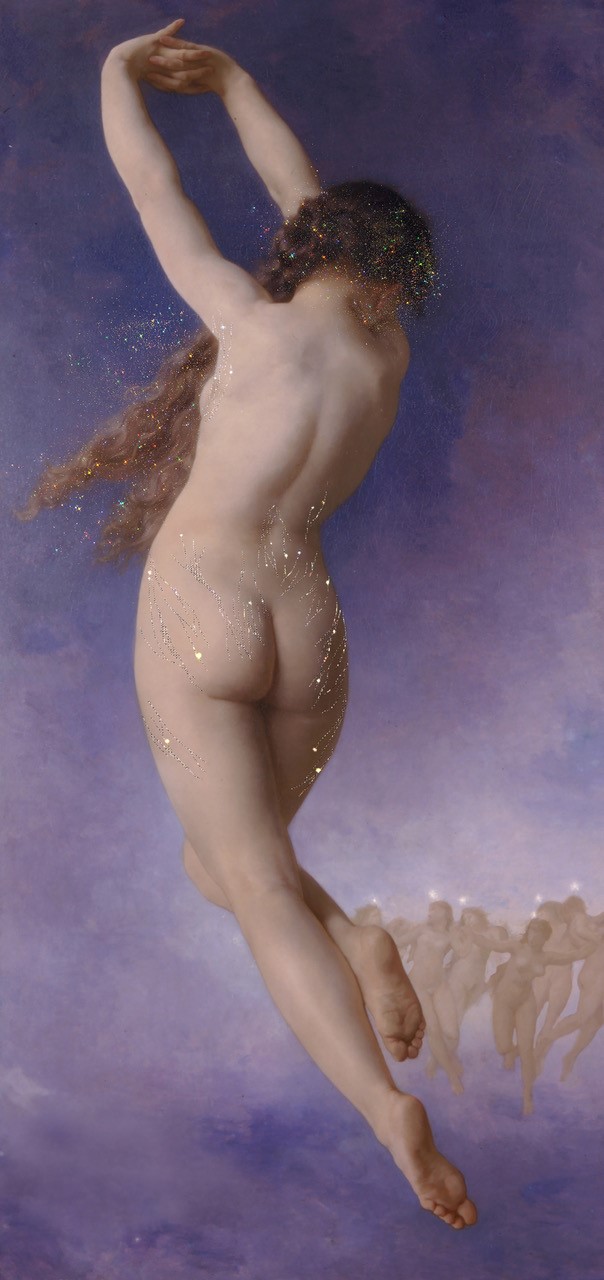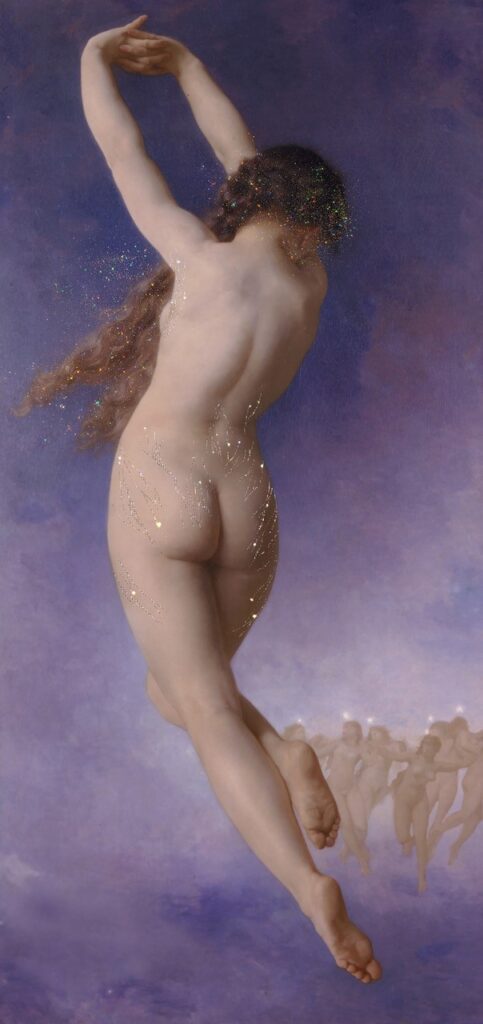 Looking back, which of your artworks is most significant to you and why?
Sara Shakeel: Labelling a favourite among my creations feels unjust, as each artwork is a cherished piece of my heart and mind. Every stroke and idea originate from emotions, whether personal experiences, observations, or stories witnessed. Yet, if pressed, the series that holds immense significance is the "Glitter Stretch Marks" series. A simple yet profound method of accentuating stretch marks through crystals resonated deeply with women across the globe, and even with men. This work, bearing the power to celebrate imperfections through art, fills me with genuine pride.
I must also highlight the artworks crafted during the COVID era, particularly the portrayal of handwashing. Viewing water as glistening crystals transformed the mundane act into something magical. This perspective shift breathed new life into the concept, making it captivating. Notably, it caught the attention of Kendall Jenner, who shared it on her stories.
What amazes me is how my art, rooted in simple messages, often wields significant societal impact, an outcome I never consciously plan for. The power of unintentional resonance is truly remarkable.
What lessons have you learned from the art world that you'd like to share with upcoming artists?
Sara Shakeel: I'm deeply drawn to this question because my journey has been one of embracing my unique identity, even if it doesn't conform to others' expectations. I've often been labelled as "an artist," yet not the one they envisioned. My path doesn't follow predefined rules, not out of defiance, but because creativity, I believe, defies constraints. It's the essence of our humanity, painting the world with a boundless spectrum of colours, including shades we've yet to unveil.
I've encountered challenges – criticism and ridicule – that have fortified my path. As a woman artist, I yearn to stand for the young and the audaciously creative. Amid the vibrant chaos of creation, I aspire to be a guiding light for them, a source of nourishment and inspiration. I dream of a platform where they can weave their narratives, infusing my lessons with their unique twists.
If there is only one lesson I can impart to the world, it's to "LOVE YOURSELF." Only then can you unveil the beauty that surrounds you, transforming your perspective of the world.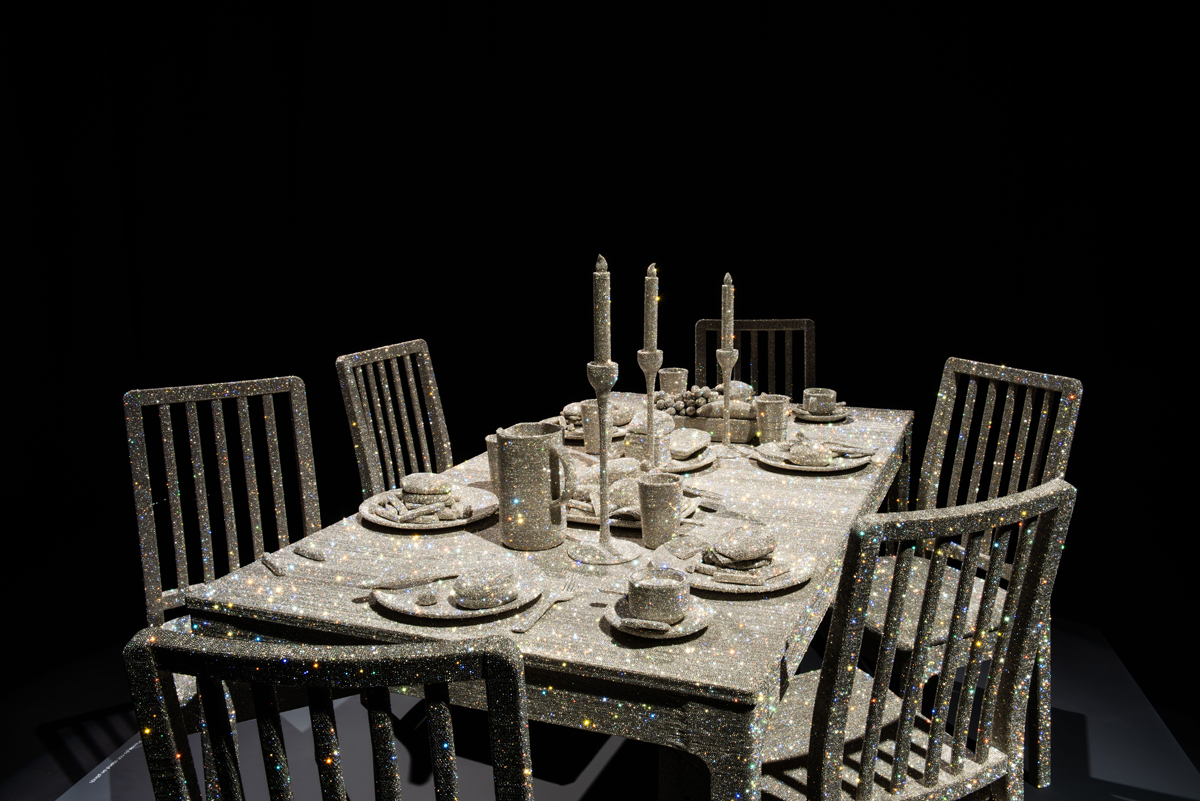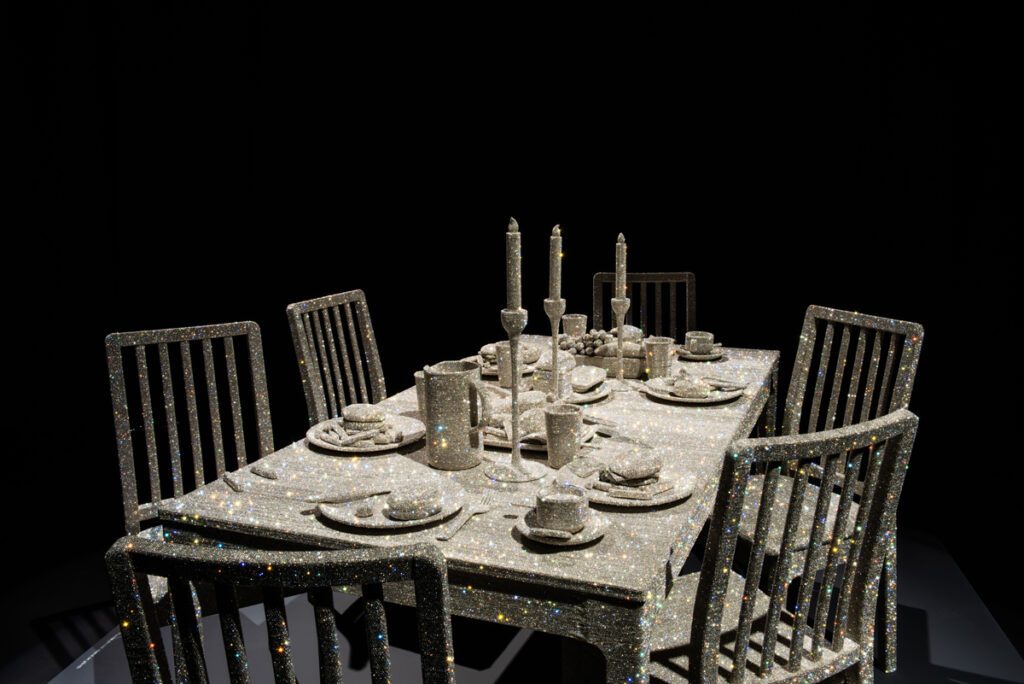 What's next for Sara Shakeel
Sara Shakeel: As I've mentioned before, my creative realm extends beyond the boundaries of digital art and sculptures such as The Great Supper at the Greenwich Peninsula Design District this month. It's an eclectic mix of science, technology, teaching – a harmonious blend of all my passions.
And the excitement doesn't stop there. In the upcoming months, from October to December, prepare for a series of monumental unveilings. A mesmerising art installation in Paris, a captivating capsule collection of dinnerware infused with my artistry in the US, and an exciting foray into the world of technology (world-wide). And that's not all – I'm working on a significant tech initiative aimed at giving back to the vibrant art and creative community that fuels my journey, and truly has made me who I am today.
So, fasten your seatbelts, for the grand finale of this year promises an array of sparkling surprises that are bound to leave you enchanted.
Lastly, What does art mean to you?
Sara Shakeel: ART is an expression towards yourself, the community around you, and for the world of tomorrow. Art is food for the hungry, inquisitive part of our brain.
https://www.instagram.com/sarashakeel/
©2023 Sara Shakeel