James McQueen: If You Ever Leave Me I'm Coming With You
15th November 2023 –7th January 2024
Halcyon Gallery
148 New Bond Street
London
W1S 2RL
If You Ever Leave Me I'm Coming With You, the latest solo exhibition from pop artist James McQueen opens to the public at Halcyon Gallery in Mayfair on 15th November, displaying a new body of artwork using vintage Penguin Book covers as a starting point for bold and satirical paintings.
The titles and sentiments on the book covers are evocative, playful and sometimes cynical. Working under a pseudonym, McQueen introduces an autobiographical dimension to the work with his trademark monkey, using this mischievous character as a kind of personal insignia.
McQueen remains an enigma in the art world, painting under a pseudonym since 2017. He explains: "Keeping behind the mask enables me to enjoy the creative process without being concerned about praise or recognition. I enjoy what I do and don't want that to change or to be changed through judgement. I want my art to speak for itself."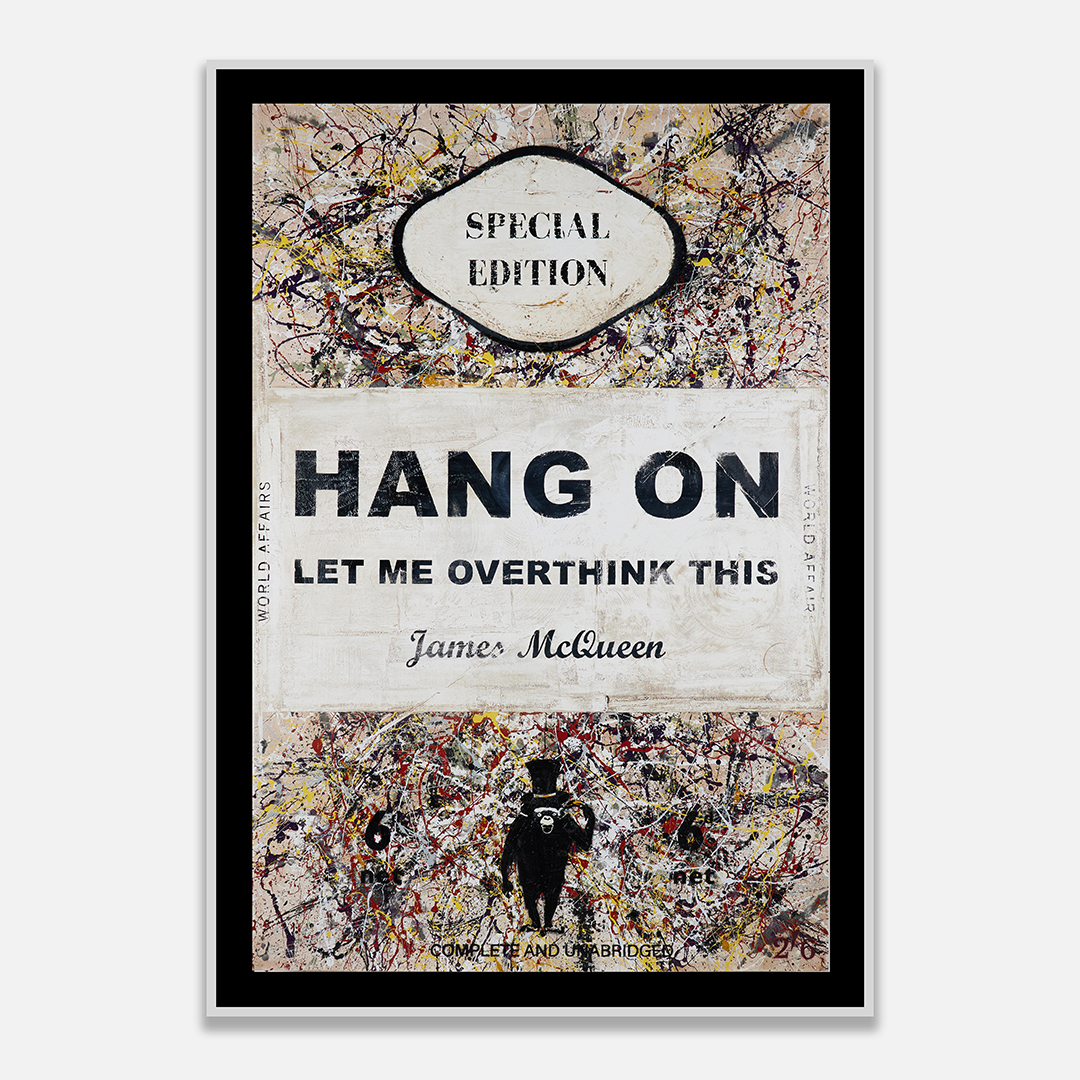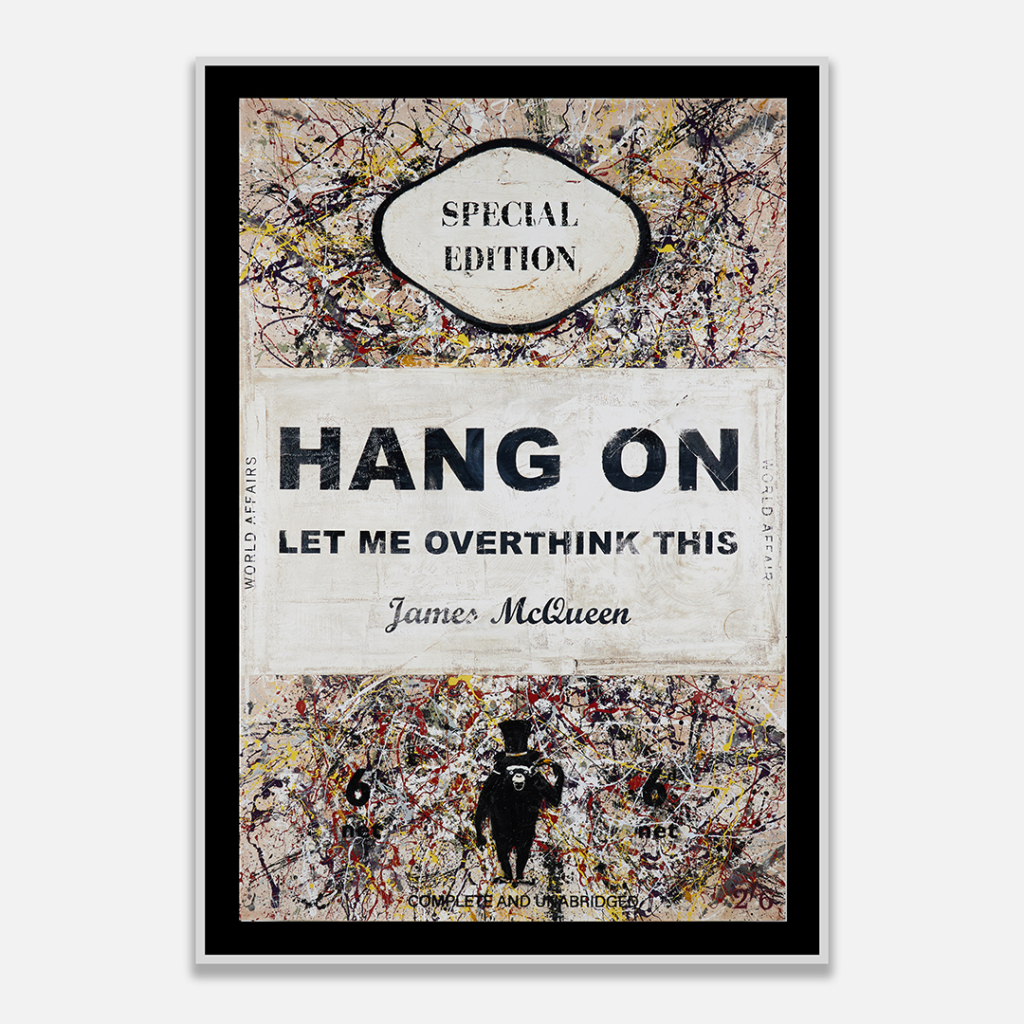 In spite ofhis anonymity, McQueen's paintings are deeply personal, expressive and revealing. At the heart of McQueen's work is the classic Penguin Books cover design from 1935. McQueen has adopted this design as the fundamental template in almost all of his work,yielding a huge range of possibilities in spite of its strict parameters. In creating his art, McQueen applies paint in abundance through numerous layers that, once dried, are sanded down, creating a coarse aesthetic that evokes the wear and tear of vintagebooks. Often the surfaces are covered with lacquer to add extra richness and vibrancy. McQueen's initial interest in Penguin books was inspired by his grandfather who had a large collection. "He would often read them to me, but I was more interested in the way they looked," recalls McQueen.
Exploring themes of Pop Art and abstraction, McQueen's complex application of paint elevates his art beyond the mere imitation of a nostalgic object towards an art that is rich and expressive. He represents the booksnot as they were when first published, but as they are today: stained and faded with annotations and tattered edges. McQueen's unique techniques reflect aging and decay as the books are passed down from one owner to another, including fingerprints marks, rings from tea mugs, missing corners, dishevelled spines and scribblings from readers.
Says McQueen: "I want to create that wear and tear, that authenticity. It's easy to do something clean. It's easy to do something with straight lines. It's much harder to make something look old and tired."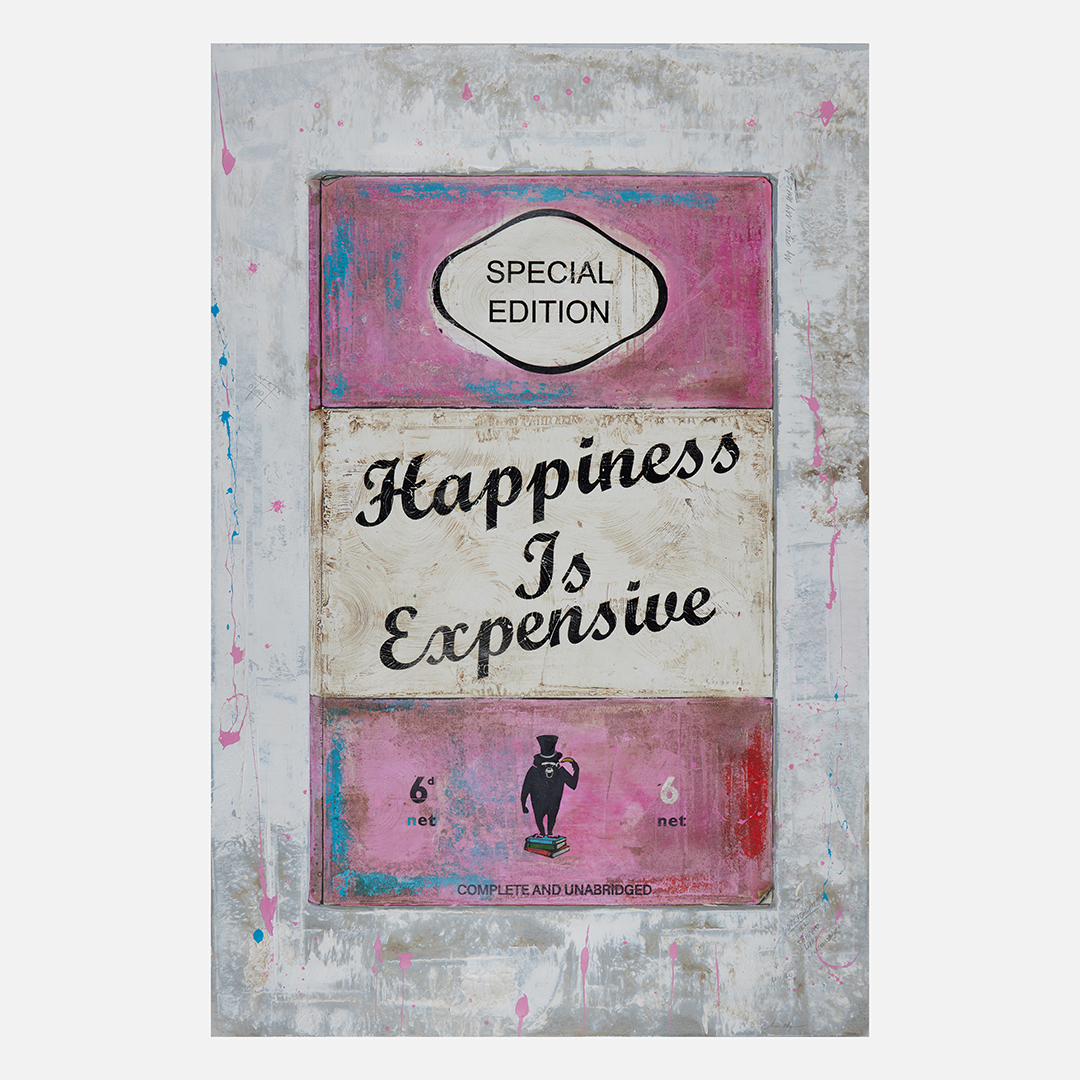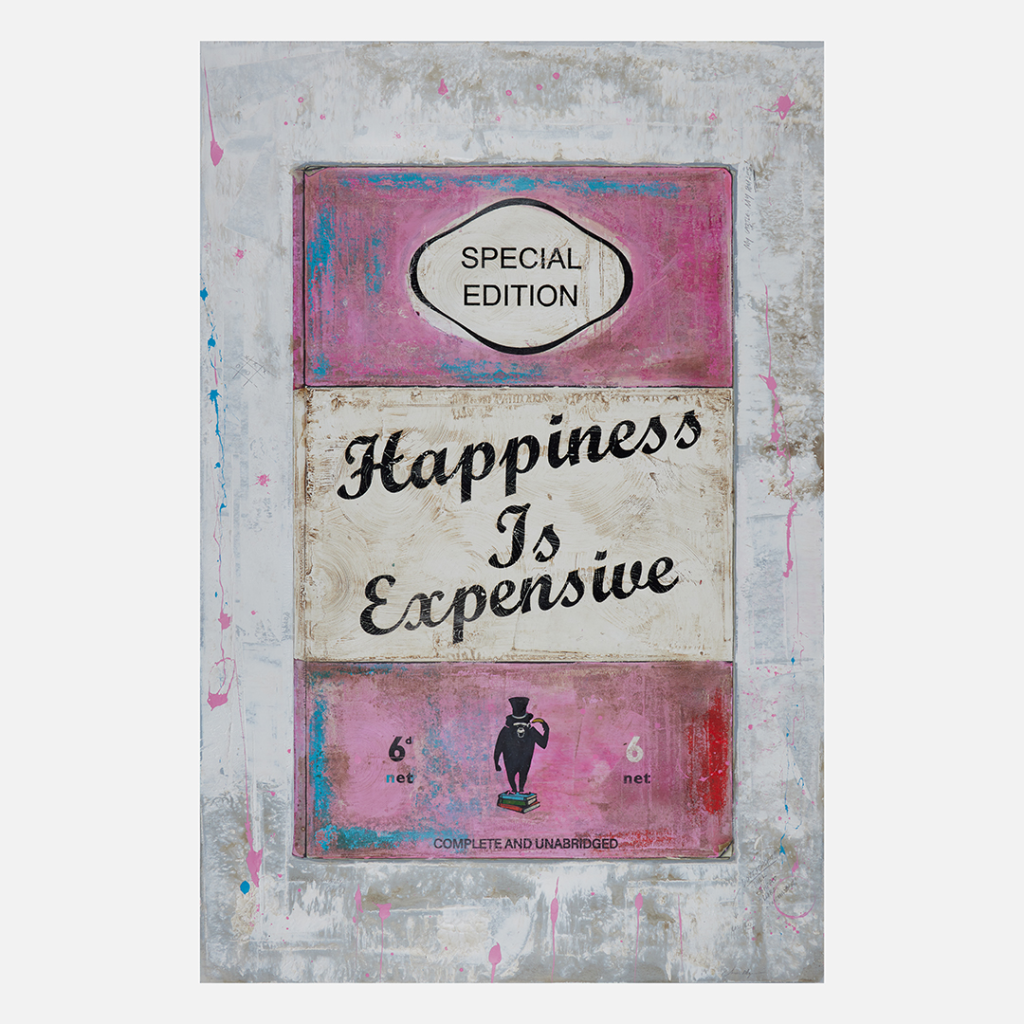 These domestic touches are starkly and comically contrasted with the bold and provocative titles thatare a feature of his work, such as Too Cool To Give A Fuck, Oh Bollocks, and Give Me Solutions Not Fucking Problems." Collectors choose these pieces because the quote resonates with them," says McQueen. "It's something they can look at every day, as if it is a book on their shelf."
As well as with the books from his grandfather's collection, McQueen is inspired by artistic traditions over the decades including Pop Art and Abstract Expressionism as embodied by the likes of Ed Rusha, Damien Hirst, Banksy, Warhol and Harland Millar. By reimaging elements of other works and combining them with his own images and his uniquestyle, McQueen creates original works of art.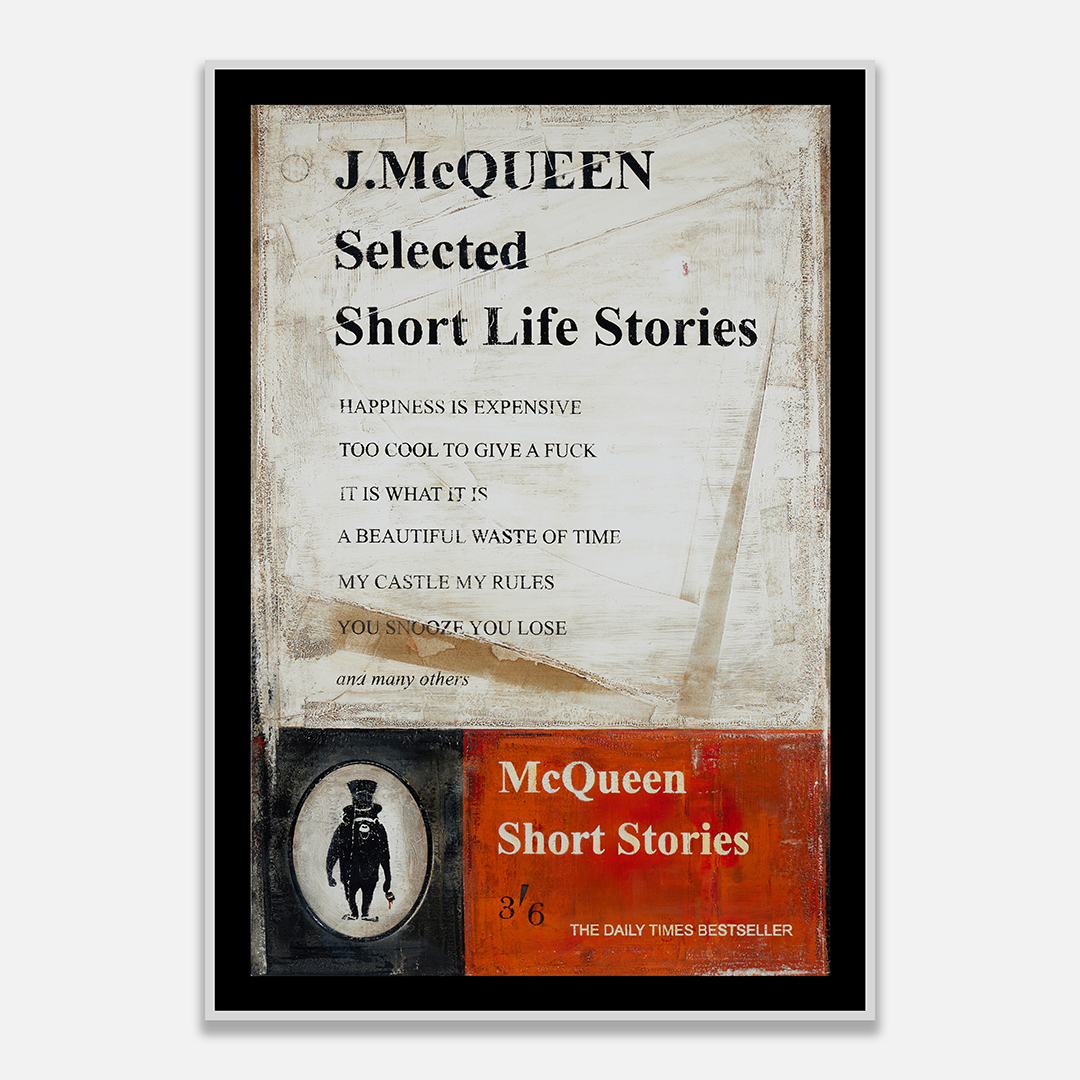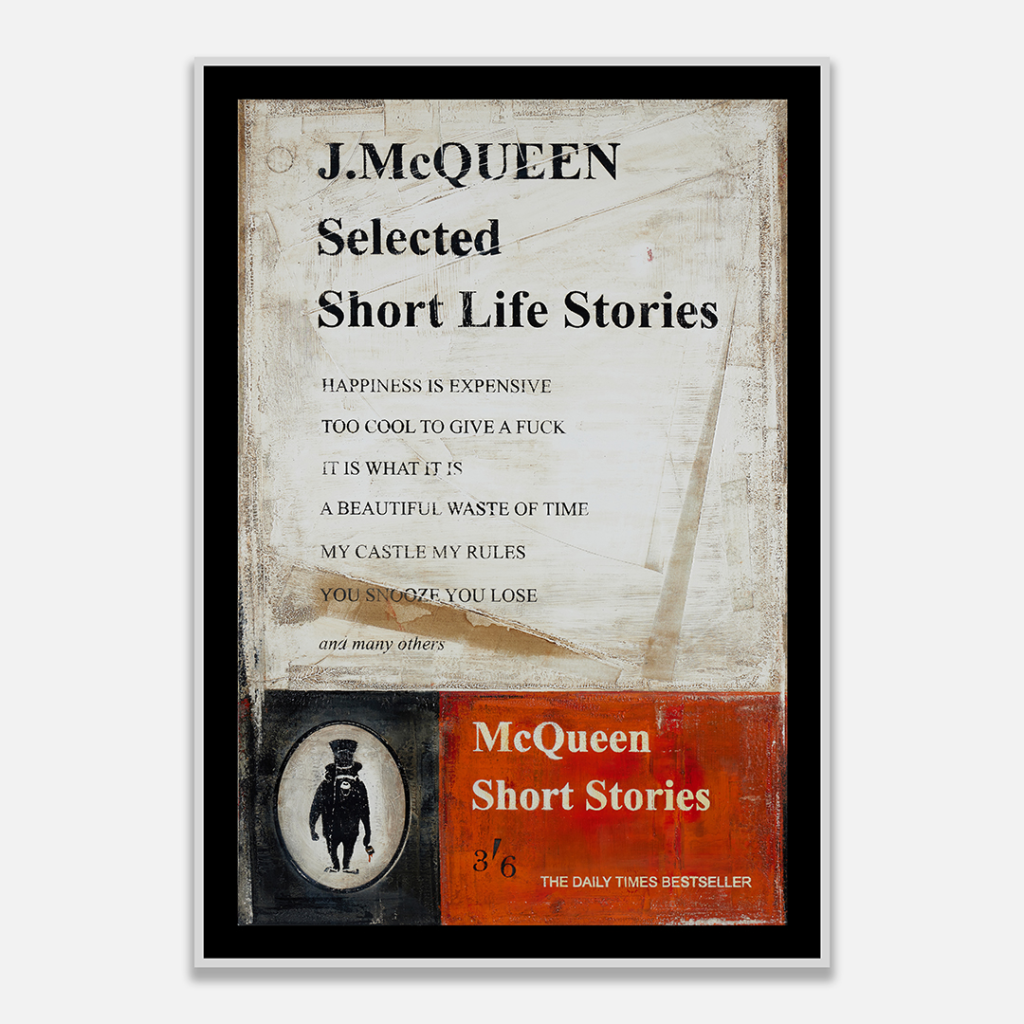 Over the last year, McQueen has produced the most experimental, complex and varied paintings of his entire oeuvre, and this exhibition highlights his new, ground-breaking techniques while breaking new ground in the range of possibilities that can be achieved through the Penguin cover motif. This exhibition is only the latest in the unfolding story of this unique artist.
James McQueen, If You Ever Leave Me I'm Coming with You runs from 15th November 2023 – 7th January 2024 at Halcyon Gallery, 148 New Bond Street, London W1S 2RL.
©2023 James McQueen, Halcyon Gallery