In the ever-evolving landscape of contemporary art and emerging artists, few voices resonate as deeply and distinctively as Sarah Cunningham's. This burgeoning British talent's practice is firmly rooted in introspection and observation. For her, a canvas is not merely a piece of fabric; it's a repository for memories, experiences, and exploration as she delves into the relationship between humans, nature, and landscape, drawing inspiration from various artistic, historical, and literary references.
At first glance, her works might appear to be simply painterly layered markings on a canvas. However, closer inspection reveals a potent blend of ambiguity: expressive, multifaceted abstract landscapes and psychological spaces she has constructed over time. Her gestural brushwork and distinctive mark-making refine her painting process, a continuous interplay of destruction, concealment, and revelation aided by her technique of extending her brushes to expand her arm's reach when gracing the canvas.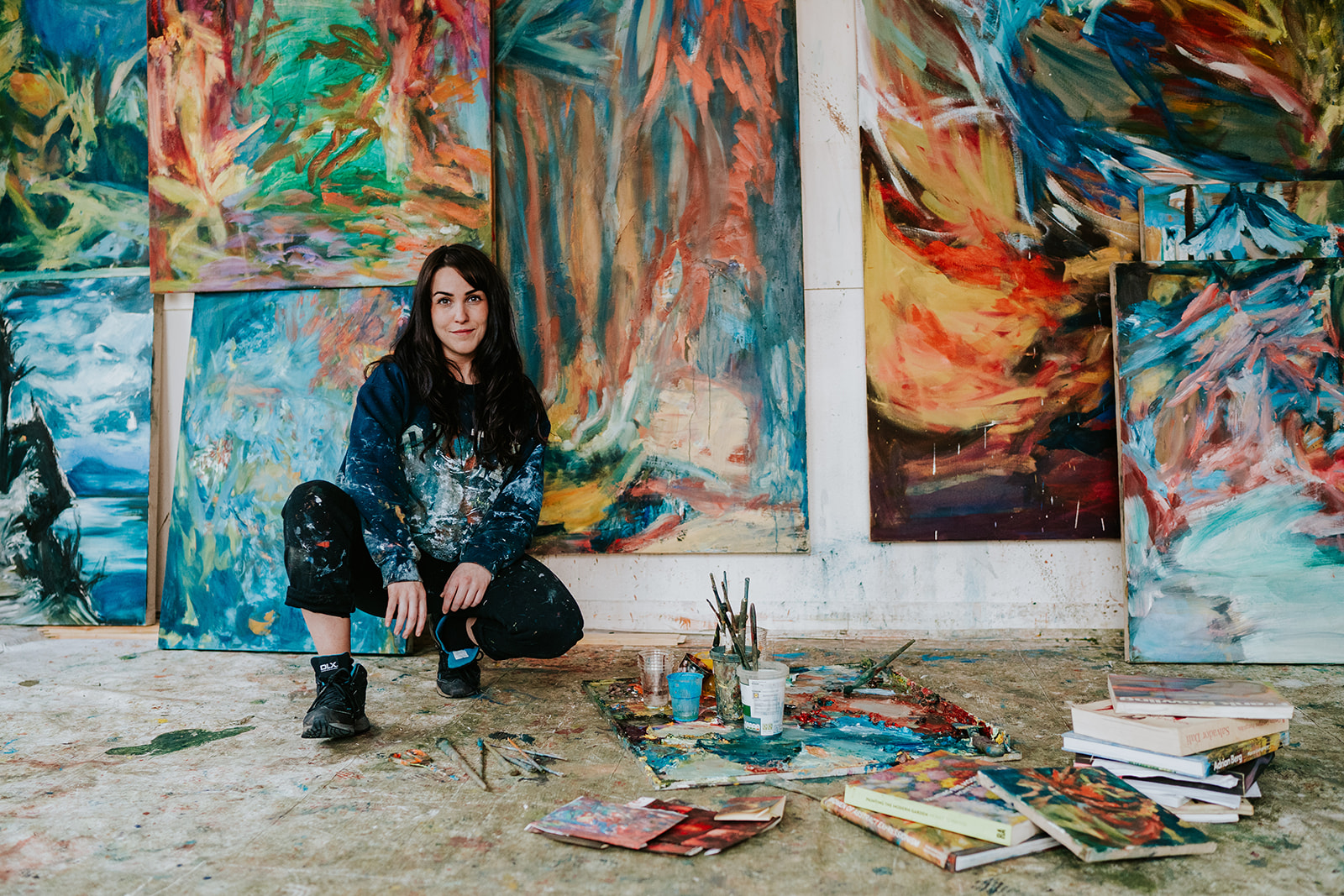 Everything I make begins with my body. It's the container for my memories and feelings that I translate into painting and language. It's also a vessel which takes me through the different environments of my life

Sarah Cunningham
Cunningham's paintings are not just cloistered memoirs; they serve as open invitations or portals, if you will, beckoning viewers to embark on an odyssey through Cunningham's imagined woodlands. The raw authenticity of her painting, devoid of pretence, strikes a universal chord. It reminds us that art, in its purest form, is not just about observation but introspection, not just about looking but feeling. A sentiment that captured the attention of Lisson Gallery, which now represents Cunningham.
After graduating from the Royal College of Art in 2022 with an M.A. in Painting, Cunningham's art career has swiftly ascended. With her auction debut earlier this year, her work fetched six figures, signalling a luminous trajectory for the emerging British artist. Cunningham's practice emerges from the depths of her consciousness, blending inspirations from nature and experience with each canvas she touches, radiates a sense of awe and awakens curiosity.
Hi Sarah! How are you doing? Thank you for taking the time to speak with us. Please introduce yourself to those who do not know you.
Sarah Cunningham: My name is Sarah Cunningham, and I'm a painter. I was born in Nottingham in 1993. I moved to London to study for an MA at the Royal College of Art and remain there today. I currently have a solo show of my paintings at Lisson Gallery, London, called The Crystal Forest.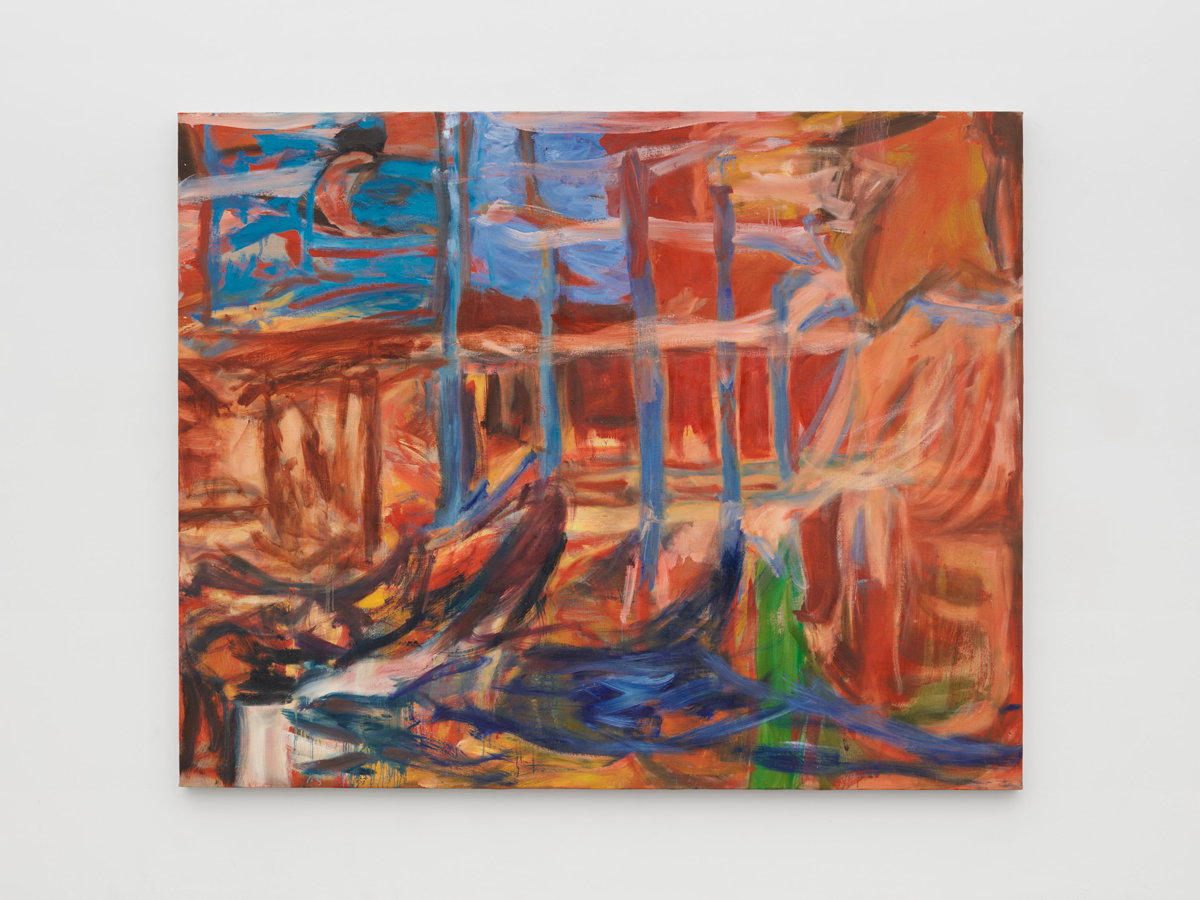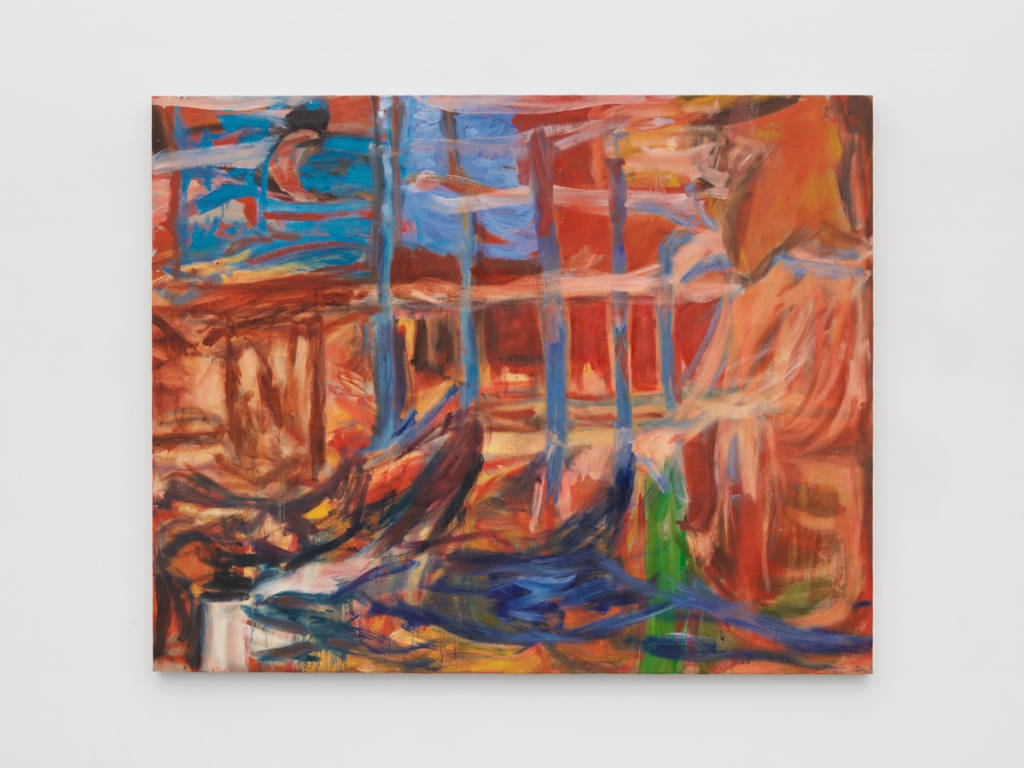 Please share some details about how you became an artist. What pivotal moments or influences encouraged you to follow this career path?
Sarah Cunningham: I didn't grow up around art or visiting galleries, but I have always had a love for drawing from a young age. Drawing was the best way to connect to the world around me. I was often told not to study art because of the career prospects, but I was stubborn, so I pursued it heavily. Because of this my first experiences with paintings and works of art felt very personal.
I moved to Loughborough for three years to study for a BA at Loughborough University. When I returned to Nottingham, I had various studios. I worked for two art galleries and as a van driver. I often had to paint at night, and when I was on the road, all I could think about was painting.
I was selected for a research residency in 2018 by La Wayaka Current based on my work. I was living and working with the Kuna community in the indigenous region of Guna Yala, Panama. When I returned, I knew it was the right time to apply to the Royal College of Art. I was selected for the Ali. H Alkazzi Scholarship award, without which I would not have been able to attend the school.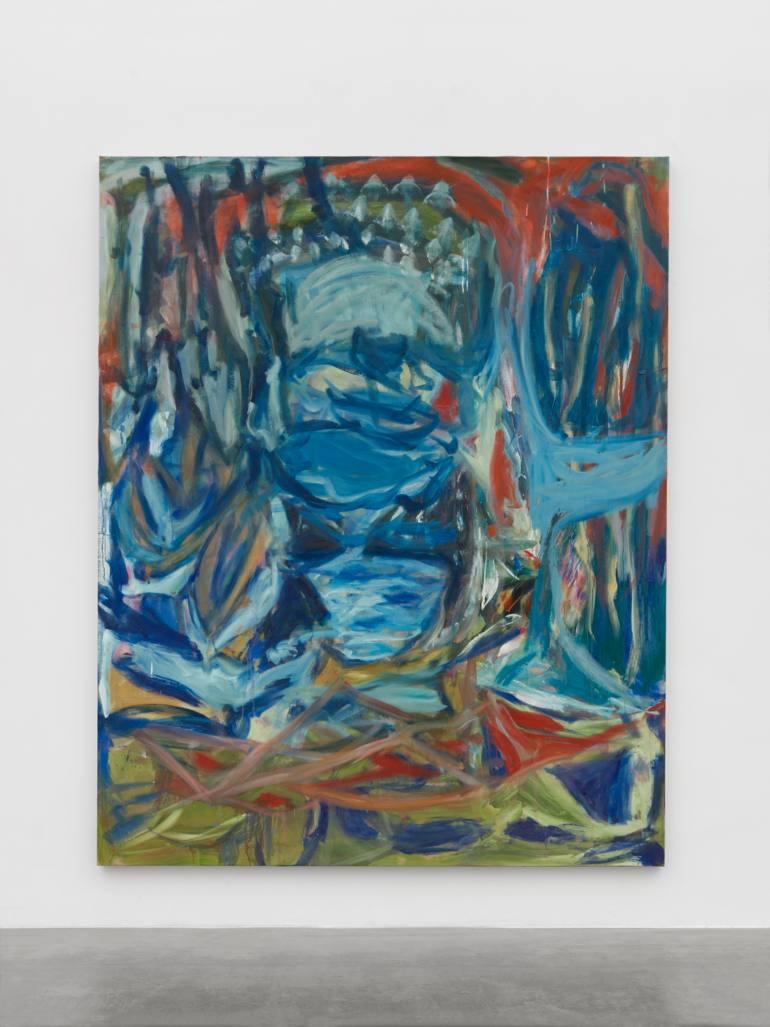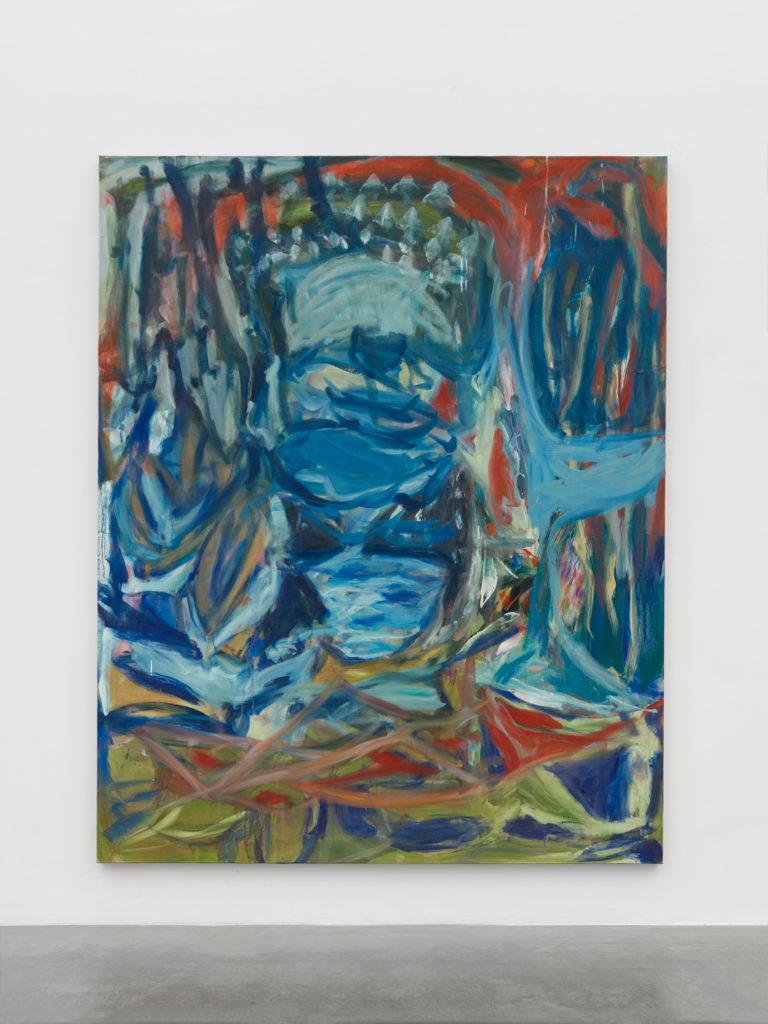 The depth and scope of your practice encompass a variety of references, vividly expressed through gestural brushwork and mark-making that is a continuous interplay of creation, destruction, concealment, and revelation, unfolding in abstract landscapes and forest scapes. Can we delve into your practice, inspiration, and the intricacies ofyour creative process?
Sarah Cunningham: Everything I make begins with my body. It's the container for my memories and feelings that I translate into painting and language. It's also a vessel which takes me through the different environments of my life, from urban London to the woodlands and parks from my childhood.
My painting process is rooted in observation, I tend to go back to the same motifs in nature over and over. I have certain prompts in the studio that act as catalysts throughout a paintings process, found images, light phenomena in my film photographs, poems, watercolours, plants, shells. This can be like choosing a card from a deck. It pulls the painting in various directions and allows me to explore things very deeply. I use these references like a repository; things sit there, sometimes percolate for months, sometimes years. There is always something more to be looked at in a subject.
Perhaps this comes from a desire to return to an earlier primaeval idea of how to see, how to rethink how we think beyond instinct. This reveals a deeper, more nuanced story of events where the painting itself is an ancient, shared inheritance. I don't want this narrative of the painting to be linear; rather, I'd like viewers to gather a sense of the subject over time. Maybe even a desire for transcendence beyond mortality.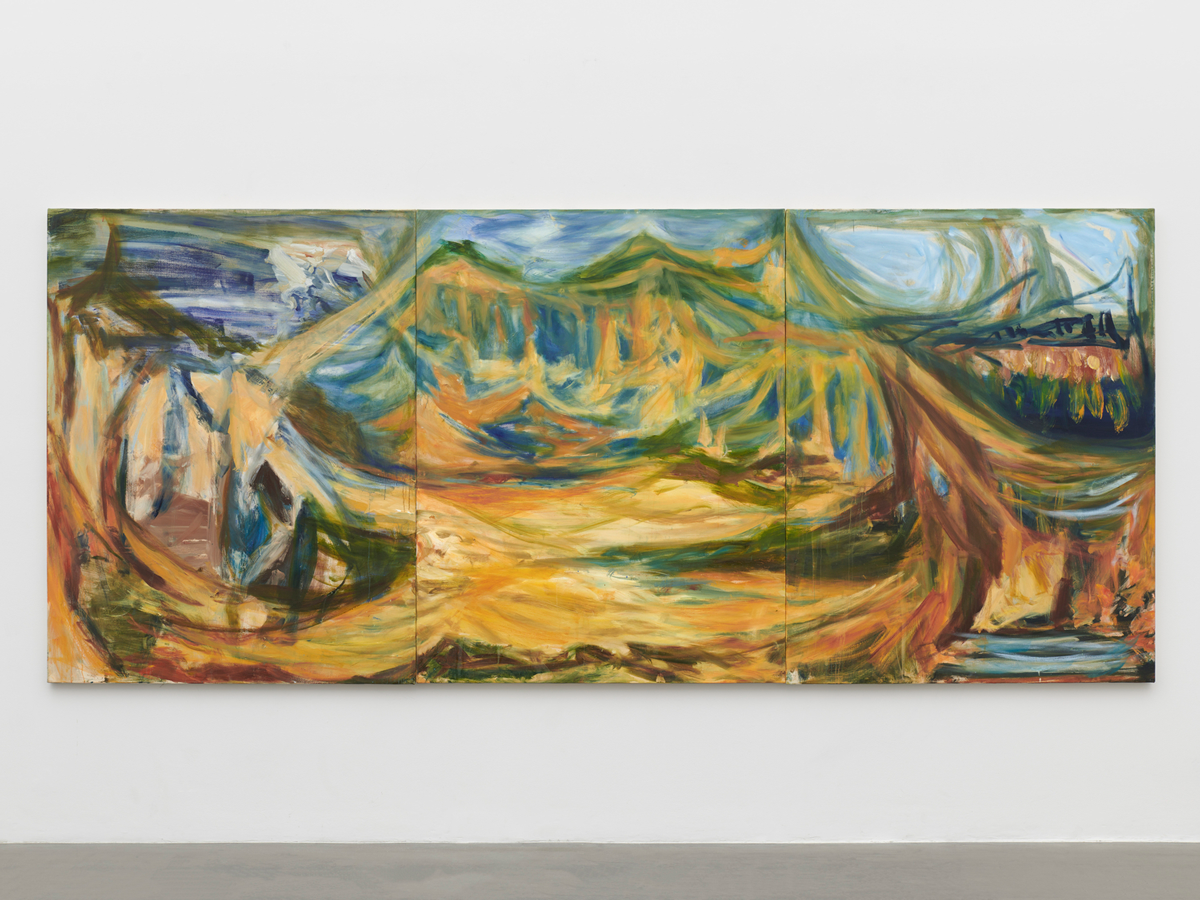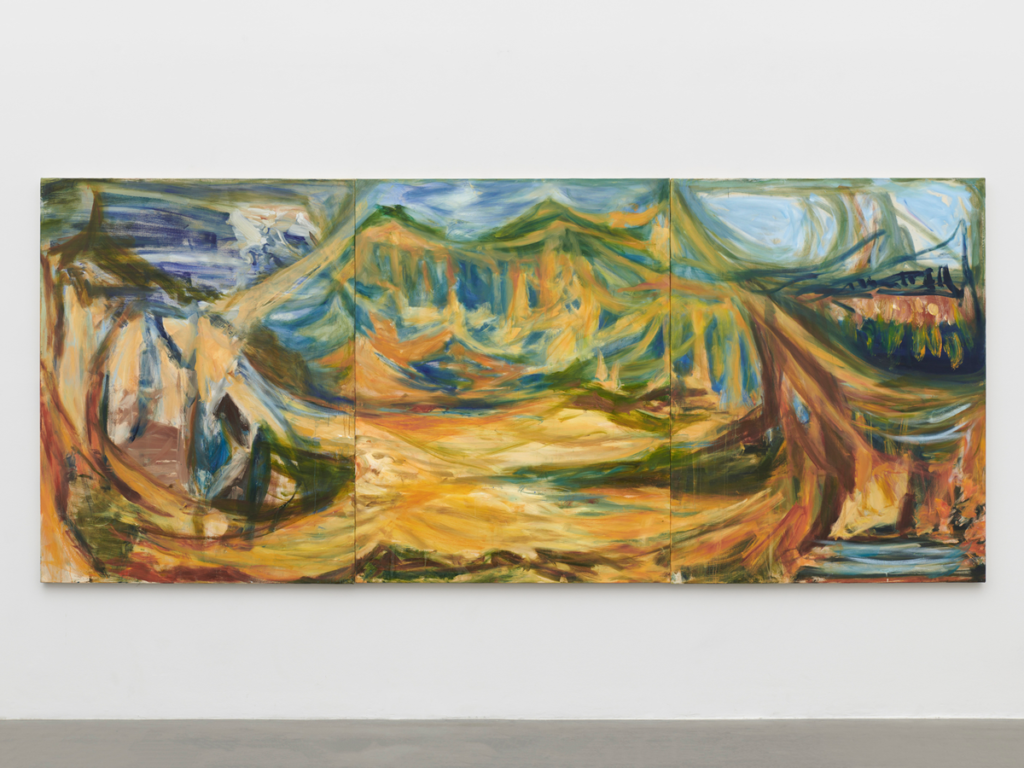 Can you describe what it is like standing in front of a canvas, ready to express yourself? How do you feel during the process? What thoughts are going through your mind, and what actions and movements do you make?
Sarah Cunningham: When I am faced with a blank canvas, it's about establishing a relationship with my body and the surface, making a mark that creates a response. I don't work with any preparatory sketches and avoid any sense of a formal roadmap. I often start a painting by working on the floor with rags and brushes. I treat the surface of the painting as a palette, the paint is pushed and pulled and reveals a texture of thought, a way of thinking that grows. The painting progresses rapidly in short bursts. There is a richness of interrelation, mark, facture, touch and sound. It really is an act of looking and a processing of that looking.
Over time and various intervals and stages, the conversation grows older. It has to meet in some way, places or thoughts that occur to me, emotions that are buried deeper. There is a way of creating a space for them, a channel or a line of enquiry so I can pull them out and coax them out, and then allow them to travel and develop.
Building on that, what led you to choose abstraction as your primary medium of self-expression? Why does this particular style of painting resonate with you so deeply?
Sarah Cunningham: I don't identify with a style, and I avoid any sort of formula in my work. In terms of abstraction and figuration, it's much more to do with how do I have both in the same place? What is this sense of place in my work?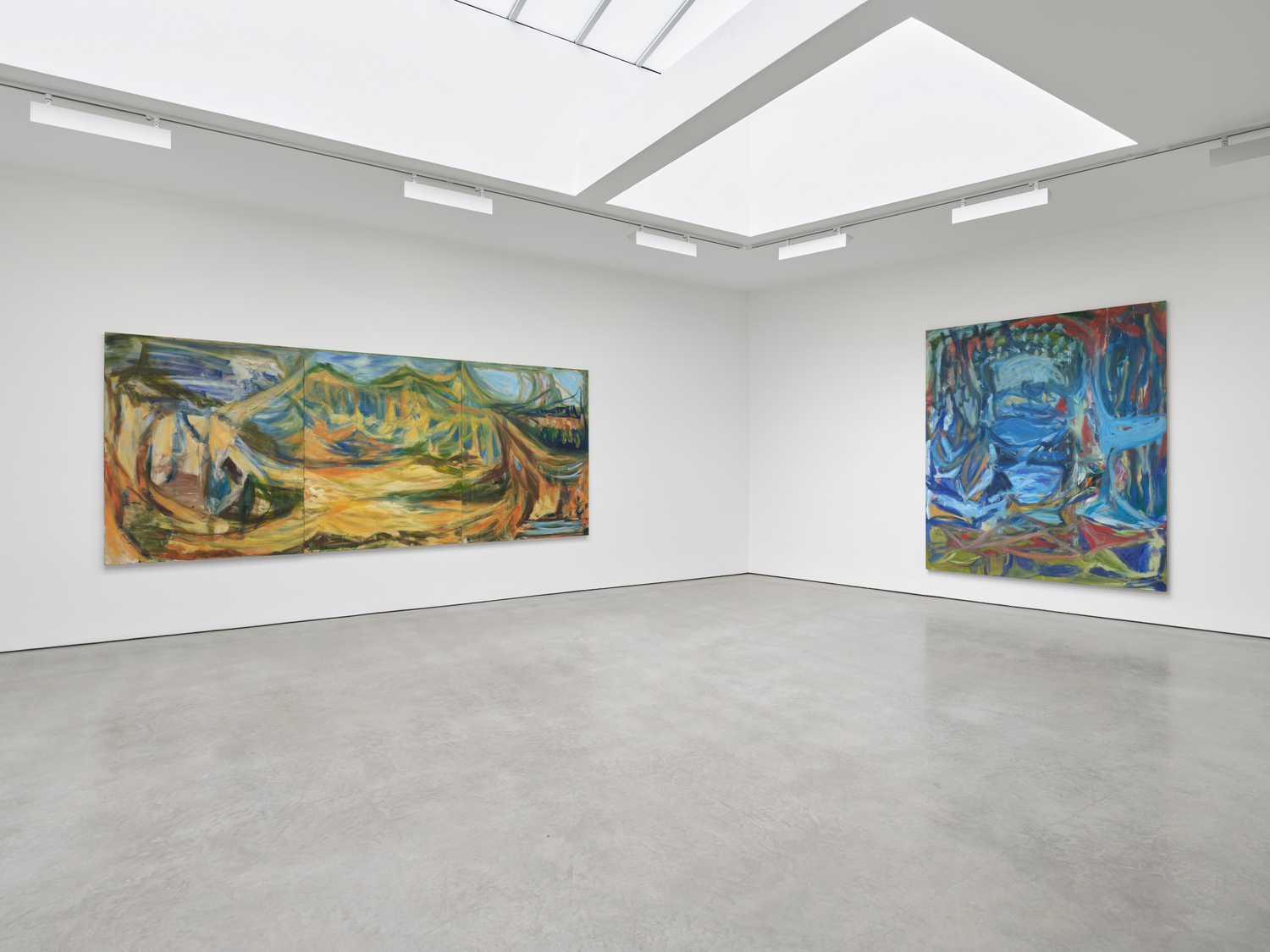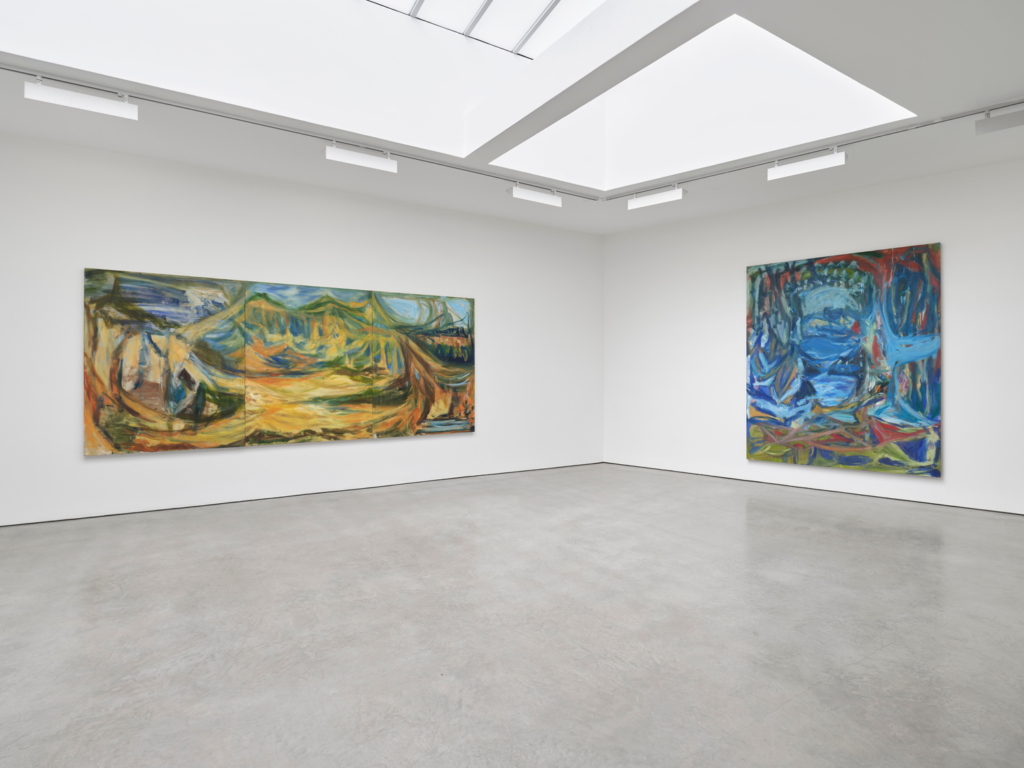 You've opened your first solo exhibition, "The Crystal Forest", at London's Lisson Gallery, showcasing your new body of work, including a triptych and large-scale paintings. Can you tell us more about the exhibition, its essence and how the show with Lisson came about?
Sarah Cunningham: The seed and the initial idea behind the show originally came from a text by Eduardo Viveiros De Castro I read a few years ago called The Crystal Forest. Discussing forest cosmologies and image-spirits, the forest is better understood as a network or a multiplicity of images similar to that of a crystal; with many sides and angles and perspectives.
I came across this text when I returned from my research residency in Panama. The text also references the community that I stayed with which felt serendipitous at the time. For the last few years, I have been working with these parallels within myself and my painting, it has been a spiritually transformational body of work. The show was also informed by 'The Crystal World' by JG Ballard. By looking at this text it allowed me to look through the lens of the first person as they are meeting the world, in this case, the crystal world, for the first time.
Can you recall when creating art changed your life or perspective on something?
Sarah Cunningham: A few years ago I had been asked to make a commission for someone who was terminally ill, who's garden had become their haven. What did her garden give her throughout this time? This experience taught me how a painting can provide a portal or offer a sense of refuge or comfort, how a painting can hold someone.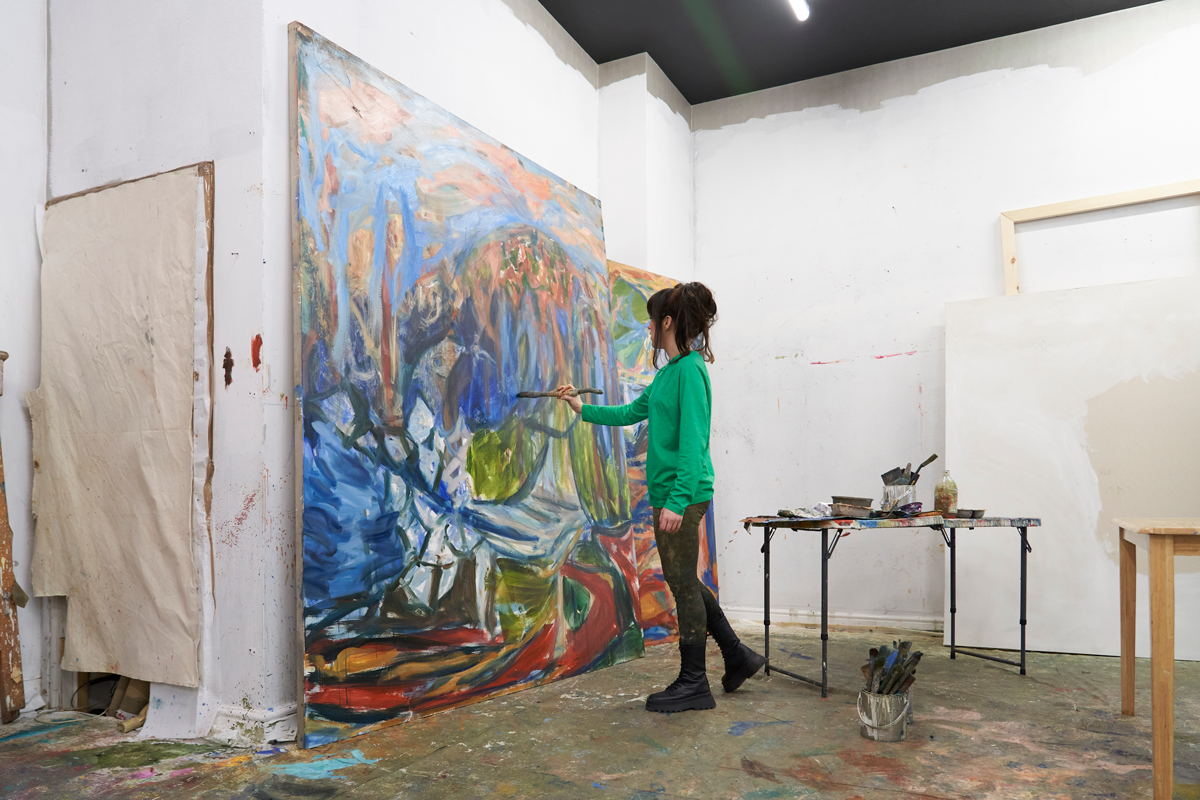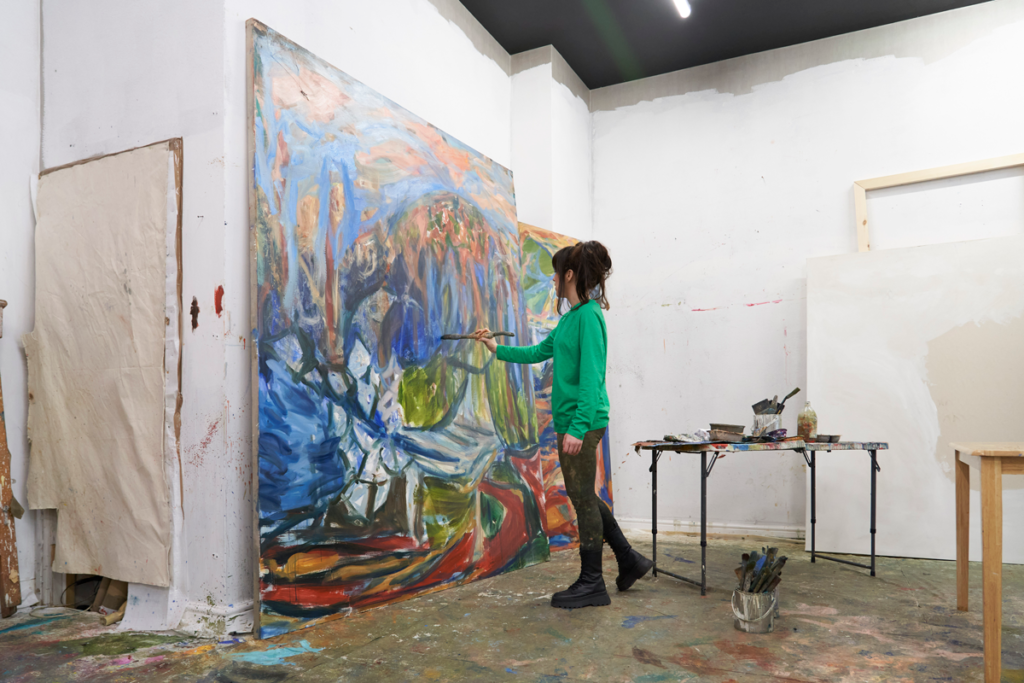 The studio, undoubtedly, carries significant symbolic weight for an artist, transforming into a sanctum for artistic freedom. Can you share three indispensable items you need in your studio?
Sarah Cunningham: Tea, a good paint brush, hope.
What's next for Sarah Cunningham?
Sarah Cunningham: I am back in the studio, drawing, painting, and experimenting. I am feeling immensely positive about the future, moving forwards with Lisson Gallery.
Lastly, what does art mean to you?
Sarah Cunningham: Both looking at and making art, it's a way of processing my life. It makes me feel that my life is a part of this universe.
©2023 Sarah Cunningham, Lisson Gallery