Iwan Wirth, Manuela Wirth and Marc Payot, Presidents of Hauser & Wirth announced the 'Art for Better' online auction, with important works donated by the gallery's artists to raise funds for the humanitarian aid programs of UNHCR. Bidding will open 6 December and runs to 13 December at hauserwirth.com, with 100 percent of proceeds going to support life-saving assistance to people impacted by global refugee crises that have displaced millions.
Artists donating works include Rita Ackermann, Larry Bell, Frank Bowling, George Condo, Martin Creed, Estate Günther Förg, Rashid Johnson, Glenn Ligon, Angel Otero, Thomas J Price, Avery Singer and Anj Smith.
The auction is Hauser & Wirth's latest initiative under the gallery's 'Art for Better' banner, created to platform an ongoing series of philanthropic projects with local, regional and international impact.
'This first online auction is part of our longstanding philanthropic framework at the gallery and has come about through conversations with our artists and our team. We see ourselves as members of a worldwide community, and our support of UNHCR is a way to participate in a humanitarian effort that transcends borders. We're profoundly grateful to the artists – Rita Ackermann, Larry Bell, Frank Bowling, George Condo, Martin Creed, Estate Günther Förg, Rashid Johnson, Glenn Ligon, Angel Otero, Thomas J Price, Avery Singer and Anj Smith – who are so generously participating in this initiative.' —Iwan Wirth
'We are delighted that Hauser & Wirth, together with the outstanding artists they are collaborating with, have decided to generously support UNHCR,' says Shirin Pakfar, Chief of Private Partners and Philanthropy at UNHCR. 'With over 100 million people now uprooted worldwide, this support comes at a crucial time for our organization and the people it serves.'
Works in the auction
Donated artworks include Avery Singer's 'Happening' (2022), a new work expanding on Singer's dynamic visual rhetoric that employs the binary language of computer programs and industrial materials while engaging with the tradition of painting, as well as Glenn Ligon's 'Study for Negro Sunshine (Red) #63' (2022) – a striking example of the artist's celebrated body of text-based works in which he stencils text from Gertrude Stein's 1909 novella 'Three Lives'.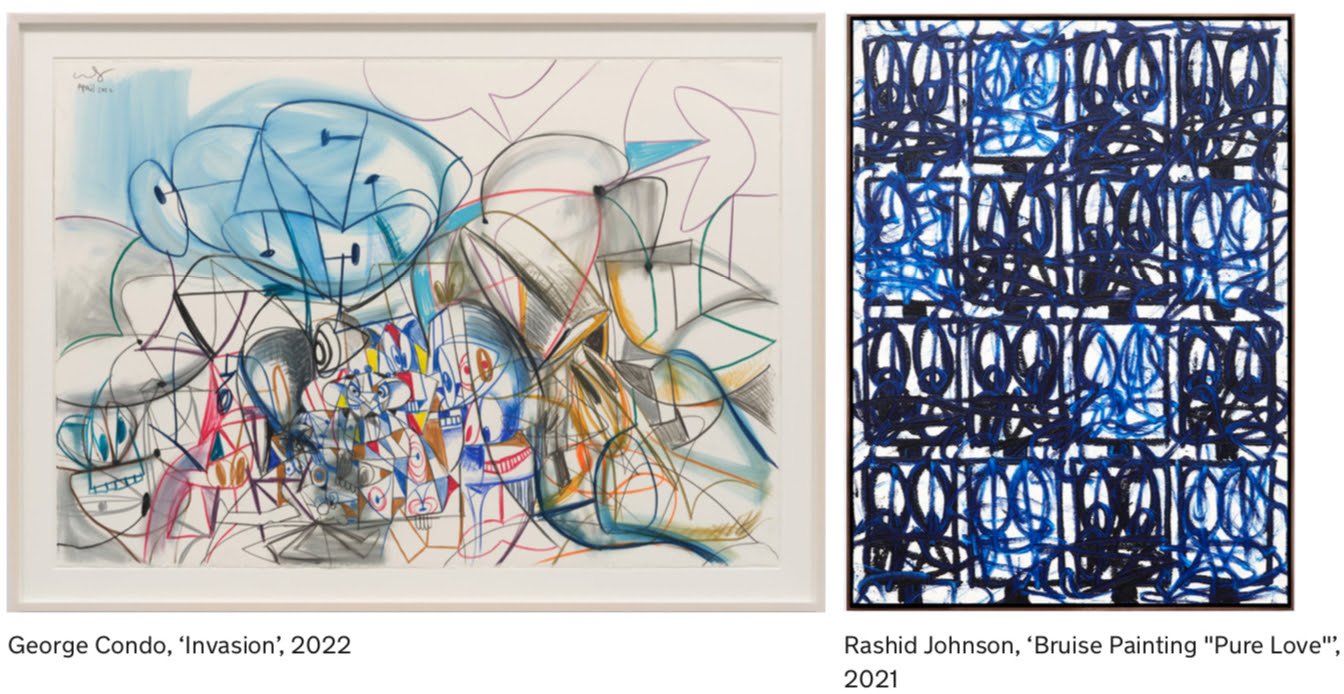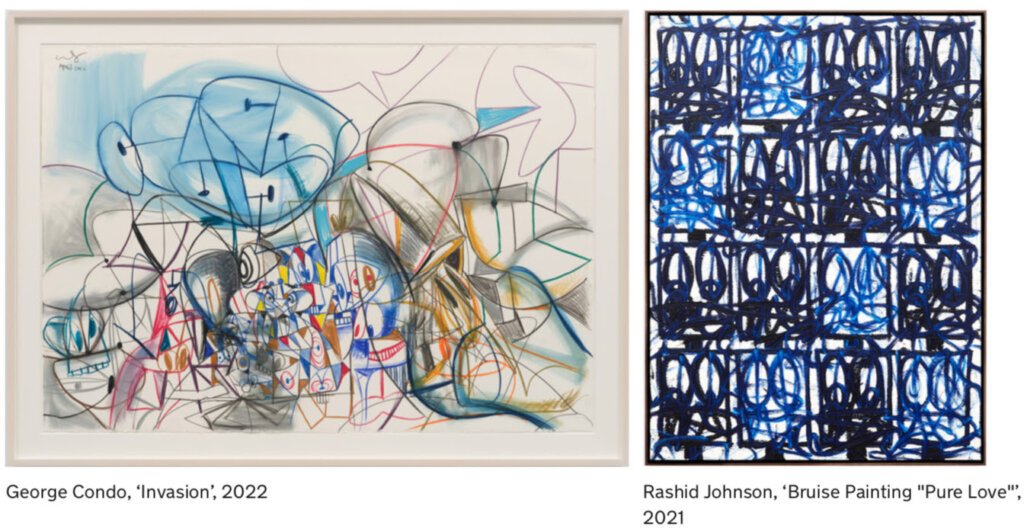 A new work on paper by George Condo titled 'Invasion' made this year is also part of the selection. Additional paintings include Rashid Johnson's 'Bruise Painting "Pure Love"' (2021), an exemplary work from Johnson's new series; Angel Otero's highly textural and powerful painting 'Curtains of a Silent Window' (2022); an otherworldly painting by Anj Smith titled 'Untitled (Mayday)' (2011-2020); Rita Ackermann's 'Red Dots' (2022); a Grid Painting by Günther Förg from 2006, and 'Crossings: East West Tunnel' (2011), an outstanding example of Frank Bowling's Crossing series and his ongoing exploration of the materiality of paint.
The auction will also include sculptural works by Larry Bell, Thomas J Price and Martin Creed. Bell selected a deeply personal work, entitled 'Ukraine', that encapsulates the mesmerizing optical qualities and technical innovation that characterize the artist's nesting box glass sculptures. Thomas J Price's 'Untitled (Icon 3)' is part of the artist's extraordinary 2017 Untitled (Icon) series of gilded portrait heads. A collage of elements variously inspired by classical statuary and the countenances of friends and strangers, Price's portrait head reframes expectations about sculpture, as well as Black masculinity. Martin Creed's neon work 'Work No. 669 FRIENDS' (2007) has also been donated for the auction.
©2022 Hauser & Wirth