When experiencing the work of abstract artist Ferrari Sheppard, one is immediately immersed in its visual decadence, which outlives the maiden gaze. For Sheppard, painting isn't merely an art form; it's an expression from the heart that engages in personal dialogue, soulful exchange, and serious reflection. To understand Sheppard's practice, we must acknowledge his engaging journey through literature, photography, and music. These creative timelines are closely intertwined passages that have nurtured his artistic brilliance into a distinct visual dialect that is indeed his own.
As he charts the complex map of human consciousness, Sheppard transforms his canvas into a vivid kaleidoscope. He ingeniously blurs the lines between figuration and abstraction, depicting scenes with elusive figures. Their identities remain obscured, yet their stories are laid bare, accentuated and enlightened by the glow of gold leaf—a symbolic decoration representing their inherent majesty and significance.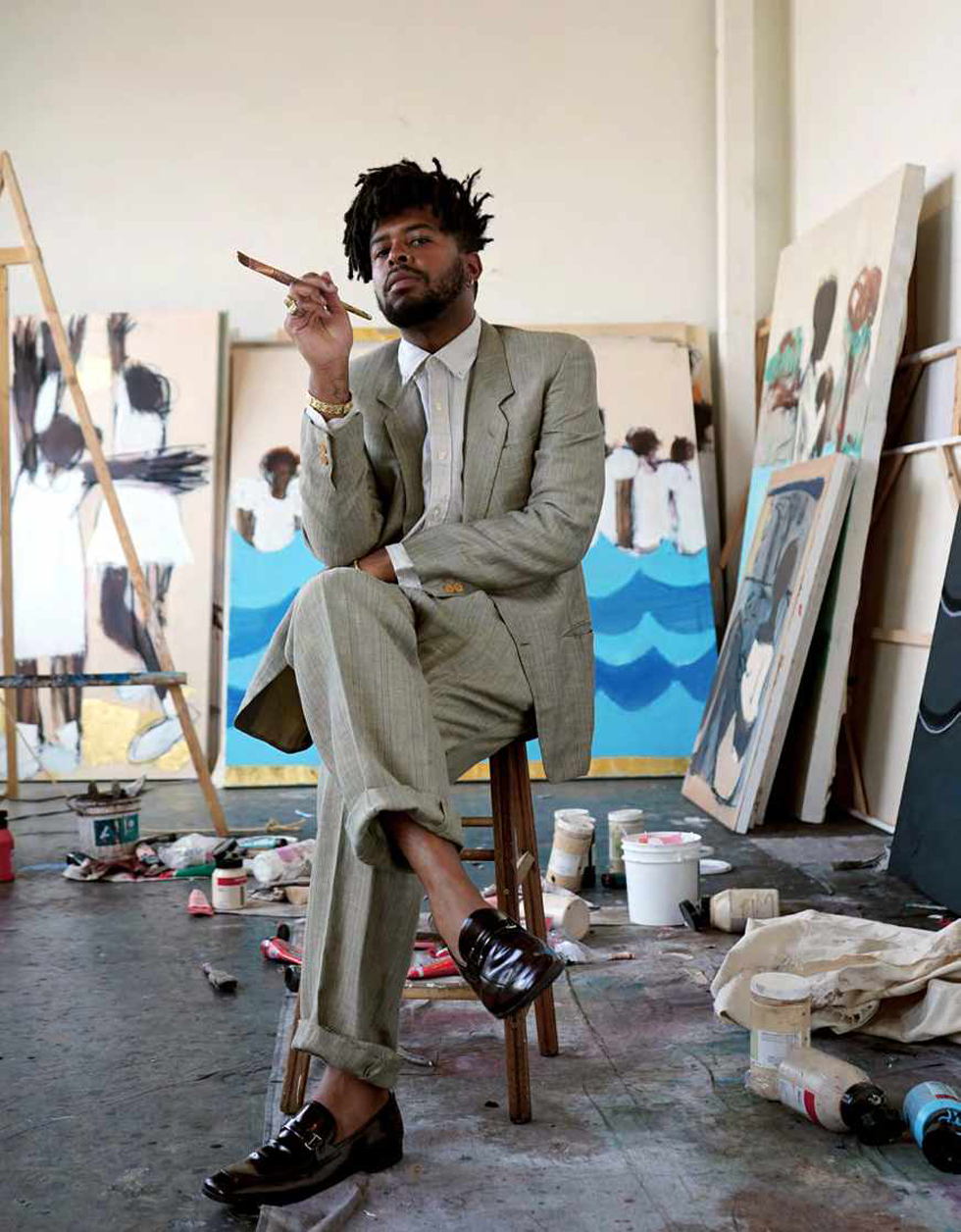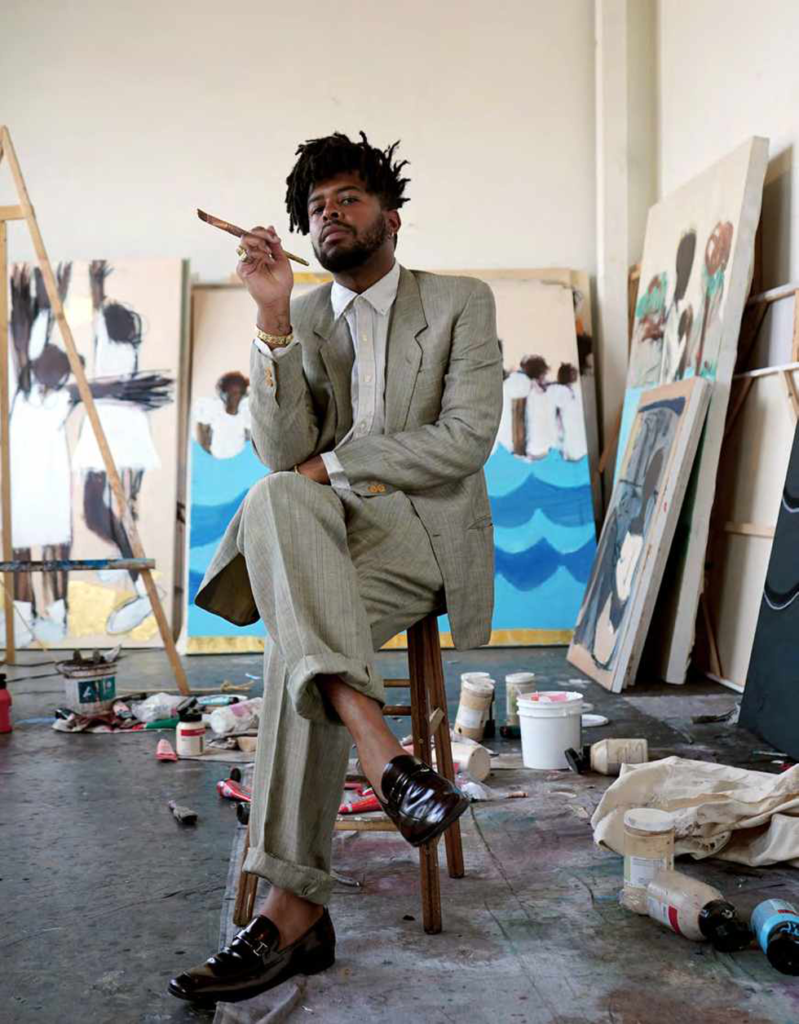 Art means freedom and beauty. It means a way out.

Ferrari Sheppard
The fluidity and openness of Sheppard's brushstrokes and mark-making, which embrace the versatility of charcoal and acrylic, facilitate a satisfying dance of intuitive exploration that echoes the improvisational and emotional spectrum of jazz. Upon closer inspection, the dynamic layering of shapes and textures harmoniously contributes to the overall symphony of forms. Sheppard's ability to evoke diverse moods and feelings encourages viewers to engage deeply on an intimate level.
His unique artistic expression caught the attention of the luxury brand Bang & Olufsen. To celebrate the Beoplay A9's 10th anniversary, Sheppard's signature style graced the design of Bang & Olufsen's emblematic home speaker, showcasing his evocative 2021 piece, "My Name is Sarah." Sheppard has hosted solo exhibitions in places such as Belgium with MARUANI MERCIER, Beverly Hills with UTA Artist Space, and the Wilding Cran Gallery in Los Angeles. He has also participated in group exhibitions in Sweden, San Francisco, London, and Miami; most recently, his work was featured in "This Too Shall Pass", curated by Racquel Chevremont at Venus over Manhattan.
Beyond exhibitions, he has lectured at revered institutions like Harvard University, Concordia University, the University of Minnesota, Ottawa University, and the African Union in Ethiopia. His fearless fusion of abstraction and figuration, conceived through action painting, breathes life into the canvas. His mastery of weaving stories through art captivates the senses and ushers in contemplation, firmly establishing him as one of the most iconic artists today.
Hi Ferrari! Thank you for taking the time to speak with us. Please introduce yourself to those who do not know you.
Ferrari Sheppard: My legal name, since birth, is Ferrari Elite Sheppard. I'm a visual artist and a vegetarian. I enjoy the crust portion of a pot pie and shooting guns as a means of stress relief.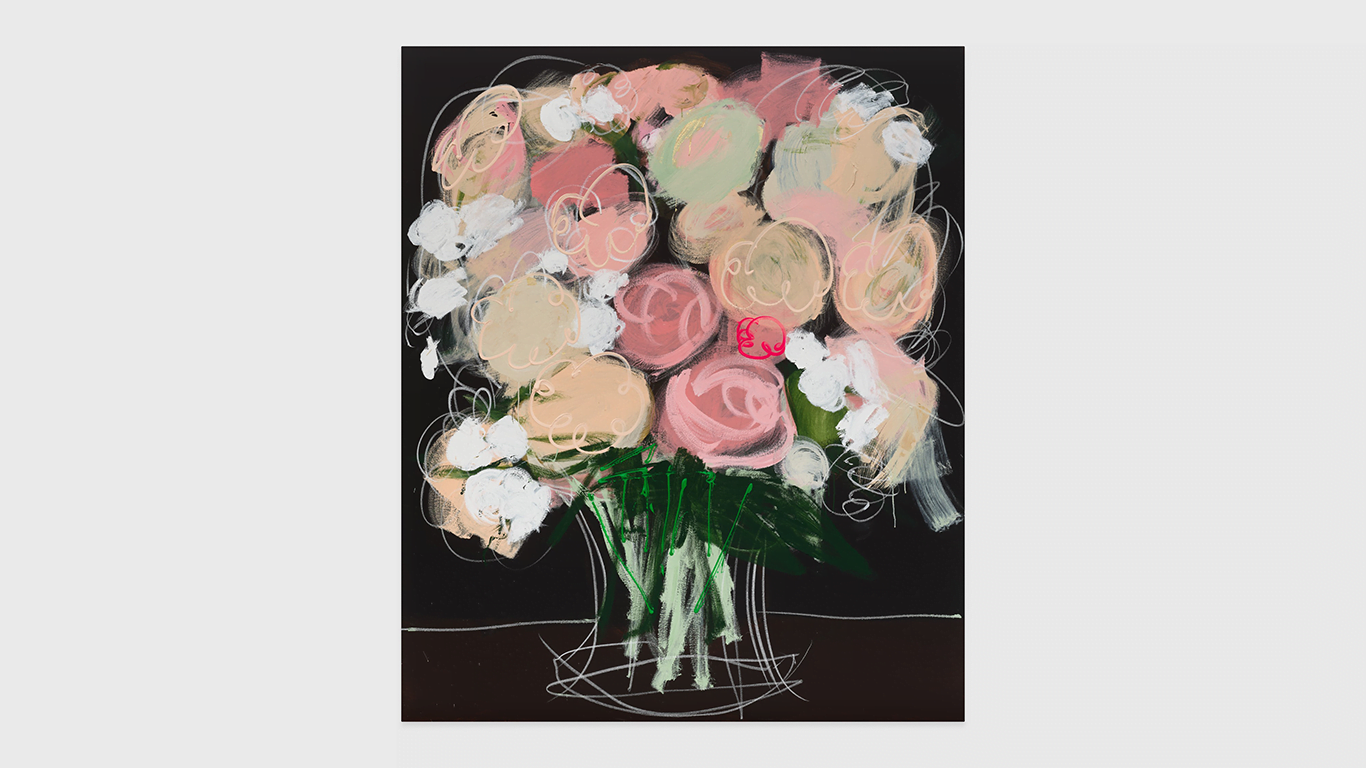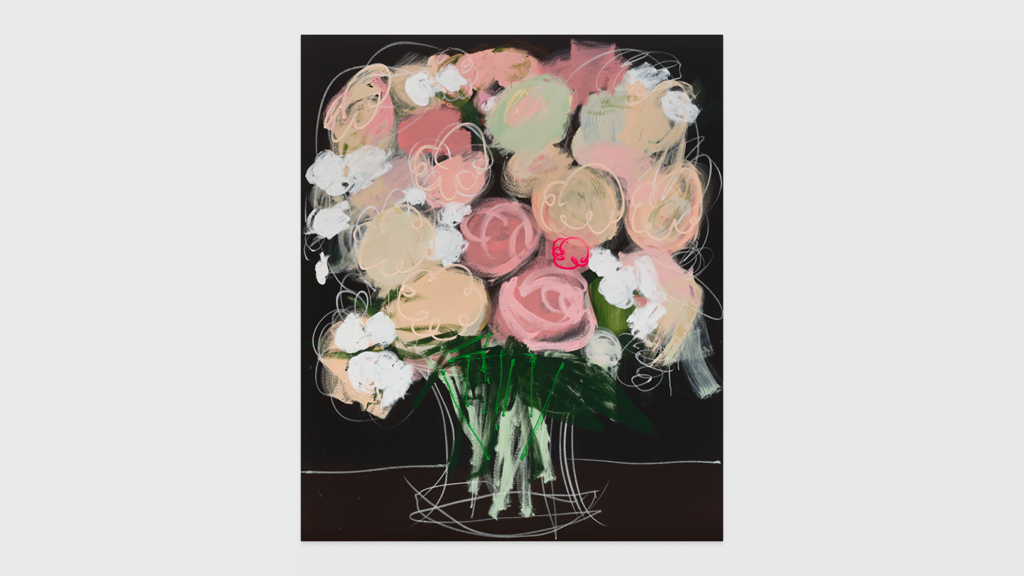 Your journey into Contemporary art has been engaging and not limited to just visual arts alone. With a degree from the School of the Art Institute of Chicago, you've creatively expressed yourself in music, literature, and fashion before fully immersing yourself as an artist. Could we delve into your journey thus far?
Ferrari Sheppard: I attended The School of the Art Institute of Chicago (SAIC) at a time when the school was heavily focused on conceptual art. I'm not sure if it has since changed, but at that time, the school was way too conceptual for my needs. Having been raised in government housing and facing generational poverty, I longed for a practical roadmap to earning a living. Watching a ten-minute video of an artist banging her head against a gym locker, for instance, wasn't helpful in that pursuit.
I left SAIC and decided to try my hand at becoming a professional visual artist. However, I failed miserably right from the start because, as I later discovered, successful artists need a unique visual language, a substantial body of work, and, most importantly, connections in the art world. Unfortunately, I had none.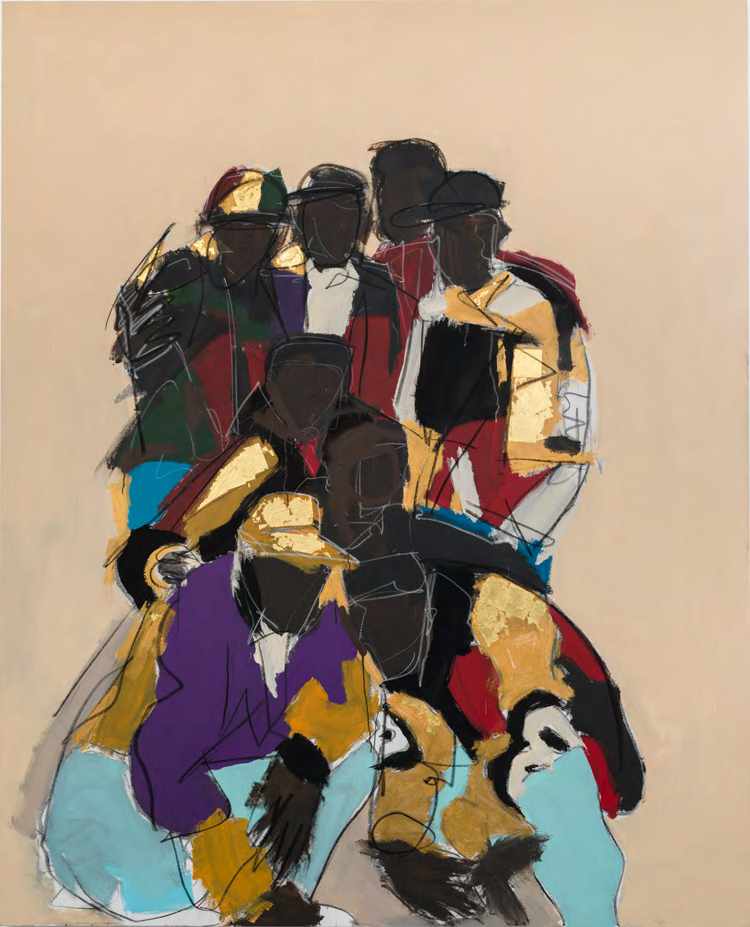 Upon reassessing my life, I made the decision to establish myself in a field other than fine art, with the intention of returning to art at a later time. However, this hiatus ended up lasting over 15 years. I won't go into details, but I ended up becoming a well-known journalist, writing about entertainment and geopolitics. Then, for some inexplicable reason, I also became a professional musician. All of these twists and turns finally led me back to giving my fine arts career another try.
I started making paintings again around 2014, and once again, I was faced with the daunting task of discovering my own unique style, building a substantial body of work, and cultivating connections in the art world. However, this time I was more equipped for the challenge.
Your practice explores the depths of our collective human consciousness, depicting faceless figures formed by rhythmic mark-making accentuated by Gold leaf that brilliantly fuses the fine line between abstraction and figurative. Can we delve into the essence of your practice, inspiration and themes within your work?
Ferrari Sheppard: My decision to depict my figures as faceless wasn't something I planned or thought much about. I am actually capable of creating anatomically correct, photorealistic human faces, but I have always found that style to be boring (no offense to photorealistic artists). In my quest to find my own artistic style, I realized that I didn't need facial details to effectively convey emotions. Instead, I could rely on body language, visual composition, and other artistic techniques to create expression.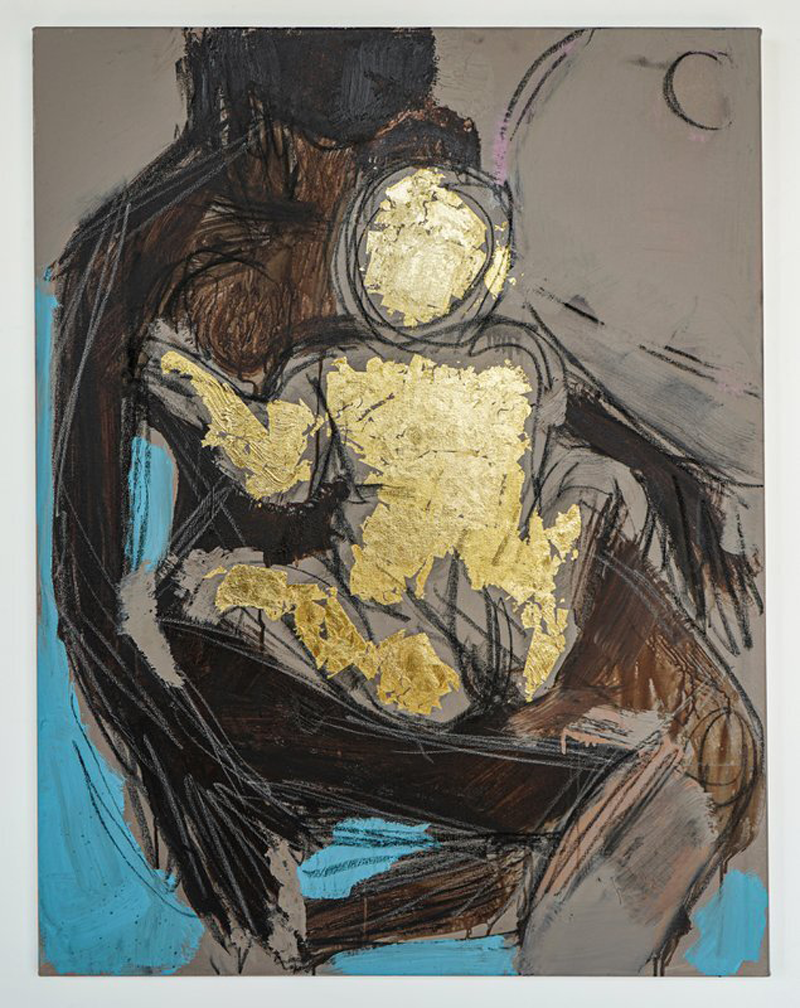 As for themes, I try to avoid considering myself clever. I don't believe humans are particularly clever. Instead, I strive to be as genuine as possible. My portrayal of humanity is both observational and aspirational. I see who we are now and what we have the potential to become.
As for the use of gold in my paintings, I never imagined I would receive so many inquiries about it. To me, it is the least interesting aspect of my work, considering how gold has been used in art for centuries. Perhaps what makes my application of the metal interesting is my disregard for it as a valuable commodity. I use gold just like any other art medium. This creates a feeling of stumbling across something beautiful in nature, like a crystal on the side of the road.
You were born in Chicago and now live and work in Los Angeles, LA, yet you have lived in different cities in Africa; how has this influenced and defined your artistic style?
Ferrari Sheppard: As public as I seem in terms of sharing my work, I am an extremely private person. Often, it irks me to know that strangers in the world have access to biographical information about me. If I could die with people only knowing about my art and not the details of my life, that would be ideal.
I often think about the fact that art historians know intimate details about artists like Vincent Van Gogh, who had gonorrhea, or that Picasso suffered from syphilis. What other profession requires such a level of intimate transparency? This isn't an indictment of this interview; I'm speaking in general.
With that said, yes, I was born in Chicago. I have spent a great deal of my life in New York and have lived in Zanzibar, South Africa, and Ethiopia. I currently call Los Angeles home.
I am not sure how the places I have lived or visited have influenced my work. Perhaps I am the sum of all of my experiences. Maybe.
I often wonder how my art would look if I spent 40 years in a cave.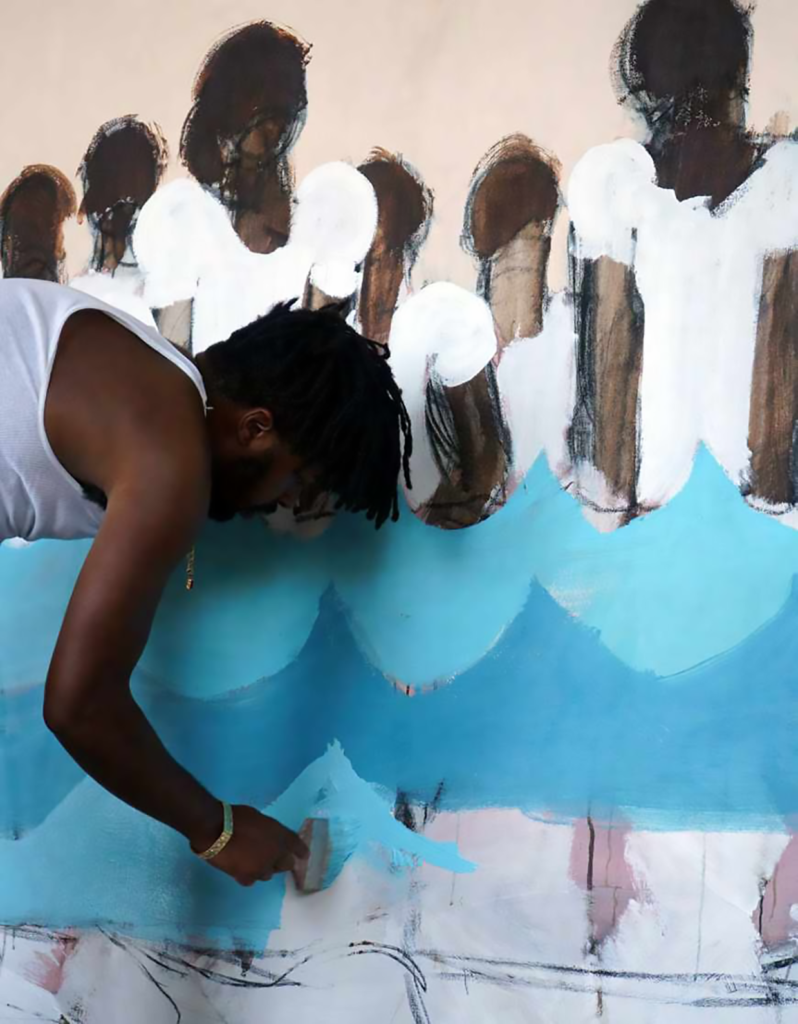 Can you talk us through your process in front of the canvas? How do you feel during the process? What's going through your mind? What are your actions and movements like?
Ferrari Sheppard: Paintings are born in my mind; I plan the work from beginning to end inside my head. The spontaneity one might sense in my work isn't manufactured; it's the result of me taking my initial plan and allowing myself to run free with it, in real-time. Before I begin working, it's important for me to set an intention for the work. That way, I don't find myself lost in a swamp of emotions with no perceivable way out. I believe this is what separates me from true abstract expressionists. They seem to be comfortable battling through the emotional torment of "finding the painting". I prefer to know where I'm going.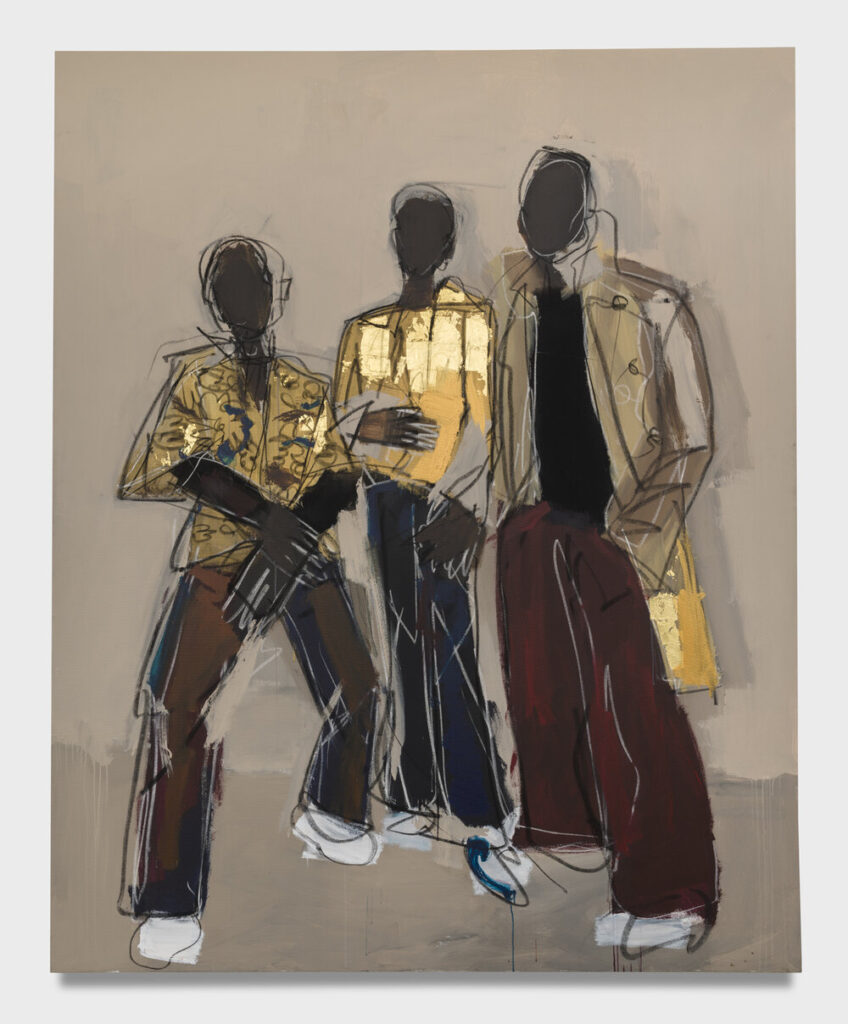 Complementing your visual dialect is your choice of titles, often hinting at deeper essence and cultural ties. Can you share how they connect to the meaning you want to convey with each painting?
Ferrari Sheppard: Titling my artwork is as important to me as naming a child. The work itself makes a statement, and the title expands that statement. It's an opportunity for me to be poetic. In some instances, the work cannot stand alone; it needs a compelling title. The same goes for my solo exhibitions—they are poems to the viewer. I've had exhibitions titled "Heroines of Innocence," "Dark Bodies—Bright Crest," "Positions of Power," "TREMENDOUS," "Portal Study," and my upcoming show, "Crucible." All of my shows are poetic.
Your statement, "I think of my paintings as timeless, and the works are emotional to me, like scents." is intriguing! Could you share more about what this means?
Ferrari Sheppard: I'm fascinated by aspects of popular culture, particularly elements that include visual art and music. For instance, I can't imagine a world without Picasso's "Guernica," Warhol's soup cans, or Michael Jackson's performance of "Billie Jean" at Motown 25. I strive to create objects that encompass and summarize the human experience—things that feel so familiar and ubiquitous that one can't recall what life was like before them. The most logical path to creating that type of artwork is through raw honesty and bursting love.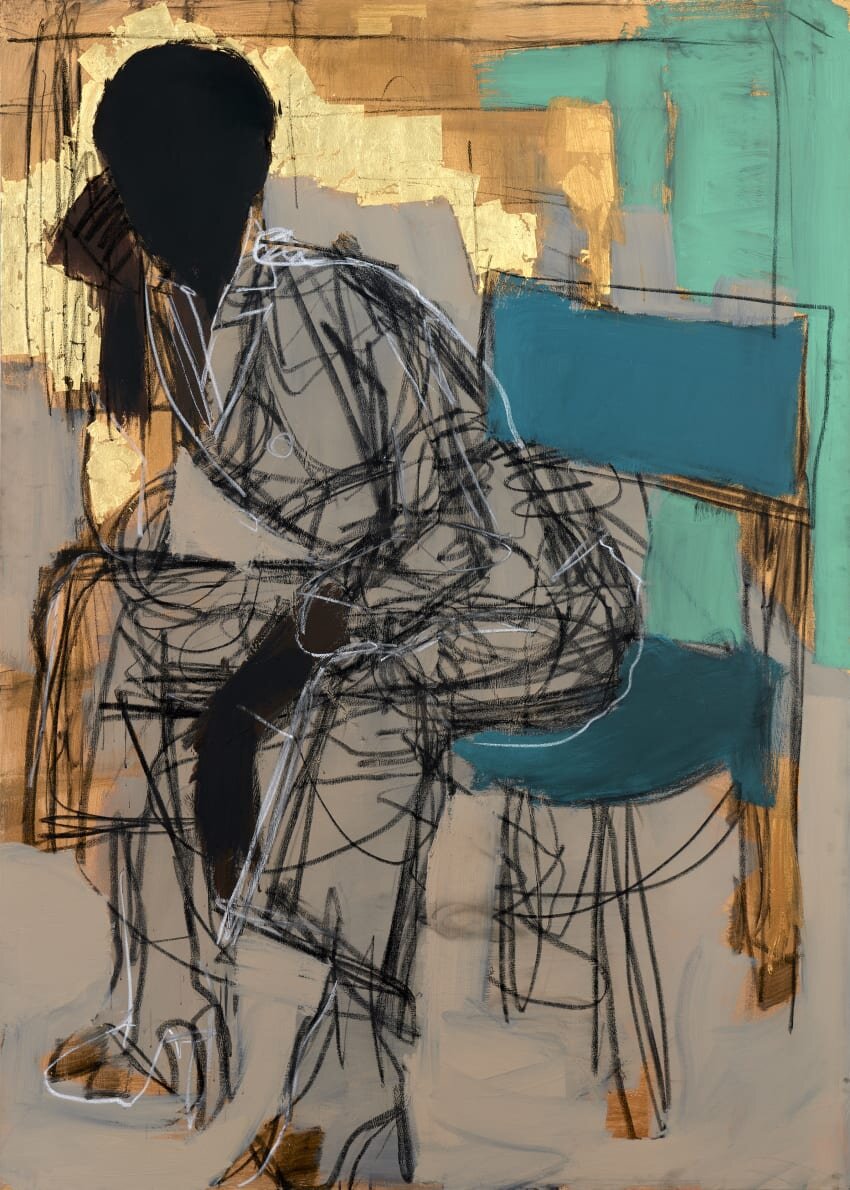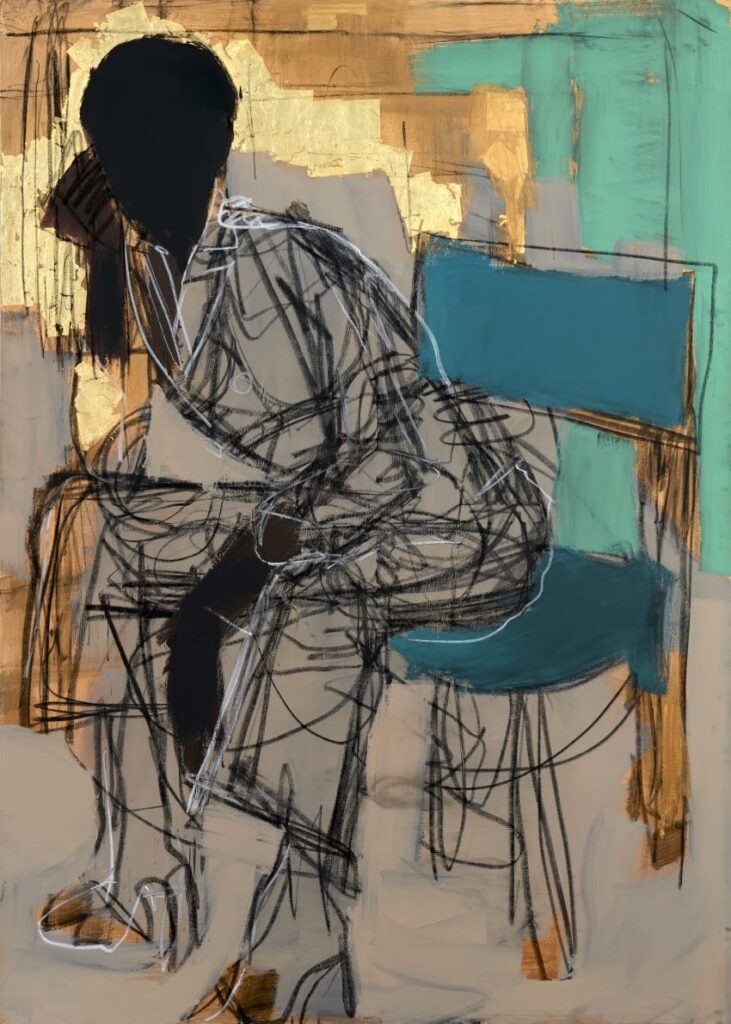 Can you recall a moment when creating art changed your life or your perspective on something?
Ferrari Sheppard: Absolutely. I was a troubled child who grew up in a tumultuous household during the height of the crack epidemic. My life at home was hell, and like everyone else my age in my community, I was under the constant threat of death or incarceration. My only escape was through art. I loved losing myself in art books and literature. Creating art provided me with a path out of America's ghettos.
Do you think art should always send a message or evoke emotions, or can it simply exist for aesthetics?
Ferrari Sheppard: I believe there is space for all forms of art. However, I have observed that artists who do not fall into the category of white males are often expected to convey some sort of political statement, whether it is related to their identity or another subject.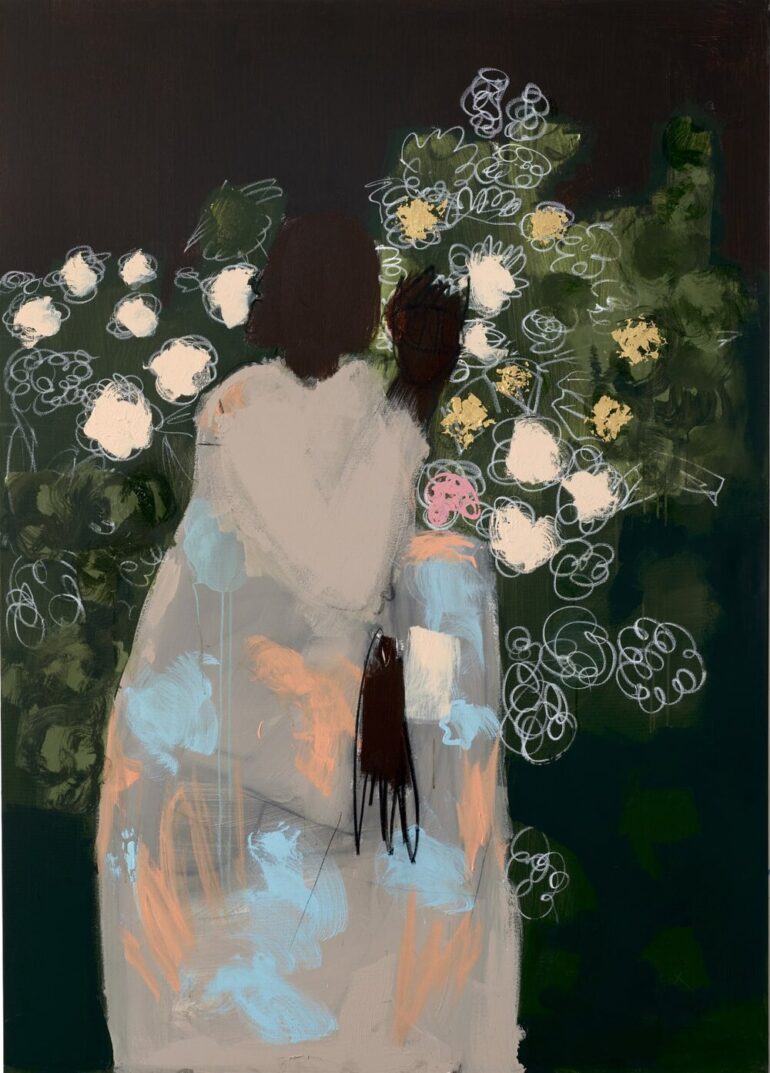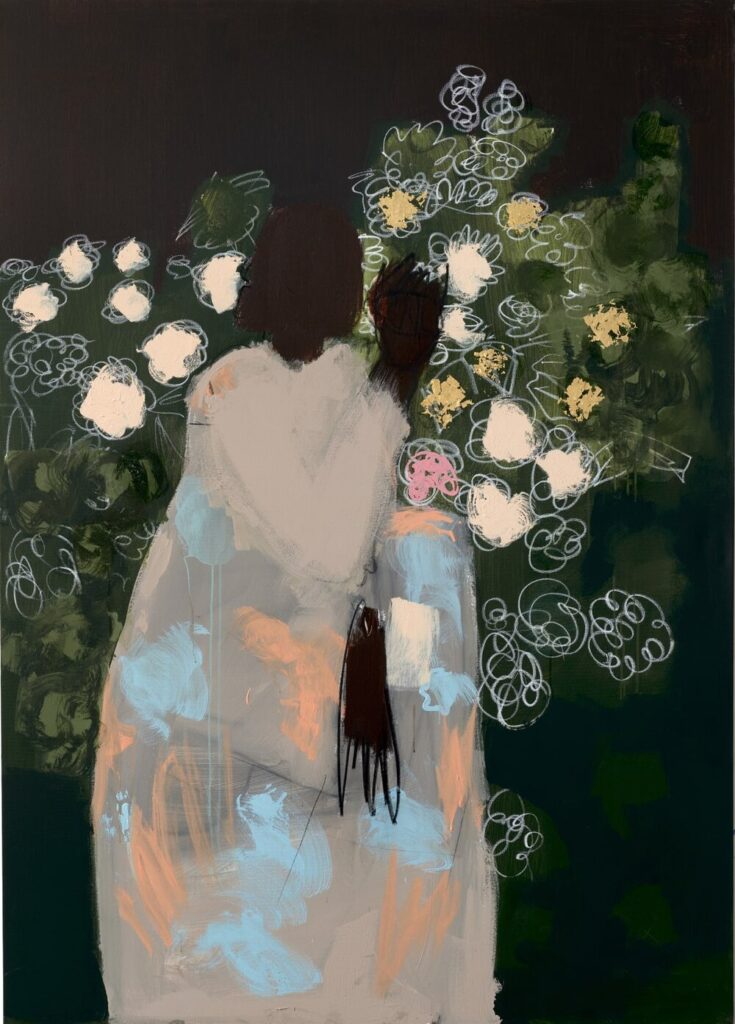 I may be mistaken, but I don't think a black artist, for example, would be taken seriously if they presented a toilet with the phrase "R Mutt" written on it. Even artists like David Hammons, whose postmodern conceptual art has challenged boundaries, are often tied to a political statement. In some cases, an artist's mere existence is seen as a political statement.
The studio, undoubtedly, carries significant symbolic weight for an artist, transforming into a sanctum for artistic freedom. Can you share three indispensable items you need in your studio?
Ferrari Sheppard: Sure, I need a sofa and a bed in my studio. Work and leisure must feel as one. I always seem to misplace my tape measure, so I need to buy dozens of them. Finally, I also need music and some good Japanese whiskey.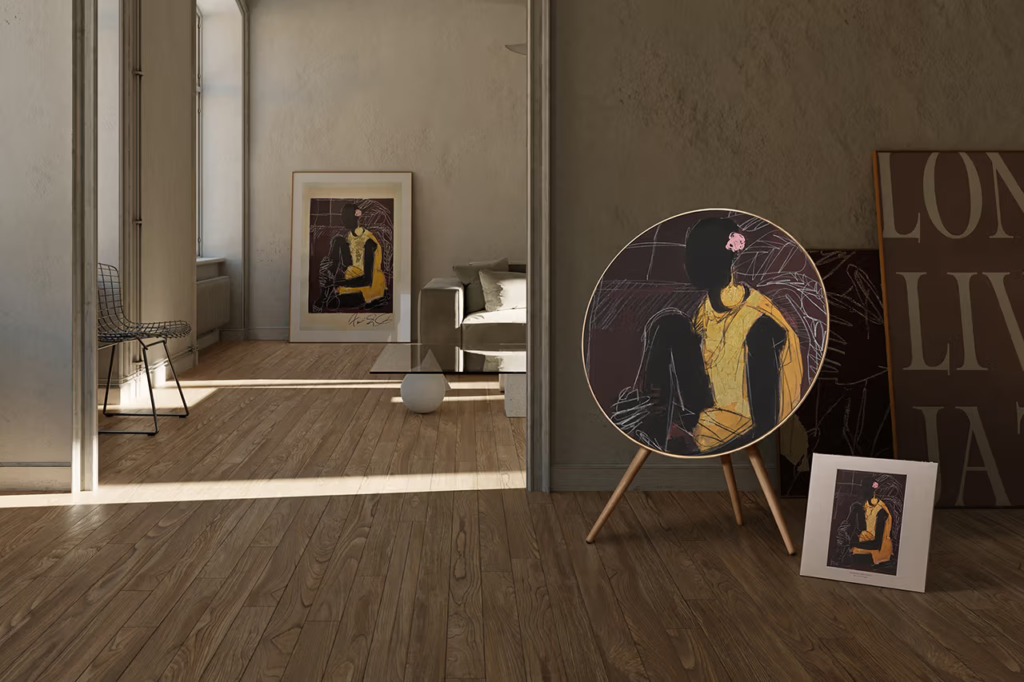 What's next for Ferrari Sheppard?
Ferrari Sheppard: As I mentioned earlier, I have a solo exhibition at Villa Torlonia in Rome called "Crucible," opening on October 26. The show will feature new works alongside existing pieces. Following Rome, I am planning a show in New York with UTA Artist Space for early December. After that, I have a show scheduled in Hong Kong in May 2024 with Massimo De Carlo.
Apart from exhibitions, I am also excited about expanding my philanthropic vision through the launch of The Divine Canvas, a 501(c)(3) nonprofit that provides merit-based grants to emerging artists. We have already been granted 501(c)(3) status by the state of California and are currently awaiting determination on a federal level.
Additionally, I aim to secure more museum acquisitions and embrace more beauty and vitality in life.
Lastly, what does art mean to you?
Ferrari Sheppard: Art means freedom and beauty. It means a way out.
https://www.instagram.com/ferrarisheppard
©2023 Ferrari Sheppard