Ethiopian artist Meron Engida Hawke's practice, is a weaving tapestry of investigation, encompassing identity, sustainable agriculture, labour relations, and the multifaceted challenges women face in contemporary East Africa. Hawke's artistic journey is ignited by realising and recognising how the outside world perceives Ethiopia and Africa, often confined to narratives of famine, climate crises, and conflict.
Hawke seeks to untangle these complex issues from an insider's perspective, presenting a more authentic portrayal which defies stereotypes and captures the nature of her homeland, channelling her expression through diverse mediums, from paintings to the tactile dimensions of sculpture and the boundary-pushing realms of mixed media, each evoking her distinctive voice.
My personal experience addressing social and climate issues through my art made me learn and connect to my homeland, my identity and the people.

Meron Engida Hawke
Rooted in introspection and an inherent connection to heritage, Hawke draws influence from Ethiopia's religious aesthetic to conceive an emotive visual language emphasised by divine essence. Her most well-known work reveals her mark-making compositions that brim with sagas of fragility, migration, empowerment, resilience, and women's experiences in East Africa. 
Hawke's practice serves as a medium for change navigating the delicate corridors of memory and storytelling, confronting the viewer with the truth of culture, contradicting preformed ideas, and encouraging contemplation of Ethiopia's societal fabric, a terrain often referenced yet rarely understood. We caught up with Hawke during her exhibition Hummingbird at Morton Fine Arts to learn more about her practice, aspects of her creative process and more.
Hi Meron, How are you doing? Thank you for taking the time to speak with us. Can you please introduce yourself to those who do not know you?
Meron Engida Hawke: Hi Len. I'm doing great. Thank you for having me! My name is Meron Engida Hawke. I'm from Ethiopia and am now based in Washington, DC. I primarily paint, but I also work with mixed media and sculpture.
Please enlighten us about your journey towards becoming an artist. What pivotal experiences or influential factors steered you towards this artistic career?
Meron Engida Hawke: I have always drawn since childhood. When I was a little girl, I remember my dad used to buy me paper and coloured pencils and encouraged me to draw. And when I was in elementary school, art class was my favourite. My classmates thought my drawings were good, so they would come and ask me to help them with their drawings. In fact, one of my earliest memories is from school. I loved to copy animated art from the kids' backpacks and lunch boxes.
After I finished high school, I had a break before the next thing, so I was spending more time at home. I would draw and copy images that I found from artists in Ethiopia. My mother saw my talent and sent me to art school at Abyssinia Fine School of Art. It was one of the best experiences of my life. I loved the environment and the freedom in art school. I learned the basics of drawing. I also took a sculpture course. During that course, I made several bronze sculptures. One of my favourite pieces was from my own imagination: a mother nursing her baby in bronze.
After I graduated from Abyssinia School of Fine Art, I realized that I wanted to be an artist, so I decided to continue my education. I then attended The Ale School of Fine Arts and Design and started painting in my bedroom studio. Even though my mother put me in an art school, she only thought that it would be a hobby, not a career. There was always pressure from her to choose another career, so I went to a college to learn drafting. Still, during these years at college, I was often painting at night or I would skip school and paint in my bedroom studio. I worked for one year in drafting after graduating, but I was still painting at night. I didn't like sitting in front of a computer all day, so all I thought about was my art.
After a year of working, I decided to quit, never look back and become a studio artist. I have been working on my art since then.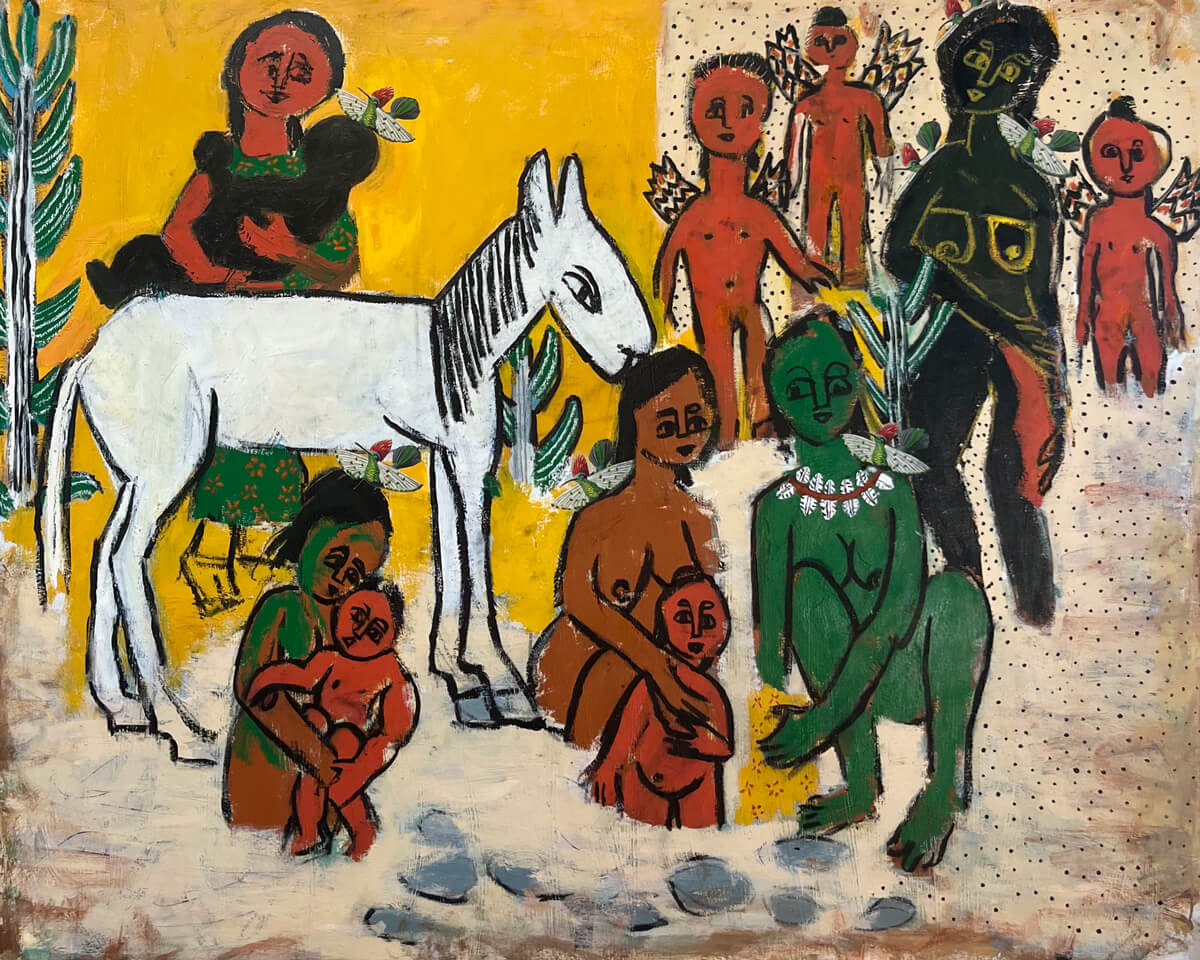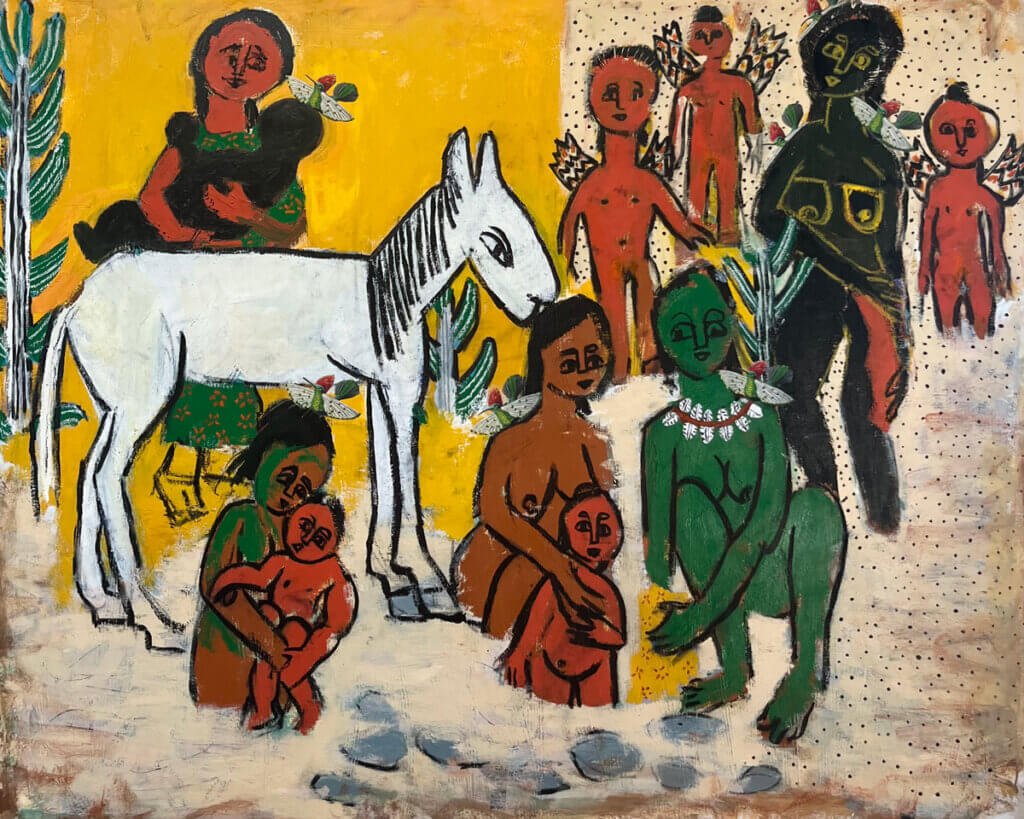 Your artistic practice is varied and expansive, incorporating a range of mediums like painting, sculpture, and textiles. Could we delve into your practice, inspiration and your creative process?
Meron Engida Hawke: My art is influenced by the art of ancient Ethiopian churches.
The vibrant colors and narrative subjects had a big impact on my work. I create from my memory and imagination and by researching stories. Sometimes I start with a drawing and other times with acrylic paint on canvas, which I layer with tones, symbols and motifs. In my most recent paintings, I've developed a mixed media practice incorporating Ethiopian woven cotton fabric into my canvases, which I really love and find exciting to work with.
I also wanted to see my paintings in a physical space, so I started to create a series of clay sculptures. Thinking how unique I am—that I eat injera and so my body is made of teff—I thought about clay as a body, while the dots in these works represent teff.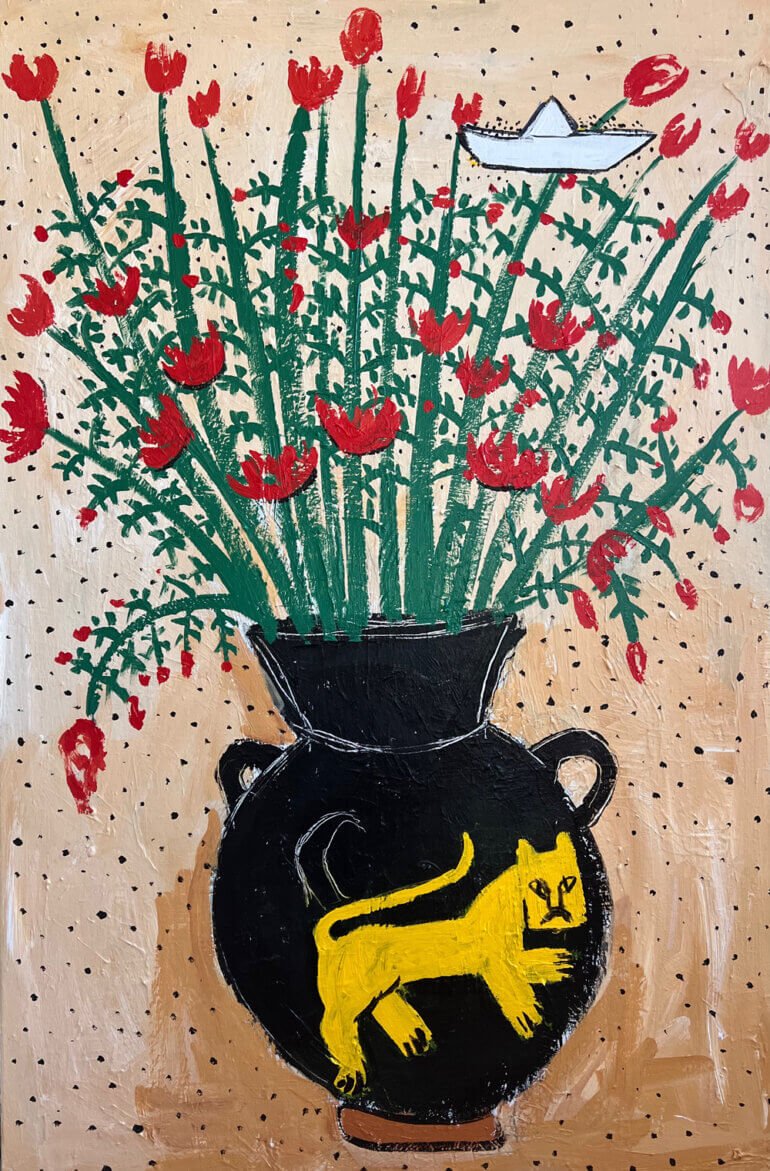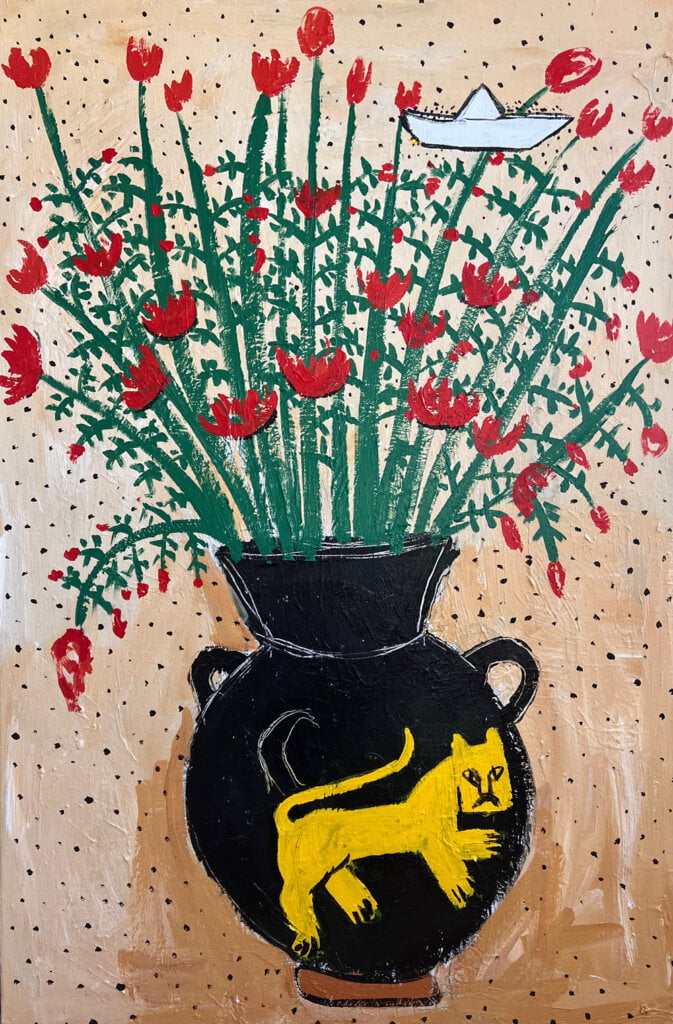 In your work, you engage deeply with topics like Ethiopian identity, sustainable farming, and the status of women in modern East Africa. Could you provide insight into why these themes are essential in your work and why they hold personal importance to you?
Meron Engida Hawke: Teff is a small grain used to make injera. Injera is a staple food in Ethiopia. I grew up eating injera every day. I still eat it here in America. Teff is now very expensive in Ethiopia because of war in the North and drought caused by climate change. In addition, global demand has driven up the price of teff.
This makes me sad to see that people can't afford to buy teff in Ethiopia. I decided to address these issues and express them in my art. For example, in the "Teff teffa" series I address the social and environmental effects of farming flowers for export to the European market.
Many women work on these farms, so I am additionally talking about the experience of women laborers in Ethiopia and Africa. I also wanted to highlight the women and children who have fled their homes as a result of famine and violence. I chose this theme because I am always thinking about famine, climate change and war.
Building on that question, how have your personal experiences or influences impacted your artistic development and approach?
Meron Engida Hawke: My personal experience addressing social and climate issues through my art made me learn and connect to my homeland, my identity and the people.
How do you see the intersection of art and activism in your work, and how do you feel it contributes to your message?
Meron Engida Hawke: I am informed by other people's activism, but I don't see myself as an activist. Instead, I want to lift up other people's voices so that their messages can be heard.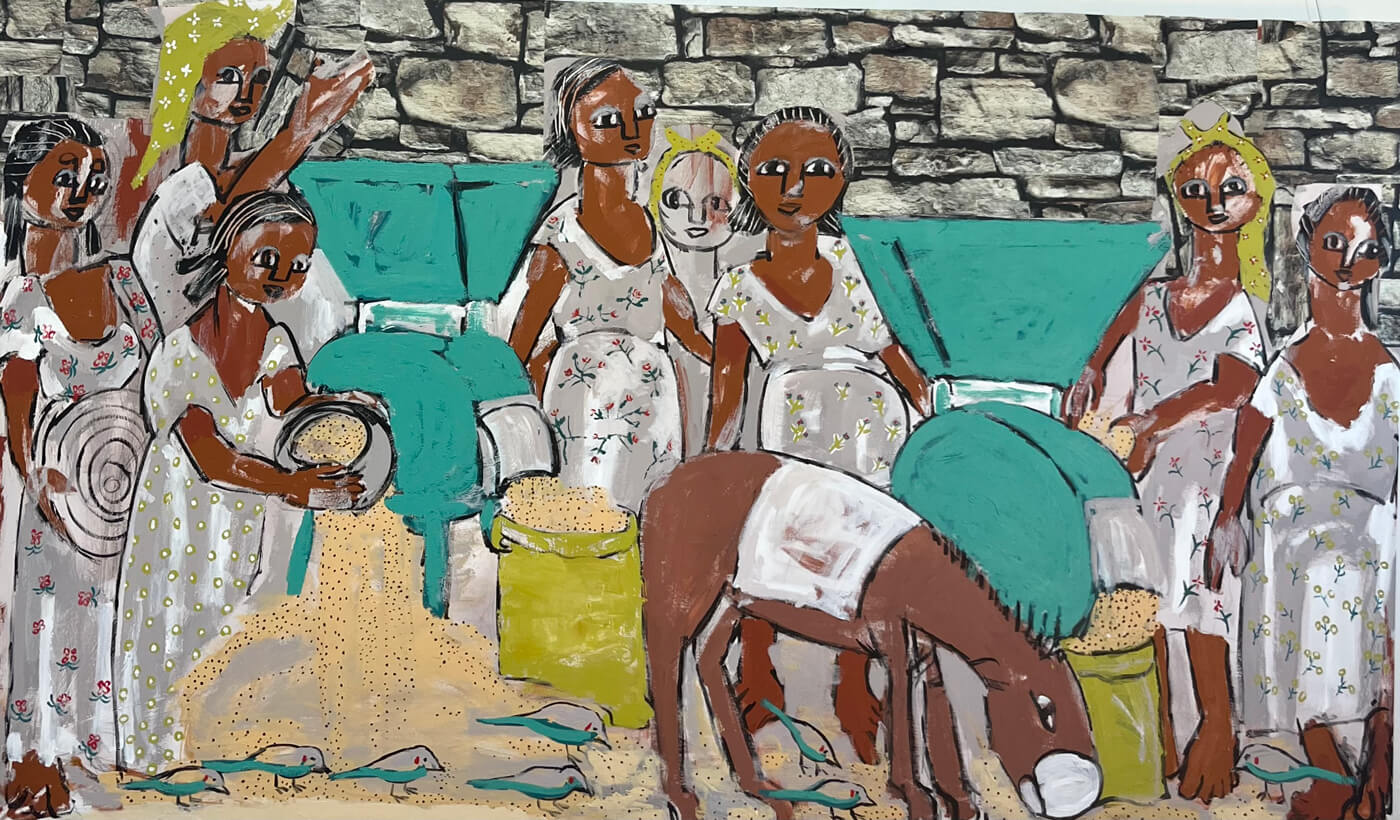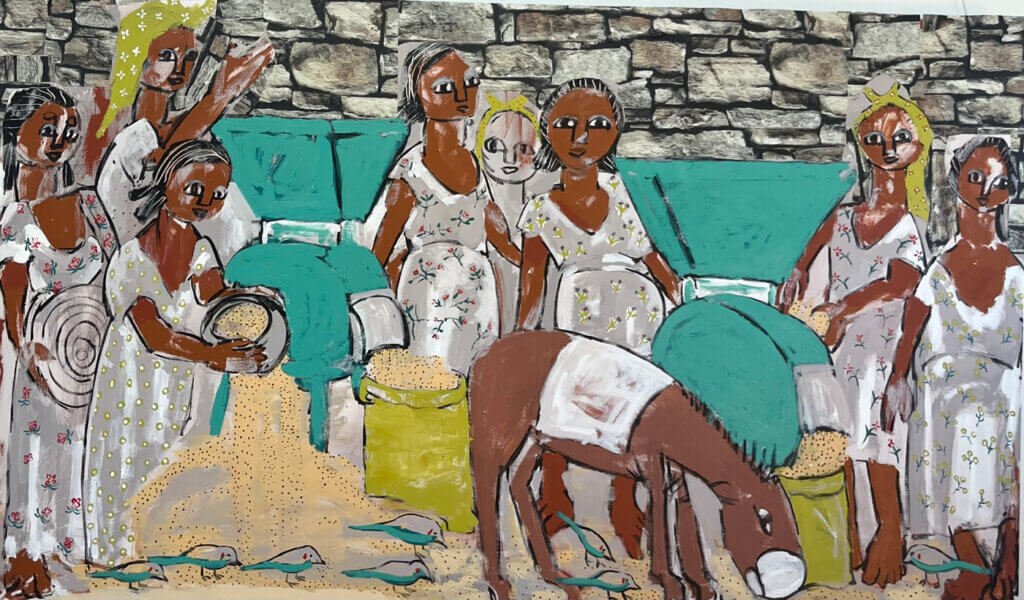 From the perspective of an Ethiopian artist, how do you perceive the complexities and nuances that distinguish the contemporary Ethiopian art sphere from its counterpart in the United States, and what do these differences convey about the cultural, historical, and social influences shaping art in these diverse contexts?
Meron Engida Hawke: I think my art is perceived well and that people in America can connect with it (perhaps in some ways more than in Ethiopian society, even though my work centres Ethiopia). I'm just focusing on putting my work out there for vulnerable Ethiopians who may not have a voice. I am frustrated by what is going on in our world right now. I hope people will learn and see my art in a positive light. I want people to learn from my art and change for the better.
What are the biggest challenges and rewards you've experienced in your career as an artist so far?
Meron Engida Hawke: I am a mother of two children. Being a mother and an artist is my biggest challenge. I only have so much time to do my art. My older daughter goes to school, but I have a two-year-old son around me all day.
I do have a wonderful husband who helps me by watching our children while I work on my art every weekend. Sometimes, I paint during my son's nap time; sometimes, I work in the early morning and at night time.
I'm also painting in my head throughout the week. When I go for a walk with my son and while I'm doing house chores, I think about my colours and composition. I also research and read stories about my ideas. By the time I'm in the studio, I know what I'm going to paint.
My biggest reward is when people share their connections with my art.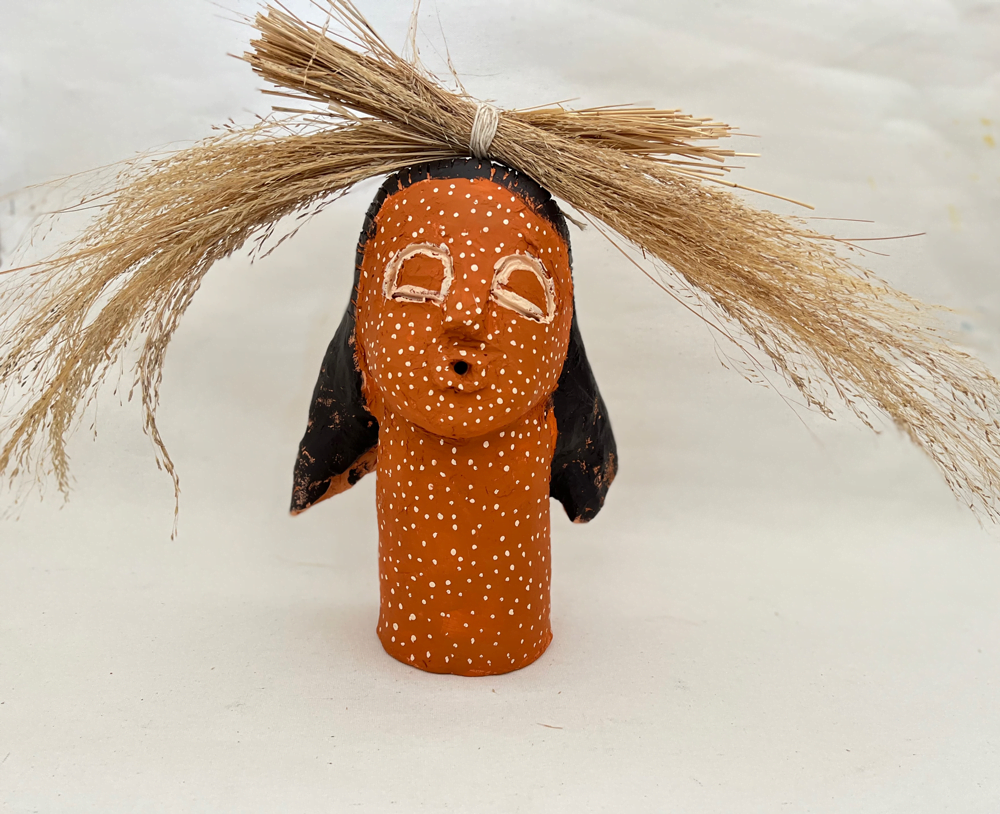 The studio is the sacred temple of creativity. What are three things you can't live without in your studio?
Meron Engida Hawke: Coffee, my Ethiopian church art books, music and my sunny bright windows!
What's next for you, Meron?
Meron Engida Hawke: I have so many exciting ideas that I'm thinking of; I'm experimenting with different mediums.
Lastly, what does art mean to you?
Meron Engida Hawke: Art tells the truth. It gives voice to the voiceless. It is a freedom of expression and a joy.
https://www.instagram.com/meronengidahawke/
©2023 Meron Engida Hawke