For our emerging artists season we have interdisciplinary artist Wushuang Tong. She received a BFA from the School of the Art Institute of Chicago and MFA from the School of Visual Arts also a BA in Literature, from Wuhan University, Wuhan, China. Tong takes inspiration from music and literature to merge with her artistic disciplines. She titles this synergy as "Aesthetic Synesthesia", literary, music and pictorial rhythm is shown consistently throughout her works.
In music, synesthesia is the connection between melody and atmosphere that it triggers. In literature, synesthesia is usually a rhetorical method referring to symbolize an abstract description visually.

Wushuang Tong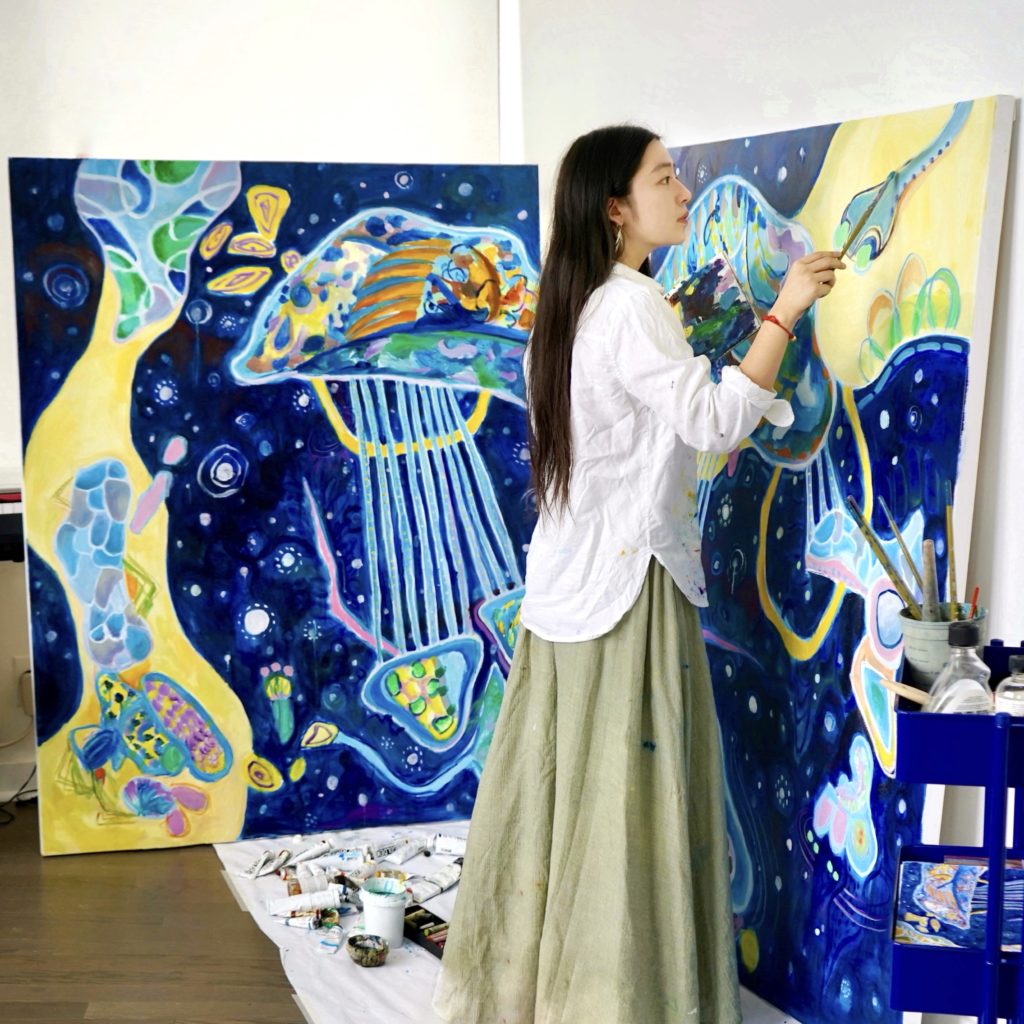 Tong has had successful exhibitions in New York, Chicago, Atlanta and China. Wushuang works speak for itself leading her to be listed by STACCHI ARTS as one of the Rising stars of 2019. Wushuang is an artist shaping the future of art as we know it. In this interview, Art Plugged will be getting to know more about the lady behind the art, her creative process, her inspiration and more.
Q: First things first, why do you do what you do?
A: There is always a creative impulse in my heart, and it makes me feel I have to. I adopt art as a medium and catharsis of self-expression, but at the same time, it obliges me not to keep myself apart. Of course, I could survive without art, but what for? I have chosen the fate of the artist which is vulnerable but obstinate. When I'm creating, I gain enthusiasm to discover the abundance of this world that I can't tear away from. That is why I value art: a commitment forges myself to observe different communities on the same level as them, and allows me to still live as I am.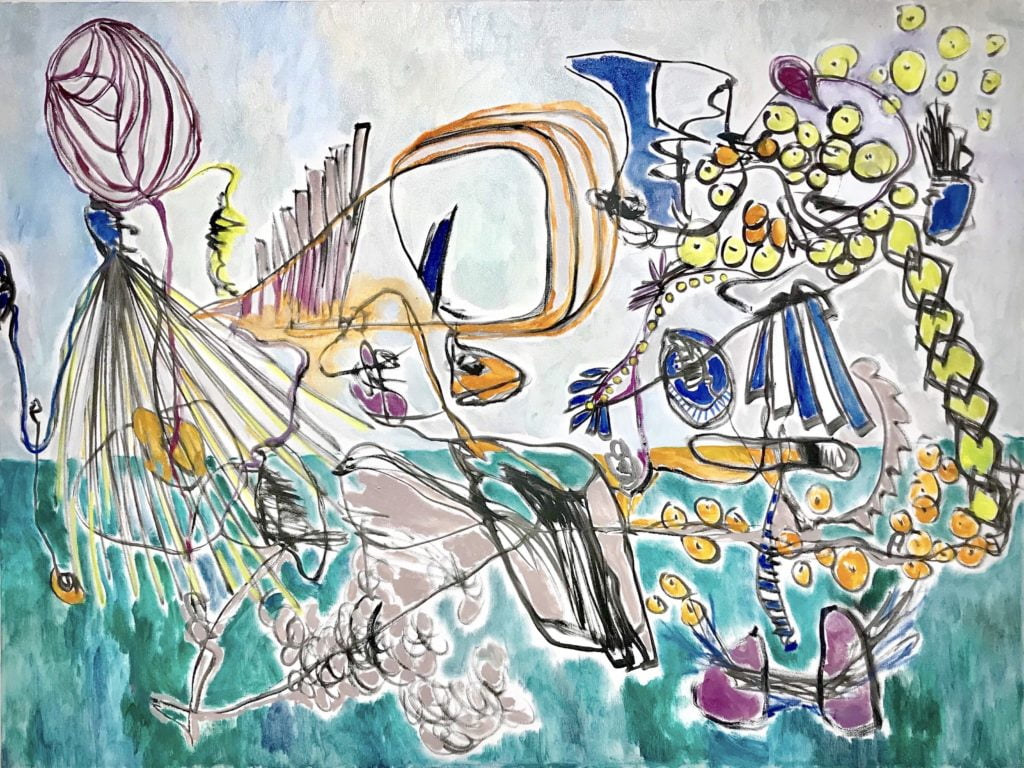 Q: What is your inspiration?
A: I guess one of the best things about being an artist is that I can transform everything in my daily life into art. Every common joy and suffering have the potential to be the inspiration, so I don't feel guilty when I'm not working…ha ha. Usually, nature, especially plants and creatures, is more likely to be the direct inspiration for my artwork, coming to lines or patterns. But literature plays the spiritual core in most of my pieces.
Q: What is your creative process when you're creating?
A: Sometimes I bet my work on my aesthetic instinct and contingency. When I begin to create, I have a general idea of what I'm trying to achieve, and then I let the work change drastically by using mark-making and mixture of colors, and finally reveal itself. But I gradually have found out that the randomness causes both surprises and problems. The main thing I'd like to do now is to slow down and revise my sketch. I want to make shapes that are floating, gathering, dissolving, or in any process of moving.
Q: Which is your preferred surface for working on?
A: I like primer canvas, although it seems I don't have much choice for painting surface. Without thinking of function, I prefer clay because it's more touchable, thus connecting closer to my motion of fingers.
Q: What would you say is an integral part to the work of an Artist?
A: Be honest to their work. I will never say "be honest" without any delimitation. That's too hard. But at least be honest to themselves and their art. Some artists lie about the motives of their creation – they may show no interest in some topics until they figure out the topics attract people's attention. Some artists act as weirdos because they are required to be "distinct" from "ordinary people". Anyway, many artists pretend or have to pretend because of plenty of reasons. That could be a survival strategy. I won't judge it. But as long as they know what their works really are and try to get rid of the affectation, they still own their art.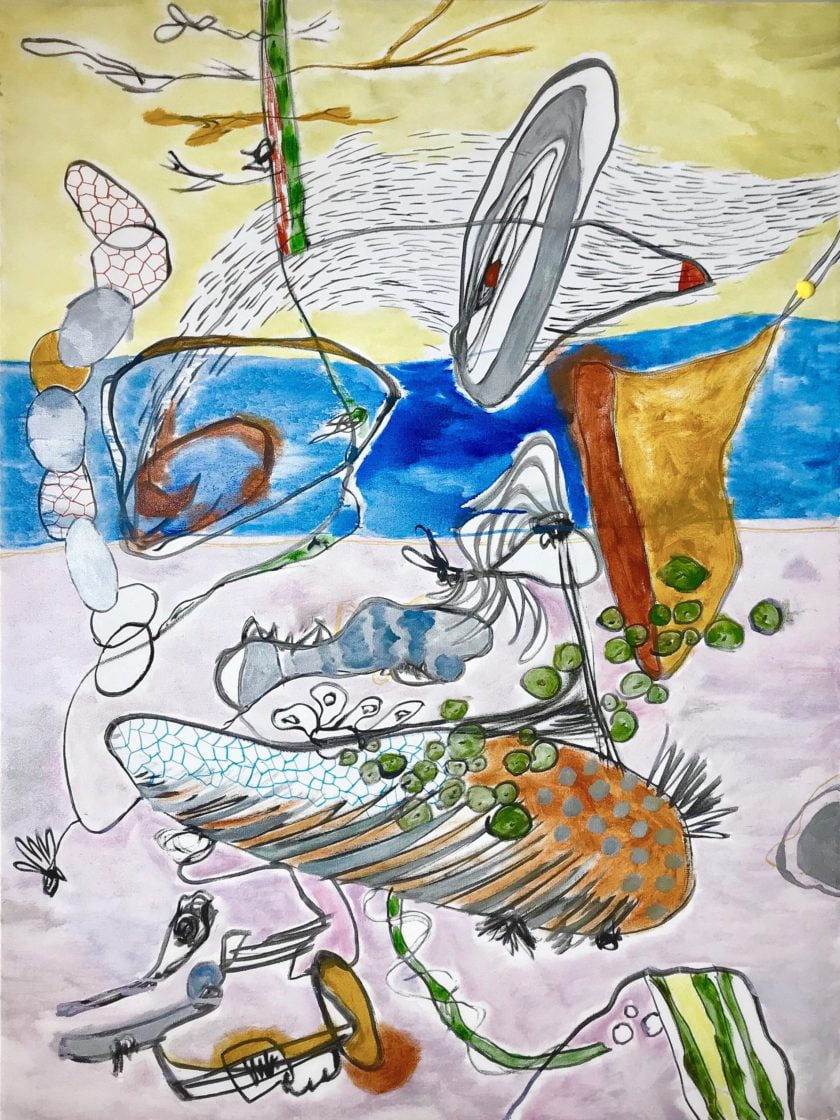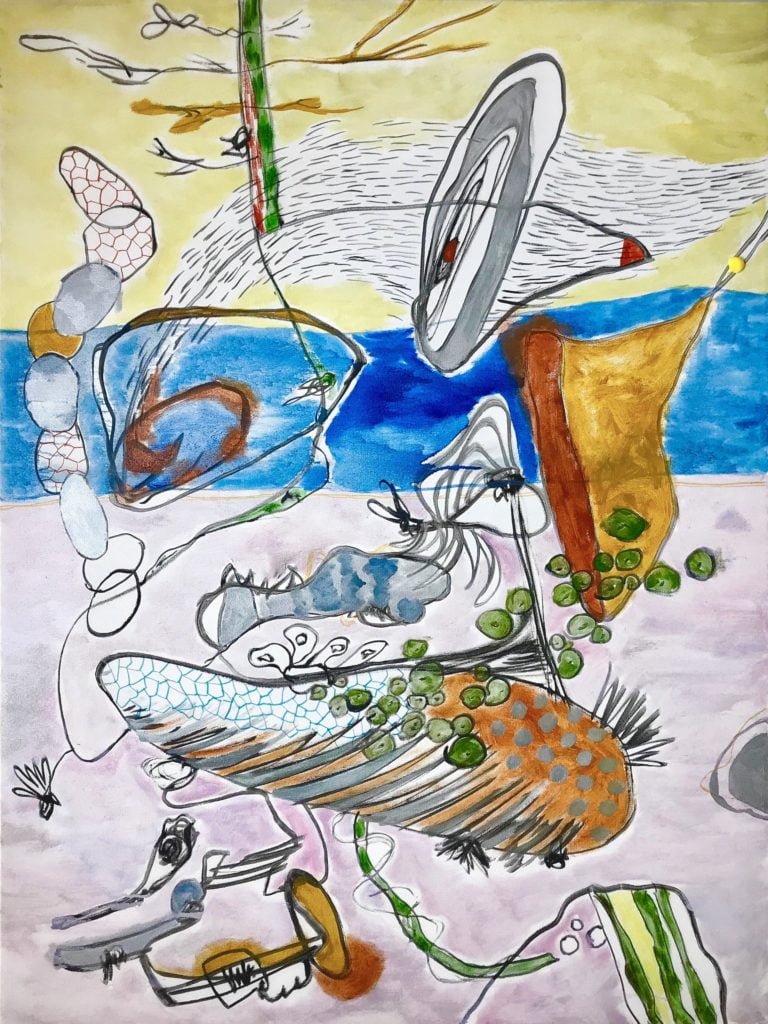 Q: What artist inspires you the most?
A: I think it is unhealthy to be strongly inspired by one person. I prefer to say the experiences and personalities of many artists encourage me to continue my art rather than to inspire my creativity.
Q: What is the reason behind your use of literature and music in your works?
A: I have been immersing in literature and music for many years: I earn a BA degree in literature; I have been played cello since I was seven. So I'm very used to be an artist, a writer, and a cellist at the same time. During the practice, I have found there is one commonality throughout these three disciplines. I named it "Aesthetic Synesthesia." In literature, synesthesia is usually a rhetorical method referring to symbolize an abstract description visually. In music, synesthesia is the connection between melody and atmosphere that it triggers. I believe these sorts of synesthesia are also equally applicable in art.
My creative process can be likened to an author is writing a lyrical poem or a composer is improvising. On the one hand, I write poems for my artworks. Rather than describing my work in specific sentences, I prefer to write a poem because the poem is similar to art — an aesthetically suggestive method that only provides a general direction of sense. It fills with metaphors that allow multiple imaginative possibilities. On the other hand, the way I deal with the composition in my artwork is like the method that a musician is composing.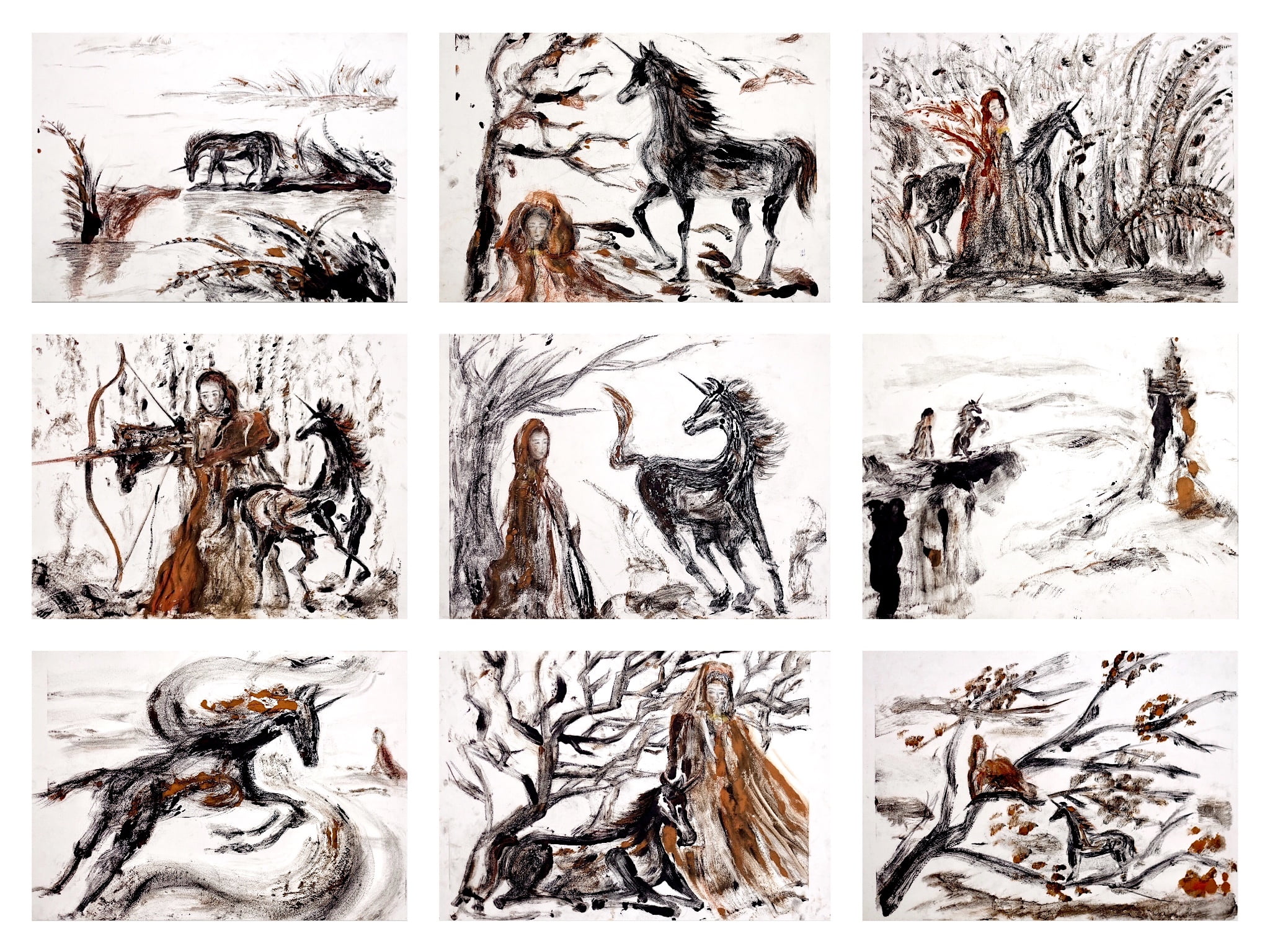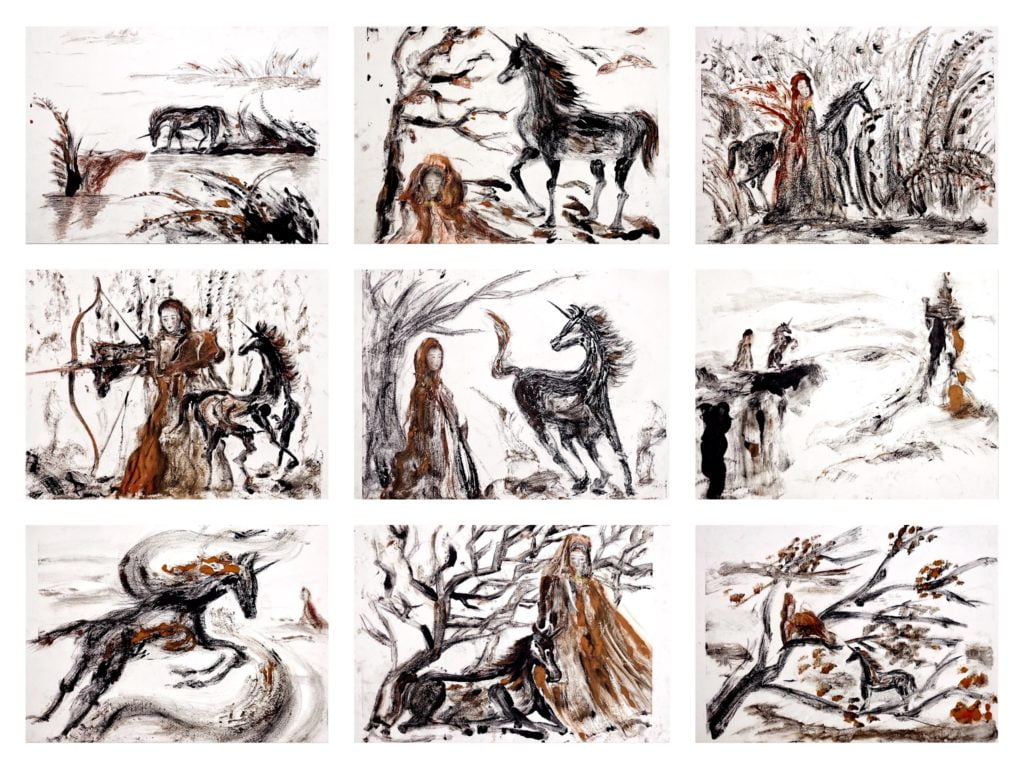 In the content, I think about in a movement, how the tone and rhythm can be harmonious? Or in the concerto, how the orchestra cooperates with the solo? For me, the tone in art is the color; the rhythm is the line; the orchestra is the background; the solo is the main body of the work. Therefore, literature and music always infiltrate in my art.
Q: How do you know when a piece is finished?
A: I know a piece is finished when it reaches the state I expected. Maybe it's different from what I visualized, but a finished piece has an isolated characteristic. It makes me feel it's no longer a part of me, and it has become itself.
Q: What is your favourite piece from your collection?
A: The next piece.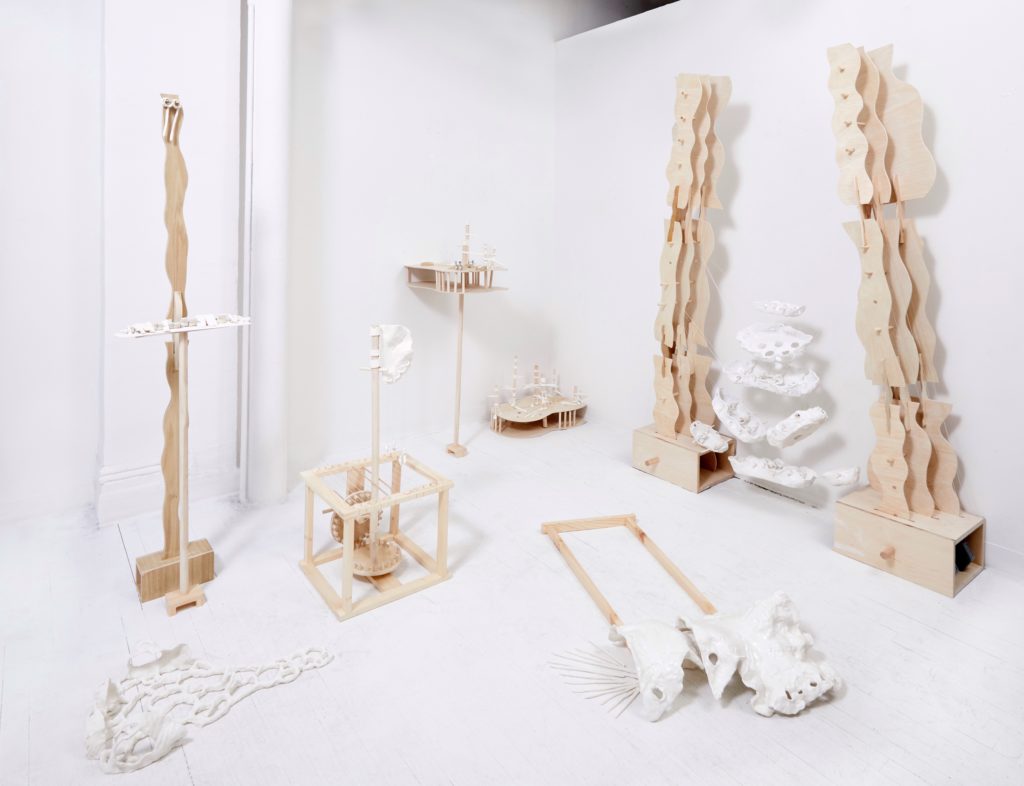 Q: How did you feel when you did your first solo exhibition?
A: I haven't done a solo exhibition yet. Although once a gallery offered to do, I feel I need more time to polish my art. A solo exhibition is a milestone for an artist. I want to be more than well-prepared.
Q: What is the most rewarding thing for you about being a part of the Art Industry?
A: The most rewarding thing is that I live up to my talent. It was a hard decision when I decided to be a part of art industry since I was more familiar with literature and music, those disciplines that have been accompanying me for many years and I have proved myself can be good at. I appreciate I dare to learn a brand new area. I don't waste my talent in art.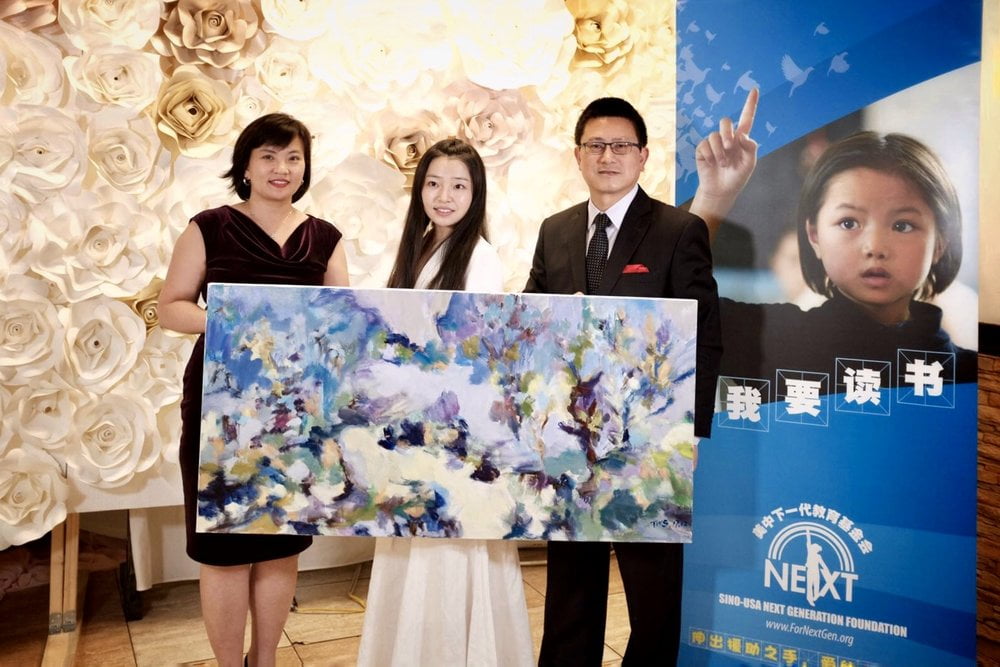 Q: Is there anything that worries you about how social media is affecting the promotion of artists?
A: I don't worry about social media will affect my promotion. I benefit from it. But I do realize that social media affects many artists, in a good way and a bad way. It can build a broader network for artists. Some collectors came to me because they saw my post.
Meanwhile, it can cause distractions. For example, if you post a painting on Instagram and get 100 likes yesterday, and then you post another painting and get 20 likes today, you may consider why people prefer the former painting. In that case, many artists could be highly affected. They may concentrate more or less on their followers' feedback rather than the real artistic goal they want to achieve.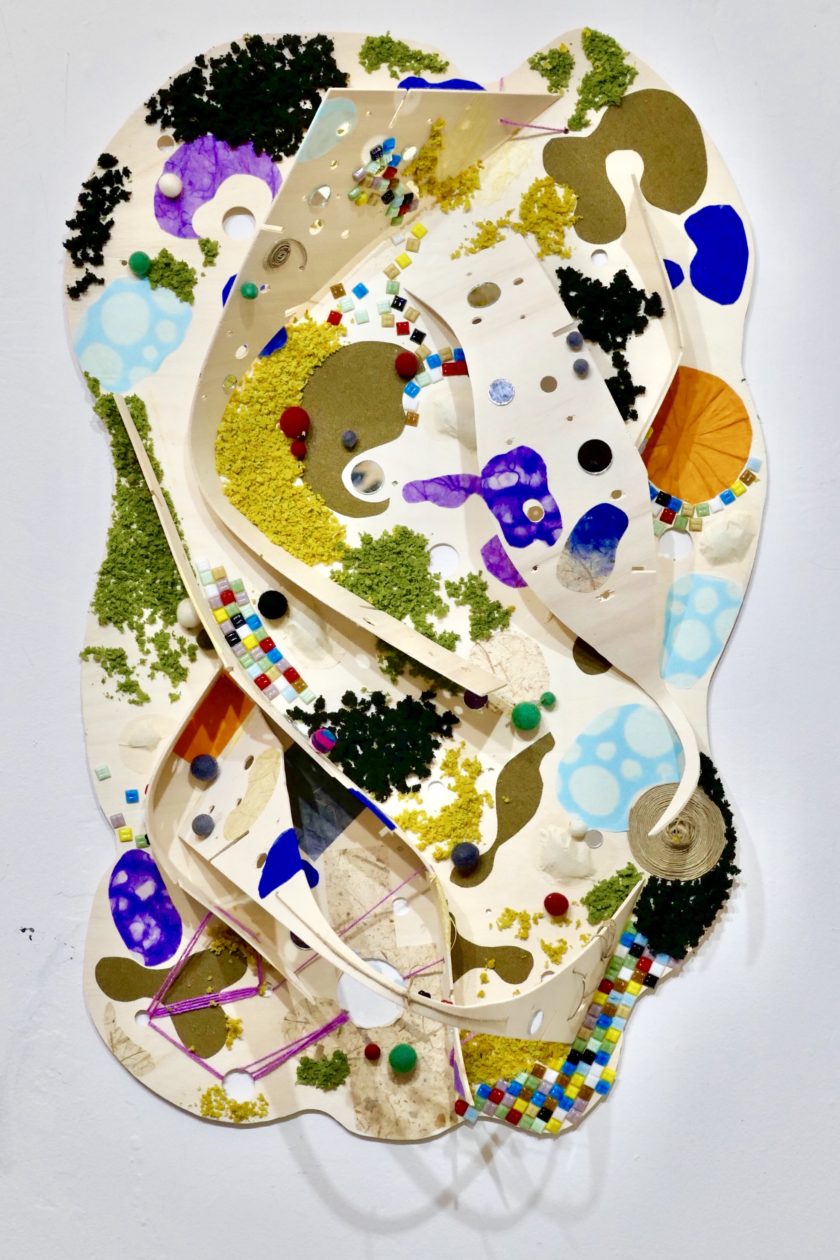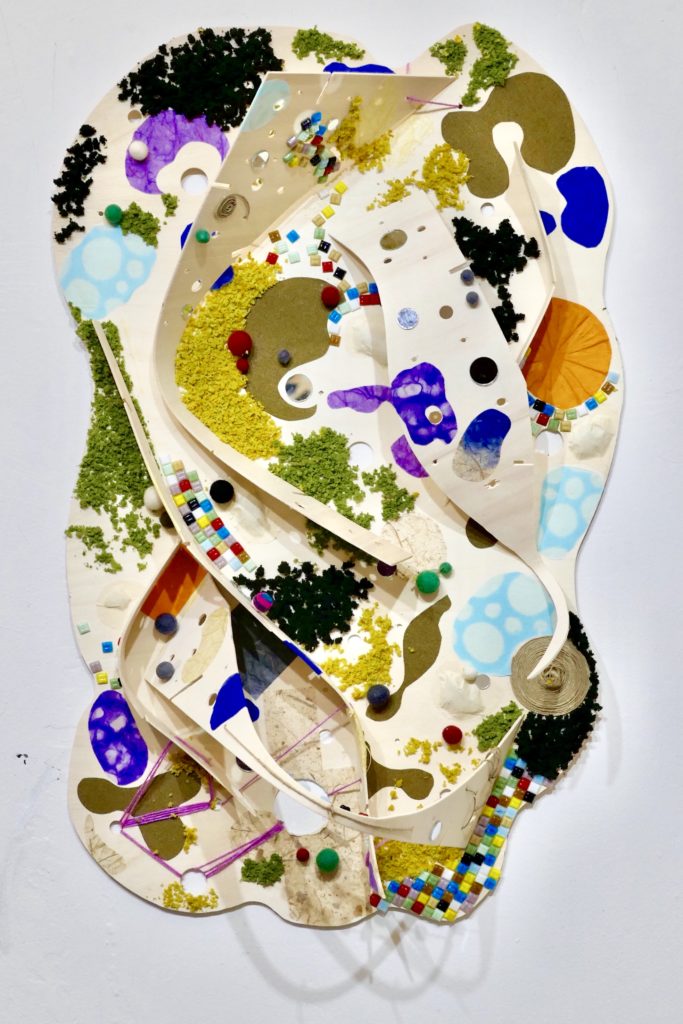 Q: In your opinion, do you have any advice for artists on how to manage their social media image? Or does it even need managing?
A: Every ambitious artist needs to manage social media. When I was in art school, my professor said, "The time that artists just need to wait in their studio for collectors and curators to knock their doors has passed. Artists have to go out." Managing social media is also a way to record the process. I suggest don't be too serious or too casual, and only post images with high-quality.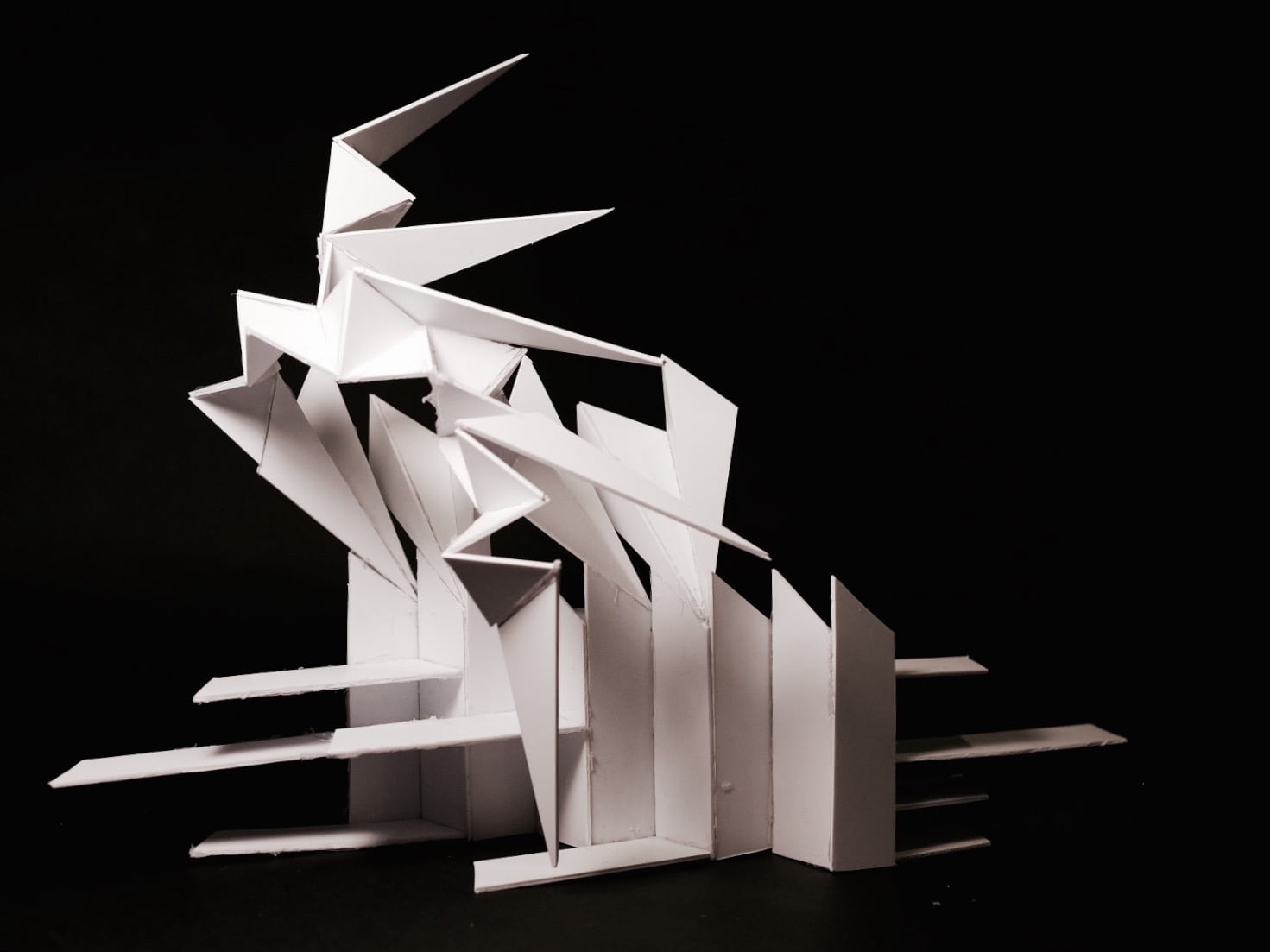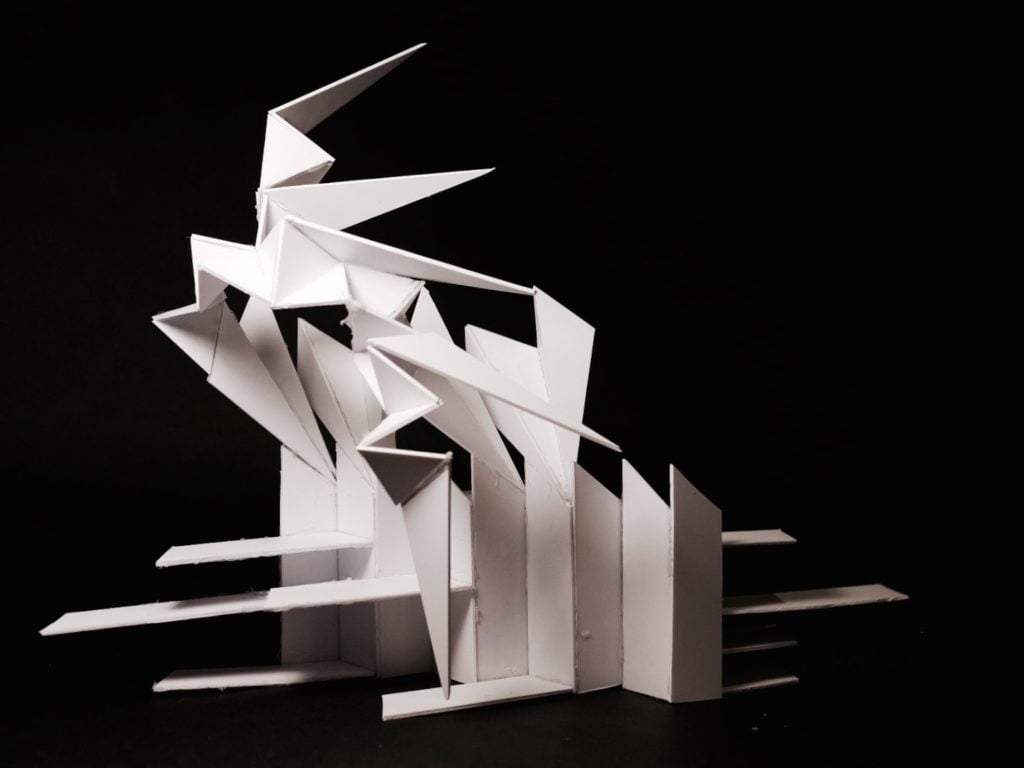 Q: Are there any places where you feel Art and Technology really shouldn't overlap?
A: No. We live in this era. Some people may think this is an insane technologic era because they see the problems technology has caused. But I believe artists can forge the art in times of differentiation to rebuild the faith and to fight against the instinct of unbalance in every era.
This was Wushuang Tong for Art Plugged emerging artists, you can follow Wushuang on Instagram and head over to her website for news about her latest works, exhibitions and more.
https://www.instagram.com/wushuangtongarts/
All Rights Reserved © Copyright Wushuang Tong 2019