Part of our emerging artists season, we have fine french artist Maïa Régis. Originally from Paris, She moved to London in 2014 to begin her art journey by completing a foundation in Art and Design. She then went on to complete a BA in Fine Art at Chelsea College of Arts and MA in Painting at the Royal College of Arts.
Maïa's works react to the physical and emotional binaries of life, and her paintings are a vision of poetic atmospheres. They are all very material and narrative objects, which are collaborations of weapons, furniture, utensils, and food. Her unique dialogue of expression lead to publications such as Art Maze Mag and Floorr Magazine featuring her works.
Maïa has also received the Bloomberg New Contemporaries Prize in 2017 and 2018, alongside the Griffin Art Prize 2017. Mention on SAATCHI ART'S rising stars class of 2019, Maïa is one of a few artists that is shaping the future of art. In this Interview, we will be getting to know more about Maïa, the lady behind the art, her inspiration, her creative process and more.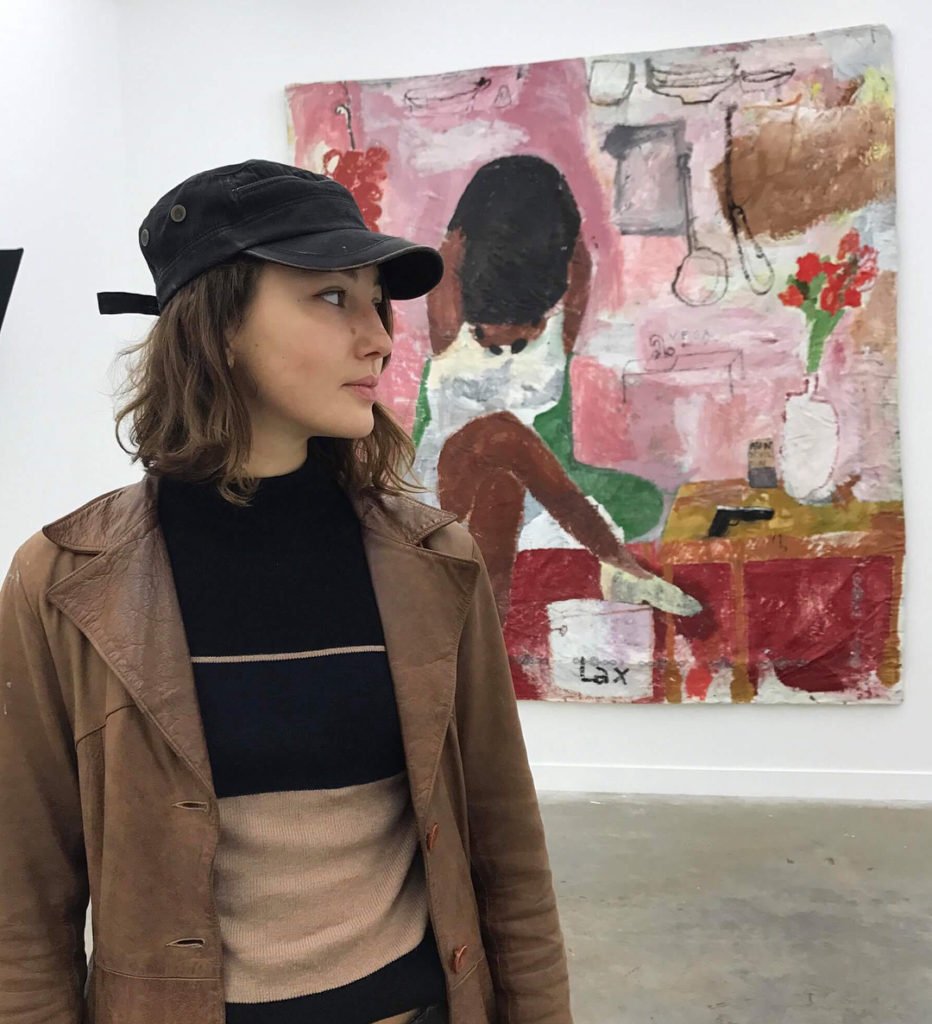 Q: First things first, why do you do what you do?
A: Probably because painting is one of the most direct media and I'm very impatient. There are no technical skills that you have to master getting in the way of the creative part.
Q: What is your inspiration?
A: The inspiration that comes the most as an everyday source is music. A lot of trap and reggaeton. The rhythmic patterns and structure of a sound can be very inspiring.The evolution of rap is very inspirational to me. How tracks went to be very cerebral and almost only about the texts to something that you listen first with your body. Using common language and turning it to a degree zero of meaning i find very poetic. It makes it more raw, purely about the sound, the rhythm… I like a lot of different kinds of music but I'm particularly feeling the unapologetic attitude of where rap is at right now. I think that inspires me a lot in my paintings, to not get caught up by the narrative.
The rhythmic patterns and structure of a sound can be very inspiring. The evolution of rap is very inspirational to me.

Maïa Régis
A big source of inspiration is Southern countries, places where the weather allows people the freedom to take ownership of the streets, places where everything is not regulated and standardized. Sicily, and especially the city of Palermo, where my mother is from, inspires me a lot. Also because it's a land of extreme contrasts.
Q: What is your creative process when you're creating?
A: I work for a long time on my paintings. I change them constantly, erase a lot of things. I try to have a complexity in them without them being complicated. At the end they should look evident, like I could have done it in 10 minutes. "Freshly painted". I change my paintings all the time and until the end, I need that freedom of being able to switch it all if I want to at the last minute.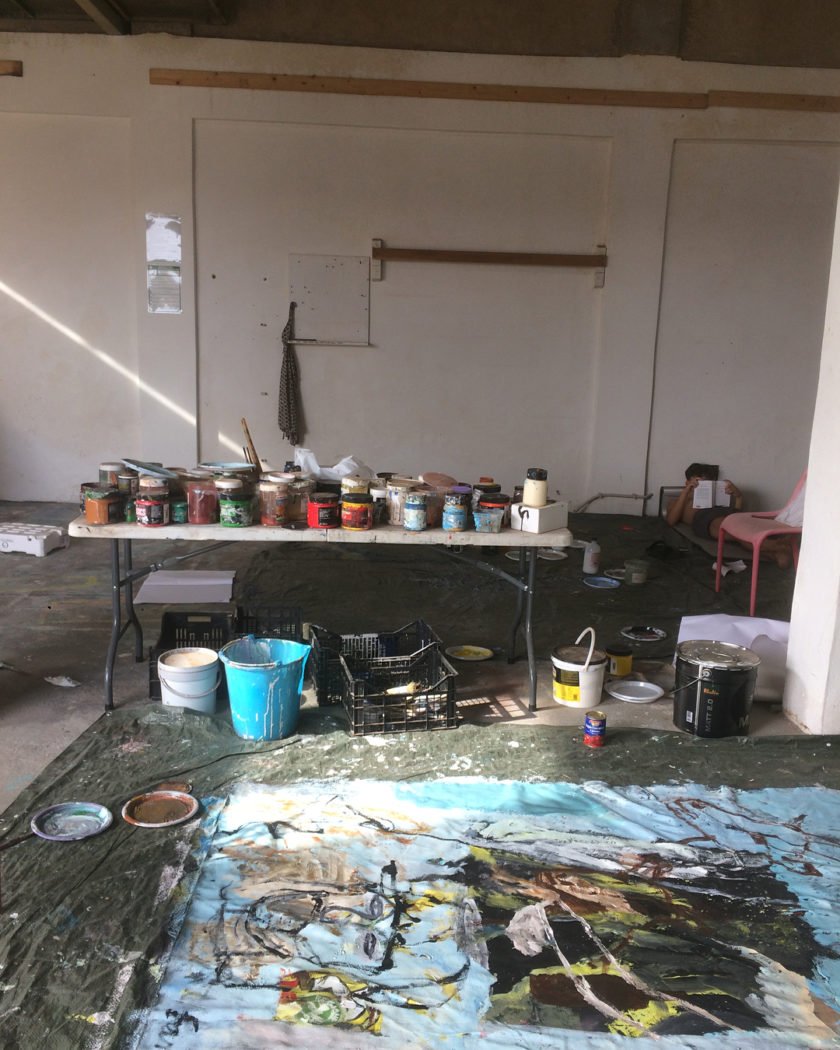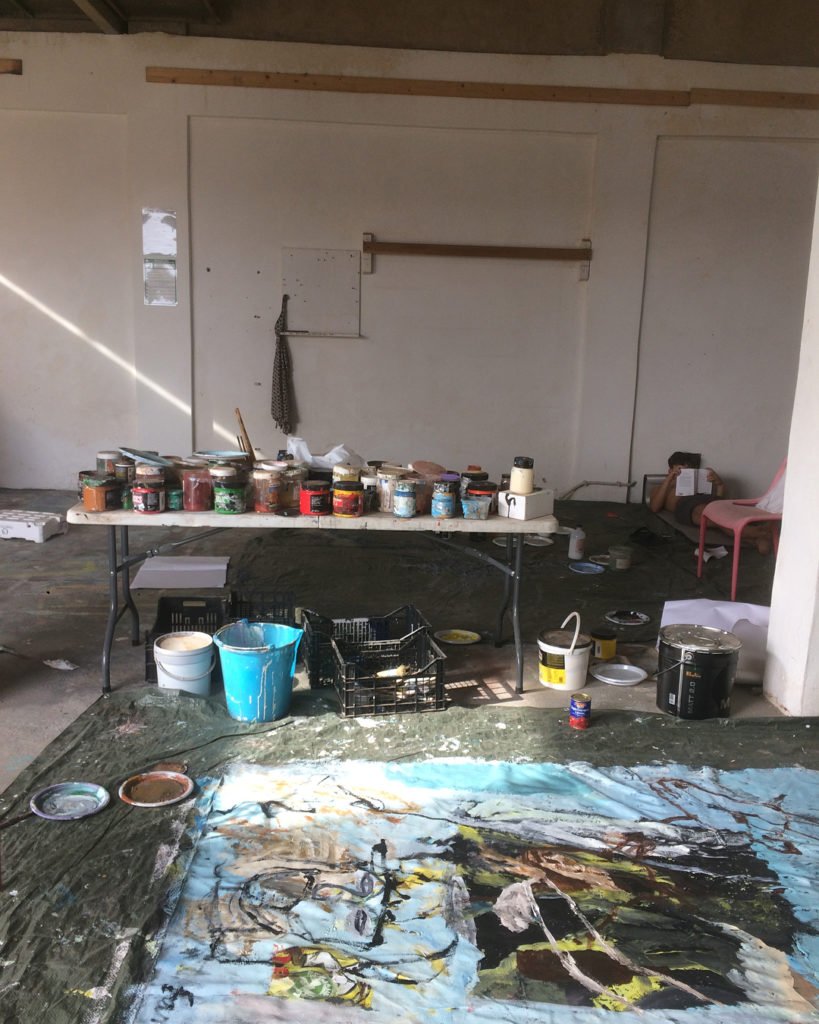 Q: Which is your preferred surface for working on?
A: Preferably something that is not too smooth, that has irregularities on it. I've painted on sewed coffee sacks, old postal bags, curtain embroidery, sicilian embroidered tablecloth, pieces of canvas glued together which makes irregular and wavy. The more lively and organic materials.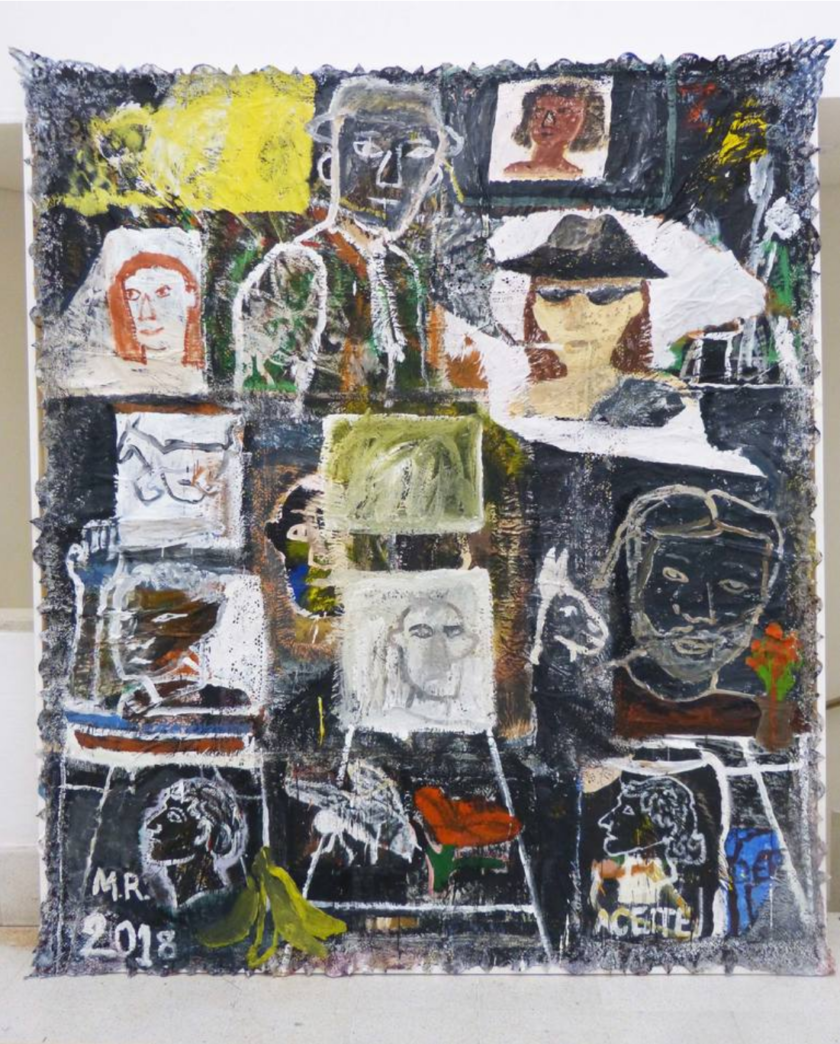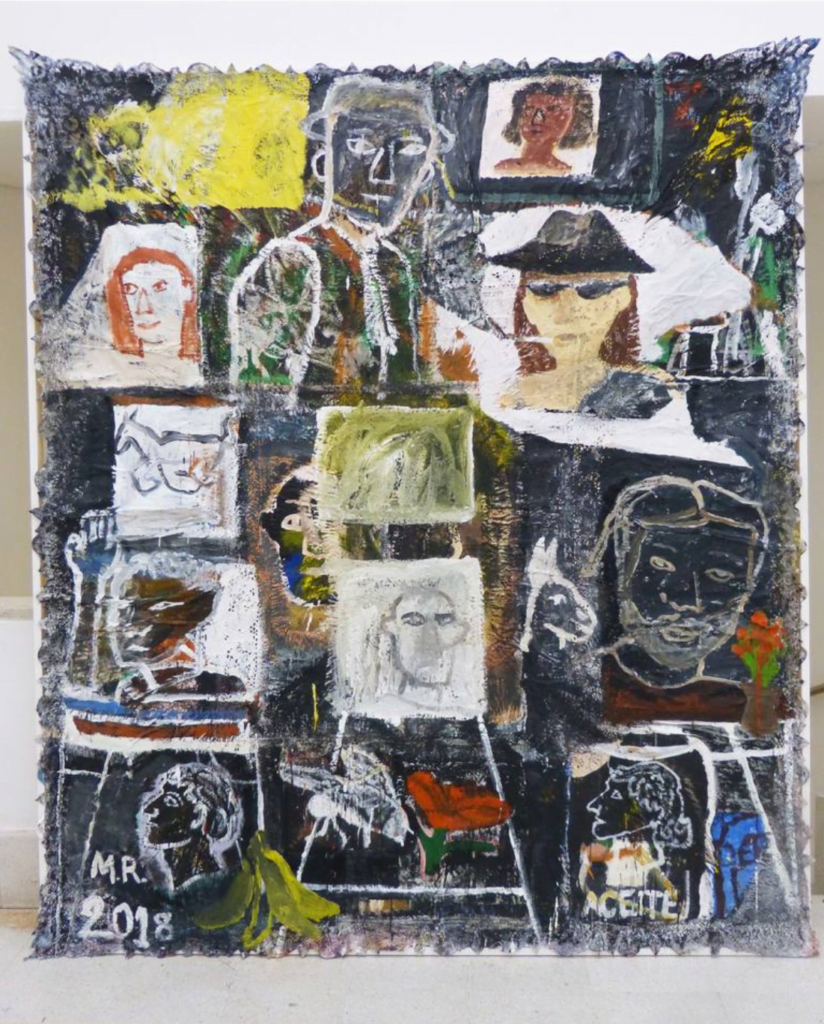 Q: What would you say is an integral part to the work of an Artist?
A: Being honest with yourself in whether you are making work you would are excited about and that you would like to see.
Q: What artist inspires you the most?
A: There are a lot… At the moment maybe Andres Serrano.
Q: What is the reason behind your use of Weapons, furniture, utensils and food?
A: They come with my vision of poetic atmospheres. They are all very material and narrative objects, that relate to a whole world of materiality: noises, smells, sensations. Criminality, cooking, work, markets… They are also objects that are commonly part of contemporary Palermo streets.
Q: How do you know when a piece is finished?
A: When I feel like there's no more I can do on the painting. I know I'm getting close when I'm really into it, to the point that it haunts me.
Q: What is your favourite piece from your collection?
A: Probably my latest one, a portrait of Gil Scott-Heron.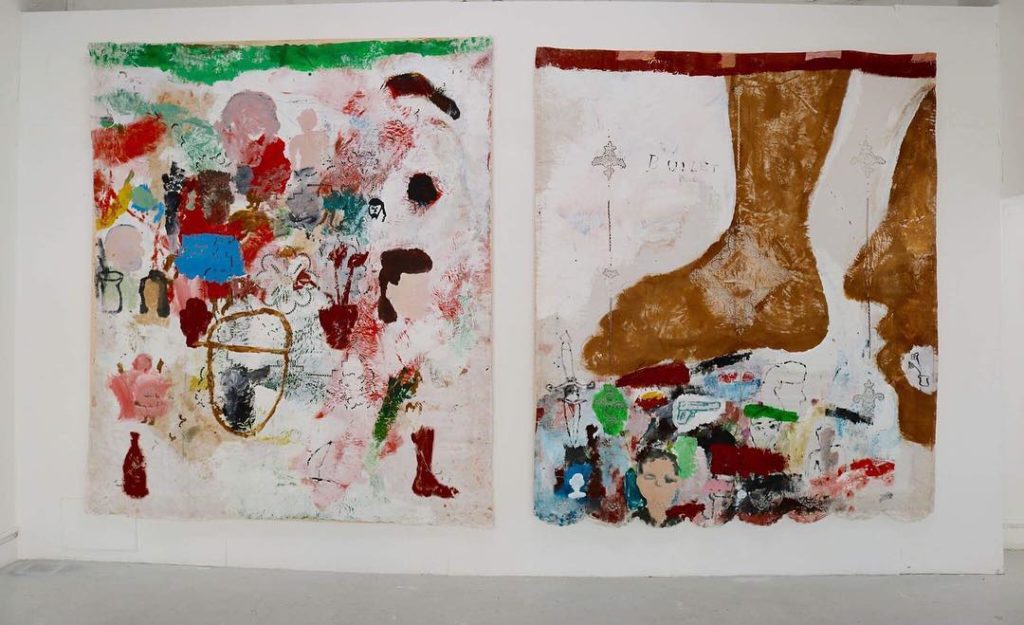 Q: How did you feel when you did your first solo exhibition?
A: I didn't have any solo shows yet, soon hopefully !
Q: What is the most rewarding thing for you about being a part of the Art Industry?
A: To do work I'm passionate about.
Q: Is there anything that worries you about how social media is affecting the promotion of artists?
A: I haven't seen so much negative sides to the promotion of artists… it facilitates a lot of things.
Q: In your opinion, do you have any advice for artists on how to manage their social media image? Or does it even need managing?
A: Not posting too much is good. Keep a bit of mistery.
Q: Are there any places where you feel Art and Technology really shouldn't overlap?
A: If you keep a distance towards technology I think everything's possible. You just have to be conscious that it's not everything. I use photoshop to do different sketches on the paintings I'm working on and that saves me a lot of time, but at the end I never end up doing what I intended, because doing it on a computer and doing it in real life is completely another thing! But It can give me a sense of what is wrong and a direction to take.
This is Art Plugged emerging artists season with Maïa Régis. Maïa is an artist to keep an eye on gaining momentum with her unique dialogue of expression. You can keep up to date with her latest works, exhibitions, and more by following her on Instagram and heading over to her website.
https://www.instagram.com/maia_regis/
All Rights Reserved © Copyright Maïa Régis 2019