Amid the pulsating energy of London's vibrant art scene, JD Malat Gallery shines brightly as a guiding light for established and emerging artists. With a strong emphasis on contemporary art, JD Malat boasts an impressive roster of over 20 international artists, working across a multitude of mediums, from traditional forms such as sculpture and painting to more modern expressions like video and photography.
Steering the gallery's day-to-day activities is upcoming curator Annie Pereira, whose strong ethos of integrity, inclusivity and the championing of female and underrepresented artists is the driving force behind the gallery's mission. A mission deeply rooted in a commitment to amplifying diverse voices and narratives; this commitment is not just an idealistic vision but an operational principle.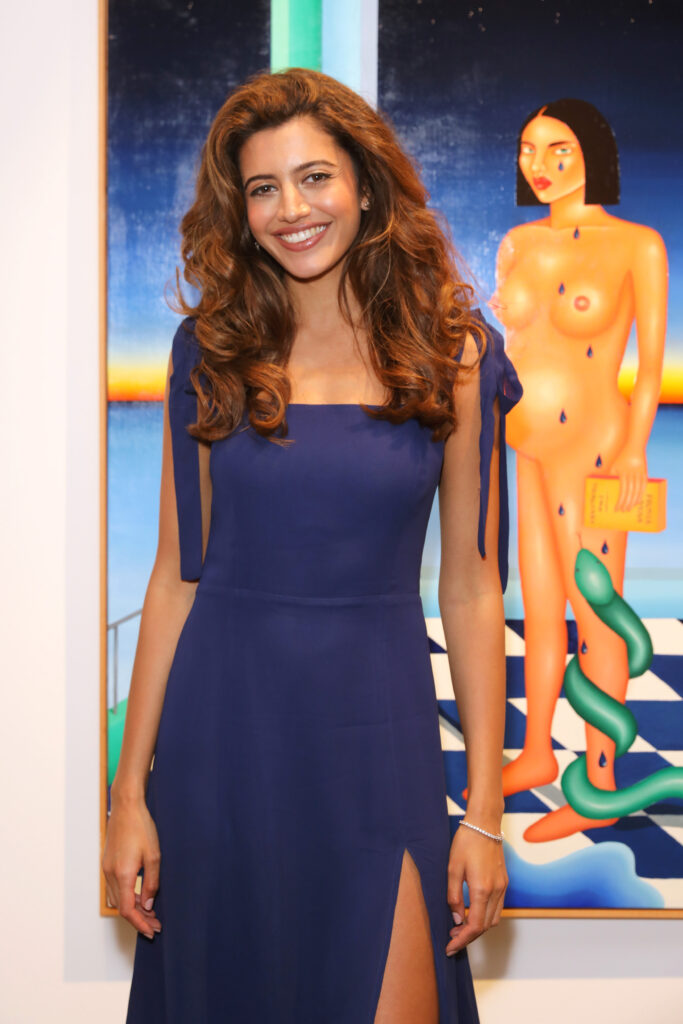 Galleries are really the gatekeepers for artists, their work and market. It's essential to leverage a holistic framework and strategic approach that fulfils both the commercial objectives of driving sales and staying true to an artist's vision.

Annie Pereira
Pereira's influential role in the art world was further solidified in 2021 when she curated a solo exhibition for Brazilian street artist Nina Pandolfo at the iconic Heydar Aliyev Centre in Baku, Azerbaijan—indicated Pereira's willingness to spotlight unique talents beyond traditional gallery settings. A significant contributor to Women Artists Art World (WAAW), Pereira's collaborations have resulted in numerous solo exhibitions, reaffirming her commitment to supporting female artists. This endeavour culminated in an all-female group exhibition showcasing various themes and perspectives.
Among those artists featured in these solo exhibitions were Georgia Dymock, Annett Zinsmeister, Ayanfe Olarinde, Hande Sekerciler, Emily Gillbanks, Celine Ali, and Sophie-Yen Bretez. Under Pereira's direction, JD Malat Gallery continues to position itself as an essential platform for contemporary art, championing diversity and inclusivity in the arts community. Pereira's goal transcends mere display of art, as she seeks to champion the voices behind the work, ensuring their artistic expression resonates far beyond the confines of the gallery. We caught up with the burgeoning curator to learn more.
Hi Annie, How are you doing? Thank you for taking the time to speak with us. Please tell us a little about yourself, your background and journey into art curation, your position as the manager of JD Malat Gallery and what sparked your interest in art.
Annie Pereira: I was prolific across painting and music from age 5, so I would say my love for art blossomed from the creative process itself. My mum encouraged me to feed my curiosity further with regular visits to museums (The National Gallery being a particular favourite of mine) from the age of about seven years old.
Fast forward to my BA degree in History of Art with Material Studies at University College London, an extremely rewarding experience with some of the best art historians and lecturers in the country. My BA course was open to only 5 – 10 students with a guaranteed work placement in the third year of the degree, during which I worked as a Contractor and Researcher in The Wellcome Collection. I had the incredible opportunity to work closely with all the prints and drawings in their vast archives. Here I developed my final year dissertations focussing on 18th and 19th century periods of art history.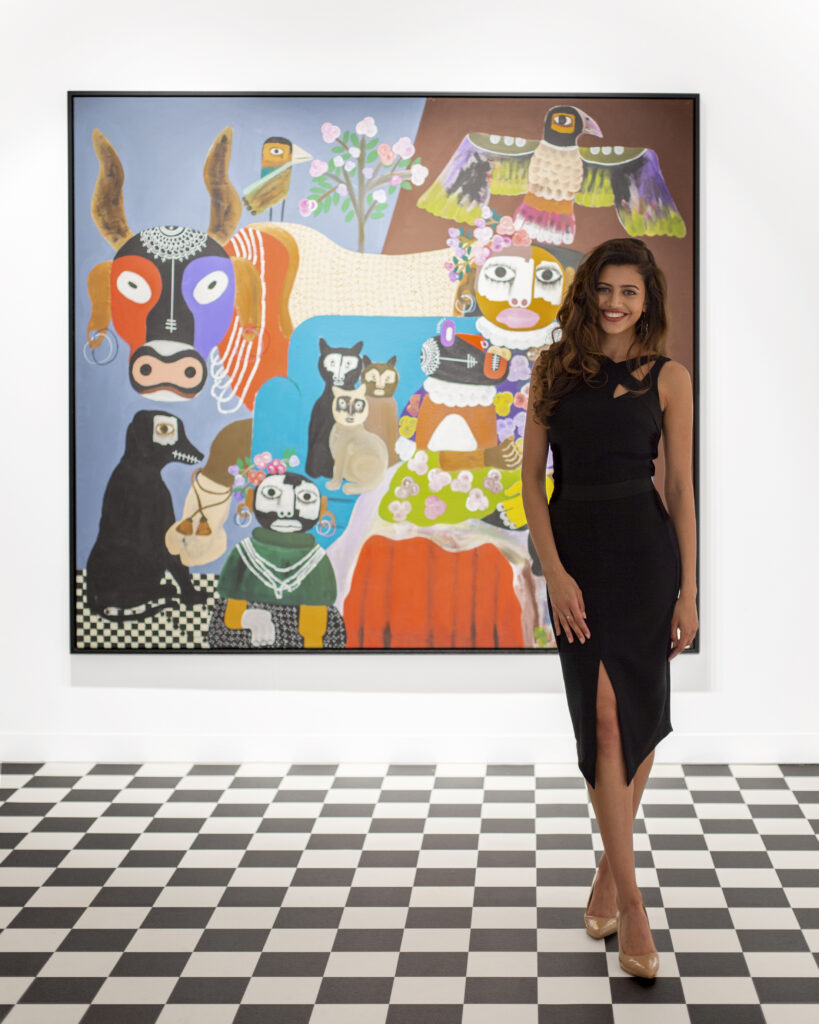 Can you talk us through a typical day as the manager of JD Malat Gallery? What are some of your daily responsibilities and duties?
Annie Pereira: No day is the same. As we specialise in contemporary international art with artists, stakeholders and clients based all over the world, I have to be really flexible in my working hours and manage multiple projects simultaneously. There are some days where I think I might have time to quietly focus on some writing for an exhibition, but instead one of my clients might walk in for an impromptu tour of the show, or I'll need to jump on a call with Jean-David and Victoria (Director) to plan our next project, followed by dinner with clients or our artists in the evening. Key daily responsibilities include supervising the gallery space, engaging with visitors, overseeing our fast-paced programme alongside pop-up spaces, art fairs and checking in on our artists. I'm also lucky to guide and work with a really strong team of sales, operations, design, and interns who are all amazing at what they do.
Could you share some insights on how you balance the commercial aspects of managing a gallery and nurturing the artistic side of things?
Annie Pereira: Galleries are really the gatekeepers for artists, their work and market. It's essential to leverage a holistic framework and strategic approach that fulfils both the commercial objectives of driving sales and staying true to an artist's vision. Given the personal nature of art and bearing in mind it's ultimately the artist's livelihood that's at stake here, galleries need to work with the artist collaboratively. I always call and discuss new ideas with artists before giving the green light. When we collaborated with Aspinal of London and Kojo Marfo for example, we ensured that Kojo had a direct say in the use of his work in their luxury fabrics and designs.
Can we delve into your curatorial approach, which strongly focuses on integrity, inclusion, and promoting female and underrepresented artists?
Annie Pereira: Overall, my approach is still evolving and I'm always open to new ideas, trying and testing things out. My approach is heavily informed by my travels for international exhibitions and art fairs, during which I've really enjoyed the diversity. There's always so much more to discover and learn which is why it's important to keep an open mindset. However, it's not a seamless process to swiftly introduce new female and underrepresented artists within existing frameworks in the art scene. An effective way of promoting them has been through curating exhibitions of post-war artists alongside our contemporary programme. You can introduce collectors and the public who are familiar with the old, to the new. This also helps bridge the gap between older and emerging collectors and artists collectively.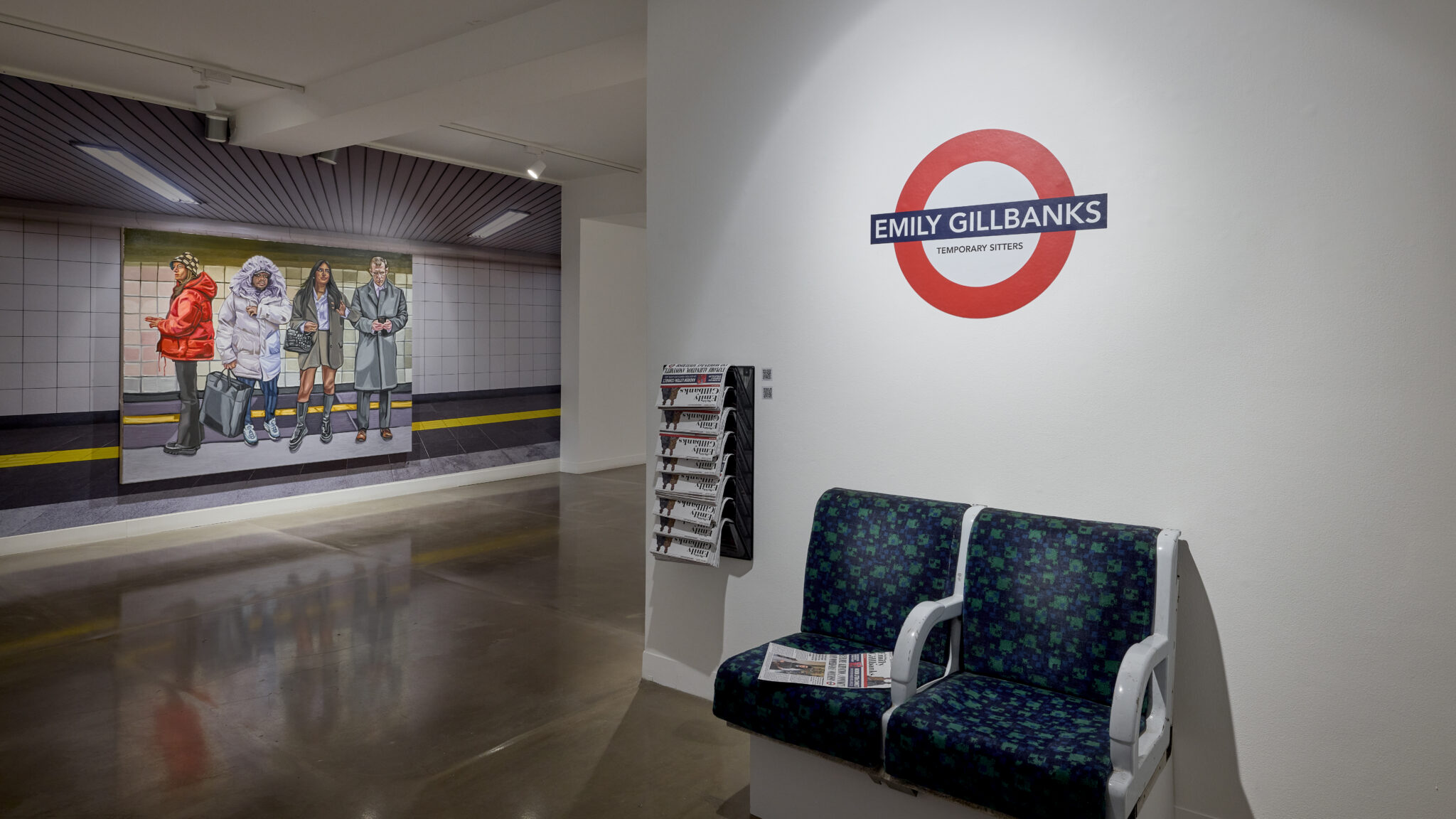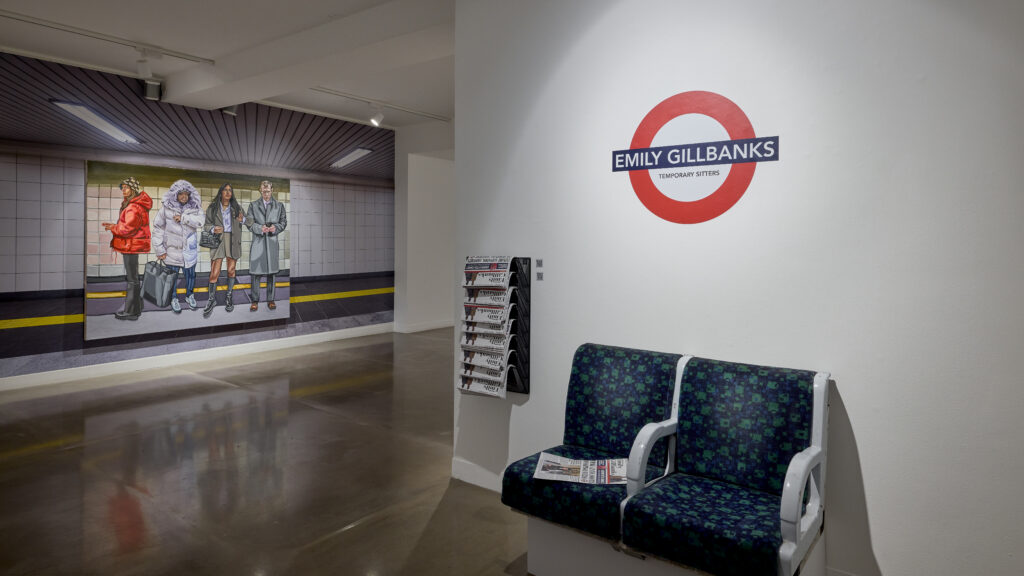 The most enjoyable part of curation is the creativity that comes with it. When we installed 'Temporary Sitters' – the debut solo exhibition by the immensely talented painter Emily Gillbanks – we explored how the gallery space itself could amplify the themes at play in her work. Working from images found within the public domain of social media and google, Gillbanks' created a series of strangers enraptured by their smartphones across the London Underground to explore 'modern-day voyeurism'.
We hung the paintings against a backdrop of an underground platform, installed tube seats and added 'metro'-like newspapers to the space. It was a memorable and inclusive way to connect viewers with the profound theme of ephemeral presence at play in her work.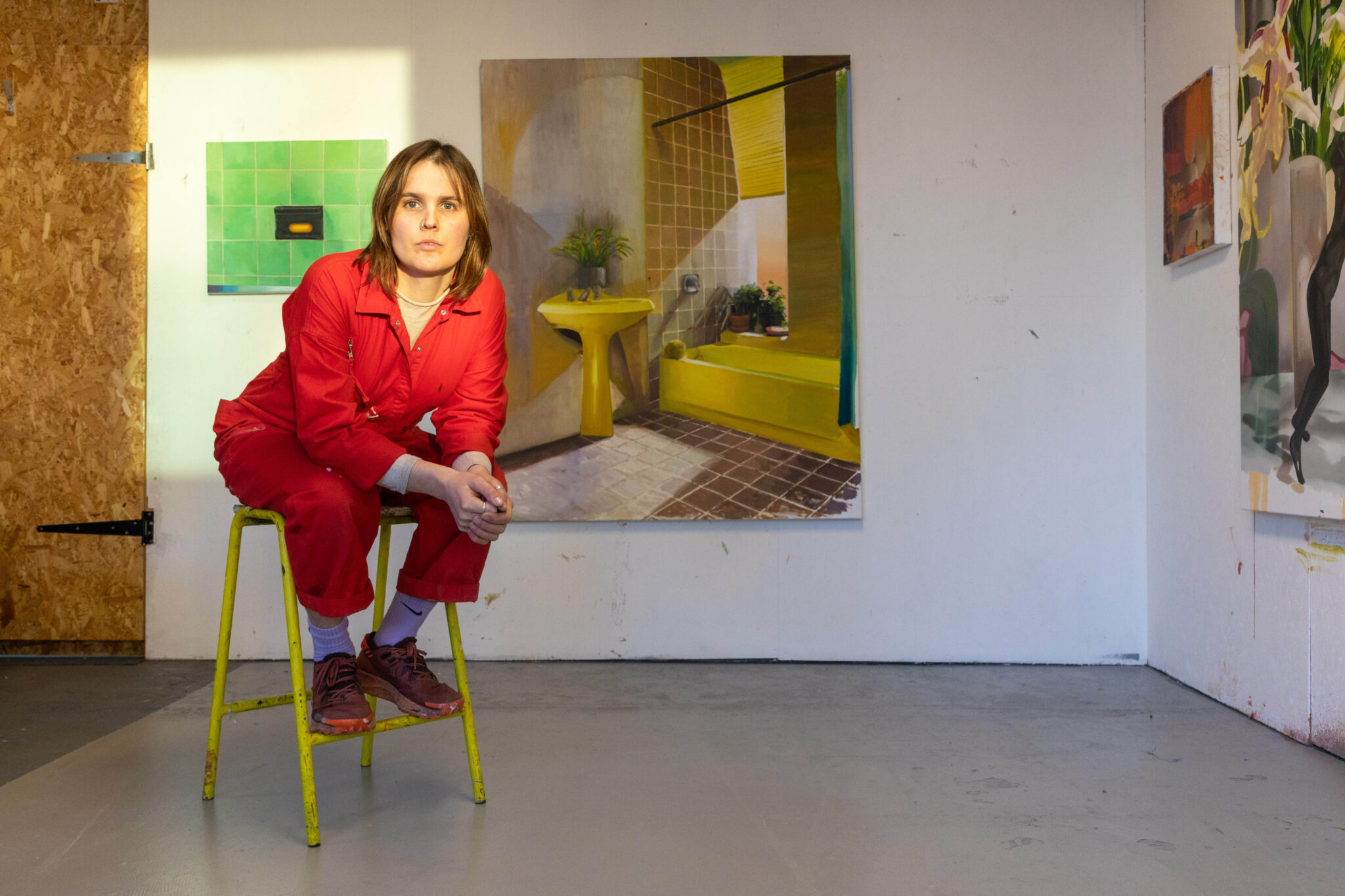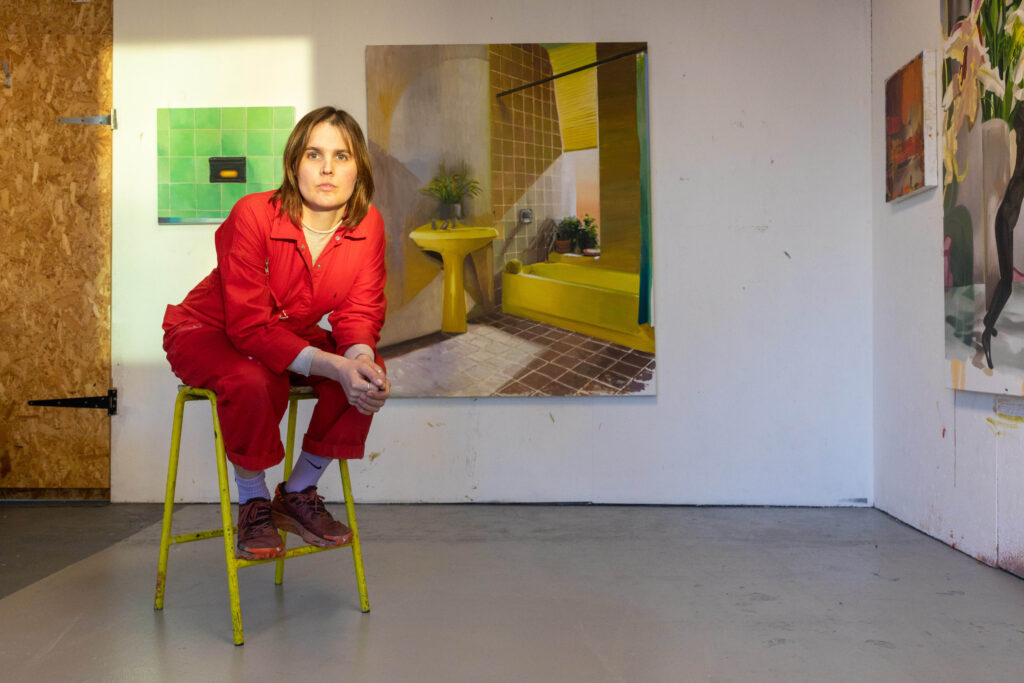 Continuing from that question, can you tell us about some of the artists or artistic communities that you feel have been particularly underrepresented in the art world? How did you come across their work, and what about it resonated with you?
Annie Pereira: Based on my travels and other exhibitions, I can definitely see greater awareness around underrepresented communities in the art world. Two areas I would specifically like to see and explore more of are the artistic voices of indigenous people globally, and the LGBTQIA+ community. The research and understanding around both areas are continually evolving which means the representation through museums and galleries around these groups needs to expand with it too. We come across new artwork and artists collaboratively at the gallery.
Jean-David has a great eye, and we often discover artists via Instagram and graduate shows. Erin Holly is a superb artist who we've just started working with. Her work addresses a variety of themes ranging from the politics of space and inclusion, trans identity, embodiment, and contemporary normative conventions through vibrant paintings of interior spaces. I love her work as it beautifully demonstrates art's transformative potential to enact real-world change.
How has your commitment to championing female and underrepresented voices in the art world shaped your approach to curating and gallery management?
Annie Pereira: It's highlighted the importance of implementing core values of integrity and inclusion when working with my team and network of professionals. Being sharing and open with learning opportunities with the team (which is primarily an all-female team) at the gallery is paramount. My first 'real-world' work experience with KTW's founder Katy Wickremsinghe is one of the reasons why I believe in the importance of cultural leadership and of supporting and mentoring women working in the visual arts. We also operate in a friendly and trusting manner, and always ensure that the public feel welcomed into the space through a carefully curated space that offers accessible and digestible information about the works on display.
As a curator and gallery manager, what challenges have you faced in your attempts to give female and underrepresented artists a platform?
Annie Pereira: Luckily not many – Jean-David has always been very accepting and open to new ideas. In a general sense, I would highlight that the market for new artists is highly saturated. So you've got to really make it known why this artist, why now, and also think about the longevity of their career. Another challenge/question for women in arts in general would be: is the economic value of women being taken seriously? There are a lot of women working in the art world (whether in gallery space/auction houses/an artist), but they are working within old structures created by men. I've been fortunate in my experiences so far, however I do think that there's an unspoken pressure and expectation of women in the arts to adapt and navigate around archaic structures and attitudes towards women which are ingrained in society, and that's something that needs to change.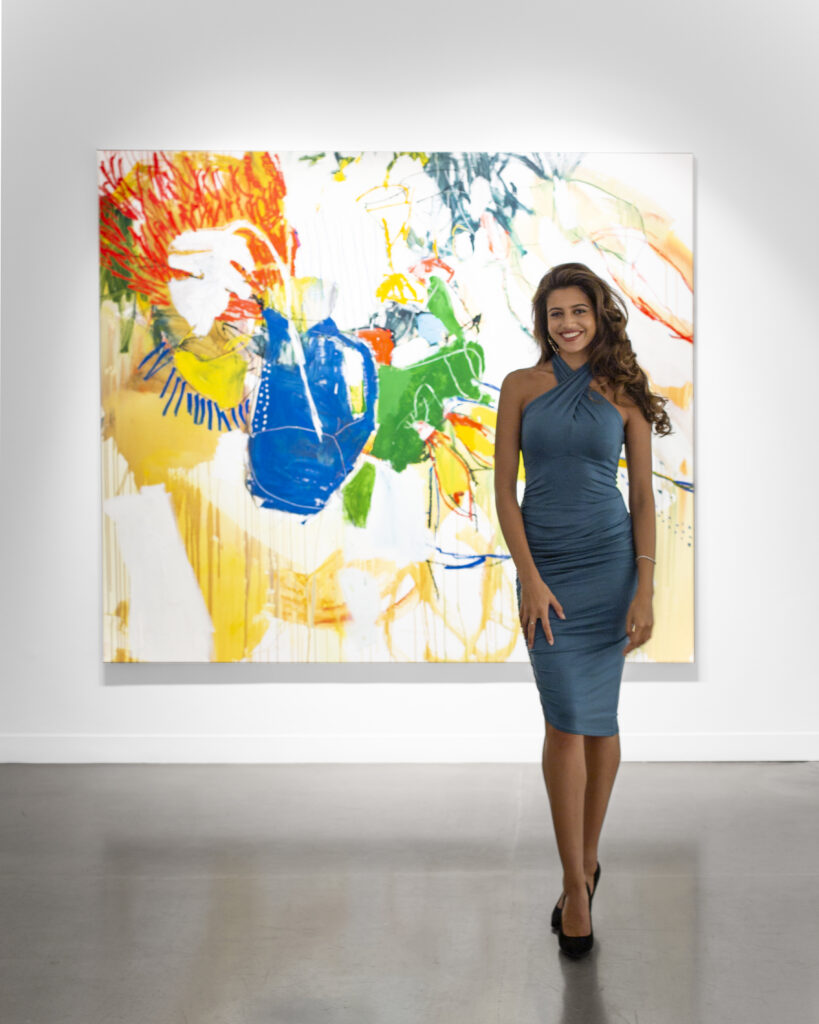 Can you tell us about a particularly memorable exhibition or artist you've worked with who was initially underrepresented but has since gained recognition?
Annie Pereira: Discovering the work of Kojo Marfo was an extremely heart-warming, fun and rewarding experience. Following the lockdown period, we opened 'Isolation Mastered', an open-call exhibition geared to support artists in the UK without representation. Kojo was one of over a thousand applicants who made it to the final 25 artists featured in the exhibition.
Kojo's work expertly fuses Western art references with the traditional forms of Akan art from his native Ghana. Everything about his work from the colourful compositions to profound messages about our global humanity strongly resonated with collectors and the public alike. The impact of his work was also propelled by the globally renewed appreciation of diasporic and African art at the time. The connection with Kojo was instant.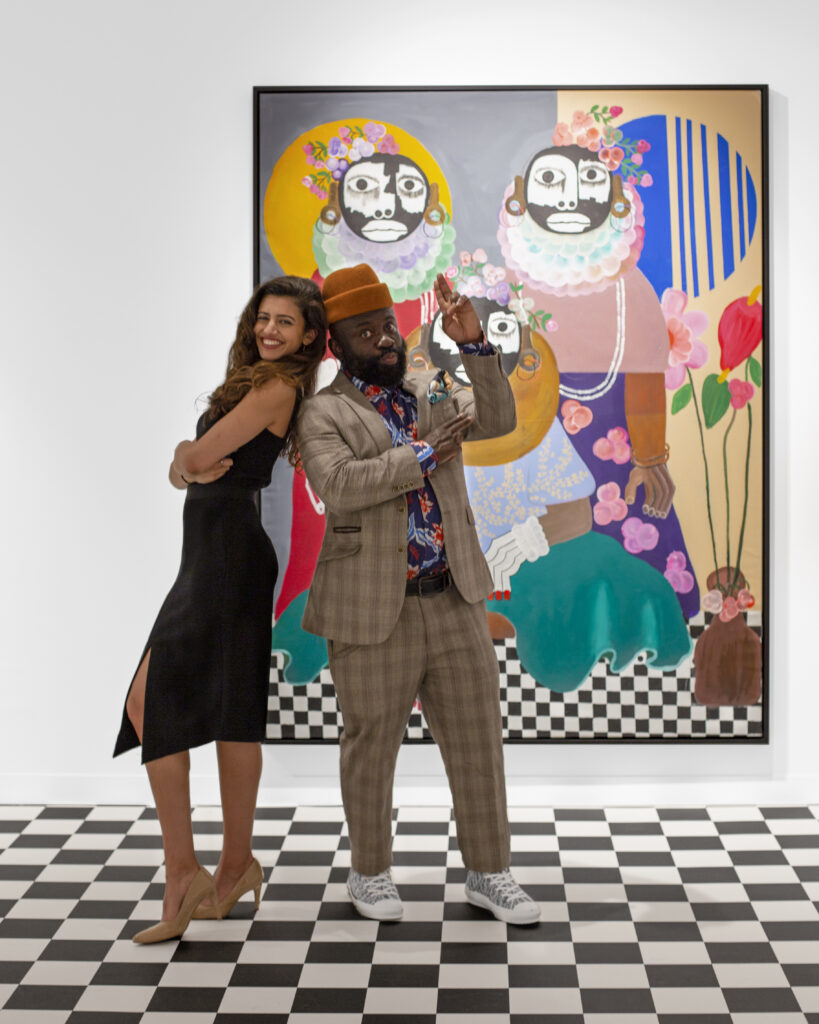 After signing him we hosted his first solo exhibition and have since had the opportunity to innovate collaborations with Aspinal of London, W1 Curates, Whitechapel Art Icon, 'Say it Loud' at Christies New York, and exhibit his work in our New York pop-up space. I am really looking forward to working with the Barbican Curator, Wells-Fray Smith, later this year to select Kojo's new works for his two-floor exhibition at our Mayfair space which will take place during Frieze Week this October.
You recently collaborated with Women Artists Art World (WAAW) which resulted in several solo exhibitions, including an all-female group exhibition; can you give us some insight into the collaboration, how it came about, and what it was like working with (WAAW)?
Annie Pereira: I met the co-founders of WAAW, Annya Sand and Catherine Hunt, in the gallery about two years ago. They mentioned their idea to encourage galleries across London to exhibit solely female artists in the month of July to help advance gender equality. I eagerly took up the opportunity to work with them and hosted an all-female group exhibition for their inaugural month. We reached out to new artists specifically for the show and have since continued to work with them, resulting in some stellar solo exhibitions by Sophie-Yen Bretez, Ming Ying, and Ayanfe Olarinde. WAAW were such a pleasure to work with, and we have continued to conceptualise new ways of working together in the future.
How can the art world become more inclusive and diverse overall? Are there any systemic changes that need to happen.
Annie Pereira: The scale of change that needs to happen is pretty seismic! From an employment perspective: I have seen how narrow the window of opportunity is for both artists and aspiring curators who aren't connected to the art world from an early age or don't have economic support for their ambition or practice. Currently it feels like there's a significant polarity in the art world; upper echelons/older generations at the top positions contrasting with a new wave of creatives and young professionals who are working to change things. Changes need to happen from both sides of the scale, whereby people at the top create opportunity for newcomers and implement equitable business models that benefit young professionals and new artists in the industry.
What's next for Annie Pereira and JD Malat Gallery?
Annie Pereira: We've got some exciting moments coming up at the gallery in London during Frieze Week for Kojo Marfo, as well as a solo show with Yann Leto in Untitled Miami this December. But overall, we're very ambitious to discover new artists and keep expanding the gallery and the scale of our artists' projects. I'm looking forward to seeing how we can keep using our platform for new talent and contribute to positive change in the art world.
Lastly, What advice would you give aspiring curators or gallery managers just starting their careers in the art world?
Annie Pereira: Seek out opportunities to travel, see exhibitions and remember that your network is currency. Showcase your ideas and passion whenever you get the chance – research and creativity can be the most rewarding thing when it resonates with those around you. Most importantly, be honest and inclusive with people from all walks of life and remember the pastoral nature of what you do; curatorial work can really nurture the livelihood of contemporary artists and inspire cultural connection across diverse communities.
©2023 Annie Pereira, JD Malat Gallery