It is with great pleasure that we feature Didi Rojas, a Brooklyn-based artist, in our 'Artist Inside the Industry' series. Diana "Didi" Rojas has, for the longest time, held a deep fascination for shoes and the narratives they carry. This fascination found its artistic expression when Rojas began moulding her favourite footwear from clay during her college years.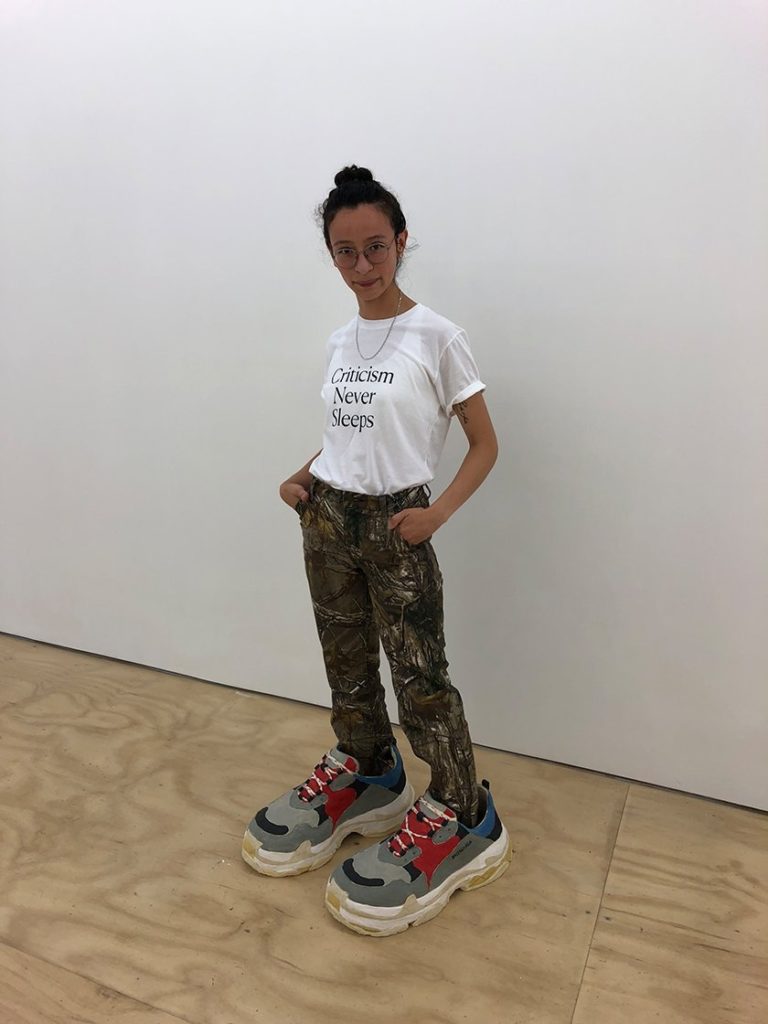 Rojas' remarkably detailed ceramic sculptures of renowned designers' shoes have resonated significantly within the fashion and art sectors. These works of art strikingly mirror the original models produced by the Titans of Style, creating a powerful dialogue between art and fashion. Such a profound impact led to Rojas being commissioned to sculpt a rendition of Adidas's iconic tennis shoe for Stan Smith's book, "Stan Smith: Some People Think I'm a Shoe". Yet Rojas's notoriety continued to grow, collaborating with household names in luxury fashion and sport, such as Gucci and Nike.
Rojas is undoubtedly an artist to watch closely as she continues to make substantial strides with her ceramic sculptures. In this interview, we plan to delve deeper into the woman behind these captivating creations, exploring her inspirations, artistic process, and much more. Her narrative promises to be as riveting and layered as the ceramic shoes she so lovingly crafts.
Q: First things first, why do you do what you do?
Didi Rojas: It's a hard one to explain in words. Part of me wants to say it's because I love the medium, enjoy the process and want to keep learning and challenging myself. The other part knows it's more complicated than that.
Q: What is your inspiration?
A: My inspiration is an obsession with a familiar object, it's form, cultural context and function. I question what it means to make a contemporary object in ceramic and in a way, capture a moment in our current time.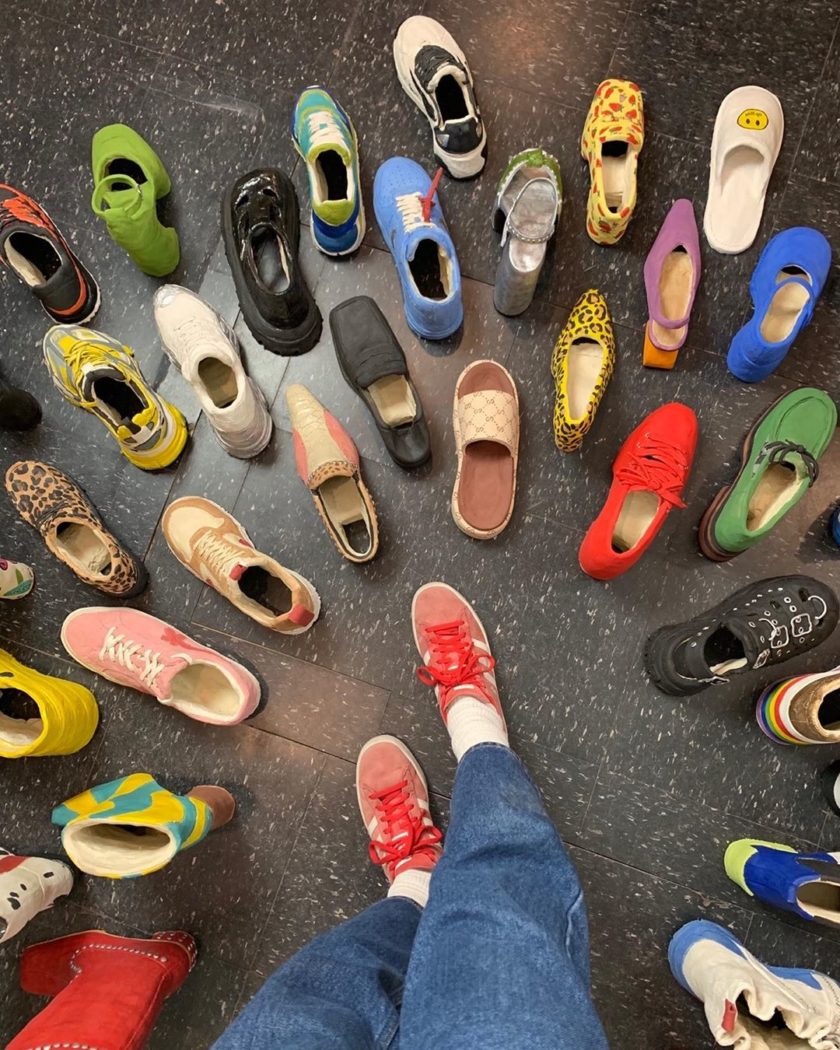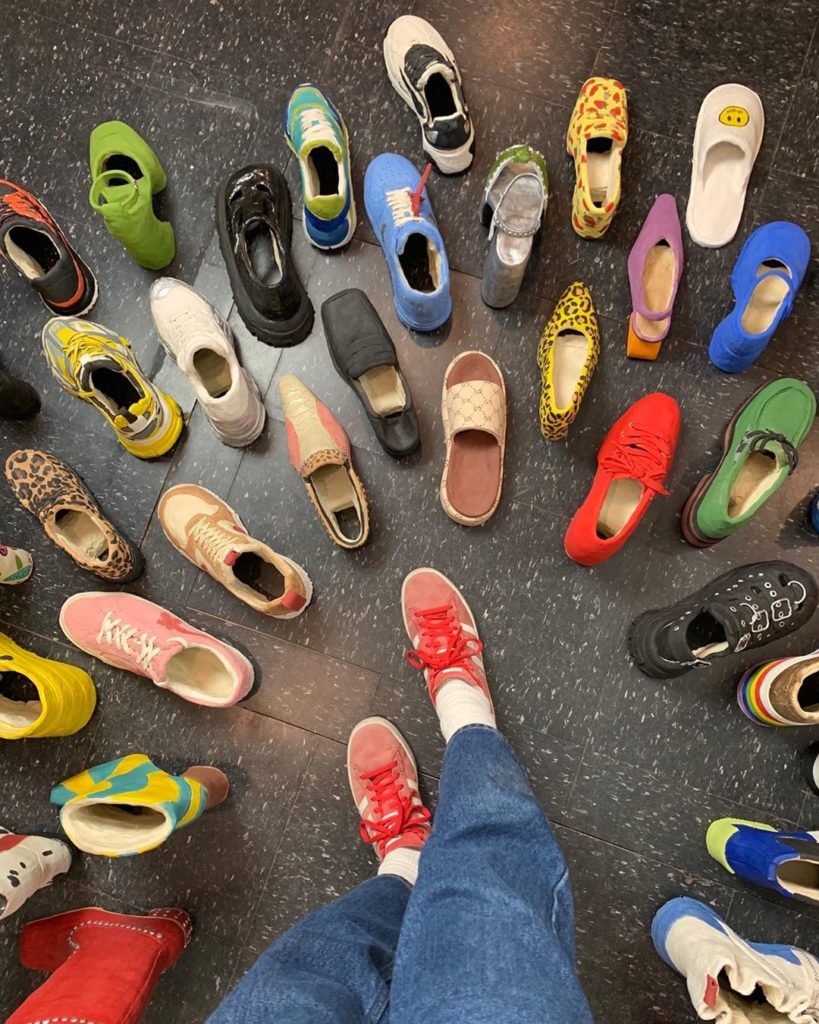 Q: What is your creative process when you're creating?
A: I normally work from photographs to make the pieces. Once I've gathered multiple images of different angles of the shoes, I begin. I start with sculpting the shoes'silhouettes and then detailing. The sculpting of the "to scale" pieces normally takes me anywhere from 3-5 hours depending on the amount of detail. They then dry for a few days and then get fully painted (glazed).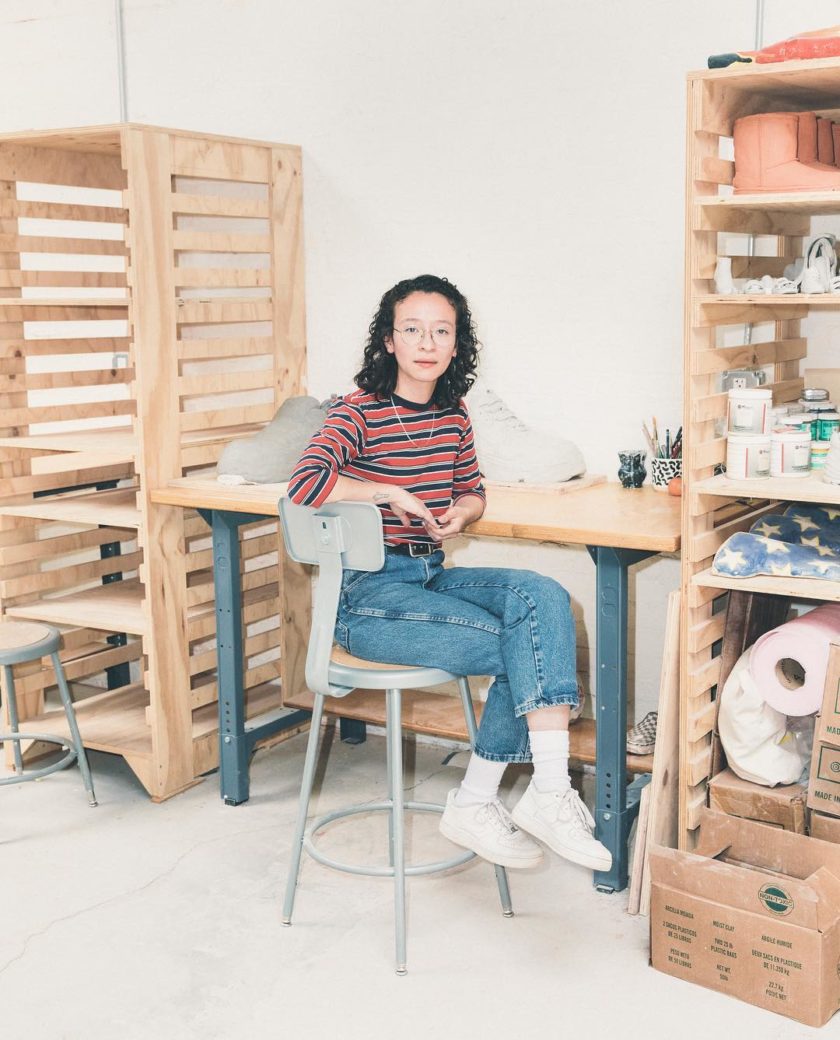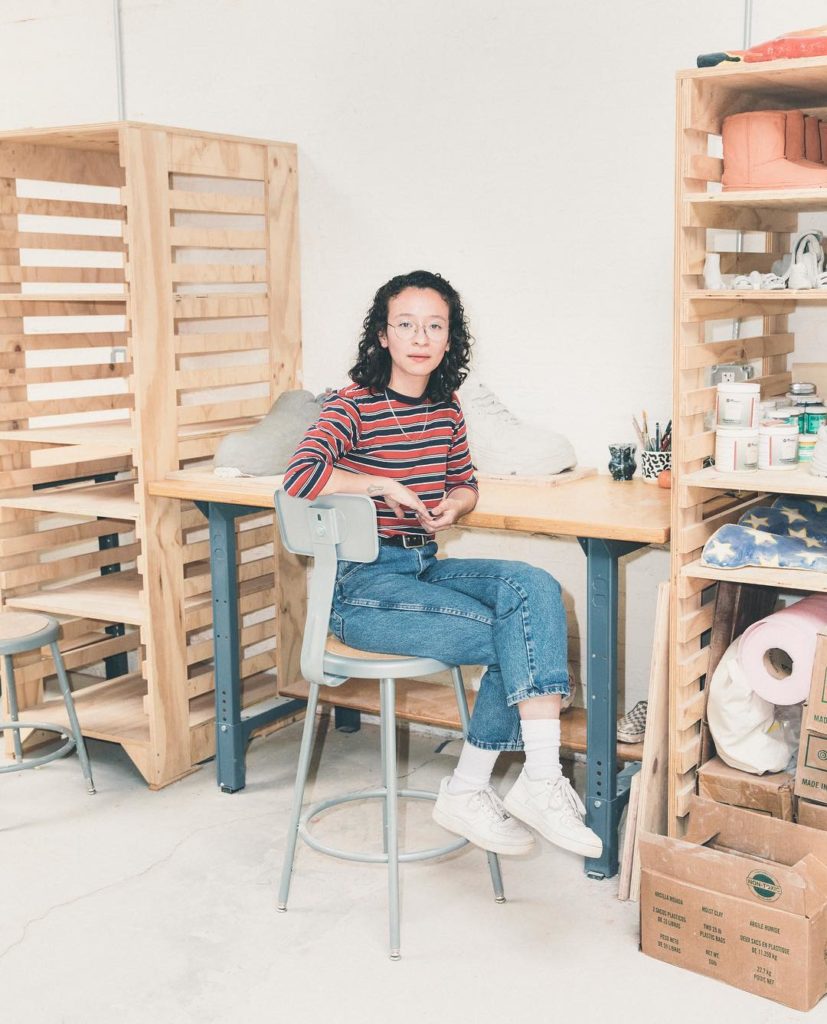 After they've been glazed I put them into the kiln which takes a full 24 hours to complete its cycle. The kiln is basically a really intense oven, where the pieces reach temperatures of over 2,000 degrees. They are usually fully done after the kiln but sometimes I continue the detailingusing other paints and enamel.
Q: Which is your preferred surface for working on?
A: A hard wood table is the perfect surface. On the table I normally have all my sculpting tools laid out and enough space for the bag of clay to be close enough to reach, as well as plenty of room to roll clay coils.
Q: What would you say is an integral part to the work of an Artist?
A: I think there's a certain level of obsessiveness artists have. Whether it be conscious or not, I think we're responding to an internal feeling that helps us carry through our process and want to do/make more always.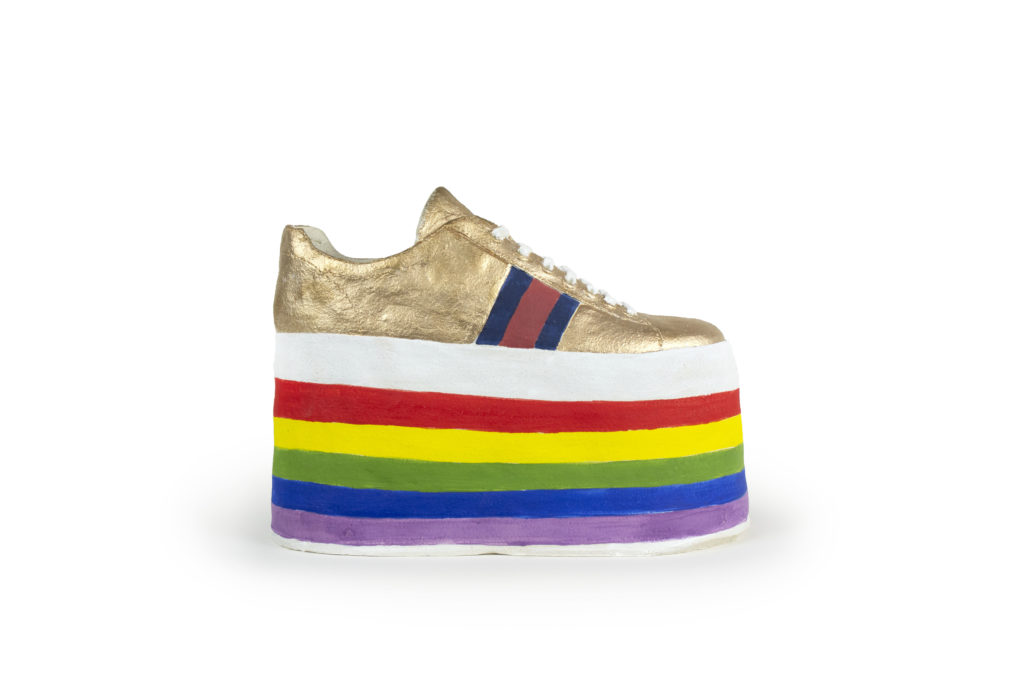 Q: What is the reason behind your use of footwear?
A: Shoes are self portraits of their wearers. They're what carry us through our life. We're familiar with their function and the role they play in our lives. I'm interested in why we see ourselves in certain ones, what happens when their function is removed through a medium, their cultural & social currency, and exploring my own obsessiveness with making them.
Q: How do you know when a piece is finished?
A: The medium's process usually dictates this for me. I would say I'm normally done with a piece when it comes out of the kiln.
Q: What is your favourite piece from your collection?
A: It's hard to choose just one because I feel like each one has its own story that's equally meaningful to me.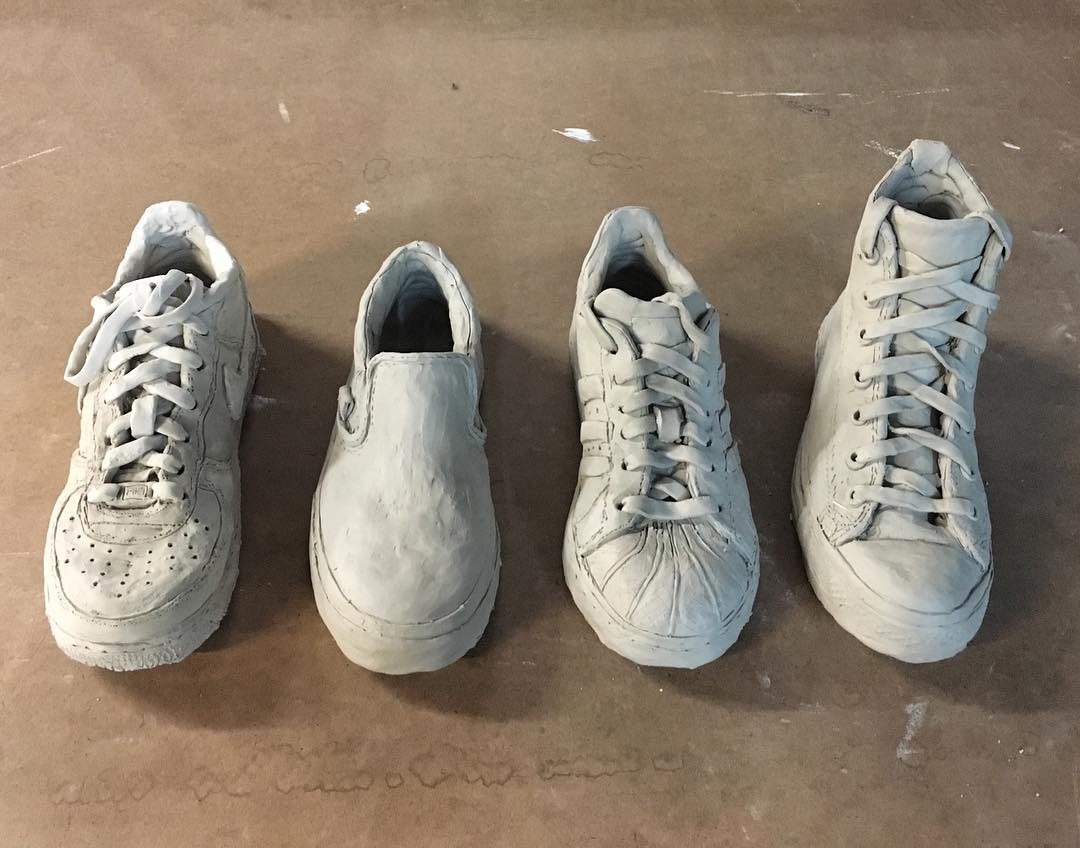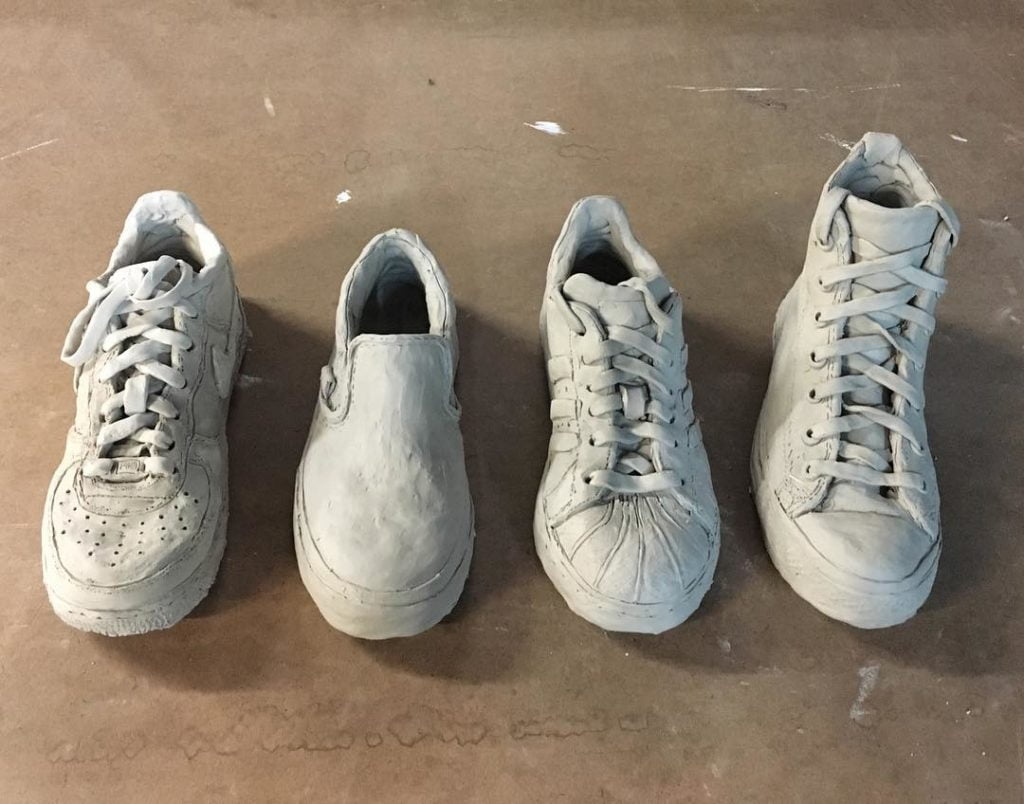 Q: How did you feel when you did your first solo exhibition?
A: It has been a great and super surprising experience. I've loved working with the team at Launch F18 on You're Doing Amazing Sweetie . I'm excited for what's next and to keep having the opportunity to make my work.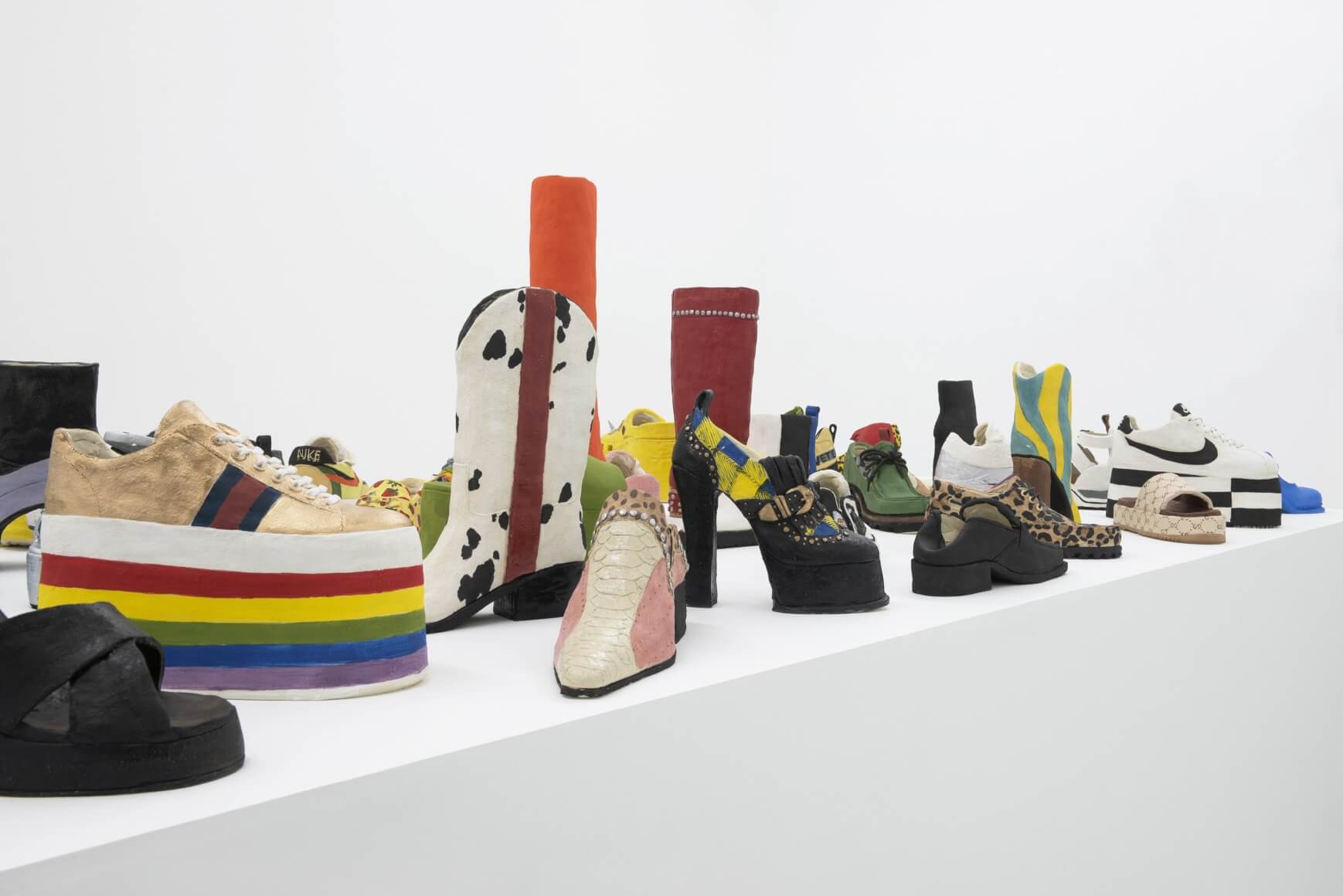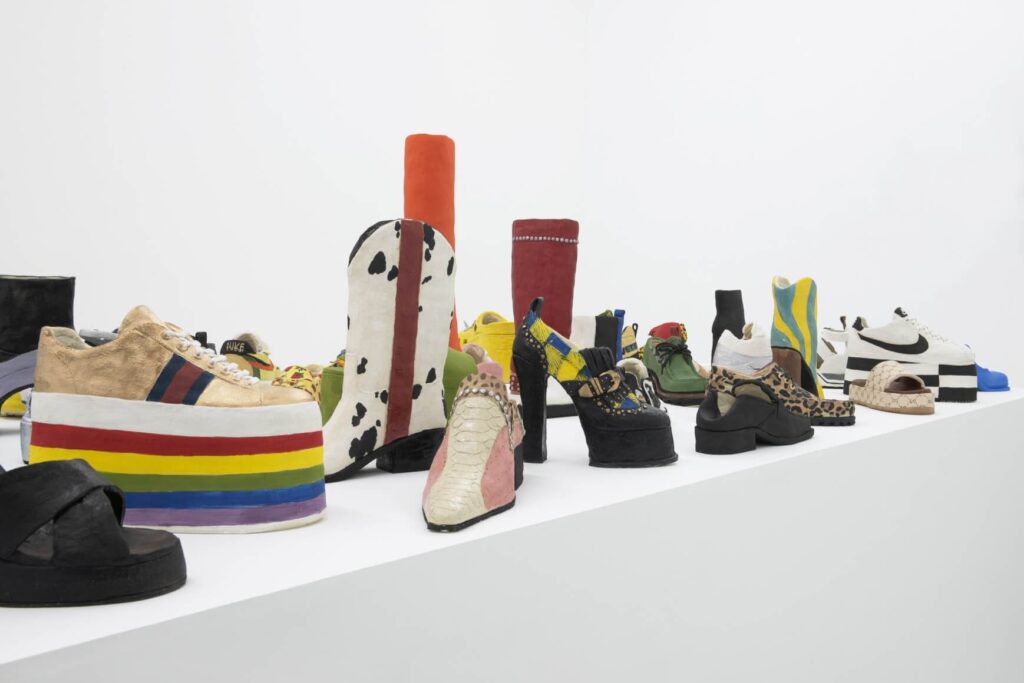 Q: What is the most rewarding thing for you about being a part of the Art Industry?
A: Getting to connect with other artists and creatives has been the most rewarding.
Q: Is there anything that worries you about how social media is affecting the promotion of artists?
A: To be honest, I love social media. I can't get behind every aspect of it but I think it's a great platform to be able to show/share your work. I love finding and connecting with people whose work I'm excited about. Through these platforms you're able to find and form a community and that's really special. Social media can also be a useful tool in finding jobs, promoting your work and putting yourself out there.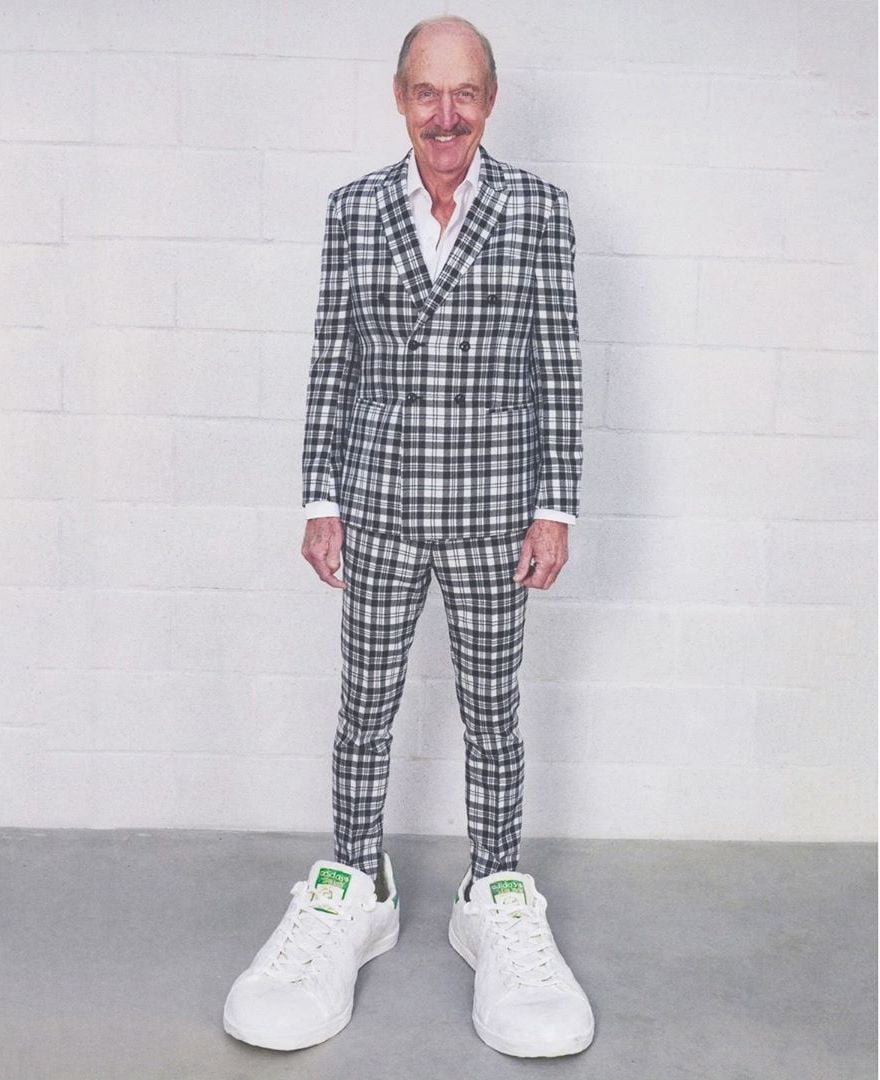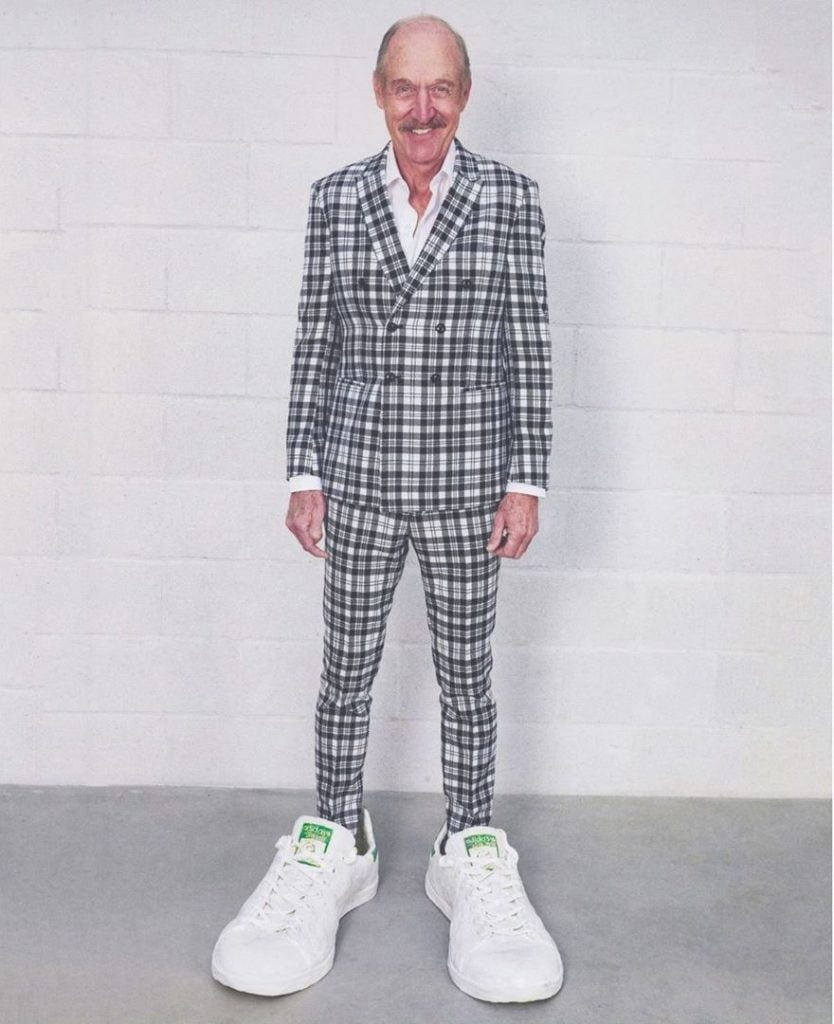 Q: In your opinion, do you have any advice for artists on how to manage their social media image? Or does it even need managing?
A: I think it's important to be yourself, always. Social media is a curation of you, by you, so own that. It can be what you want it to be whatever that may be. To me, it comes down to posting things that I truly feel comfortable sharing. Each post seems to carry a lot of weight but because I'm the one putting that pressure on myself. It's important to let go of all the social pressure about it and really just do it because you want to.
Q: Do you have any advice for artist starting and don't know where to begin?
A: Trust yourself. If you want to experiment with different mediums, roll with it. Don't be hard on yourself when things don't go "according to plan". Remember you can't control everything and that's ok, it's exciting to sometimes not know what's next until it's happening.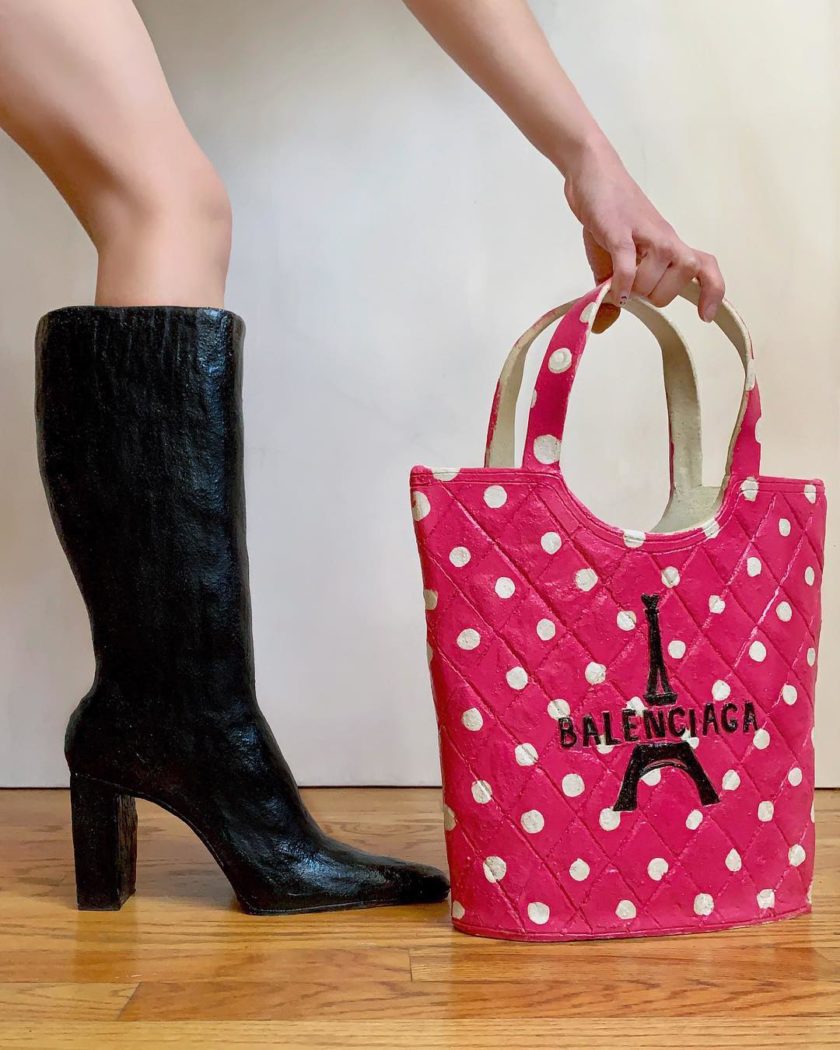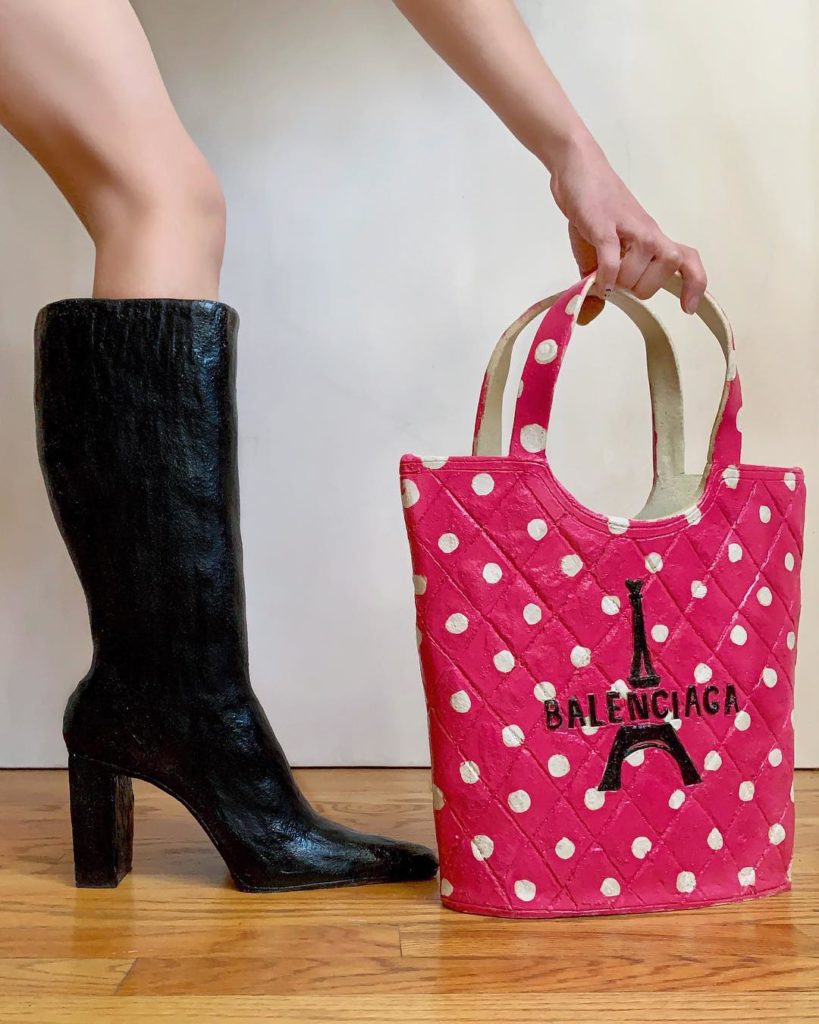 Q: What would you say is the best way of getting your art noticed in the age of the internet?
A: Instagram has been a very important tool in my practice. It's where I began sharing my work and I use it for research. In many ways it's made the world smaller because it's allowed me to meet, connect, and collaborate with other artists and people I admire. It not only helps you network but it keeps you informed about openings, shows, events that might be important to you. I think it's super useful, but know that you only have to share what you're comfortable sharing.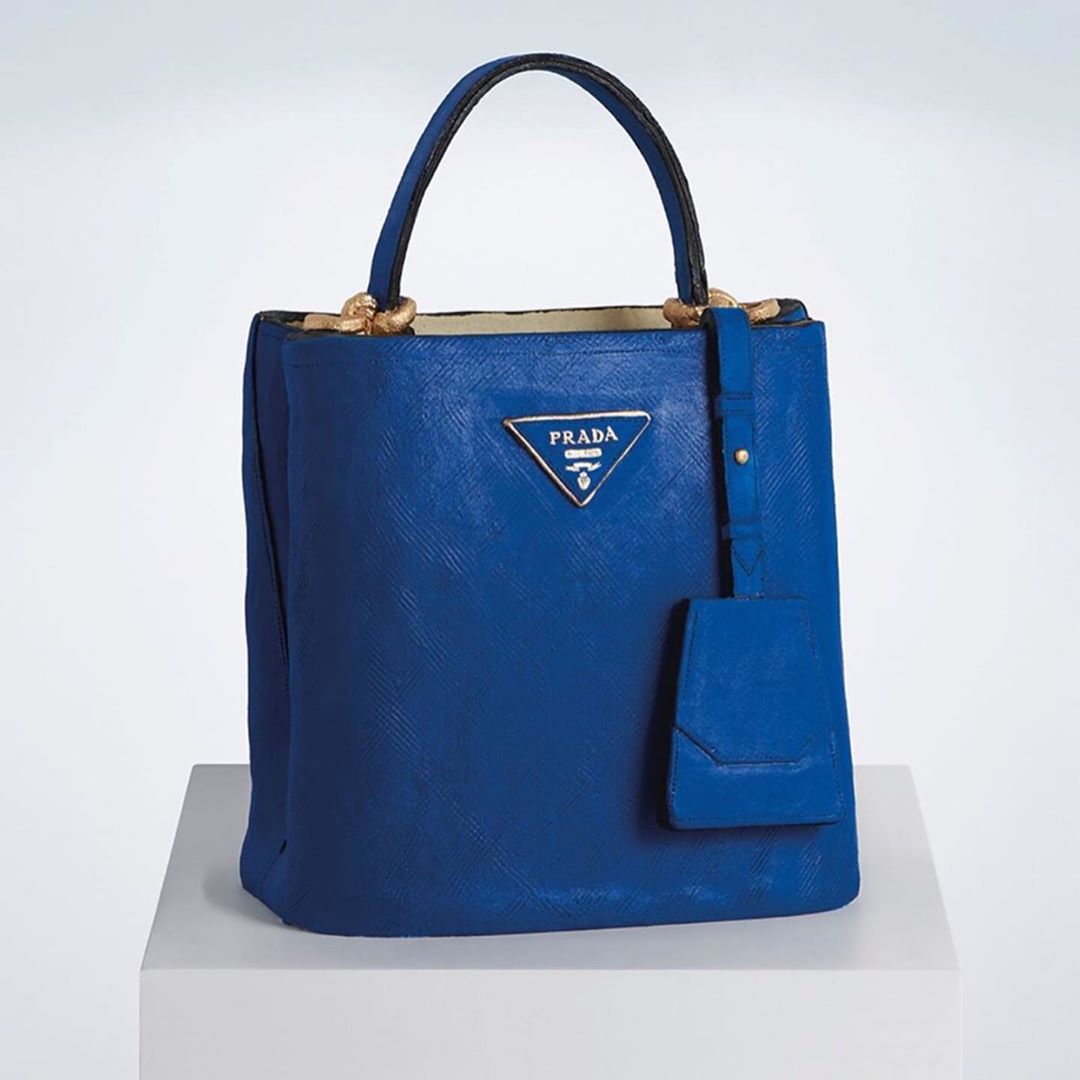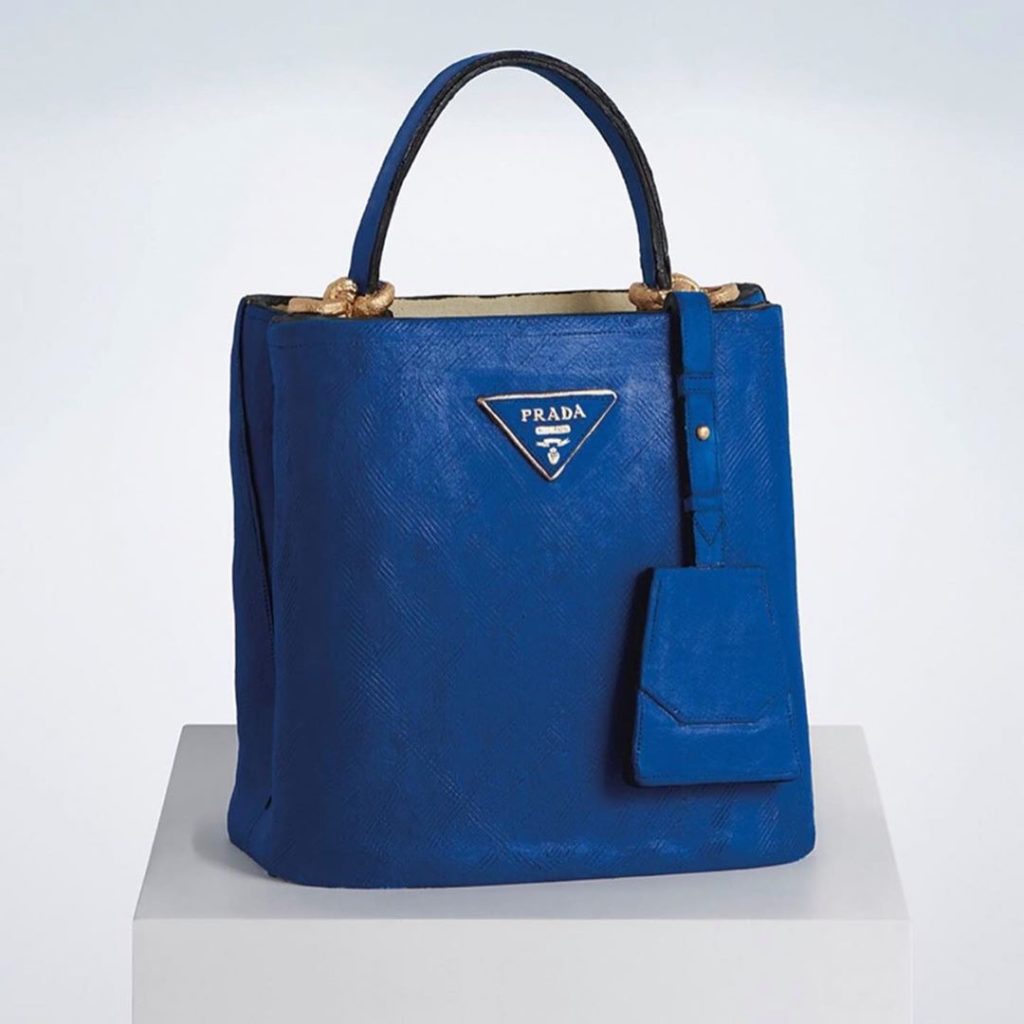 Q: Are there any places where you feel Art and Technology really shouldn't overlap?
A: I think it makes sense for Art and Technology to overlap. In a world like today, it's hard to see there being a place where they wouldn't.
This was Didi Rojas for Art Plugged artists inside the industry, you can keep up to date with Didi by following her on Instagram or heading over to her website.
https://www.instagram.com/0h_heck/
©2020 Didi Rojas