Curated by freelance writer and curator, Saša Bogojev, and organised by the team behind the UVNT art fair in Madrid, CAN Ibiza 2023 takes place at the Ibiza fairgrounds in Dalt Vila, just outside Ibiza's fortified old town, over five days in the afternoon and early evening. The fair will feature 37 galleries, presenting the latest in contemporary art with a focus on new and emerging artistic languages as well as more established artists.
The international list of participating galleries is drawn from countries across Europe, Asia, Australasia and the USA showcasing a rich variety of artists. There is a strong focus on painting at the fair including solo booths of work by Gianni di Rosa (Galerie Rolando Anselmi) Laust Højgaard (Galerie Droste x NBB Gallery) and Andrew Salgado (Beers London) amongst others. A full list of galleries is included below. New details of CAN's inaugural OFF Programme, a line-up of experiences which go beyond the
fairgrounds themselves, have been announced alongside additional information about this year's Ibiza Art Week. With CAN at its centre, Ibiza Art Week will see local galleries, institutions and private collections organise special programming and events across the island.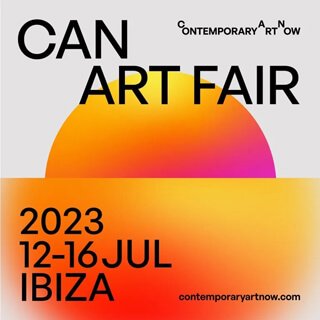 CAN's OFF Programme
For its second edition, CAN launches an OFF programme in collaboration with Formentera Paya Hotels foundation. The programme includes three exhibitions which extend through July. Two of the exhibitions are located in Ibiza. In the bay of Sant Antoni, the lighthouse-turned-museum Faro de ses Coves Blanques will display sculptures by Mallorcan artists Juliá Panades and paintings by Bel Fullana, in collaboration with the gallery Fran Reus of Mallorca.
The cultural centre at Sa Punta des Molì, will host an exhibition of painting and sculpture by the Ibiza-based artist Jesús de Miguel. Both exhibitions are supported by Five Flowers Hotel & Spa in Formentera. The OFF programme also extends to Formentera island with an exhibition of works by Mallorcan artist Ela Fidalgo at the Blanco Hotel Formentera, in Es Pujols.
At the heart of Ibiza Art Week
As well as offering an enriched collectors' programme of visits and events, CAN Ibiza is at the centre of an emerging Ibiza Art Week. Local galleries, institutions and private collections have organised a range of exhibitions and events across the island timed concurrently with the fair, giving visibility to the vibrant cultural ecosystem emerging on Ibiza.
Carl Kostyàl gallery, a participant in CAN for the second consecutive year, presents a pop-up exhibition, Painters of Modern Life at Casa Cardinale in Dalt Villa featuring artists Deborah Brown, Camila Engström, Alexander Guy, Jordy Kerwick, Hiroya Kurata, Maud Madsen, Jeremy Lawson, Koichi Sato and Tony Toscani. The art space Can Garita, located in a traditional fisherman's hut, launches with an exhibition of paintings by the American artist Grason Ratowsky, who lives between Mallorca and New York. La Nave Salinas Foundation launches a site-specific project by Jonny
Niesche that sits halfway between installation and painting.
Niesche is one of the most sought-after Australian artists and will also exhibit work at CAN Ibiza represented by The Hole gallery (New York/LA). La Carpintería, the production and exhibition space of Ses12naus foundation, hosts a studio visit with Spanish artist-in-residence Andrés Izquierdo as well as Art Talks with Nina Beier and Simon Dybbroe Møllert. MACE (Museo de arte Contemporáneo de Ibiza) presents Valkyrie Crown, an exhibition of large-format sculpture by Portuguese artist Joana Vasconcelos. Alongside CAN these collateral events promote the creation, production and enjoyment of contemporary art in Ibiza.
©2023 CAN