Hailing from France, we are glad to welcome self-taught artist Betty Mariani. Betty lives and works in Paris and draws inspiration from the punk culture of the 70s, books, cinéma and street art. She began her art journey in 2016, with her first solo exhibition at the à L'Escala, Vanves (92) in march 2016. Straightaway making a mark with her unique paint-covered works, punctuated with collage pieces and textured stylized writing.
I start with an image that inspired me and that I can't forget.

Betty Mariani
Consequently leading her to collaborate with renown fashion house Christian Dior in 2017 to revisit one of Dior signature bags as part of a limited edition collection. In addition completing live paintings at London Selfridges and Christian Dior HQ in Milan as part of Dior Lady Art. In Marini current set of works, she ultilises the method of storyboarding to emphasize her narratives from her environment.
She questions our relationship to images, the power of identification and the notion of intimacy, in an overstimulated connected world. She then recreates these narratives in the form of a storyboard scence styled in pop culture aesthetics taken posters and magazine covers.
In this interview, Art Plugged will be getting to know more about the lady behind the art, her creative process, her inspiration and more.
Q: First things first, why do you do what you do ?
A: Because that's all I'm good for. At least, I hope so.
Q: What is your inspiration?
A: My environment, my surroundings, the music, especially the punk culture of the 70s and its visual language with album covers, flyers, show posters, music magazines and fanzines. The cinema and street art also influenced me a lot. Then there are artists too who continually inspire me: Basquiat, Toulouse Lautrec, Barbara Kruger, Linder Sterling, Tracey Emin, Banksy…and many others.
Q: What is your creative process when you're creating?
A: I always start by putting a good record on first, then I can start ! ahaha Usually I start with an image that inspired me and that I can't forget. Very quickly, I build a specific narration and staging according to the direction I want to give to the painting. I don't really do sketches before, but I write a lot. I take notes on feelings in different situations, I write dialogues, short scenarios, which will help me to develop the story I want to paint.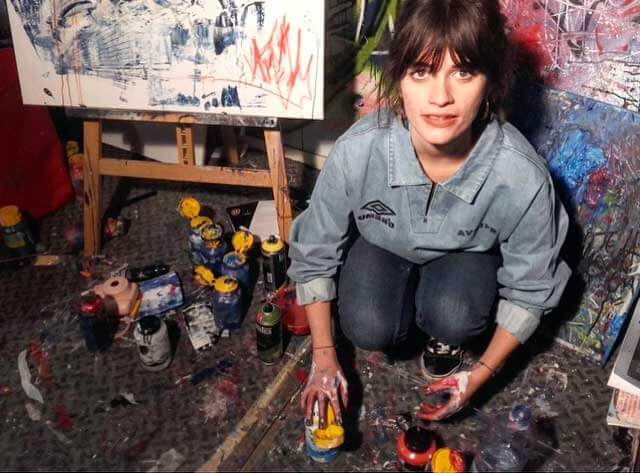 Q: Which is your preferred surface for working on?
A: A simple canvas. I'm not very complicated.
Q: What would you say is an integral part of the work of an Artist?
A: Innovate, experiment, don't follow trends.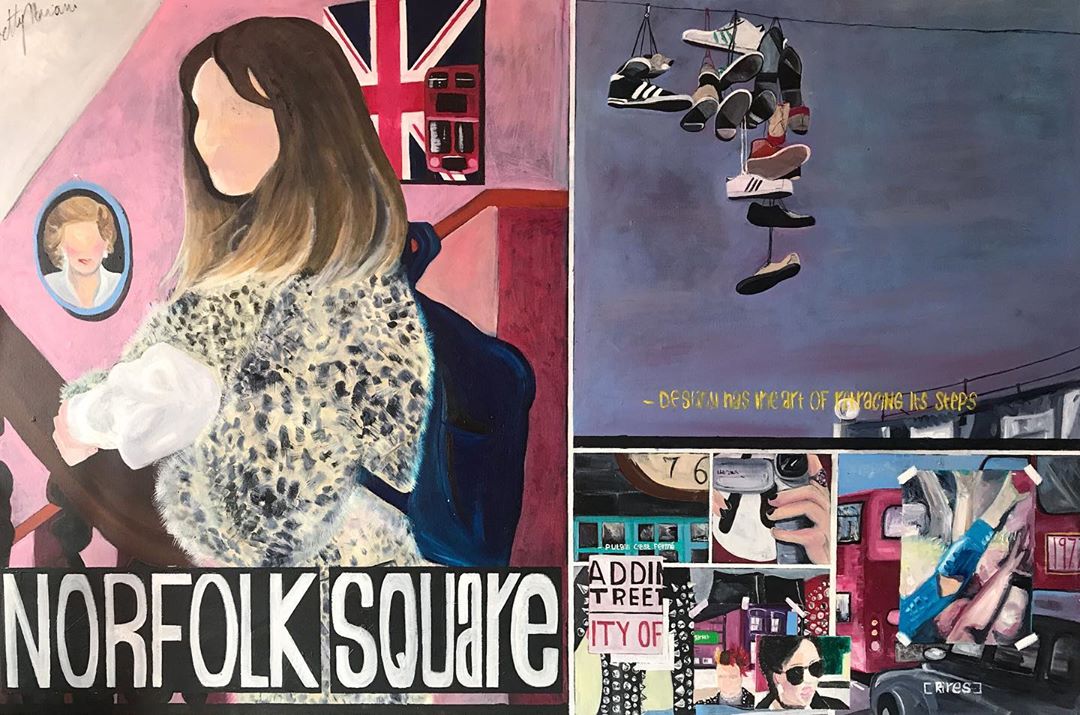 Q: What is the reason behind your use of storyboarding in your works?
A: The storyboarding method helps me a lot to structure my painting and my ideas, to develop the storyline I have in mind, and to highlight the details and themes that are important to me in my narration. The frames are for me the equivalent of the important words you will highlight in a text.
Q: How do you know when a piece is finished?
A: It's exactly the same feeling when you've eaten well and you're not hungry anymore. It's the same thing.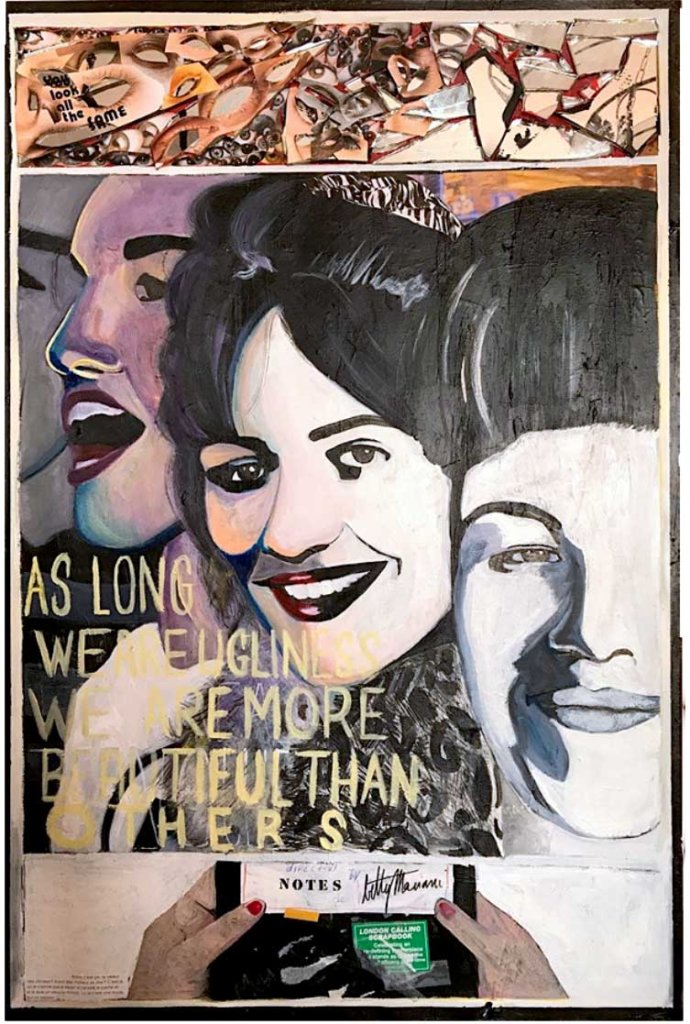 Q: What is your favourite piece from your collection?
A: Oh, tough question! There are two to be honest: "As long we are ugliness", because it's a concentrate of the recurring techniques I use in my work (oil painting, collage, mirrors) and "Meet me at The 100 Club" which is a reference to the music club The 100 Club of London.
Q: How did you feel when you did your first solo exhibition?
A: I was proud and nervous as hell. Next October I will be exhibiting in Paris for the very first time. I'm excited and terrified at the same time, it's a feeling I'll keep from my first to my last exhibition.
Q: What is the most rewarding thing for you about being a part of the Art Industry?
A: Meetings, collaborations and travels.
Q: Is there anything that worries you about how social media is affecting the promotion of artists?
A: Social networks are now necessary for the promotion of your work, that's for sure. I've met great people through it, it's a beautiful opportunity to share and connect with others artists. It's a very useful tool because it's your first place to show your work. But I deplore this race to followers and the dictates of the trend, which can corrupt your artistic approach.
Q: In your opinion, do you have any advice for artists on how to manage their social media image? Or does it even need managing?
A: Of course you have to manage your image, I'm still learning how to manage mine, it was difficult at the beginning because I didn't take it seriously. But I understood that it was an integral part of my work as an artist and I try to adapt.
Q: Do you have any advice for artists starting and don't know where to begin?
A: Be passionate. Passion can take you very far. And don't be afraid to propose something different, something that doesn't follow the trend.
Q: What would you say is the best way of getting your art noticed in the age of the internet?
A: Propose something different, something unique, be proud of it, and promote it intelligently. And be as active in « real life », not just on the networks, exposing your work, exhibit where you can.
Q: Are there any places where you feel Art and Technology really shouldn't overlap?
A: I think combining the two can be very interesting. You have to evolve with the times, technology is an integral part of our society now, we might as well use it. But it's always good to see works in flesh, so don't flout your artwork under the pretext that it will look good on Instagram because otherwise it will be a disillusionment.
This was Betty Mariani for Art Plugged Artists inside the industry, you can follow Betty on Instagram and head over to her website for news about her latest works, exhibitions and more.
Upcoming Exhibtions
Solo show, Storytelling, à la Galerie du Pop UP, Octobre 2020, Paris (75), France.
https://www.instagram.com/betty_mariani/
©2020 Betty Mariani, Dior