Culturalee is a celebration of the rich global tapestry of culture including; art, art fairs, cultural destinations, design, fashion, film and literature. Culturalee highlights some of the most exciting talent and hotbeds of culture around the world with interviews, reviews and features. Culturalee offers a curatorial and art advisory service, as well as curating cultural content and spotlighting highlights of the world of culture.
Founded by Lee Sharrock, a writer, curator and publicist with more than 25 years' experience in the art, advertising and film worlds, Culturalee is designed as a creative hub providing a platform for upcoming and established cultural innovators, tastemakers and creators in all forms of culture. 
Culturalee launches with reviews of museum shows, exhibitions, art fairs, film and theatre, including; Chanel at the V&A, David Hockney at National Portrait Gallery, Sarah Lucas at Tate Britain, Frieze Art Fair, Hiroshi Sugimoto at Hayward Gallery, 'IN CAMERA' at BFI London Film Festival, Marina Abramovic at Royal Academy of Arts, Annie Morris and Idris Khan at Pitzhanger Gallery, Portia Coughlan at The Almeida Theatre, and Eve Arnold at Newlands House Gallery.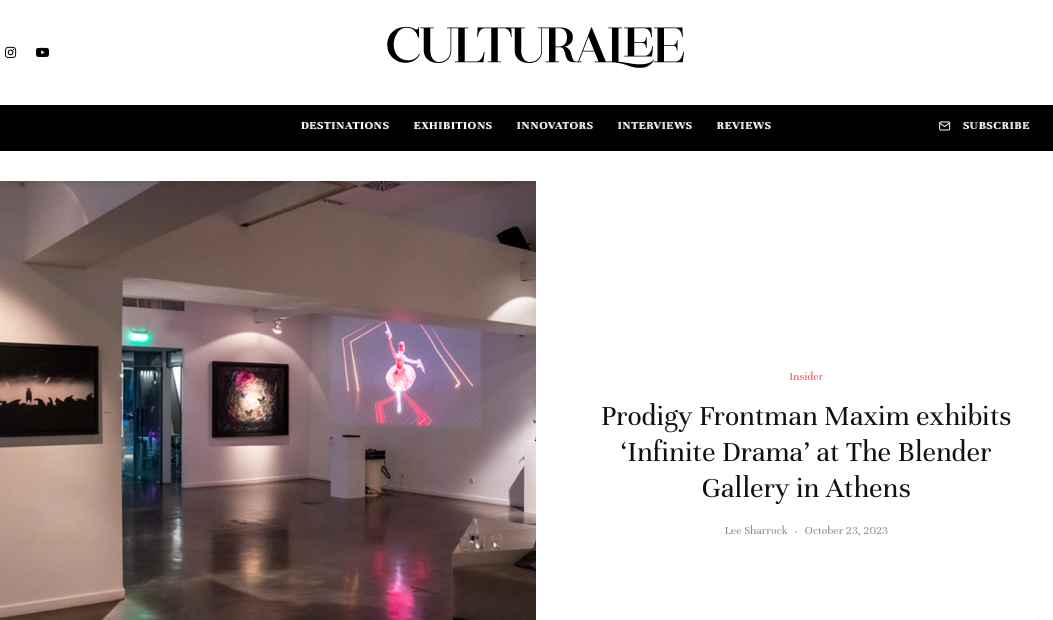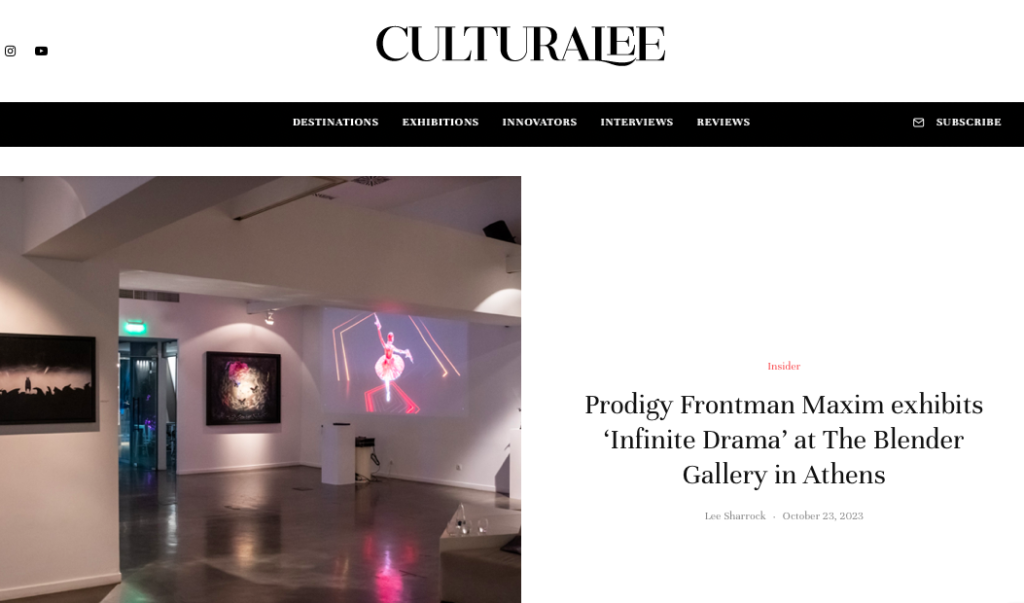 Culturalee went to Georgia to interview long-time Banksy collaborator Steve Lazarides about 'Banksy: Birth of an Icon', the exhibition he has curated at the Georgian Museum of Fine Arts in Tbilisi, featuring Banksy originals from the private collection of Lord Edward Spencer Churchill, and a previously unseen photographic archive of Lazarides's photographs documenting Banksy's rise to stardom. 
Watch the film here: Banksy
Culturalee also visited Paris to attend the press view of 'Van Gogh in Auvers-sur-Oise: The Final Months' at the Musée d'Orsay and met the director of VIVE Arts who produced 'La Palette de Van Gogh', a VR experience co-produced with Lucid Realities. Culturalee also met with Swiss artist Christian Bolt at the private view of his exhibition 'On Human Beauty' at the Impulse Gallery in Lucerne.
Culturalee's 'Insider' series featuring interesting exhibitions in cultural hotspots around the globe kicks off with; Daiara Tukano at Richard Saltoun in Rome, 'Afro-atlantic Histories' at the Dallas Museum of Art, Massimiliano Pelletti at Bowman Sculpture Gallery, Winston Branch at Varvara Roza Galleries, Maxim at The Blender Gallery in Athens, and 'Flower Power' at the Giverny Museum in France, featuring Rob and Nick Carter.
Interviews with rising stars and established artists, authors and innovators include; Alexandre Silberman, winner of the Taylor Wessing Photo Portrait prize; Damian Dibben, artist and author of 'The Colour Storm'; and artists Emma Loizides, Kay Gasei, Heiyi Tam, Trish Wylie, Venetia Berry, Eva Yates, Pascal Duval and Assel Sargaskayeva.
A series spotlighting cultural destinations with an art hotel and exhibition review kicks off with; New York City: The Met, Wangechi Mutu at The New Museum and 11 Howard; Amsterdam: Vermeer at the Rijskmuseum and Pulitzer Hotel; Istria: Arne Quinze at Meneghetti Hotel and Winery; Naples: Caravaggio at the Museo e Real Bosco di Capodimonte and the Hotel San Francesco al Monte.


Culturalee curating looks back at some curatorial highlights curated by Lee Sharrock including; Arms Around the Child charity art auction at Christie's with The Auction Collective; Art on a Postcard International Women's Day fundraising auction; 'Natural Abstractions' group exhibition at 99 Projects Gallery; and Yurim Gough's solo show 'VainEgo' at the APT gallery with Arts Council England. Look out for future Culturalee curating projects including a 2023 exhibition at Norwich Cathedral's Crypt Gallery and a group exhibition during la Biennale di Venezia.
Culturalee founder Lee Sharrock is an alumni of University College London (UCL) and the University of Bologna, where she studied History of Art and Italian before starting her career at Sotheby's Auctioneers and going on roles at high profile cultural and creative organisations including the Institute of Contemporary Art, M&C Saatchi, Timothy Taylor Gallery and Saatchi & Saatchi.
To find out more about culturalee or subscribe to the weekly newsletter go to: https://culturalee.art
Instagram: https://www.instagram.com/culturalee_/
#Culturalee