Anna Berry is a Milton Keynes, UK, based artist primarily working in installation. Often socially conscious her work is interlocking and kinetic in nature utilising paper to construct large structures. Installed in urban environments much of her practice comments and relates to social spaces around us.
In the following interview I speak to Anna about her choice of materials, perception of structures, and how her recent works explore and are concerned with movement and the experience of space.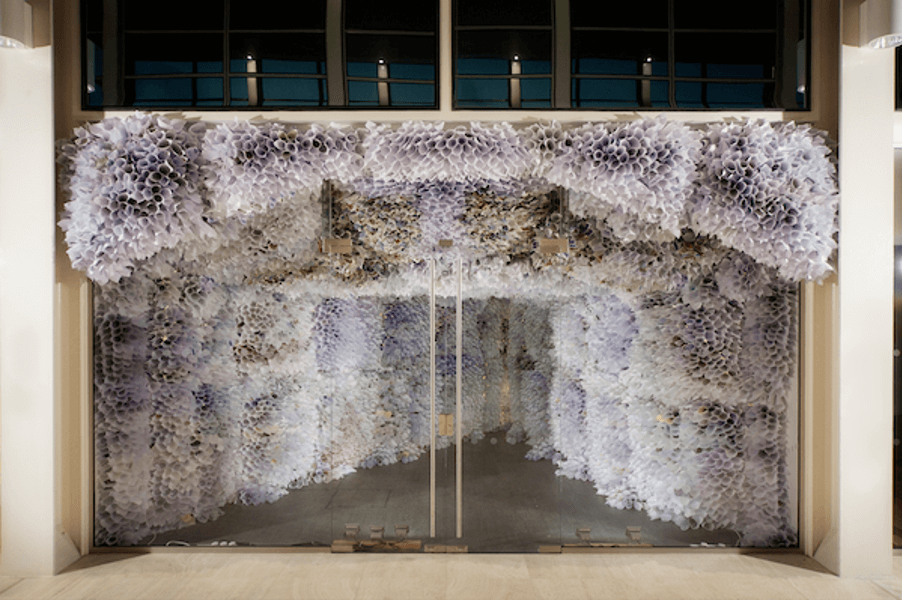 Q: What would you say is the integral part of your work?
A: I think of it like having two parallel conveyor belts in my head – and one has ideas and concepts I'm interested in and is quite cerebral and intellectual, and one has processes and materials and is very instinctive and visceral. And what I try to do is match the right bits on each conveyor belt to each other.
Q: What is your process of working?
A: I find lots about my work difficult because one aspect of my ND is that need to see everything in my head at once, from start to end, in full detail, and if I can't I'm reluctant to begin something – which makes making art impossible. So the whole process involves me flinging myself out of my comfort zone and into a lot of cognitive dissonance and discomfort.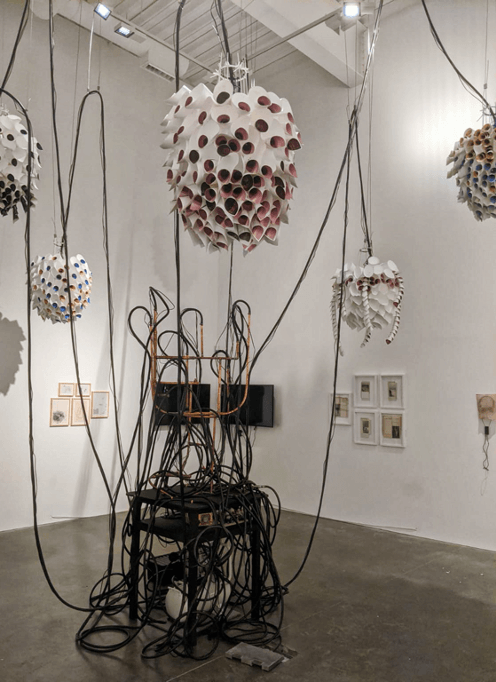 Q: Why do you prefer to utilise materials such as paper to construct your large works?
A: I don't know why I'm so drawn to working with paper. One curator said once that it must be about my own fragility and vulnerability, and I do think there's possibly something to that. I think I also like the 'every day'ness of it, and also that it's often a material that has had another use and another meaning that it brings with it to the piece. I also just like how it feels and looks on a sensory level. But there's definitely something – again very instinctive and visceral for me in how I respond to it – about its inherent fragility.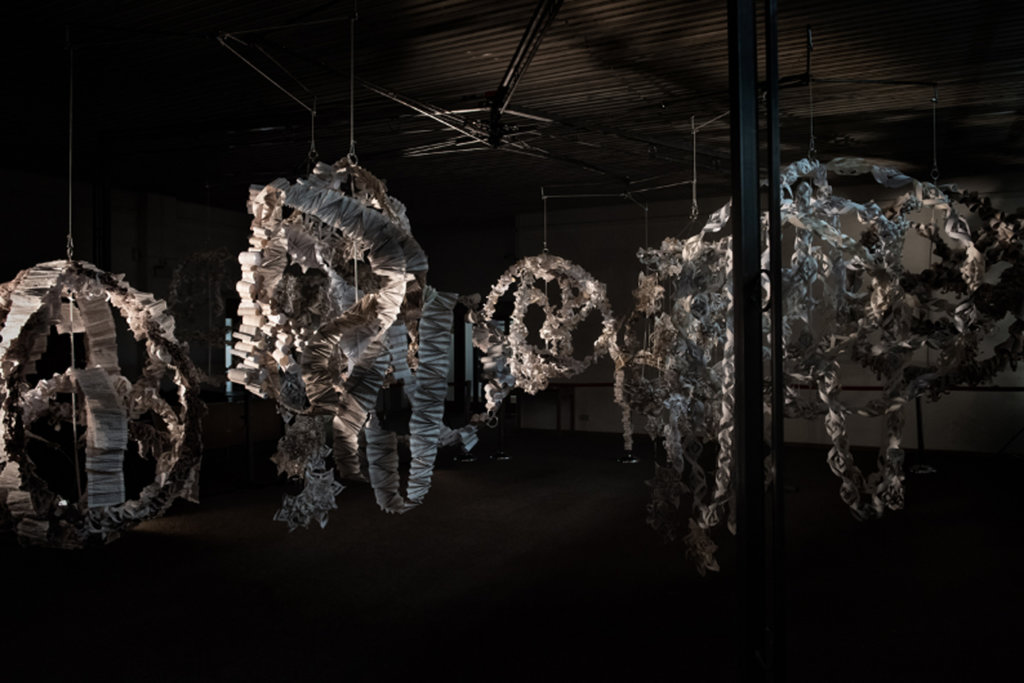 Q: Why and when did you begin to explore kinetics such as in 'Constantly Moving Happiness Machine'?
A: My first kinetic piece was the original iteration of Breathing Room in 2014. I'm not sure why I suddenly felt the imperative to move into kinetic work, but certainly it's something to do with trying to change the nature of how we experience space around us.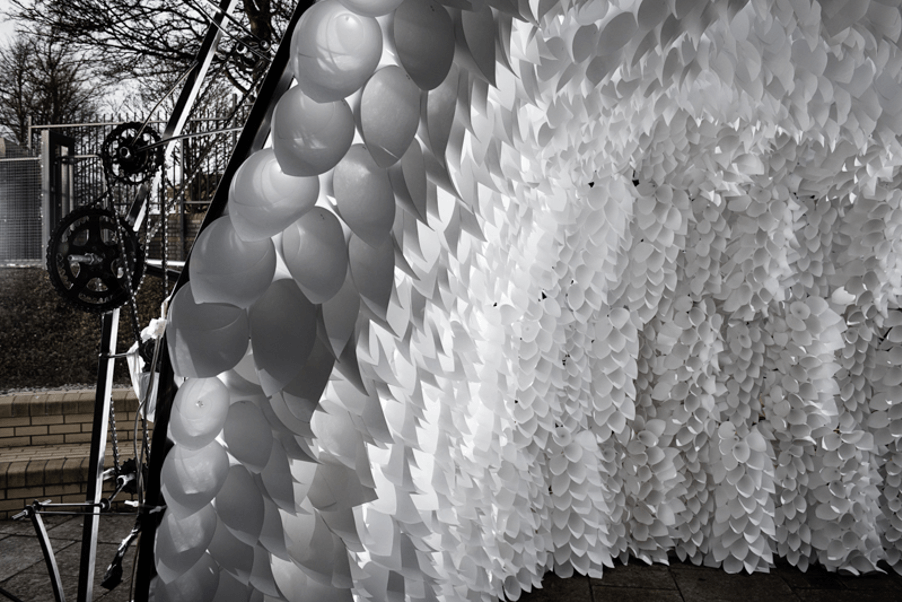 Q: You often exhibit your work in community settings. Your work 'Breathing Room' for example invites viewers to navigate the work. Is your work more concerned with experience as an audience, or communication about reality, or structure of materials?
A: I think it's equally about all of these things. I'm definitely striving to create something experiential, so there's definitely an awareness of audience experience. And for myself I'm trying to communicate something about reality – and about how we are all living in different realities. And the metaphor of physics and the literal structure of our space and using the materials to explore that structure figures as well.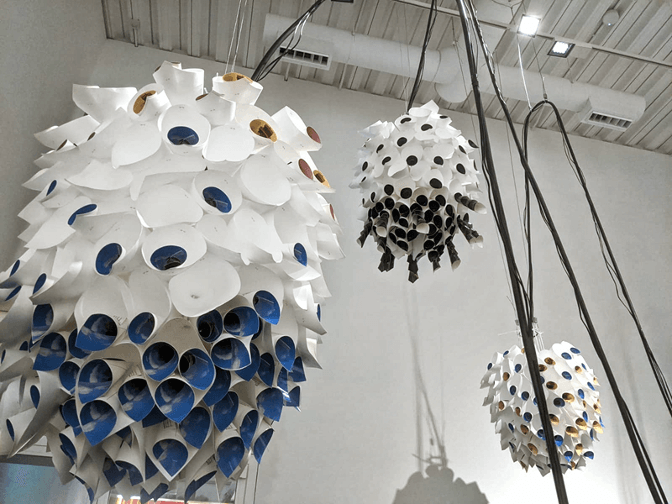 Q: How much does one's experience as a Neurodivergent inform your practice, or do you not feel it does?
A: I used to think not at all – and now I think the opposite! I think probably everything I'm interested in, and the way in which I'm interested in it, and how I choose to explore that physically, is probably all very much informed by my neurodivergence.
Q: You recently curated the 'Art and Social Change: The Disability Arts Movement' at Midlands Arts Centre (MAC), which explores artworks and objects used by activists to raise awareness and effect political change for disabled people. What interested you to explore a curatorial path as part of your practice?
A: So the programme was very open – it was for a deaf or disabled artist to train for a year to become a curator (there are two other curators in two other institutions). I actually didn't at all see myself as a curator – I was invited to apply, and that encouraged me to view myself differently. The outcome was totally open, and I decided to be really ambitious and curate a group show and a symposium day. I'm still not sure if I see myself as a curator or not!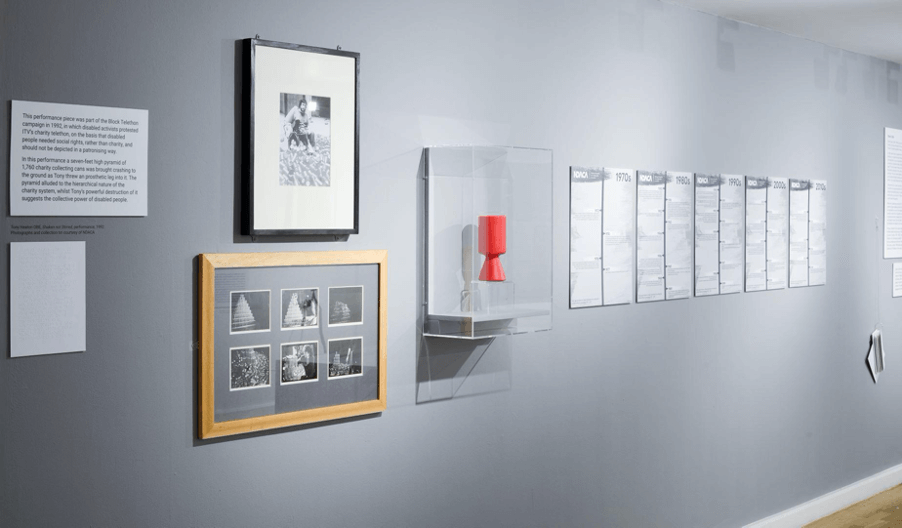 Q: What did you hope audiences would learn from the exhibition?
A: I'm not really setting out to be didactic. I hope audiences will enjoy the art, and maybe learn interesting things they didn't know, and be encouraged to think about disability when they otherwise wouldn't have.
©2020 Anna Berry & Marcin Sz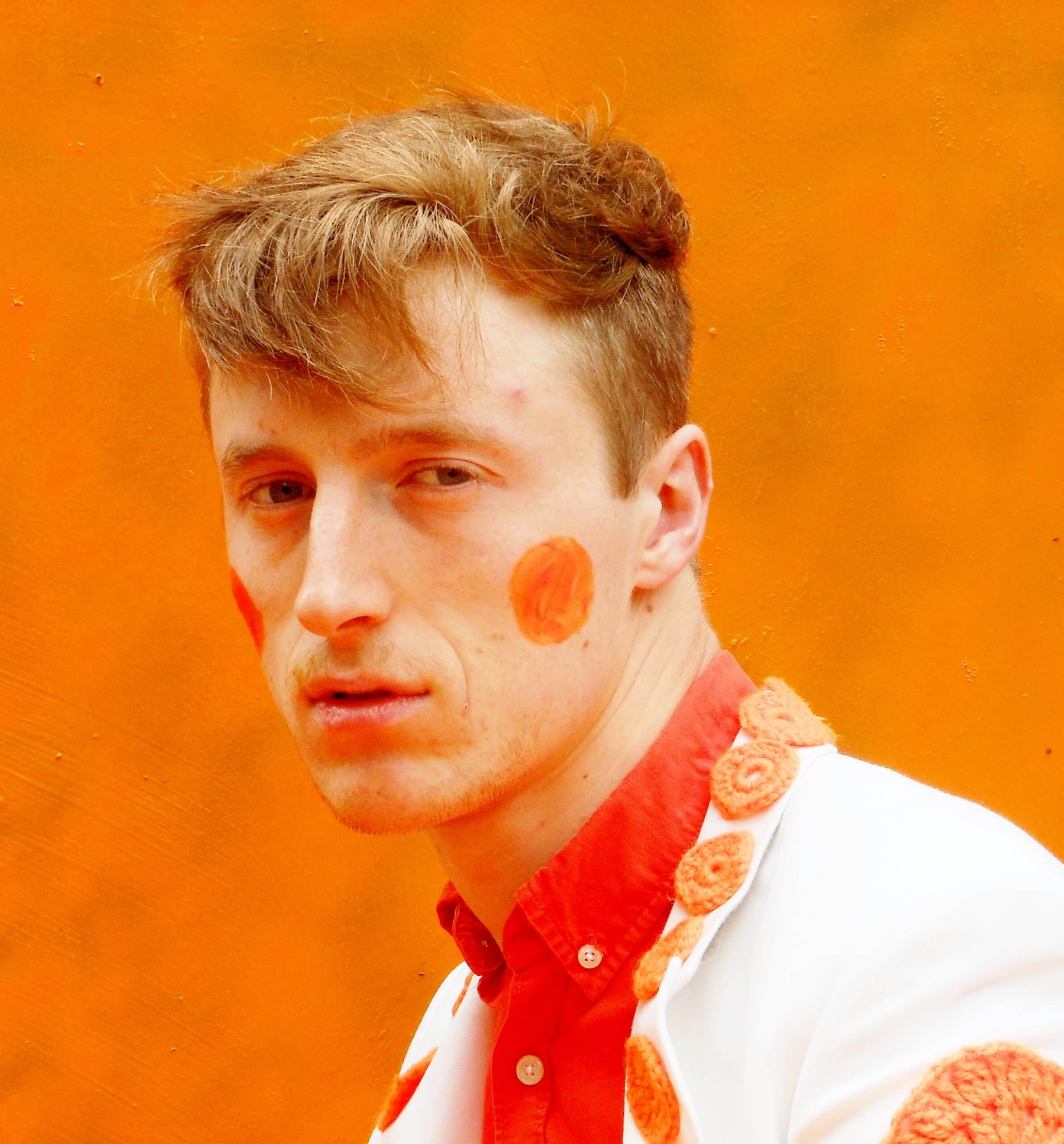 George Morl (Also known by his persona Edvardo Shadalow) is an artist and writer, exploring human connection, intimacy and affection under modernising technology, queer dialogues, body-image, neuroscience, and the remits between art, health and science. Morl received his BFA from University for the Creative Arts, Canterbury, UK in 2016 and MFA in 2018.