On a rainy summer evening in Brighton, just ahead of the August bank holiday weekend, a line of Fat Boy Slim devotees and art lovers snaked around the block from the Enter Gallery, waiting to get a glimpse of a new art collection honouring the Superstar DJ and long-time Brighton resident's stellar career.  The series of unique collages were created by Vintage Shuffle (aka Diane Hampstead), a new artist on the Enter Gallery roster, and sold out on opening night. 
Vintage Shuffle created the limited edition series of hand-finished collaged artworks titled 'EAT SLEEP RAVE' in collaboration with Fat Boy Slim (aka Norman Cook), and included some of his vast collection of gig and festival wristbands, as well as other rave culture memorabilia, imagery from his iconic music videos and personal references that weave a narrative of the DJ's musical and visual influences. The collection is on view at Enter Gallery until 7th September along with a collection of contemporary artworks curated by Fat Boy Slim.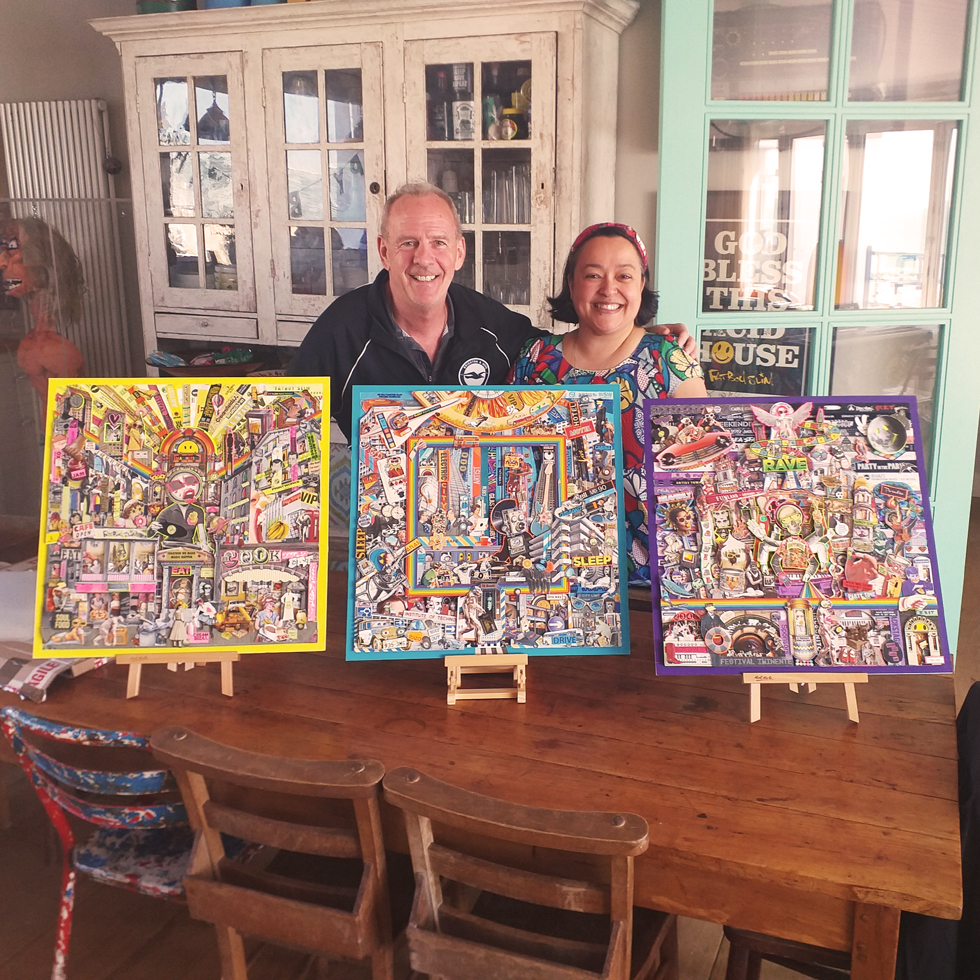 Vintage Shuffle is a Salisbury-based artist who creates intricate collages from a mixture of vintage and modern paper ephemera. With a background in multiple creative pursuits ranging from set and costume design to tap dancing, each of her artworks reflects a passion for film, theatre and popular culture.
Lee Sharrock: The private view of 'Eat Sleep Rave' was packed and your show was an instant sellout. Do you feel overwhelmed by the response to the exhibition? 
Vintage Shuffle: I wouldn't exactly use the word overwhelmed… although in the immediate aftermath I felt emotionally exhausted! I had spent so long eating, sleeping and breathing these pieces… and hoping that if I did it well enough… then nice things might happen! So I guess the response is a validation of my hopes and dreams. And that is the most wonderful feeling!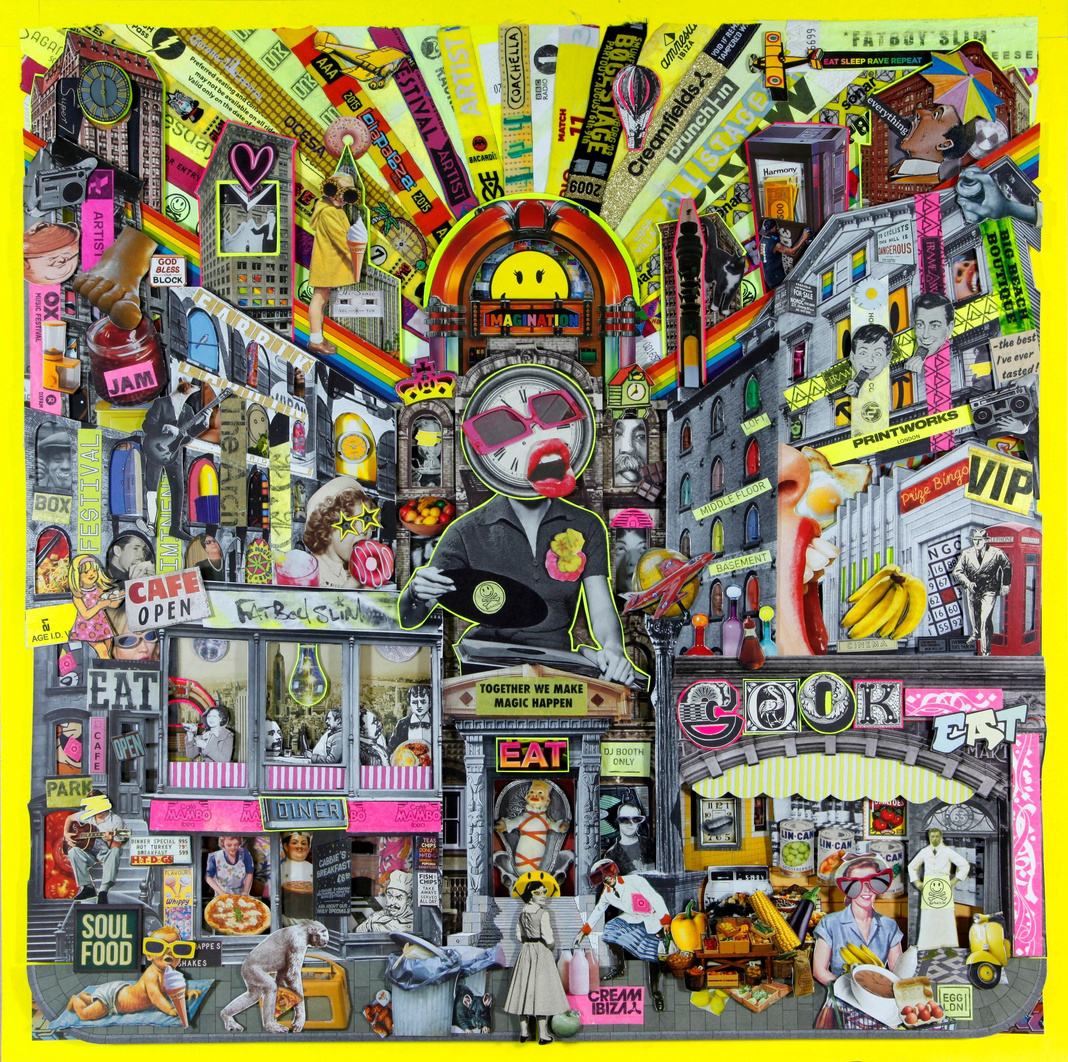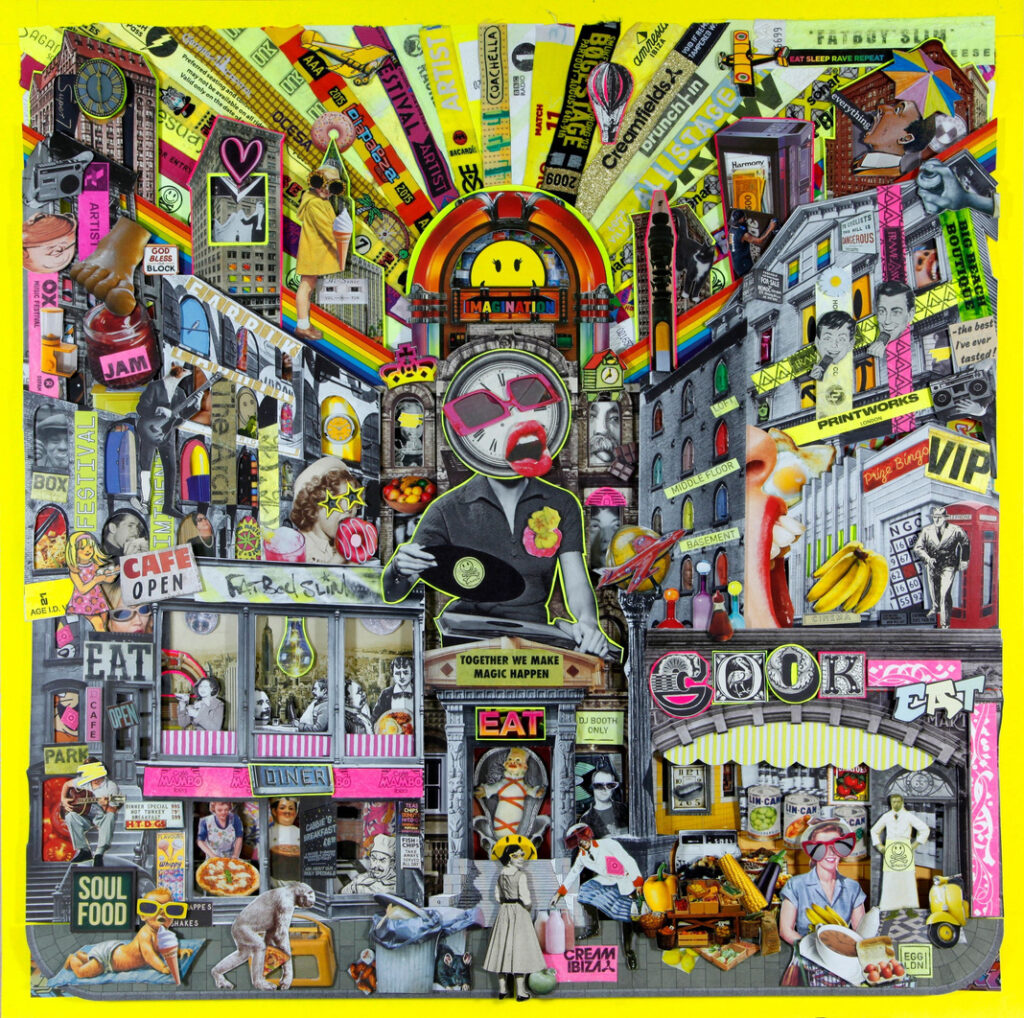 LS:  Your 'Eat Sleep Rave' collages are incredibly intricate and detailed.  How long did it take to make each one, what is your process, and how do you find the source material for the collages?  
Vintage Shuffle: Everyone asks that! And it's so hard to answer! All I can say it took a year of my life. Even when I wasn't up until 2am glueing bits down… i was researching, listening to music, hunting for images to use etc. I have boxes and boxes of images cut from magazines and books that I have been collecting for decades. So in the first instance I went through absolutely everything – picking out anything that spoke of "Norm".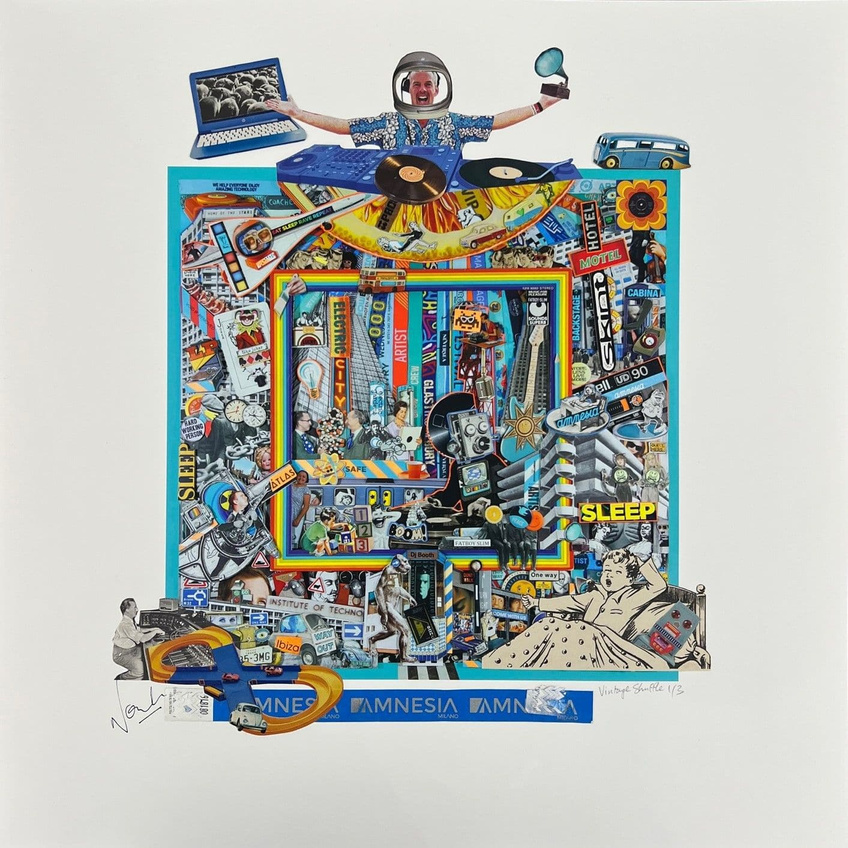 From a picture of a housemartin or a primrose, to a Roland synthesizer or a footballer. And then I made a fantasy list of images I'd love to include if I could find them… pictures of Ibiza, or Norm himself, or a slice of pizza! And I literally kept my eyes open in every charity shop, vintage emporium, car boot and house clearance shop. And I let the images come to me… I don't like to be too literal – since I never chanced upon an image of Concorde nightclub – I put in a picture of an actual Concorde! That is the joy of analogue collage. You have to get creative with whatever comes to you. Simply sourcing digitally every image referencing Norm wouldn't have excited me creatively. I love the joy of "happenstance"! 
LS: You collaborated with Fat Boy Slim on the 'Eat Sleep Rave' collages after he saw your artwork on instagram, and he gave you some personal items such as wristbands to use in the collages.  What was the creative collaboration like working together on these pieces?
Vintage Shuffle: Norm was very laid back throughout the whole process – he didn't want to stifle my creativity by making suggestions or corrections! He wanted me to have free reign – he really didn't know what the final pieces looked like until about 6 weeks before the show! I sent him two or three pictures every week throughout the year as I pieced together my initial layout – then as I built each layer. He called it a "slow and delicious tease!" He was happy to trust me with his ephemera… and then get the big reveal at the end! But he was kind and excited and encouraging throughout. Knowing he believed in me… that's all I needed.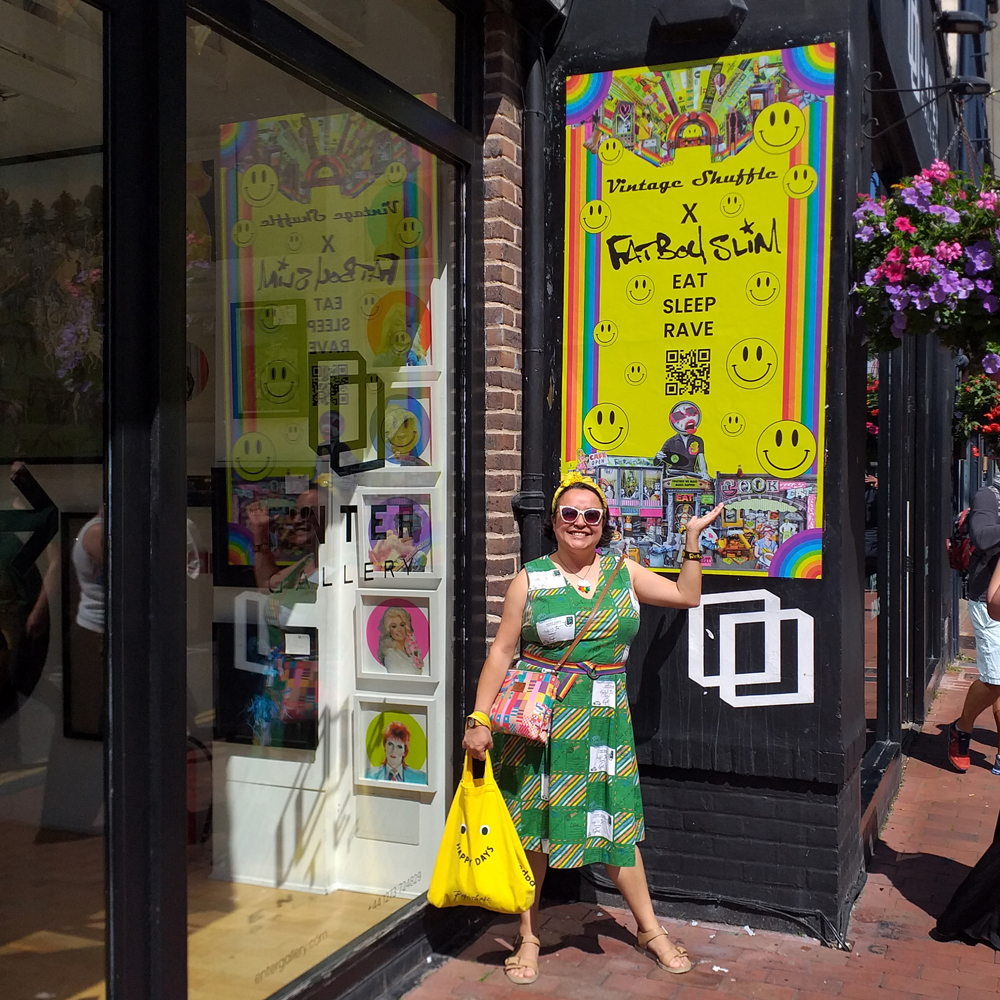 LS: Where did your artist moniker 'vintage shuffle' come from? 
Vintage Shuffle: It was my Instagram name – that then stuck as I emerged as an artist! I love all things vintage – clothes, films, music – and I also work in a vintage shop! And I used to be a professional tap dance performer and teacher – so the "shuffle" has a double meaning there… shuffling images around as a collage artist – but also shuffling as a tap dancer! 
LS:  What are you working on now?
Vintage Shuffle:
I'm taking a little "break from the Norm"! And catching up with all the little projects that got pushed aside over the last year! I have a stack of coloured vintage vinyl (two coloured vinyl record pieces sold at the launch party!) Brighton postcards and vintage sheet music stacked up – so I'm enjoying those for the moment! My local gallery in Salisbury where I live – Fisherton Mill – has a food festival event coming up, plus I've been invited to do the Online Art yard sale with Enter in November.
There will also be a new series of 3D collage originals coming exclusively to the Enter gallery. And I also still have plenty of Fatboy Slim linked imagery in my boxes – so I'd love to release another series of different prints and unique remarque hand finished editions of EAT SLEEP RAVE. And I'm always interested if someone unique has some paper ephemera that needs Vintage Shuffling… so who knows?! Exciting times! 
Vintage Shuffle's current collection has sold out – but people can shop Norman's Favourite here, including his own personal favourites and other art works he had collaborated on https://entergallery.com/collections/normans-favourites
©2023 Vintage Shuffle, Fat Boy Slim