I first encountered the oeuvre of Trevor Jones at London's CC Forum in 2018, struck by the enigmatic character of his portrait of Satoshi Nakamoto imbued with historical and contemporary significance. This piece was prominently displayed at the front of the stage. It featured a striking abstraction of the Bitcoin creator painterly rendered across the broadsheets of the Financial Times newspaper.
As a traditional artist, Jones demonstrates a deep understanding and mastery of his medium, graduating with an MA in Fine Art from Edinburgh College of Art. Yet, his willingness to embrace technology in his practice sets him apart from many of his peers. He has been working at the intersection of art and technology for over a decade, predating the recent hype surrounding NFTs and AR. His experimentation with QR codes and oil paintings started in 2012, moving into Augmented Reality the following year. Jones continued to incorporate technology into his art in the next years through pieces such as the World Leaders portrait series, including an elusive augmented reality show at the Scottish National Portrait Gallery.
I saw the potential of how new technology could transform a static painting into something entirely new and innovative.

Trevor Jones
In 2017, Jones invested in Bitcoin, which profoundly impacted his artistic trajectory and led him to develop his celebrated crypto-themed Augmented Reality paintings, which feature well-known icons from the world of art, pop culture and crypto. In 2019, Jones dropped his genesis NFT, EthGirl, inspired by Picasso in collaboration with Late NFT artist Alotta Money, which would be the beginning of a succession of Trevor Jones NFT releases.
His 2021 release, the contemporary classic "Bitcoin Angel", an innovative fusion of classical art references and currency motifs, is considered one of his most impactful and iconic works. The piece draws inspiration from Gian Lorenzo Bernini's "Ecstasy of Saint Teresa" (1652). Jones' classic composition features an angel thrusting an arrow into the heart of Teresa, with a golden Bitcoin token in the background. Today, he is one of the leading artists in the crypto space, with his NFTs selling for substantial sums at auction and collaborations with artists such as the anonymous Pak and DC Comics Jose Delbo, as well as exhibiting at Decentral Art Pavilion "Singularity" at Venice Biennale, in 2022.
Jones's artistic vision, impact and influence, and his ability to seamlessly integrate technology into his traditional practice, has cemented him as a trailblazer in crypto art. In this interview, he talks about his journey from traditional art into crypto and NFTs and how it has led him to where he is today, his creative process, and more.
Q: Trevor, can you please introduce yourself to those who do not know you?
Trevor Jones: Originally from Canada, I set out in 1996 with a backpack and a taste for adventure. Three years and four continents later, I found myself in Scotland, fell in love with the country and decided to stay. I now live in Edinburgh with my wife, Violet and can most often be found in my studio painting and working on various creative projects. I graduated from Edinburgh College of Art in 2008 and landed a job as Director of a small charity called Art in Healthcare and was also teaching part time at Leith School of Art.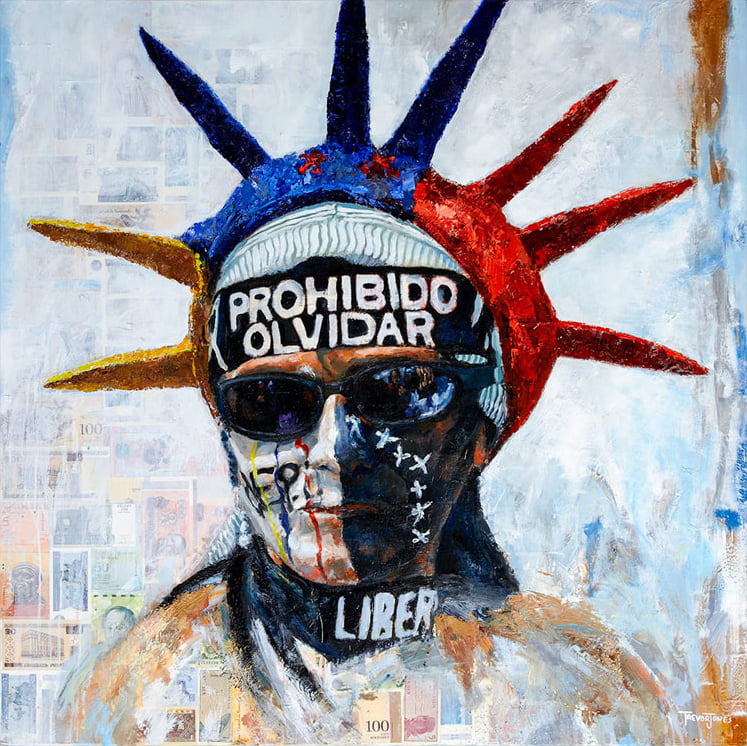 About eight years ago, I decided to take the leap of faith to become a full-time artist. I've been infusing technology with art for over a decade and was an early adopter of incorporating QR code and augmented reality with traditional painting. In July, I hosted the most exclusive NFT art party of the year at Stirling Castle, and it was such a success. I'm making this an annual event and planning the next castle party in France in 2023. 
Q: You studied Fine Art and traditional painting; however, you have been experimenting with technology and art for over a decade, from Q.R. code paintings to augmented reality (A.R.) portraits, where they come to life once the viewer has activated the technology. Can you tell us how you started in arts and what made you begin experimenting and incorporating technology into your work?
Trevor Jones: After hitting a crossroads in my early 30s, I decided that the life of the artist was the path I needed to take. I applied to an art portfolio preparation school, and upon completion, I was accepted into the five-year Fine Arts degree. Looking back now, it was a huge gamble to spend six years at that age studying to become an artist, but I've always been a bit of a risk taker. Regarding incorporating technology into my art, there were two main reasons I took this direction. Firstly, I saw the potential of how new technology could transform a static painting into something entirely new and innovative.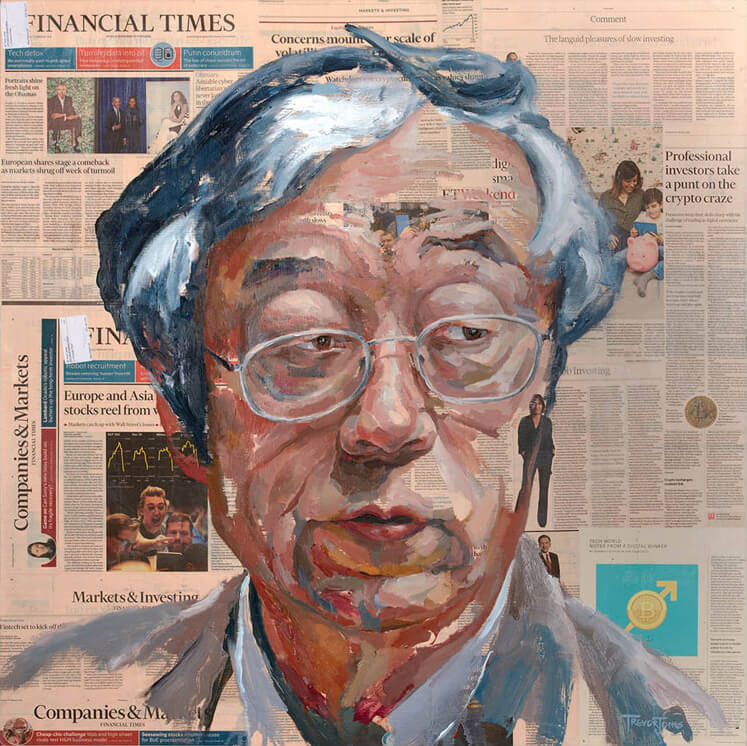 With QR codes and AR, I could transform a painting into a digital portal to an exciting new dimension of almost magical possibilities. And secondly, I realised quite quickly after graduating that I'd need to find some way to differentiate myself and my work from all the other artists I knew if I hoped to make a living through my art. No traditional painters in Scotland or possibly even the UK were working with these technologies at that time, so it made sense to me to continue on this path… even though it took another eight years for my work to finally be appreciated.
Q: Continue from this. Can you tell us more about your practice, inspiration and what the process looks like when you are creating your pieces?
Trevor Jones: My practice and creative process changes all the time. It's difficult to explain as I never really follow one path consistently. I tend to get excited about some particular idea or concept, and then I begin thinking about it and working on how best to represent or bring that idea to life through a visual language. It often starts with a concept to a series of physical paintings but sometimes ends with the painting and tech add-ons like AR. I enjoy the development of new steps and processes between the concept and final work (digital or physical), depending on what I want to do and say visually.
Recently I worked with a 3D animator to bring my Fallen Angel idea and story to life. I sketched an angel figure based on photos of myself from a few different angles, and the animator then developed these further via 3D modelling. I worked with a composer to create the music for the final animation and NFT.
I then sent the digital 3D model of the angel sitting on the Federal Reserve to be 3D printed, which was reworked to produce the mould for an edition of one hundred stunning bronze resin sculptures. This was all completely new for me, and I absolutely loved the complex and multi-layered process of physical creation, animation, technological infusion and storytelling.
So, with the exploration and integration of new technologies with my work and ideas, the beginning, middle and end of my creative process are rarely the same for each project. I get excited about trying new things and constantly exploring new avenues, often with the help of collaborators.
Q: Your work has a running theme that focuses heavily on technology icons, artistic legends, and references to cryptocurrency. Can you tell us the importance of these motifs and references?
Trevor Jones: I was raised Catholic, but I've not been to church for decades. However, I'm still very much aware of the importance and power of iconography and religious symbolism. I think that's probably one reason why I've connected paintings like the Bitcoin Angel and the Angels series I'm working on with the great masters, which is a direct relationship with my traditional art college background. As I was moving into this new crypto-art space, I wanted to continue this link with the history of art. I was a painter in a new digital world – one of the first painters, if not the first. That was my unique selling point, that I was a traditional artist from a traditional background, and therefore it made sense to me to keep that thread running through my work and my own paintings' iconography.
The fact that I had this fascination with art and technology for so long now was ingrained into my visual language. It made sense to incorporate new symbolism – whether it's Twitter birds or a Reddit logo, rockets, Ethereum or Bitcoin, whatever it was, that would add to and nuance my visual language. They all fit seamlessly with the work itself, the past, the present, the future, new technology, and the languages we use through technology. Integrating these symbols is my way of creating a personal iconography and unique way of telling a story in the 21st century.
Q: You held an exclusive Crypto CASTLE PARTY at the majestic 12th-century Stirling Castle on 30th July 2022 in Scotland. This castle stood at the centre of momentous historical events: William Wallace and Robert the Bruce seized it from invading English armies in the 14th Century Wars of Scottish Independence. Can you tell us why you decided to hold it there and what you can tell us about the experience post-event?
Trevor Jones: The Castle Party was intended as a celebration of art, tech innovation and community. I'm thrilled that it brought together hundreds of NFT art enthusiasts and press from across five continents.
We had magicians, drum and pipe bands, Highland warriors from Combat International, a caricaturist and musicians. We also partnered with Maggie's, the Edinburgh cancer charity and raised over £17,000 for them. Maggie's fundraises for a cause close to my heart and to many of my peers since the recent passing of well-loved OG crypto artist Philippe Fatoux aka Alotta Money.
There were a few key reasons why I decided to organise this annual castle party. #1 to give back to the Bitcoin Angel collectors, the people who have supported me and who have changed my life. #2 to put on a unique event that enables the guests to build new, long-lasting and solid IRL (in real life) friendships. #3 to raise money for an important charity and to give back in some way so that the world is a better place for bringing all these people together for this party.
I'm pleased with how the event turned out, and we've now announced our 2023 Castle Party, to be held at the incredible Château de Vallery near Paris from 3-5 September 2023. To say we're excited is an understatement!
Q: The art world has been infused in the last few years by a technological boom; machine learning and artificial intelligence are starting to impact many industries significantly with software offerings such as Dall-e, Mid journey and more, where anyone can create art from words. In your opinion, what effect will artificial intelligence have on the future of art, artist production and the art market?
Trevor Jones: 'Pandora's box' has been opened, and it's not going to close. Joking aside, I see the explosion of AI onto the art scene as an opportunity for the gifted creatives of today to forge new artistic paths and develop new art forms and trends. Will artists and designers have to adapt to this disruptive technology or otherwise suffer for it? Absolutely. Will there be a lot of forgettable AI art produced along the way? 100%. But I believe that many, if not most, of the greatest artists of this century will, in some way or another, employ AI into their practice.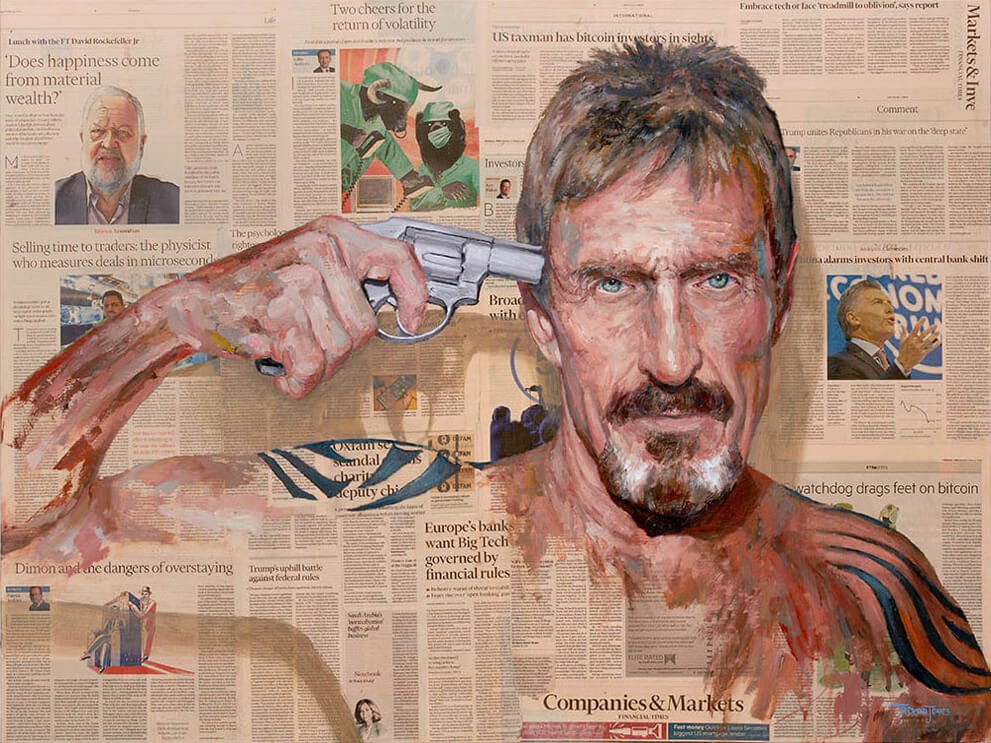 Q: The studio is the sacred temple of creativity. What are three things you can't live without in your studio?
Trevor Jones:
1. My Bluetooth speaker. Must have music playing while painting.
2. My PC. At least half my time is spent sitting in front of it, although I do wish I could spend more time painting.
3. My heaters. The studio is in a badly insulated old, brick building built in 1901 and it's absolutely freezing right now.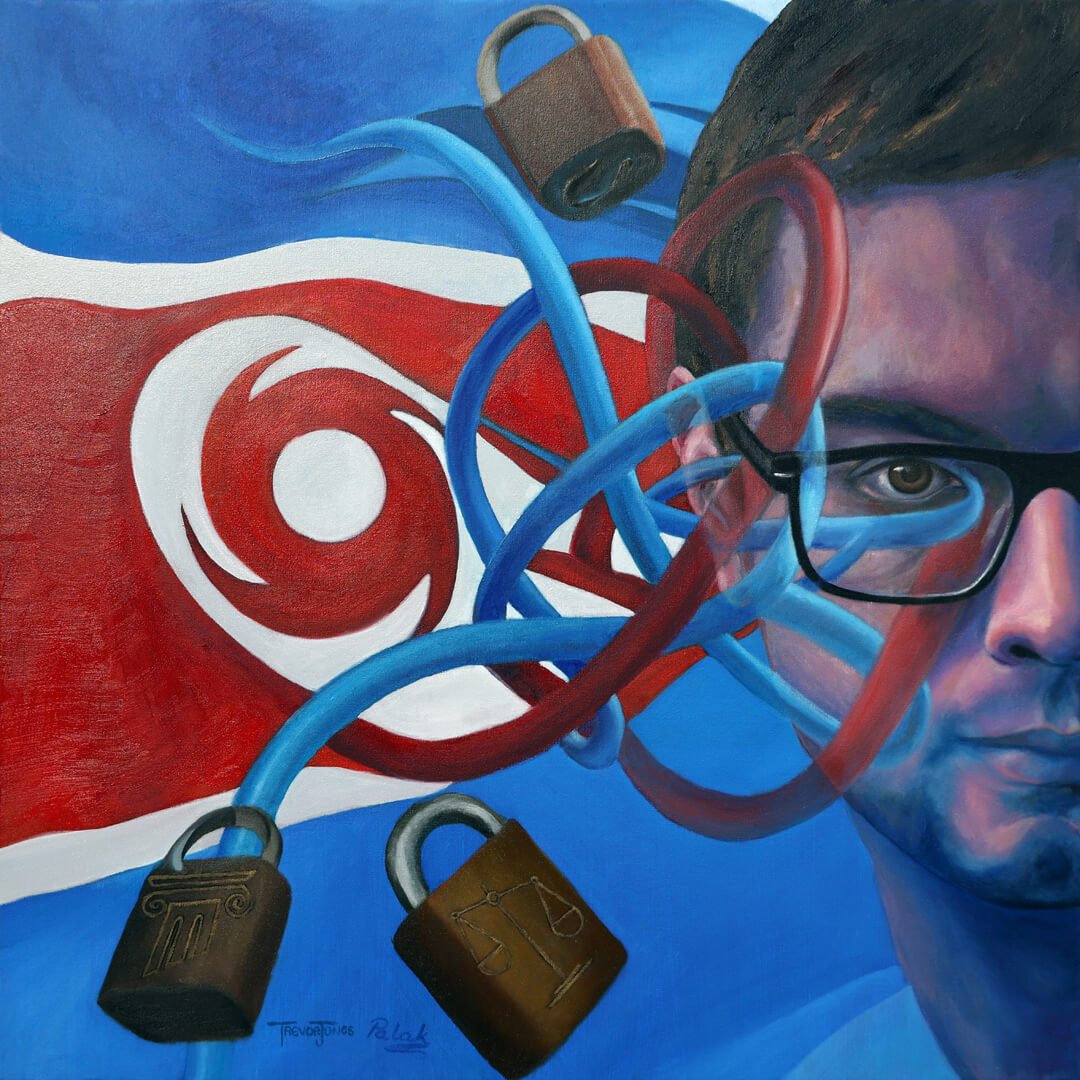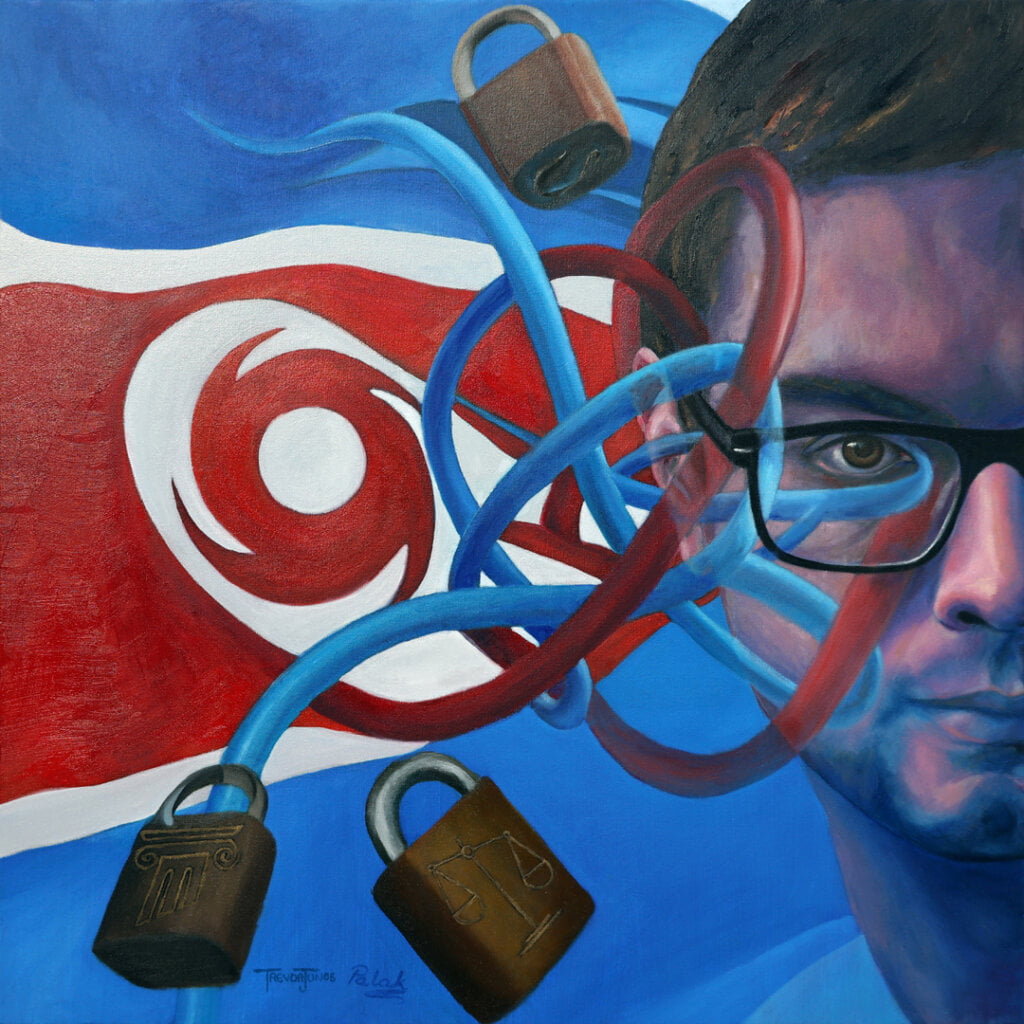 Q: What's next for you as an artist?
Trevor Jones: There are so many exciting things happening in the NFT art world and so many amazing opportunities.I honestly have no idea what's next. I'm currently working on a few projects, with one very important one that I hope to have finished by June. After that, who knows? This space moves so fast. Ideally, I'd like to begin preparation for a large, solo show of NFTs + physicals to exhibit at a major gallery late next year. After summer, we'll see where we all are and take it from there. I wake up excited every day and feel blessed to be in this position. I'm just trying to enjoy the ride right now.
Q: Lastly, what does art mean to you?
Trevor Jones: For two decades, art has slowly and methodically embedded itself into every part of my life; my conversations, my business relationships, the majority of my friendships, my marriage to Violet, my thoughts and my dreams. Art is who I am.
©2023 Trevor Jones