Toyin Ojih Odutola: A Countervailing Theory The Curve, Barbican Centre
11 August 2020 –24 January 2021
Barbican Art Gallery presents A Countervailing Theory, a site-specific installation for The Curve and the first-ever UK commission by Nigerian-Americanartist Toyin Ojih Odutola. An epic cycle of new work unfurls across the 90-metre long gallery, exploring an imaginedancient myth conceived by the artist. An immersive soundscape by renowned conceptual sound artist Peter Adjayefills the space in response to Ojih Odutola'swork.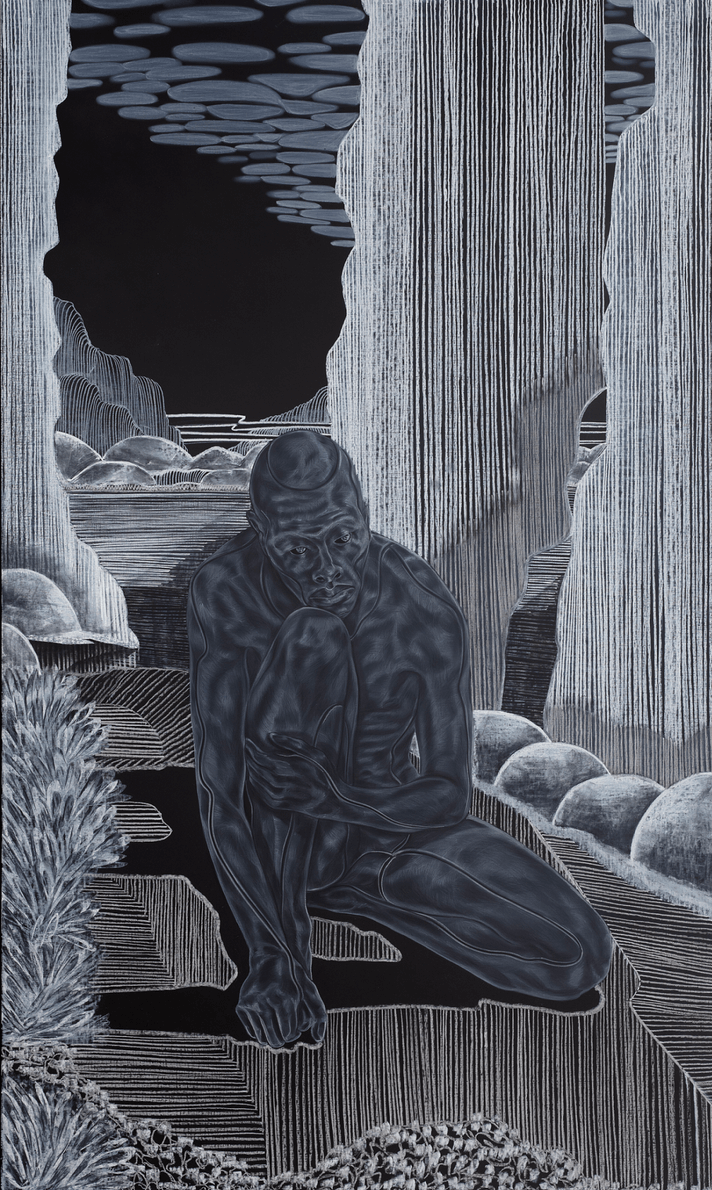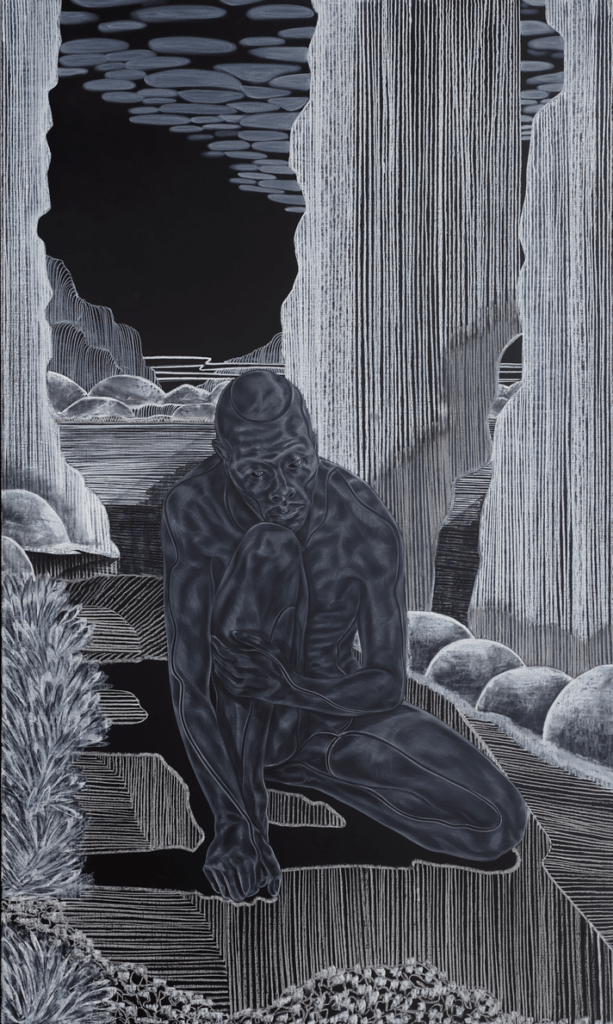 The exhibition will be accompanied by a publication featuring a new text by acclaimed writer Zadie Smithand an interview with the artist. Executed in pastel, charcoal and chalk, the installation features a series of 40 drawings, each work acting as an individual episode within an overarching narrative. Ojih Odutola encourages the viewer to piece together the fragments of the stories she presents.
Set within a surreal landscape inspired by the rock formations of Plateau State in central Nigeria, theworks depictthetale of a fictional prehistoric civilisation, dominated by female rulers and served by male labourers. Drawing on an eclectic range of sources, from ancient history to popular culture, Ojih Odutola investigates the power dynamics at play within this community. Toyin Ojih Odutolasaid: "Walking into The Curve for the first time was an enchanting experience of having a space unfold as you travel through it, not quite knowing what will come around the corner.
The feeling of possibility it provides to create and exhibit a story one can meander through in real-time gifted so much promise in how to engage with an audience. The opportunity to share a new project with the Barbican in London is a huge honour and I cannot wait to share that feeling of enchantment with everyonewho visits.
I hope in the process of experiencing A Countervailing Theory, one finds new ways of engaging with The Curve space, with eclectic forms of storytelling, and all the potential art-making gifts us." Working exclusively with drawing materials, Ojih Odutola's works often take the form of monumental portraits, which retain a remarkable intimacy despite their scale.
Her work is concerned with drawing as a process of storytelling. She weaves speculative tales, which question familiar histories and pose alternative realities. Approaching herpractice as an investigation, she intensely engageswith the process of mark-making to explore its potential to create new meaning. Ojih Odutola recognises that the pen is 'a writing tool first'; she works akin to an author, often spendingmonths crafting extensive narrativesthat play out through a series of works to suggest a structure of episodes or chapters.
Ojih Odutola's previous work has addressed the malleable nature of identity and the role of place in shaping this concept throughout history, in series including Tell Me A Story, I Don't Care If It's True (2020), Scenes of Exchange (2018) and The Treatment (2015-17). Her works have shown a persistent attention to the texture of skin, achieving extraordinary luminous effects through her distinctive techniques of building and blending her drawing materials.
The topography of the flesh, as well as that of landscape and domestic interiors in recent series, conveys the nuanced histories of her subjects. Ojih Odutola's worksplay with the grand tradition of portrait painting by elevating the medium of drawing. Investigating images through the lens of aesthetic, conceptual and emotional principles, her works create an intimate viewing experience.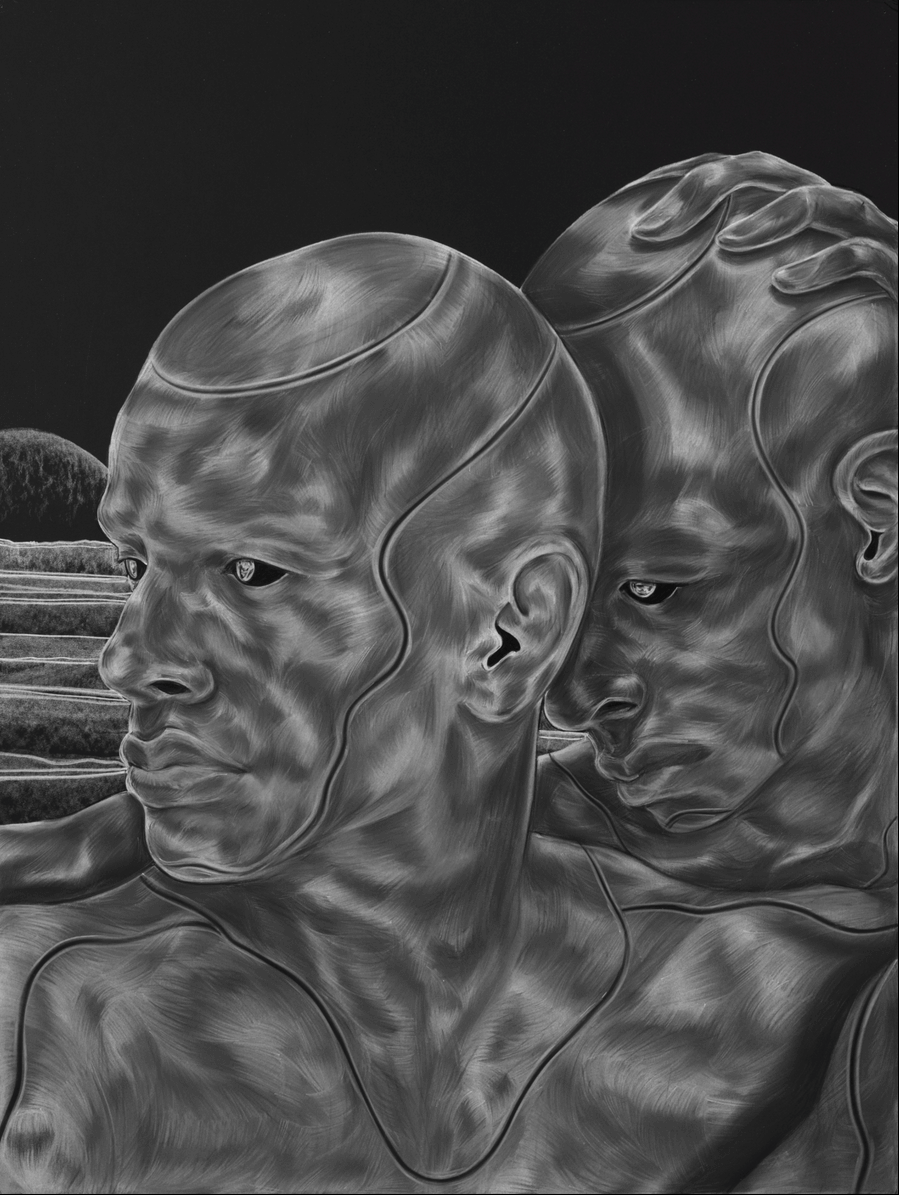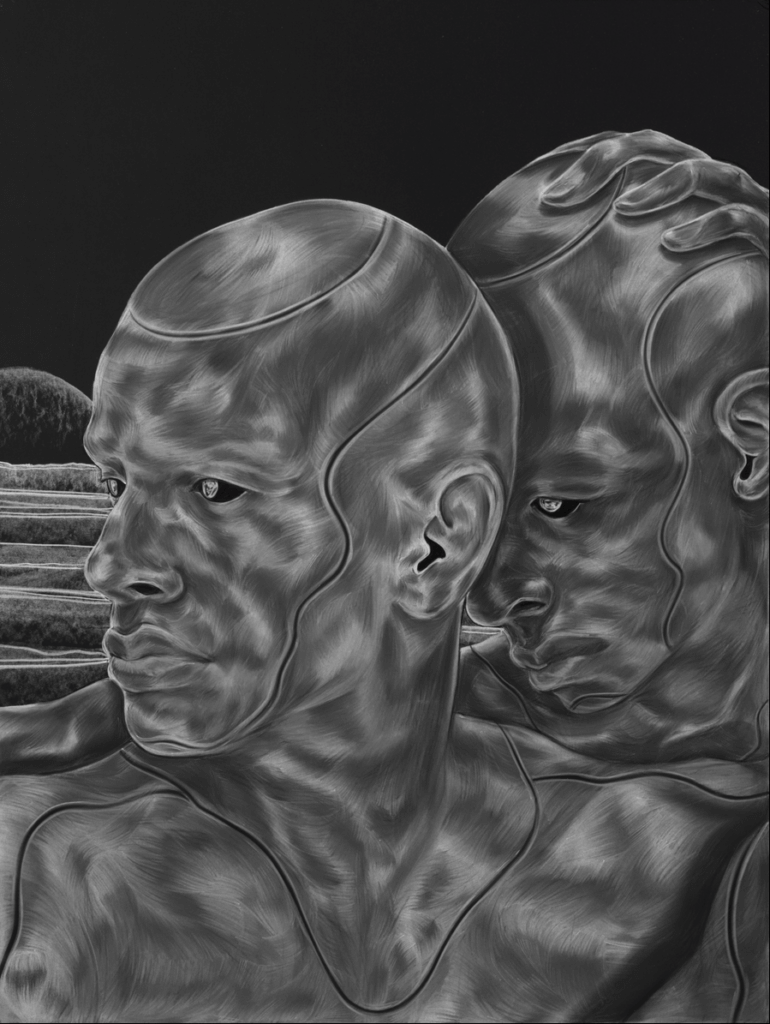 Jane Alison, Head of Visual Arts, Barbican said: "I am delighted that we have commissioned Toyin Ojih Odutola to make a new body of work for our free programme of Curve installations. We were almost ready to open just as lockdown happened and now, thankfully, we are finally able to introduce this epic work to audiences in the Centre, as well as creating a video tour of the exhibition for those unable to attend in person. Ojih Odutola's engagement with the space as a canvas for her expansive narratives will undoubtedly be a revelation for many."
In line with government guidelines, new safety measures are in place for this exhibition including operating at reduced capacity, timed entry slots to ensure a safe flow of visitors through the space, and tickets needing to be booked online at barbican.org.uk in advance of a visit. More information here.
About Artist
Toyin Ojih Odutola was born in 1985 in Ile-Ife, Nigeria,and currently lives and works inNew York.Ojih Odutola has exhibitedat various institutions, including The Drawing Center, New York (2018—19); Whitney Museum of American Art, New York (2017—18); Brooklyn Museum, New York (2016); Contemporary Art Museum St. Louis (2015); Studio Museum Harlem, New York (2015, 2012); Aldrich Contemporary Art Museum, Ridgefield (2013); and Menil Collection, Houston, (2012). Her work is in major permanent collections, including the Museum of Modern Art, New York; Whitney Museum of American Art, New York, The Metropolitan Museum of Art, New York; Birmingham Museum of Art; Baltimore Museum of Art; New Orleans Museum of Art; Philadelphia Museum of Art; Princeton University Art Museum, New Jersey;Spencer Museum of Art; Honolulu Museum of Art; and the National Museum of African Art (Smithsonian, Washington, DC).
She was featured in Manifesta in 2018, winner of the Rees Visionary Award in 2018 and shortlisted for the Pinchuk Foundation Future Generation Prize in 2019. Ojih Odutola earned her BA from the University of Alabama in Huntsville and her MFA from California College of the Arts in San Francisco. Peter Adjaye aka AJ Kwame is a contemporary conceptual sound artist, specialising in cross-disciplinary collaborations. He is a musicologist, composer, DJ-producer and musician with a PhD in Mathematics. His unique set of skills and vast experience have enabled him to work closely with his brother, the award-winning architect, Sir David Adjaye OBE, for over 15 years.
This work has culminated in the publication of Dialogueson MusicforArchitecture Records in association with Vinyl Factory Records. Adjayehas exhibited his sound installations in venues including Tate Modern, the Design Museum, Art Institute of Chicago, Somerset House, Studio Museum Harlem, Whitechapel Gallery, Albion Gallery, the Science Museum and Nobel Institute and has given talks at MAXXI-National Museum of the 21st Century Arts, The Architecture Foundation, Design Miami, Rough Trade and Central St Martins, among others.
A limited-edition vinyl album of the exhibition soundscape composed by artist Peter Adjaye, Ceremonies Within, released on Music for Architecture Records/The Vinyl Factory, will be available to buy in the Barbican Shops. The album cover features Toyin Ojih Odutola's work Summons, To Witness One's Own (2019-20).
Copyright © Toyin Ojih Odutola, Jack Shainman Gallery, Barbican all rights reserved 2020