Swiftly becoming a favourite of collectors of British contemporary art, Timothy Gatenby creates nostalgic, often dystopian, scenes in oils. Often featuring our childhood television heroes, Gatenby's work treats the mundanity, and surprising joy therein, of the 1990s with deference. Gatenby's work places emphasis on the colours of distinctly blurred compositions (explained by the artist as a reference to his refusal to wear glasses as a child).
In the following interview we hear from the artist about trial and error, the democratising power of technology, and the potential for the "sacred space" of the gallery to be made "even more important and cult-like" by the rise in digital platforms for art.
Q: First things first, why do you do what you do?
A: I remember when I first started painting at a very young age and it was such an immersive experience. The idea that I could use aspects of my visual experience of the world and rearrange it emphasising colours or certain forms. With painting it's interesting how you can almost channel the experience of memory.
Q: What is your inspiration?
A: My artistic inspirations come from art and film. I love going to the cinema and everything to do with movies. The first film that really impacted at the cinema was Jurassic Park, it was so thrilling and the cgi at the time was quite new. It's sort of a fantastical realism which is a theme now in my own work. In my teens I got pretty into urban art like Jean Michel Basquiat and then Banksy became big so both of those artists really got me into painting.
From there I went to learn classical painting in Florence and since then I've tried to combine these different experiences.
Q: What is your creative process when you're creating?
A: Sometimes it can be quite an instant idea of an image that I know I want to make in response to an event in my life or in wider society. Other times it's a bit more measured thinking more of a body of work where pieces relate to one another. Once a piece is planned out I'll generally attempt to paint the whole thing in one go. Because of the way I blur the paintings out the pieces need to be created all at once so that I can soften it all out with big brushes while it all still wet.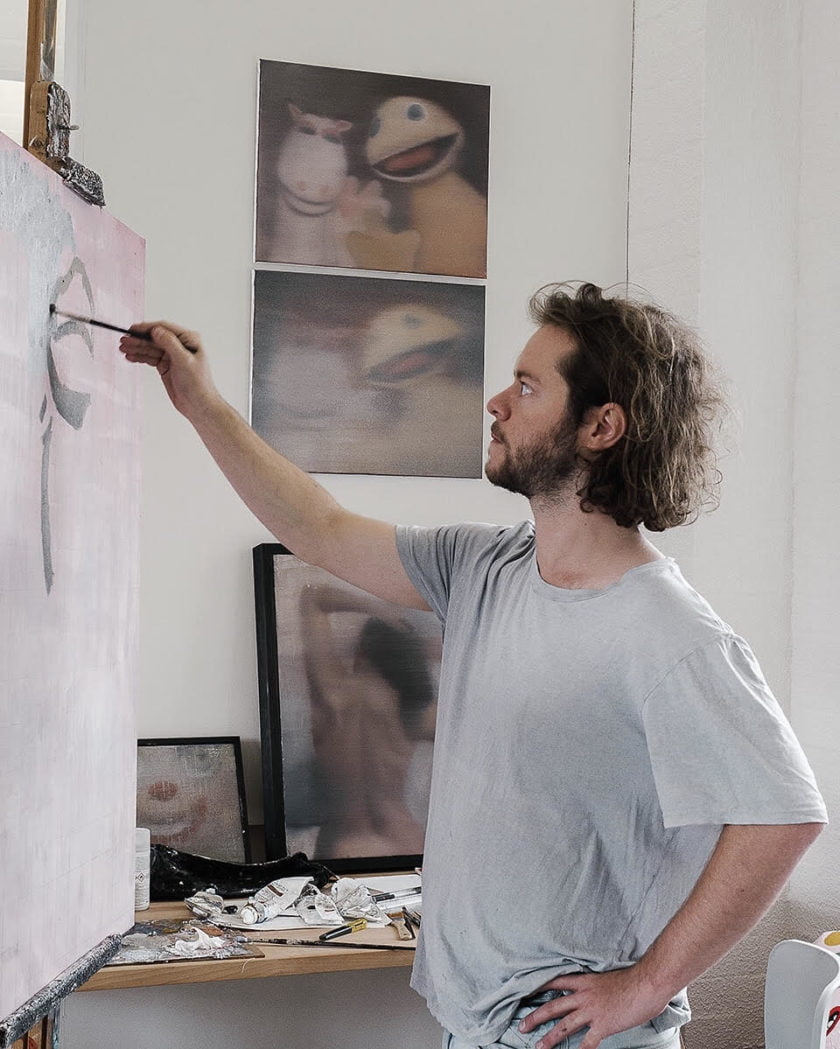 Q: Which is your preferred surface for working on?
A: I've always worked oil on canvas.
Q: What would you say is an integral part to the work of an Artist?
A: The most integral part is going to exhibitions and meeting other artists or people as obsessed with art so you can keep being inspired. Visiting galleries as should be and seeing work in person is a very rewarding experience. I recently visited a great group exhibition which had some work by Hayden Kays, and to see the pieces in person was great and to have him there contextualising it really brought out the persona of the work even more.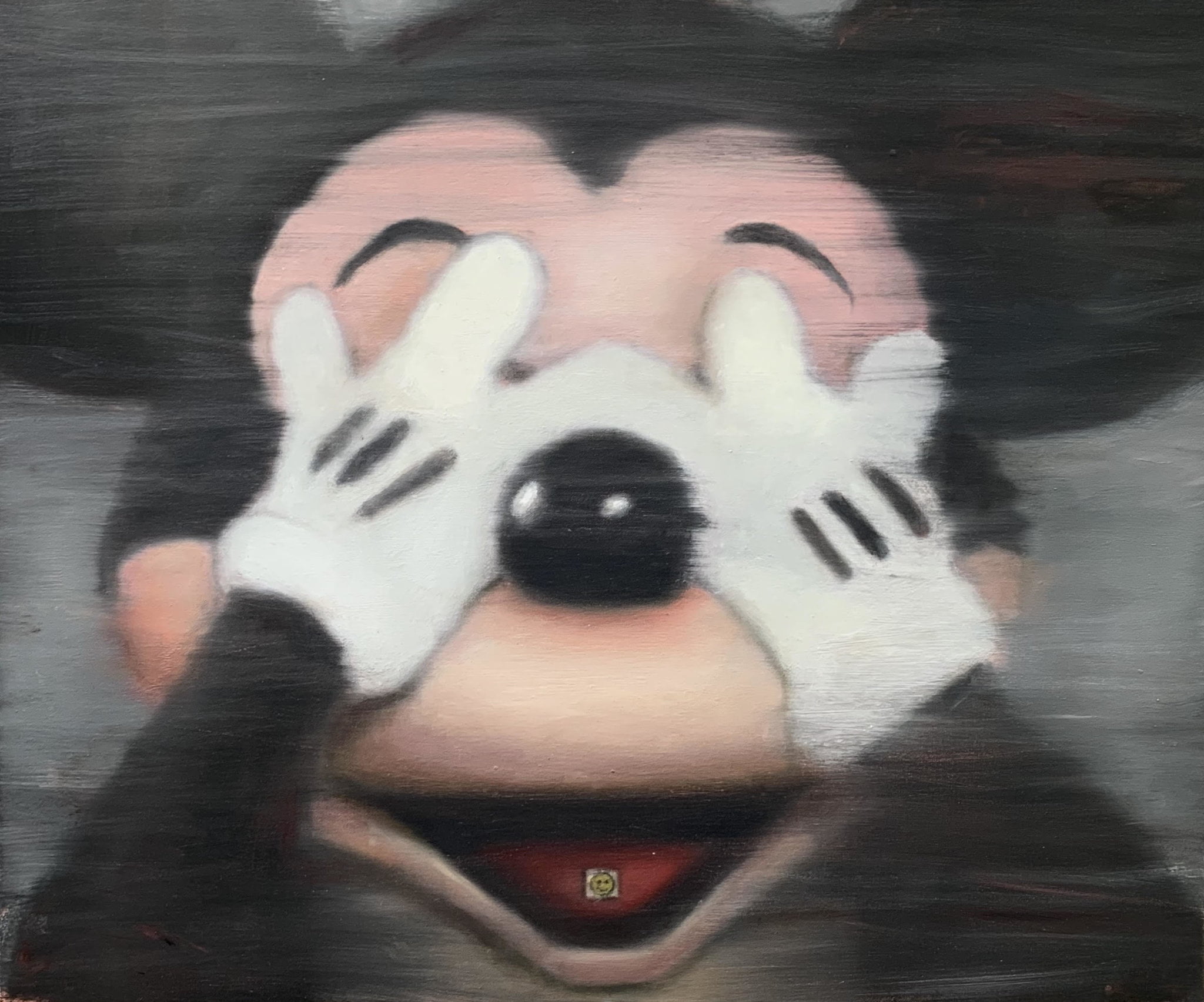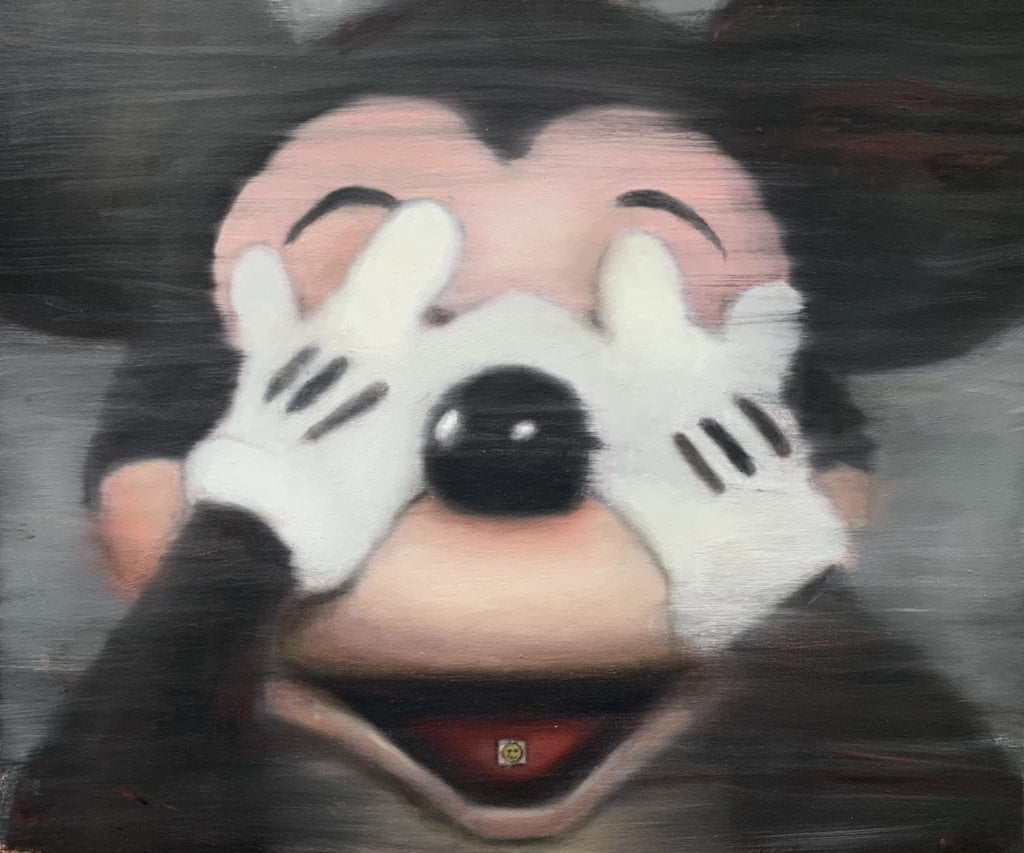 Q: What is the reason behind you blurring your art works?
A: For a start I've always been really short sighted and refused to wear glasses very often until around the age of 17 so most of my life has been very out of focus ?. At the same time I like the sense of nostalgia that blurring out achieves. By creating a visual interruption on the experience of viewing the painting there is a sense that the image is somehow abstracted from reality.
I think that painting itself is a nostalgic process because as soon as painting is completed it becomes part of the past for the act of painting has finished. Nostalgia is interesting because events or experiences can look different with hindsight, it's almost as if you are trying to see what happened but it's fogged by time.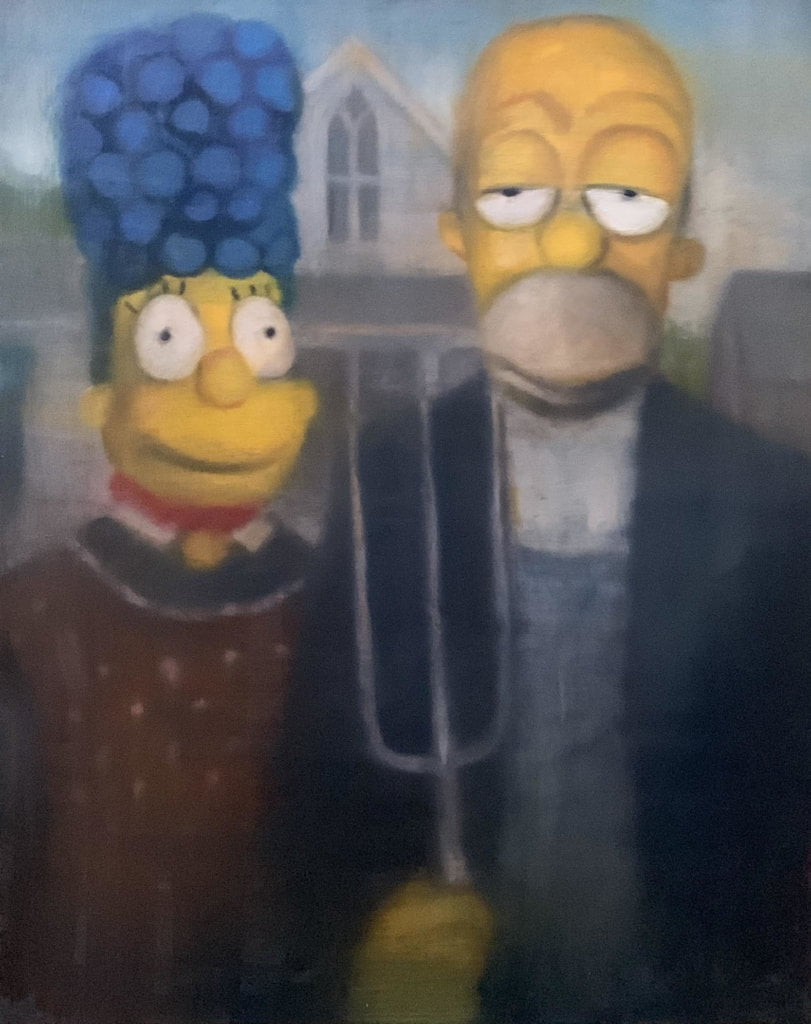 Q: How do you know when a piece is finished?
A: I always plan out paintings in advance so it's finished when it looks like how it was intended although, of course, paint, tools or mind set can alter results so really it's a feeling.
Q: What is your favourite piece from your collection?
A: My favourite piece in my collection is my Oli epp print. Oli is a great artist who is really defining our time in his work and producing really exciting paintings. His autobiographical work has such a majesty and his new body of work is very honest whilst retaining his raw humour.
Q: How did you feel when you did your first solo exhibition?
A: First solo exhibitions are approaching in 2020 with a show in Milan at Plan X followed by one in London at Waluso. It's a very exciting process so far which is both fun and slightly daunting.
Q: What is the most rewarding thing for you about being a part of the Art Industry?
A: Having a discourse with other artists and being part of publications like Sam Harris' 'Pure Filth' zine is really exciting. Also being able to travel to different cities for work isn't bad.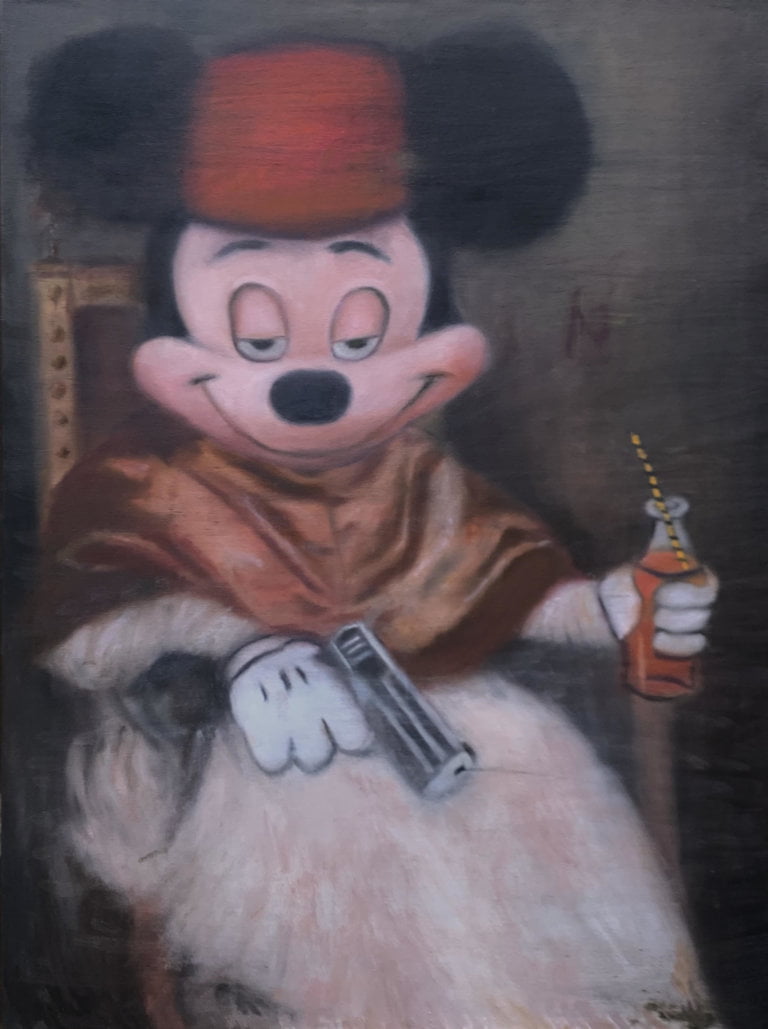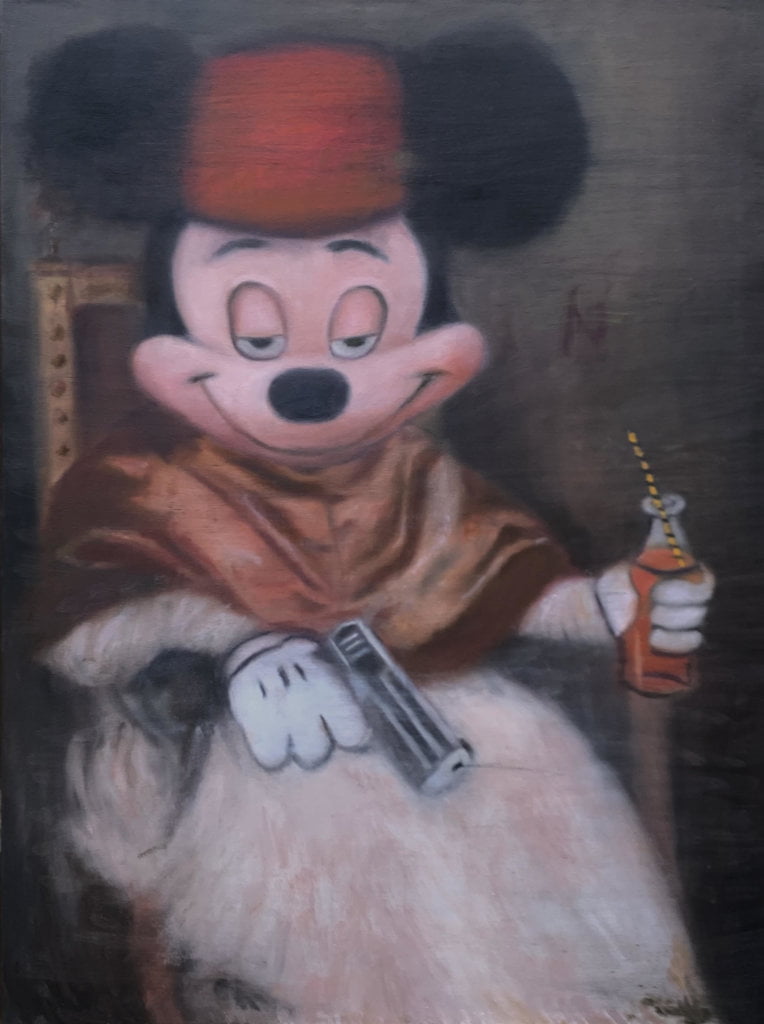 Q: Is there anything that worries you about how social media is affecting the promotion of artists?
A: My main concern with social media is that often I'll post a picture of a painting and people may feel like they've seen it but really it's a tiny stamp sized image of a painting that could be 2 metres in real life. For me, paintings aren't just images but objects and to see them in person is completely different experience. I guess In this sense more humorous or graphic based work suits the interface of an iPhone artistic experience.
Q: In your opinion, do you have any advice for artists on how to manage their social media image? Or does it even need managing?
A: Social media is certainly a great tool to convey a persona. I can see it developing more and more and online avatars eclipsing real life people. I'm a big fan of Banksy's anonymity so I guess I think it is important to manage a persona but what one might want to convey can be completely different from person to person.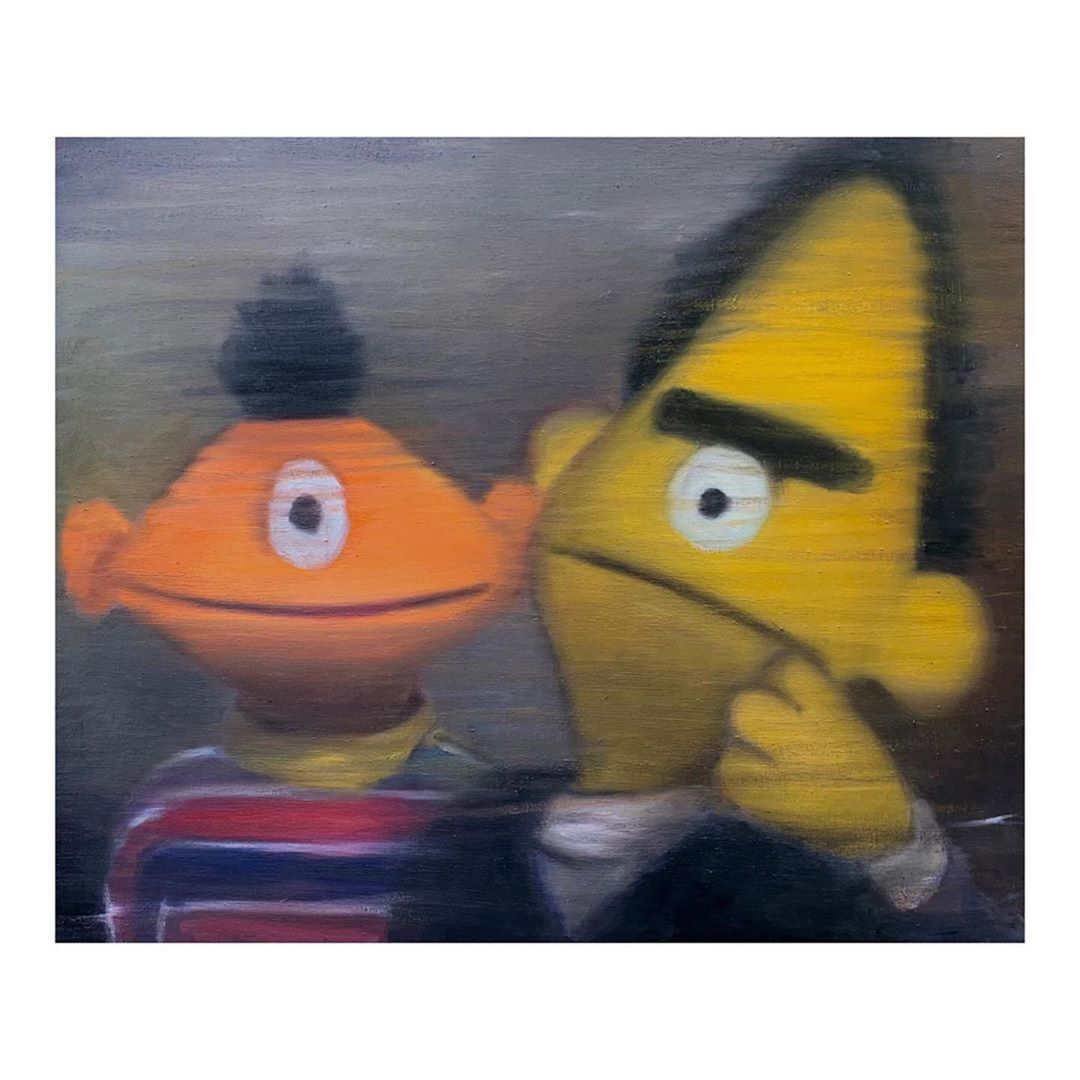 Q: Do you have any advice for artist starting and don't know where to begin?
A: For any artists it's about looking at artworks and then trying to make similar pieces based on what inspires you. Maybe it's a good starting point to try and emulate a particular work or artist style and see where that develops. Looking at work and thinking about what resonates with you and whether that's the sort of thing you'd like to convey is also helpful. Use any medium you like, film, sculpture, painting, combinations to create an experience.
Q: What would you say is the best way of getting your art noticed in the age of the internet?
A: Great consistent content with enough variety to keep people interested. Consider what you are putting out there, does the world need another picture of your cat. Probably.
Q: Are there any places where you feel Art and Technology really shouldn't overlap?
A: Now we are at a point where tech and art are overlapping more and more. The majority of art is seen digitally and many people don't even feel the need to see works in person. The experience of art is becoming incredibly democratised and in this respect there is so much room for development in an online direction. However, I believe the sacred space that the physical art world occupies will become even more important and cult-like as a result. Paintings aren't just images so it's important to experience them in person, offline.
https://www.instagram.com/therealtimgatenby/
©2020 Timothy Gatenby