Face The Strange is an anonymous street artist recognizable by their whimsical figures who often have fruit/veg/toys instead of a face. We love it.
FTS is self-taught, using digital tools to manipulate images normally found online, then printing them out for pasting around the UK and beyond.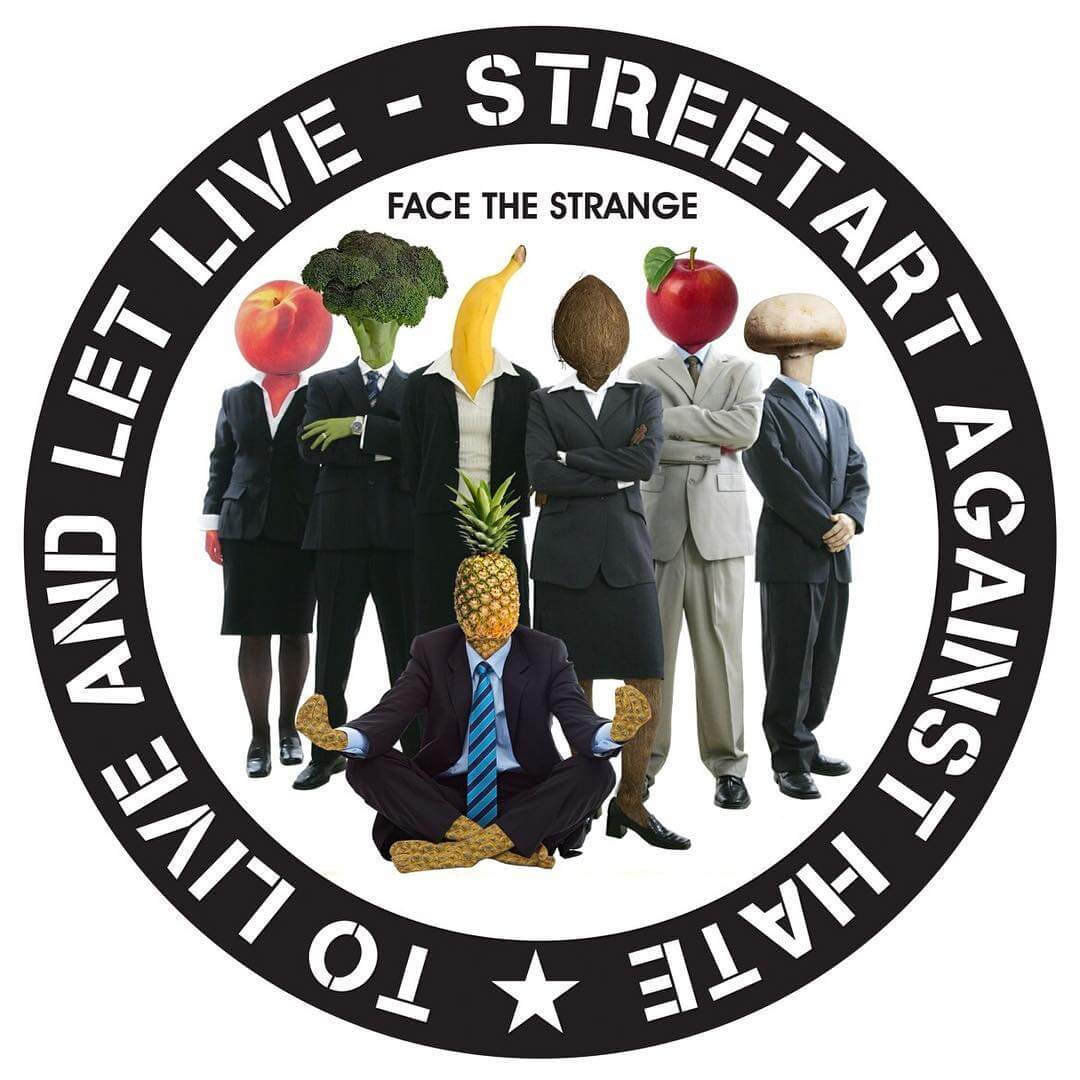 My name not only superficially defines the work but also the message behind it – that of diversity, inclusivity & acceptance.

Face The Strange
We speak to them about the joyous hide-and-seek of street art, fast fashion, the influence of Vic and Bob, and the city that started it all – Derby.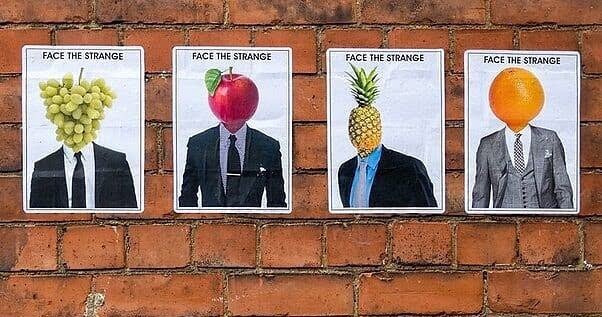 Q: First thing's first, introduce yourself! What do you make, how do you work?
A: Hi there! I'm Face The Strange and I use my minimal, self-taught image manipulation skills to create digital collages – primarily based on Googled or stock images, but sometimes including my own photographs too. When I first started out my work was very spare, with my compositions being nothing more than free-standing suited characters with fruit or vegetable heads. This gradually evolved to them becoming more complex pieces that perhaps pay homage to music or elements of popular culture, but which are just as likely to be more esoteric or entirely whimsically incomprehensible.
Once printed out – at a range of sizes – these are then pasted up onto the streets. Typically I find derelict, disused or otherwise unloved buildings and areas to affix my work to.
Q: When did Face The Strange first begin?
A: I created my first small, simple designs back in 2013 and scattered a few about, but didn't really know the ins and outs of printing (and placing) stuff to last out on the street, so that took a hiatus until I sent off my first order for commercially printed stickers in early 2014 and then moved on to posters shortly after.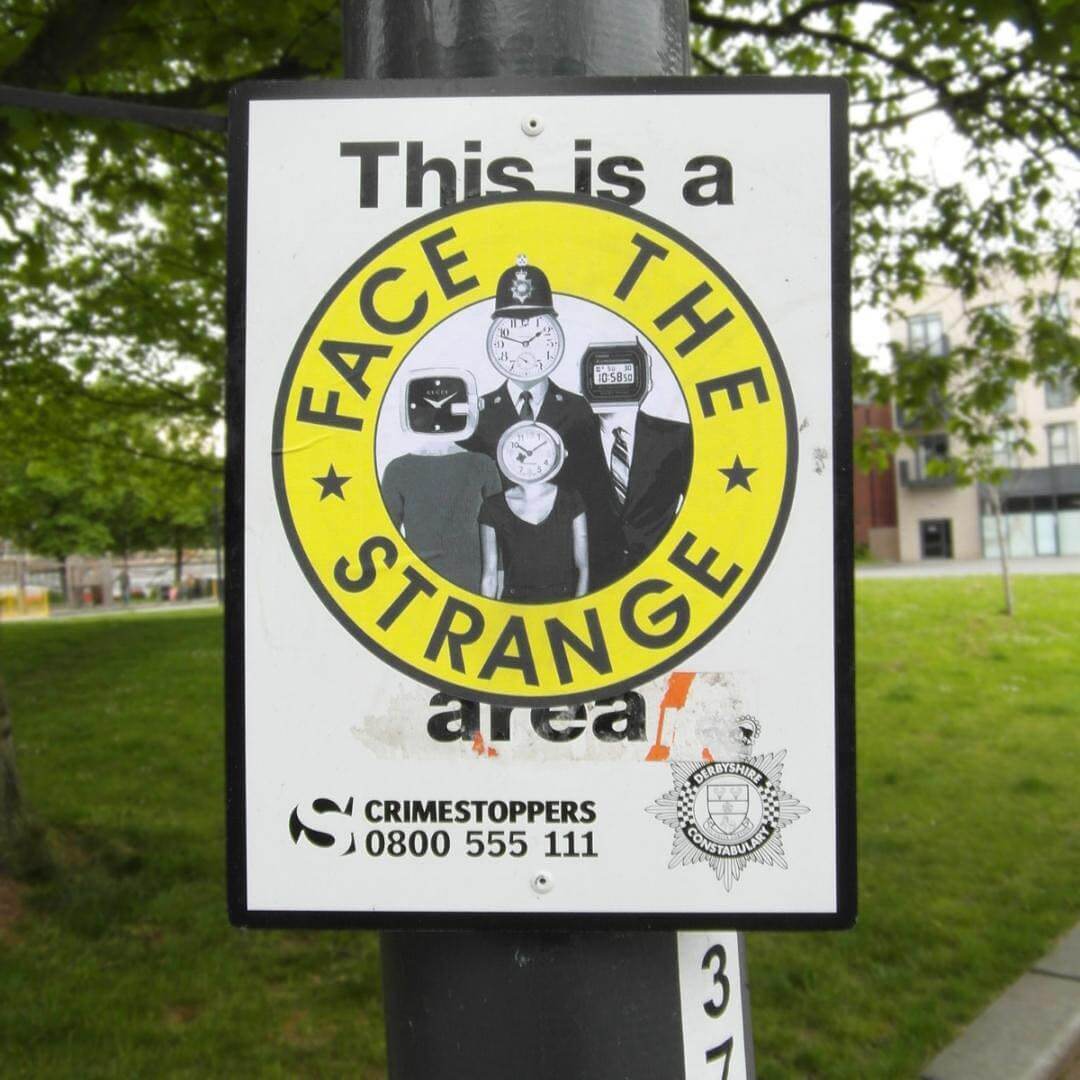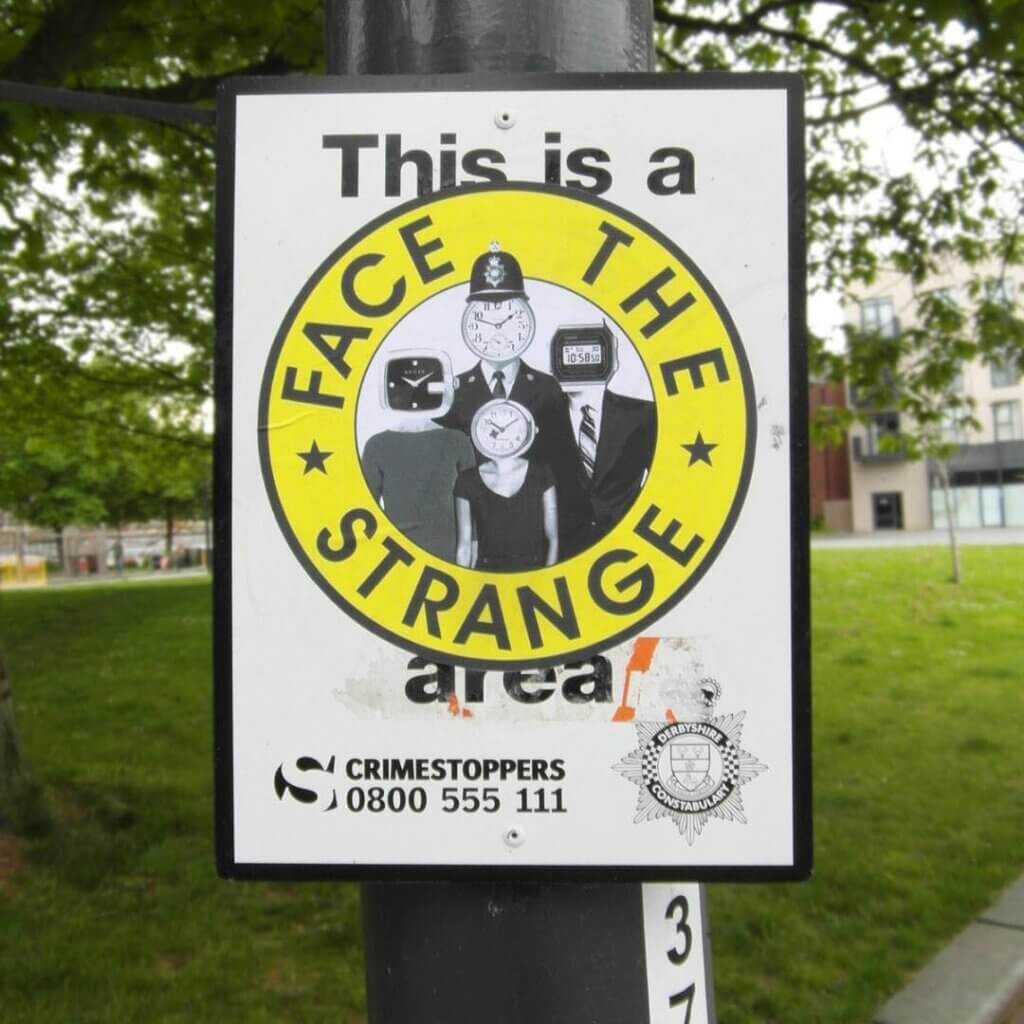 Q: What is the mission behind Face The Strange?
A: I guess that my "mission" was initially to bring something mildly interesting to the streets of Derby, which had a miniscule urban art scene compared to most neighbouring cities. I fell in love with the endless games of hide and seek that could be played in other towns – where every lamppost, boarded building or dead-end alley could contain a secret treasure – and I wanted to give that same joy (of stumbling across the unexpected) to others. There's really nothing better than receiving messages from complete strangers telling me how seeing one of my pieces put a smile on their face on a day when they were otherwise pretty miserable.
As for an ethos? My name not only superficially defines the work but also the message behind it – that of diversity, inclusivity & acceptance.
Q:'What is your favourite piece you've created?
A: Tough one, as I always struggle to pick a single favourite of anything!
I've done a couple of pieces with ducks which I'm definitely very fond of…
One is a rubber-duck-headed creation who has eschewed the usual suit for a pair of swim shorts. He was originally posed in a one-handed handstand but I soon realised that he works in a couple of other orientations too – so, by simply turning him 90degree, he looks like he's doing a flying karate kick instead.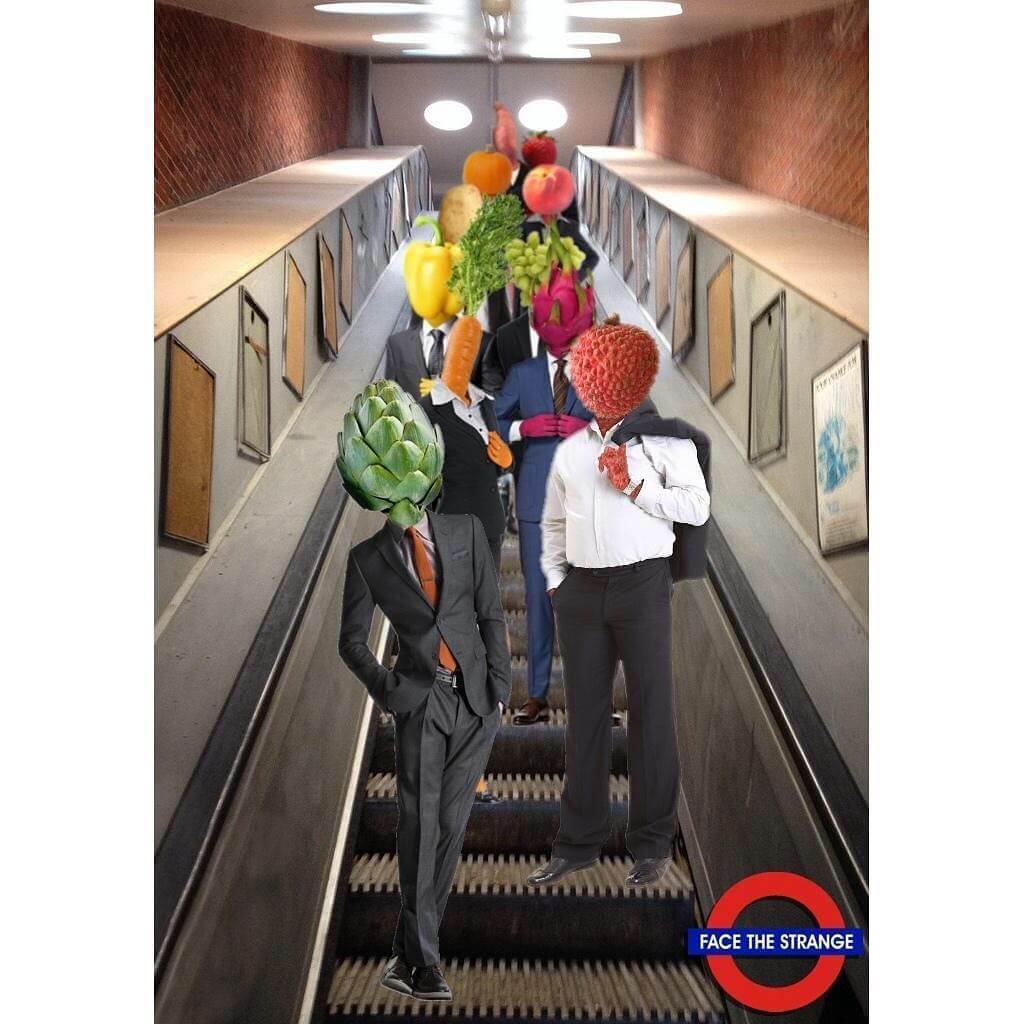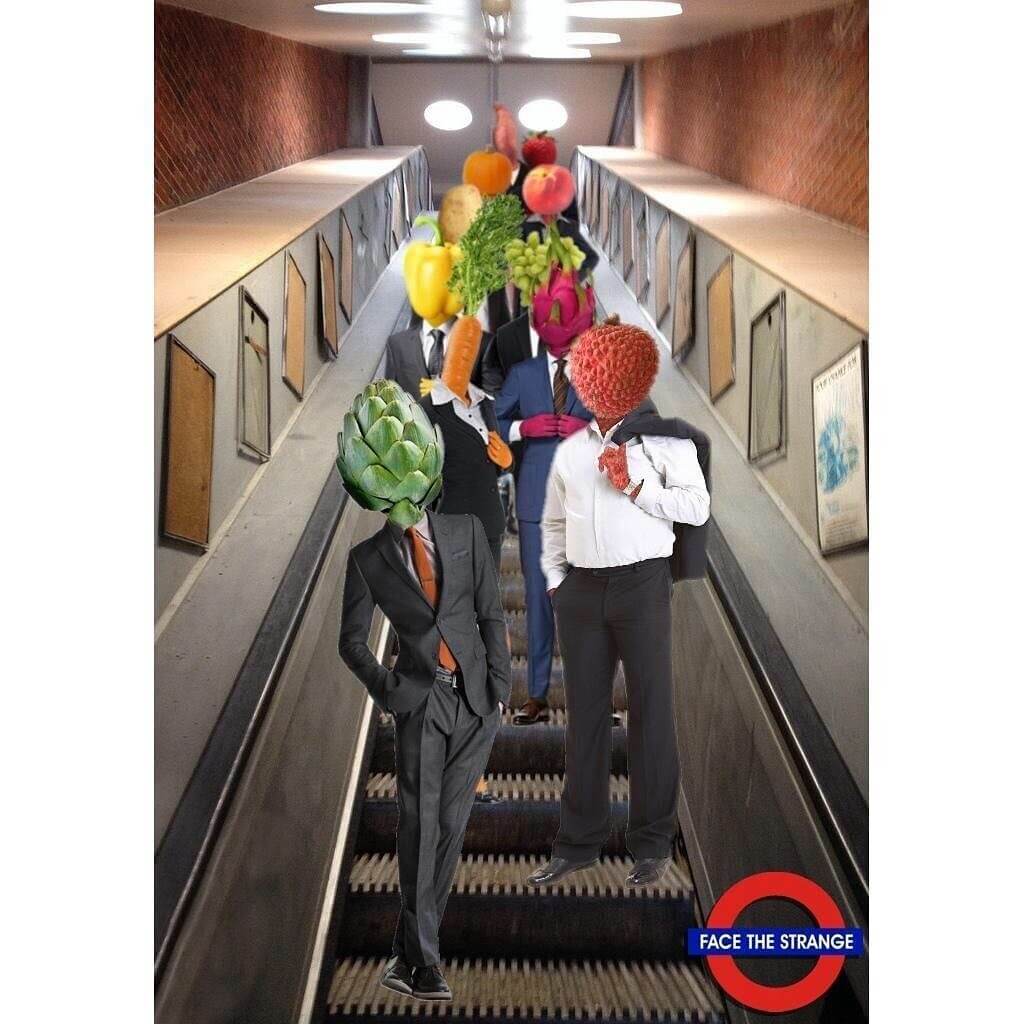 He's a fiddly beast to paste up but is always well worth the effort.
The other is a set of three winged suited duckmen who are arranged on walls in a similar fashion to the iconic retro kitsch wall hanging made famous in the Coronation Street living room of the Ogdens. It's simple and repetitive – although each figure is distinctly different – but it's a definite winner.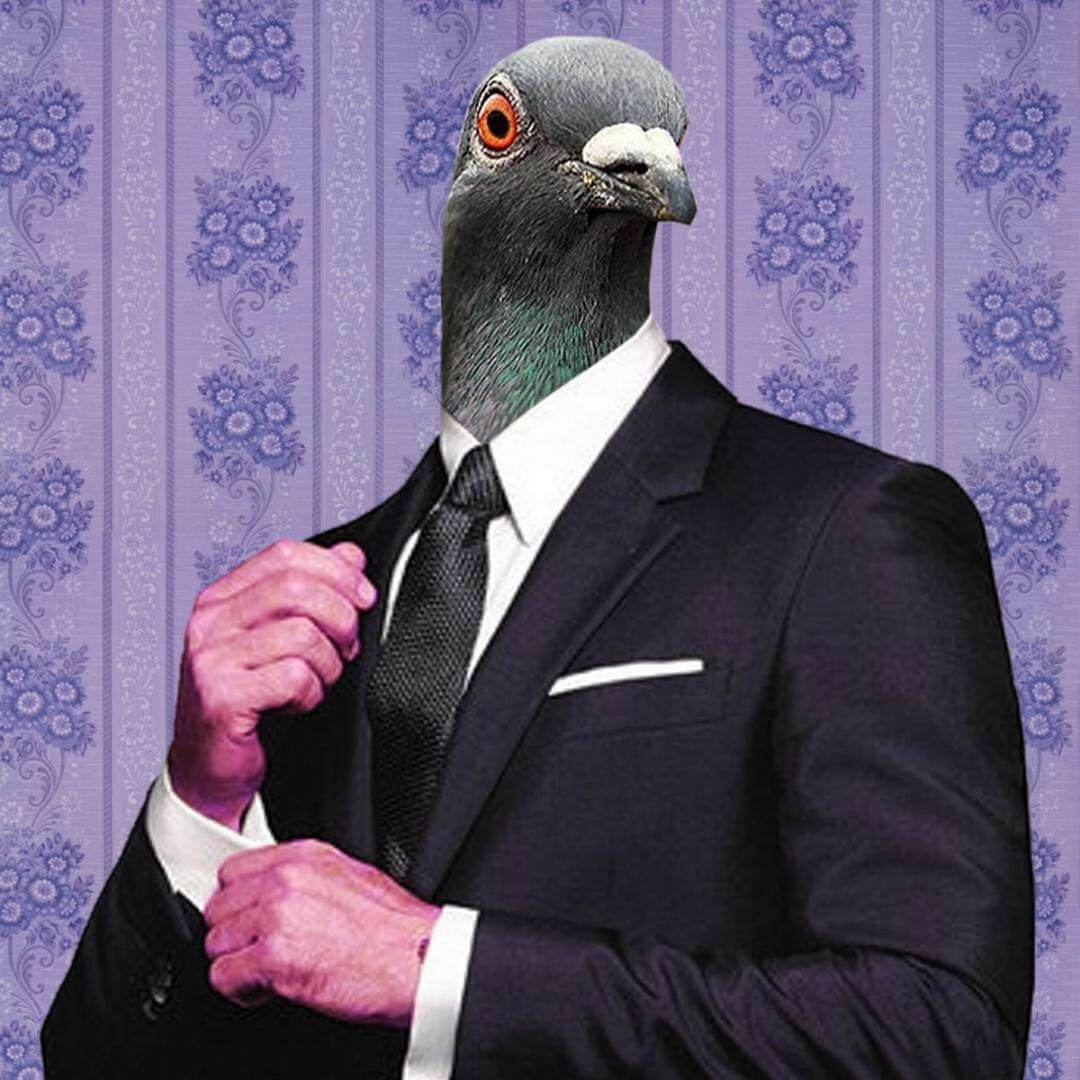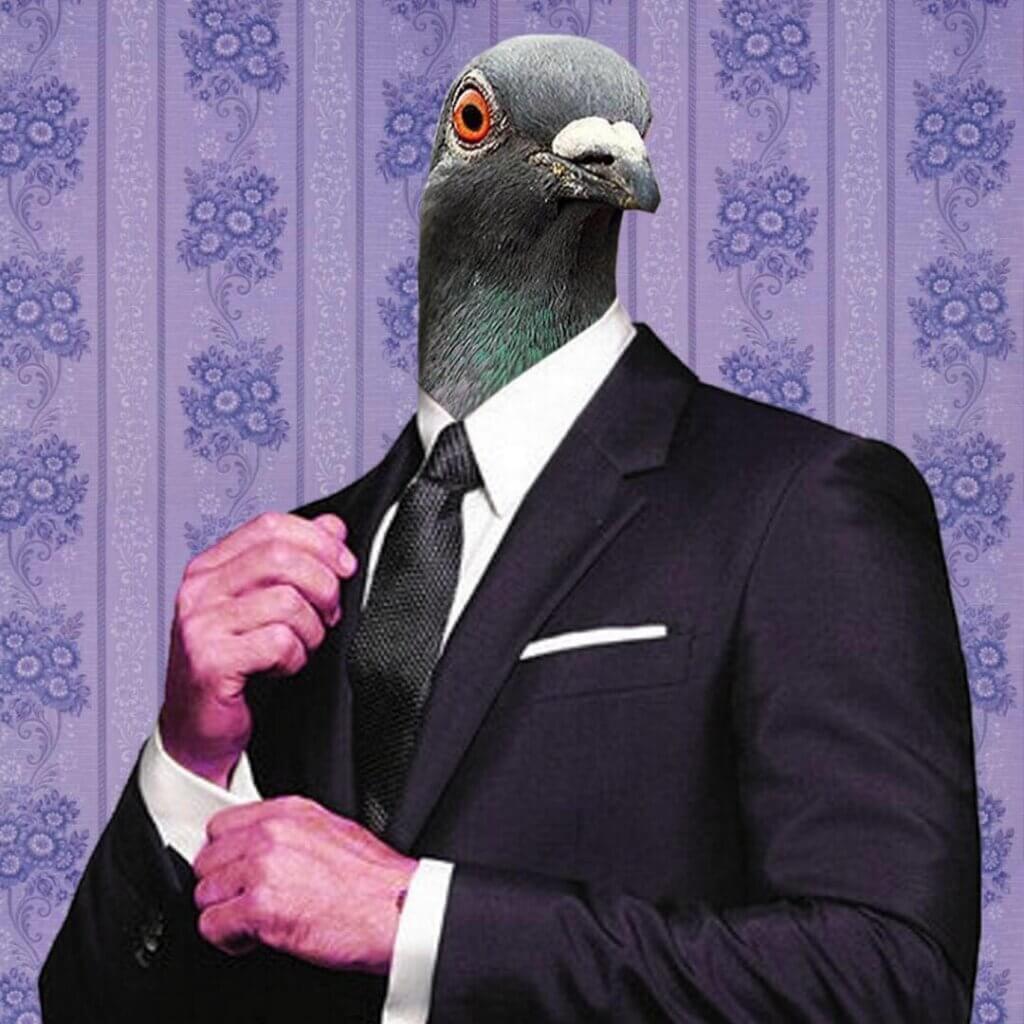 Q: Who are your biggest inspirations?
A: I don't really think of things that way. Unquestionably I was very much shaken by a recurring series of sketches that Vic and Bob included in their 1993 TV series, "The Smell of Reeves and Mortimer", which depicted ordinary people with fruit or vegetable heads. Each of these dreamlike interludes had a sinister air to the slow reveal and I used to wish that my characters could somehow appear more menacing. I think people usually tend to see them more as simply daft and cute, but that's fine too.
Basically I just had that one motif festering away in my head for a couple of decades before it finally emerged from its chrysalis!
Q: What's the most exciting place you've put up pieces?
A: Oooh, good question, and definitely another that I find very difficult to answer!
It's always fun to find a fresh canvas to add some of my work to. Even more so if the surrounding area has no other such work in. Conversely, it's also definitely a buzz to get to somewhere like Shoreditch, Digbeth (Birmingham) or Manchester's Northern Quarter, and to get to let rip in a well-established street art neighbourhood. I've hugely enjoyed seeing large and small examples of my work spread as far as Australia and New Zealand, thanks to the efforts of friends too.

Even the smallest little sticker can provide a moment. When I visited Bradford's National Media Museum and found a whole cabinet devoted to the 3D View-Master then I was overjoyed to find that I had a matching character piece with me, in sticker form, and that it would fit (quite unobtrusively) into the surrounding display. I tickles me to know that it's still there, several years later.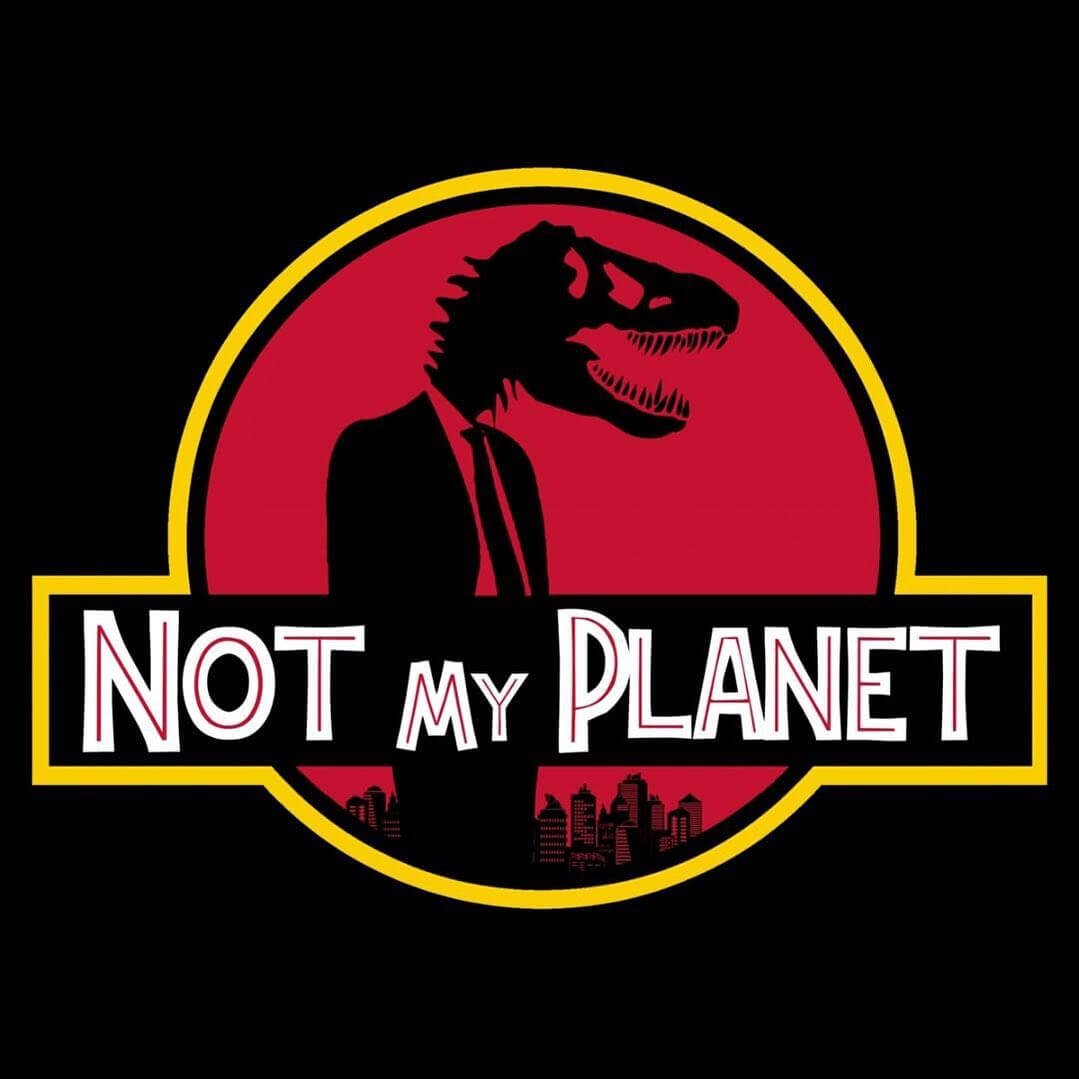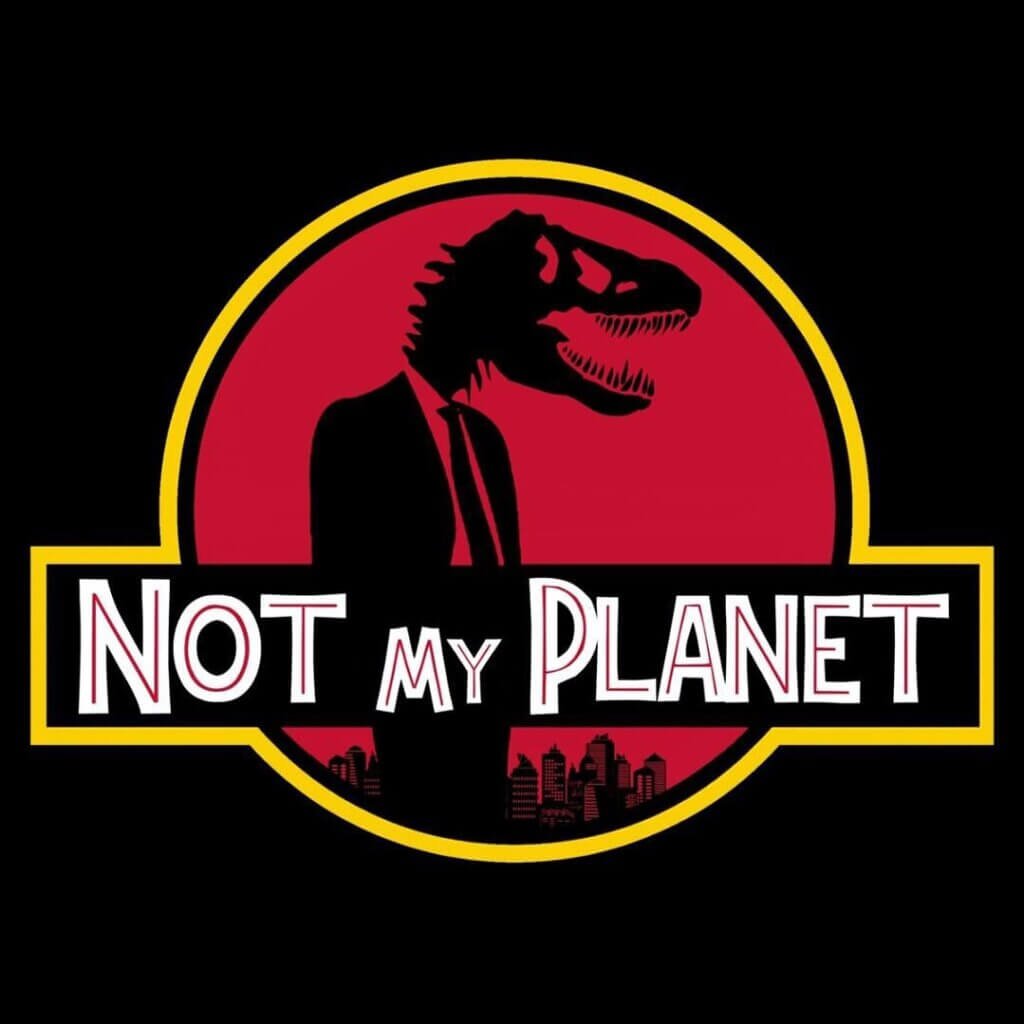 I think that the most consistently exciting is sticking up a few pieces during large street art festivals. These events are almost always solely entirely devoted to painted art – and I'm sure a lot of the unsanctioned work has a very short lifespan – but I do feel a need to represent another craft form there and, who knows, it may inspire someone else to pick up the paste.
Q: What's next for you?
A: Design-wise, I'm always working in several different directions at once. I've forever been entranced by vintage travel posters but have now started taking a stab at creating something similar. Otherwise… well, Corona stopped so many things, or forced them to a crawl, and I'm well overdue to make a new print run of several designs which I've been slowly accruing, so I'll definitely soon be producing a new batch of work and getting that out into the wild. I'd also like to do some more commission work this year too. Unleashed a design onto a beer can last year and that was pretty exciting so I'd definitely like to do more of that kind of thing.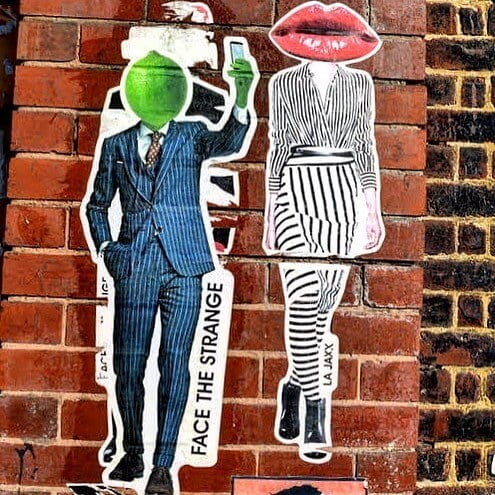 Q: Do you sell work?
A: I do. I have a store on Redbubble on which can be found a great number of my designs – available (as print-to-order) on everything from T- shirts to wall clocks, face masks and shower curtains! I'm not too precious about it but I do also occasionally sell very limited edition stuff too.
Q: Is it difficult to keep anonymous?
A: Hmm… generally, day to day, it's not a problem, but the cat's a bit more out of the bag when people catch me in the act and recognise my work! That can be quite surprising, such as one occasion when I was pasting in Nottingham and some fella on the way to the station stopped to say hi, and to tell me how he was from Bristol but was used to seeing my stuff in Manchester. That was quite random, but makes you realise just how noticeable work on the street can be.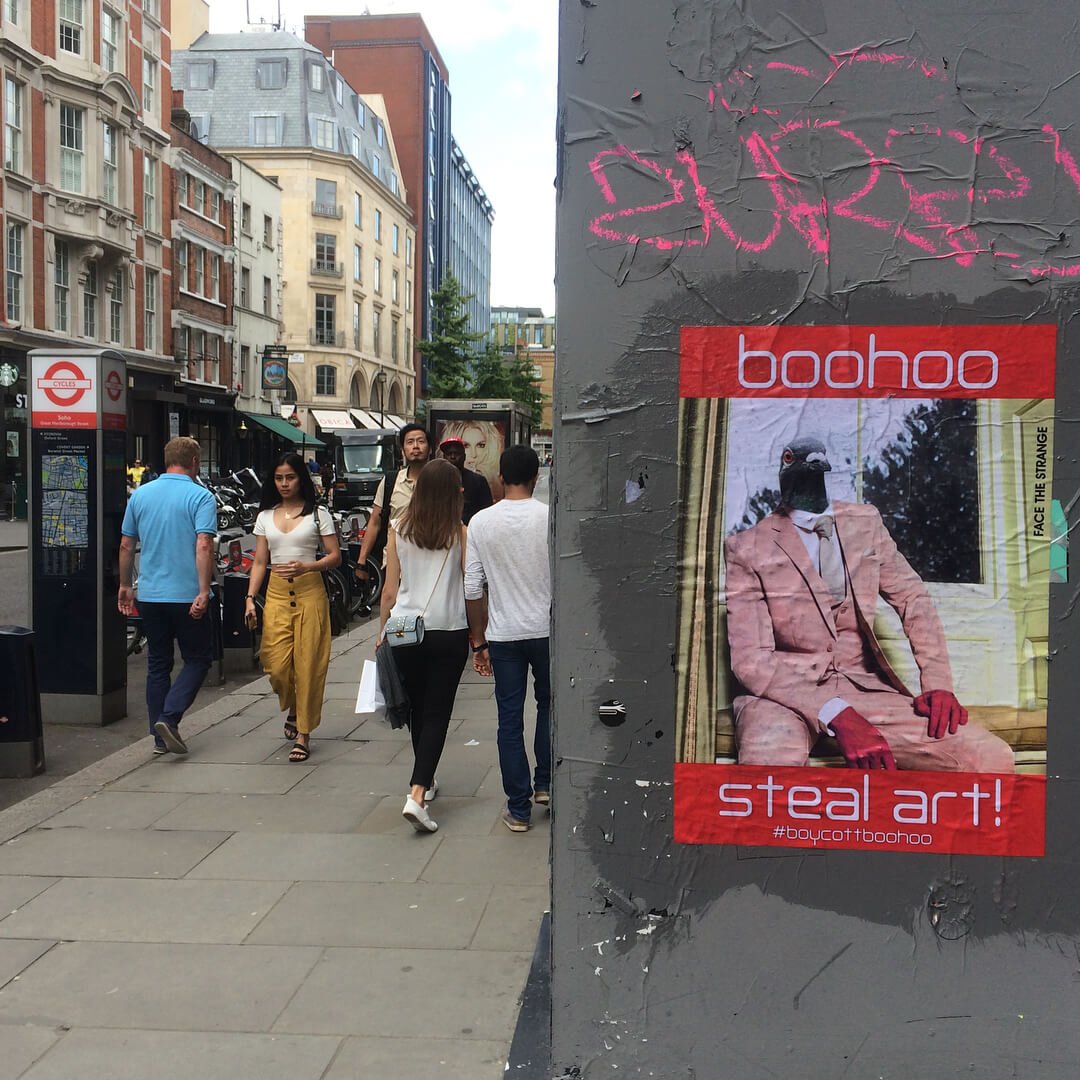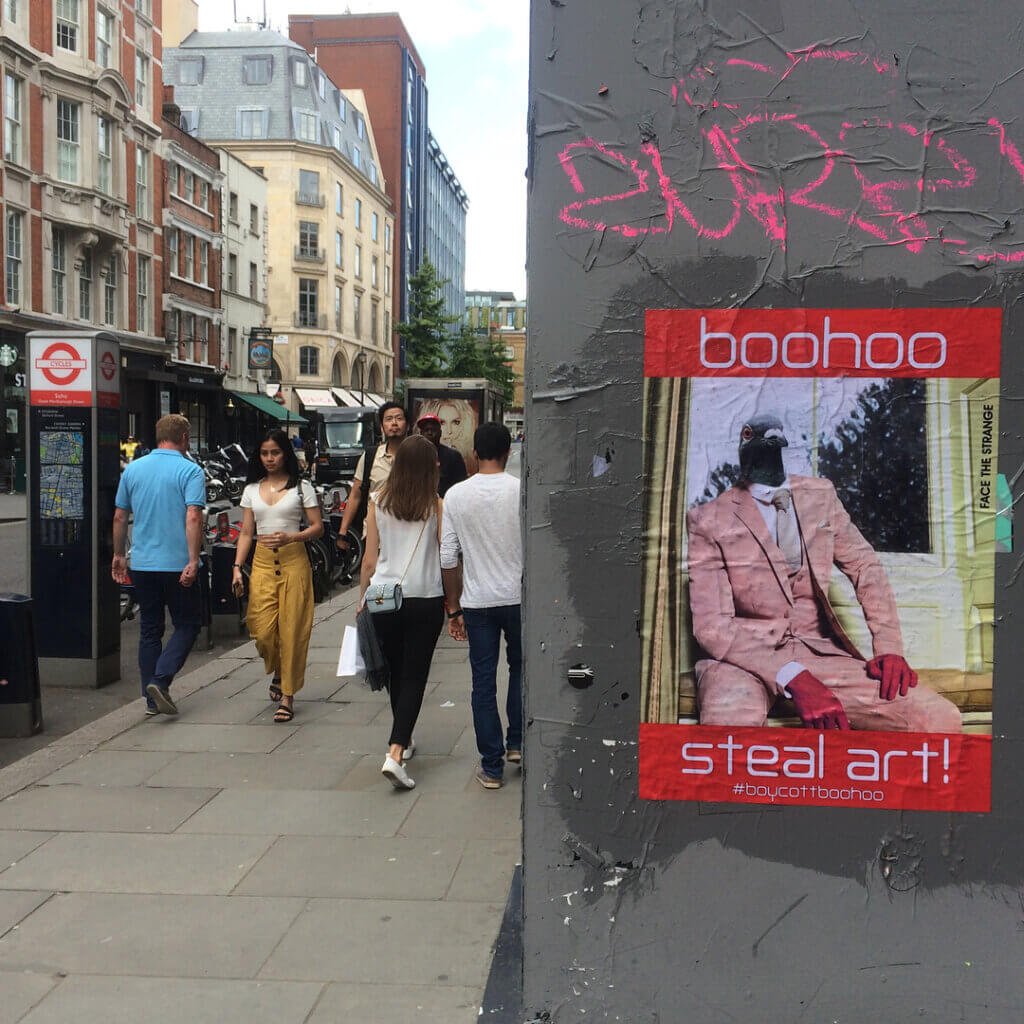 Q: Social Media as a tool for artists – pro or anti?'
A: Swings and roundabouts, for sure. Even though I have had work up all over the world, it still connects me with people in countries I've never touched, who may've had very little exposure to street art, let alone ever seen any of my work in person. I do find it can become a bit too time-consuming sometimes though.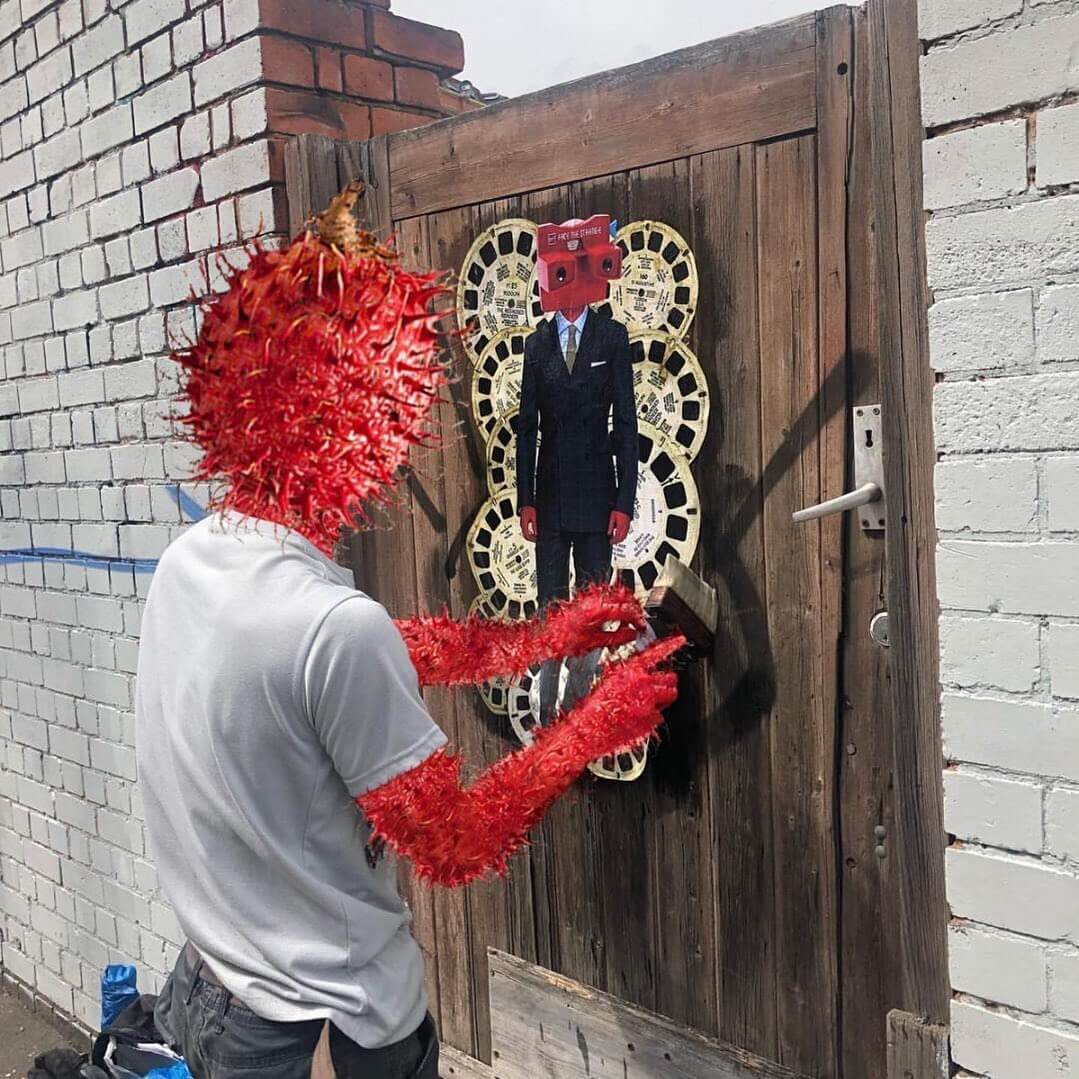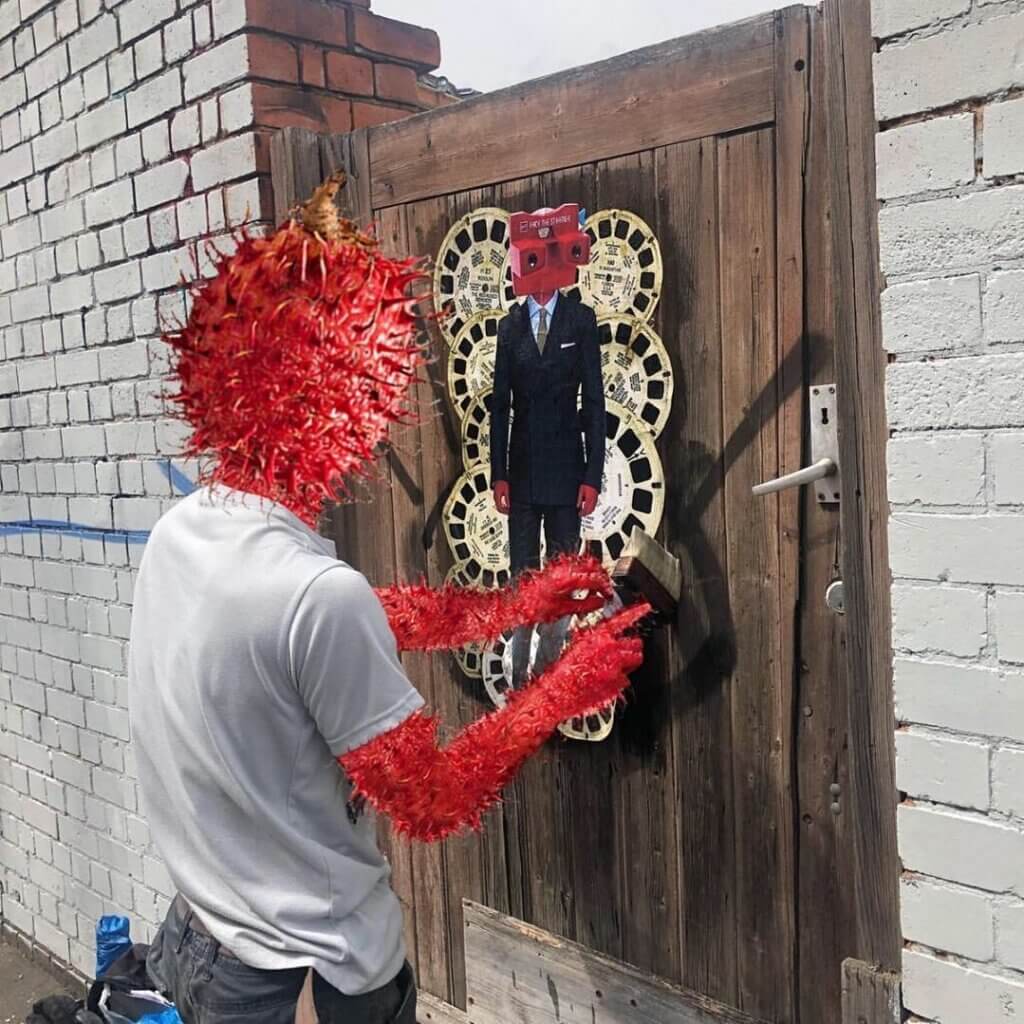 Q: What are you angry about right now?'
A: So-called "Fast fashion". I've had issues in the past with the brand Boohoo – and their uncredited appropriation of street art – and they've just exploded into the headlines in a big way over the last few weeks thanks to their carefree "profit over people" attitude, which has promoted slave-labour conditions in their supply factories and which may have directly forced the city of Leicester to spike in Covid cases. I don't often get up on my soapbox but they really do rile me.
https://www.instagram.com/face_the_strange_/
©2020 Face The Strange