London's Southbank Centre and artist STIK have joined forces to raise substantial funds for the Imagine Children's Festival, the leading arts festival in the UK for children aged 0-11. As part of this collaboration, Christie's Post-War and Contemporary Art Day Sale on Thursday, June 29, will showcase a unique collection of six artist's proofs created by STIK.
Earlier this year, STIK hosted the highly successful STIK STAMP, a series of free workshops at the Southbank Centre. During the nine-day event, 3,500 children had the opportunity to lift one of six life-sized inked rubber stamps, meticulously hand-carved by STIK and featuring his iconic minimalist 'stick man' figure, onto exquisite 100% wove hemp paper. By jumping, stomping, and stamping, each child created their own one-of-a-kind monochrome print to take home.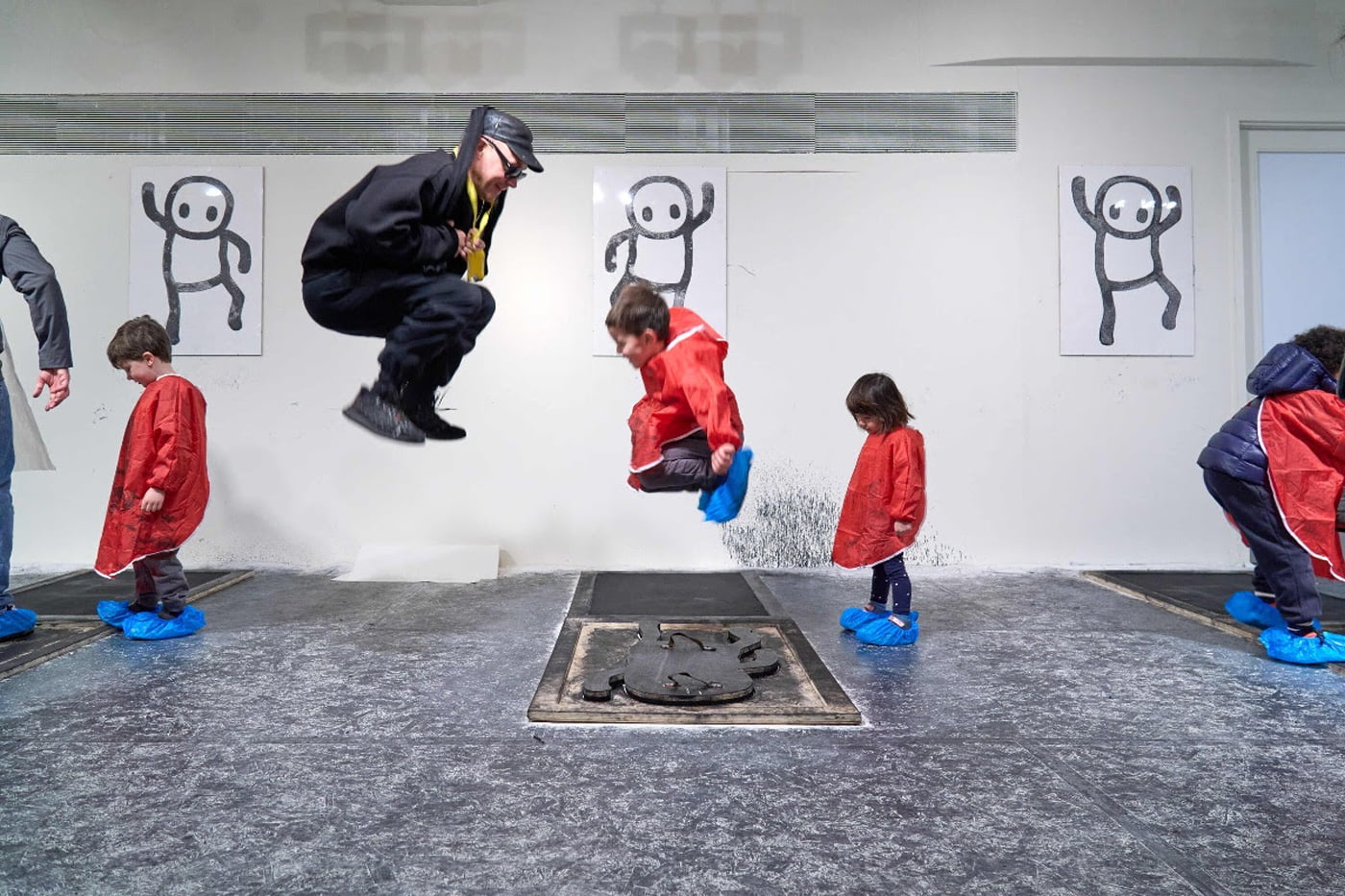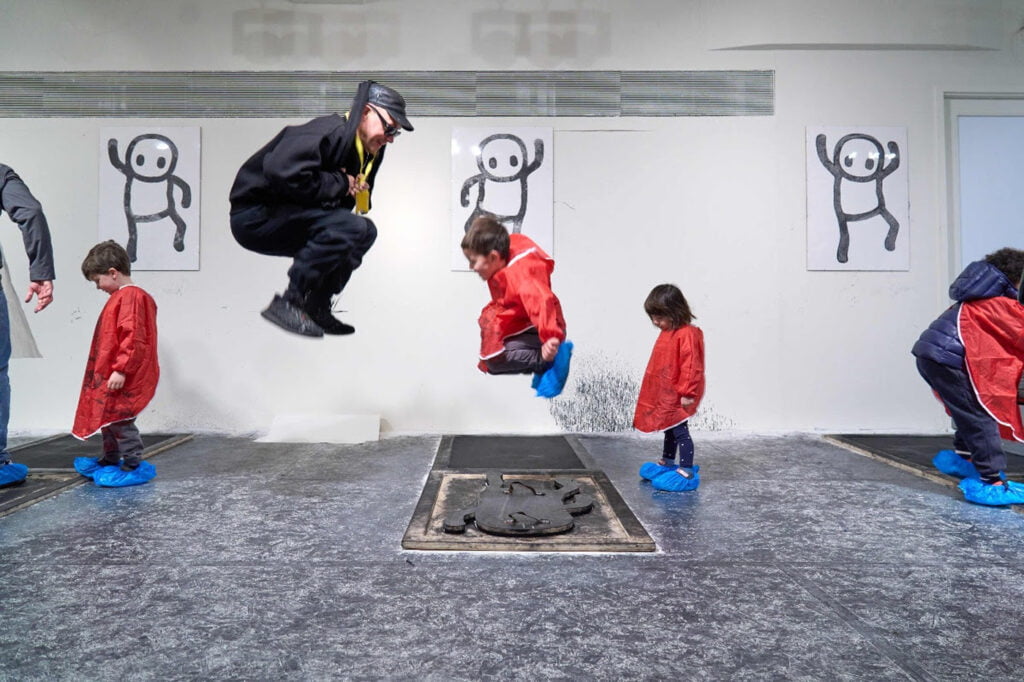 I made these artist's proof prints during the children's workshop to capture the chaos and energy of the event. It has been an honour to work with the Southbank Centre and I hope this sale helps provide more free events at next year's children's festival.
– STIK
To ensure the continuation of this artistic legacy and to support access to art-making, STIK generously donated his original signed artist's proofs from his personal archive to the Southbank Centre. These proofs will be auctioned to raise funds for the festival's free program during the Imagine Children's Festival.
The Imagine Children's Festival, held at the Southbank Centre, offers a vibrant cross-arts program featuring over 100 events in music, storytelling, comedy, dance, and visual arts, alongside interactive activities. At the festival's core are the free activities that constitute 50% of the program, making them accessible to children from all backgrounds and abilities. To continue providing extensive, high-quality free activities, the Southbank Centre relies on the support of private donors and funders. STIK's valuable contribution will directly support the festival's 2024 free program, enriching the lives of thousands of children.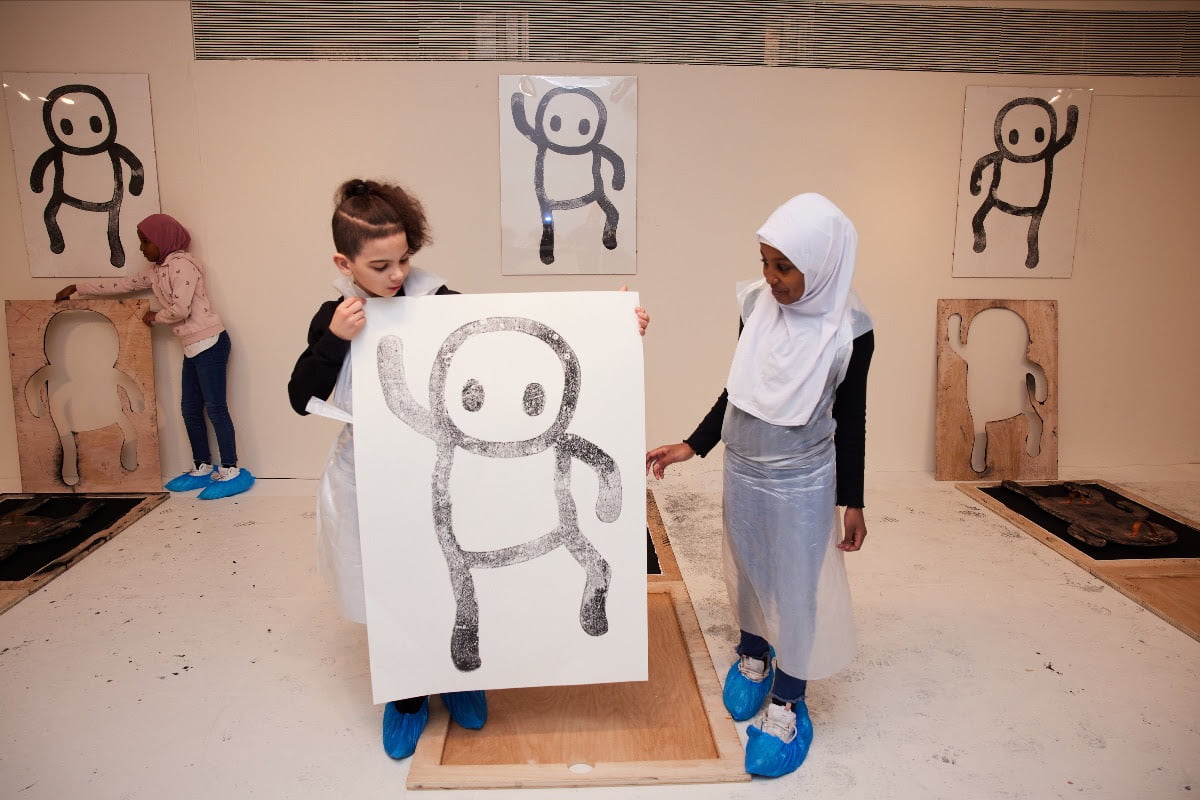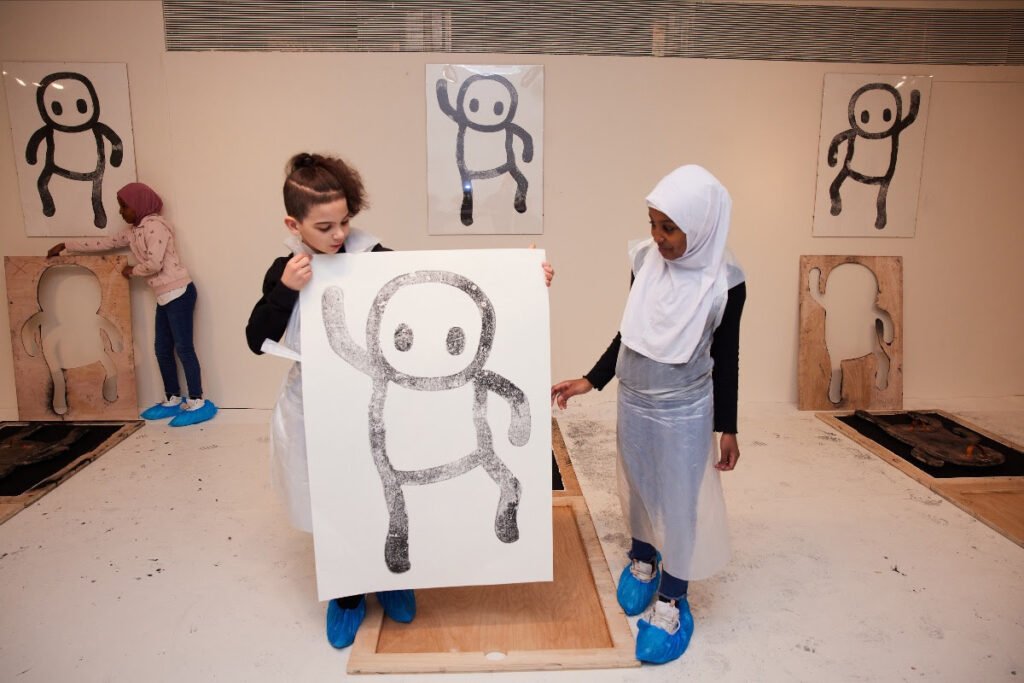 STIK Animation 'STAMP' to premiere at Glastonbury Festival
STIK's captivating 20-minute animated short film titled 'STAMP', showcasing the prints created by 3,500 children during the workshops at the Southbank Centre, is set to have its premiere at the Glastonbury Festival. This animated film features one of STIK's iconic figures dancing and stamping its feet. The film will be screened at the Hive stage on Saturday, 24 June, starting at 9 pm, accompanied by a live drum and bass session performed by the talented seven-year-old DJ Archie. DJ Archie, who previously headlined the Imagine Children's Festival and actively participated in the STAMP workshop alongside STIK.
The Auction
This is a unique opportunity to purchase the only set of artist's-proofs, made by the artist during the STAMP event at the Southbank Centre. Signed and numbered by STIK, each print is additionally marked with the studio insignia. The prints were made by stamping on hand-carved life-size rubber stamps, which were later destroyed. These six prints form part of an animation, which along with images of the prints made at the children's workshop, will be premiered at Glastonbury Festival in June 2023. They will be offered as a framed set with a low estimate of £15,000 at Christie's in London as part of the Post-War and Contemporary Art Day Sale on Thursday 29 June.
Auction Details
Christie's
8 King Street, St. James's
London SW1Y 6QT
Post-War and Contemporary Art Day Sale
29 June, 1 PM BST | Live Auction 21887
Lot 222: https://www.christies.com/lot/lot-6436915
©2023 STIK, Southbank Centre