The Koppel Project Exchange
193 Piccadilly, LONDON W1 9EU
23rd June – 27th June 2021
23rd June – 25th June 10am – 6pm
26th June – 27th June 12 – 6pm
PV: Thursday 24th June 6-7.30pm and 7.30-9pm
"I paint because I want to try and elevate painting to the same level as music. I want my work to
move people in the same way music does…."
The Koppel Project is excited to present the first major solo show of London artist Rebecca Gilpin. The exhibition features 16 new works created during and inspired by the UK's most recent lockdown. It represents a continuation of Gilpin's exploration of process painting and soak-staining unprimed canvas with the accompaniment of the carefully curated playlists that have become her signature.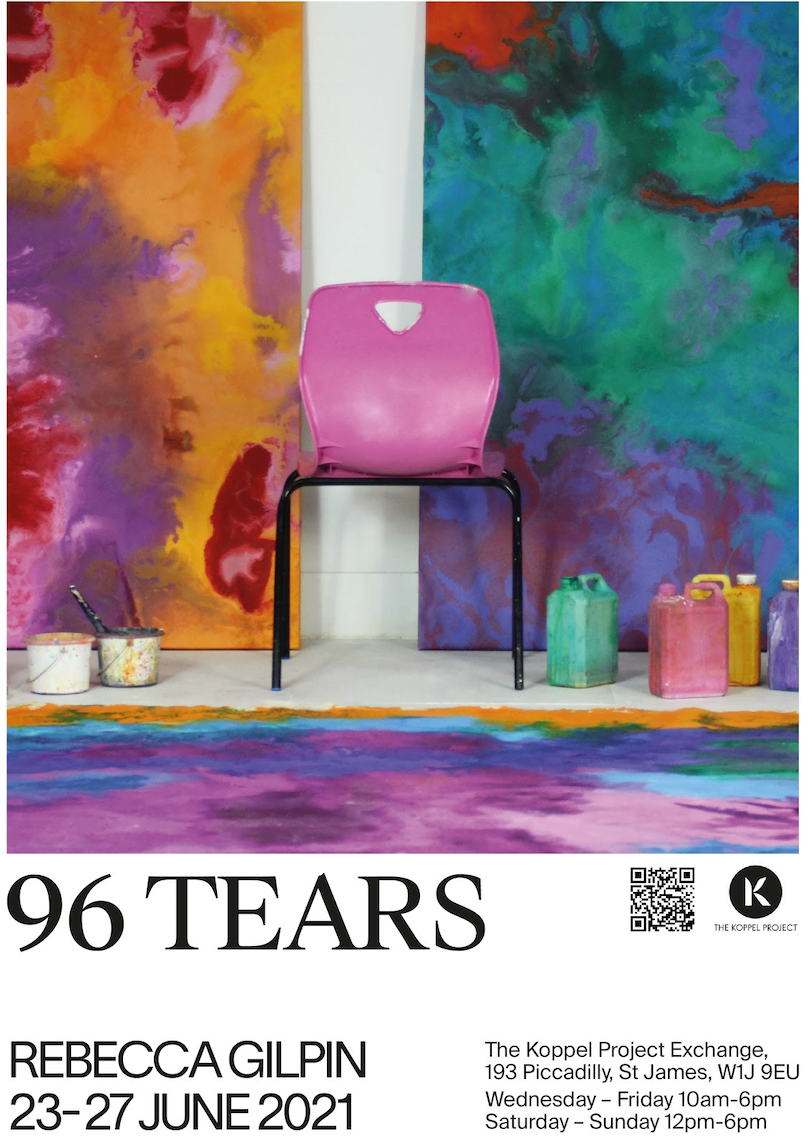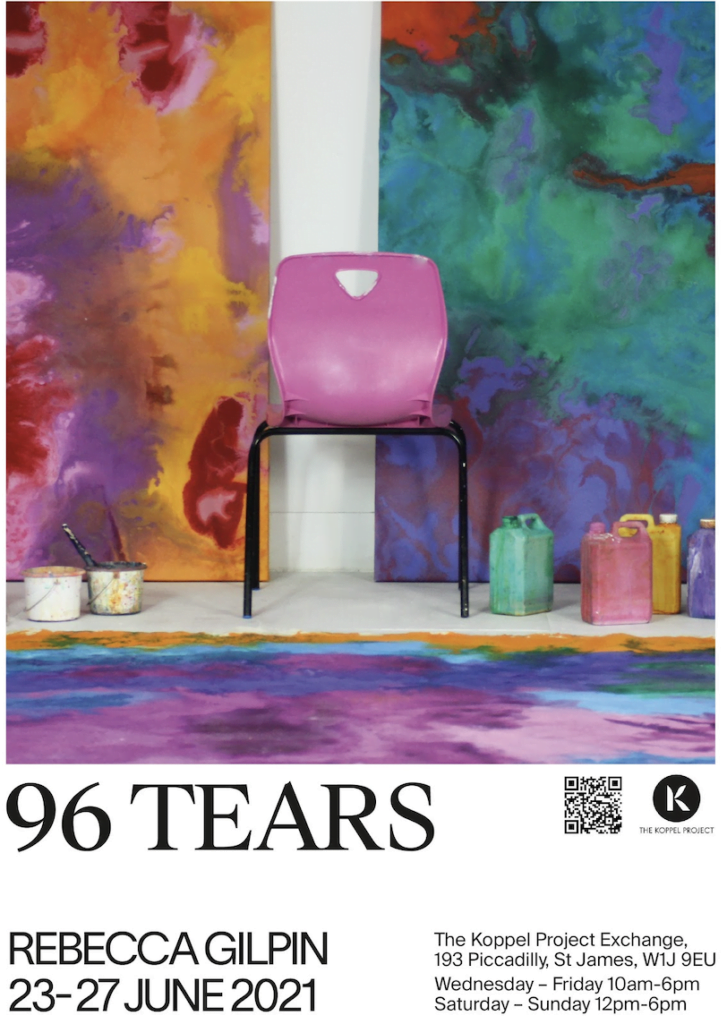 Gilpin is captivated by the moments where music and current events collide, naming many of her paintings after songs from bygone eras. The show's title, 96 Tears, comes from the 1960's
song by Question Mark and The Mysterians.
This new series is a manifestation of a melange of connections between nostalgia and memories, touching on themes such as spontaneity, chance, female fragility and empowerment.
Rebecca's work is an extended exploration of her take on life, each painting a large-scale abstract visualisation infused with autobiographical references and snapshots of stories she has read, all set to a background of music. Works in the exhibition will include an empowering reaction to the recent outpouring of grief and anger from the UK female community following the death of Sarah Everard. A second darker canvas reflects on our tentative emergence from a year of lockdowns, a reminiscence of the night life we had before the pandemic.
Gilpin's aim is to use the seemingly flat nature of soak-stain painting to transcend the universally understood everyday by creating rich pulsating experiences, like windows on another world.
Rebecca Gilpin (b.1996) lives and works in London. She studied fine art for five years, earning her MA in 2019 from Oxford Brookes. She joined The Koppel Project Central studios, Soho, in July 2019 and had her first solo show there in November. She has gone on to present two extremely successful solo shows at The Koppel Project Gallery in Poland Street.
Her paintings are on show in Chelsea and Westminster Hospital, St Mungo's women's hostel in North London, and the Vice Chancellor's office at Oxford Brookes. Her work has been sold to collectors in the USA, Mexico, and throughout Europe, as well as recently featuring in a magazine shoot with Russell Tovey of Talkart.
https://www.instagram.com/r.l.gilpin/
©2021 REBECCA GILPIN