With his background as an Architectural Designer, it is no wonder that architectural form permeates Mok's fine art practice. His drawings play with structure, he's made furniture, and he has built an army of strange, tongue-like "mini-characters" which rise like anthropomorphic skyscrapers in a city made of mud.
It's clear that Mok's work has a lot of thought behind it. He speaks with a philosophical wisdom that comes from having a multifaceted practice that has to hold together as a conceptual whole. In the following interview the artist tells us about the "problem-solving" versus "meaning-seeking" impetuses for creating, the unexpected influence of Bacon, and Instagram's role as a substitute for a child's blanket.
Q: First thing's first, introduce yourself! What do you make, how do you work?
A: I am Paul Mok, an architectural designer and artist from Hong Kong. I moved to Boston to study architecture in 2014. I moved to New York, where I am currently based, in 2018. My recent work ranges from architecture to furniture design to sculptural installations, writings and drawings.
If I have a specific project in hand, I tend to do lots of research around a topic. I like to collect as many materials as possible, even if most of them seem completely irrelevant at first.
If there's no project in hand, I tend to just start making something (e.g. making gestural forms out of clay), or putting random strokes on paper, or writing short proses, until a clearer intention emerges.
Q: What would you say your artistic background is? How long have you been working?
A: Strictly speaking, I don't think I have an artistic background. Instead, I have 10 years of experience in the field of architectural design. So, you could say that my training was initially in creative problem-solving rather than meaning-seeking. I have only started showing my works in art galleries since I moved to New York in 2018. Before that, I mainly took part in architectural exhibitions and shows.
Q: Where did *that* shape come from? Is it a tongue? Phallic? Alive?
A: I don't think that shape came from anywhere specific.
When I first moved to New York, I lived in a very tiny room on Wall Street. It was a bedroom converted from half of a living room (we call it a "flex room" here). It could only fit in a desk and a mattress. Due to the lack of space, I primarily worked on drawings for about a year. But making things with hands has always been important to me, even when I first started design school 10 years ago.
So, when my girlfriend finally convinced me to get my hands on some packs of clay, I started playing with them on the floor, right next to my mattress. I started squeezing them, smashing them, with no particular concept or image in mind… and that's how they turned out.
I think they are primarily gestures, a bit like the brush strokes in Francis Bacon's paintings. But as gestures, they have this intrinsic, suggestive quality. So when I curated them in installations, they could almost become mini-characters.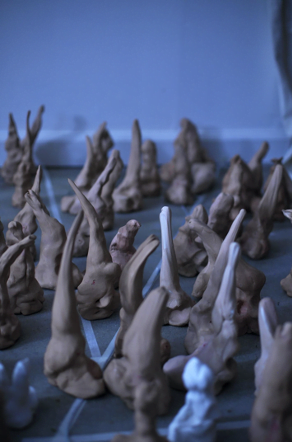 Q: Have you always created in a similar style?
A: I don't think so. My aesthetics preference and methods have changed quite a bit in the past years, in both my design and art works.
Q: Are there key themes in your work?
A: I don't usually start with a clear idea or theme. "Scenarios" is the first word that comes to mind. It wasn't a clear decision when I was making <You Killed A Kiwi> or <A Fountain Head>, but in retrospect, I think I was constructing scenarios – a certain, specific "conditions" – within these installations.
Q: What is your favourite piece you've created?
A: So far, I think <You Killed A Kiwi – A Situation Comedy For Those With Wounded Egos> is the most complete piece of work.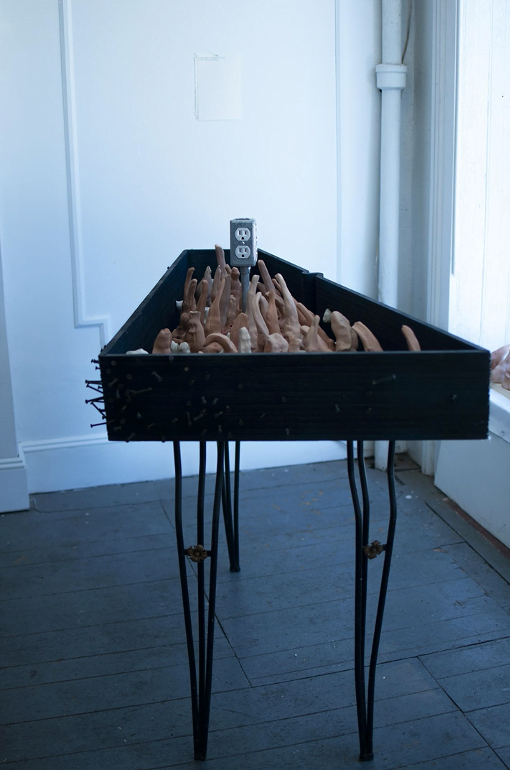 Q: What's next for you?
A: I want to be able to capture a fragment of existence (a particular set of circumstances, a specific part of reality) in my next project. And unlike <You Killed A Kiwi> or <A Fountain Head> – where the scenarios are contained, I want the audience to become part of the scenarios. Unlike feelings, circumstances cannot just be "felt", it has to be "experienced". It has to be addressed, dealt with. I want the audience to have to deal with the circumstances that I have curated. With that intention, I recently submitted an installation proposal to an open-call here in New York. I am waiting to hear back.
Aside from that, I have started making a triptych of drawings since the beginning of quarantine. Each drawing will be made of hundreds and thousands of pen strokes, similar to the Draft series thatI have done before, but a bit bigger – each drawing will be 2.5' x 3.5' (762mm x 1067mm).
I have also been working with a young lifestyle brand – WORM NY, on two display designs before the pandemic. As the city is opening up, I am touching up these displays now so that they can be used in pop-up venues.
<A Fountain Head> will also be shown in Art MORA Gallery in New Jersey from August to September this year. I am fine-tuning it.
Q: How do you strike the balance between being an artist and being your own salesperson?
A: As a role, being a salesperson is inconvenient for me, to say the least, and not particularly productive. But as a skill, it is something that can be learned.
Q: Social Media as a tool for artists – pro or anti?
A: For social media to be a "tool", an artist will have to know how to "make use" of it. Just like, in developmental psychology, a child will have to know how to "make use" of a blanket for it to become a transitional object – a "tool" to gauge reality. I don't think artists are making use of social media at all. We are just using it, like how we use a blanket, essentially.
Some years ago, Jim Joe used to have a website that had nothing on it and an instagram account with no contents and a Youtube account that had no channels – that was the closest, I think, for how social media could become a "tool" for artists.
https://www.instagram.com/paulmokk/
©2020 Paul Mok