For decades, Ghanaian artists' have captivated the art world with exceptional creativity and artistry, establishing the African continent as a nidus for discovering talent. If we take the affluent estimate of £650,000 to £850,000 at Sotheby's for artistic magnate El Anatsui's works as an indication, it appears that the future is bright for Ghana's younger contemporaries. A prognosis that encircles Ghanaian artist Pabi Daniel, at twenty-three, he is already on the cusp of greatness.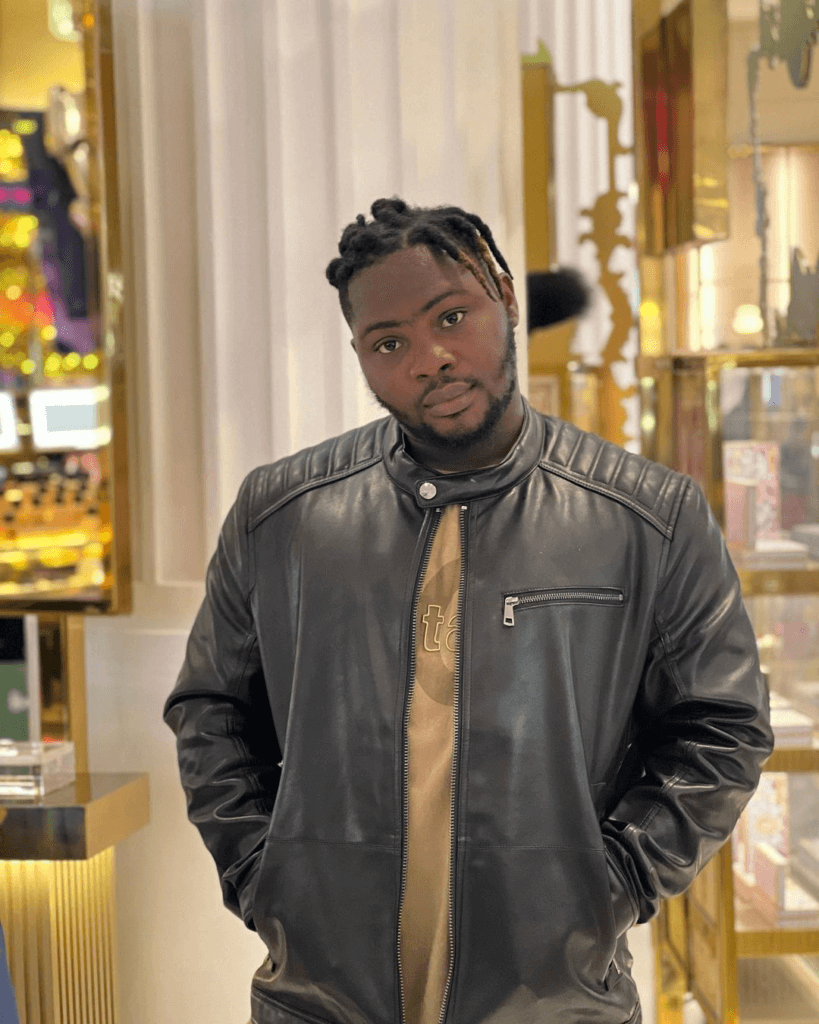 My obligation is not just to make beautiful paintings but to make bold representations that clearly define the space of black people in our history.

Pabi Daniel
Drawing influence from contemporary Ghanaian masters and digital animation, he seeks to subvert the canon of Western art history, the painters and their muses. Employing an elevated yet abstract approach to this critical genre in art history, he engages in conversations of identity, cultural expression and representation. Depicting anonymous young black men and women, including his heroes, to challenge the traditional narratives to create a place for them in the historical canon.
Daniel's abstract portraits are stunningly intricate; his figures poise with a cartoonish countenance, their empathy highlighted by sculptural layers and silky washes of paint. That seems to radiate an aura of mystery, igniting viewers' curiosity. Following the success of his exhibition in Paris with Anne Villepoix earlier this year, Daniel presents a series of new works for his first UK solo exhibition with Ed Cross, a gallery championing African art and artists for thirteen years.
Daniel's compelling eloquence has earned him recognition and swiftly put him on the path to becoming one of the most promising young artists to expend close attention to as he rises through the ranks of contemporary art.
Q: Hi Pabi! How are you doing? Thank you for taking the time to speak with us. Can you please introduce yourself for those who do not know you?
PD: Hello! My name is Pabi Daniel, I'm a Ghanaian and an artist currently living and working in Accra, Ghana. My practice is predominately painting, which serves as the vehicle I use to comment on issues about cultural identity and cultural preservation from a black perspective.
Q: Can you tell us how you started in arts, how art has played a role in your life, and why you decided to become an artist?
PD: I discovered my talent for art as a child, but for my parents, art wasn't part of the conversation at home, even though I knew how to draw and had a love for it. Of course, every parent wants their children to become doctors, lawyers, engineers, and so on – the safe stuff – but the funny thing is I wasn't discouraged with all that.
As I grew up, I decided to dedicate my time to developing my art entirely and later discovered that there's a course that helps creative young people like me pursue their talent. So, in senior high school, I took the Visual Art course, which allowed me to study ceramics, graphic design, and general art knowledge. Then after senior high, I was introduced to my mentor Larry Amponsah who helped me push myself as an artist in many ways – to search, discover and develop my creative voice.
Art plays an important role in my life by giving me a sense of "belonging" – when I say belonging, I mean that art serves as a place where you're not burdened by what others want you to become. It allows you to be who you are.
Q: Your practice focuses on portraiture with an abstract aesthetic that fuses sculptural layers and smooth washes, exploring themes of identity, cultural expression, and preservation. Can you tell us more about your practice, inspiration, creative process, and how you arrived at this particular style?
PD: I'm influenced by the story of my people in the sense that history has been nothing but a cover-up. When it comes to the story of Africans, the story of my people has been side-lined for so long.
So, I feel responsible as an artist to lift the carpet up and represent what has always been there – the thriving cultural evolution of my people. My obligation is not just to make beautiful paintings but to make bold representations that clearly define the space of black people in our history.
My creative process always starts with preliminary sketches, which can be from memory or images I come across on the internet. And then, they are transferred onto the canvas, which becomes the space where all problem-solving is performed. I developed my artistic style by experimenting, researching, and through play – adding and subtracting ideas – which led me to this point.
Q: Your current exhibition and first UK solo show, "We Gonne be Alright" at Ed Cross's new central London gallery, features more than a dozen new paintings. Can you tell us more about the exhibition, how it came about and what visitors can expect to experience?
PD: "We Gonne Be Alright" is my way of using this new body of work to encourage people who are facing struggles, challenges and sacrifices on a daily basis. In this exhibition, I focused on a new subject matter. It's about dissecting all aspects of black culture, and every scene features things black people go through, practice and celebrate.
For instance, we all know that football is a game that unites and brings people together – back in the day, it was a politically charged space in which black people were not allowed to partake, but now we see many heroes of the game are people of colour. It's about the present – the idea of Now is definitely something I'm playing with in the exhibition because the same history applies to swimming pools and even beaches.
There were times when even in their own countries, like apartheid South Africa, black people were not allowed on specific beaches – and that's without mentioning the west and America, were not so long ago, black people didn't dare to even think about swimming!
Q: The studio is the sacred temple of creativity. What are three things you can't live without in your studio?
PD: Music (Afrobeat and hip-hop), colours, and books.
Q: What's next for you as an artist?
PD: As a young emerging artist, my goal is to push myself creatively and explore new ideas.
Q: Lastly, what does art mean to you?
PD: If art makes me feel that I belong somewhere, then art is life. For me, art is about the fundamentals of living, co-existing amongst ourselves and our environment.
https://www.instagram.com/daniel_pabi/
©2022 Pabi Daniel