ONE BUT TWO (Haadzii)
June 5 – July 2, 2021
Otis Kwame Kye Quaicoe's second solo show with the gallery opens with a presentation of new works continuing his idiosyncratic perspective on Diasporic culture through the celebrated form of Black portraiture. This exhibition follows Black Like Me, the gallery's inaugural presentation with the artist and his first solo gallery exhibition in the United States, which took place January 2020.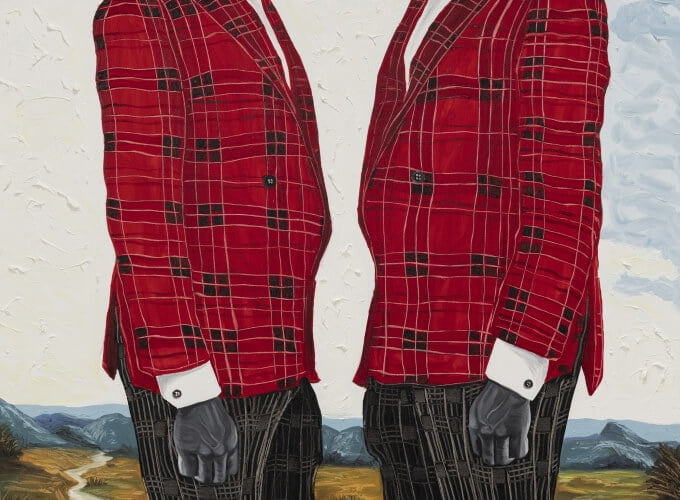 The son of a twin, Quaicoe takes on the subject of dualistic representation and double portraiture in twelve new large-scale paintings. Depicting both male and female pairings, his subjects are outwardly identical in appearance and placed within casual domestic settings. Quaicoe's paintings are unapologetically lush, rendered thickly with accents of bright reds, oranges and blues. They easily draw comparison to contemporary representational painters including Salman Toor, Lynette Yiadom-Boakye, Barkley L. Hendricks, and Nicole Eisenman. 
 
The backgrounds continue his recognizable stylistic treatment of paint, whereas the sheer physicality of Quaicoe's hand lends itself to more immediate readings of the potency of the painting's visual impact. Drawing inspiration from the tradition of African tattoos, Quaicoe transmits on his subjects' bodies the echoes of memories by directly carving into the paint, drawing onto their faces, arms and legs. These markings—a technique newly introduced by the artist—embrace each curvature and line of the body, and can appear almost as preparatory sketches transposed on the surface of the paint. Exquisitely placed fabric details highlight important details of each subject. Across this body of work, Quaicoe's visual vocabulary celebrates both materials and cultural influences to create an homage to the rich history of Black portraiture. 
 
A painting of two women in white Levi's shirts and jeans demonstrates his ability to capture the sameness and slight differences of his female subjects, with both women smiling and posturing to the viewer, though the woman on the right appears more confident and outgoing. Two men in slouchy blue berets pose almost defiantly in front of a wall-hung familial portrait, differentiated only by their colored shorts and by the potency of their gaze. Young boys and girls in fashionable clothing pose and preen, exuding a cool self-awareness only possible in a social media age, though on a deeper dive, individualistic appearance choices materialize.
The unrefined quality of the subject's pose and demeanor hints at a shared intimacy and natural bond, whether manifested by a physical or emotional familiarity. Similarly, whether by design (appearance) or chance (character traits, body language), Quaicoe insinuates that each of the subject's individual identity is tied to that of his or her companion.

"Haadzii," the Ga[i] word interpreted loosely as "twin-born," emphasizes the harmonization of humanity, specifically the innate link between the corporeal and the spiritual, that resides within one body. This duality of self-experienced in the Ga religion is outlined by Marion Kilson in her research into the phenomenon of twin births, where she states that the "soul (susuma) inhabits the body (gbọmọ tśo) except during sleep, when it leaves the body and travels about without being limited by time or space."[ii]

Twin births are attributed as an unusual but auspicious phenomenon from the Supreme Being, or Ataa Naa Nyongmọ, personified by the Ga as a creative life force. Everything done for one must be done for the other, and for every human-born pair of twins, it is of the belief that a corresponding pair of bush cow spirits is dually linked. A shrine (kodziŋ) consisting of a pair of bush cow horns (kodziŋ) and other objects, is constructed in the home. Margaret Fields observes, "when the twins are a week old, in addition to their ordinary naming ceremony, each receives a little clay pot which is embedded in a little clay platform outside the house."[iii] If one twin passes, especially in the perinatal period, a symbolic surrogate, such as a carved figurine, is continuously carried, catered to and cared for.

Twinned and inseparable, twins are the existential instantiation of spirit, which explains the expansive, joyful rituals surrounding their births in Ga culture. Quaicoe's new paintings engage with these complex dynamics while approaching considerations of color, line, and shape through the structures of historic portraiture. That said, these portraits, as most of Quaicoe's figurative work, can be read as direct confrontations to the institutional portrayal of Black individuals.
https://www.instagram.com/robertsprojects/
©2021 Otis Kwame Kye Quaicoe, Roberts Projects