Luke Paul Dawes is a rare talent. His semi-abstract works show a compelling paradox: they have the semblance of formal structure, but also a wilder, looser, playful nature. Piece after piece, Dawes' viewer is confronted with images of image-making, illusionary layers, and half-recognisable references to objects and textures.
Fresh from his BA at the Ruskin School of Art (University of Oxford) where he was the recipient of the CVAN Platform award which supported his first solo exhibition at Modern Art Oxford, Dawes is on an incredible trajectory. While he does note the difficultly post-study to sustain a student's productivity levels, Luke seems to be hitting the ground running with great success during the recent months with Artist Support Pledge sales.
In an exclusive interview with Art Plugged, Luke talks to us about the role of the artist, "making artwork in a heavily intellectualised space", and when a work is finished.
Q: First thing's first, introduce yourself!
A: Hello! I'm Luke, and I'm an artist based in Cardiff, Wales, primarily making wall-based artworks. I usually use painting, drawing and collage as a way of creating images.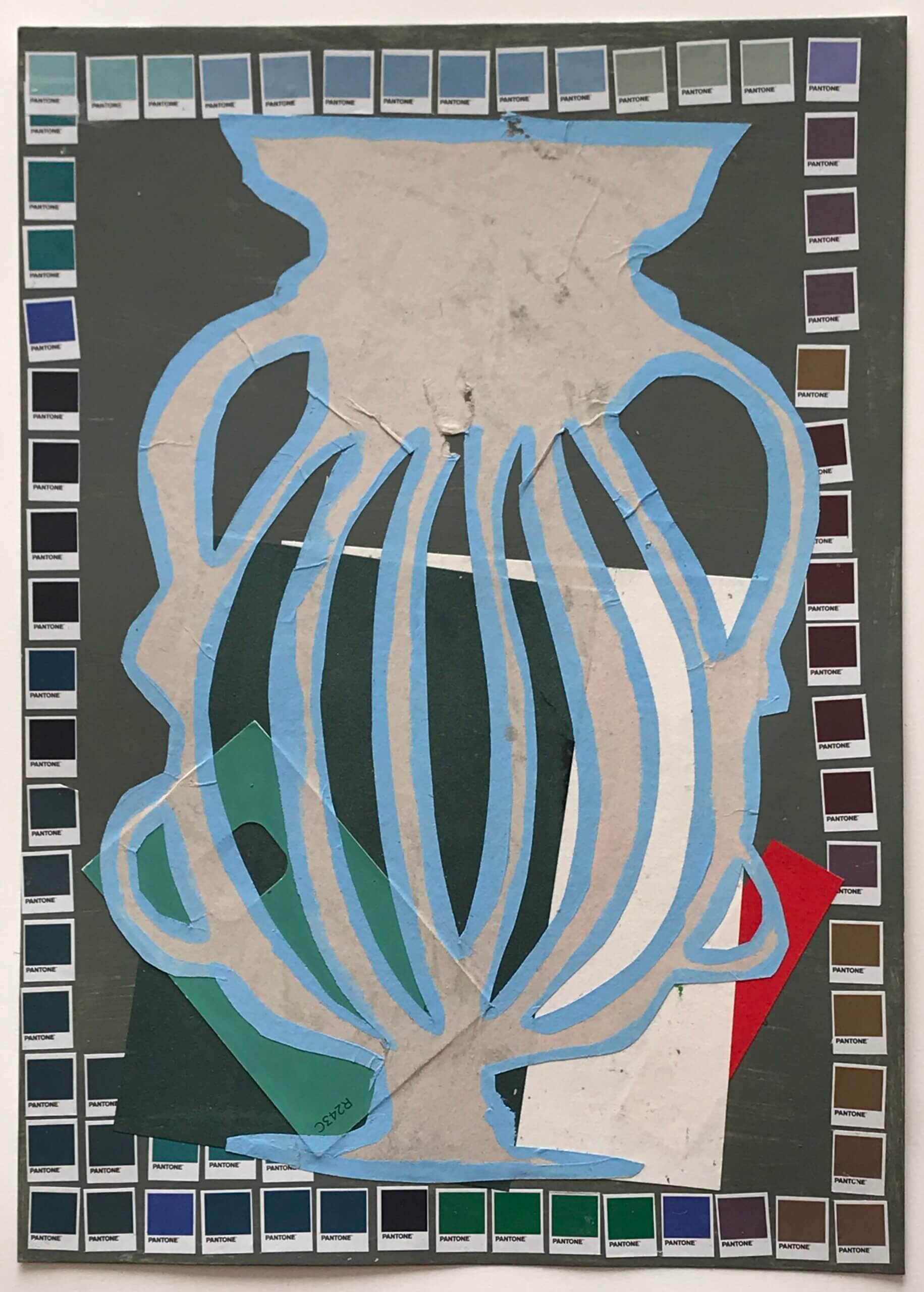 Q: What ideas do you like to explore in your work?
A: I'm inspired by lots of different ideas to make my work, recently I have been exploring how to reference the art-making process itself in the work. This has taken many forms; repainting my colour pallets used for other paintings, alluding to the process of collage through imitating tape holding a painting together or drawing the stretcher bars from behind my paintings. I'm enjoying drawing inspiration from what are usually the means I use to create work, as the source of visual imagery.
Q: What is your creative process when you're creating?
A: I usually listen to some music or a podcast when making art. I start the day by taking the time to properly look at what works I've made the day before that are mostly in different stages of completion and consider what I want to focus on. I work in quite an idiosyncratic way and spend a lot of my time jumping between drawing and making paintings.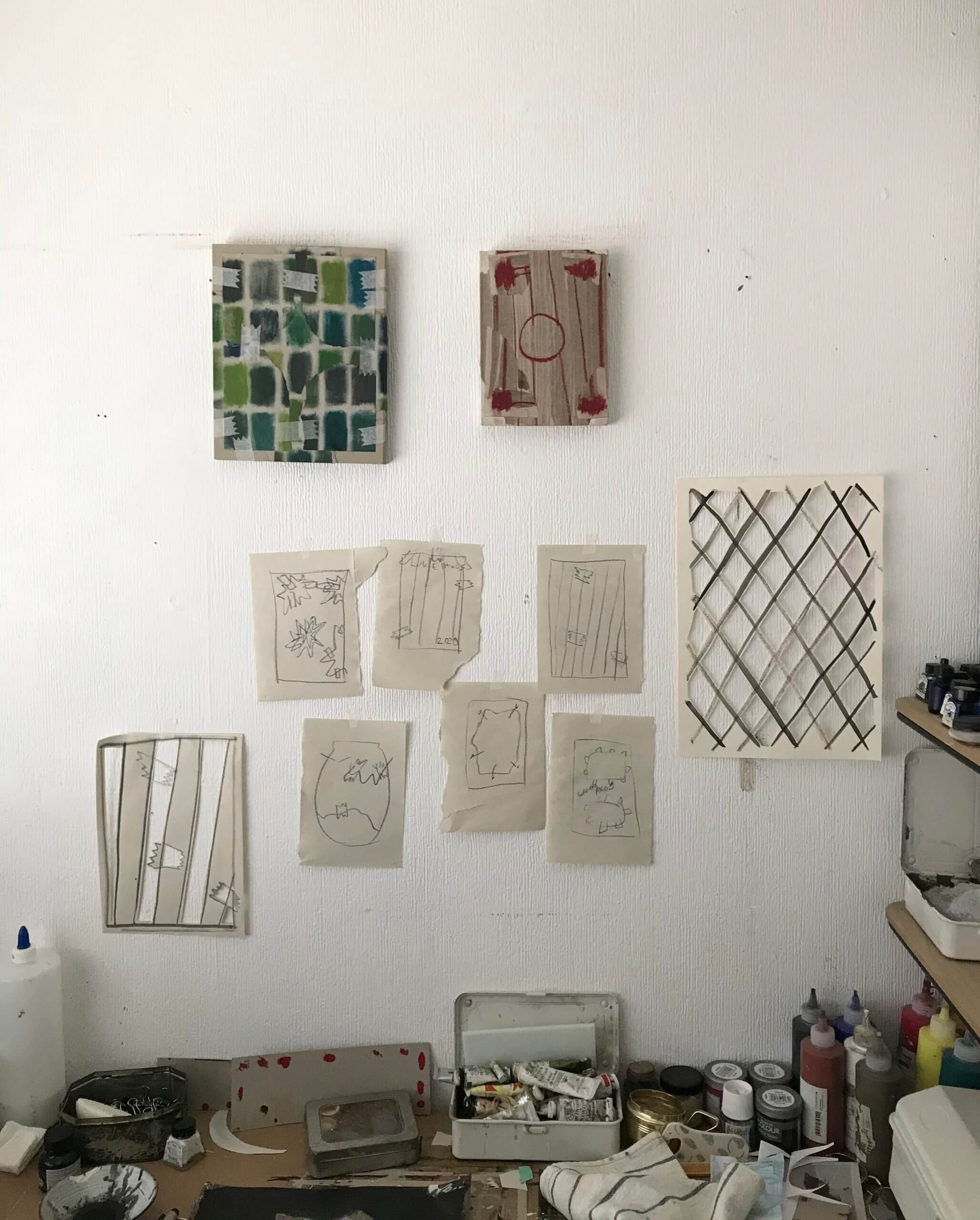 I intend for my work to allude to different imageries, aesthetics and spaces that I find interesting. I tend to take a lot of photos of things I find stimulating, creating almost a personal archive of images, and consider ways that they can be rearticulated or abstracted through painting. My work often references the domestic, or the art studio, as I find the spaces of which we cultivate ideas, to be quite revealing to our inner workings. I often find myself re-drawing an object until it becomes somewhat removed from its original form, allowing it to appear abstract, then using these drawings in compositions where I think they work well with other forms.
Q: Which is your preferred surface for working on?
A: I enjoy using wooden panels, as the surface can be altered many times without making too much damage in the way a canvas would. More recently, I have been making paper-based works. I find working on paper to be the best way I can articulate an idea quickly and have an elemental sense of play.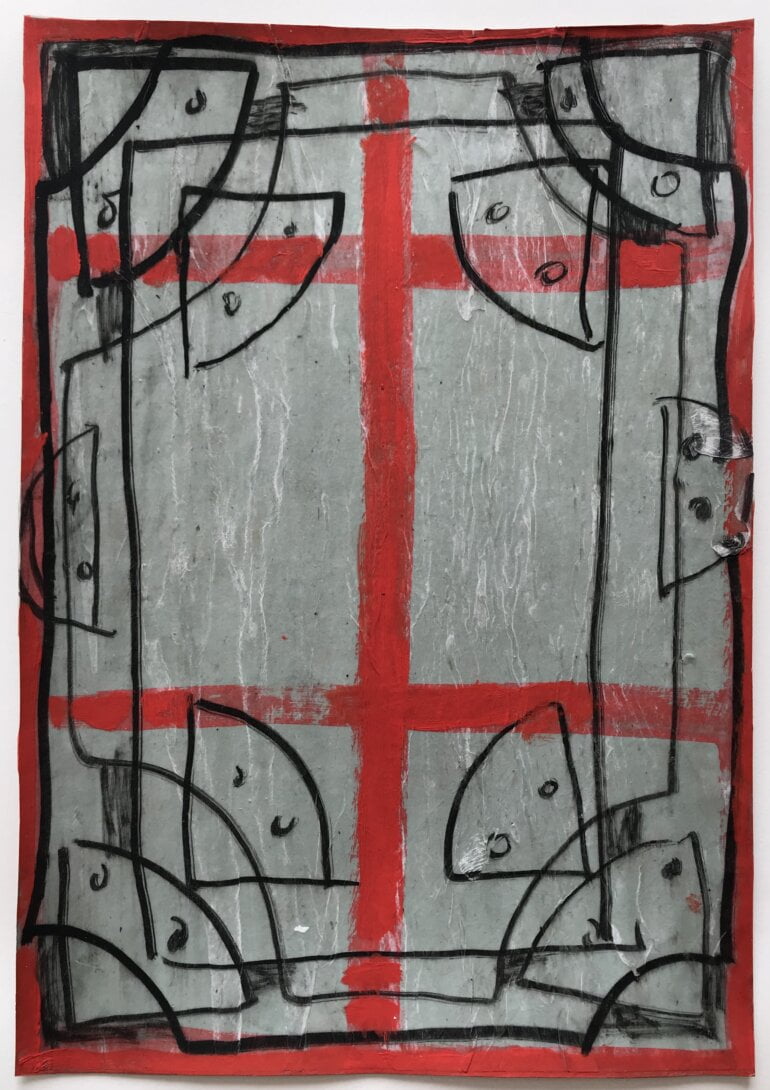 The work I've been making over the last few months has been around A4 size; the scale feels more relatable and familiar, a predictable size of a letter or a flyer that can be tacked up to a notice board. This seems appropriate to my practice as my works are intended as a series of workings or fragments, like one tile in a mosaic of a larger visual enquiry. I enjoy leaving traces of workings-out as a way for my works to reference the art-making process itself. I find that the nature of making artwork on paper implies that it is a study to be scaled up for larger works, rather than artworks in their own right, I think this opens up space for me to be inventive and try out different processes.
Q: What would you say is an integral part of the work of an artist?
A: I am a firm believer that everything you see, hear or experience can be used in your artwork, even if it isn't necessarily visible in the work itself. I like to think the role of an artist is to digest and respond to the world in a way that feels authentic to you, even if it is through small gestures.
Q: What would you say your artistic background is?
A: I did a foundation art course in Cardiff where I grew up and went on to study at the Ruskin School of Art (University of Oxford). It was interesting making artwork in a heavily intellectualised space, especially as my work is primarily surface and material driven and not necessarily rooted in one particular narrative or dense conceptual research. Towards the end of my degree, I was really fortunate to have had been shortlisted for the CVAN Platform award, which led to my show 'Self-Assembly' at Modern Art Oxford.
The show was an accumulation of works that were made during my last year of study, with a collection of works on paper along with expanded painting and assemblage works. Post-Study, I found it difficult to produce artwork consistently and took a creative break to really consider the direction I wanted to take my work. In that time, I was gifted the book 'Find your Artistic Voice' written by artist/writer Lisa Congdon and I definitely recommend to anyone who is experiencing creative burnout. It was a great tool to rediscovering what work I wanted to make and has led to a sense of clarity and confidence in my new body of work.
Q: When do you know when a piece is finished?
A: I find this one of the most difficult things when making artwork, especially considering that I work on multiple pieces at the same time and they are made of various layers of complied drawing and/or painting. I like my works to have a sort of serendipity to them, almost as though they assembled themselves. I usually give myself a few days from when I think it is complete to ensure that it has been pushed as far as I can take it. I would rather start a new piece and explore a new idea than holding on to making an older piece 'perfect'. As a result of this, my works are rendered to different stages of completion, with some works being simple suggestions and others, more fully realised ideas.
Q: What is your favourite piece you've created?
A: I go through waves of interest in past works I've made, disliking, loving and then being a bit indifferent about them, but I feel as though this is a common shared experience of art-makers as we are always thinking about the next drawing, the next painting, the next exhibition. I find this approach keeps the work fresh and of the moment. However, one piece that has stuck with me is this piece from 2018 called 'A Balancing Act'. I think it's probably one of my favourites because I remember how fun it was to make, and how much I learned from making it. I knew I wanted to work with textiles as I had done some reading on the historical relationship between painting and tapestry.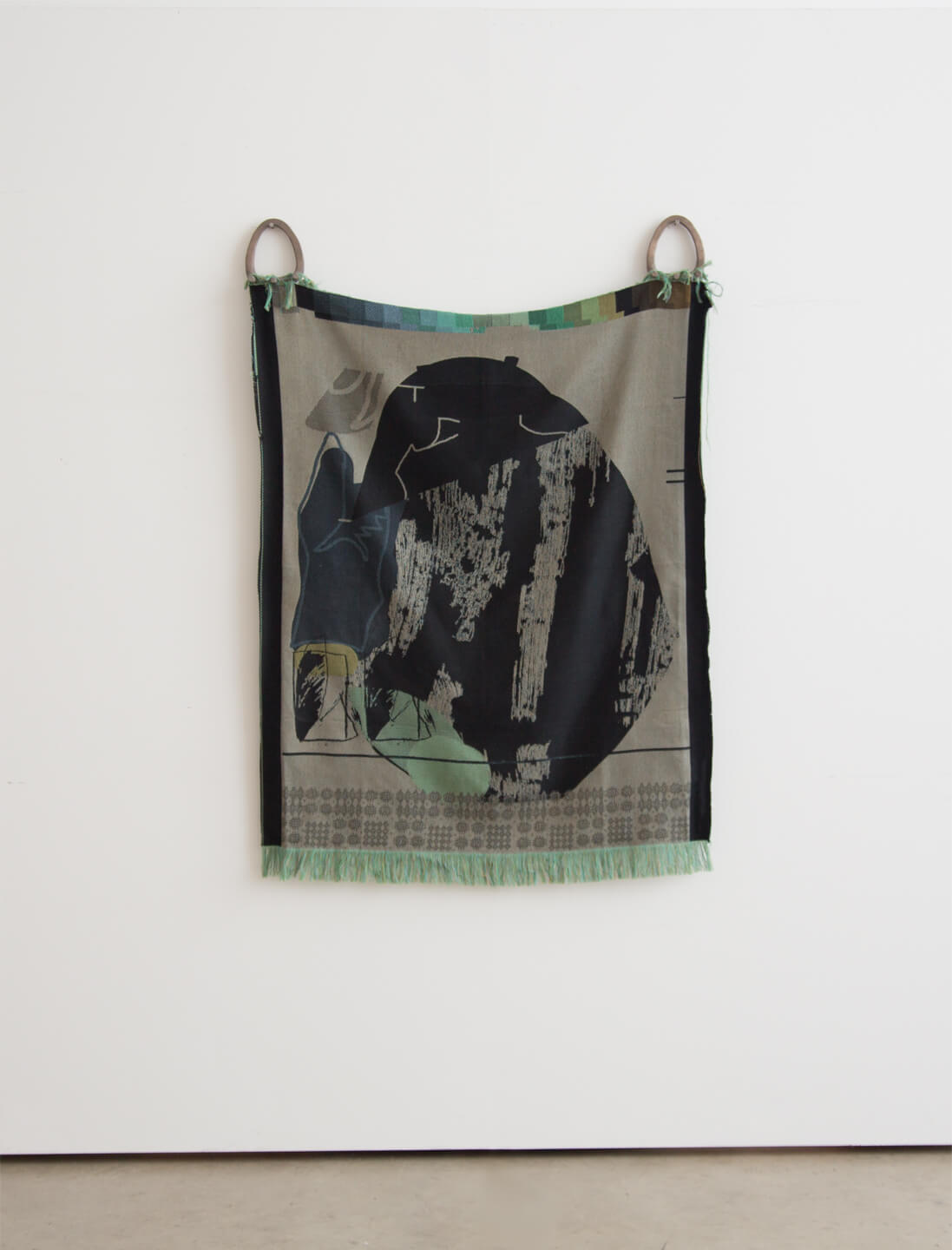 I also wanted to shake up my approach to painting and observe what would happen if I translated the surface of a canvas into the surface of a textile. I usually find it difficult to name my pieces as I know how much of a framework to viewing an artwork some accompanying words can give. However, 'A Balancing Act' was something that came to me through the making, as I felt that I was wearing a few different hats whilst making it, blurring the line between painter and craftsman, and allowing the process to be out of my hands through machine intervention. I also like the duality of the wordplay as it implies how the piece is precariously hung by the handles.
Although, having said this, my favourite piece of so-called 'art' I've ever made was a plaster-of-Paris, faux-gold painted medallion I made at an after-school art club aged 7 that has become almost a studio mascot. I vividly remember how after weeks of going to the club and finally finishing the piece, I dropped in on the floor outside of the building, breaking it clean in two (Mum kindly did some stellar super-glue work to Frankenstein it back together).
I kind of like to think of this as a sort of mantra when making art, and not to get too precious over the work I make and to keep attempts I don't enjoy in the hopes that they will serve a purpose in a collage or part of a larger piece. When I actually think about it, I don't think I'll ever be as chuffed with a piece of artwork as I was with that one. It's all downhill from there really.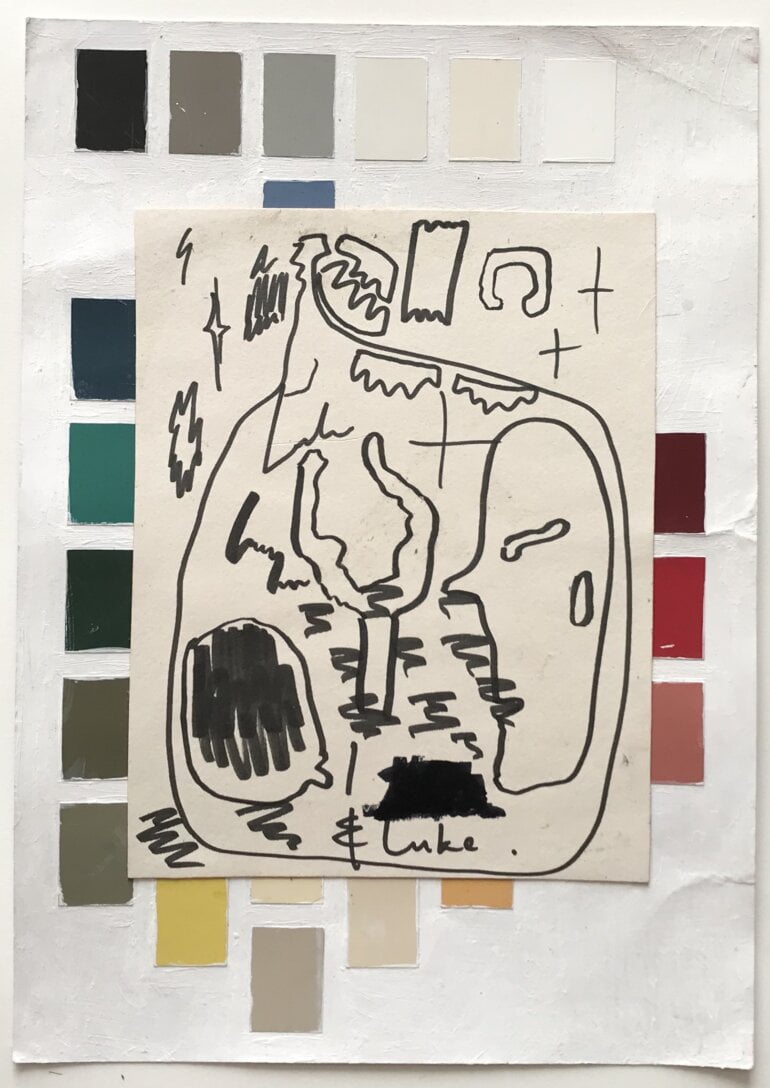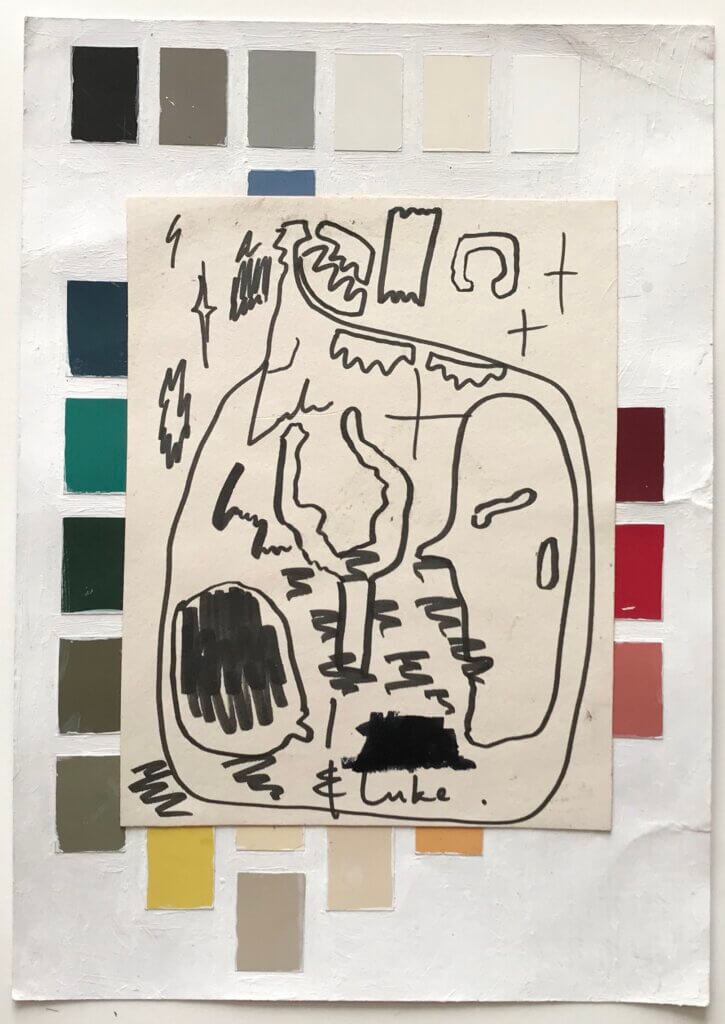 Q: Who are your biggest inspirations?
A: I'm mostly inspired by artists who have an eclectic taste in both subject matter and materials and are unafraid to reinvent themselves and their approaches over their career. To list a few Artists that have inspired me recently: Jockum Nordstrom, Karin Mamma Anderson, Tom Howse, David Hockey, Henri Mattise and Betty Woodman (although if I was asked this question in a few months' time I'm sure it would change again, as I'm always looking for new inspiration).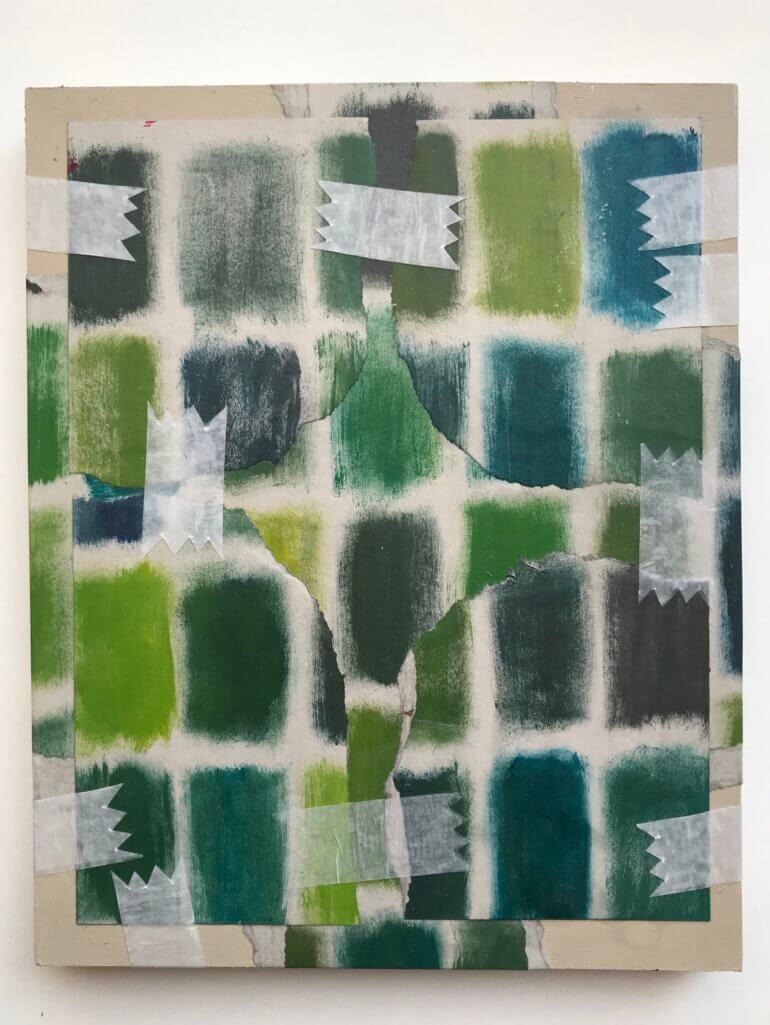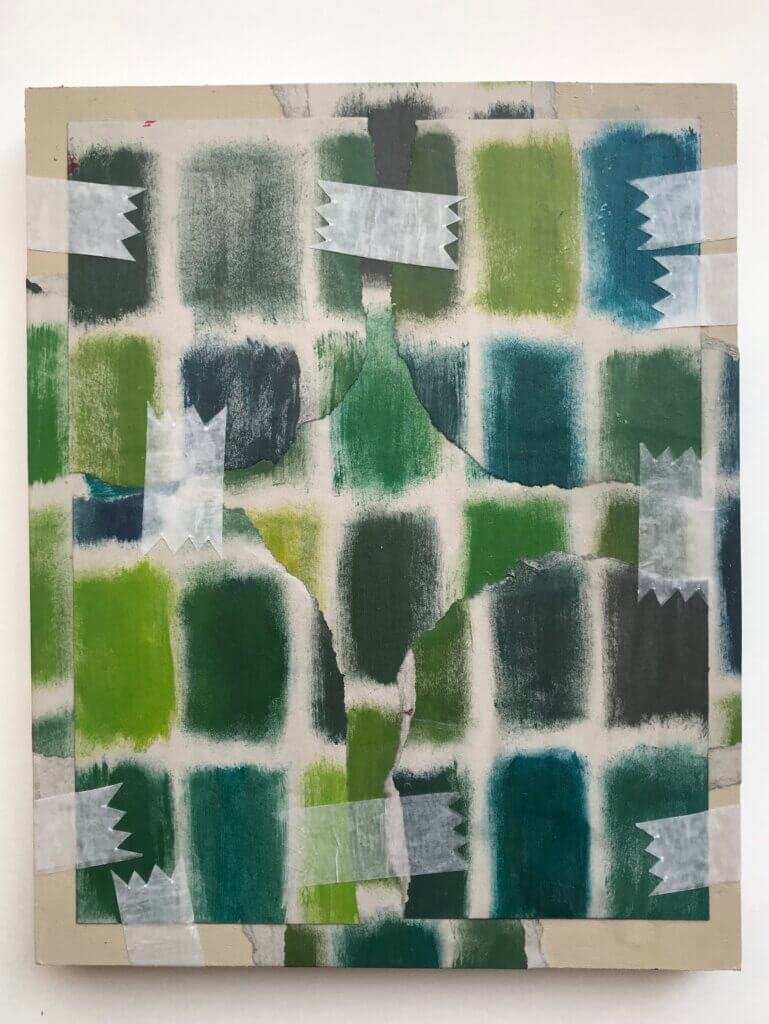 Despite them having quite different visual languages and approaches to making, I find each of their artworks have a certain level of mystery and playfulness to them, which I find endearing and hope to achieve in my own practice. I'm also really influenced by things that might not be considered art for their purely aesthetic values; craft, fashion-trends, design.
I think it would be difficult in the age we live in to not acknowledge the effect that seeing huge amounts of imagery online has had on artworks being made. I think that whether intended to or not, my work draws from lots of different visuals a result of consuming and witnessing a plethora of images online.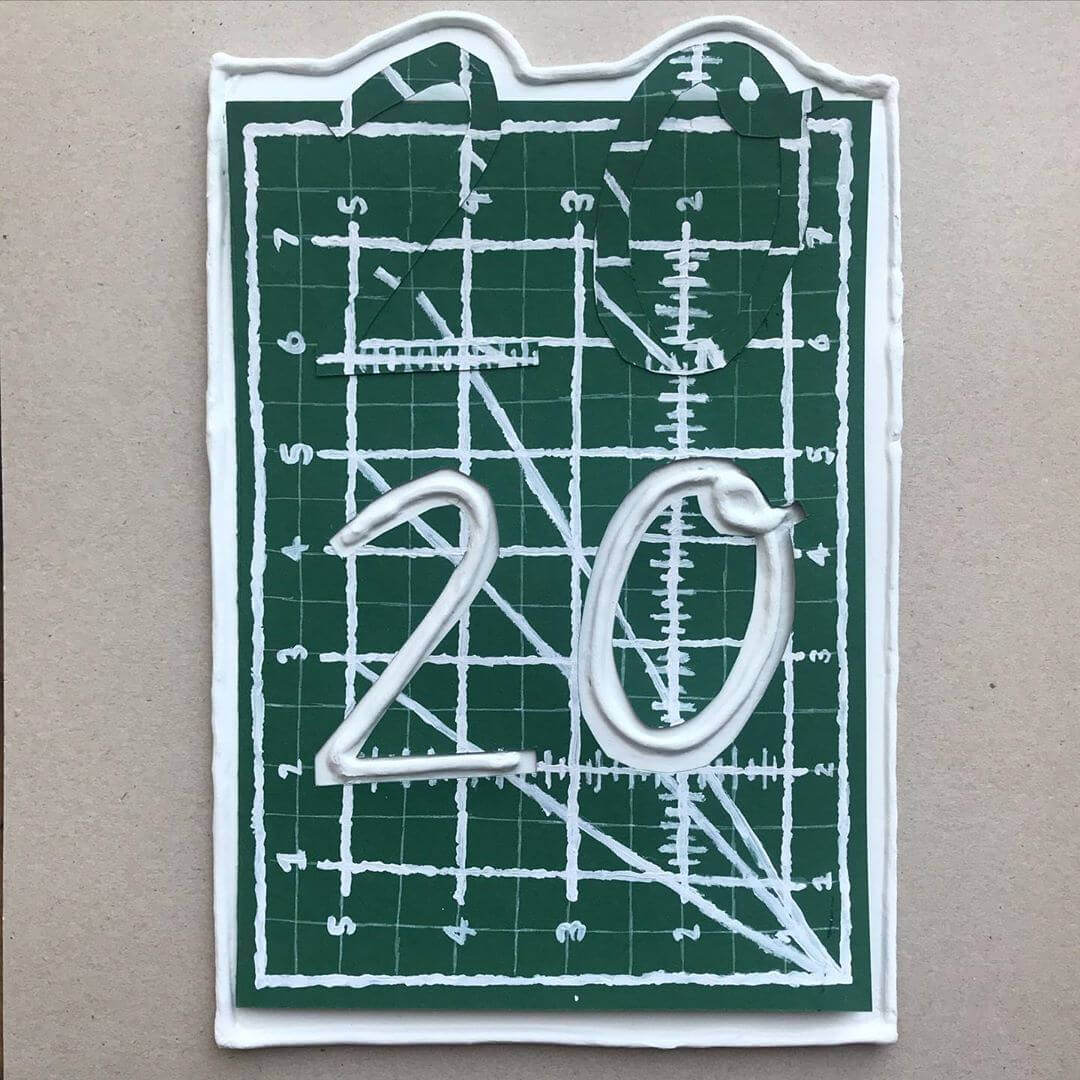 Q: Social Media as a tool for artists – pro or anti?
A: I think I can be a bit of both. I don't think Social media is the best way to determine value and impact of an artwork, as I find the gallery experience the best way to spend time with a piece and see it in relation to other artworks in a more balanced way. Having said this, Social media plays a major role in keeping me aware of the international art scene and the wider context in which I am making work.
I personally use social media as a tool to keep myself accountable to share what I am working on (even when I don't think it is particularly brilliant!) as it helps document the development of my processes and voice as an artist.
https://www.instagram.com/lukepauldawes/
©2020 Luke Paul Dawes