On view June 27 – July 18
Lauren Hana Chai was born and raised in Honolulu, Hawaii being the first of her family to be born in the United States. Raised by her grandparents who are from South Korea, she grew up with dual cultures: Very traditional with a Korean lifestyle at home, while at the same time being immersed in the western world outside. In 2010, Lauren moved to San Francisco to attend the Academy of Art University and graduated in 2015 with her BFA in painting.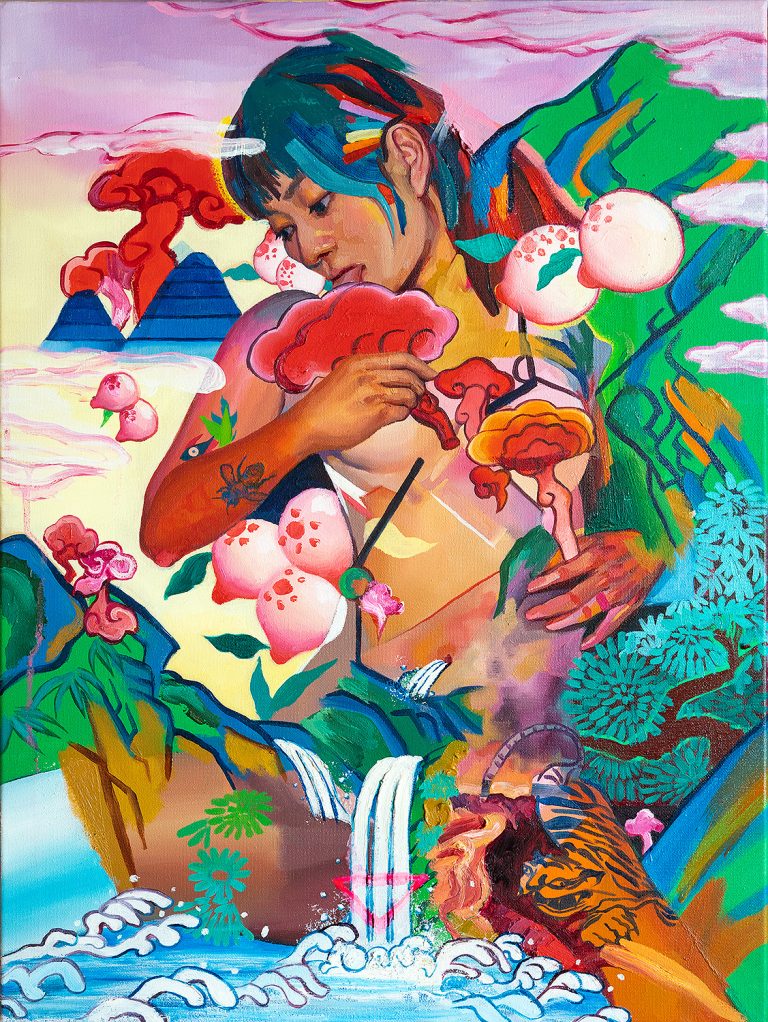 Lauren uses unconventional mediums with mixed media as well as working with her first love, oils. The mixed media brings together different elements which is a reflection of her identity. She paints issues such as taboo, the Korean cultural trait han, history, the clash of traditional and modern, east and west, and the struggle for balance in between.
"The Little Death" is a play between sex and death, the desire to live forever but also the inevitable return of our bodies to nature. I was raised by my grandparents and as they are now near death, they talk about leaving this world all the time. When I think about their death, I think about the entirety of their lives, how they lived it, what actions and decisions they did or did not make. I also see their different emotional reactions to it, my grandma: ready to face death and leave this earth, my grandpa: absolutely terrified but does not want to admit it.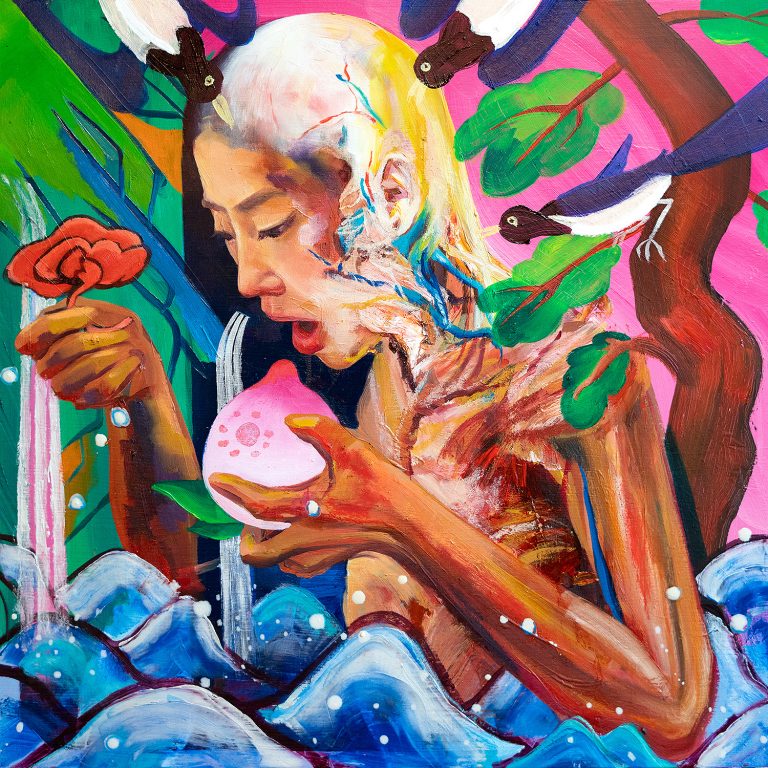 I reflect on how I want to live my life and how I want to face death in the end through this series with most of my models being people I know or myself. The different stages of decomposition of the bodies are portrayed as an abstract beautiful mess rather than something to be disgusted or fearful of. The symbols I paint frequently, such as the Korean peach and sacred fungus, are tied to symbols of longevity in Korean classical folk paintings. Back then, these paintings were accessible only to the high class but I paint these symbols today for everyone to enjoy, and I truly feel that I am giving my blessings to the person I am painting.
More than just an image, it is an energy. The sacred fungus in particular was highly sought after and emperors would send out troops to look for it in the Korean mountains. It was truly believed to give one eternal youth. Today we take psychedelics as a way to transcend our shared human fate. Procreating is also a temporary transcendence of death and ultimately transcending it in the future as well by passing on DNA.
I would be lying if I said I wasn't afraid of death, but there is an invisible thread that links us to our past and connects us to our fellow humans and the rest of nature. This thought alone helps me see my little death as a part of the bigger universe and I feel a little less scared.
The Little Death (Project Room)
Opening Reception with the Artist(s):
Saturday, June 27, 2020 6:00pm – 9:00pm
© Copyright LAUREN HANA CHAI 2020