Katie Hallam's Instagram feed (@the_beautiful_error) has recently been filled with "Future Techno-Fossils", her newest project which places digital-mineral hybrids in urban spaces. These blocks of matter are hard to describe. Their structure is like rock from a quarry, but their upward facing surface is flat, colourful, and glitching, like a smashed phone screen. They are beautiful and perplexing.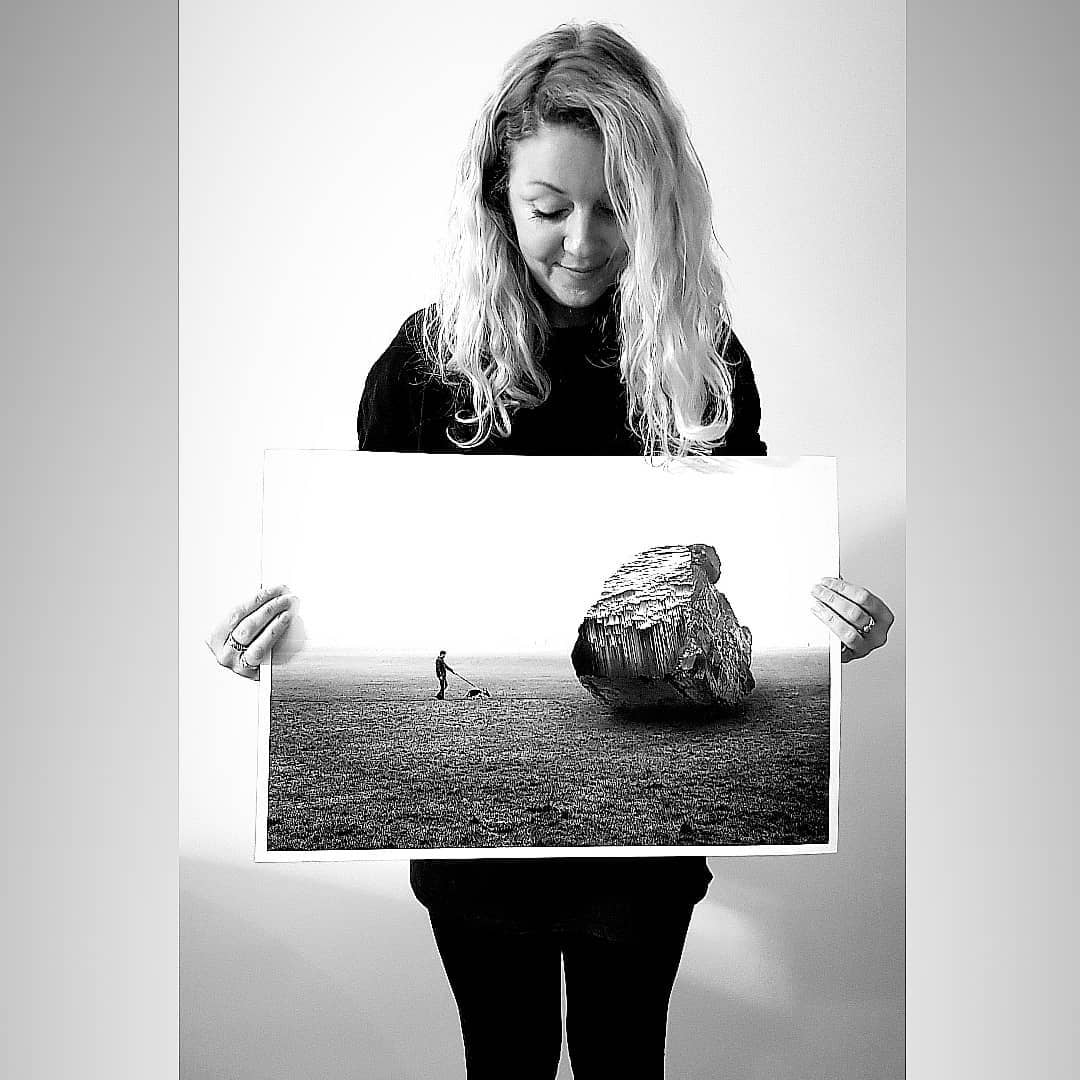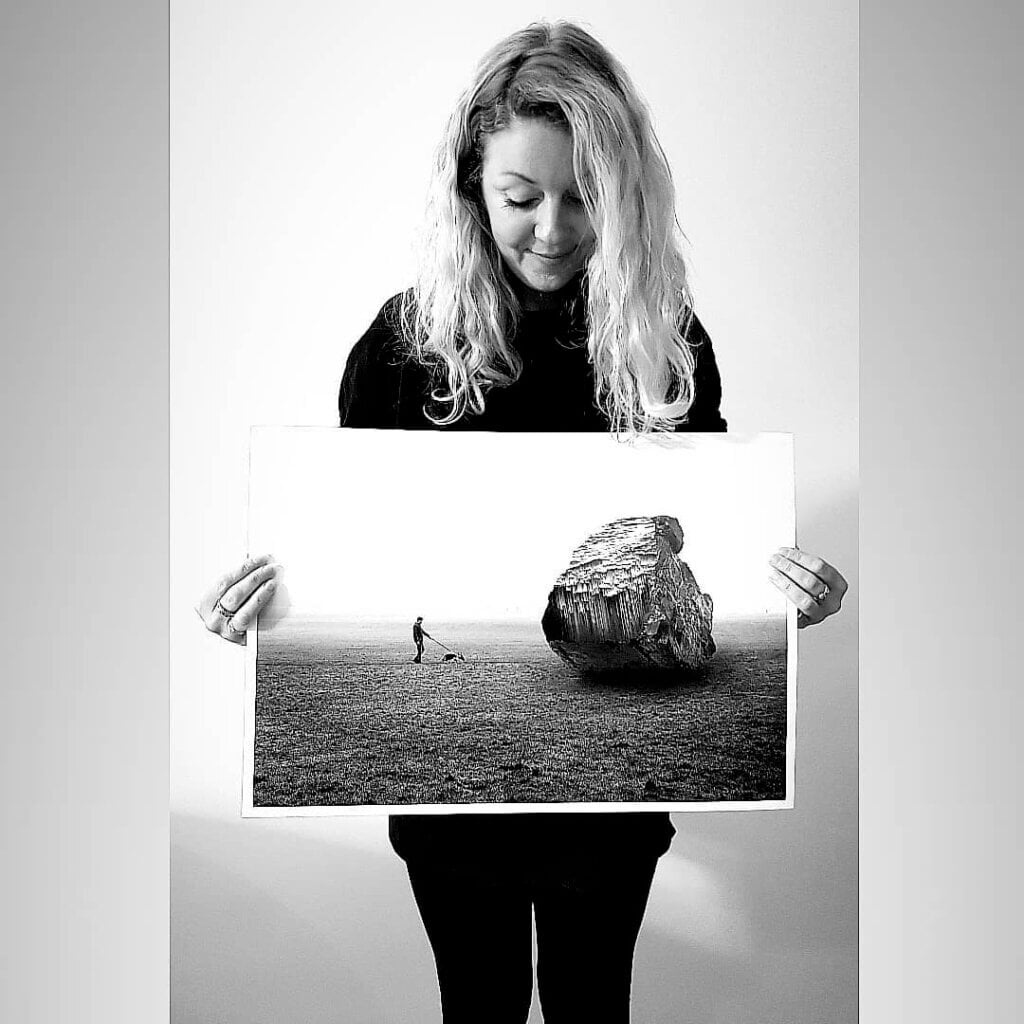 The Beautiful Error' is my way of visualising imperfection in digital culture and exposing it in every way possible, seeing beauty in literally anything and everything

Katie Hallam – The Beautiful Error
On the feed one can see the "fossils" perched next to skips, abandoned in the countryside, and centerstage in the Tate Modern's Turbine Hall. These pieces and their predecessors are in Hallam's words a "deliberate corruption and deconstruction of digital imagery". The imperfect digital designs she creates are often chance patterns which come as a surprise to the artist.
In this interview, Katie discusses the processes behind her work, the environmental influences, and how Instagram has "opened new opportunities for artists".
Q: First thing's first, introduce yourself! What do you make, how do you work?
A: Hi, I'm Katie Hallam, a visual artist based in Edinburgh. Having taught Art in secondary education for the past six years, I am currently studying an MA in Contemporary Art Practice at Edinburgh College of Art to develop my portfolio and pursue a career creating and exhibiting work; I graduate this August. My practice began in 2016 with 'The Beautiful Error', working mainly with photography and new media technologies through the deliberate corruption and deconstruction of digital imagery, coding and file errors that occur in our technological experiences. Currently, my practice has dramatically transitioned through the MA from a materiality point of view, into more complex digital photographic collages and sculptural works.
'The Beautiful Error' is my way of visualising imperfection in digital culture and exposing it in every way possible, seeing beauty in literally anything and everything that can be digitally captured or slowed down. Another important aspect is that I can never recreate the same effect on an individual image – most of the time the results of my experiment is a surprise to me and each one is unique making each outcome 'beautiful' in their own way.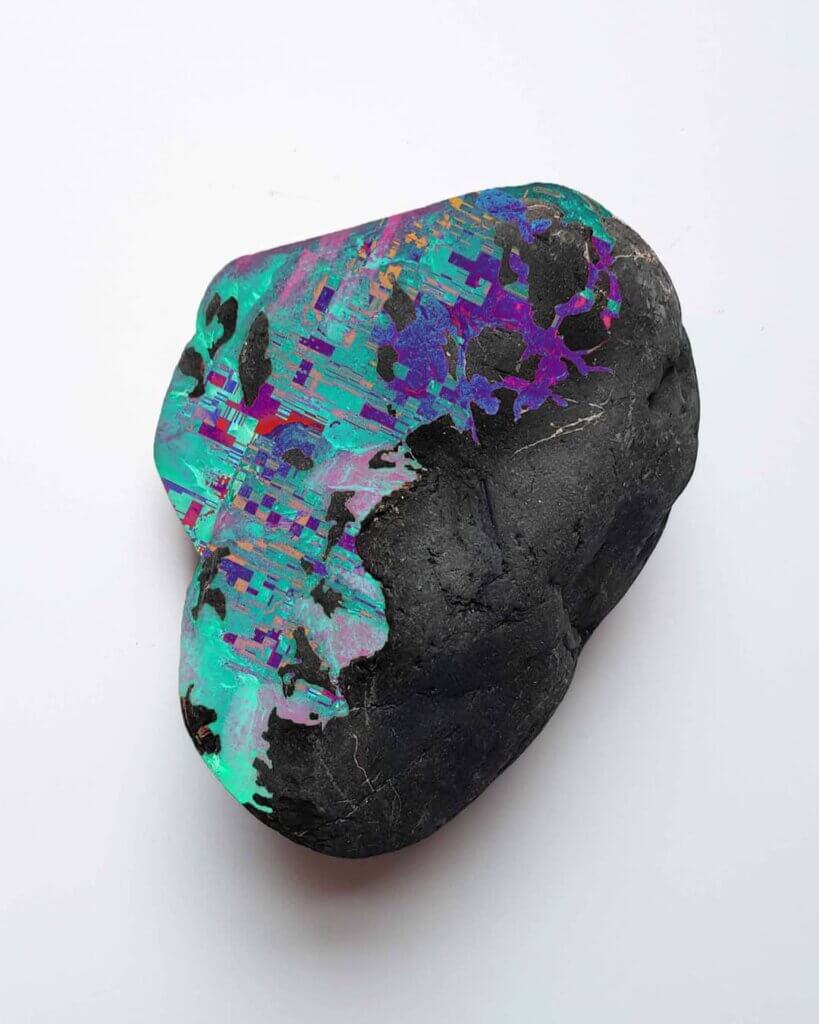 My practice before lockdown looked at the connections between new media technology and archaic power, looking at site specific geological rocks and minerals, materiality of technology and the environmental implications and sustainability concerns with our future use of technology.
I visualise what our technological devices would become in say 100 million years' time, fossilised, buried and extracted again from the earth's stratum. During isolation I have created several collections on this theme in digital formats with the aim to create large scale sculptural versions when I am able to.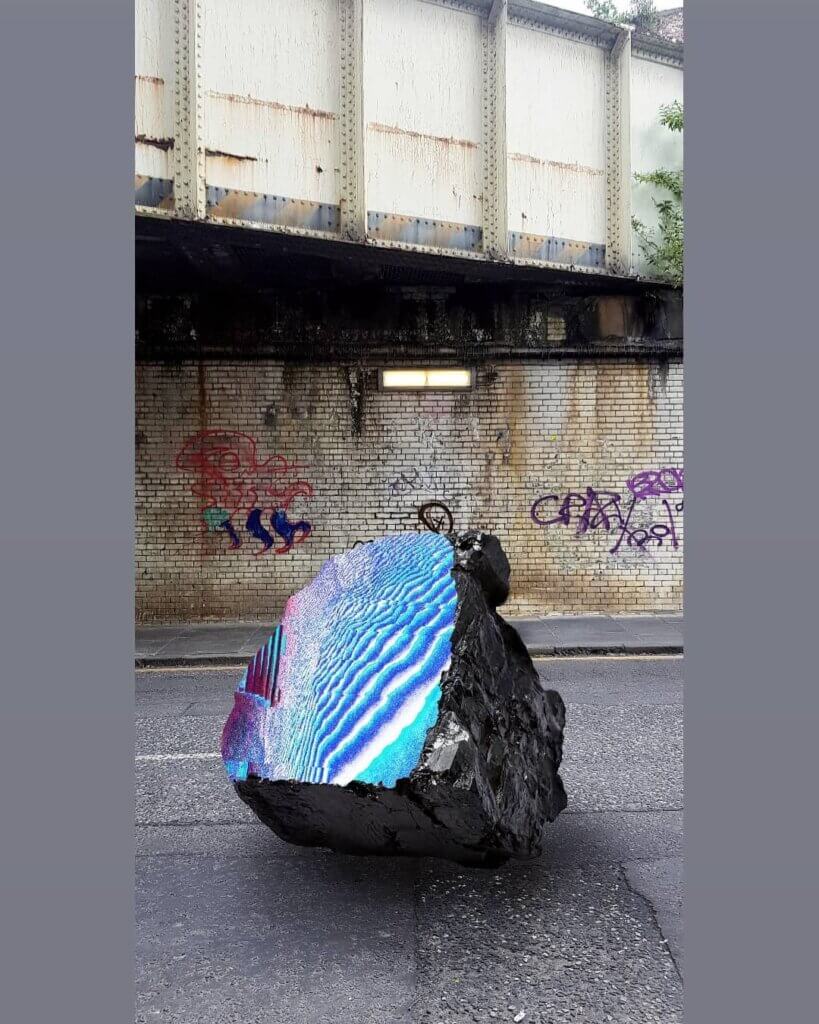 Q: What would you say your artistic background is? How long have you been working?
A: I'd have to say my artistic background started with photography, learning early about film photography from my grandad, studying it and eventually working within the commercial photographic sector. This experience ultimately led to my teaching career in art education and having a passion to pass on skills to new creative generations. It has been fascinating to see the increase in the use of technology in art education and to adapt the way we teach and learn about art to new generations of students.
My interest and education in photography began in the darkroom with analog processes and techniques working with film, chemicals and alternative ways of capturing images and has shifted with the times to see the phenomenal potential in digital.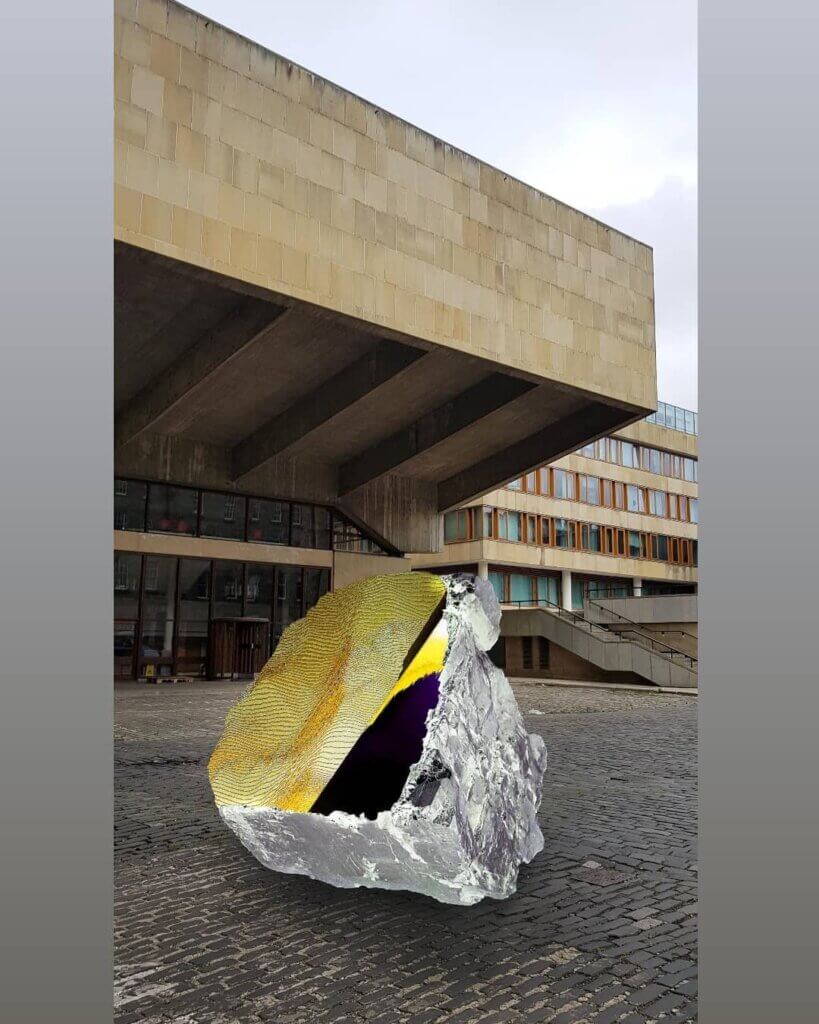 With this has come both negative and positive effects on how we rely on technology and become consumed with it. My experiences both in industry and through personal education continues to develop my practice; it is always in a state of flux through continuous learning and response to our use of technology.
Q: Your work really blurs the lines of what's real and what isn't: what media do you use to create your works?
A: At the start most work was produced 100% digitally, taking the images with my phone or Canon DSLR then uploading and working on them on my laptop through various software and deliberately corrupting files to create glitched aesthetics. However, throughout my career as a teacher and now on my current MA at Edinburgh College of Art I have had numerous discussions and ideas to develop the work more than just being in a photographic format.
I decided to explore what 'digital' could look like in a physical sense using different materials and surfaces and illogical spaces to almost allow a viewer to touch digital or have a sense of disorientation as to what they were looking at. As well as using Photoshop to design and create compositions, I moved into using other formats to break down colour channels from my original glitched photographs, working with layers and details through screen and riso printing for example or laser etching out designs into wood or perspex panels.
I really liked the idea of over production, degrading the digital imagery so it was almost unrecognisable but familiar at the same time. Recent work includes printing the digital imagery on synthetic materials like woven elastic straps, latex sheets, rubber bands, silicone and even aluminum! I'm now working on projects involving large lumps of rock, coal and concrete to develop the connections of geology and media; I'd say my work has moved more into sculptural and installation work which I am keen to develop further.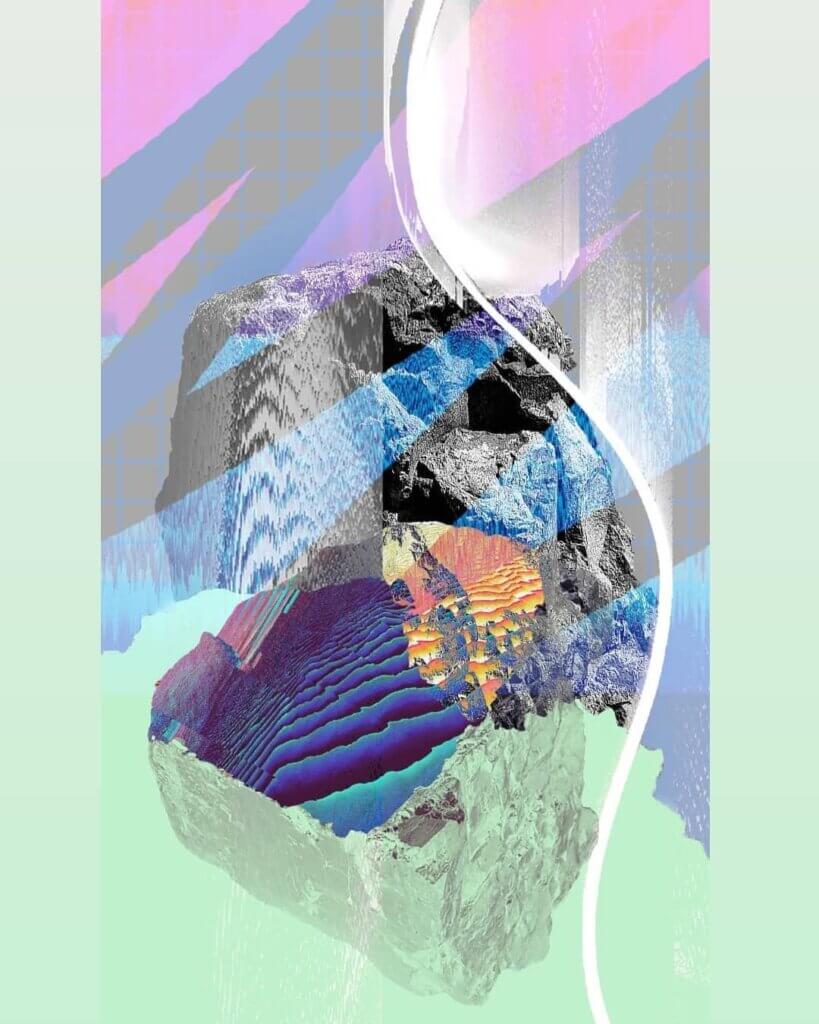 Q: Are there key themes in your work?
A: I've never been logical in my art, I've always gone against the grain when it comes to traditional processes and techniques. Experimentation has always been my strength and main interest to see the full potential and limitations in whatever I do especially within photography. There was a moment when I was watching TV and the screen froze, this aesthetic grabbed my attention straight away with saturated coloured pixels, broken lines, translucent layers and complex patterns and since then I have never looked back.
I started to research the unintentional and intentional faults within technology and began to explore various ways of corrupting files, jpegs and even old cameras to try and develop an aesthetic style and new form of photography which is a consistent and recognisable theme running through my work.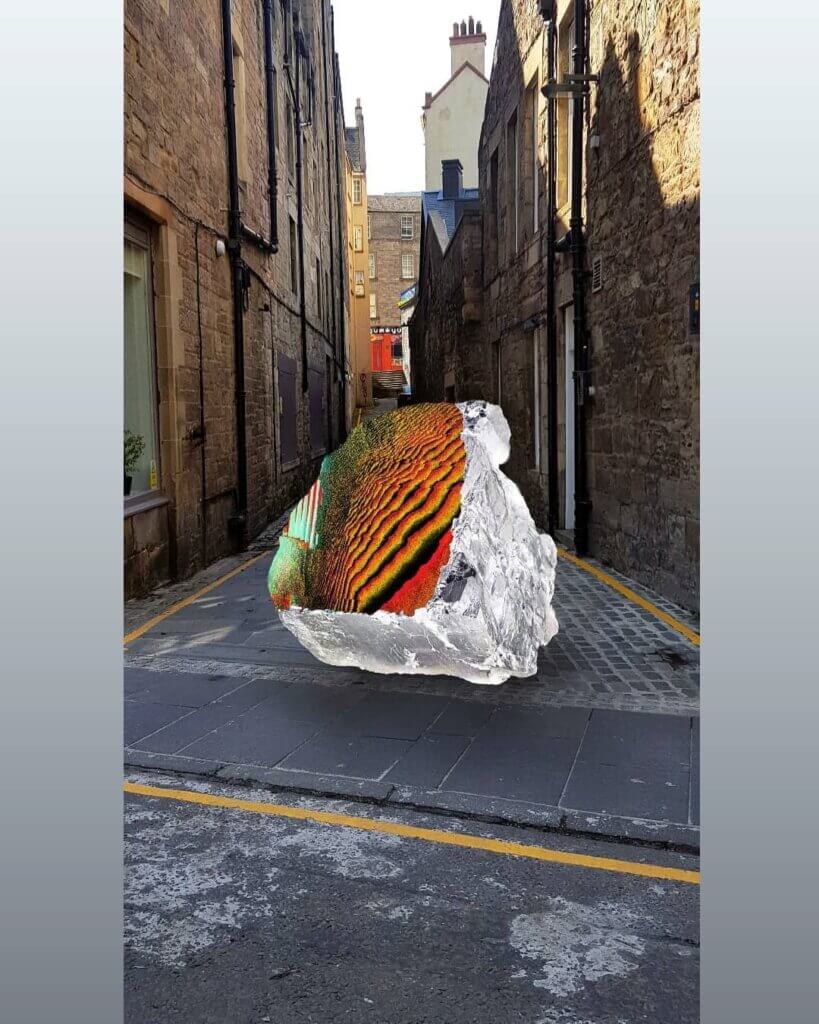 Q: What is your favourite piece you've created?
A: I'd have to say I am most proud of my most recent collections of 'Future Techno-Fossils' placed in abandoned and empty urban spaces. These images explore questions such as what implications will our redundant digital culture have on our future environments and how will it decay and fossilise physically into new layers of the earth's stratum? By placing these digital manifestations into contemporary settings, I like the humor, oddity and unsettling feelings they may bring to potentially come across one of these objects in everyday life, making us consider our use of technology and the impact it has on our future ecologies. I aim to create these as large-scale sculptures which I believe would hold a powerful presence in public art spaces.
Q: What's next for you?
A: I have completely fallen for Scotland since moving here to do my MA and I am focused on staying after I complete my studies this August. I am currently directing my time to growing my online audience, contacting and networking with the right people to hopefully hire a studio space locally to continue creating. I will also be starting part-time teaching art again in August, so I have balance between teaching and developing my practice. I am most excited about working with artists collaboratively, finding ways to exhibit work locally and getting involved in open calls and any exhibition opportunities to further my career.
Also, as part of my MA final project, I am designing a proposal for local or International artist residencies in Iceland/Scotland with the aim to continue researching and creating site specific installation and sculptural work. I am in discussions with production companies to create my digital rocks for real, so lots of exciting things happening!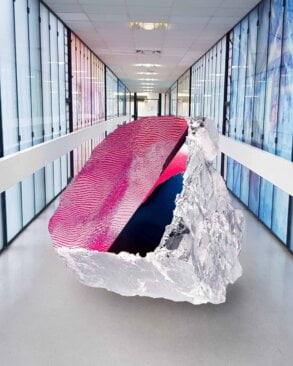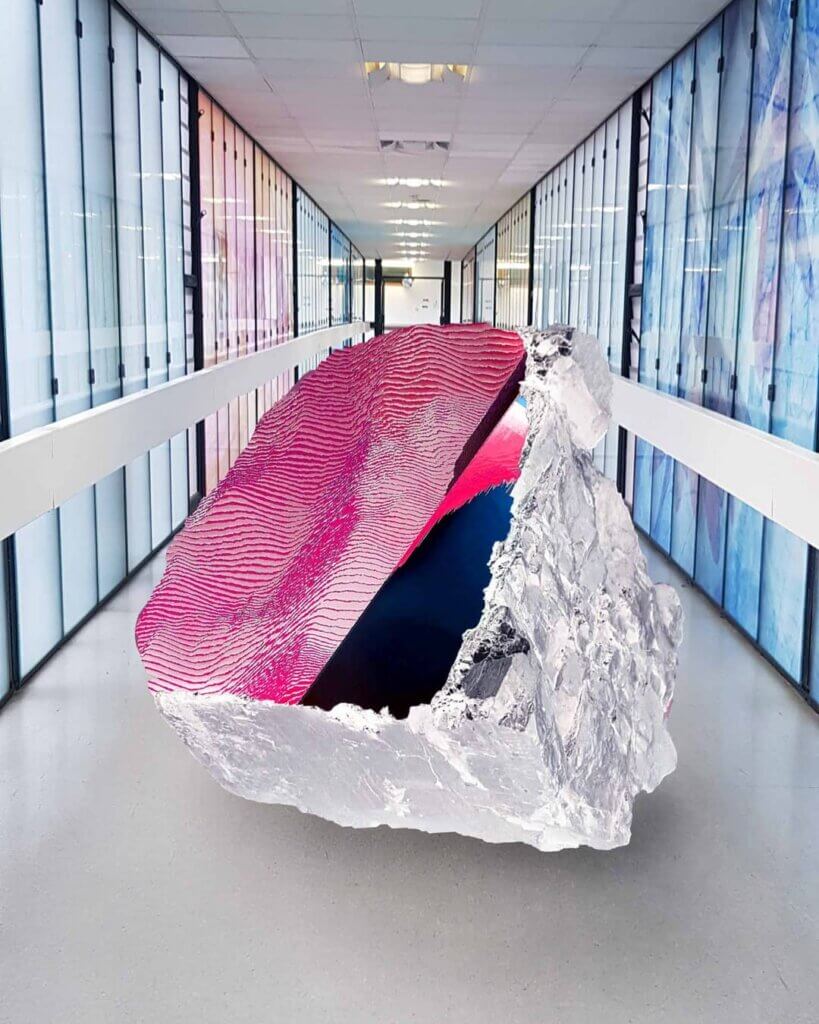 Q: How do you strike the balance between being an artist and being your own salesperson?
A: I have learnt to become more confident in promoting myself as an artist and my practice, but it didn't come naturally to me at first. I have had experience of the corporate world from a salespersons perspective and understand the need to engage an audience and keep interest coming back regularly and I guess these are good skills to have when you are dealing with the general public, collectors or gallery's but there is always that edge of being too persuasive or keen which isn't my style! For me, I enjoy the making and I work intuitively and at pace.
If a sale happens that's great but for now the balance is towards making quality work and building a brand which will hopefully become something fruitful one day. I have been lucky enough to be involved in exhibitions, art fairs and commissions and this has all been fantastic experience to know how to promote your work to different audiences but knowing how to develop a website, write an artist statement, press release or use instagram effectively to me has been more helpful in building my confidence and striking that balance.
Q: Social Media as a tool for artists – pro or anti?
A: My practice is predominantly photography based and the isolation time during Covid19 has transformed the way I create work, how I see the city I live in and how I now plan to create outdoor sculptural work and public art moving forward.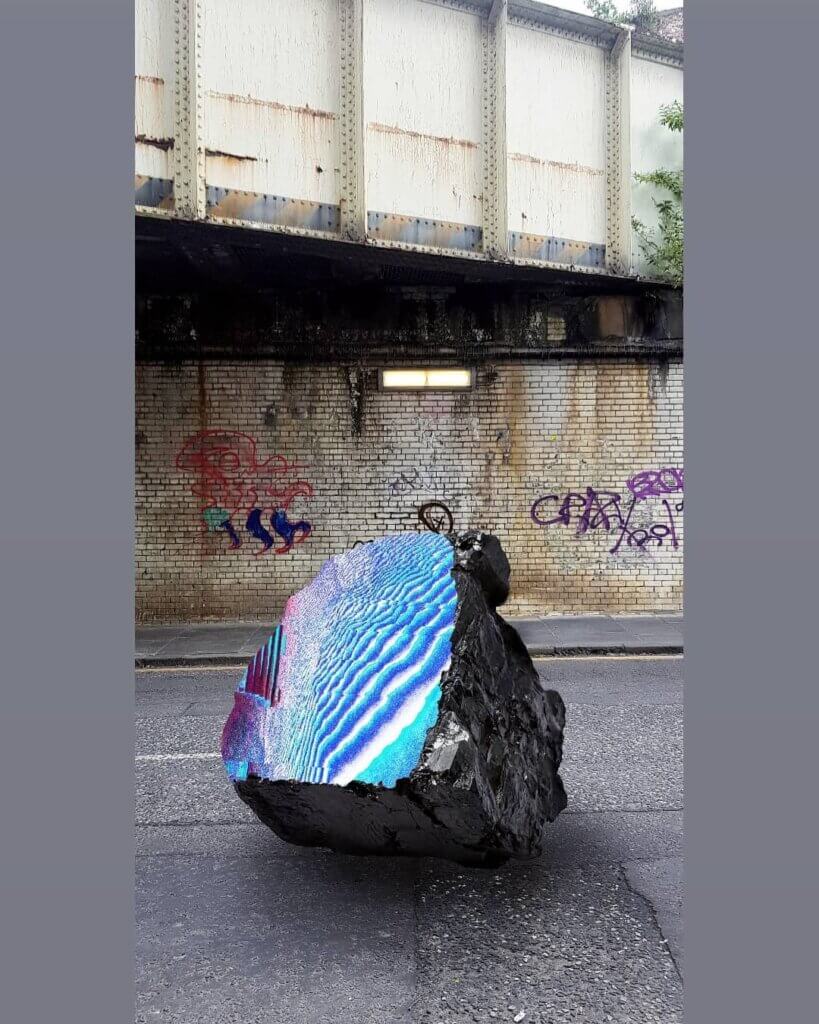 Although my current art works inevitably are digital in production and promotion the current situation has prompted me to look differently at how I use online platforms and social media as a positive tool to show my art moving forward. During lockdown I have been involved in digital artist residencies, livestream art events, designed a virtual art exhibition and sold work through new online art initiatives such as the Artist Support Pledge and I have been blown away by the creativity, support and generosity through social media, so as it stands I am very much pro.
Recent times have transformed the way we promote, view, buy and discuss art online and I have actively grown a broader network of support during lockdown especially at a time when physical degree shows would have been happening; social media has played a huge and successful part in this and opened new opportunities for artists.
https://www.instagram.com/the_beautiful_error/
©2020 Katie Hallam