Brought up surrounded by "rooster paintings, cheap prints saying Live, Laugh, Love, and wrought iron angels" it would be too simple to say that Katelyn Ledford's work 'couldn't be more different'. Despite obvious difference in style, the aforementioned kitsch Alabaman décor actually seems to have fed the artist's interest in the ephemeral: fuelling her critique of selfie-culture and the superficiality of fleeting social media.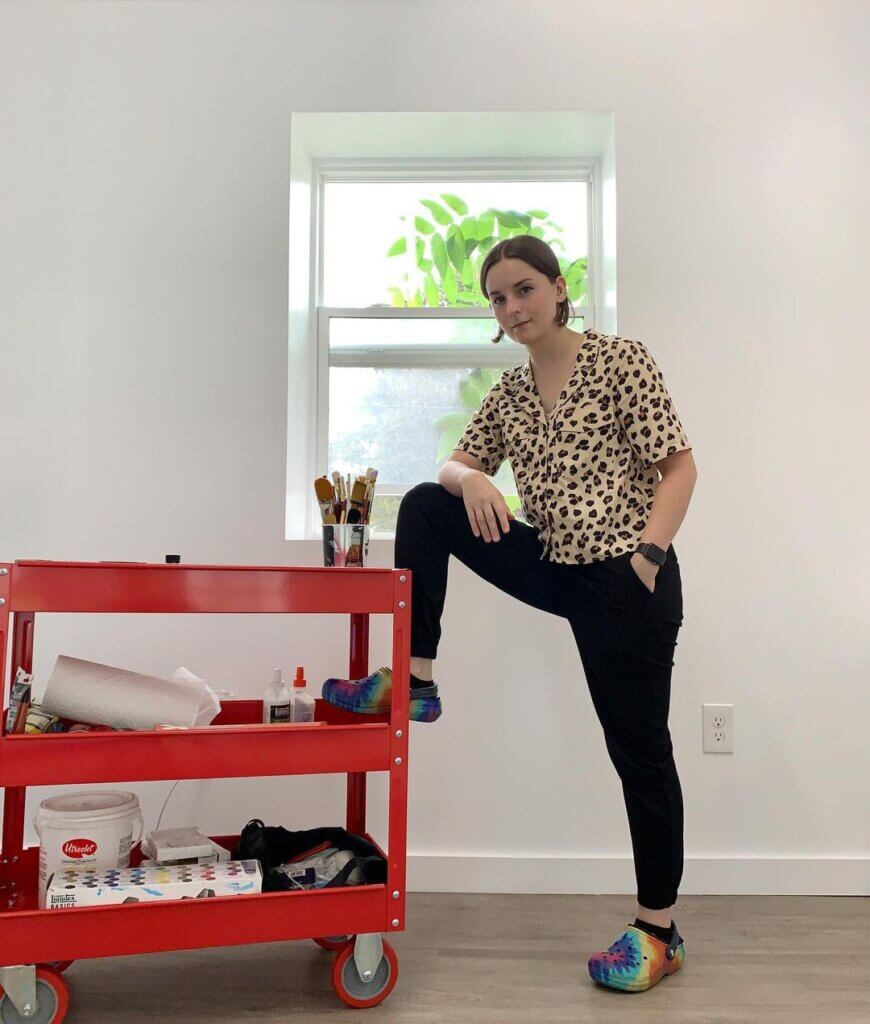 I'm interested in how our virtual lives toe the line between authenticity and superficiality all while being consumed by outside viewers. To different extents, we all put on a "front" for the digital world in order to convey something specific about who we are.

Katelyn Ledford
Her paintings manipulating the female image (whether through repetition or recreating emoji-like faces from household objects) is given a strong foundation by her photorealistic painting skill. Ledford's painterly accuracy means that her conceptual works stand the test of would-be-critics who say the kind of things like "contemporary artists can't even paint properly". Ledford can.
In this interview with Art Plugged, Katelyn tells us about her work, background, and relationship with social media.
Q: First thing's first, introduce yourself! What do you make, how do you work?
A: I'm Katelyn, an American South transplant now living and working in the Northeast US. I make paintings and I work in everything. All ways of making are up for grabs in my studio practice. Jumping from one end of the spectrum of making to the other (such as working photorealistically to then squeezing paint straight onto the canvas) keeps me stimulated.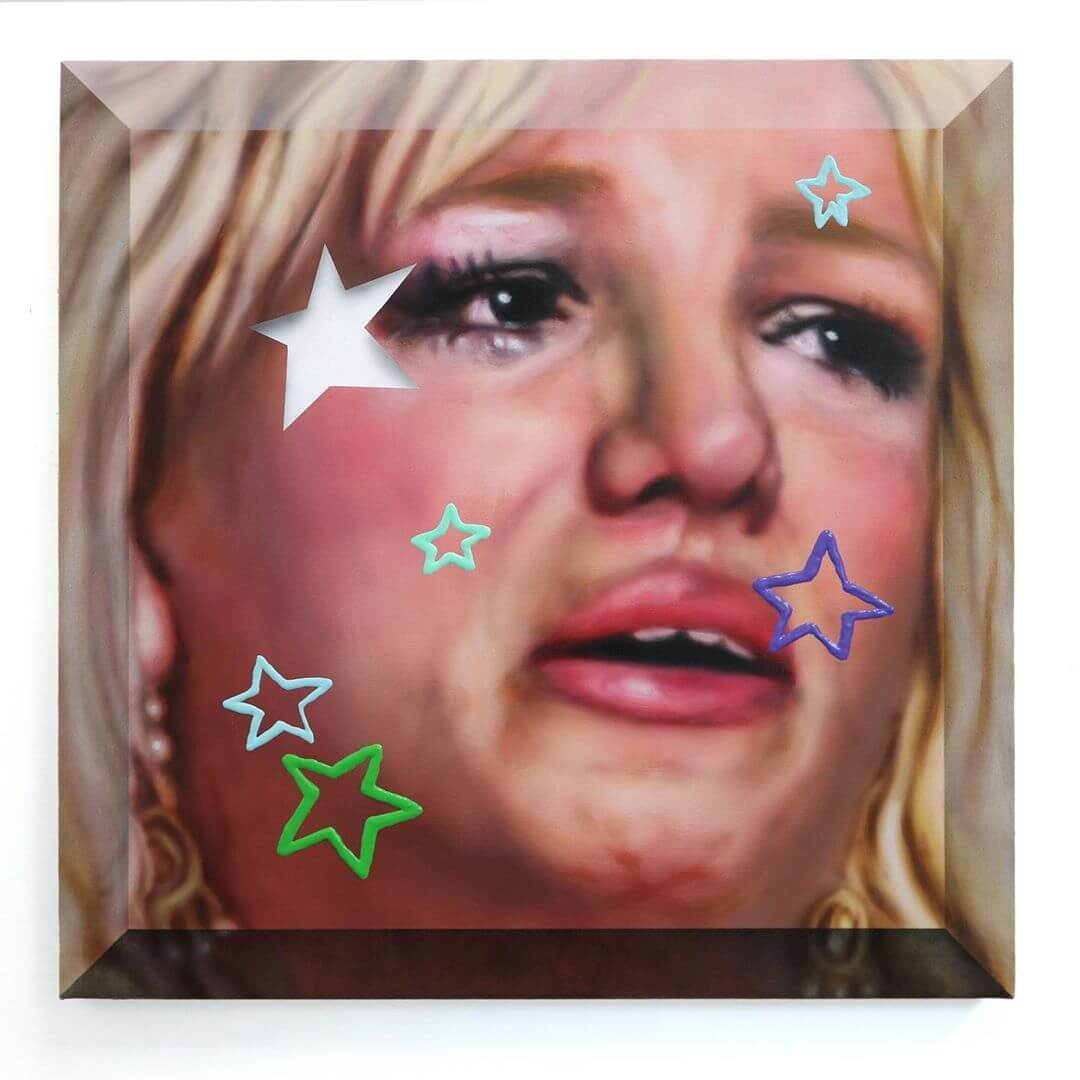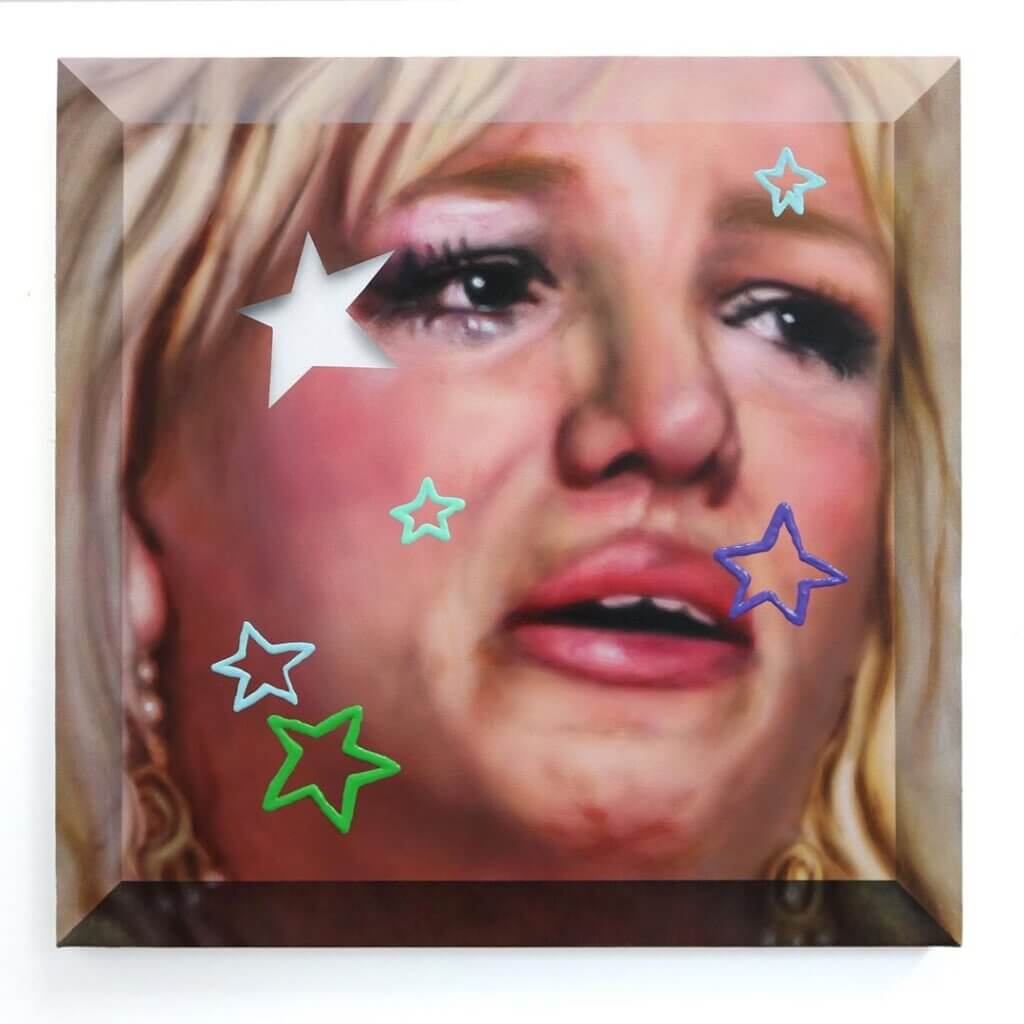 Q: What would you say your artistic background is?
A: Growing up in the suburbs of Alabama, I was surrounded by a sea of rooster paintings, cheap prints saying "Live, Laugh, Love," and wrought iron angels, but I was personally obsessed with photorealistic drawing. I knew nothing about contemporary art, so I focused solely on craft and how much I could teach myself through practice. However, my mom was/is a portrait photographer and as a (sometimes) willing assistant to her photoshoots, I spent a large amount of time staring at and interacting with strangers. My love and obsession with portraiture came from her.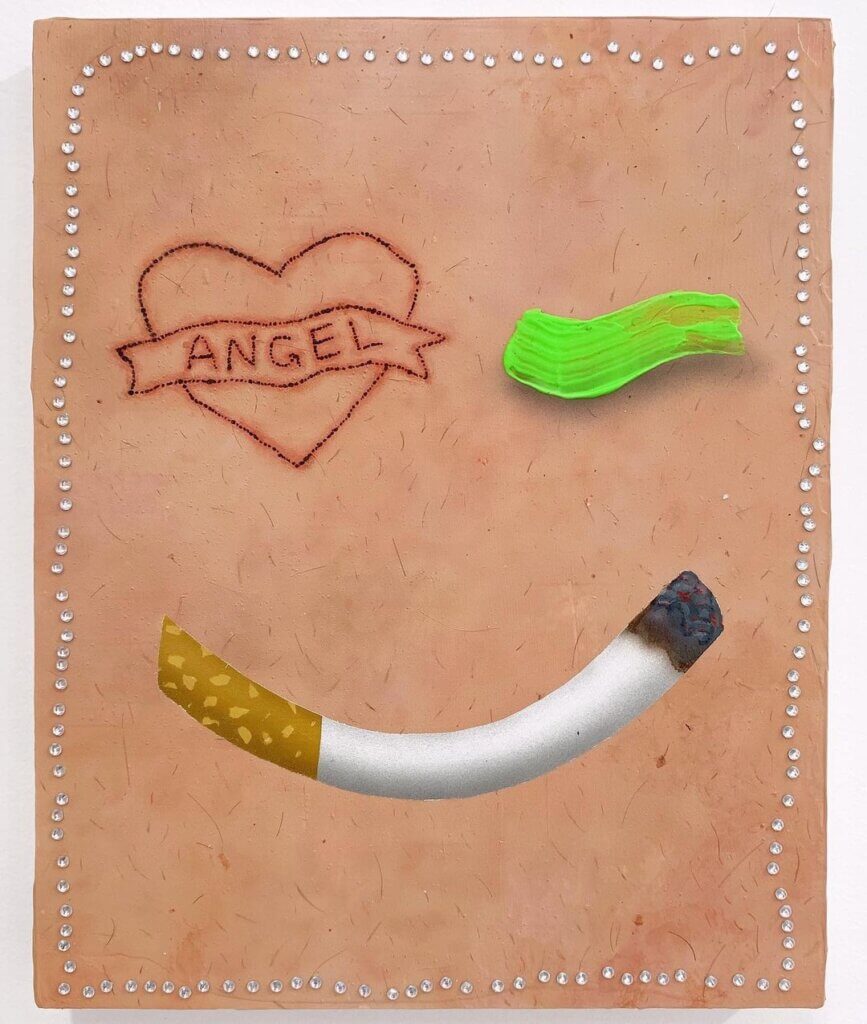 Q: Are there key themes in your work?
A: The large theme across all of my work is portraiture– and the deconstruction of it– with a focus on the portrayal of women and their experiences (including my own) with contemporary technology. I'm interested in how our virtual lives toe the line between authenticity and superficiality all while being consumed by outside viewers.
To different extents, we all put on a "front" for the digital world in order to convey something specific about who we are. Another sub-theme would be absurdity as it relates to our image-saturated media and how there is a lack of hierarchy within images as they circulate through networks.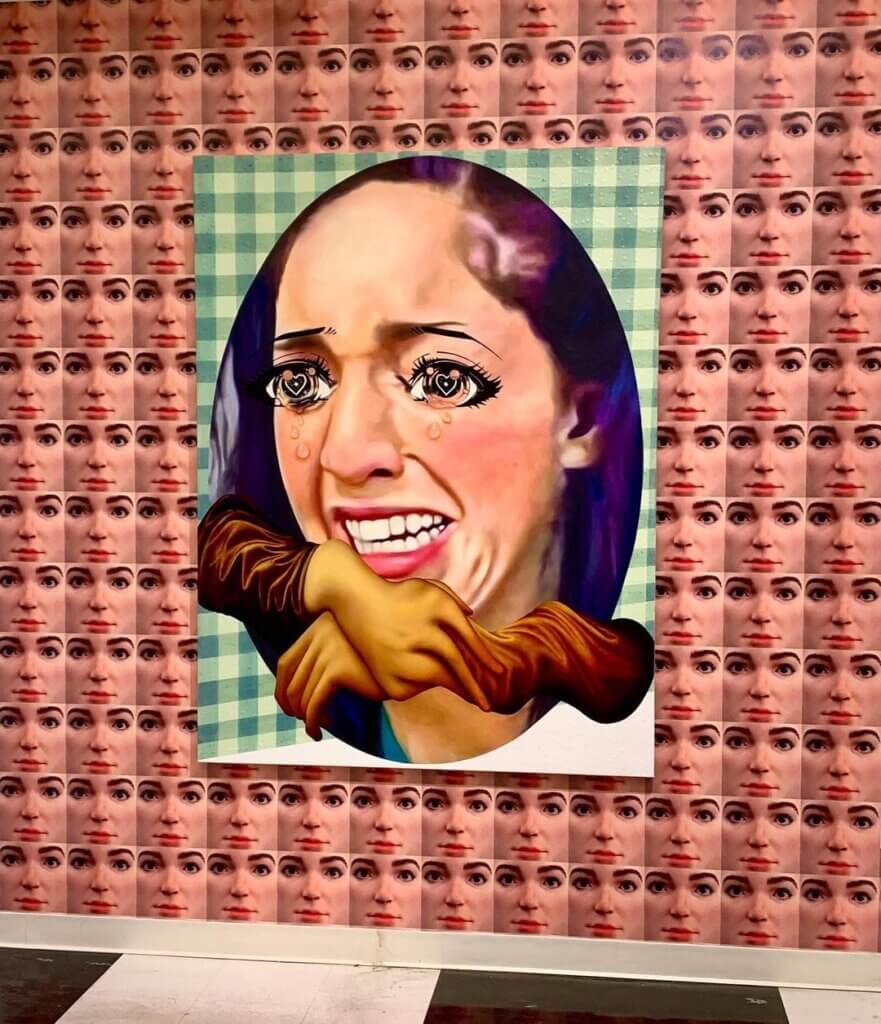 Q: Who are your biggest inspirations?
A: Right now, it's Gina Beavers. I saw her show "The Life I Deserve" at MoMA PS1 last year and it was truly a feast for the eyes. Images of her work do not do them justice to seeing them in person. The chunky materiality of her work is extremely juicy and mesmerizing (I wanted to touch them so badly). I'm just so impressed by how well she mixes painting and sculpture that teeters on kitsch, yet also proves her virtuosity at the exact same time.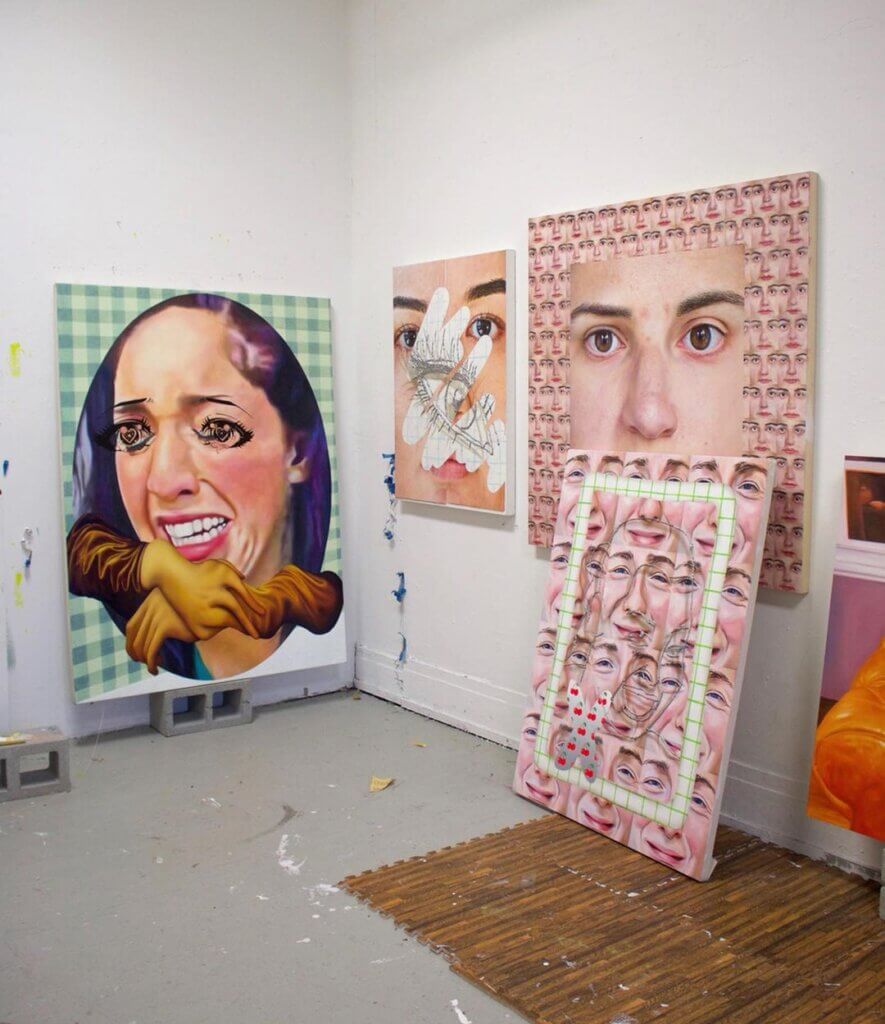 Q: What's next for you?
A: I'm fairly private about things I have coming up next until they're about to happen just because things have become so unstable this year. It's a hard time to predict and plan things. One exhibition I've got coming up though is a group show at the Museum of Museums in Seattle, WA titled "In Crystallized Time" and curated by Anthony White. It got delayed because of the pandemic so I've been super jazzed about it for a while now and it's coming up in a few months.
Q: How do you strike the balance between being an artist and being your own salesperson?
A: I compartmentalize the two by not doing the business things while I'm in my studio. This way I can keep my headspace as artist-only while working in the studio, but then when I am in my home on my computer, it's business-only. I also try not to use social media much while I'm in the studio so that I don't get tempted to check my messages on there (which do include business inquires). Working with galleries and outside people also (obviously) helps keep that balance, so I'm extremely grateful for those I work with that handle the business and sales-related operations.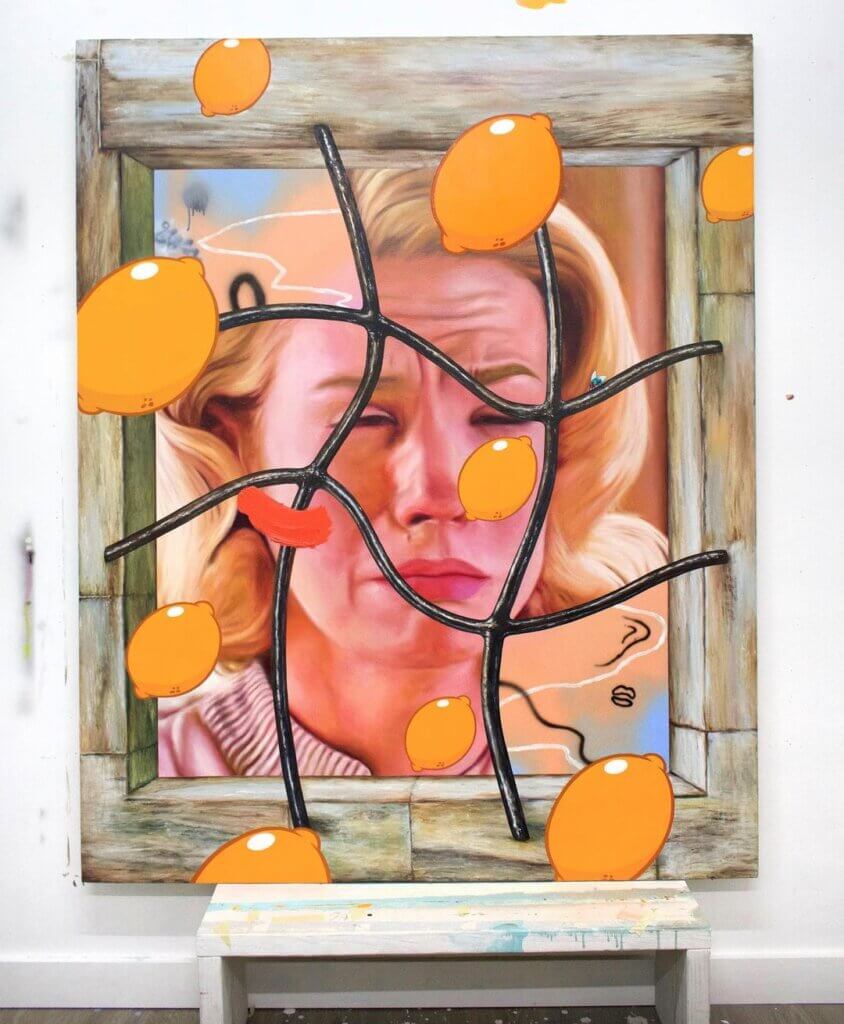 Q: Social Media as a tool for artists – pro or anti?
A: I think any reasonable person would say both. Social media in moderation (for everyone, not just artists). I don't use social media for my personal life anymore, so as a tool it works well. However, I think it's also a pitfall and weapon, especially for young artists, as it's easy to compare yourself to others' work and only make work that get the most "likes." It's something I try to talk to my students about because it can be hard to navigate as a young artist when you're just beginning your career and trying to connect with other artists outside of your physical proximity.
New technologies and ways of connecting are continually evolving so artists need to be more transparent and honest with younger artists about how to effectively use them without letting it dictate their practice. Setting a limit for how much screen-time you get per app was also extremely helpful for me so I recommend it so that you don't start using it as compare/despair tool.
https://www.instagram.com/kedford/
©2020 Katelyn Ledford