As we scroll through our daily narrative, we presently know as life, visiting the world in a brief instant. Shifting through taking notes of the individuals we have seen, places we been, societies and cultures we've witnessed. However, being socialised by these entities plays a significant role in our classifications of life as we continuously get interrupted. We begin to embrace cultural behaviour as a response from what we observed and the way we connect.
People, personal encounters, emotions, result.

Johnson Eziefula
For Nigerian artist Johnson Eziefula, interruption is a crucial topic as he critiques our awareness to highlight our interruptions through charcoal on paper. The self-taught artist is representing his subjects in distinctive hyperrealistic form depicting his observations of psycho-emotional energy in an abstract form.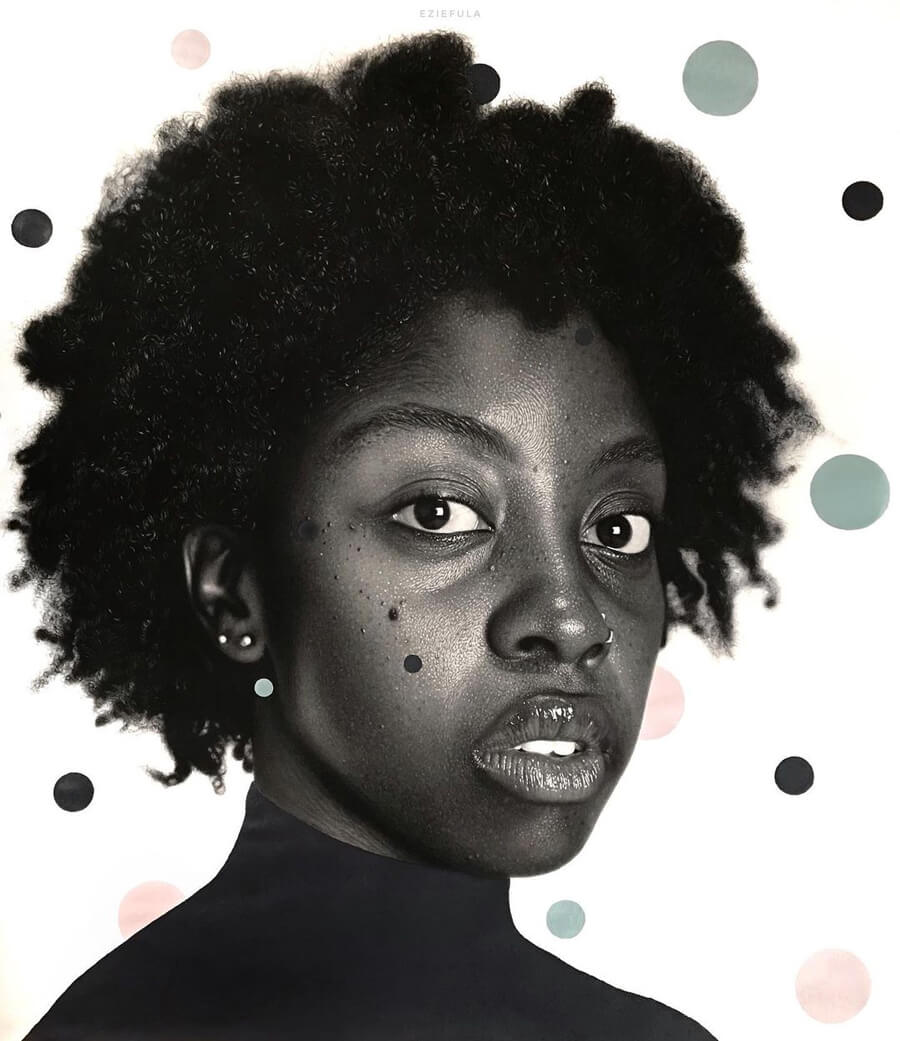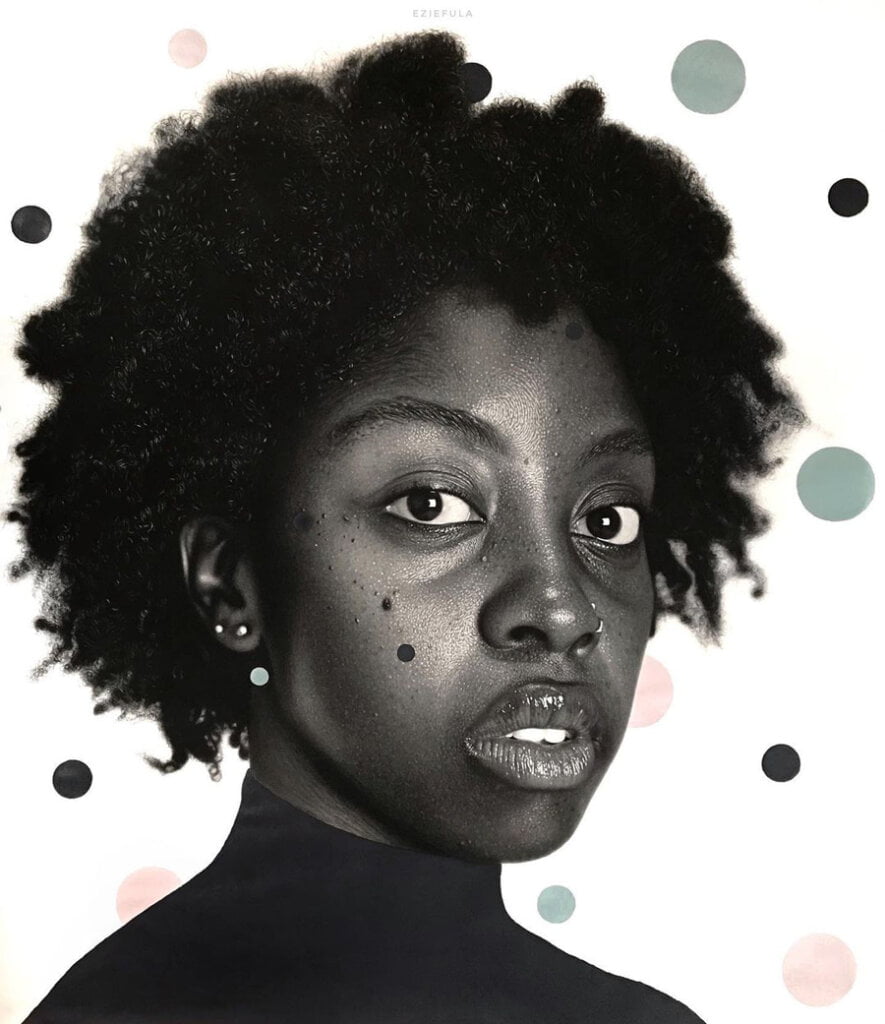 Upon viewing his works, you are immediately drawn to an absorbed look of the subjects gaze as they stare into space, focus on thoughts justified by the luminous presence of their emotional energy.
Eziefula is an exceptional artist practising the discipline of Contemporealism and is a part of the new vanguard in the field of Contemporary African Figuration. In this interview, we will get to know more about his work, creative process and more.
Q: First things first, why do you do what you do?
A: I do what I do for the preservation of my sanity, to make an impact, to add value, to truly live.
Q: What is your inspiration?
A: People, personal encounters, emotions, result.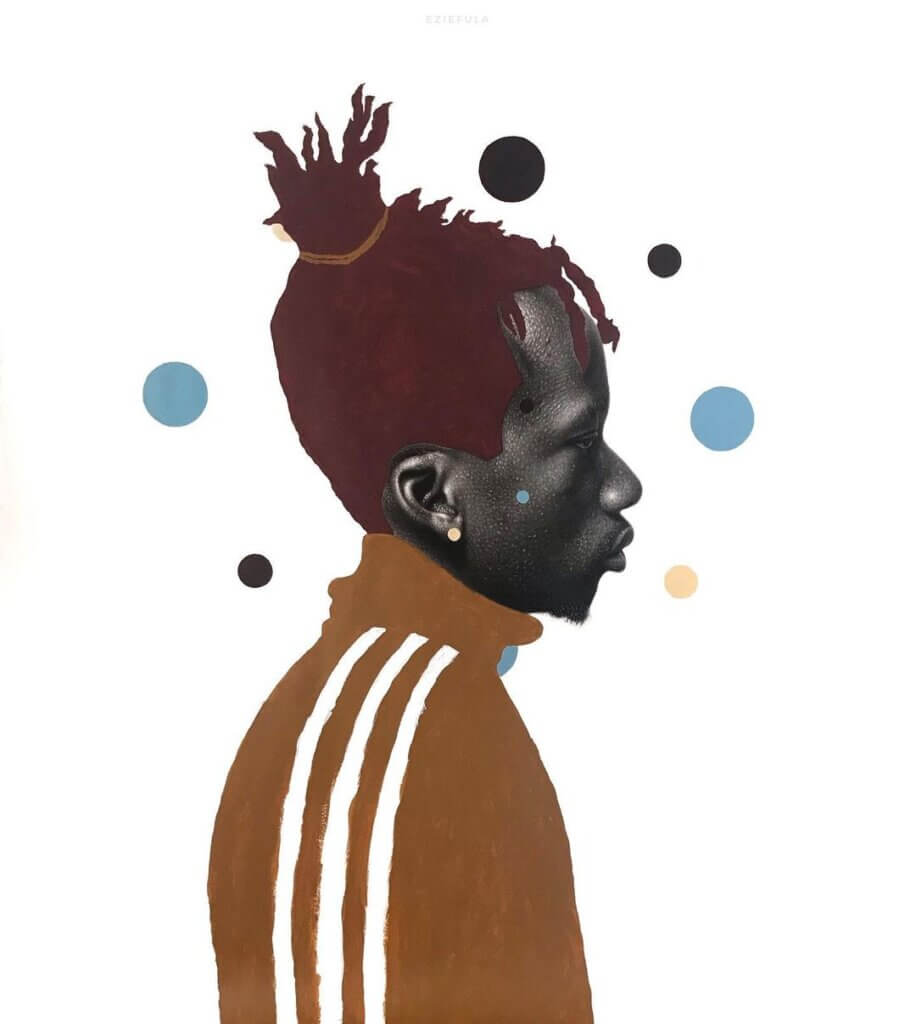 Q: What is your creative process when you're creating?
A: It actually depends on the piece in particular, but typically; I start from sketching, then I shade and detail with charcoal on paper/canvas, then I make use of acrylic to paint the extra elements in my work. I fix and that's it.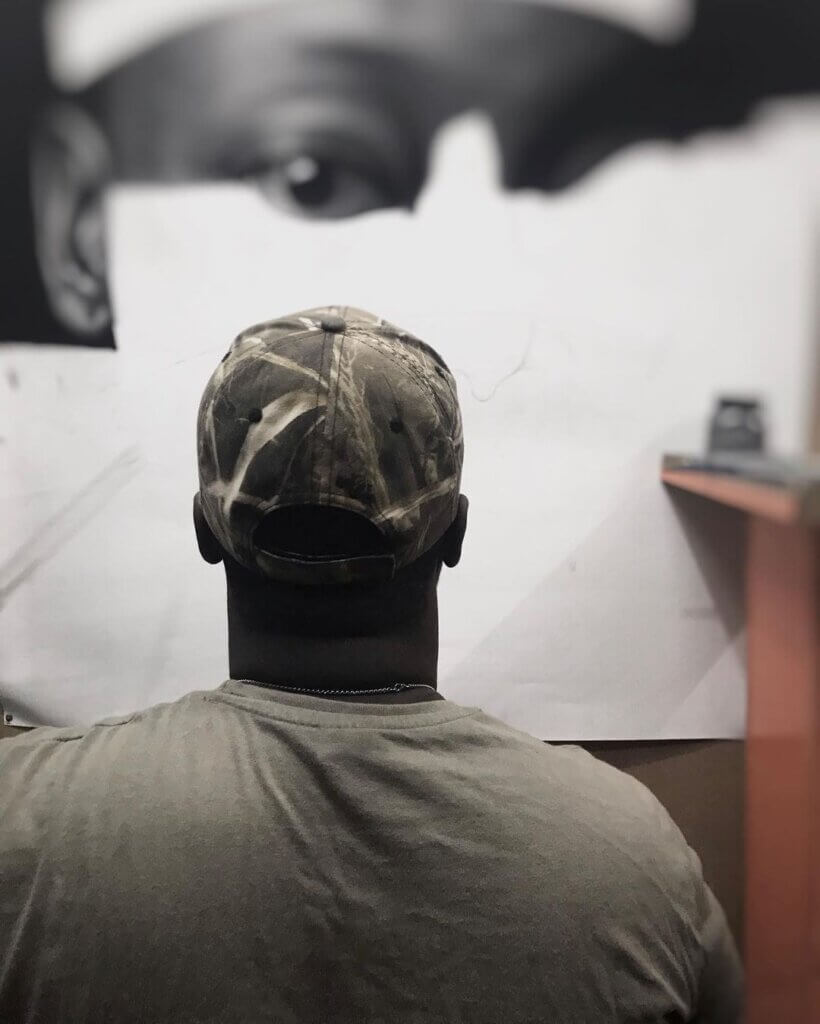 Q: Which is your preferred surface for working on?
A: That's a tough one, canvas I guess.
Q: What would you say is an integral part of the work of an Artist?
A: I can't particular say, nor speak on the behalf of every artist, but myself alone. Artists do a lot, I can't necessarily pinpoint the basic role or responsibility of an artist in society, I feel it's quite dynamic and subjective.
Artists create differently with different purposes, for some it's self-expression, for some it's preservation of culture and to bring some sort of sense to community and several other reasons. But personally, it's all about creating value, directly speaking I'd say it's a subtle form of activism for me. It's revolutionary. Making an impact, creating awareness, reflecting the times, telling my African story. I think artists are sent by God, to restore/presence normalcy in such disturbed world.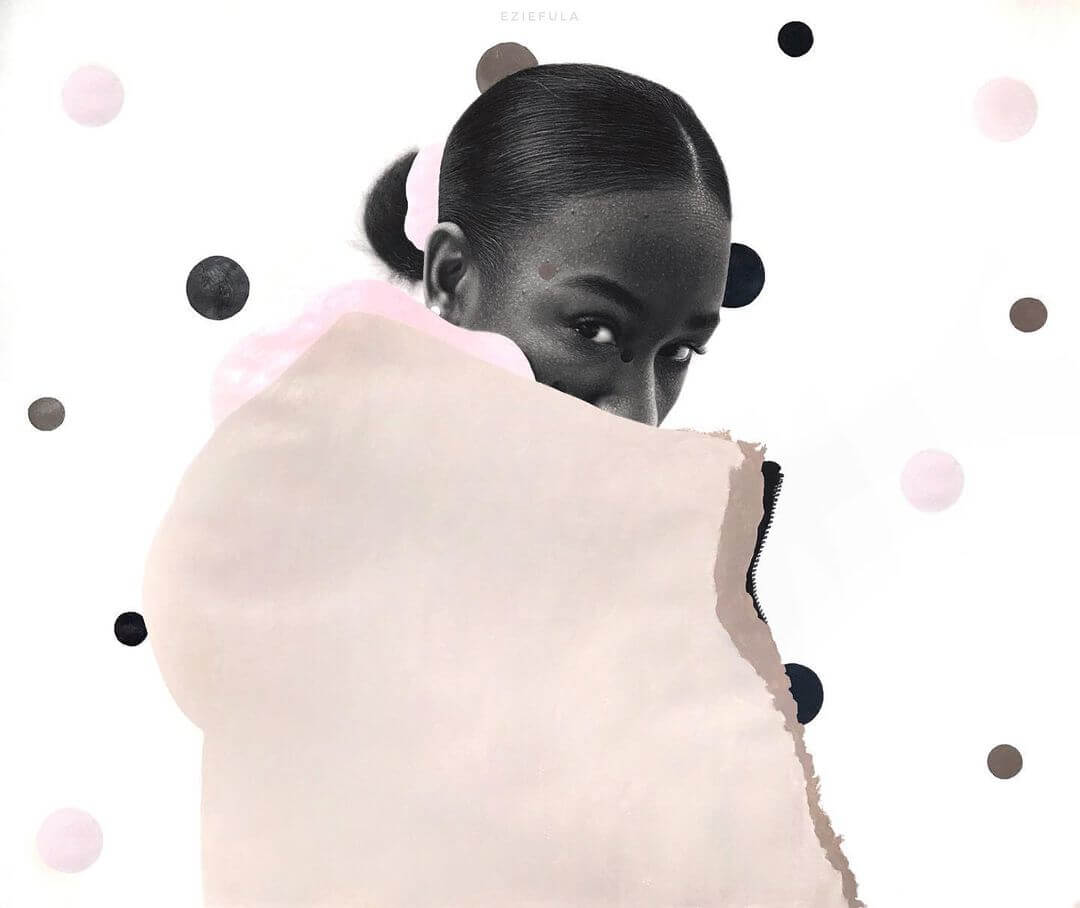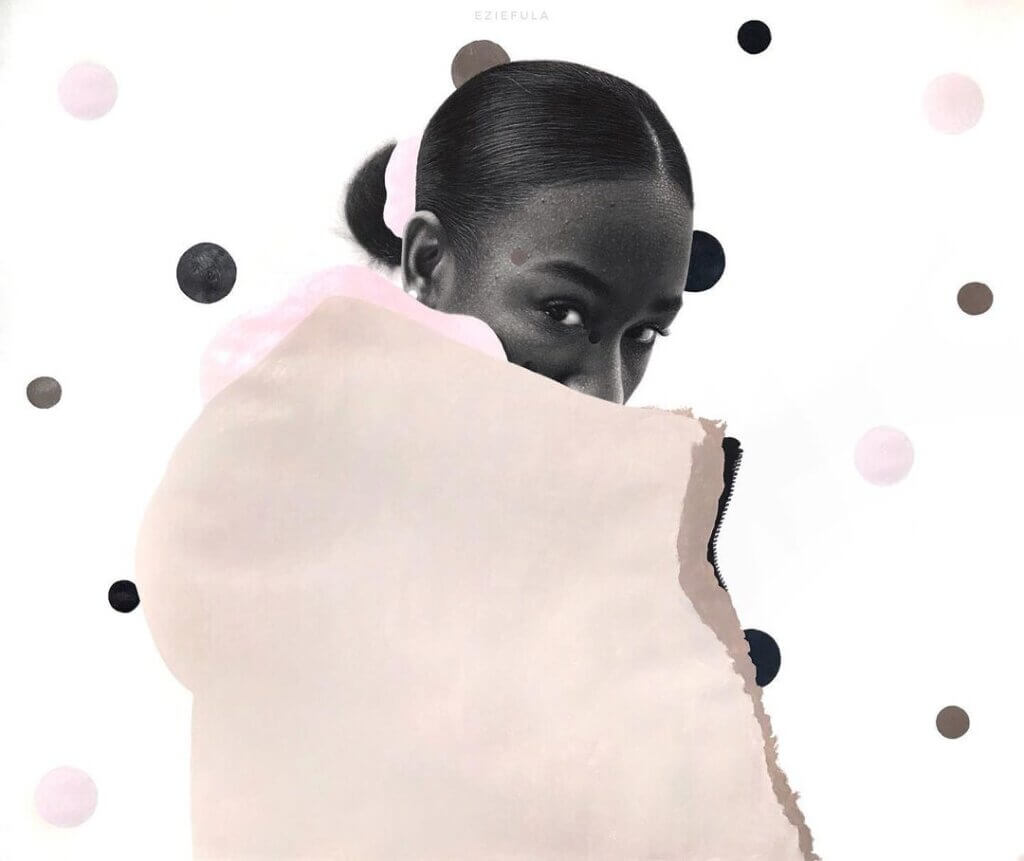 Q: What is the reason behind your use of abstract elements within human subjects?
A: I guess you mean the circles, they're beyond just circles. My approach with regards to the depiction of my works are based on psychology. I quantified cultures and cultural influence as energy bubbles depicted as colored circles(the choice of colours are as a result of the psycho-emotional state I ought to capture my audience within, triggering stimulus and engaging the human physiology & psychology through light, colour combinations and shapes).
In each piece, there are three(3) different colored circles, the number 3 which symbolizes totality, is the first number to which 'all' is attached to, hence pointing out all possible/potential cultural influences on the average contemporary west-African individual that of yesterday, today and yet to come.
A Circle symbolizes community, a free sense of movement, associated with kinetic energy so to say, hence artistically complementing the nature of culture in such global world of today; where we are all connected, that motion associated with how easily social behavior and customs could be driven around and adopted.
Cultural hybridity as said is expressed ideologically but is being depicted physically as the circles are seen to interrupt and subsequently being attached to the skin surface of each human subject in these works, hence depicting an interruption of one's entirety, birthing a new creature; which is what I term a "cultural hybrid."
Q: How do you know when a piece is finished?
A: There's this feeling I get, I can't really explain it but I feel it.
Q: What is your favourite piece from your collection?
A: Entirety Interrupted II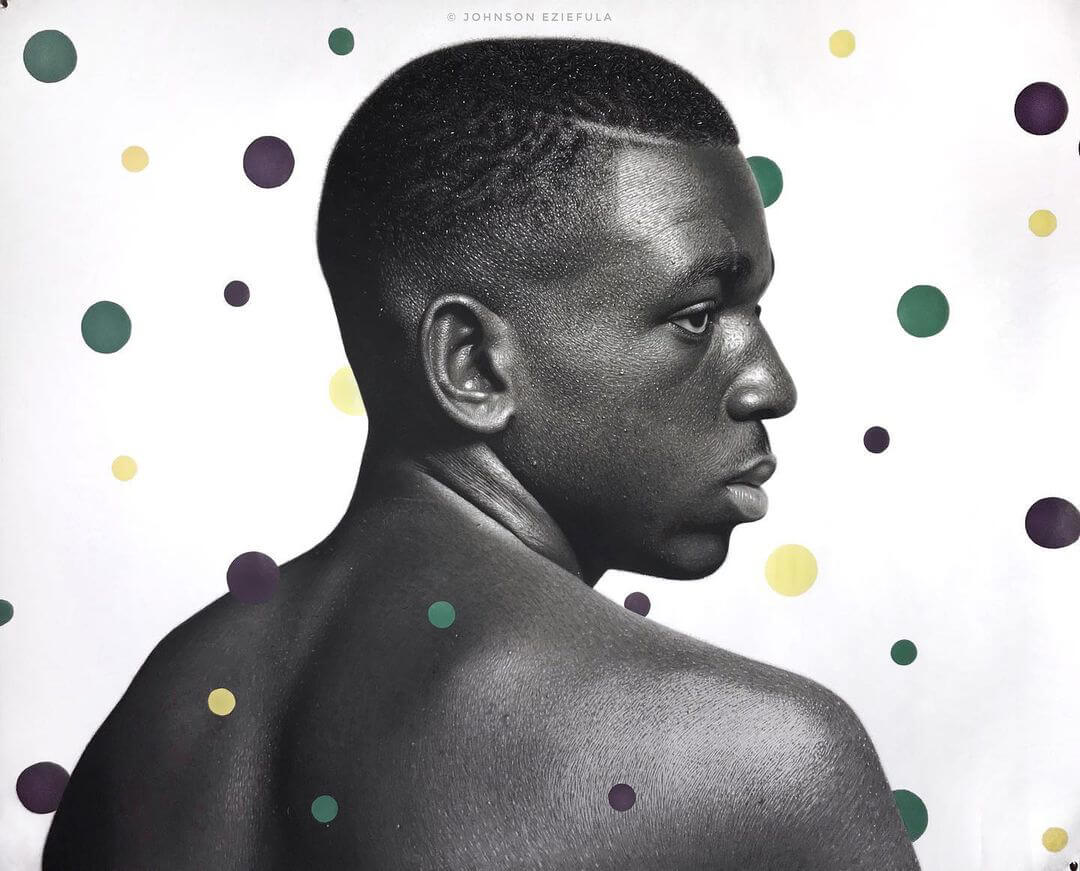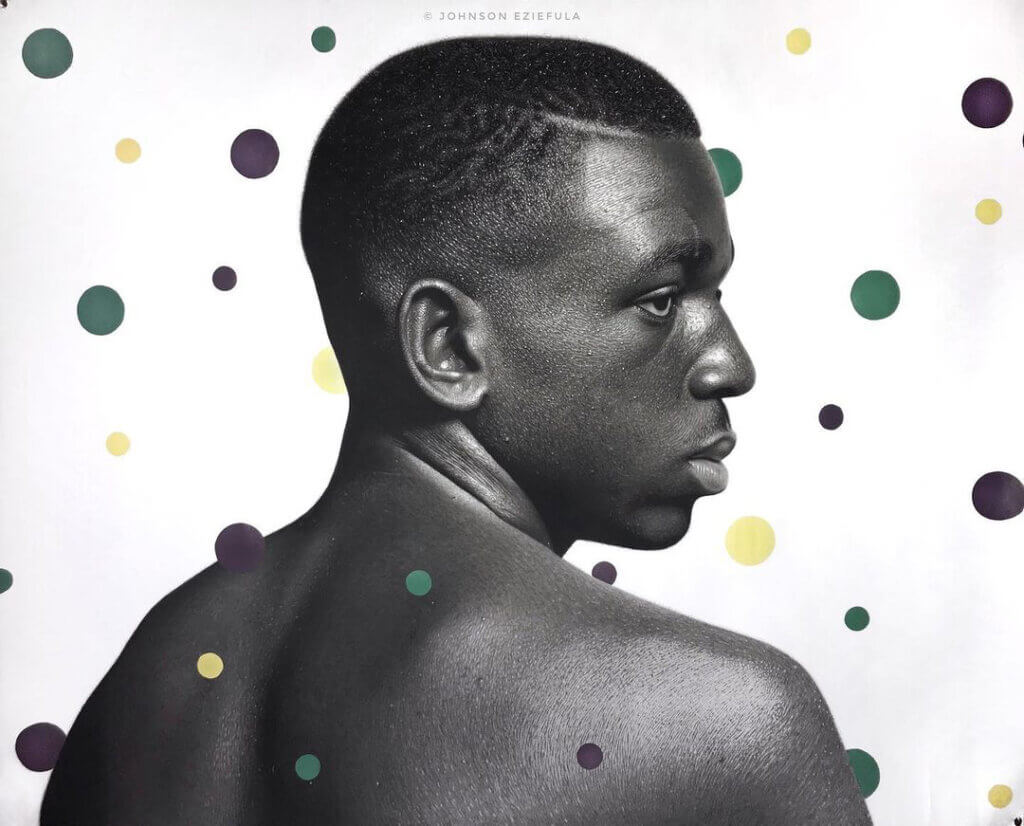 Q: How did you feel when you did your first solo exhibition?
A: Haven't had one yet.
Q: What is the most rewarding thing for you about being a part of the Art Industry?
A: Adding value, making impact, making the world a better place.
Q: Is there anything that worries you about how social media is affecting the promotion of artists?
A: Social media has been really helpful to this generation of artists, I'm really thankful for this presence of social media and the internet in this present time. I don't think I have worries concerning that.
Q: In your opinion, do you have any advice for artists on how to manage their social media image? Or does it even need managing?
A: I think they should just be themselves.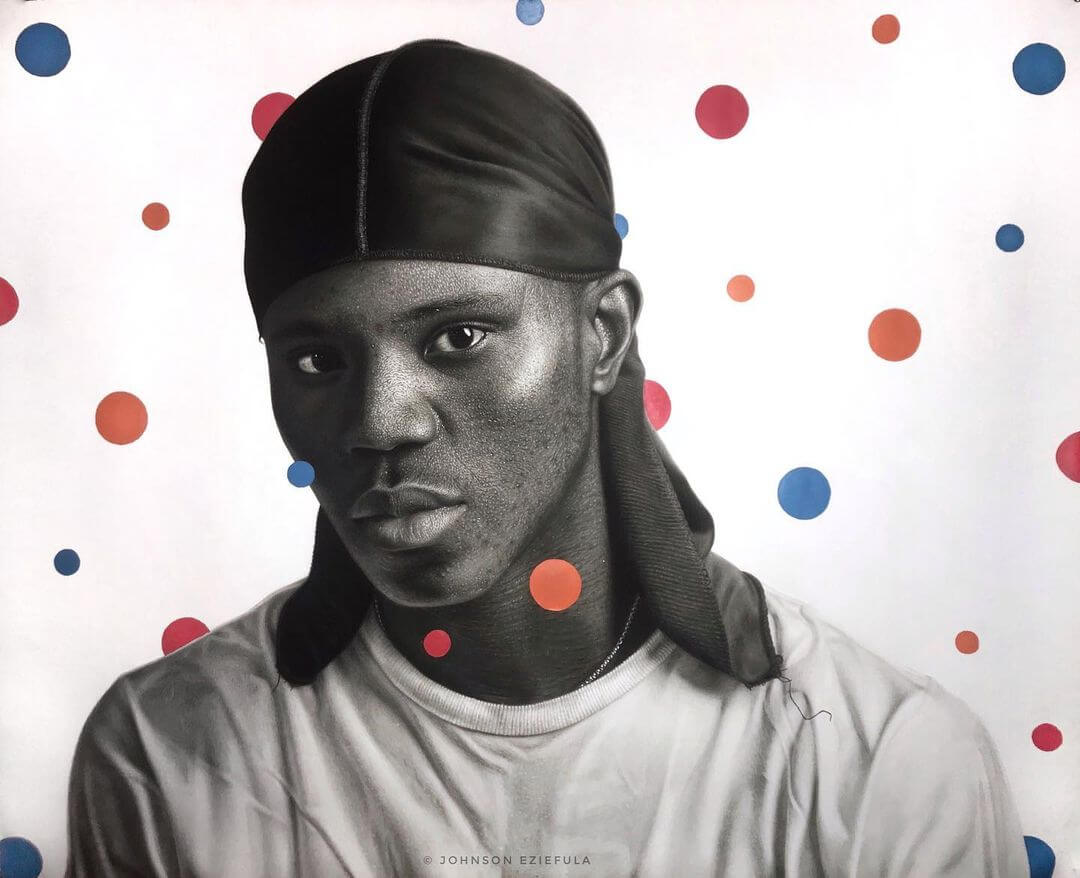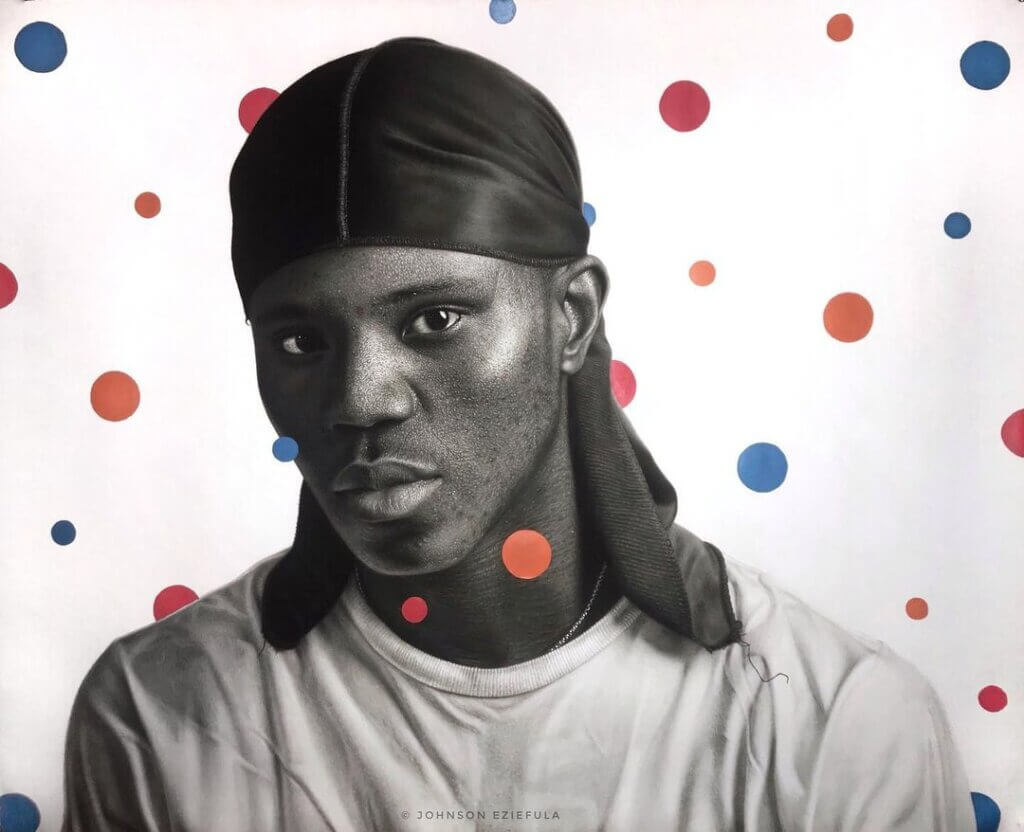 Q: Do you have any advice for artists starting and don't know where to begin?
A: I think Start. Just start. And if you've started already, keep making art, keep giving your best, be deliberate and honest with your work, the world is watching and needs you.
Q: What would you say is the best way of getting your art noticed in the age of the internet?
A: Make use of social media, it's a great platform, especially instagram.
Q: Are there any places where you feel Art and Technology really shouldn't overlap?
A: In the making of traditional art.
https://www.instagram.com/JohnsonEziefula/
©2020 Johnson Jnr Eziefula, @iam.stanlee, @_ekele all rights reserved