Hailing from the undulating heartlands of The Rhondda Valleys in Wales, emerging artist Jacob Taylor draws inspiration from an eclectic range of influences, transforming them into a bewitching blend of the surreal and the peculiar, fanning the embers of intrigue and wonderment.
Taylor's artistic style is peppered with distinctive motifs that are as detailed as they are textured, uniquely portraying Cyclopean canines, Neanderthals, and memento-mori decaying on a wreath of daisies a whimsical interpretation and a playful nod to the phrase 'pushing up daisies'. It's pretty clear Taylor is not afraid to poke the beast of his subject matters that skim the surfaces of mortality, primitive behaviour, and the spectrum of human emotions, offering a surreal exploration of life's intricate labyrinth from Taylor's point of view.
I like to use juxtaposition in my imagery by turning every day and sometimes mundane topics into surreal imagery. I want to paint things I want to see.

Jacob Taylor
Commencing his creative journey during his formative years, kindled by a supportive art teacher who perceived the bud of Taylor's artistic prowess. By 18, Taylor was not only painting; he was curating exhibitions alongside his practice, helping to shine the light on other artists. In 2022, Taylor ensembled a group exhibition at Cardiff's 'Shift' Gallery aptly named 'To Live and Think Like Pigs'. The showcase spotlighted his provocative works and pieces from revered British artists such as Jake Chapman, Tim Noble, Sue Webster and others.
Last year, Taylor stepped into the limelight with his inaugural solo exhibition, 'From the Valleys to the Alleys', hosted by the venerated gallerist Steve Lazarides at Laz Emporium. Which was a resounding success and a compliment to Taylor's burgeoning reputation; every piece was snapped up before the gallery doors swung open.
With a promising art career, a track record of curating exhibitions, and the backing of respected artists and gallerists, the emerging artist from the Rhondda Valleys is a rising star to watch. We had the pleasure of catching up with Taylor to delve into his surreal universe, explore his creative process, and get a sneak peek into his plans for the future.
Jacob! How are you doing? Thank you for taking the time to speak with us. Can you please introduce yourself to those who do not know you?
Jacob Taylor: My name is Jacob Taylor, and I am an artist who resides and works in the Rhondda valleys of South Wales. While I dabble in various mediums, but mostly paint in oils because oils are the big boy's toys.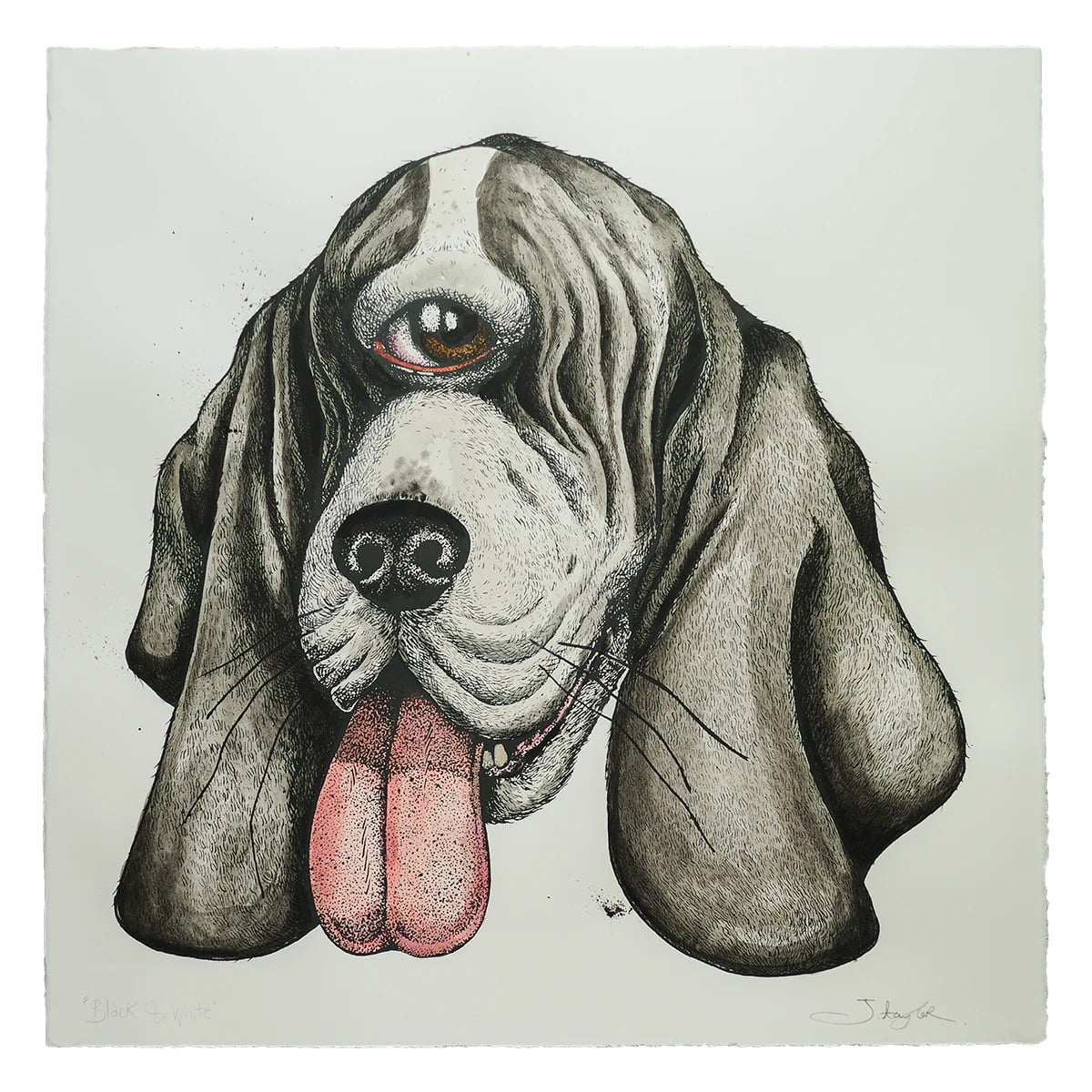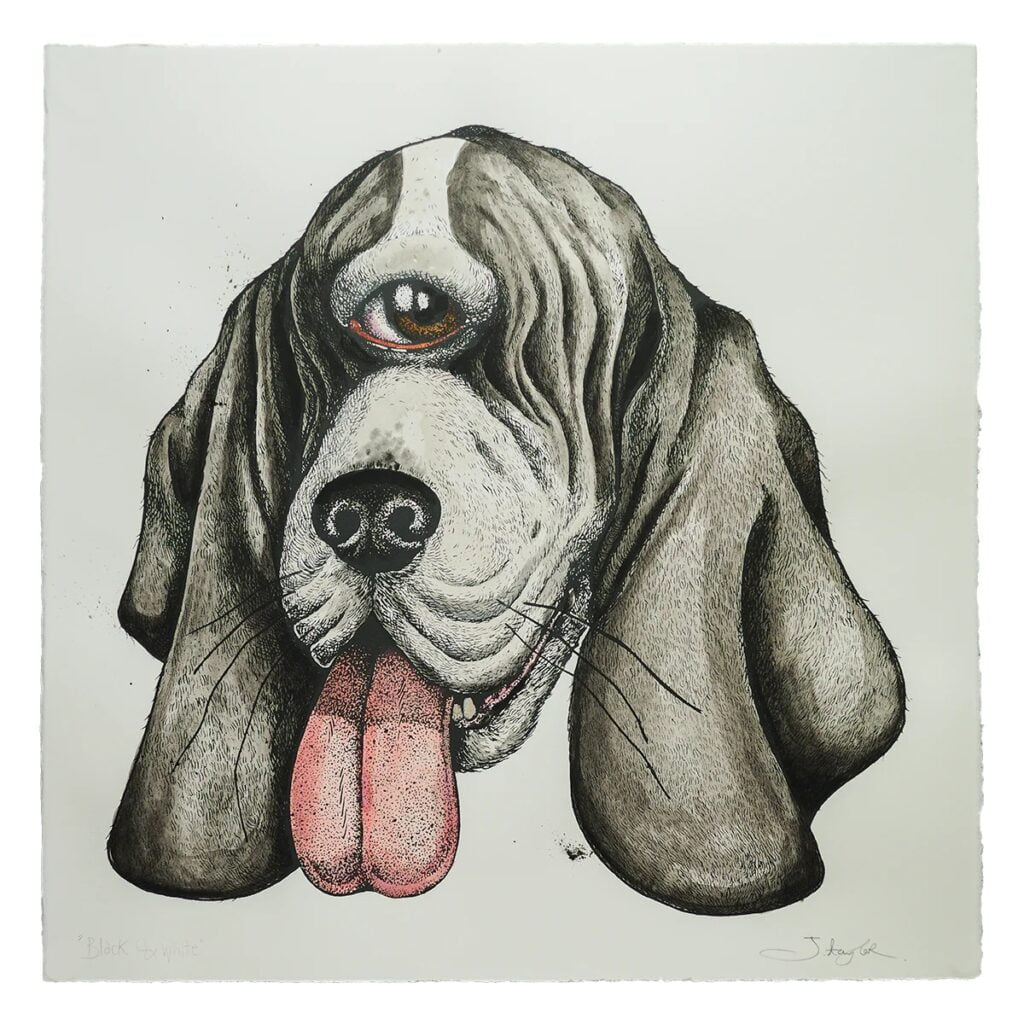 Can you share your journey as an artist, including the significant moments and experiences that inspired you to pursue art as a career? How has your artistic endeavours influenced and shaped your life, and what motivated you to pursue a career as an artist?
Jacob Taylor: I'm fully one of those people who was good at f**k all else in school. The funny thing is I was not interested in being good at anything else; I just have always wanted to and will forever make art. From a young age, when all the other kids idolised pop stars, actors and stuff, I idolised dead artists. I also had an art teacher who encouraged me to pursue my creativity; he became a very close friend after finishing school, so having someone recognise and nurture my talents was a big push in terms of pursuing art. I started putting on exhibitions when I was 18, which has grown into me curating group shows.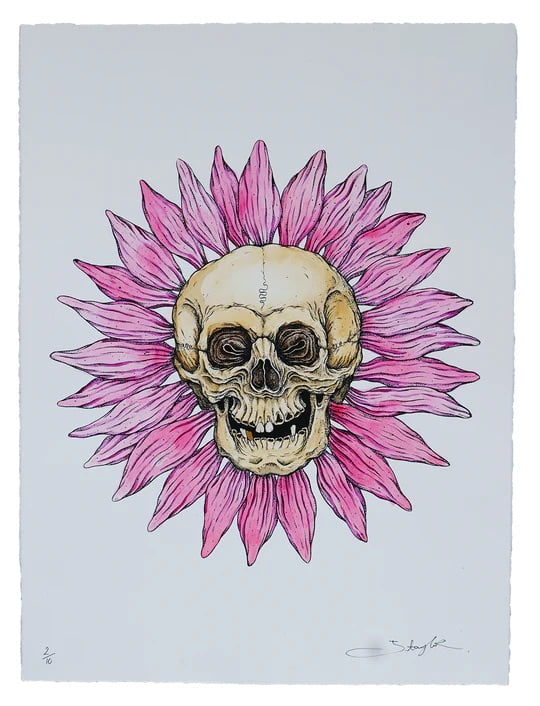 I put on a group show in 2022 in Cardiff, at this big gallery basement called 'Shift". The exhibition was called "to live and think like pigs" and included some big-name artists such as Jake Chapman, Tim Noble, Sue Webster and more. This was a crucial moment in my career, as from there, I gained belief in myself that I could do this as a career. I've always worked shit jobs alongside my art because, ultimately, the bills have to be paid, but money isn't the motive for me. I will be making art regardless of whether it provides a payday.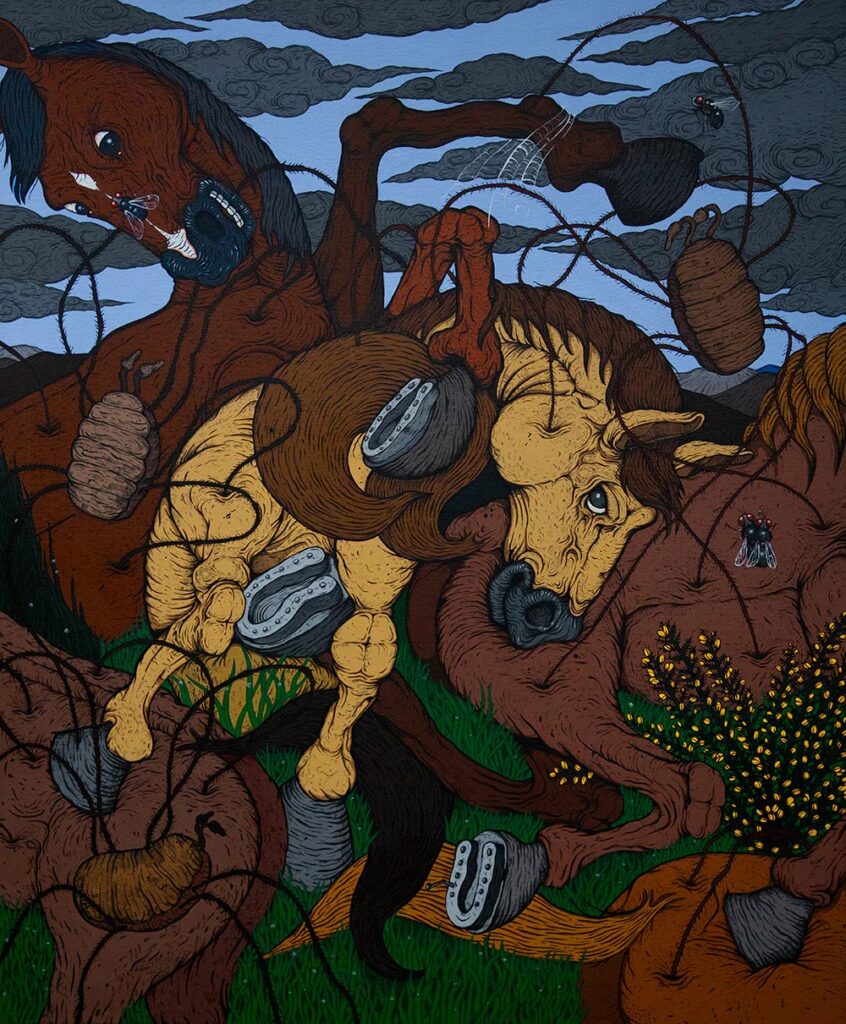 Can we discuss your artistic practice, which incorporates diverse motifs ranging frombutterflies and dogs to skulls and more? I would love to hear a detailed account of your creative process, sources of inspiration, and the key influences that shape and guide your work
Jacob Taylor: I like to use juxtaposition in my imagery by turning every day and sometimes mundane topics into surreal imagery. I want to paint things I want to see. I have never been the guy to paint landscapes and flowers and all that stuff. I like making strange and surreal imagery. I am interested in a wide range of topics, such as mortality, primitive behaviours, and emotions. Many of the motifs or symbolism in my work stem from the topics that interest me, and influences that have impacted upon my work from James Ensor, Jake and Dinos Chapman, Josh Smith and a couple more. But I'm gatekeeping them! I love all traditional and physical types of creating- old antique etchings and Japanese woodcuts heavily influence me.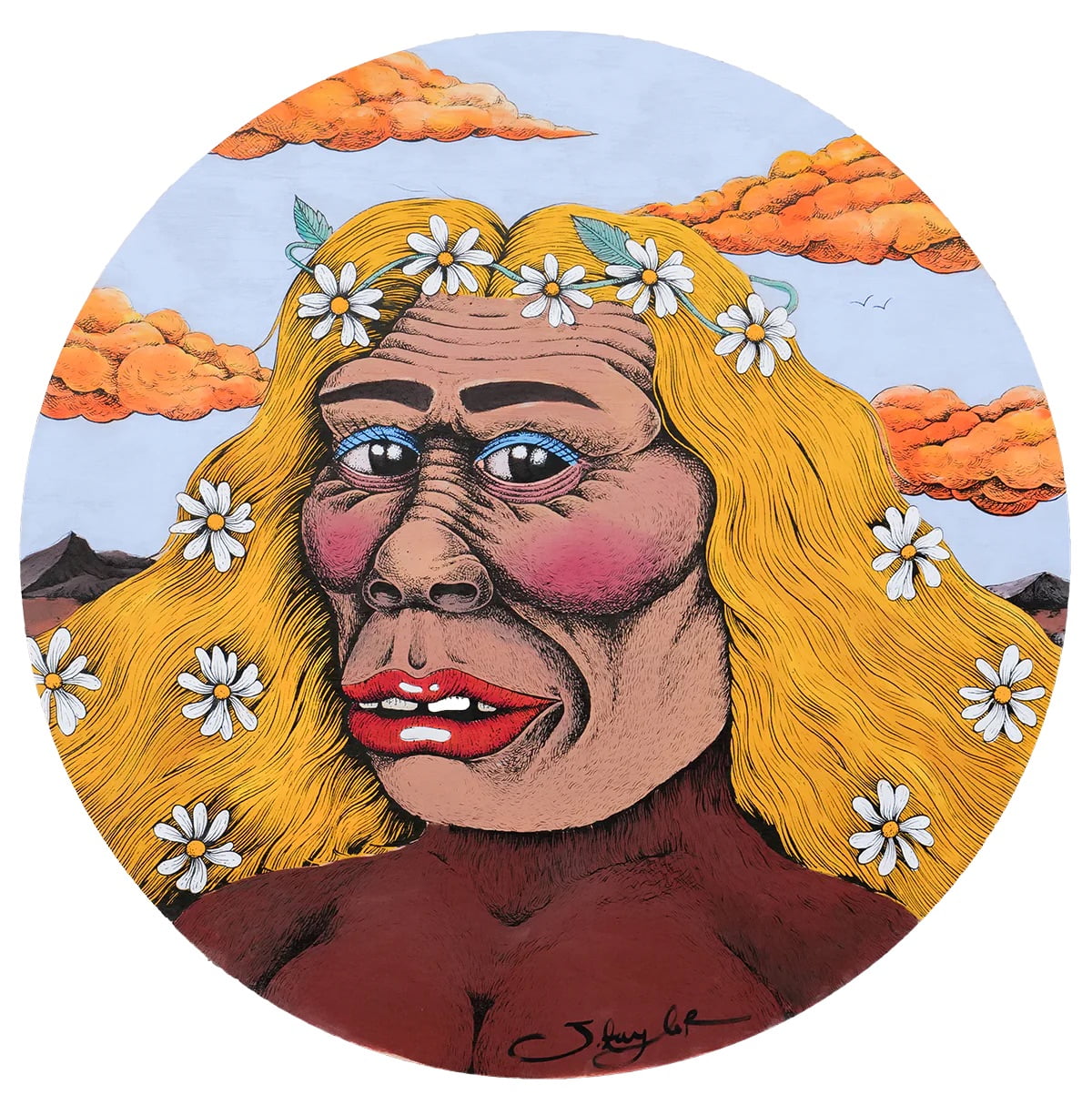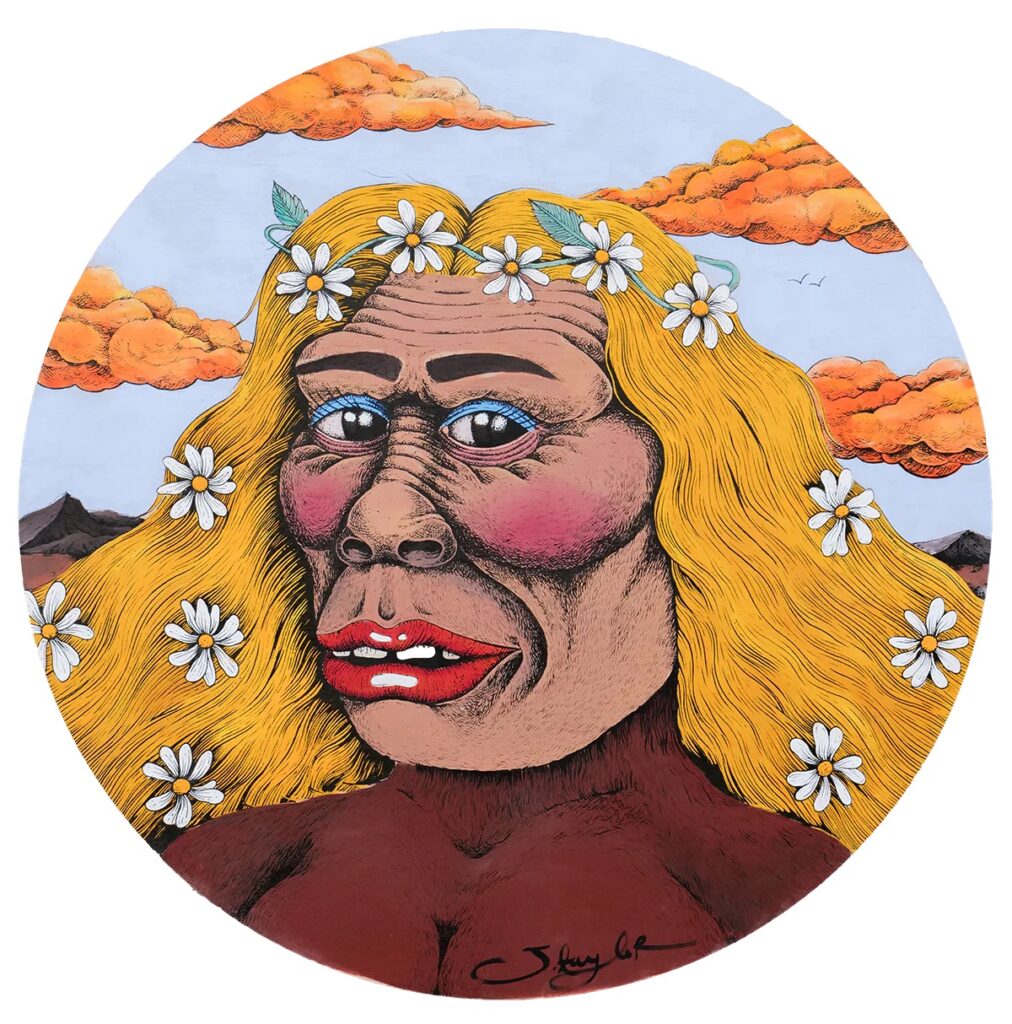 I'm also very inspired by lowbrow and naive playful styles of art. My love for traditional and more lowbrow art has shaped my style of making work. Sometimes I make work that's on the nose with a clear narrative, and other times I make work that I don't fully understand myself. But I have a connection with the subject matter.
Some imagery that I don't necessarily know what they mean initially, but I know subconsciously they do, as the image reminds me of a particular time or person, and I like to explore this. Sometimes I believe art doesn't need to have some deep philosophical meaning. I just feel it needs to evoke some emotion or feelings in the viewer, even if it is something as small as 'That's cool, I like that" or a laugh.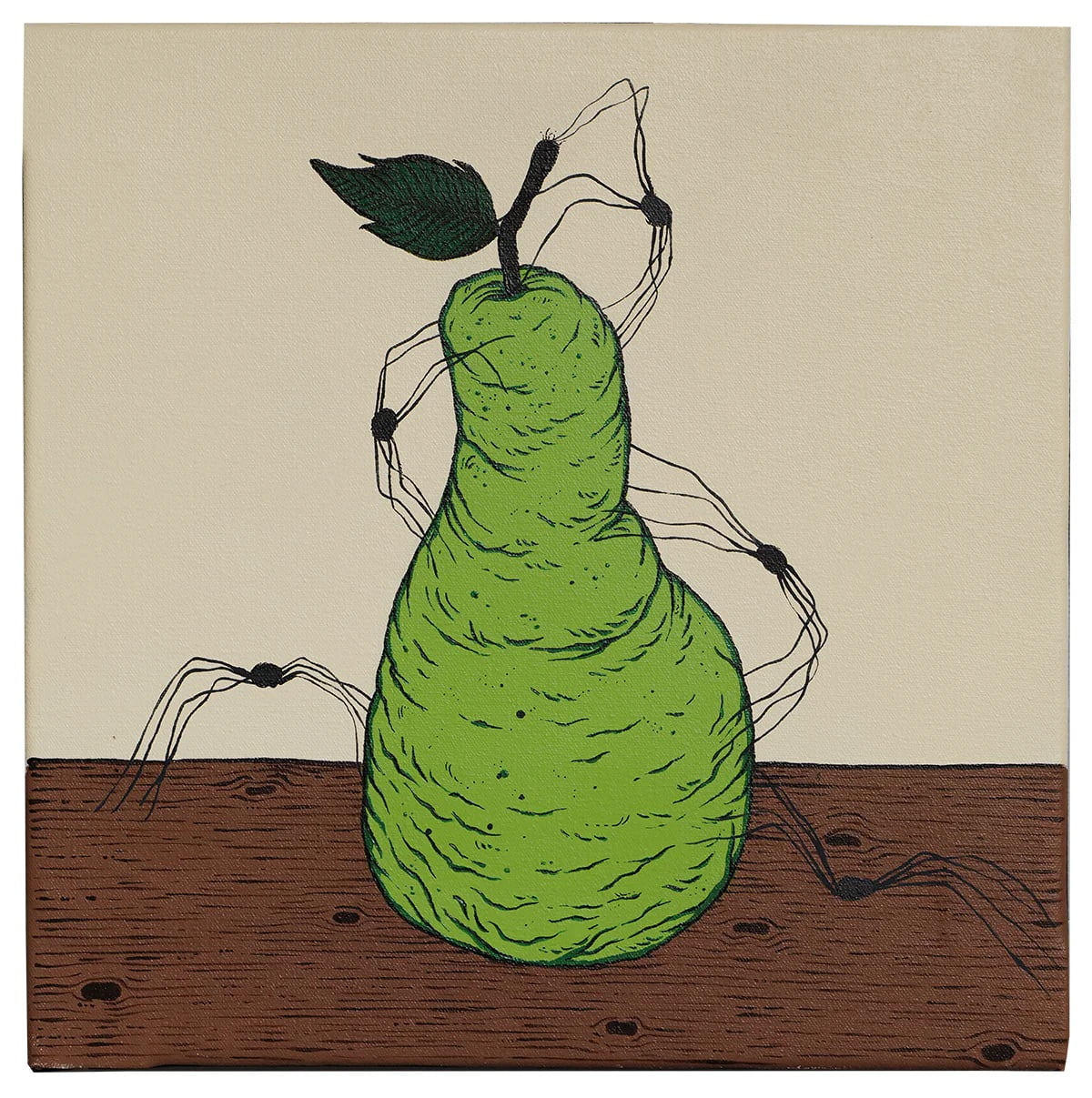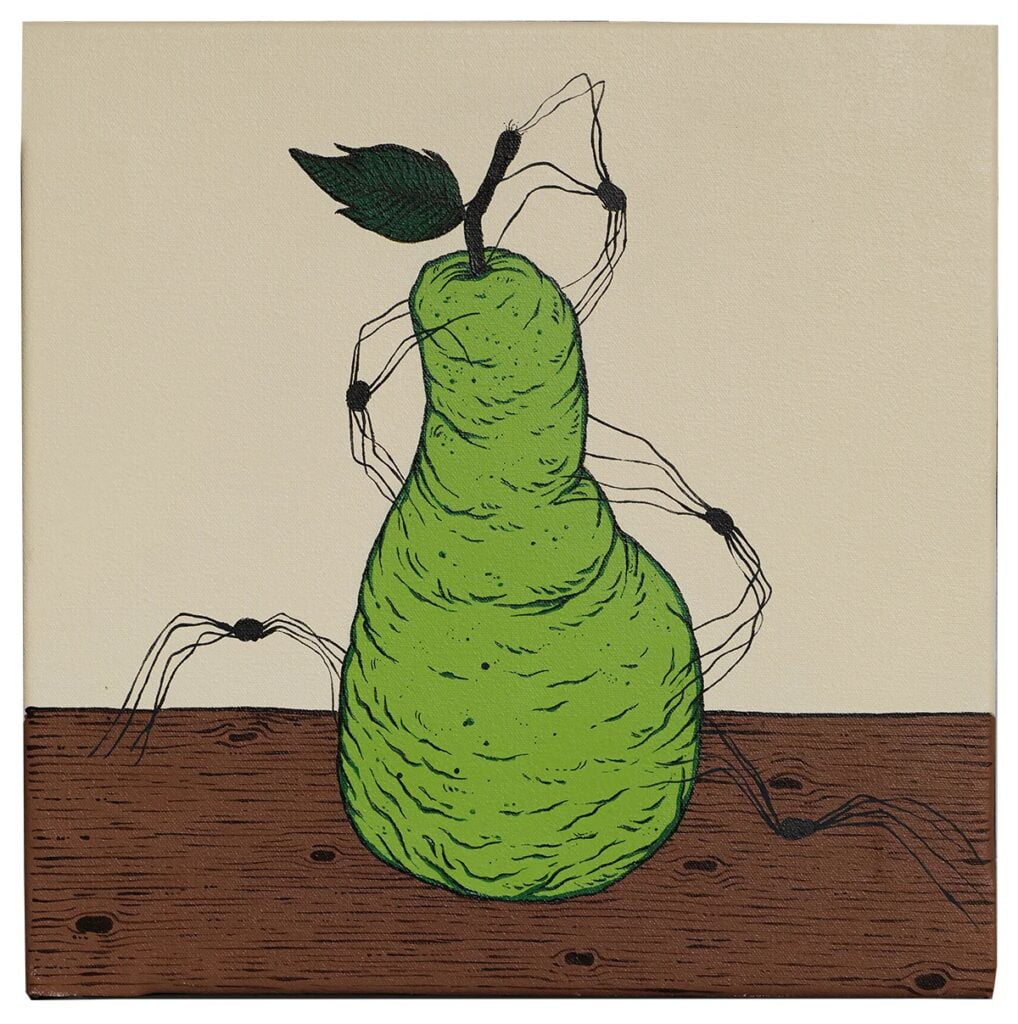 Can we speak about your process of creating a piece, from the initial concept to the finished work?
Jacob Taylor: I sit in my studio, lit only by candles, and I rub serval crystals and essential oil paints over my body. I then eat a single fertilised cream egg before I even think about putting a brush to canvas. Nah, I'mI'm joking.
I never really have a plan, ritual or structure to my process of making. But when I get an initial idea or concept, I like to jump straight into it and explore and develop it as I go along. I doodle and sketch ideas as much as I can until I find an idea that I would like to develop into a piece. I doodle some thumbnails as a general idea of a layout, and sometimes I'll stick with this general layout I initially thought of and other times, it will take me in a completely different way. Because of my belief that there's no inherent point to painting and art, if I already know what the result of something will be I get a bit bored. I think that the exploration and spontaneity in creating is what makes something special.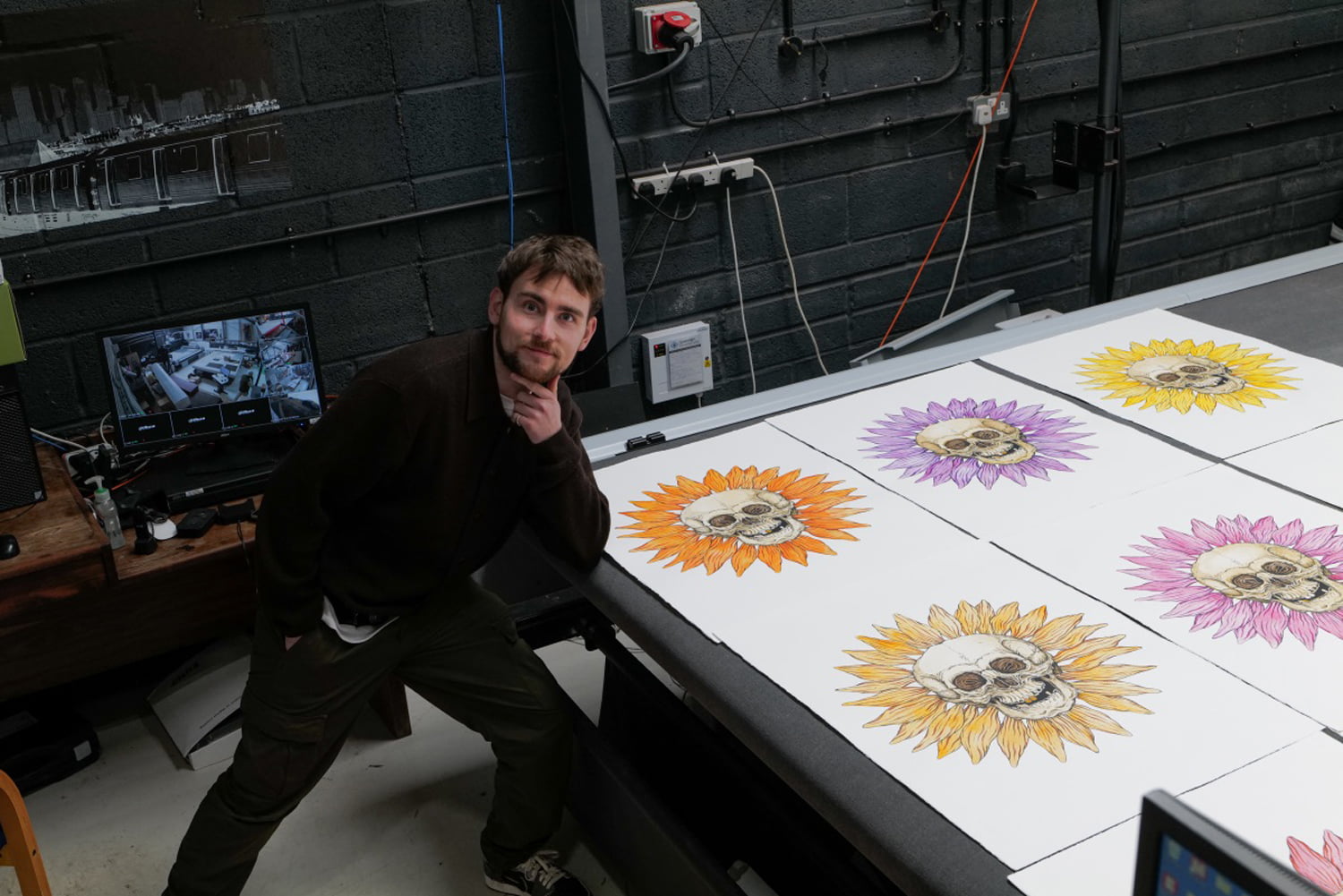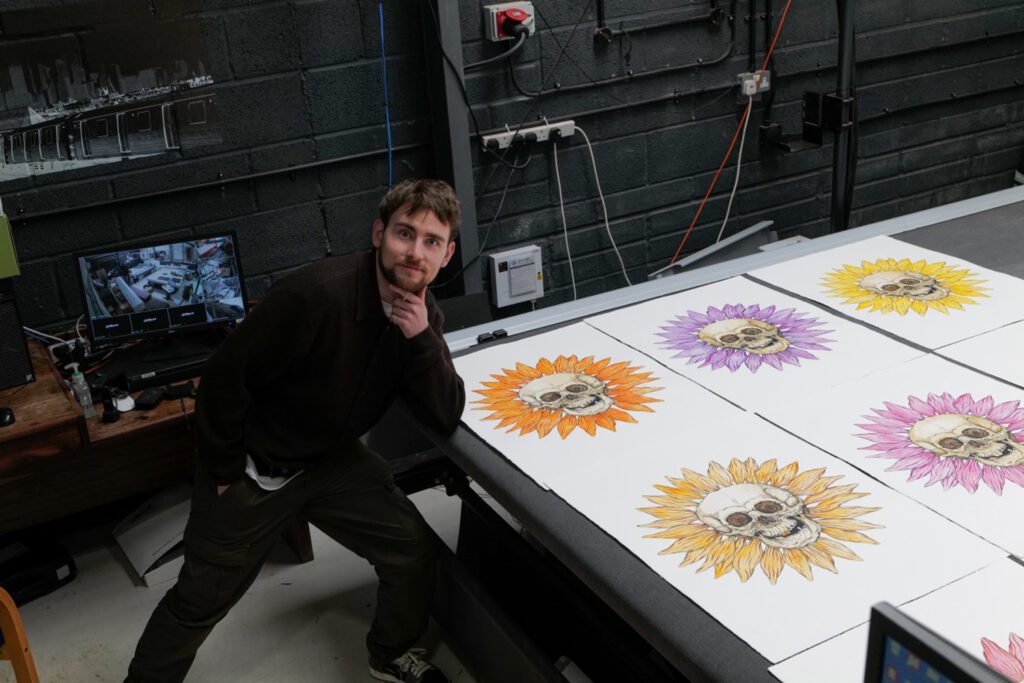 Last year, your inaugural solo exhibition at Laz Emporium was a resounding success, with all pieces sold out. Could you elaborate on the show, your experience collaborating with Laz Emporium, and your emotions upon realising you sold out the entire show?
Jacob Taylor: Last year I had the opportunity of putting on an exhibition at Laz Emporium in Soho with two weeks' notice. Even though it was a push, it was a no-brainer. Steve invited me to use his studios as a creative space in the run-up to the show. This enabled me to make the spider cutouts I have been trying to make for a few years, which I'd never had the resources to make, with layers of printing and hand painting. The show was called "From the Valleys to the Alleys". The show had no real narrative. It was a collection of my work that I had shown in my previous show, 'to live and think like pigs, ' and new pieces I produced for the Soho show. But all the work fitted together stylistically, and the imagery worked well together.
A huge moment for me was when I realised the show had become a great success and sold out in under two hours to high-end clients and celebrities before it opened. At this point, I realised this could be a career for me. It was a very emotional time for me, especially as my fiancé was pregnant, and the thought of having an opportunity to give my family a better life, doing what I love, was incredibly motivating and gave me the feeling that everything was falling into place.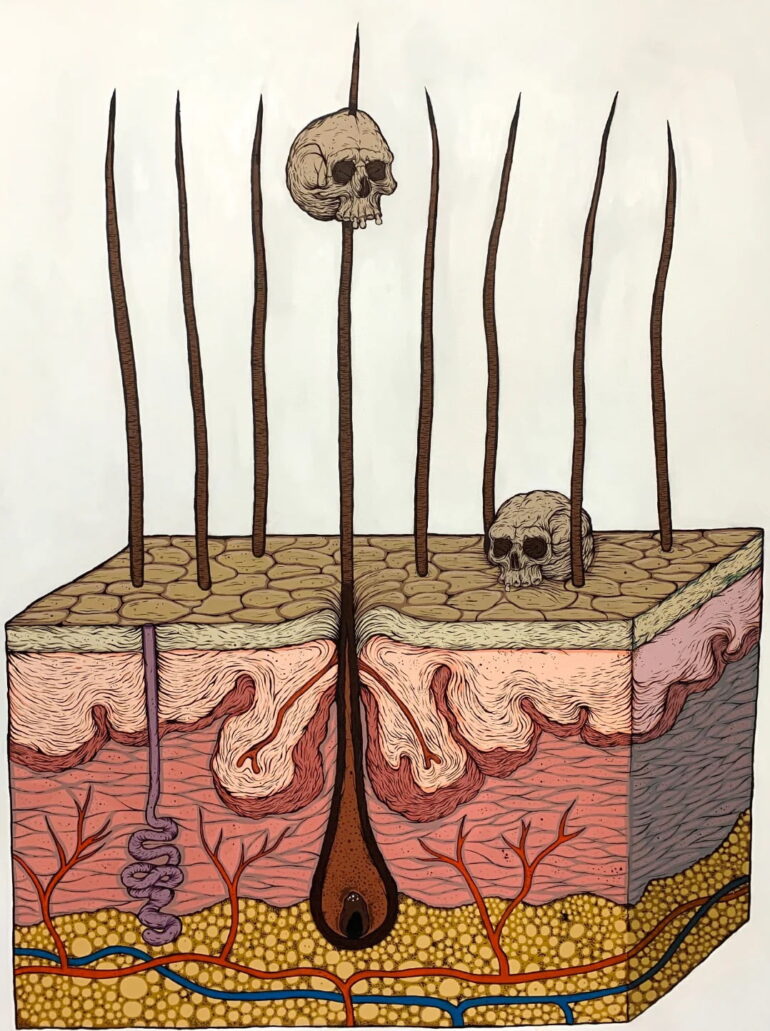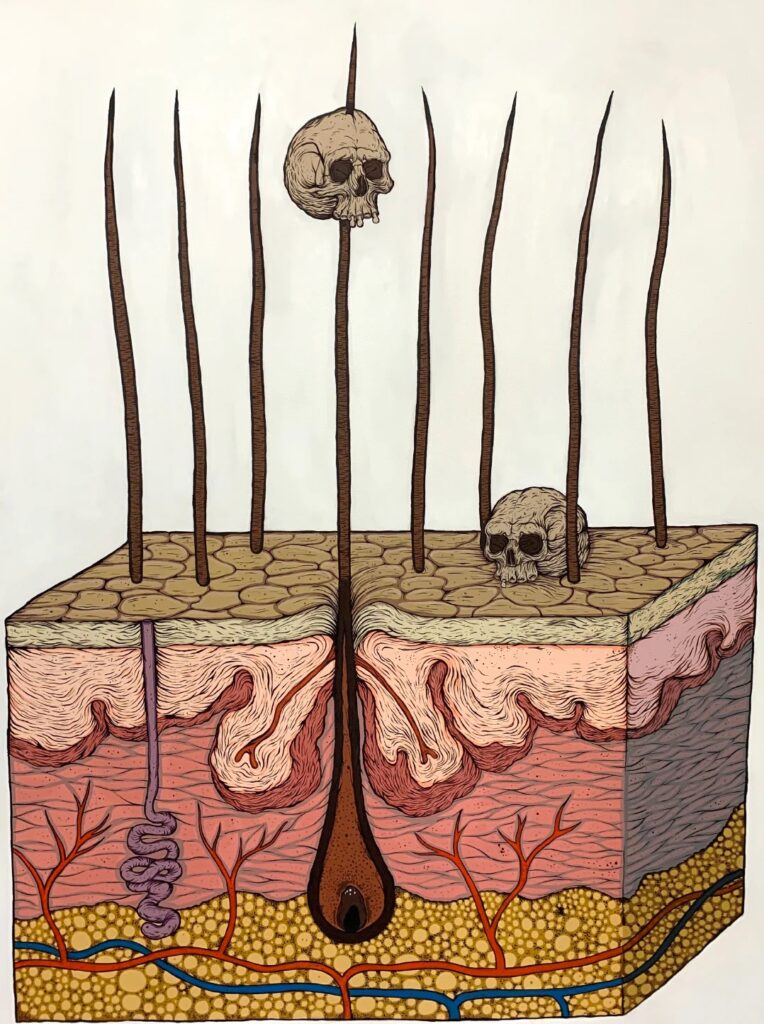 How do you envision your art contributing to the broader discourse within the realm of contemporary art?
Jacob Taylor: In all honesty, I'm not sure how to answer that question. I hope my work makes an impact on people or gets a reaction of some sort; I'm not looking to change the world with my art, just trying to make art that I love and to keep doing so for a long time. Also, I hope someone can take something away from my work or that it inspires other people to make art for art's sake. Even if it's a small impact, I have done my job
As a sanctuary of creative expression, the studio holds immense importance. What are three vital elements that you cannot do without in your workspace?
Jacob Taylor: My studio is a complete s**t hole from broken glass all over the floor to ant infestations. But it's a space I believe I have full control over and no control over simultaneously, if that contradiction makes any sense. I think it reflects my work and how erratic I am, and it is a part of the process coming from the chaos.
I'd say there are some vital elements I cannot do without in my workspace. That it's a space where I can be as expressive with my art as I want and experiment with bigger materials. Even though it is a tip, I feel it is a place I can go to think and be in my space with no distractions and sit in my own filth, thinking of concepts and ideas. Finally, I like to fill my studio with inspiration, including covering the walls with art that inspire me, like my vintage scientific posters. I have loads of strange items that influence my art, including my taxidermy collection, an otter with sunglasses and a cigarette in his mouth and a cormorant with makeup painted on its face and beak.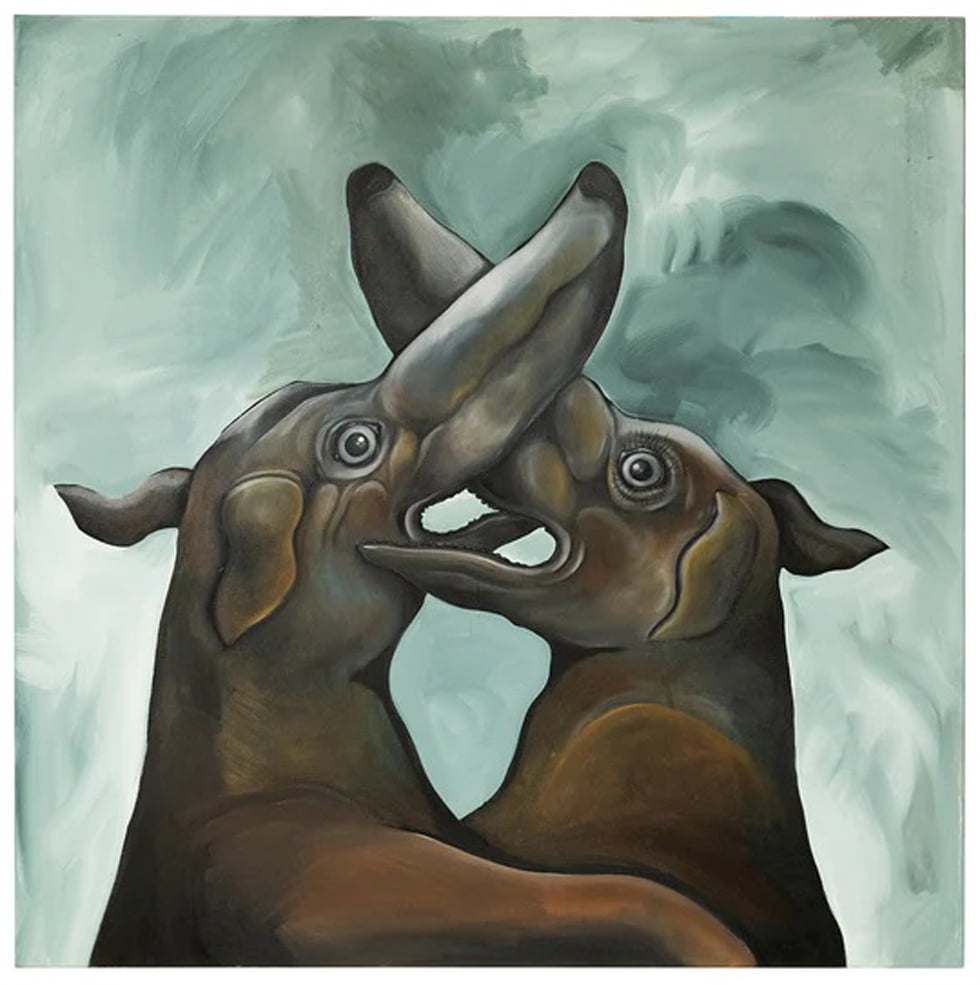 What next for Jacob Taylor?
Jacob Taylor: Career-wise, I plan on doing some shows in and out of the Uk. I would love to hit some of the bigger art cities and do some pop-up exhibitions. I also love curating group shows and bringing artists together, so I aim to keep putting on shows. Artistically I want to keep developing my work by exploring and experimenting with different ways of creating my painting style by loosening up my tight line-work style paintings with expressive character and still maintaining tight lifework in some areas.
Lastly, what does art mean to you?
Jacob Taylor: It means everything
©2023 Jacob Taylor