Ellie Pennick runs Guts – a gallery championing the "underrepresented voices" of the art world. Ellie has a raw, honest coolness about her and her approach to the art world is a refreshingly-direct call-to-arms.  While working with Pennick during the Delphian x Guts Gallery collaborative exhibition at The Factory, Dalston, we had the chance to talk about her inspirations, Guts' values, and the internet as "an art gallery in itself".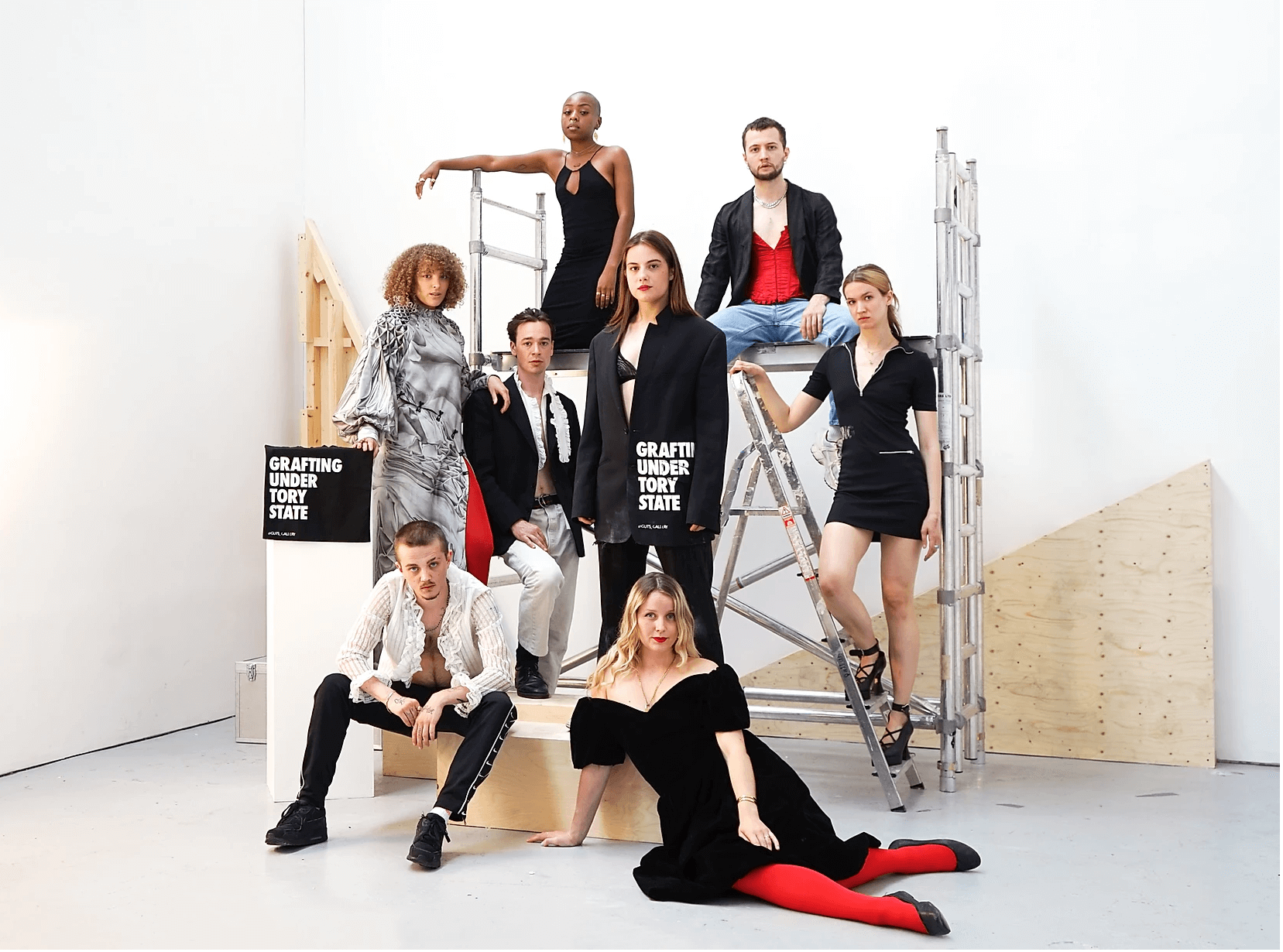 Q: First thing's first, introduce yourself!
A: My name is Ellie Pennick, I am the director of Guts Gallery and a queer working-class artist and activist from North Yorkshire! Guts Gallery supports underrepresented voices within today's contemporary art scene by challenging the traditional art gallery model, in need of radical change.
Q: How did Guts come into being?
A: After leaving university two years ago, I was accepted into The Royal College of Art for a Masters degree in sculpting. However, due to limited funds, I was unable to study there. It was a kick in the teeth because I had earned an opportunity that I couldn't take because of my working class background. I was left sofa hopping around London and living off benefits, looking for a route to realise my ambitions and earn a living in the arts.
At the same time, I was frustrated with the politics that the art world engages with. The art business model mirrors a wider social austerity that disproportionately benefits people who do not experience racial oppression, gender or class discriminations. After withdrawing from the RCA I realised I had nothing to lose – why not start a social justice-business venture? Fuelling progressive change in an industry that alienated me due to my class is far more important to me than a piece of paper with a Masters grade on it.
Q: What was your previous experience in the arts?
A: I was fortunate enough to have an education in the arts as I studied at Leeds College of Art, then Chelsea College of Art where I made political sculptures.
Q: What has been your favourite exhibition to put on?
A: I am extremely proud of our opening exhibition which included artists who identified as BAME, working-class, queer, female and struggling. I exhibited them alongside renowned artists such as Guerrilla Girls, Polly Morgan and Mark Wallinger to create a platform of support between established and emerging artists. I am also looking forward to our upcoming collaborative exhibition with Delphian Gallery!
Q: Who are your biggest inspirations?
A: At the moment
Pallas Citroen Director Of The Bomb Factory Arts Foundation supporting artists, cultural organisations and educational institutions to engage people of all ages and backgrounds in the viewing and creation of art.
Richie Culver A fucking great northern working-class artist with no arts education, who has grafted his way to success. Ultimate respect.
Elvis Presley The King
Q: How do you strike the balance between the creative and business side?
A: Every month I check in with my self and ask – am I fulfilling Guts Gallery's values? How can I continue diversifying and providing a platform for oppressed communities? How can I shift from the traditional art gallery model whilst being able to pay my rent and live and the artists I work with? These are questions I am continually grappling with and trying to realise in my work.
Q: Social Media as a tool for artists – pro or anti?
A: Pro – it has created a platform where more artists are being discovered. It has become an art gallery in itself, however, this has its drawbacks as it means that a lot of people now do not visit physical gallery spaces.
Q: What are you angry about right now?
A: Torys
Q: What's next!?
A: Progressive and radical exhibitions. Follow us @guts_gallery and see for yourself.
https://www.instagram.com/guts_gallery/
©2019 Guts Gallery