Elena Garrigola at Saatchi Yates
1 November – 22 December 2023
Saatchi Yates
14 Bury Street
St James's
London SW1Y 6AL
Saatchi Yates will present a debut solo exhibition by Spanish artist Elena Garrigolas. The presentation will include 17 new works depicting an eclectic array of visceral and bewildering imagery. Taking inspiration from dreamscapes, internet culture, and personal experience, Garrigolas twists banal scenes into outlandish and confronting
self-portraits.
Growing up in a religious family and attending Catholic school, Garrigolas was encouraged to suppress her feelings and ignore the physical embodiment of her being. In retaliation to this upbringing, Garrigolas' practice confronts traumatic experiences and personal vulnerabilities.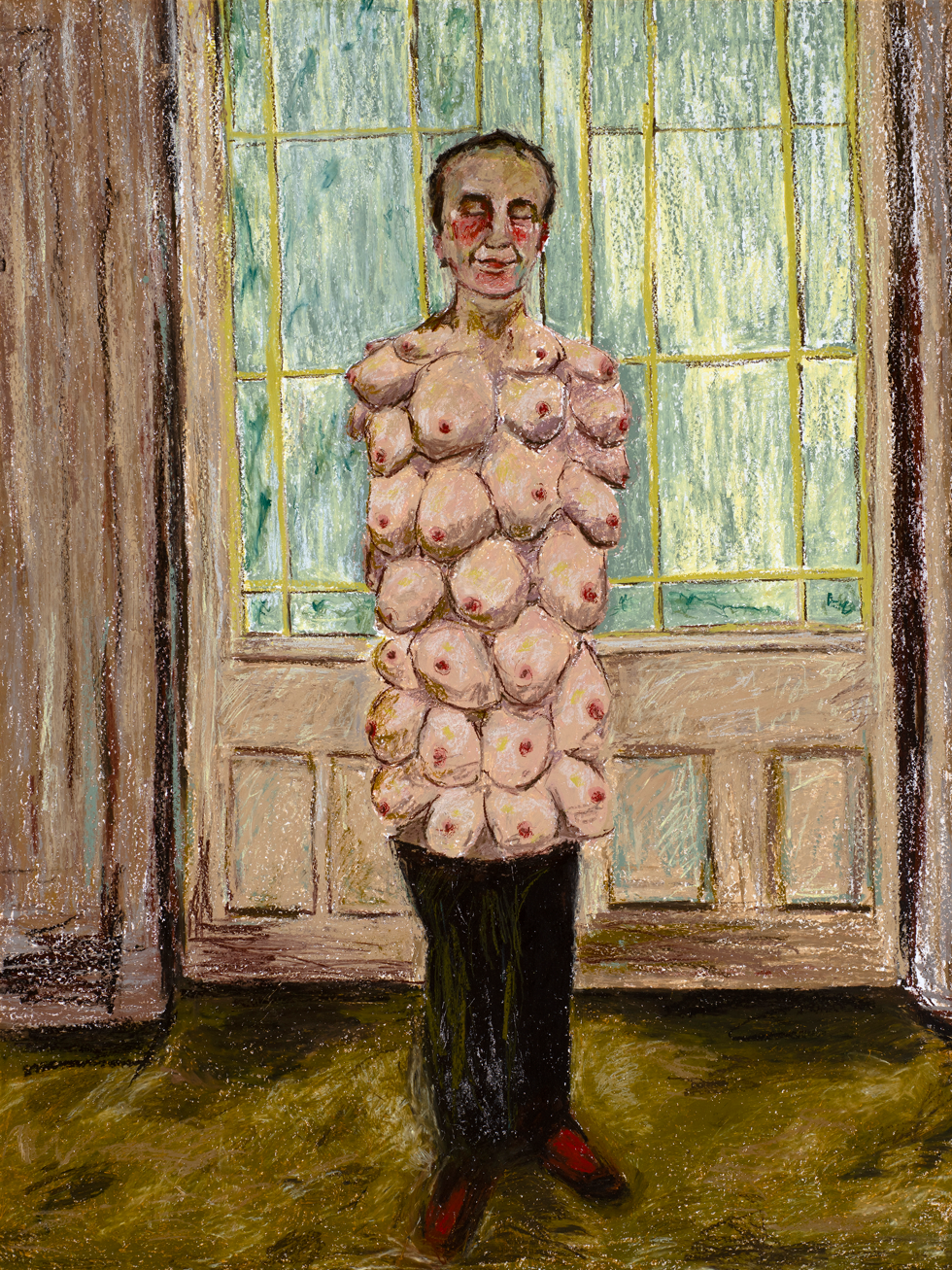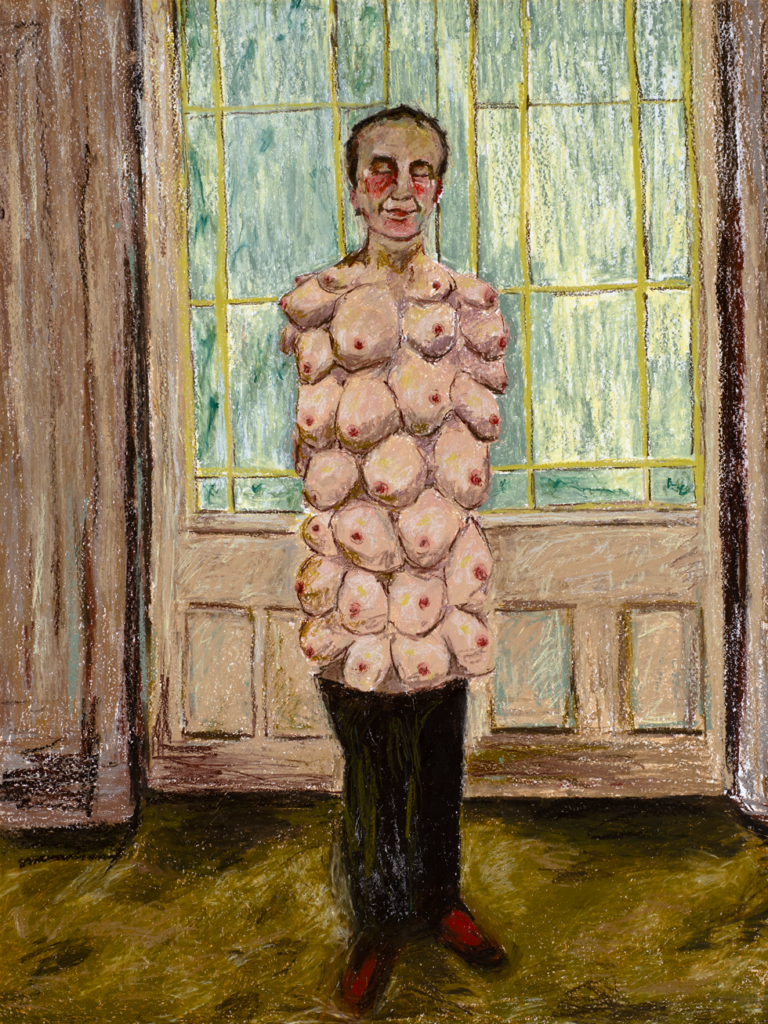 Her surrealist subjects include anthropomorphic characters that explore themes around motherhood, ageing and beauty. Inspired by a historical trajectory of feminist artists such as Frida Khalo, Miriam Cahn, Nancy Spero and Paula Rego, Garrigolas uses self-portraiture and absurd satirical scenes, to explore darker themes of personal pain. Describing humour as a 'defence mechanism', Garrigolas' creative practice allows her to explore deeply personal issues without being vulnerable.
I talk about the pain and trauma of my own body. I come from a religious family, I went to an all girls Catholic school. They teach you not to desire your body, to hide it, like it doesn't exist. Everything I paint is an attempt to deal with this. In real life, I don't have control over how I am perceived, or how I perceive myself. When I paint, I can choose what to show, and it's a way of healing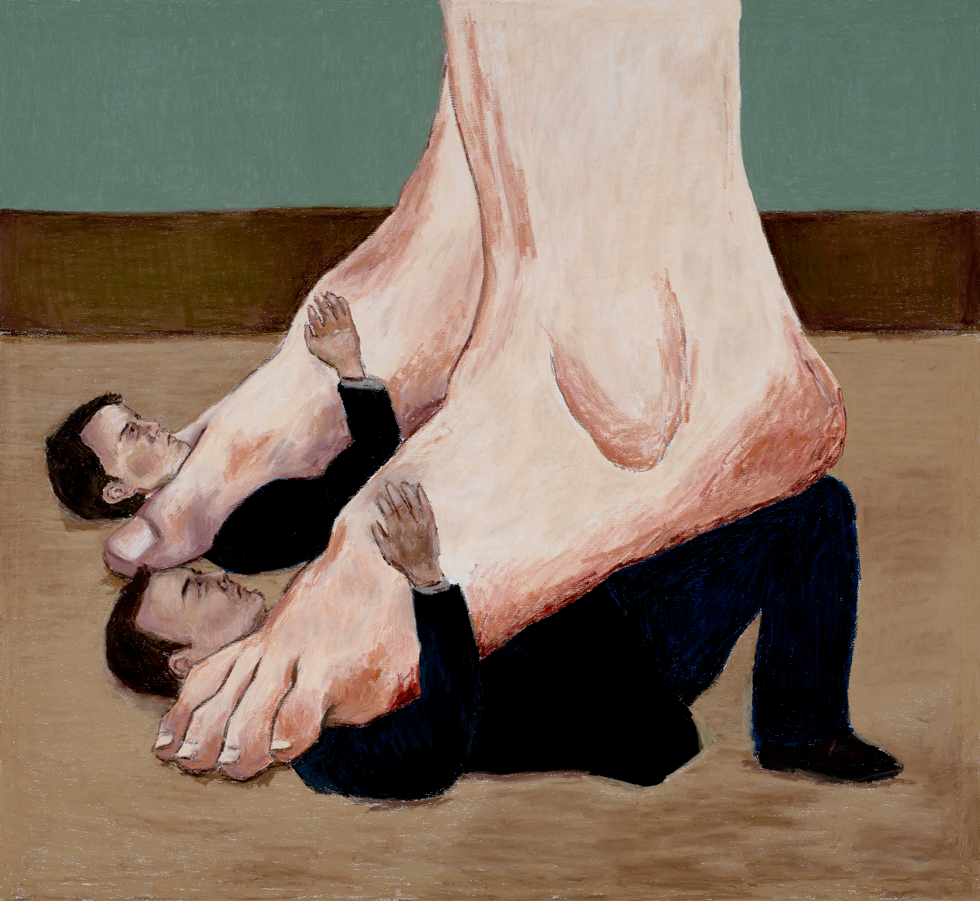 Garrigolas sites were influenced by the great Spanish painter Francisco Goya, whose Catholic beginnings and royal portraiture turned towards the dark and macabre, that was led by personal struggles and geopolitical happenings. Garrigolas's practice is undeniably inspired by the intensity of Goya's disturbing images. Further to historical references, Garrigolas' work explores contemporary internet culture, specifically the current crazed interest in memes.
Much like the humorous memes posted and circulated anonymously online, Garrigolas creates intense snapshots, purposefully ambiguous in meaning in order to explore issues more privately, like a visual diary.
Elena Garrigola's debut exhibition at Saatchi Yates will be available to view from 1st November until 22nd December 2023
©2023 SAATCHI YATES