The art revolution is fully underway in the form of an NFT, otherwise known as a non-fungible token. However, there is a thin line between the traditionalists who say it's a novelty and the galleries and institutions joining the train.
Stepping away from the physicalities of conventional painting, balaclava artist DotPigeon is taking flight in the NFT space. Dot released his first NFT on Nifty Gateway titled 'I've just robbed the crypto bank.' That kicked off a succession of NFT drops and digital projects for the Italian based digital artist.
DotPigeon comes very naturally from my love for pigeons, such underrated animals if you think about it. You give them puke, and they eat it. If you give them lobster, they eat it. They know how to adapt.

DotPigeon
DotPigeon's work knows no bounds allowing you to be immersed in his ingenious visual summaries that consist of his thoughts and passions concerning themes of contemporary culture such as fame, money, success and the hierarchy with Dot as the focal point.
With his experimental creativity, he is defining a new era of naive digital art. In a matter of months, Dot's NFTs have grossed $3.8 million in cryptocurrency Ethereum across the primary and secondary NFT markets.
Currently his work is part of a groundbreaking online sale at Christie's auction house titled 'Trespassing' curated by Ronnie K. Pirovino. In this interview, we learn about Dot's essence and more.
Q: For those who don't know you, can you please introduce yourself?
A: I'm a 33-year-old artist and former Art Director Supervisor in a multinational advertising agency. I started my art career in 2017 when I first opened my Instagram page @_dotpigeon. I work with digital and physical mediums; I've also had group and solo shows in Europe and the USA and some NFT drops on Nifty Gateway.
Q: How did you come up with the name DotPigeon?
A: DotPigeon comes very naturally from my love for pigeons, such underrated animals if you think about it. You give them puke, and they eat it. If you give them lobster, they eat it. They know how to adapt. I think the pigeon somewhat represents my attitude.
Q: What is your inspiration, and why do you do what you do?
A: Rage & annoyance. At the very beginning DotPigeon was a relief valve from my job: I used to create (very different despite now) artworks just to escape the daily routine of briefs and clients. Then, after a long process of research, I came up with the idea of the balaclava guy.
He's not escaping the daily routines of the full-time job anymore; he's expressing rage against a system of values that don't represent him.
Q: Can you tell us about your creative process?
A: I don't have one creative process. It changes when facing what I have to do. If it's an artwork unrelated to a show or a drop, it all starts with a rage/annoyance feeling inside something in particular or someone.
It all starts with a concept if it's part of something more extensive, like a show or a drop. Since I find the idea there's the research part related to what I have in mind (for example, regarding the "Fly Me to the moon" drop, I researched about 60s/70s houses and furniture), then there's the execution phase.
Q: Your work has a fusion of themes, including fashion, rap, pop culture and art. Can you tell us the motivation behind this?
A: I strongly believe that art must speak our language; it needs to be actual, it has to talk about nowadays. That's why I'm not putting Caravaggio paintings inside my houses and why I chose contemporary (or crypto) artists. In addition, I want the balaclava guy to be an aspirational character; everybody desires to be him. That's why he's so cool, and he's wearing unique sneakers and clothing.
Q: What was the first piece of Art you created that cemented your path as an artist?
A: Even if before the balaclava guy I used to sell artworks, I think the big step was him. Regardless of this, the painting that sparked the idea of a glitch in our system was this: (see attached) a calm world with a blue sky, nice white clouds, a pink McDonald's and a destroyed car parked in front of it.
Q: You've had great success with selling your NFT art. Can you explain why you chose this medium to sell your work?
A: I'm a native digital artist. I don't paint traditionally. But my approach has always been to look for "authenticity" in a digital world. That's why all my digital paintings are printed 1/1 on a linen canvas.
They are digital with a non-digital approach. When I discovered NFTs thanks to Slime Sunday in November 2020, I fell in love with them. They were giving me exactly what I needed: authenticity.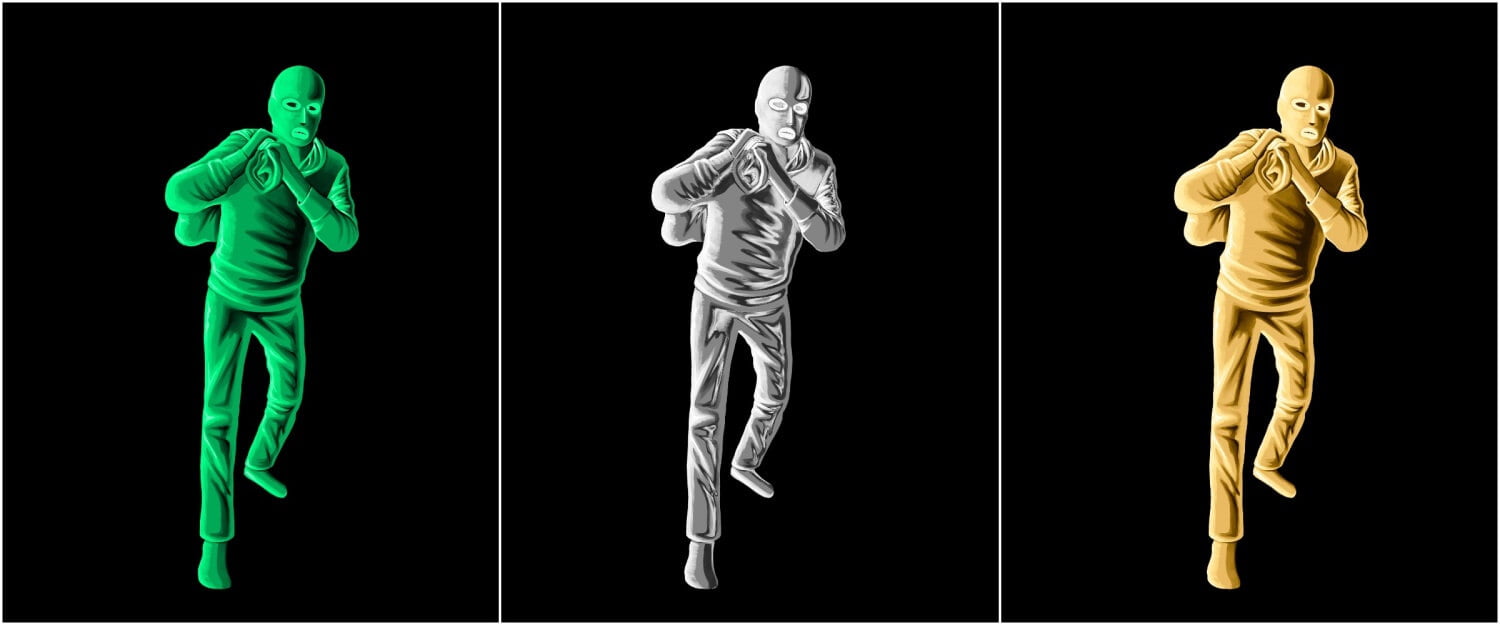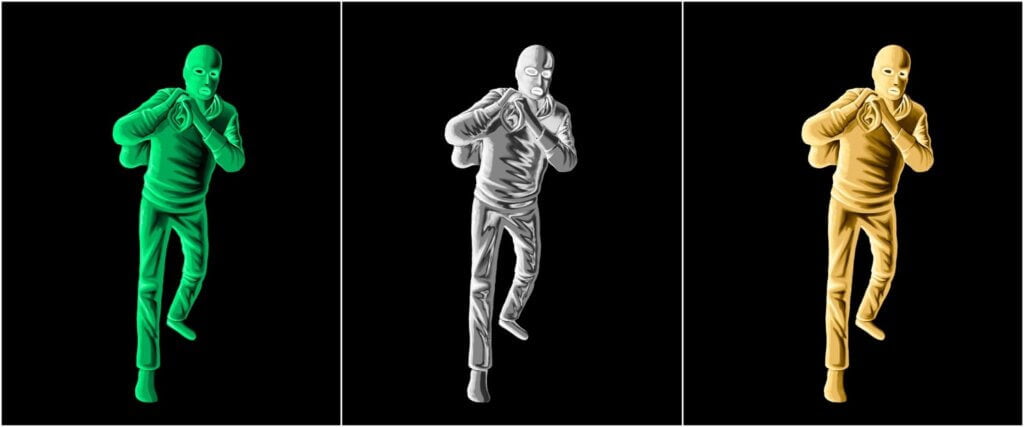 Q: What are your thoughts on NFT market and how do you think it will develop?
A: I think the market has been a little bit over-saturated in the last few months. Artists need to think about their work in terms of scarcity and grow their community, reward holders and listen to their voice and thoughts to be successful. About how it will develop, I can't answer right now, I haven't received my Crystal ball from Greg Mike yet 😉
Q: In your opinion, what is the lasting impact of Art?
A: Clearing the boundaries and creating connections.
Q: What do you think about the current state of the art world?
A: We're living in an era where many people are expressing themselves through Art. Not all this Art will last, but it doesn't matter.
Q: What's next for DotPigeon?
A: I'm working on some great stuff, and I have so many projects coming, I can't wait for them. Next year I will have my first ever US solo show in a city I love: Los Angeles. Then I have a couple of projects and collaborations, and I'm starting to think about merchandising—definitely busy times.
Q: Lastly, what does Art mean to you?
A: Art is giving me freedom.
https://www.instagram.com/_dotpigeon/
https://www.twitter.com/_dotpigeon
https://opensea.io/collection/dot-pigeon
https://niftygateway.com/profile/dotpigeon
NFTs Sales Calculated by cryptoart.io
©2021 DotPigeon