'Dear Earth: Art and Hope in a Time of Crisis', a new exhibition at the Hayward Gallery on London's Southbank features international contemporary artists responding to the climate crisis. The exhibition is presented as part of 'Planet Summer' the Southbank Centre's summer season themed around the climate emergency.  A carefully curated selection of 15 artists, many showing new work specially commissioned for 'Dear Earth', including indigenous artists from Brazil and Taiwan as well as contemporary art world stars, are presenting textiles, paintings, video art, installation and neon art aimed at provoking a debate about the climate crisis and emphasising the importance of our connection to the natural world.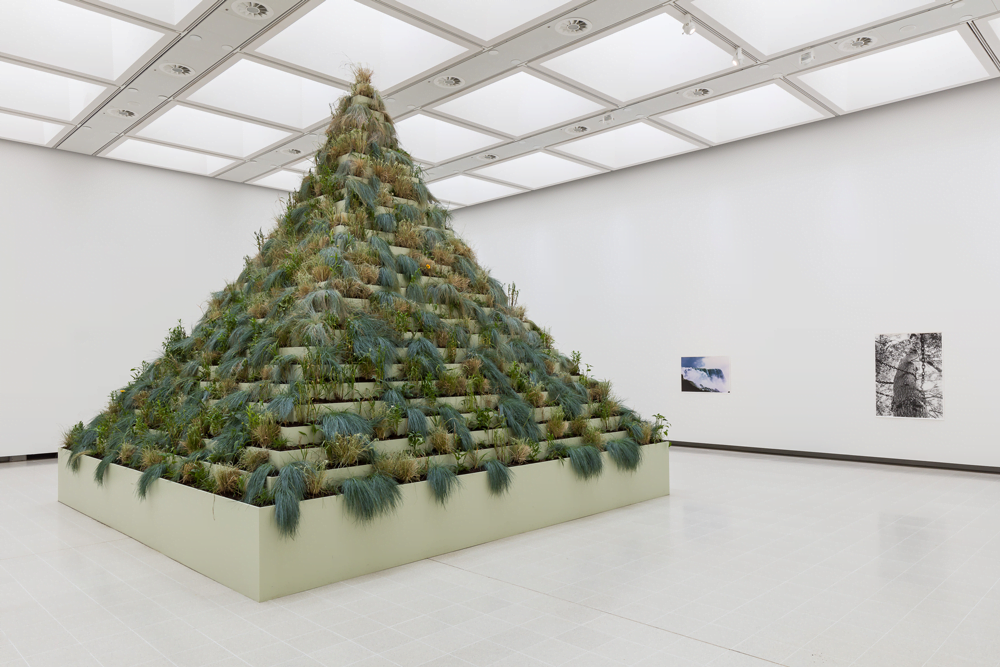 'Dear Earth' includes new work created by artists and community groups including; Hito Steyerl, Cornelia Parker, Daiara Tukano, Richard Mosse, Jenny Kendler, Grounded Ecotherapy and Ackroyd & Harvey, and presents the work of Daiara Tukano and Aluaiy Kaumakan for the first time. 
My personal highlight is a multi-screen video installation by Irish artist Richard Mosse. His new film commission for 'Dear Earth' focuses on environmental devastation in the Amazon rainforest. Mosse filmed a series of moving speeches by the Yanomami indigenous people of the Amazonian rainforest of Roraima and Amazonas states, on the Brazil-Venezuela border. Their devastating testimonies are a rallying cry for people around the world to sit up and stop the devastation of the rainforests for capitalist gains.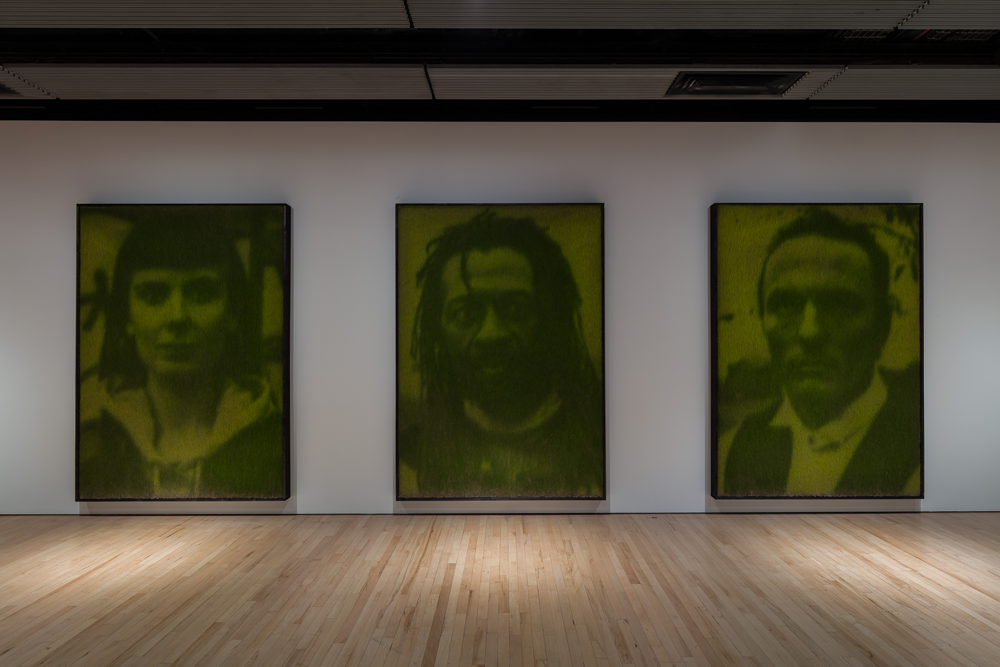 British artists Ackroyd & Harvey are exhibiting a beautiful photographic photosynthesis series, mae up of large-scale portraits of environmental activists, created using seedling grass which has been exposed to sunlight.
In the same room as Ackroyd & Harvey's photosynthesis series is 'The Axis of Life & Vines in the Mountain' (2018), a vast textile sculpture created by Aluaiy Kaumakan, an artist from the Paiwan Paridrayan tribe of indigenous peoples in Taiwan. Kaumakan made the sculpture using Lemikalik, a traditional Paiwanese technique of hooking and weaving. After Typhoon Morakot devastated her homeland in 2009, and displaced the Paridrayan people, Kaumakan used art to heal and reconnect with important cultural traditions.
Himali Singh Soin, a writer and artist working between New Delhi and London, is presenting a captivating video work titled 'We are opposite like that' (2017-2022), which combines poetic visuals with archival material, and tells the story of how the Victorians were scared of encroaching glaciers devastating the planet.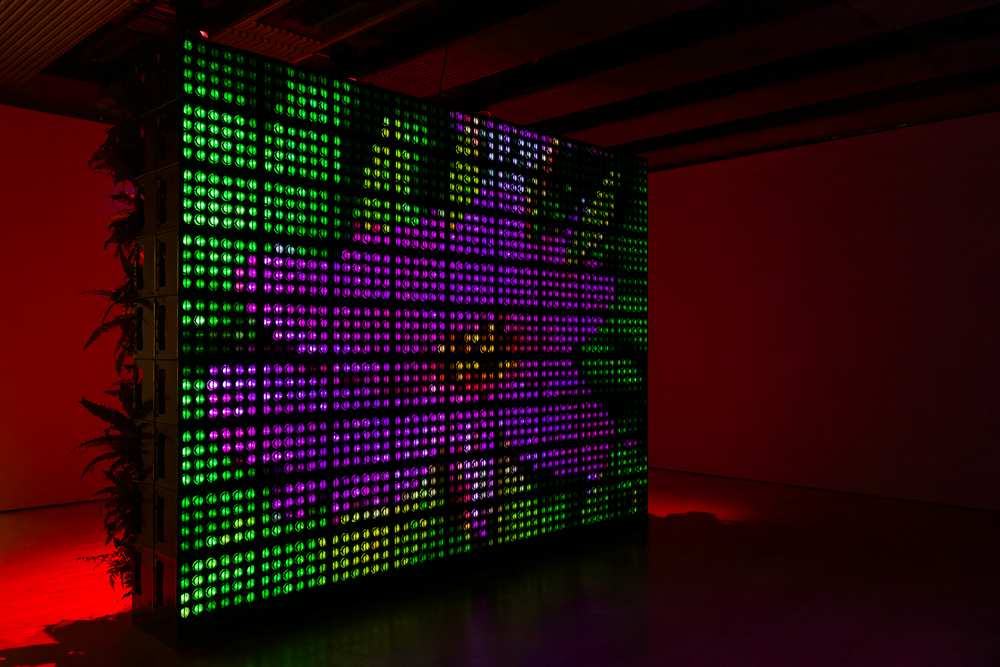 German filmmaker Hito Steyerl has created a new sculptural video art piece for 'Dear Earth', consisting of a DIY LED screen made from recycled bottles which each make up a pixel, and a living wall, with bioelectrical signals from plants converted into sounds and images on the LED wall.
In the opening room of the exhibition is a vast installation featuring a towering tree trunk, created by Nigerian artist Otobong Nkanga, and Los-Angeles based artist Andrea Bowers exhibits a series of neon sculptures and paintings on reclaimed cardboard in a room on the upper level, which combine messages of feminism with warnings that 'Climate Change is Real'.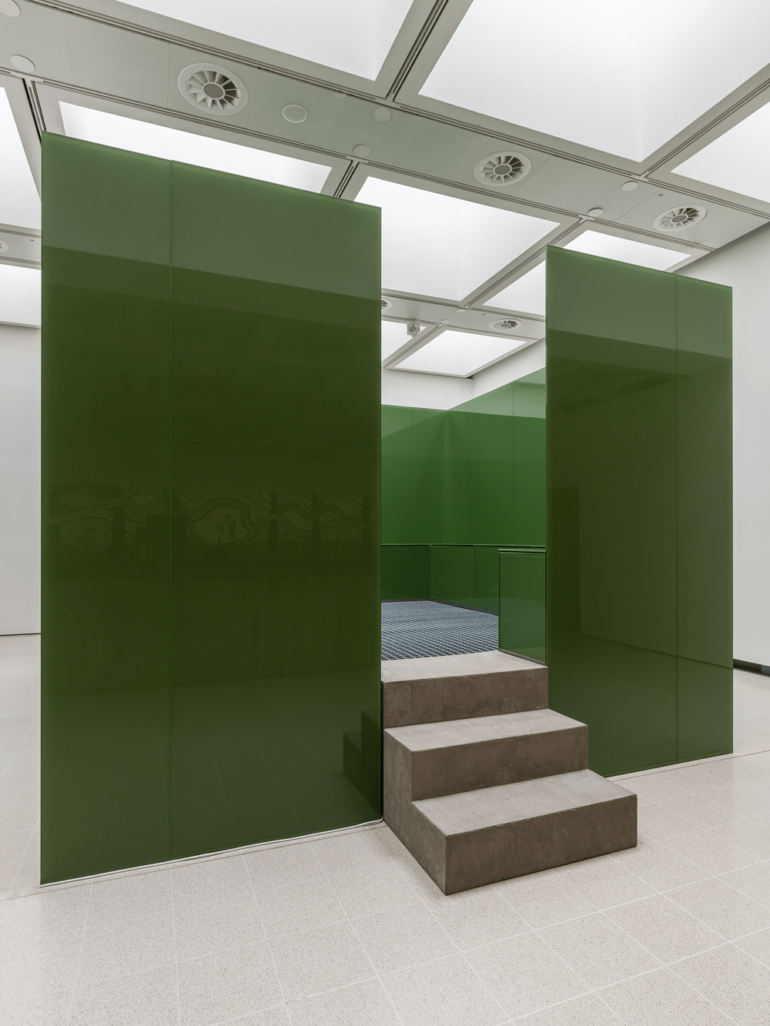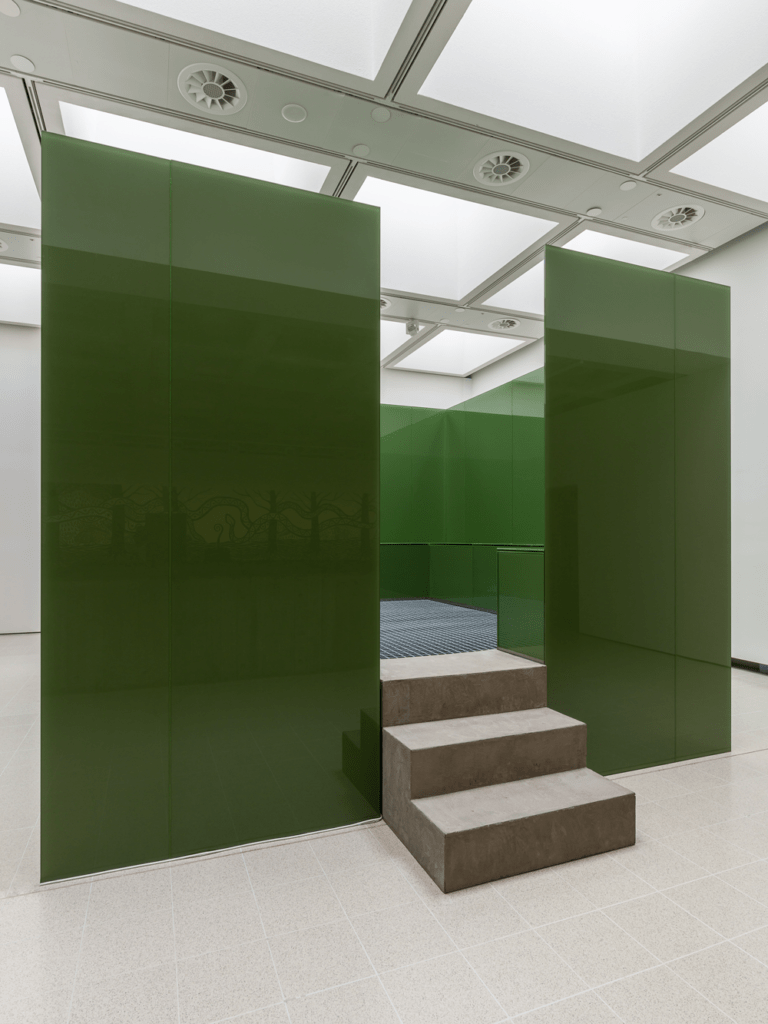 On the 2nd floor is 'Pabellón de Cristal I', an immersive cuboid installation by Spanish artist Cristina Iglesias, with running water underneath, and in the final room of the exhibition Hungarian environmental artist Agnes Denes presents 'The Living Pyramid' (2015), a 5-metre high structure planted with grasses and wildflowers. The crowning glory of the exhibition is a sound and sculpture installation by American interdisciplinary environmental artist and naturalist Jenny Kendler.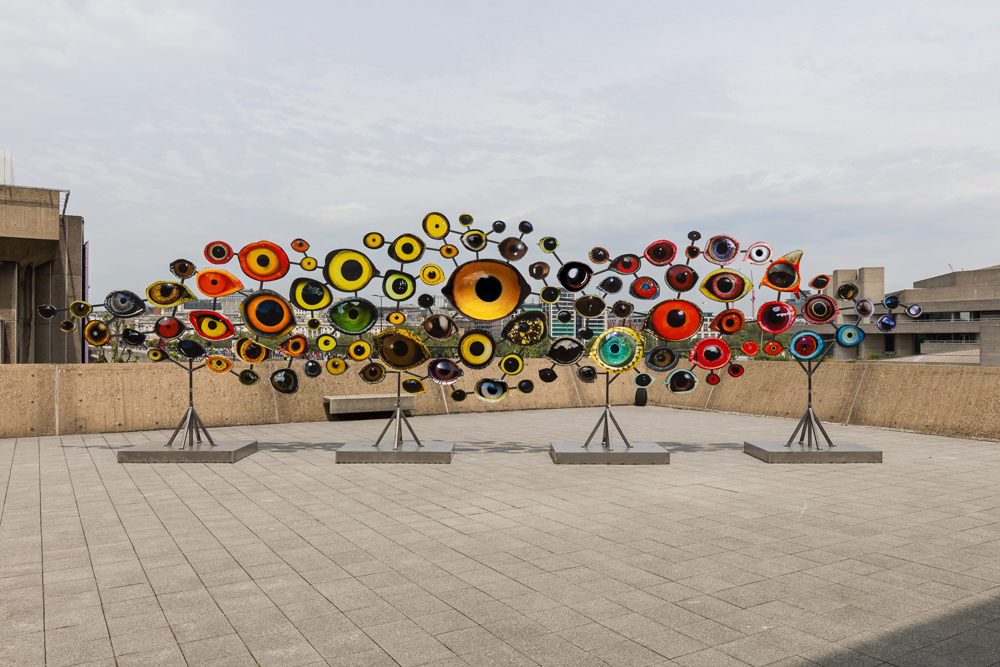 Kendler collaborated with ZSL to create 'Birds Watching III', which features a flock of birds' eyes, each belonging to a species of local and British birds endangered by the climate crisis.  Visitors can experience their voice being translated into bird song. The soundtrack of birdsong and watching eyes of endangered species reminds us that if we don't engage with and protect nature, it won't survive, and neither will we. 
Dear Earth runs until 3rd September, 2023 at the Hayward Gallery
©2023 Hayward Gallery