Cj Hendry's hyperrealistic drawings are nothing short of remarkable. With a keen eye for detail, she masterfully replicates the essence of objects, inviting us to explore the interplay of light, shadows, texture, and form with acute precision. Hendry blurs the lines between reality and art so much that one might be forgiven for mistaking them for real objects.
But it is not just their realism that sets Hendry's work apart; it is how she reveals hidden beauty and subtle nuances; whether it's the way the light falls upon an object or the inconsistency of a surface, Hendry elevates even the most ordinary of things to a level of exquisite beauty a quality that has made her drawings so renowned.
My favourite drawings are often where I create the image as opposed to drawing an object that can be purchased.

Cj Hendry
Hendry started creating art as a hobby after gaining recognition on Instagram and boldly decided to leave university and pursue an art career making her first significant sale with an intricate depiction of a pair of boots created by the Australian footwear company R.M. Williams, which sold for a staggering $10,000.
In the years following her debut, Hendry has achieved significant success and widespread recognition for her large-scale, hyperrealistic ink drawings of luxury objects in black and white. Each piece, crafted with meticulous attention, demanded up to 200 hours of relentless dedication.
Hendry's artistic journey took a new turn as she explored the realm of photorealistic drawing with her subjects ranging from luxury items to more politically charged motifs, such as a $100 bill adorned with the face of Kanye West. This striking piece captured the attention of Ye, who went on to purchase the work from Hendry.
Expanding her practice beyond the realm of black and white in 2017, collaborating with Christian Louboutin to create a series of works for the fashion house using coloured pencils, Hendry rendered hyperreal globs of paint in striking hues, breathing new life into her practice and pushing the boundaries of her expression which includes installation and more. Hendry has exhibited her works worldwide, including a notable solo exhibition in London titled "Epilogue," which featured a new body of work and marked her ninth solo show.
We managed to speak with Cj before her upcoming exhibition, Plaid, in New York this year. In this interview, we delve deeper into Hendry's creative process, exploring the inspirations and techniques that fuel her practice.
Hi Cj! How are you doing? Thank you for taking the time to speak with us. Can you please introduce yourself to those who do not know you?
Cj Hendry: Sure! My name is Cj Hendry, and I am a photorealistic artist primarily using color pencil. I have been practicing for over ten years. I live and work in Greenpoint, Brooklyn. Born in South Africa and raised in Australia.
You studied architecture and finance at university in Australia, then decided to leave to pursue a career in the arts. Can you share with us the motivations behind this choice and how your artistic pursuits have impacted and shaped your life thus far?
Cj Hendry: I was a terrible student. I was way more interested in working than studying. I gave myself 12 months to see if I could make this art thing work, and here we are 12 years later.
Can we talk about your practice? You are well known for hyper-realistic, large-scale ink drawings of opulent and contemporary objects. Can you tell me about your inspiration and how it informs your work, creative process and approach to a piece?
Cj Hendry: My approach to each piece is the same regardless of the subject. I find inspiration everywhere in day-to-day life. I take 99% of the reference photos I draw from. My favourite drawings are often where I create the image as opposed to drawing an object that can be purchased.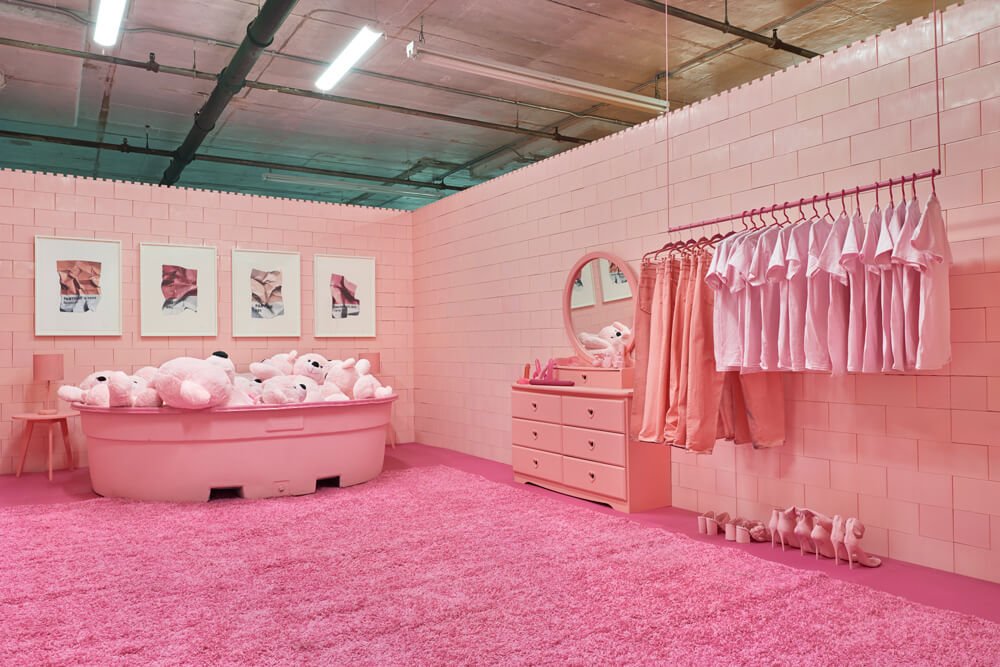 Let's discuss some pivoting moments in your artistic career, such as your collaboration with Christian Louboutin, which coincided with an exhibition and was the first time creating with colour and wax pencil. How did the collaboration come about, and how did working with colour and wax pencils vary from your usual approach?
Cj Hendry: Louboutin reached out about collaborating on an exhibition during Hong Kong Art Basel. I loved the brand, and several of my earlier works featured their shoes. The team was absolutely amazing to work with, and really respect artists and their creative vision. I will forever be grateful for that opportunity. I had spent the previous five years exclusively working with black felt tip pen, only creating black and white works. So working with a brand so synonymous with colour (especially red), it felt like a good time to challenge myself with a new medium.
Last year, you held your debut solo exhibition in London, featuring a new series of 32 monochromatic pieces. I saw on your website that you have a forthcoming show in New York called "PLAID," scheduled for April 2023. Can you tell us more about this, and will it feature a new body of work?
Cj Hendry: Yes, every series and exhibition features a new body of work. I don't revisit series as it feels too easy to keep revisiting the same subject. This series will feature drawings of plaid paintings that I created. They are colourful and fun compared to the black and white floral pieces that were exhibited last year. We are building a 3-story 5,000 square foot Plaidground in Greenpoint, Brooklyn.
How do you see your art contributing to the conversation of contemporary art
Cj Hendry: Gosh, I have never thought about that before. I don't really think of how my practice contributes to a greater conversation. I hope that photorealists continue to push the boundaries.
The studio is a hallowed ground for creativity. Can you name three essential items you cannot do without in your creative space?
Cj Hendry: Bose Headphones, Diet Coke, Snacks.
What's next for CJ Hendry?
Cj Hendry: You will have to wait and see!
Lastly, what does art mean to you?
Cj Hendry: Art is whatever you want it to be—any space where creativity can exist. Art is a want and not a need, so it is a space for joy and entertainment.
https://www.instagram.com/cj_hendry/
©2023 Cj Hendry