We have great pleasure to have world-renowned British artist Christian Furr as part of Art Plugged artists inside the industry season. Furr is an outstandingly talented artist. His works is an exceptional example of British contemporary art. He gained recognition early in his career for his innovative style, resulting in him being personally selected in1995 to paint an official portrait of her majesty Queen Elizabeth II.
Christian's portrait of Her Majesty perfectly encapsulates her natural eloquence; the picture hangs on permanent display at the Royal Overseas League headquarters in London. He was the youngest artist ever to paint the Queen at the age of 28 officially and making Christian a highly sought after artist for his unique style of portraits.
Consequently, he was awarded The Associations of Colleges Gold Award in (2004) at the House of Commons given to further education alumni who have gone on to achieve excellence in their chosen field. Christian is known as a colorist and an accomplished paint-handler.
His depth of knowledge has lead him to global recognition. Also, collaborating with legendary rock and roll photographer Gered Mankowitz creating a series of limited edition pieces of artists such as Mick Jagger, Jimi Hendrix, Kate Bush and more. Every piece in each edition is individually hand-finished to create unique pieces.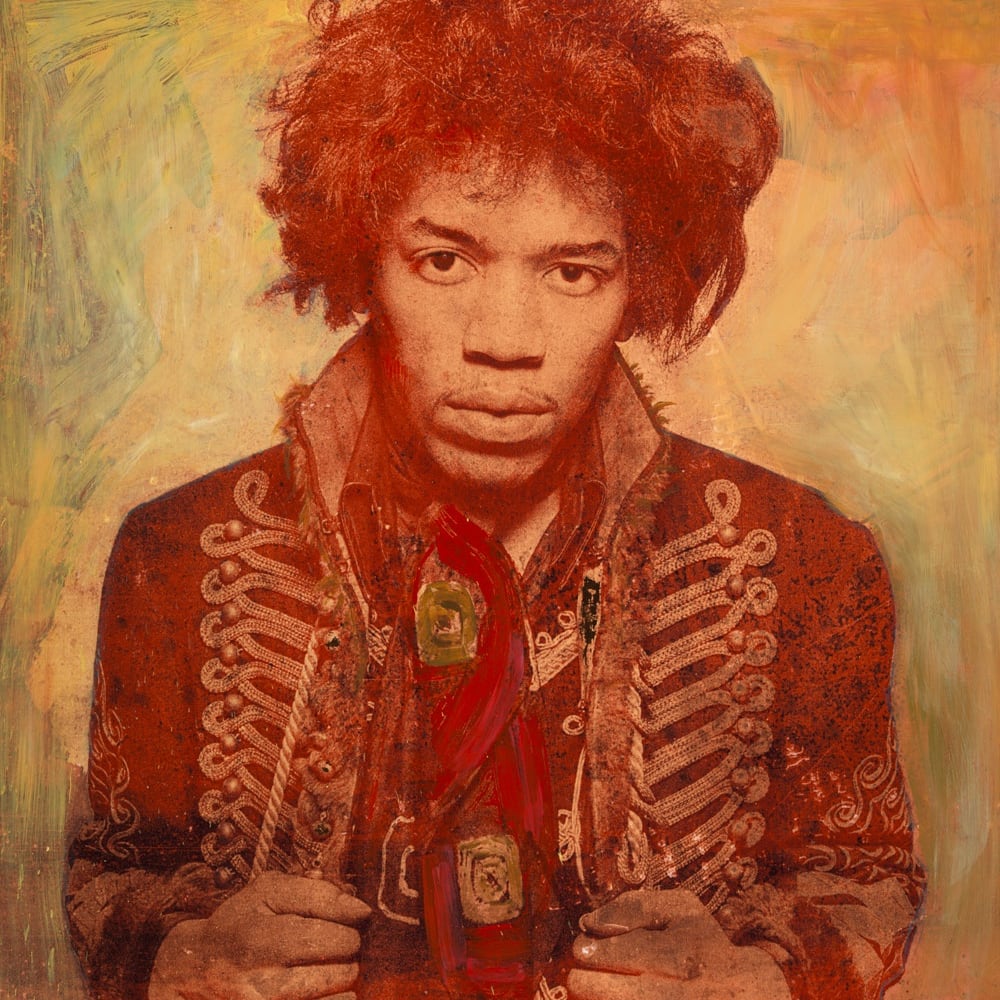 However, it doesn't stop there, and he continues to explore and experiment with new concepts with oil paints and other materials. He displays this in works such as 'Jouissance'.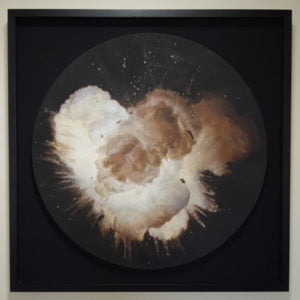 My Jouissance vision conjures up many possibilities: celestial sensation, ecstacy, spirit, destruction, ephemerality, a gem stone, orgasm, blossoming flower, fertility and a symbol for the release of energy and emotion that is life itself in an instant…

Christian Furr
And the most notable 'Black Eye – Third Sight' which was inspired by artist Anish Kapoor gaining exclusive rights to Vantablack known as 'the blackest black.'
Furr planned to use Vantablack in a series of paintings titled Animals, after seeing the feature on BBC's The One Show' Vantablack, the darkest black invented. He told the Mail on Sunday, 'I've never heard of an artist monopolizing a material".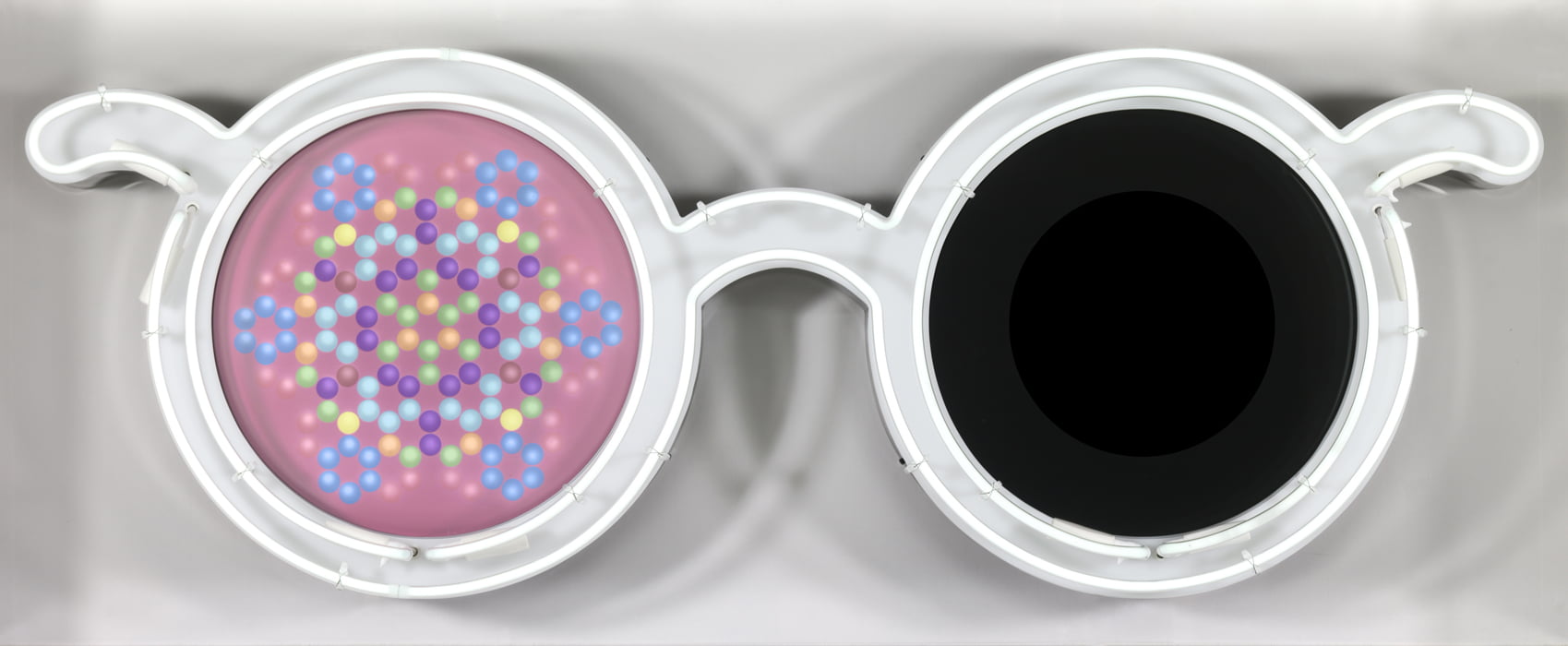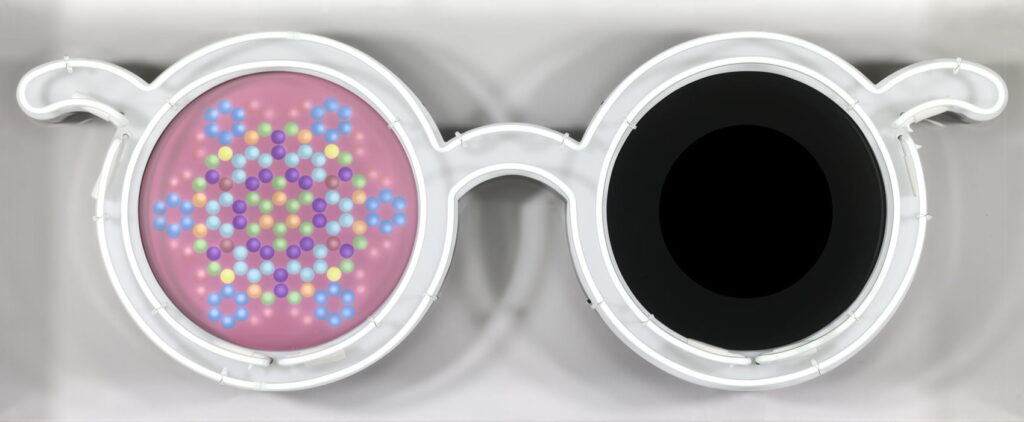 'This black is like dynamite in the art world, and all artists should be able to use it. It isn't right that it belongs to one man. 'In November 2018, Christian launched a new super-black titled '7Black', he initiated, at the Science Museum London developed by Imperial College London scientists; Hin Chun Yau and Francois de Luca.
'7Black' was incorporated in a neon artwork in the shape of a pair of spectacles entitled 'Black Eye – Third Sight.' Furr stated that this black body material would be available to any artist that wanted to use it. In this artists inside the industry interview, we will be getting to know the man behind the art, his inspiration, the art, and his creative process and more.
Q: First things first, why do you do what you do?
Christian Furr: Because at this time in my life I don't think it makes sense for me to do anything else.  I am and we are only on this earth for a short time. Minutes are like gold.
Q: What is your inspiration?
A: My inspiration comes and has come from many places. In the case of the Dairy Lea it was the supermarket and it was very convenient. Generally my inspiration is conscious or sub-conscious.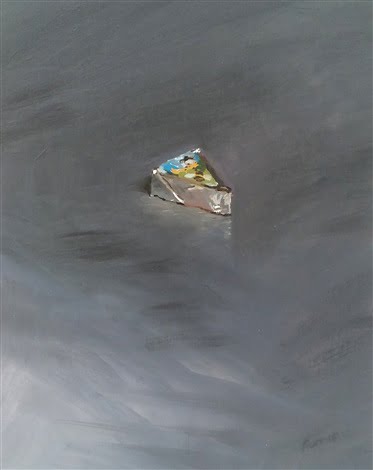 Q: What is your creative process when you're creating?
A: I get an idea either suddenly or slowly and if it doesn't leave me I have to get it out of my system. I do my best things when I lose myself.
Q: What was it like to paint Queen Elizabeth II
A: Great
Q: What was your most memorable commissioned portrait?
A: It's got to be the Queen because of the story of the experience.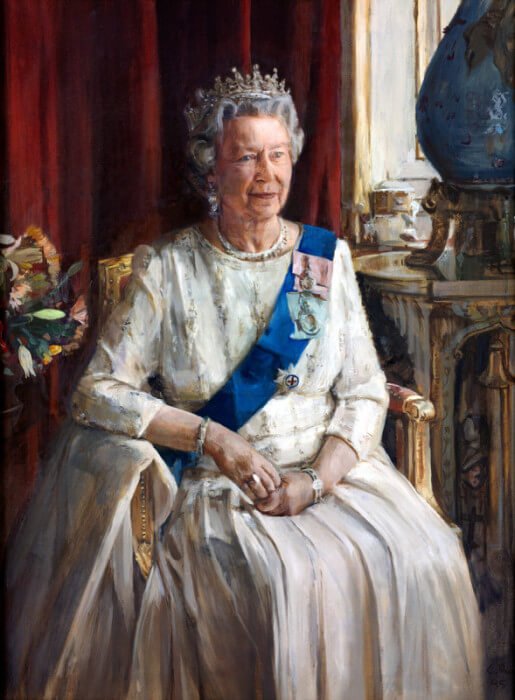 Q: What is the most important thing when capturing a persons portrait?
A: With portraits I seek the soul of something – the essential about somebody – the feeling of somebody
Q: What would you say is an integral part of the work of an Artist?
A: Truth. Being an artist is a state of being – a way of life. Any little thing – chance or otherwise can be interesting material.
Q: When do you know when a piece is finished?
A: When it finally looks like you've painted it in a few seconds.
Q: What is your favourite piece from your collection?
A: I don't have favourites but my 2014 painting 'The Jokers' of a couple in a grand gallery surrounded by works of art has a lot of personal ideas in it including the idea that paintings are like portals. For painterly inspiration I am very fond of the four Lilliput paintings I did in the early nineties. They're cavalier in style.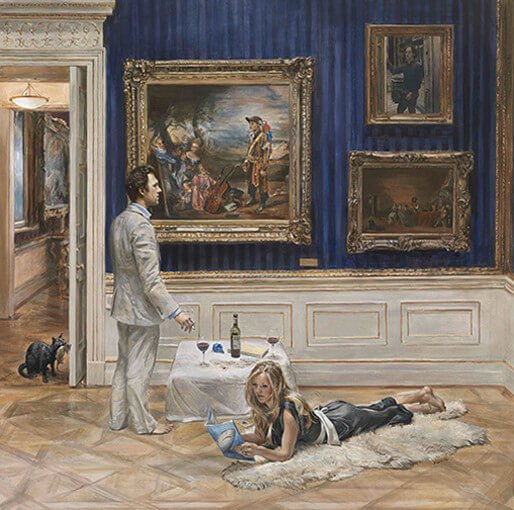 Q: How did you feel when you did your first solo exhibition?
A: Excited. I am excited now – I'm having my first ever retrospective at the Williamson Gallery in Birkenhead opening on 28th September 2019 this month until 24th November. It's a look at 30 years of my life as an artist. Having a solo show is special.
Q: What is the most rewarding thing for you about being a part of the Art Industry?
A: Just being able to do something you love as a living is a privilege because it's not work anymore. Its rewarding being able to communicate my passion about art and helping people realize their own potential with art classes. It feels good to be able to help certain charities out with Art donations too.
Q: Is there anything that worries you about how social media is affecting the promotion of artists?
A: Art is the biggest influencer of all. Social media is just another means of filling the world with art – another tool to help reach people you might not have reached before.
Q: In your opinion, do you have any advice for artists on how to manage their Social media image? Or does it even need managing?
A: Well I would say in any field if you're not sure about it, talk to someone who has more knowledge of it than you do.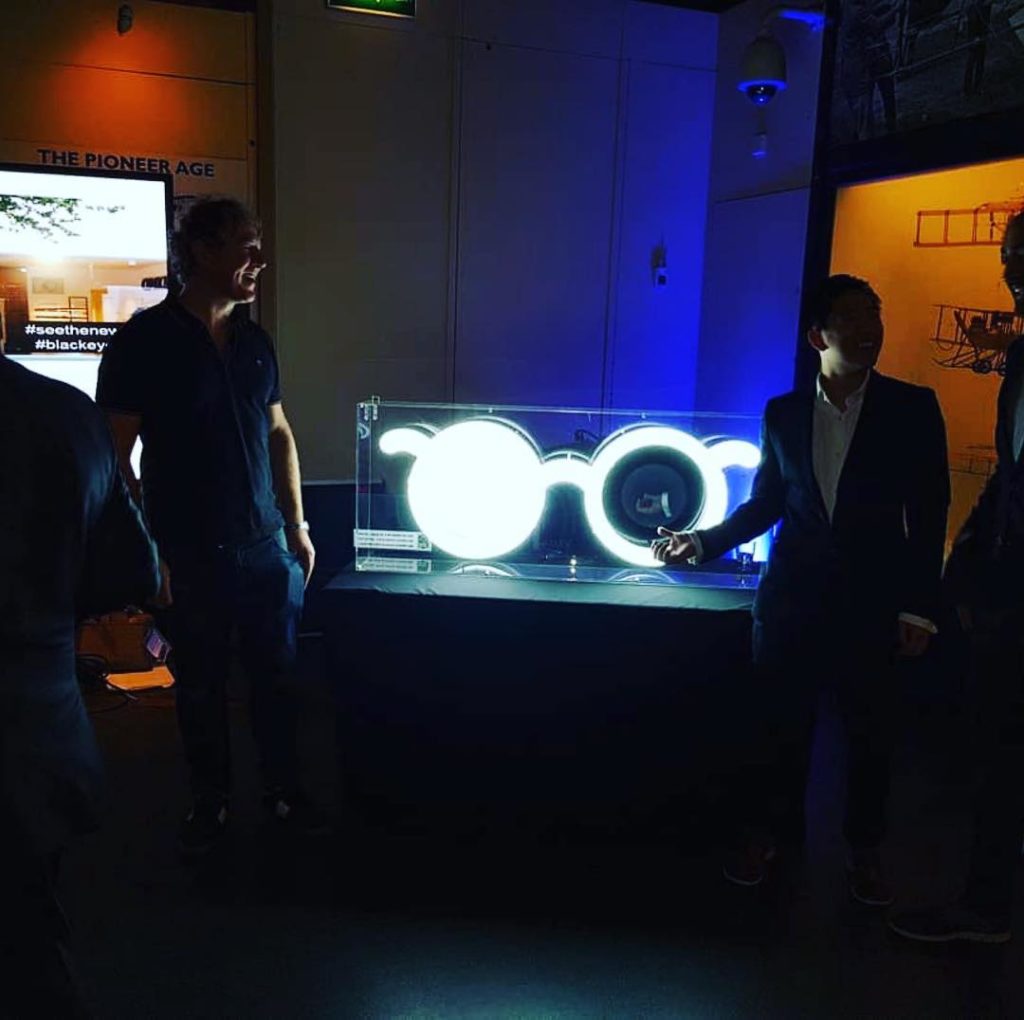 Q: Do you have any advice for artists starting and don't know where to begin?
A: The starting of something is the hardest bit but once you really commit to something the rest comes.
Q: What would you say is the best way of getting your art noticed in the age of the internet?
A: Be good ?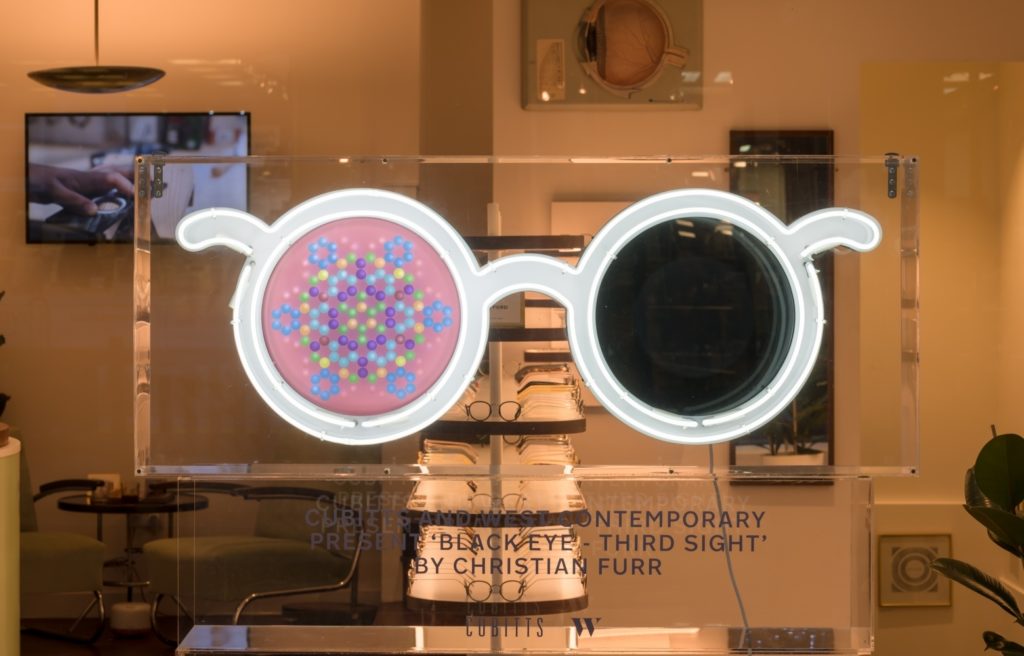 Q: Are there any places where you feel Art and Technology really shouldn't overlap?
I am fascinated by the links between art and science. Technology means 'science of craft' . I needed this when I needed a new super nano-black to use for my neon art piece 'Black-eye Third Sight' which will be exhibited (with thanks to Colt Technology Services Ltd) for the first time at my retrospective (Its preview was at the Science Museum Lates last year.)
I say these links between Art and technology should be encouraged. Regarding the hypothetical proposal of 'Technology/art overlap No – no's'… … sounds like the premise of a Paul Verhoeven movie? ? For instance, as an artist, If you were offered a commission to decorate a giant killer robot to make it look pretty… what would you do ? Personally I'd make my excuses and leave! ?
https://www.instagram.com/christianfurr/
©2019 ACS/Christian Furr