It's April 22nd and we're 5 weeks into Coronavirus lockdown. I'm spending my time in my flat in Peckham that I moved to in February. I'm spending the majority of that time in my room and looking at the few pieces from my little art collection that I brought with me. She's my favourite.
I bought an edition of Liz Pounsett's Chief Bridesmaid in October 2019 at Roy's Art Fair for about £50. I met Pounsett towards the beginning of my route through the fair and by the end I knew I needed to work my way back through the crowds to get the print. I was obsessed with her.
I've been speaking to Pounsett about her practice:
Collage is a medium that allows me to connect and combine different periods of time. I can juxtapose a 70's concrete tower block and Canaletto's Venice. This is a theme I often return to.

Liz Pounsett
Chief Bridesmaid collage uses John Everett Millais' 1851 The Bridesmaid as its foundation. Pounsett adds a slogan T-shirt, bejewelled earrings, and a set of blue-eyeshadowed eyes to the portrait. The bridesmaid is suddenly less Millais and more Moonage Daydream.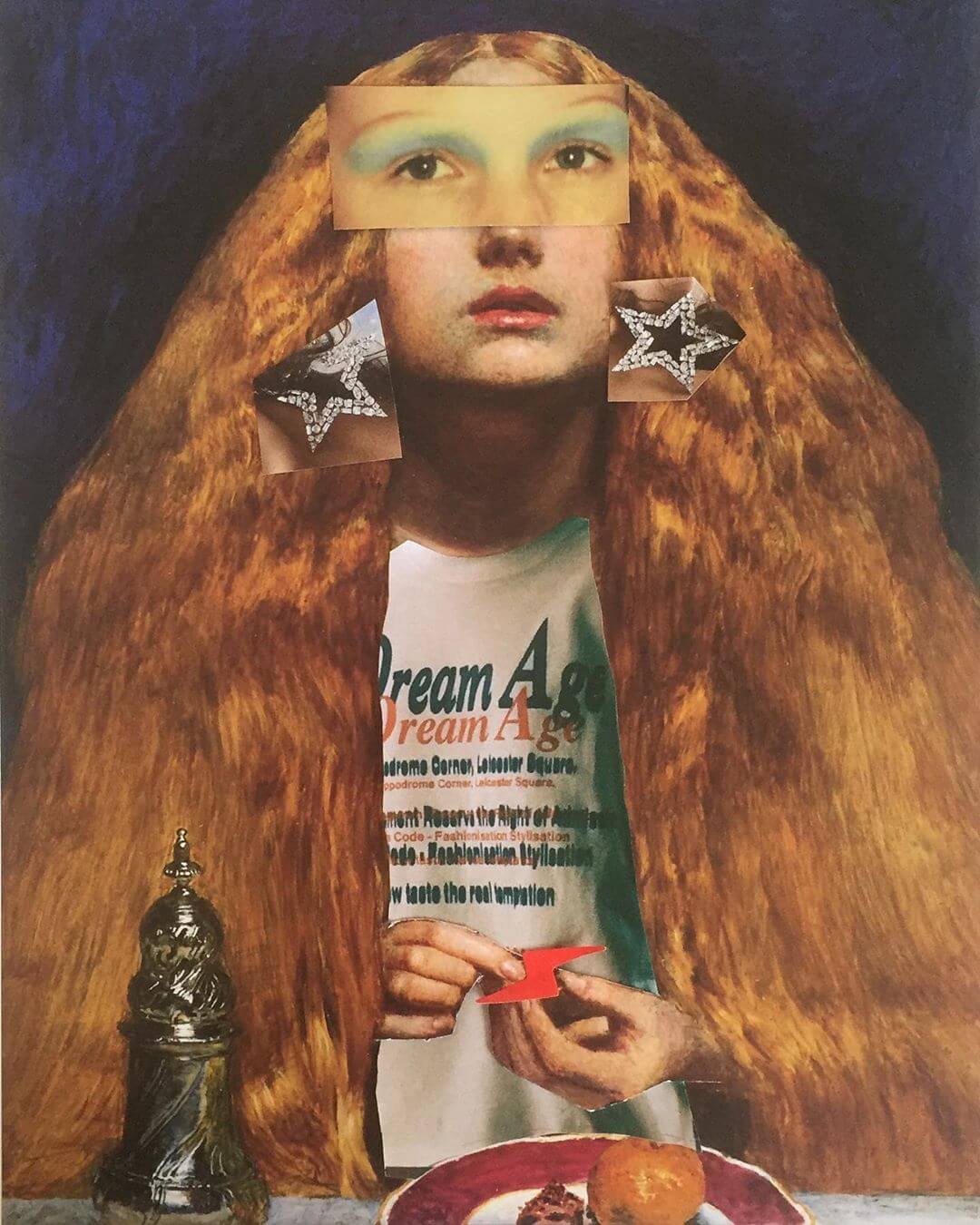 From 2012 to 2016 I was a complete David Bowie fanatic. I had a picture of him sellotaped to the back of my school planner. I loved him. His lyrics were full of self-discovery and his melodies full of soul and bite and dance. I think when I look at Chief Bridesmaid I see the person I wanted to be back then. Beautiful, well-accessorised, and from another time.
The way the Millais portrait has been added to and altered mirrors that adolescent desire to customise who I was into someone else. This piece-by-piece transformation is also how Pounsett creates:
When I've found an image I want to work with I don't always use it straight away. I can have particular cut-outs for weeks until I'm able to commit and actually stick them down. It's like having the one missing piece to a jigsaw … sometimes making just a subtle change and other times a whole composition.

Liz Pounsett
The artist describes endeavouring to "create a narrative and assemble images to provoke and surprise". Pounsett's portfolio is full of funny, endearing, and visually powerful Frankenstein's Monsters, their faces from one found image and their body another. Her characters exist out of place and outside of time, but they do so with a glorious vivacity.
https://www.instagram.com/mabel_collage/
©2020 Liz Pounsett