International Women's Day is celebrated annually on March 8th. It is a day to acknowledge the achievements and struggles of women worldwide and call for gender equality and women's empowerment. March 8th also serves as a reminder of the continuous struggle for women's rights and the work that still needs to be done to achieve gender equality.
Throughout history, women have used art to express their experiences and advocate for their rights. Many female artists have used their work to challenge traditional gender roles and to highlight issues such as domestic violence, reproductive rights, and pay inequality.
A notable piece would be Judy Chicago's "The Dinner Party", a monument to women's history and accomplishments in the form of a huge triangular table measuring 48 feet on each side, with thirty-nine place settings dedicated to prominent women and an additional 999 names inscribed on the table's glazed porcelain brick base.
Another artist would be Frida Kahlo and her self-portraits, which often depicted her physical and emotional pain and struggles with disability, as well as her Mexican heritage and political views. Kahlo's art challenged traditional beauty standards and gender roles, and she remains an iconic figure for many women.
Today art remains a vital tool for women to express themselves and advocate for their rights in the ongoing fight for equality. In honour of International Women's Day, here are some art exhibitions in London celebrating the accomplishments and talents of women artists.
UNLADYLIKE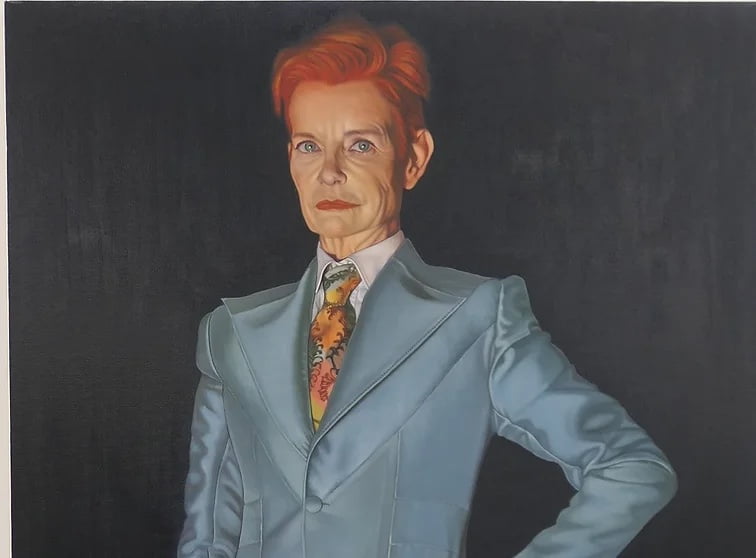 In celebration of International Women's Day, the group exhibition pursues the idea of the human body as a metaphor for the transcendent female representation in art through sexuality, gender, and the aging body. Surfacing the complexities of the ever-evolving relationship between body and identity, a series of intimate portraits encourages us to embrace ourselves and discuss taboos. Partners, achievers, characters, and allegorical beings engage in ambiguous posing, with unladylike stares challenging stereotypes while creating expectations for an empowered world based on equality.
UNLADYLIKE – ABIGAIL NORRIS | CELIA MORA | SADIE LEE | ELIZABETH DIMITROFF​
28 FEBRUARY – 25 MARCH 2023
D Contemporary
23 Grafton St
London
W1S 4EY
Outernet London month-long celebration in honour of International Women's Day
In celebration of International Women's Month, Outernet London, the Most advanced immersive building in the world with 23000 sq ft of floor to ceiling 16 K screens have handed over this world leading platform to female creators.
Showcasing their creativity and talent, a diverse collective of female artists will display their unique works across the Outernet London screens for the month of March. This state-of-the-art technology and immense scale make Outernet Europe's largest digital exhibition space.
The first piece to be displayed as part of the International Women's Month celebrations will be Everything We Touch by artist Paula Zuccotti. Every Thing We Touch presents individual stories told through a single large scale photograph displaying every single item a person touches in a day, in chronological order from dawn to dusk.
March 15th – Spaghetti Blockchain by artist Mika Rottenberg. Spaghetti Blockchain is a collage of imagery whirlpooling through an over-stimulated thought-process. The viewer traverses through a universe incongruous scenario: footage of colourful 'satisfying' ASMR performances, Siberian Tuvan throat singers in open fields, the CERN antimatter factory, a mechanical harvester on an all-American potato farm, cut with dizzying rotating hexagons.
March 22nd – Women In Art by Pakistani-American author and visual artist Maliha Abidi. Her work focuses on advocating for social justice including women's rights, gender equality, girls' education, and sharing stories from marginalsed communities.
March 29th – Huck: Shiny Tiny, the story of the fierce pioneers of Lebanon's first female roller derby team. The documentary details the arrival of roller derby in Beirut, and the pioneering women utilising it to architect a new future. The level of risk-taking, assertiveness and positivity demanded by the sport, as well as the need to get back up after being violently slammed to the floor provides wider learnings and life lessons for the communities it touches.
Lydia Smith and Evie Mae Jacobs: Soft Spaces
On March 7th, emerging Artists Lydia Smith and Evie Mae Jacobs will present their highly-anticipated exhibition, "Soft Spaces", a dialogue between technology and physicality informed by historical techniques. At The Koppell Project 125 New Bond Street, London. 
Smith and Jacobs have created a unique experience for visitors, layering the filters between the digital and physical spaces. Through the use of ancient materials, including clay and oil paint, they have crafted meditative, abstract and intimate works that hold the weight of their disciplines' history. The artists have used technology as a tool to look into the future whilst contextualising their practices in the past. They see the human form as a landscape in which a sense of softness can be discovered. 
Smith and Jacobs feed their work by layering the filters between the digital and physical spaces. They manipulate, disfigure and abstract using ancient materials, such as clay and oil paint, which hold the weight of history.
Lydia Smith and Evie Mae Jacobs: Soft Spaces
7th March – 12th March 2023
The Koppell Project
125 New Bond Street
London
W1S 1DY
The Fabulous Fem [5]
Taste Contemporary is proud to present The Fabulous Fem [5], a group exhibition of ceramic and textile art at Cromwell Place, London from 14th to 19th March 2023. Focusing on a group of Norwegian women artists who emerged in the 1970's – with the addition of one, younger artist – the exhibition aims to shine a light on this important group of artists whose contribution to ceramic and textile art is being increasingly recognised by international audiences.
The exhibition features the work of Nina Malterud, who was awarded a retrospective solo exhibition at KODE Art Museum in Bergen in 2022 and Marit Tingleff, who presented a solo exhibition of work at Landskrona Konsthall, Sweden, also in 2022. From 2019 to 2020, works by Kari Dyrdal and Marit Tingleff were shown in a touring exhibition entitled Forces – Dyrdal Kvasbø Tingleff at Musée de Sévres, Paris; KODE Art Museums, Bergen and Sørlandets Kunstmuseum, Kristiansand. In addition, the show features the work of Heidi Bjørgan and Hanne Heuch.
In comparison to many other countries, Norway's ceramics history is relatively short. Norwegians traditionally made domestic objects out of wood and iron with the first potteries established in the 16th century and porcelain factories emerging in the 19th century. Marit Tingleff, one of Norway's most celebrated ceramic artists believes that 'because of this special history, Norwegians do not connect strongly to any particular ceramic tradition' and that this has been liberating, with students today 'exploring the material in radical ways, free from tradition and expectations, which is really interesting.' In relation to textile art, the Norwegian standard in the middle of the 20th century centred on the notion that weaving should be precise and 'perfect'.
The Fabulous Fem [5]
14th March – 19th March 2023
Taste Contemporary
4 Cromwell Place
Wing Gallery
London
SW7 2JE
Antigone: Women in Fibre Art
Richard Saltoun Gallery is delighted to inaugurate the 2023 exhibition programme with Antigone: Women in Fibre Art, a group show celebrating the rich Eastern European textile art tradition. Focusing on gallery artists Jagoda Buić – who recently passed away – and Barbara Levittoux-Świderska, the exhibition will situate their pivotal fibre sculptures alongside rare works by two other pioneers, Magdalena Abakanowicz and Ewa Pachucka, and new work by a younger generation, Anna Perach and Egle Jauncems.
The exhibition title honours Buić – who recently passed away – referencing her work named after the heroine of Sofocle's Greek tragedy_,_ who confronted archaic laws in the name of a modern moral sentiment. Like Antigone, Abakanowicz, Buić, Levittoux-Świderska, and Pachucka opposed the traditional view of textiles as specifically feminine, decorative, and low in the artistic hierarchy, elevating them to fine art. In the 1960s and 1970s, they revolutionised the millennia-old tapestry tradition to a point that a new term was coined to describe it: fibre art. Their weaved, knotted, plaited, coiled, and even braided creations that forsake flatness and embraced tridimensionality, expanding freely in the space.
The feminist movements of the time contributed greatly to the rise of fibre art on the international scene. Indeed, many of the most prominent fiber artists are women.
Antigone: Women in Fibre Art
31 January–18 March 2023
Richard Saltoun Gallery
41 Dover St
Mayfair
London
W1S 4NS
International Women's Day Artist Showcase With Amy Petra Woodward, Luey Graves and Nancy Milner
For International Women's Day 2023, The Trafalgar St. James hotel will showcase three Royal Academy artists in their subterranean arts and events space, Biblio. The exhibition will launch on 8th March and run through to 16th April 2023. The showcase will feature works from Amy Petra Woodward, Luey Graves and Nancy Milner.
The artists studied together at The Royal Academy Schools and will come together
for International Women's Day to exhibit a selection of paintings. The artworks are available for purchase, with 25% of sales donated to NIA Ending Violence. The Trafalgar St. James is a luxury five-star hotel located on the edge of London's Trafalgar Square; a sanctuary of style, rest and play in the heart of the capital. The exhibition will take place in Biblio, the hotel's living room and a unique subterranean events space.
International Women's Day Artist Showcase: Amy Petra Woodward | Luey Graves | Nancy Milner
8th March 2023 – 16th April 2023
Biblio
The Trafalgar St. James
2 Spring Gardens
London
SW1A 2TS