Bijijoo x Vickie Vainionpää: Digital Spirit
May 27 – June 20, 2021
Gr Gallery
255 Bowery
New York
NY 10002
GR Gallery is super excited to announce "Digital Spirit" a duo show with Bijijoo and Vickie Vainionpää. This exciting show will reveal, for the first time in a public exhibition, the latest series of artworks that the artists have been collectively working on for the past months. Appositely conceived for this occasion, these new body of works will independently invade the gallery space, contrasting and counterbalancing each other. The show will put together twenty original paintings for the public to view for the very first time.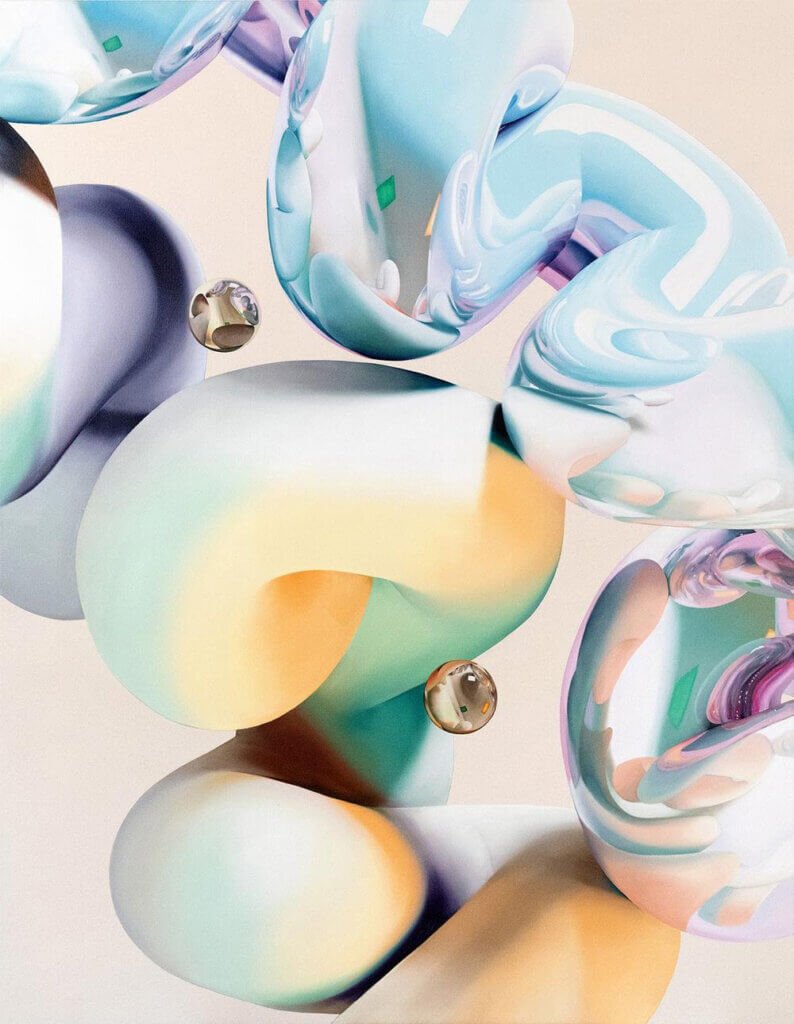 For "Digital Spirit", Vickie and Bijijoo dive head first into making a dramatic impact on how technology is used to plan and portray a rendering of images to then be put onto canvas. Both artists' paintings result from process-driven experimentation with painting media and automatic drawing, using traditional and digital techniques. It truly is a one of a kind exhibition where both artists bounced ideas off one another to find similarities to portray in each painting to really identify as a "duo" for this show.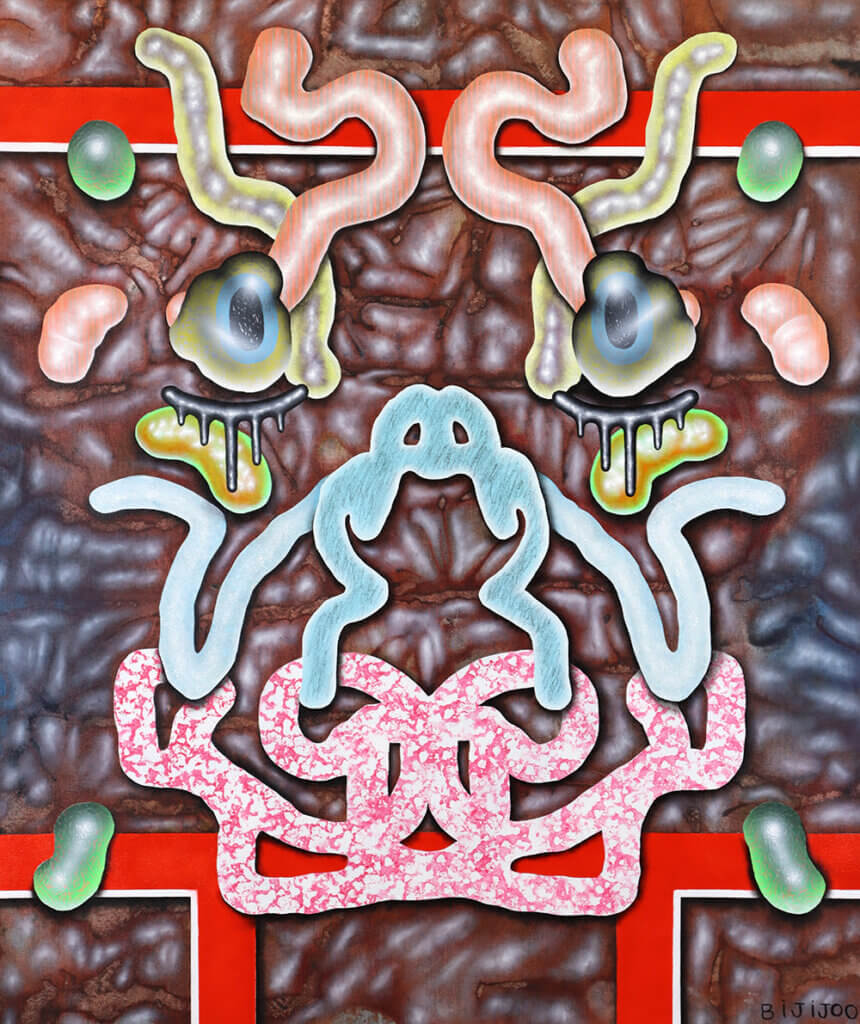 Bijijoo (given name: Michael Todd Horne; preferred nickname: B) was born in Atlanta, Georgia (USA) in 1975 and has lived in New York City; Seattle, Washington; and Eugene, Oregon. B currently resides in Portland, Oregon with his wife and daughter. B has been painting and drawing since childhood. He has experimented with figurative, abstract and conceptual work in a variety of media, including writing, music and video. B diverged from art practice to pursue technical studies in mathematics, physics, computer science and chemistry, culminating in a Ph.D. in biophysics in 2008.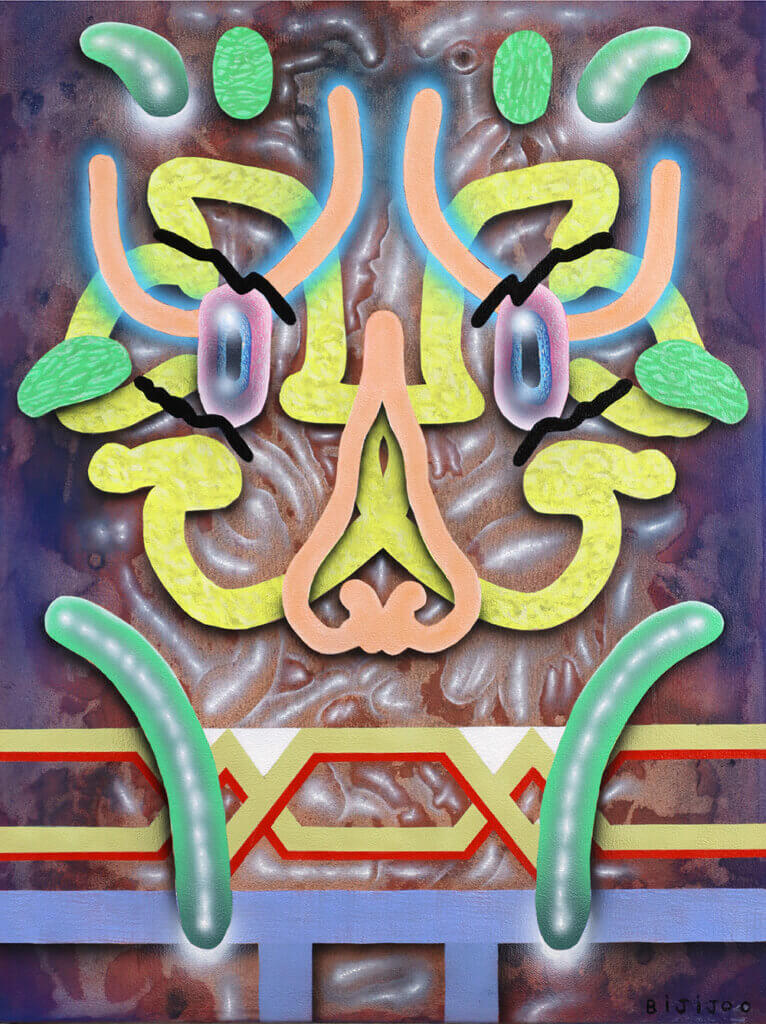 He then returned to painting by creating several series of surrealist works, including The Presidential Ham, Celebrity Still Life, and The Arthropod Companion. After pausing to remodel an old house and become a father, he began resetting his painting practice in 2018. B's current work draws on his technical background in math, science and computer programming, as well as his young daughter's imagination and love of monsters. B has a day job working at Nike at the interface of digital design & innovation and intellectual property.
Vickie Vainionpää's practice considers the impact of technology on the process of painting and investigates the relationship between natural forces and digital processes. In her ongoing Soft Body Dynamics series, twisting, tubular forms are systematically created using generative 3D modeling software.
The software randomly generates a set number of splines per day, from which the artist selects to create final compositions which are painted by hand using oil on linen. These shapes curve, fold, and morph in ways reminiscent of limbs, intestines, or cellular organisms. In many ways they hold life in themselves, coming from a different kind of nature — a parallel wilderness — regulated by the forces of chance and uncertainty inherent to their digital environment. By embracing new digital means of reading space and content, the works draw attention to the ever-changing relationship between the human body and digital technology.
©2021 GR Gallery, Bijijoo, Vickie Vainionpää