Basquiat. The Modena Paintings
11 June – 27 August 2023
Fondation Beyeler
Baselstrasse 101
CH-4125 Riehen/Basel
The Fondation Beyeler presents "Basquiat. The Modena Paintings", eight large-scale works that Jean-Michel Basquiat painted in 1982 in Modena, Italy for an exhibition that in the end never took place. More than 40 years later and for the first time, Fondation Beyeler reunites eight masterpieces, now held in private collections in the United States, Asia and Switzerland, which comprise Basquiat's most celebrated and valuable works. The exhibition comes 13 years after the Fondation Beyeler mounted a comprehensive retrospective devoted to the artist.
Jean-Michel Basquiat (1960–1988) ranks among the most significant artists of the late 20th century. He shot to international fame in the early 1980s, as figurative painting experienced a renaissance. One of the art world's most flamboyant personalities, Basquiat started out in the New York underground scene as a graffiti poet and musician before fully devoting himself to visual art.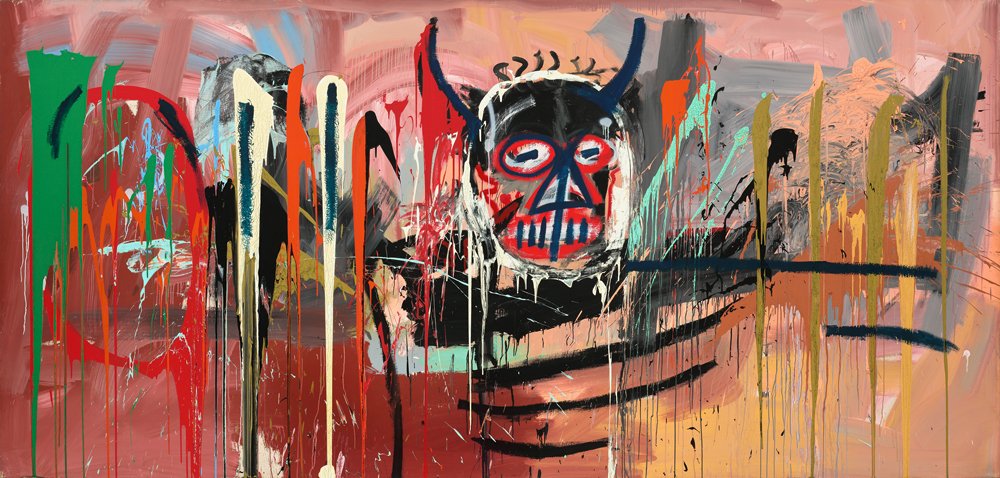 His highly expressive paintings, bursting with energy, soon gained widespread admiration. Aged only 21, he was the youngest artist invited to take part in Documenta 7, held in Kassel in the summer of 1982. Championed by Andy Warhol, he advanced to international art stardom. As the son of a Haitian father and a mother born to Puerto Rican parents, he was the first Black artist to break through in an art world dominated by white protagonists. In addition to Andy Warhol, Basquiat also worked with Keith Haring, Francesco Clemente and Debbie Harry among other artists and musicians. Up to his sudden death in August 1988 and over the course of less than a decade, he produced an extensive body of work comprising more than 1000 paintings and objects as well as 3000 works on paper.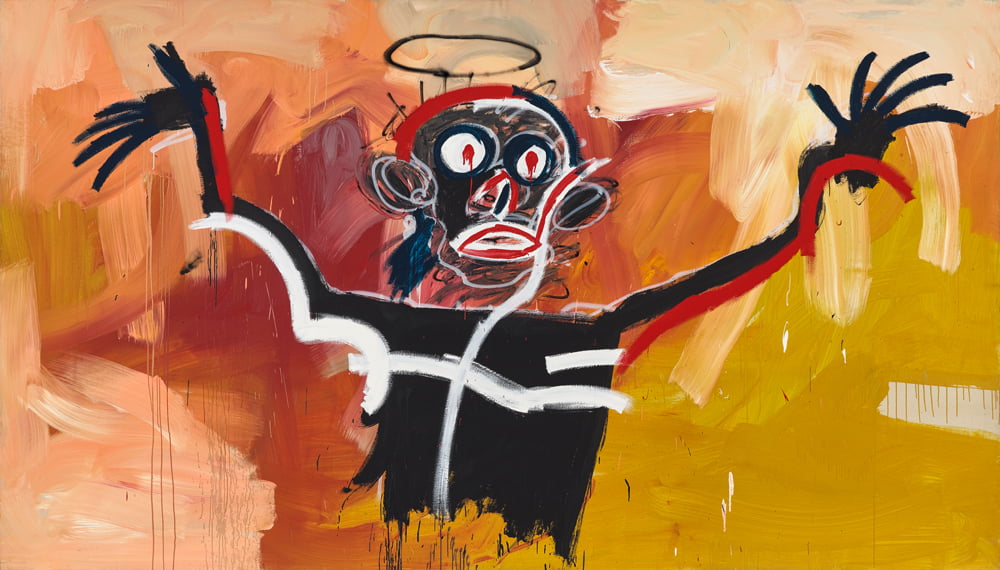 Following the heyday of conceptual and minimal art in the 1960s and 1970s, Basquiat succeeded in establishing a new figurative and expressive formal idiom. His works, populated with comic-like figures, skeleton silhouettes, odd everyday objects and poetic slogans, are vibrantly colourful and richly potent, merging motifs derived from pop culture and cultural history, as well as political and economic themes, into a critical commentary of consumer society and social injustice, in particular racism. Basquiat held his first solo show in 1981 at the Galleria d'Arte Emilio Mazzoli in Modena, still under the pseudonym SAMO©, which had originated in his collaboration with graffiti artist Al Diaz.
Basquiat had come to the attention of Italian gallery owner Emilio Mazzoli just a few months earlier at the group show "New York / New Wave" curated by Diego Cortez at P.S. 1 Contemporary Art Center (now MoMA PS1) in Long Island City. In Modena, Emilio Mazzoli provided Basquiat with work premises and painting supplies to produce new works. In the early summer of 1982, at Mazzoli's invitation, Basquiat returned to Modena for his first European exhibition under his real name.
In Modena, Mazzoli made a warehouse available to artists to work in. Among these artists was Mario Schifano, who over several years regularly came to Modena to paint. When Basquiat arrived in the city, he came upon several finished paintings by Schifano, as well as primed and blank canvases. Their monumental dimensions appealed to him and he used them for his own work. Basquiat thus produced a group of paintings each measuring at least two by four metres, all larger than and unlike anything he had painted to that day. By inscribing the back of the canvases with the indication "Modena" and his signature, he identified them as a cohesive group of works.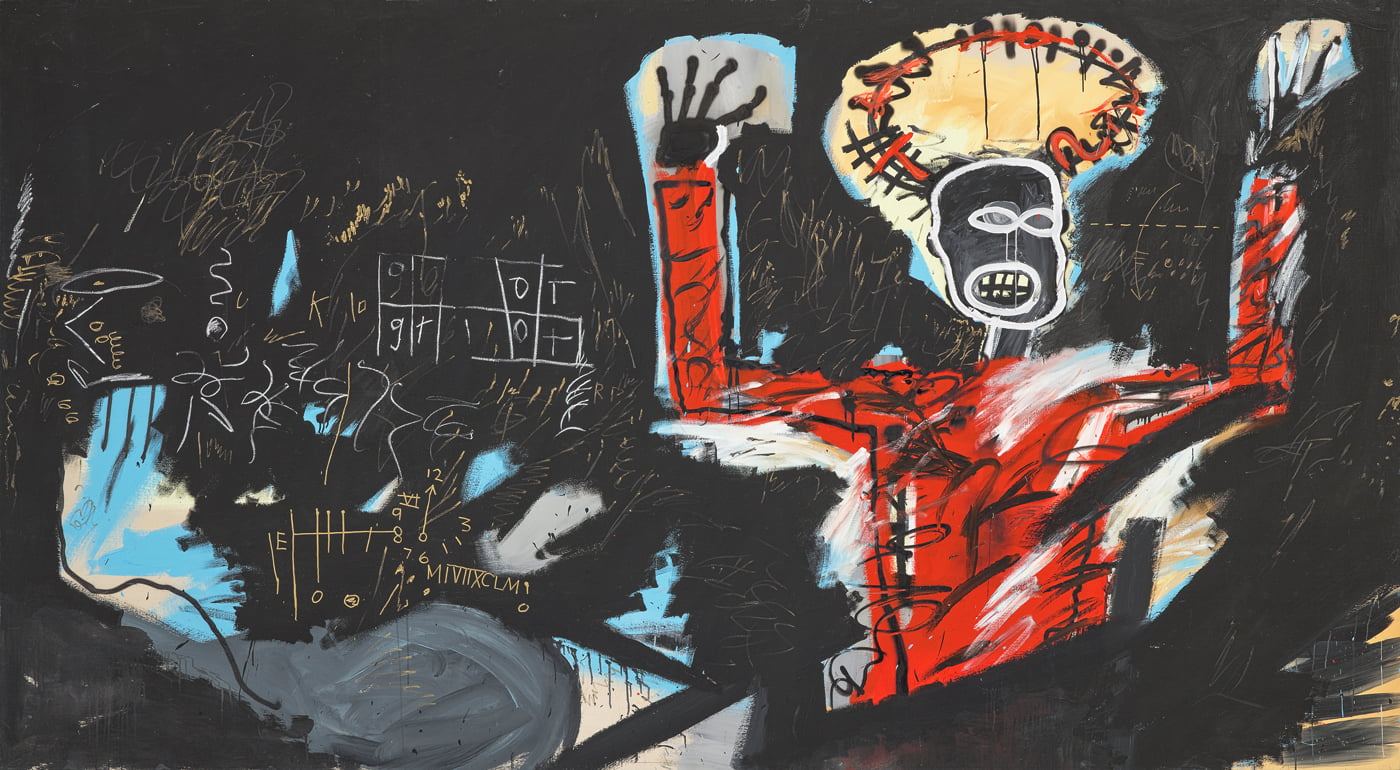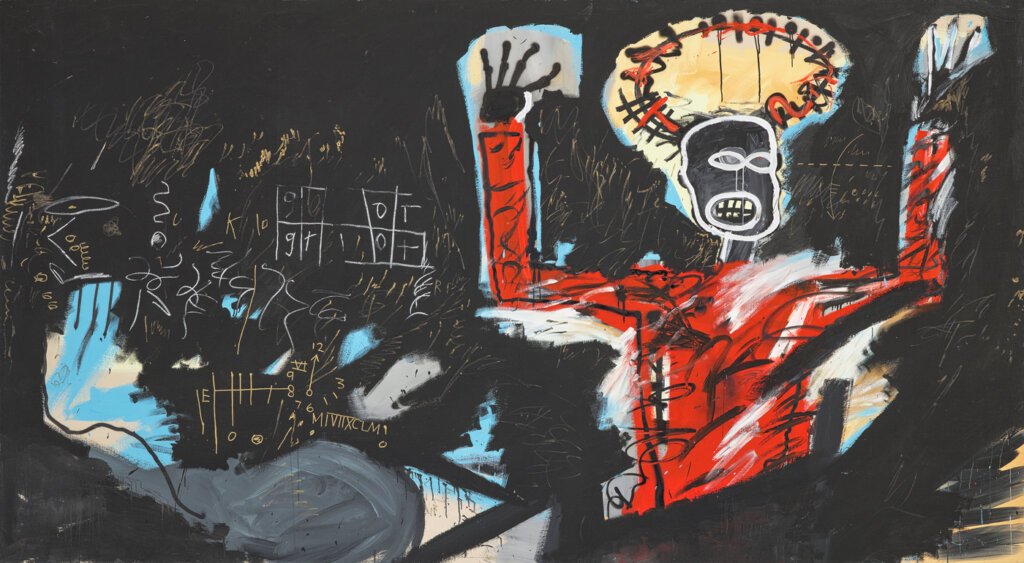 Disagreements between art dealers Annina Nosei (who had been Basquiat's representative in New York since late 1981) and Emilio Mazzoli led to the cancellation of the planned exhibition in Modena. In a 1985 interview with the New York Times, Basquiat expressed frustration when looking back on his second stay in Modena: "They set it up for me so I'd have to make eight paintings in a week", and working in the provided warehouse premises felt to him "like a factory, a sick factory. I hated it." In the end, Mazzoli paid Basquiat for the works he had produced and the artist returned to New York.
The eight canvases painted in Modena eventually found new owners through Annina Nosei. Bruno Bischofberger bought four paintings (Profit I, Boy and Dog in a Johnnypump, Untitled [Woman with Roman Torso (Venus)], The Guilt of Gold Teeth), while the other four entered various international collections.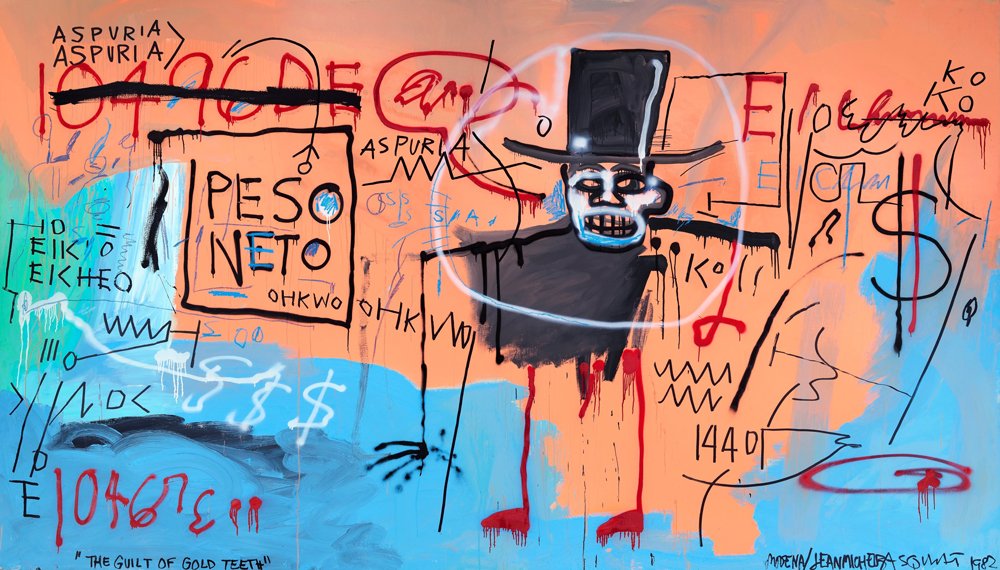 Today, all eight paintings are held in different private collections in the United States, Asia and Switzerland. While some of them have occasionally been reunited in retrospectives, others have only rarely been publicly shown. The exhibition project originally conceived by Emilio Mazzoli has not been studied and covered in any depth to date. And yet, not only are the paintings produced in Modena among the most significant in Basquiat's oeuvre and arguably some of the most valuable contemporary artworks to have been made by an artist altogether; the ultimately aborted project idea also constitutes a significant event in Basquiat's artistic career.
Sam Keller, Director of the Fondation Beyeler, says: "Today, all "Modena Paintings" are held in private collections. Some of them have been shown in various Basquiat exhibitions, but they have never been brought together and displayed side by side as originally intended by Basquiat.
Thanks to our longstanding collaboration with the Basquiat family and with Basquiat collectors, we have been able to assemble all the paintings in one place, thus allowing us to catch up on a piece of art history."
Basquiat and the Fondation Beyeler
The Fondation Beyeler and Jean-Michel Basquiat share a long common history: as early as 1983, Ernst Beyeler invited the then 22-year-old artist to take part in the exhibition "Expressive Painting after Picasso" staged at his gallery in Basel's Bäumleingasse. Basquiat was represented in the show with four paintings, of which Philistines, 1982, was featured on the cover of the exhibition catalogue. With the donation of the 1982 drawing Black Man from the Renard Collection, one of the artist's works has been held in the museum collection since 2013. In 2010, the Fondation Beyeler presented the first major museum retrospective of Basquiat's work in Europe.
The Fondation Beyeler's exhibition presents Basquiat's paintings in one of its main galleries alongside an adjacent media space, which places the Modena paintings in their historical context and allows visitors to immerse themselves in Basquiat's life and art through brief filmed sequences.
The exhibition is curated by Sam Keller, Director of the Fondation Beyeler, together with Iris Hasler, Associate Curator at the Fondation Beyeler. An exhibition catalogue will be published by Hatje Cantz Verlag, Berlin in German and English, tracing the development of the original exhibition concept through its cancellation in 1982 and providing an introduction to each of the paintings produced in Modena. It will feature essays by Dieter Buchhart, Iris Hasler, Fiona Hesse, Michiko Kono, Regula Moser, Demetrio Paparoni and Jordana Moore Saggese.
The exhibition is generously supported by:
Beyeler-Stiftung
Hansjörg Wyss, Wyss Foundation
Thomas und Doris Ammann Stiftung
FX & Natasha de Mallmann
Nicola Erni Collection
Annetta Grisard
L. + Th. La Roche-Stiftung
as well as further private patrons who wish to remain unnamed.
©2023 Fondation Beyeler, Estate of Jean-Michel Basquiat