Salvador Dali and Disney's cartoons inspire Greek artist Alex Chein. His work explores modern addiction articulated in a complex narrative through animation and Graffiti, revealed on canvas illuminated by adolescence nostalgia that evokes a fascinating trance reminiscence of a Television's glow on a Saturday morning.
Cartoons were the biggest inspiration for me and my escape from real life when I was young. They were my super heroes.

Alex Chien
Chien's work is a modern take on experimental aesthetics following the movements of Dali and Engonopoulos. At the same time, he remains devoted to his natural love of cartoons underpinned by his years of Graffiti. In this interview, we learn more about his creative process, background and more.
Q: For those who don't know you, can you please introduce yourself
A: My name is Alex Chien, 26 years old Greek artist born and raised in Athens. My first touch with art was when I started doing graffiti at the age of 13. I was always creating and drawing, but as a graffiti writer, I wanted to make something that is unique, and that made me more serious about my craft. My style is based on my graffiti and all the experiences in this field. In my work, however, I try to put a lot of techniques, textures and things that will give a different form, so it's no more a graffiti piece on a wall.
Q: What is your inspiration, and why do you do what you do?
A: My inspiration lately comes from science fiction books and movies. More specifically, I try to see how all these can fit and be combined with people nowadays, along with my personal experiences.
In my work, I try to personalize stories with very surrealistic ways, and science fiction inspired content. I choose this means because when someone sees my paintings at first glance, I want the meaning to be somewhat unclear and not easily understood. Through this engaging way, I want people to stare and think about it, as this could maybe be a boost in their creativity. I want to make people think and question what is going on in the picture. I want to inspire them to create their interpretation though my surrealistic cartoony world.
Q: Can you tell us about your creative process?
A: My creative process begins with the generation of the idea. After I search what other people have created on similar topics, then I start sketching. The next step is to select my best sketch and find the primary colours that I will use. The input is then transferred on the computer to create an excellent colour match. The final step is to put it on canvas and complete the final product.
Q: What is the reason behind your fusion of surrealism and cartoons?
A: Cartoons were the biggest inspiration for me and my escape from real life when I was young. They were my super heroes. I started creating comics when I first saw them but I wanted to create my own, not mimic others. This is maybe a good mindset that I created from a young age, which is ultimately not to copy and create my things even if they are not good at the beginning. For me, being unique is the most significant accomplishment in art.
Everyone is born unique, and they try to change it to look like someone else. Why do you want to be someone else and not be the best version of yourself? Moreover, surrealism stigmatized me the most compared to other art movements because, at the age of 16, I found a book about Salvador Dali. I was immediately surprised by his paintings and his character. My dreams and fantasies found an illustrated way of expression when I look at those pictures I was incredibly inspired by it.
Q: What was the first piece of Art you made that cemented your path as an artist?
A: The artwork that cemented my path and my purpose was "original intentions". It was artwork for an exhibition-competition with the theme The Walking Dead Art for Fox TV series. It won first place among 53 artists. The votes were both by public voters and a judging committee. About the artwork: The fact that humans turned out to be violent after the Zombie Apocalypse truly inspired me. My most significant source of inspiration, from the series that I transformed into art, is the real intentions of the remaining humans. They would initially treat you nicely, but attack you at any given moment.
My artwork shows a figure and its real intentions under bright light. On the dark side of the canvas, I illustrated fake prevails along with whatever is left from the destroyed world.
For me, it was extraordinary; not because I won a competition but because it was the first artwork with content and everyone felt it. Before this creation, I was only creating art without any reason. I enjoyed only the design and not the idea and the concept behind it. I believe the most important thing is to create content and having people feeling it like you do. It worked successfully, and it was a vital fulfilment and a strong push for me to continue.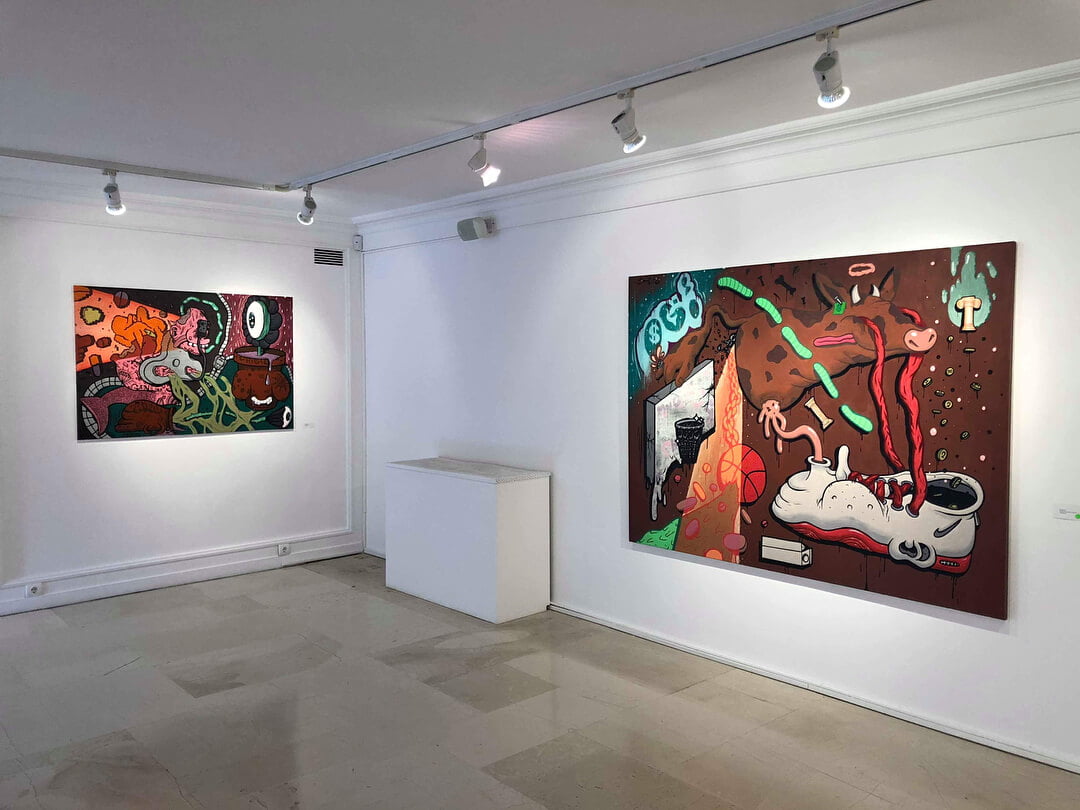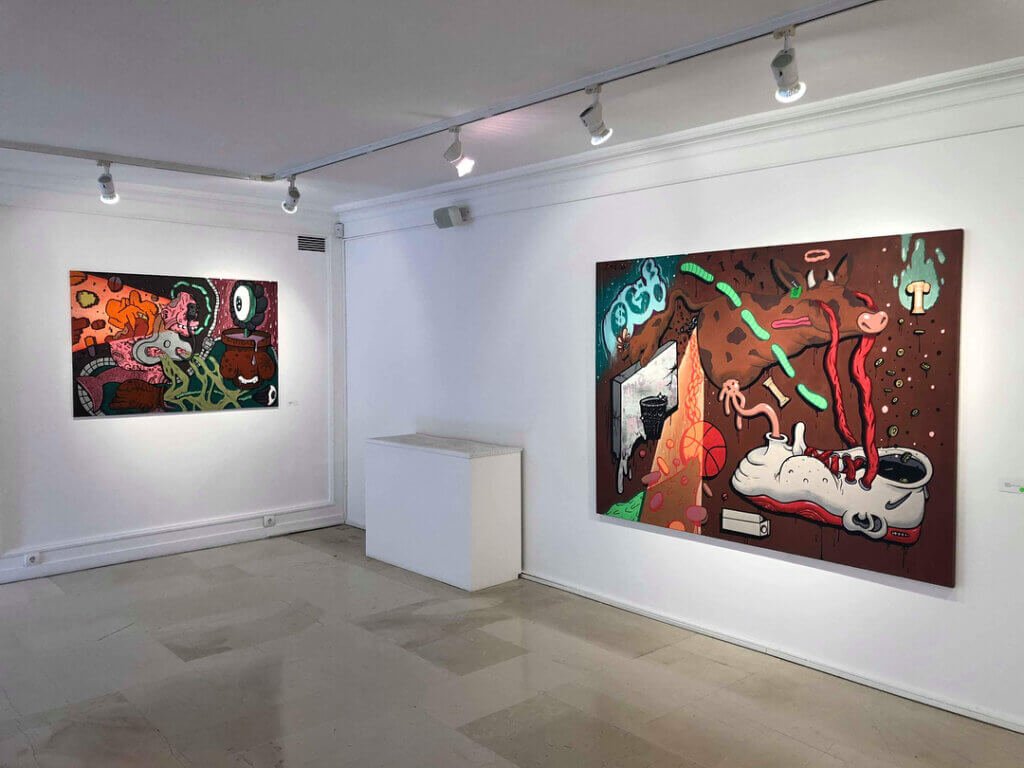 Q: What was your most memorable exhibition, and why?
A: My first exhibition was the most memorable because it made me understand that I want to be a professional artist until I die. It was probably my favourite day of my life. I didn't realize it until that moment; the significance of being in a place with people that share the same interests. While wanting to know about what you are doing and why you are doing it, stroke me hard and created immense excitement, I spoke with a lot of people that opened my mind. It was curated by the team Weedschat, in a modern parking five levels under the ground.
The name of the exhibition was Necessity and had around 50 artists. Weedschat team is the reason I started making art professionally, and I will always be obliged.
Q: What do you think about the current state of the art world?
A: The world, in general, is very anxious and not suitable for everyone, not just for the art world. However, I believe after all this crisis; there will be some masterpieces created.
History taught us that artists inspired by wars and big catastrophes had made their bests works which are relevant up until now. I am not a big fan of online exhibitions because you can't feel the artwork as of in-person. There is a massive difference between seeing the artwork on the Internet and feeling it on physical space.
Q: What role does the artist have in society?
A: Personally speaking, I believe artists should make our life beautiful and inspire us from their stories and backgrounds. People can use an artist's imagination for their benefit and its very important. They could identify with the artist's creations and personalities and feel better with themselves. Something that other people made maybe would wake up new ideas and new perceptions on whatever you are doing.
Q: Which artists have caught your attention in the last five years?
A: There are a lot of artists that I admire their works, but Austin Lee is the one who caught my attention the most. He is making something that is very unprecedented for me, and I respect that. Authenticity is the most important thing for me, even if people sometimes don't like the fact that something is pure.
Q: What's next for you as an artist?
A: I had some things in my mind, but coronavirus changed everything. For me, the next phase is to participate in more exhibitions outside of Greece at the time. Currently, I am making a new series about "tension" in our life, and trying to improve on every artwork. My biggest fear is to remain still without improvement.
Q: Lastly, what does Art mean to you?
A: Art is everything for me, and it had helped me over a very dark period in my life when I had addictions and bad habits—giving me precision to focus on visioning my goals. Art has helped me think outside the box in a lot of ways.
https://www.instagram.com/alex.chien/
©2020 Alex Chien all rights reserved