Ghanaian artist Yaw Owusu's practice primarily explores the notions of value throughout his work. Owusu is well known for his sculptural installations that use found objects and materials, like steel, gold, silver and copper, employing various natural and chemical treatments, from salt to vinegar, to change and de-materialise these metals during his process of experimentation.
My work primarily investigates the concept of value. How is it made and unmade? I use materials and objects that are connected to that idea in forms of currency

Yaw Owusu
Owusu's latest exhibition, "In the cool of Day", at Efie Gallery in Dubai, is influenced by his immersion in UAE culture during his residency. The exhibition's focal point, "Heart of Place", is a large-scale work that captures the essence of the Emirates. Owusu repurposes the political authority of currency and expands the narrative beyond its monetary worth, demonstrating his mastery of transforming objects into opulent works of value. We caught up with Owusu to learn more about his practice, inspiration and more.
Q: Hi Yaw! How are you doing? Thank you for taking the time to speak with us. Can you please introduce yourself for those who do not know you?
Yaw Owusu: My name is Yaw Owusu. I'm a Ghanaian Artist living and working in New York and Accra.
Q: Can you tell us how you started in arts, how art has played a role in your life, and why you decided to become an artist?
Yaw Owusu: Growing up in Kumasi, Ghana, I started making art at a very young age. It has always been my passion and the way to express my innermost feelings since I was a child. I have used art as a tool to ask questions about my immediate environment, experiences and the world as well. I became an artist because art challenges my thoughts.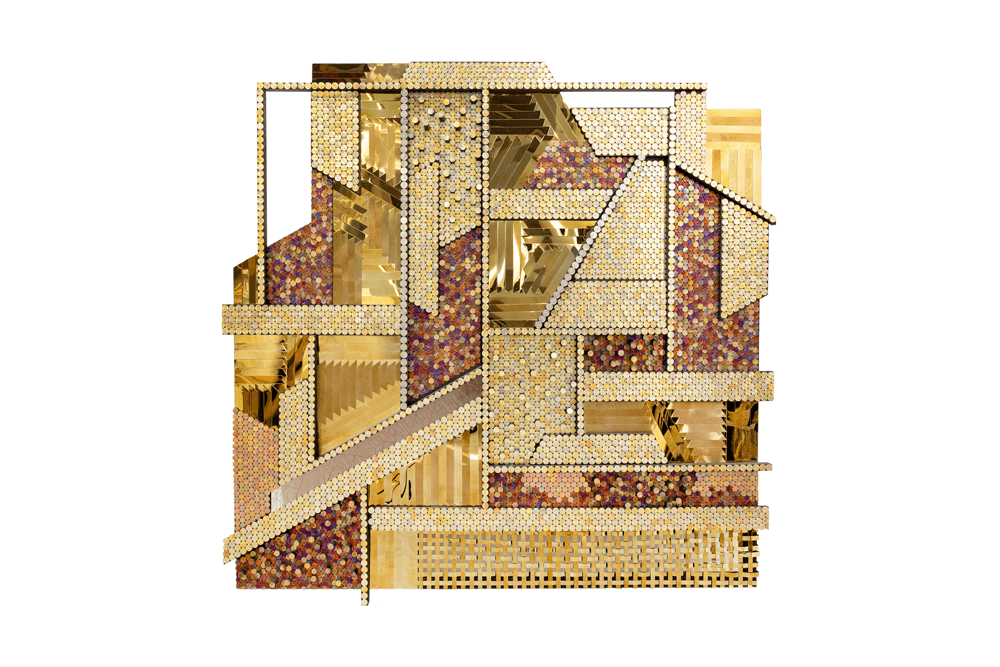 Q: Your practice has a running theme embracing the use of discarded metals and materials; renewing these entities as sculptures depict new value and narratives that critique topics of power, global social structure and value.
Yaw Owusu: My work primarily investigates the concept of value. How is it made and unmade? I use materials and objects that are connected to that idea in forms of currency – usually coins, steel, and copper. The use of currency resonates with political authority and, thus, expands the narrative of value beyond monetary value. I use the least of these currencies in coins from different economies to dive into the global discourse of value and exchange.
Q: Can you tell us more about your practice, creative process and what inspires you?
Yaw Owusu: My work makes use of steel and copper-plated steel or zinc coins and steel sheets from industrial manufacturing waste. Like the plated coins, I engage with activities and processes that transform the coins in texture and colour to reflect the complexities of currencies itself.
I'm inspired by this complexity of the pseudo-sacred objects of exchange. Most of the works are influenced by current socio-economic dialogues and situations while drawing great connections from history as well. The sculptural-painting forms of my work comes as a result of my background as a painter and sculptor. I draw great inspiration from my interest in architecture and mapping, both historically and in contemporary times as well.
Q: Your current exhibition at Efie Gallery, "In the Cool of the Day" showcases your new body of work, which takes influence from your immersion into UAE culture during your residency. Can you tell us more about the exhibition, its essence, and what visitors can expect to experience?
Yaw Owusu: In the Cool of Day came about due to my continuous curiosity about value. I am fascinated by the growing UAE economy and was curious to understand the history of the people and place. The approach towards making the works in the show was that I split the works into three stages of production.
The first body of works were achieved in New York, where I live. With the intention of making new works based on the imagination of the UAE. In essence, the works reflected the grandeur, ambition and engineering advancement of the UAE cities through architecture and lifestyle. The second version was when I had a residency in Dubai, UAE. This time I was exposed to the lifestyles of local Emirates, Artists, and historical and cultural sites.
This revelation of the people, their culture and history opened a new layer of social and economic context through which the works were influenced and achieved while in residency. The last version was a reflection of all the experiences during my residency in the UAE. Beyond the facade and concepts of opulence, these works reflect the value of a people and their culture and how they respond to their space. The audience are invited to indulge in this true depiction of a place and to question what value really means in this region.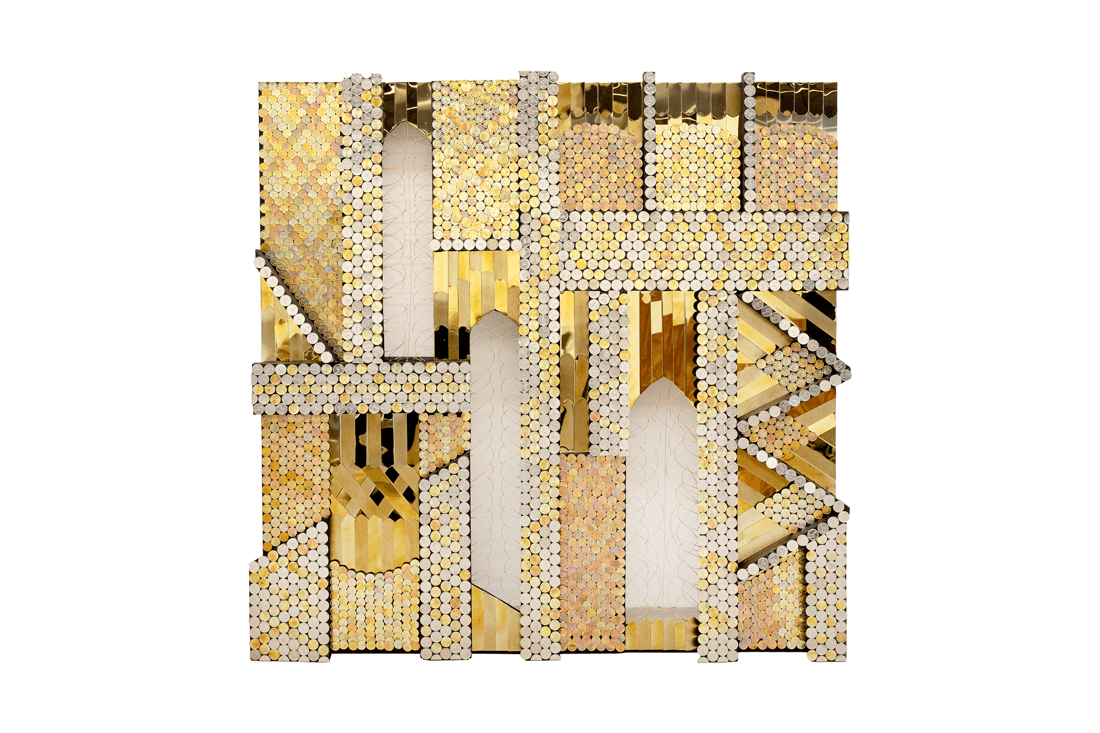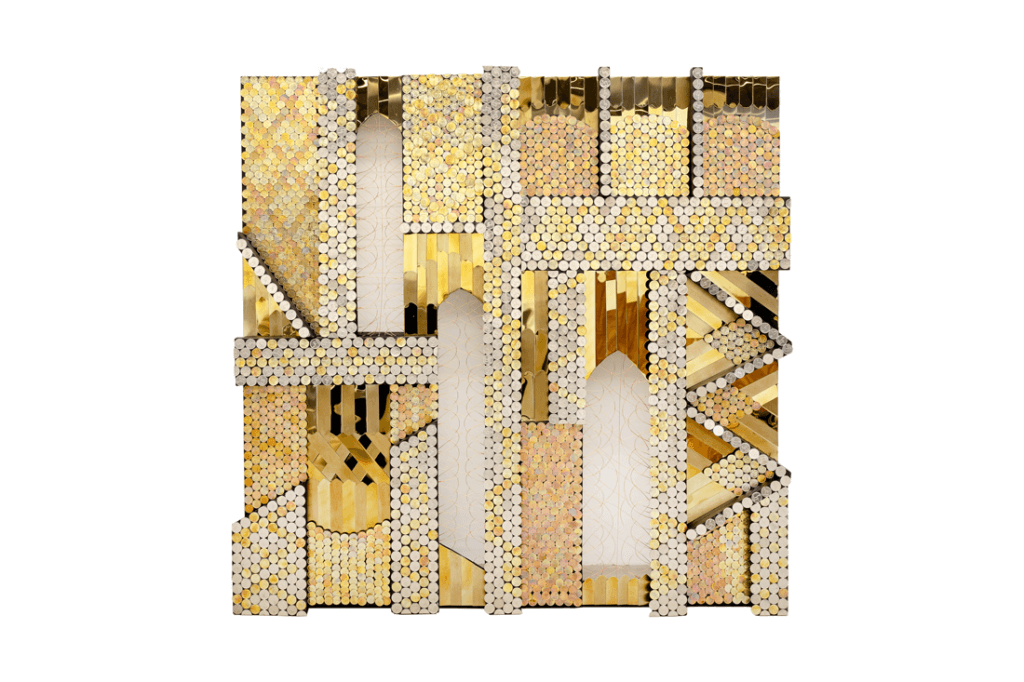 Q: Can you tell us how the exhibition with Efie Gallery came about and what it was like working with Kwame and Kobi?
Yaw Owusu: My first project with Efie Gallery goes back to the All Africa Festival in October 2021, where the gallery had its debut exhibition. It was very interesting to see the gallery's commitment to contributing to the growing discourse of contemporary art in the region.
After a second project with the Gallery and Christie's London, we discussed a residency which will in turn end with a solo exhibition. Working with Kwame and Kobi, the gallery's co-founders, was an enjoyable learning experience for me. It has been beyond the works in the gallery to how they can contribute to my practice as gallerists and art enthusiasts in the long term. I've enjoyed every bit of working with them so far and look forward to many more adventures in the near future.
Q: The studio is the sacred temple of creativity. What are three things you can't live without in your studio?
Yaw Owusu: I spend most of my days in the studio making art. I can't spend a day without music in the studio. I like blues, jazz, highlife and afrobeat, and I listen to them every time I'm in the studio. For the nature of my work, I need natural light. The processes and materials I use require ventilation as well. These are the non-negotiables in my studio.
Q: What's next for you as an artist?
Yaw Owusu: I am taking some time off to recollect my thoughts from the research and experiences in UAE. I'm currently preparing for my residency at Alma-Lewis in Pittsburgh, Pennsylvania, in the US.
Q: Lastly, what does art mean to you?
Yaw Owusu: Art means everything to me. It is my best way of communicating my thoughts, asking questions and creating dialogues around our world.
©2022 Yaw Owusu