Embroidery in the Arab World often acts as a map of cultural and visual storytelling—be it of an individual's social standing, a region, or a diaspora—and acts an indicator of social and political change. While calligraphy, traditional woodwork and precious metals are often associated with artmaking in the Arab World at large, we seldom find popular commentary on the role of embroidery.
We may see the medium as chiefly a domesticated craft relegated to women, kept insular within the communities from which they stem. However, textiles are arguably better markers of cultural storytelling than the written word; in all their nuanced patterns and designs, there's something distinctly characteristic about the colorful and resilient fabric and traditions.
Palestinian sister duo Nisreen and Nermeen Abu Dail, known as Naqsh Collective, merge such embroidery motifs with contemporary design, using materials such as stone, wood, brass, and solid metals commonly associated with architecture, design, and sculpture work.
Naqsh, the Arabic word for engraving and a reference also to the first mark of human communication, serves as a method for preserving Palestinian tatreez by reconfiguring the medium into a mixture of patchwork, archeology, and geometric Islamic design.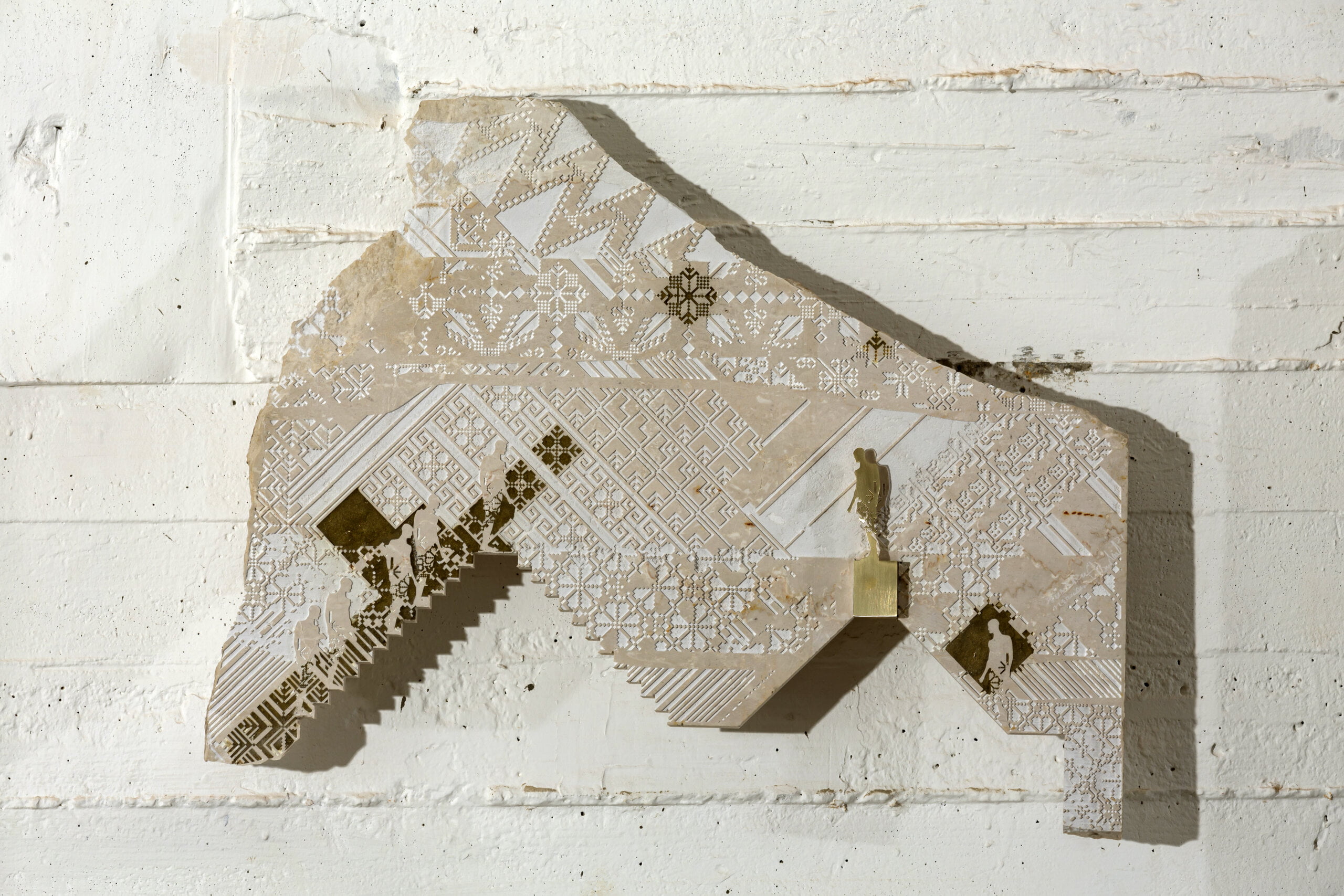 In their solo exhibition with London's Gazelli Art House, Unlived Moments, they carve both untold and 'unlived' stories, understanding that for every historical account or lived experience, there exist a multitude of hypothetical paths forward.
Durable materials pay homage to textured landscapes in a double-act of grounding Palestinian heritage as ancient, strong, unyielding in asserting its presence among hardship, while affirming the present existence of Palestinians today.
Take, for example, Wa Mashat, translating to 'she walked', which depicts a woman traveling from Gaza to Amman, Jordan, the latter the artists' birthplace. The woman wears a Thobe dress through a wheat field, itself characterised by Gazan wheat embroidery motifs, interrupted only by gold Calacatta granite and hand inlaid brass finish. While we know where she's walking, we don't know what—or who—she left behind, what she carries with her, and where the wind that is so gracefully flows, somehow through dense materials, is taking her beyond her initial destination.
Unlived Moments is on view at Gazelli Art House through September 4.
Follow Naqsh Collective on Instagram and on their website.
©2021 Nisreen Abu Dail, Nermeen Abu Dail