UEFA has truly turned the beautiful game into an art form by commissioning an eclectic squad of accomplished female expressionists to turn this season's Women's Champions League highlights into a stellar exhibit in more ways than one.
The Queens of Football campaign has been created to hero this new-look historic year in the women's game and the icons who will be bringing the action to this season's tournament.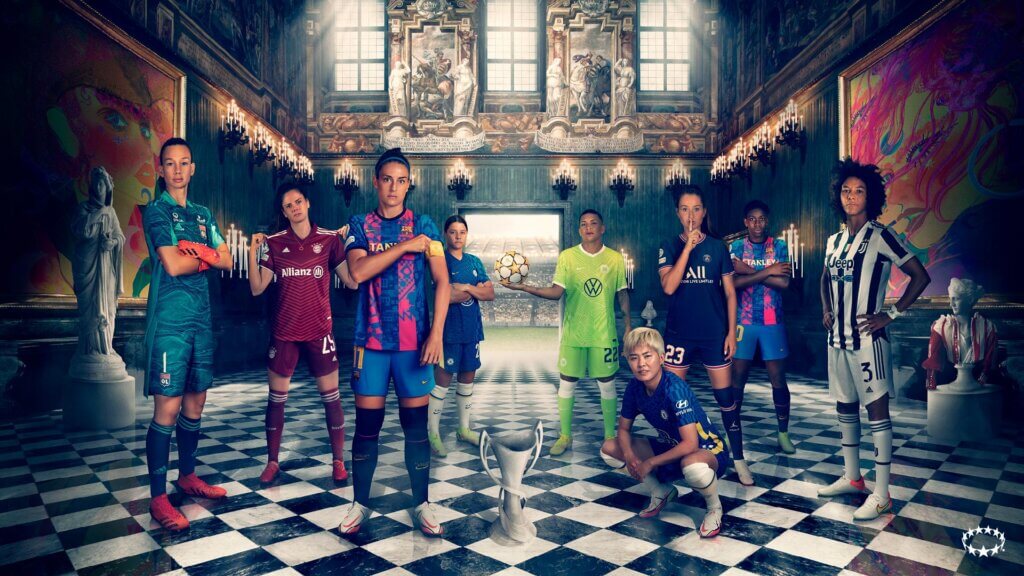 Ahead of tonight's Matchday One, a Renaissance inspired image of some of the biggest names in European football was projected on to the remarkable Musei Reali di Torino to celebrate the first match of UEFA's new 16-team group stage centrepiece and spotlight this season's final location in Italy.
The players featured as part of the launch include Alexia Putellas (Barcelona), Asisat Oshoala (Barcelona), Christiane Endler (Lyon), Jordyn Huitema (Paris-Saint Germain), Shanice van de Sanden (Wolfsburg), Sarah Zadrazil (Bayern Munich), Sara Gama (Juventus), Sam Kerr and Ji So-Yun (Chelsea).
Having quadrupled the tournament prize money to €24m from this season and announcing DAZN and YouTube as the Women's Champions League's first global broadcast partner earlier this year, UEFA aims to demonstrate its continued commitment to increasing the prestige and profile of its premier club competition by showcasing its stars through the Queens of Football campaign.
Centred around the tournament's symbolic star looped emblem which resembles a regal crown, the Queens of Football campaign elevates the prestigious and increased competitive nature of the tournament as the best of the best in women's club football all vie to be crowned the ultimate team in Europe.
Chelsea FC's Sam Kerr, who played in last season's UWCL final, commented: "Reaching the final of Europe's biggest club tournament was a special moment for the team and I. Although we were disappointed to leave as runners-up, it's given us even more drive and determination to ensure we bring the title home this season.
"It's always a true test playing against so many talented players from across Europe and experiencing their different styles of play on the pitch, and it's really exciting that we can welcome fans across the world to be part of our journey as part of UEFA's new deal with DAZN."Paris Saint-Germain's Jordyn Huitema commented: "It's a privilege to play in the UEFA Women's Champions League and in the company of such talented players. We were so close to reaching the final last season, and this has made us even more determined to take it that crucial stage further.
"The new format of the tournament this season is a massive step forward for the women's game and gives us an opportunity to play against such a high calibre of teams which will only make us stronger. It's really encouraging that for the first-time fans across the world, especially back home across Canada, can enjoy our game with UEFA's new deal with DAZN."
Bayern Munich's Sarah Zadrazil added: "It's always an honour playing in the UEFA Women's Champions League, especially last season as our campaign took us all the way to the semi-finals. This season we will do everything we can to reach the final, and while we appreciate it will be no easy feat with the introduction of the new group stages, we're more determined than we've ever been before.
"As a team we're really looking forward to seeing even more fans globally engaged throughout the season with UEFA's new streaming deal with DAZN. We ready to show the world everything that the UWCL has to offer."
Throughout the season, four artists will each take a unique perspective on the action that will unfold, with the players at the forefront of their inspiration. Spanning the mediums of fashion design, digital animation and 3D sculpture, UEFA has assembled a creative team galvanised to bring key moments of the Women's Champions League to life as part of The Creator's Project.
Artist Quotes
Sophie Hird is a recent graduated designer from London College of Fashion. Her work focuses on reducing the number of garments ending up in landfill by up-cycling them and giving a new vibrant context; her graduate collection prides itself in being produced completely with up-cycled football jerseys.
She said: "I was thrilled to be asked to be part of this project as I really believe the women's game deserves to be elevated and celebrated in a unique way. Since joining a women's grassroots team after lockdown, I've really fallen back in love with the sport and the incredible community that surrounds it.  Using my design practice to celebrate the game is an amazing opportunity to show my admiration for the sport on every level. From beginners' leagues to the Champions League, I'm excited to unify the game."
Tom Mimo is a self-taught visual artist based in Laguna, Philippines. With original interest in graphic design and photography, Tom mixes her digital illustrations with various graphic design techniques and overexposed photographic elements in creating dynamic, vivid, and striking artworks.
Speaking about her involvement with UEFA, she commented: "I hope to create artwork that will showcase the dynamism of these players; encapsulating the game's energy by using vivid, striking, and eye-zapping colours and elements. I hope that my illustrations can help celebrate and preserve the overall vibe and excitement that can only be experienced through the UEFA Women's Champions League. I hope my artwork resonates with football lovers alike and serve as an invitation for another way to enjoy the sport.
"What resonates most about the project is opportunity to celebrate our women athletes through extending opportunities for women creatives. I feel this season would provide new and exciting avenues to enjoy the sport for football lovers not only in Europe but all over the world through art as a gateway."
Teresa Fogolari is the co-founder of Morbo – a 3D design and direction studio led by womxn where they have directed 3D music videos for artists including The Weeknd and Rico Nasty, and have collaborated with Playstation and Adidas. A lover of all-things exaggerated, Teresa's work has been featured on Dazed Beauty and Vogue.
Teresa added: "The brief for the UEFA Women's Champions League campaign immediately resonated with our spirit and ethos at Morbo. We are passionate and enthusiastic about celebrating women in sports, and we particularly like the campaign's approach to celebrating both the technical skills and social impact of the players themselves. Growing up in Italy, I have developed a strong affinity with classicism, a core theme of this campaign, and I look forward to exploring it through a digital lens with to create timeless and ethereal visuals representing Europe's rich past and future."
Giselle Angeles Fragmatista is a 3D and new media artist from Peru. She said: "My work reflects creative digital worlds, research, dynamism, and exploration and has been featured in diverse platforms, exhibitions, and festivals and artists such as MUTEK Festival, Adidas Originals, Vogue, and One Times Square.
"My fascination for physical spaces, Digital Art, 3D, nature immersive installations, creative universes technology and 3D art all inspire me to create fun stuff with different digital tools. I can't wait to interpret the best of the UEFA Women's Champions League – and the artists on the field who make it the competition it is – and bring it to life."
For more information about Musei Reali Torino, please follow on Instagram, Facebook, Twitter and YouTube, or use the hashtag #MuseiRealiTorino.
https://instagram.com/wchampionsleague
©2021 UEFA WOMEN'S CHAMPIONS LEAGUE