Two Worlds Entwined: Annie Morris and Idris Khan
11th February to 7th May 2023
Newlands House Gallery
Pound Street, Petworth, West Sussex
GU28 0DX, United Kingdom
Opening next month at Newlands House Gallery in Petworth, West Sussex, 'Two Worlds Entwined: Annie Morris and Idris Khan' is the UK's first exhibition to explore the individual practices of artist couple Annie Morris and Idris Khan side by side. Over 60 works will transform the gallery into the artists' creative realm, including significant pieces which have defined their careers; new sculptures and artist furniture by Annie Morris; and new paintings by Idris Khan. Two bodies of work inspired by the Sussex countryside will also be presented.
A first for Newlands House, the artists have responded to the Georgian architecture and home environment of the building. Morris will fill the space with wall drawings, sculptures, objects, tapestries and two new upholstered armchairs, while the walls in one of the rooms have been transformed into a giant canvas for the artist to draw her distinctive art on. Khan will present a cross section of works from his career, bringing together his investigation into themes of time, layering, the weight of culture and the role of mechanical reproduction in our times.
Annie Morris' practice draws on both personal experience and her environment to create works noted for their energetic, electric nature. Playful yet contemplative, Morris' art is often informed by an emotional reaction to events in her life. Recurring symbols are used as a language to express feelings, including grief, as seen in the artist's 'Stack' sculptures, which commenced in 2014 following a stillbirth and became an act of healing (Stack 8, Manganese Violet, 2022).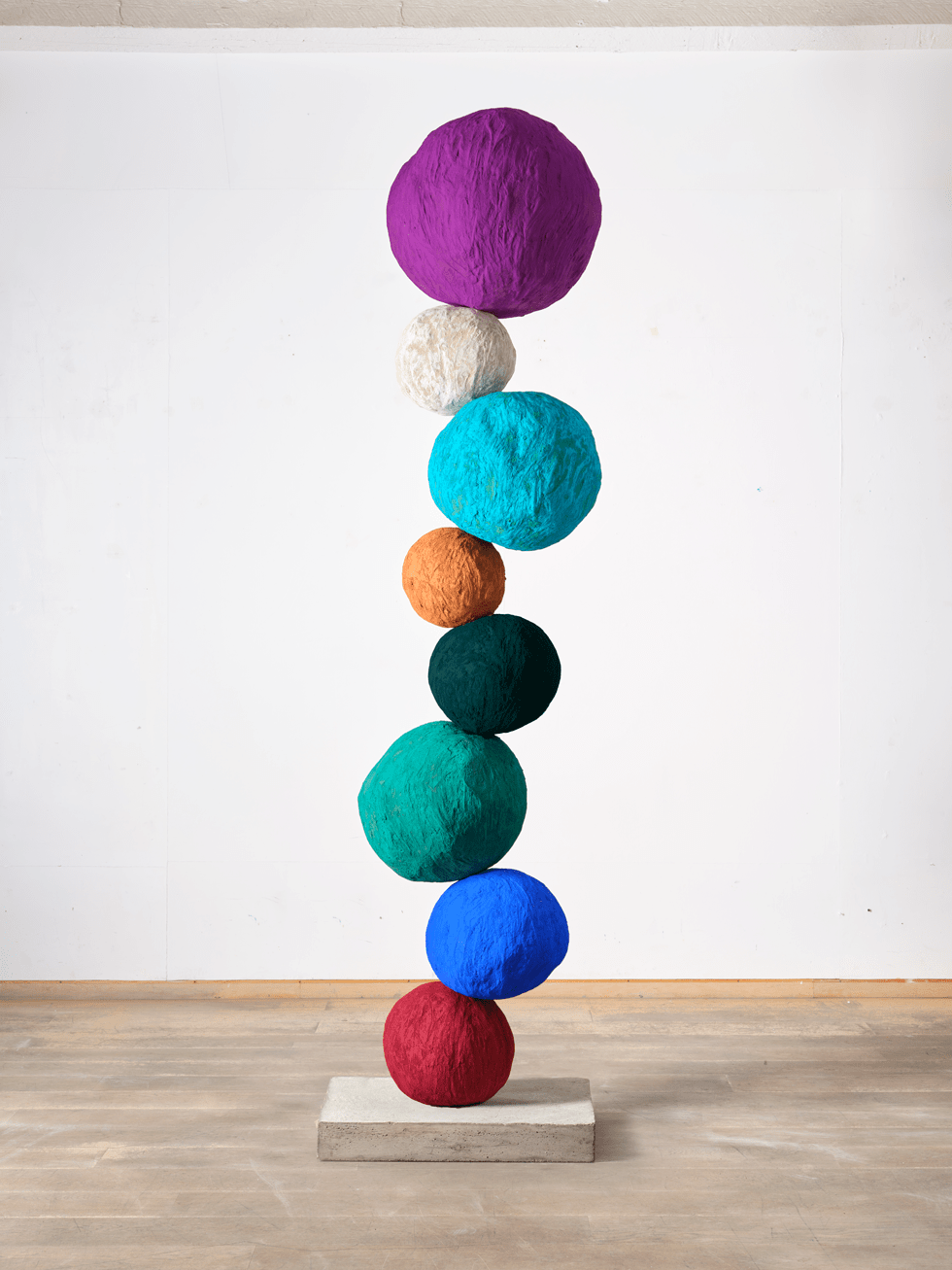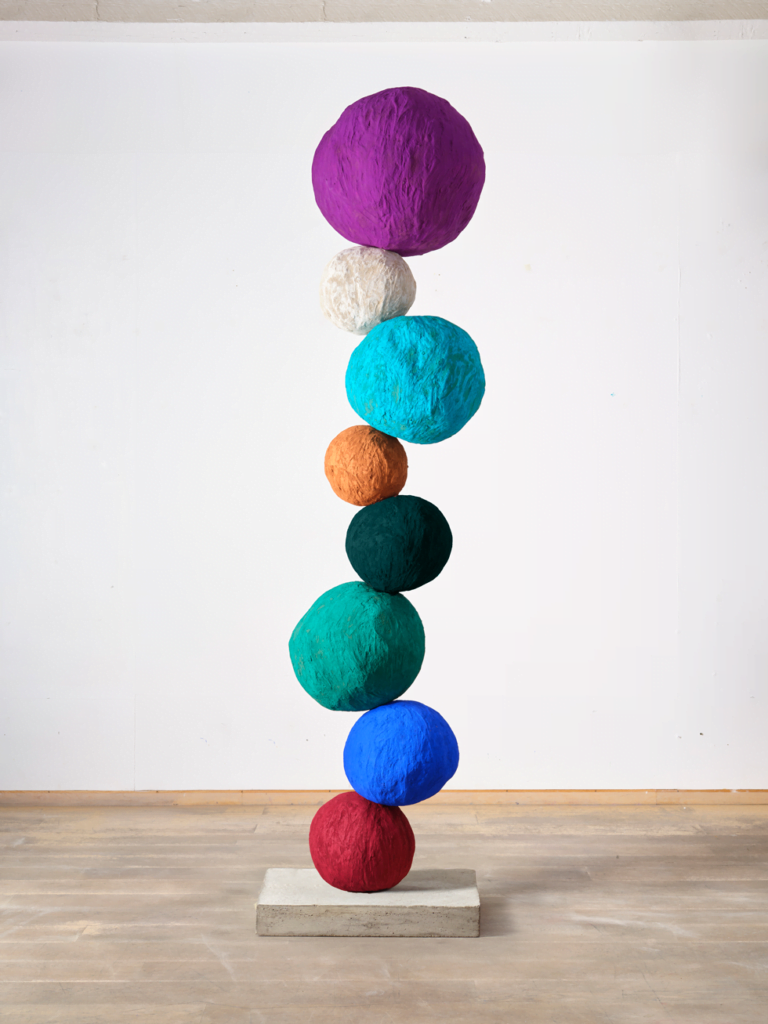 Presented in vibrant hues, the stacks of spheres are strong but also delicate and fragile: a duality seen frequently in her work. Joining the series, four new monochrome Stack sculptures will make their debut at Newlands House Gallery. The works reflect the passage of time and the changing colours witnessed over the course of a year in Sussex, where the artists moved to during the pandemic.
Much of Morris' practice is rooted in drawing, which is the starting point in her creative method. As well as oil stick drawings (Figure with Cadmium Red, 2021), the exhibition will present two new armchairs and tapestry works, which see the needle reinforcing the line of her hand drawings. Symbols and characters repeat as seen in Pink Woman, 2021, where one can find Morris' colour grids and her 'flower woman'. The flower woman, a bulbous female figure with a flower head, was first drawn to represent her mother but over time has come to represent the artist.
The flower woman will take shape in three-dimensional form through two new sculptures commissioned for Newlands House. Drawing inspiration from art history and music as well as key philosophical and theological texts, Idris Khan investigates memory, creativity and our relationship with time through the layering of experience.
Khan's early use of photography to capture memory can be found in many of his works, from prints to sculptures, such as 650,000 Photographs, 2019. In 2004, Khan captured the attention of the wider art world with Every…page of the Holy Qur'an. In this work, photographs of each page of the holy book are layered to create an illegible pattern. It speaks of an ambivalence toward his birth religion, an anxiety about his past but still a need to connect with it.
Khan has, inevitably, also created art influenced by his relationship and shared life with his wife, Annie Morris. A stillbirth in 2010 had a profound impact on both artists and those emotions were processed in different ways and through different mediums. It marked the start of Khan's use of stamps to create layers of unintelligible words, as seen in The Beginning, 2016. Several of his most notable sculptures will also be exhibited, including Absorbing Light, 2017; The Residue Series, 2017; and My Mother, 2019.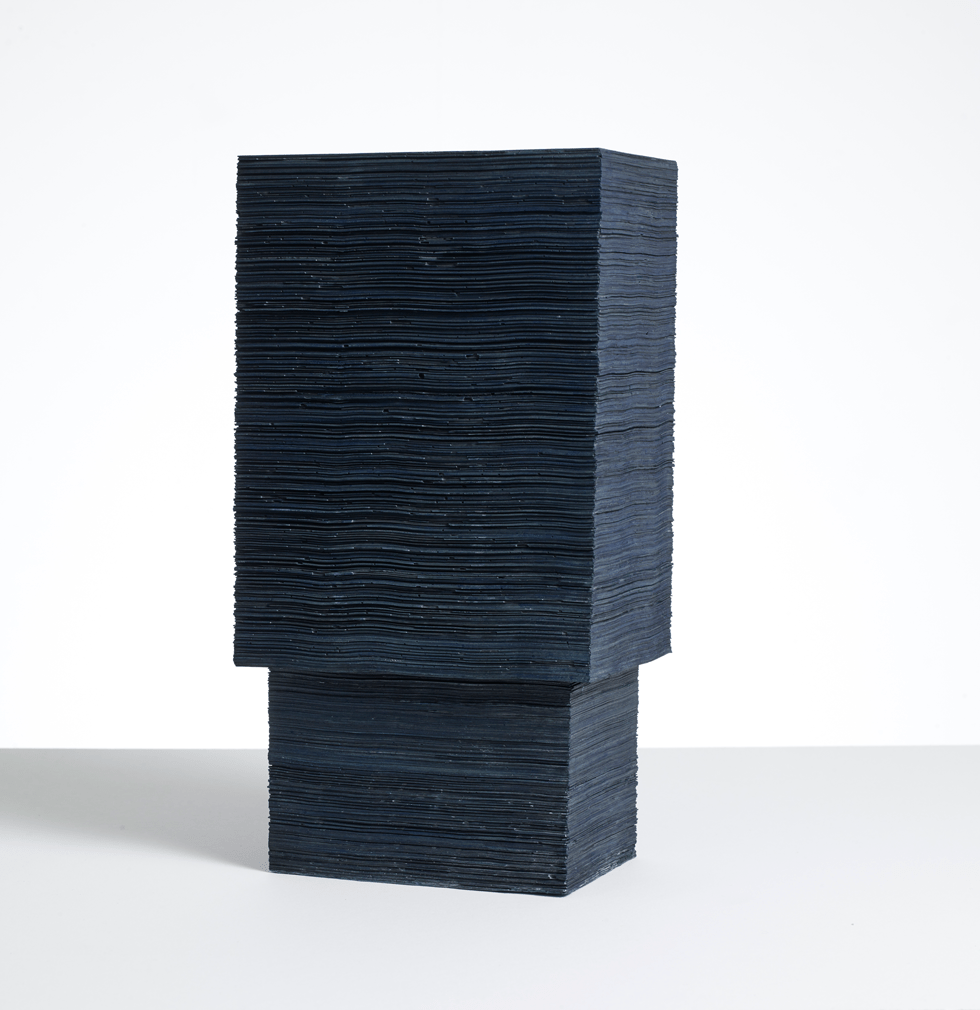 In recent years, Khan has experimented with paint and colour. One of his latest series, The Seasons Turn, 2021, inspired by Vivaldi's baroque masterpiece The Four Seasons, encompasses 28 watercolour paintings influenced by the vivid hues the artists discovered together upon moving to Sussex. The exhibition will celebrate the process behind the works as much as the works themselves. A corner of Morris' studio will be recreated within the gallery and tools will be displayed, such as Khan's collection of handmade stamps, which he repeatedly dips in paint and takes to the canvas to create hundreds of layers of explosive words.
Newlands House's Artistic Director Maya Binkin comments: "The aim of the exhibition is to bring Annie and Idris' energy and creativity and open their worlds up to the public. Their lives are entwined, yet their practices are separate. The dynamics of this relationship will be present in the exhibition, and it will be interesting to see how their works respond to one another once installed, as they don't always sit comfortably together. As in most relationships, there is love and conflict cemented together."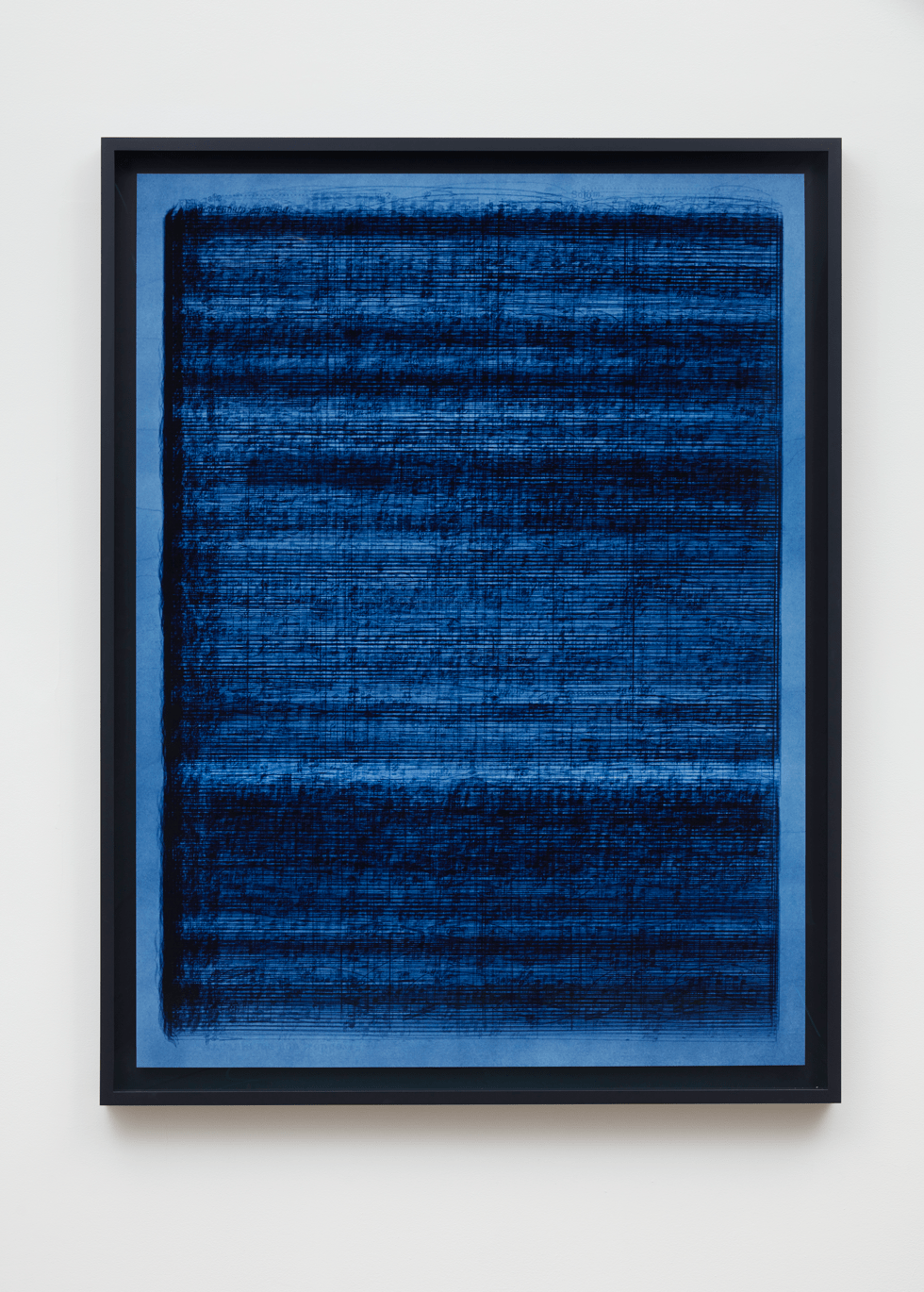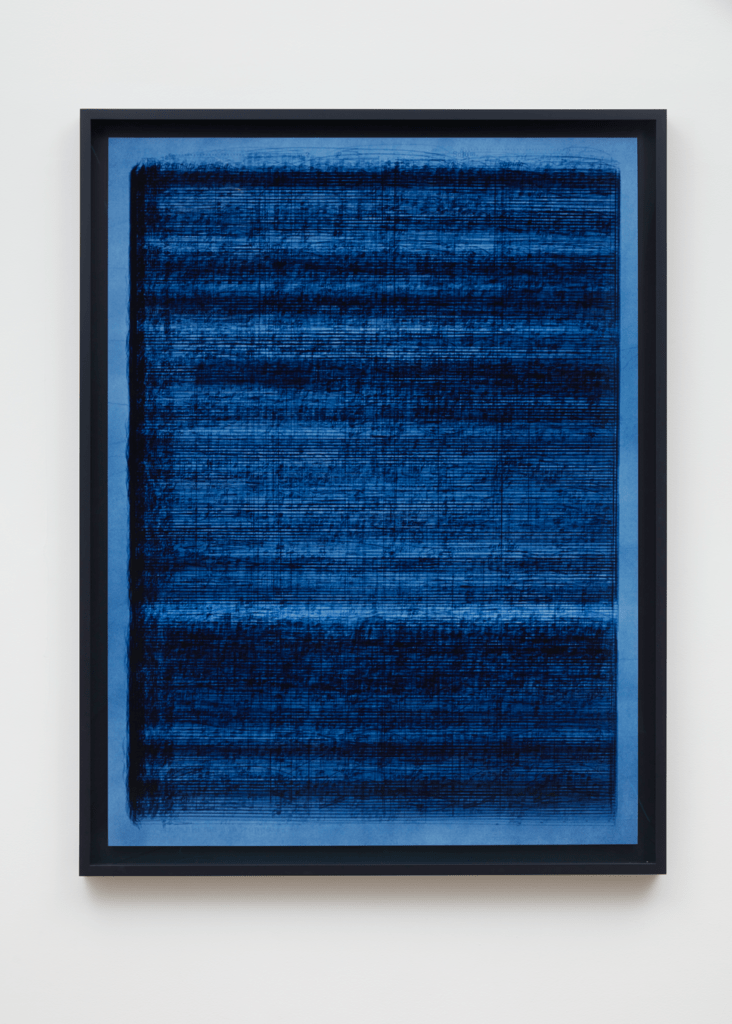 "Annie and Idris happen to live close to the gallery, which has enabled them to visit throughout the curatorial process, absorb the architecture and respond to the environment. Their practices haven't ever been presented this way and similarly, this exhibition is very different to our previous shows." "We are thrilled to be showcasing the work of two of the country's most exciting contemporary artists. Something new for Annie Morris and Idris Khan is that we will be showing their work on a personal level, a narrative which has run through several of our exhibitions at Newlands House.
We are extremely excited to see how our visitors react once it opens in February", adds Nicola Jones, CEO, Newlands House. Bold and dynamic, the contrast of the contemporary with the Georgian townhouse setting of the gallery, and the juxtaposition of the artists' footprint throughout the exhibition, will provide a new experience for the viewer, one which mimics the familiar space of the home.
Two Worlds Entwined: Annie Morris and Idris Khan opens at Newlands House on 11th February until 7th May 2023.
Tickets (pricing as of October 2022):
General Admission (16 years and over): £14.50
Child Admission, under 10 years is free. 10 years to 16 years: £7.25
Family ticket: (2 Adults + 2 Children): £30.00
NHS Staff and students £7.25 (ID required)
Art Pass £99.00 (free entry for the card member plus one guest for a year and 10% off at the HG Café. Art Pass Holders are also invited to the gallery's exclusive events.
Instagram: @newlands.house.gallery
Facebook: newlandshouse.gallery
©2023 Annie Morris, Idris Khan, Newlands House