The Sudden Opening of Little Leaves
Polina Pak , Tuesday Riddell , Emily Pope
16th November 2023 – 11th January 2024
Pictorum Gallery
2 Portman Square
London
W1H 6LA
Pictorum Gallery is thrilled to present 'The Sudden Opening of Little Leaves' showcasing the work of Tuesday Riddell, Emily Pope, and Polina Pak. The exhibition's title, 'The Sudden Opening of Little Leaves,' is taken from a journal entry by poet Sylvia Plath. Each of the artists showcase personal narratives that explore grief, life, death, and the ritualistic practice of making work.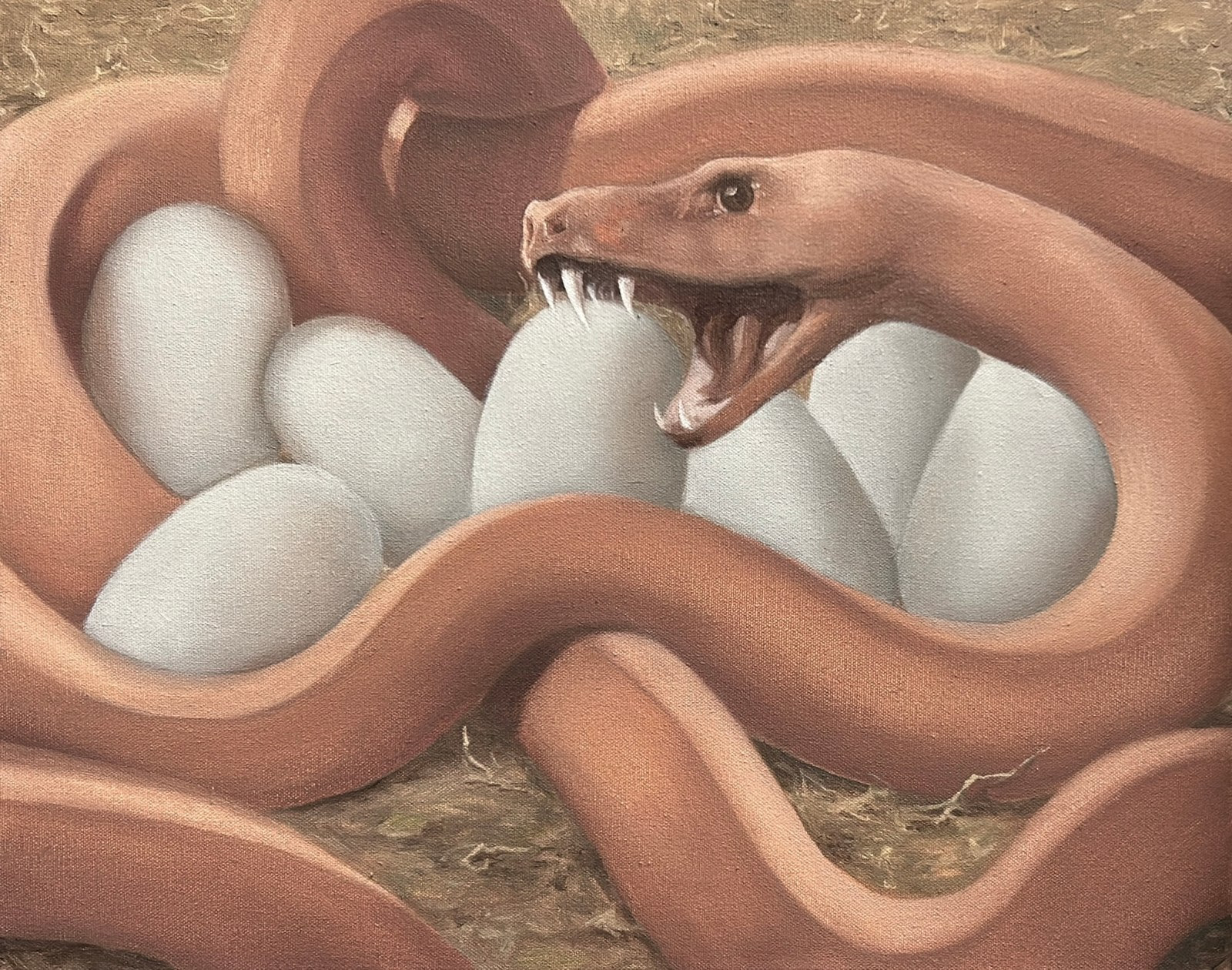 Rooted in a desire to establish connections with her ancestral heritage, Polina Pak exposes the power of female storytelling as a means to explore deeply personal, and often painful, narratives. Pak's body of work forms an intricate tapestry interwoven with dreams, familial chronicles, superstitious lore, and intimate personal encounters. Through her symbolic portrayals of tigers, birds, insects, and hands, the artist unveils a portal into her immediate surroundings, as well as her grief, dreams, anxieties, and joys. 
Pak's work serves as evidence of the common human desire for understanding, and to belong. Care-centred at its core, her paintings evoke a youth and tenderness that is simultaneously nostalgic and heart-breaking.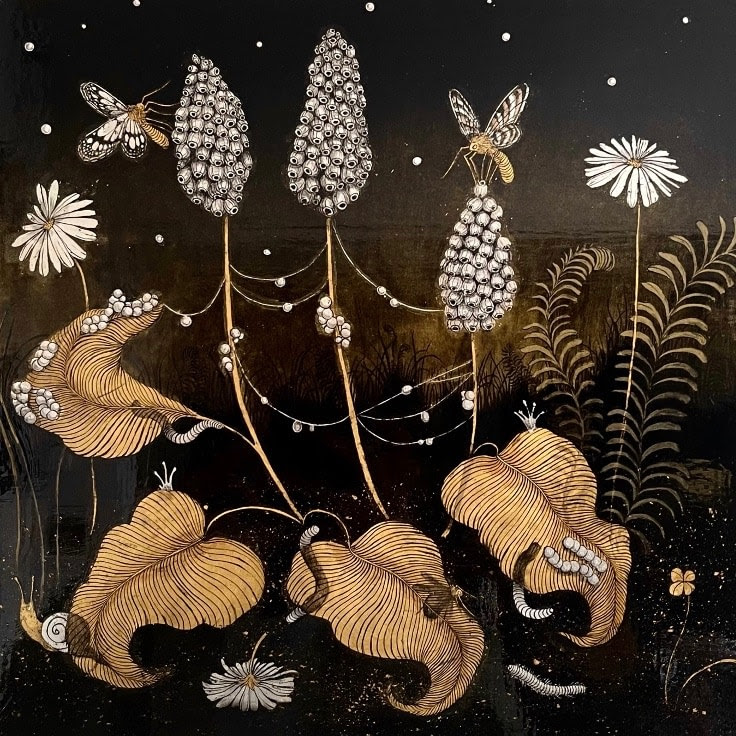 Tuesday Riddell transports the viewer to the forest floor, revealing the power of her dark yet captivating nocturnal creations. These creatures are surrounded by a web of flora and fauna, exploring the never-ending cycle of life and death. Riddell chooses to focus on the often unobserved, highlighting the importance of the 'inferior' and overlooked, and drawing on our own relationships with nature. 
Riddell stands out as one of few artists dedicated to 'Japanning', a labour-intensive lacquer technique from the 17th century, which involves 25-30 layers of lacquer embellished with gold, silver, and mother of pearl. She has also ventured into coromandel, adding a unique sculptural dimension to her work. Riddell revitalised this nearly forgotten craft during her time as the Painter Stainer's Decorative Surface fellow at City & Guilds Art School, injecting fresh life and a new visual language into its rich heritage.
Canadian artist Emily Pope explores the human experience in a distinctive way by using herself as the focal point in her art. She combines her physical presence with symbolic elements and settings to delve into womanhood. Her paintings offer a clear perspective on two central themes: the passage of time and how we navigate pain and longing. Polished pearls across four paintings reflect how we refine vulnerabilities for others, like the natural formation of pearls. 'Fears and Idols', inspired by de Beauvoir's 'The Second Sex,' delves into societal influences on women's identity. 'Ghost of Girlhood' explores time with pins maintaining the shape of discarded gloves worn during girlhood. Each work showcased highlights the obsession with freezing time and the body.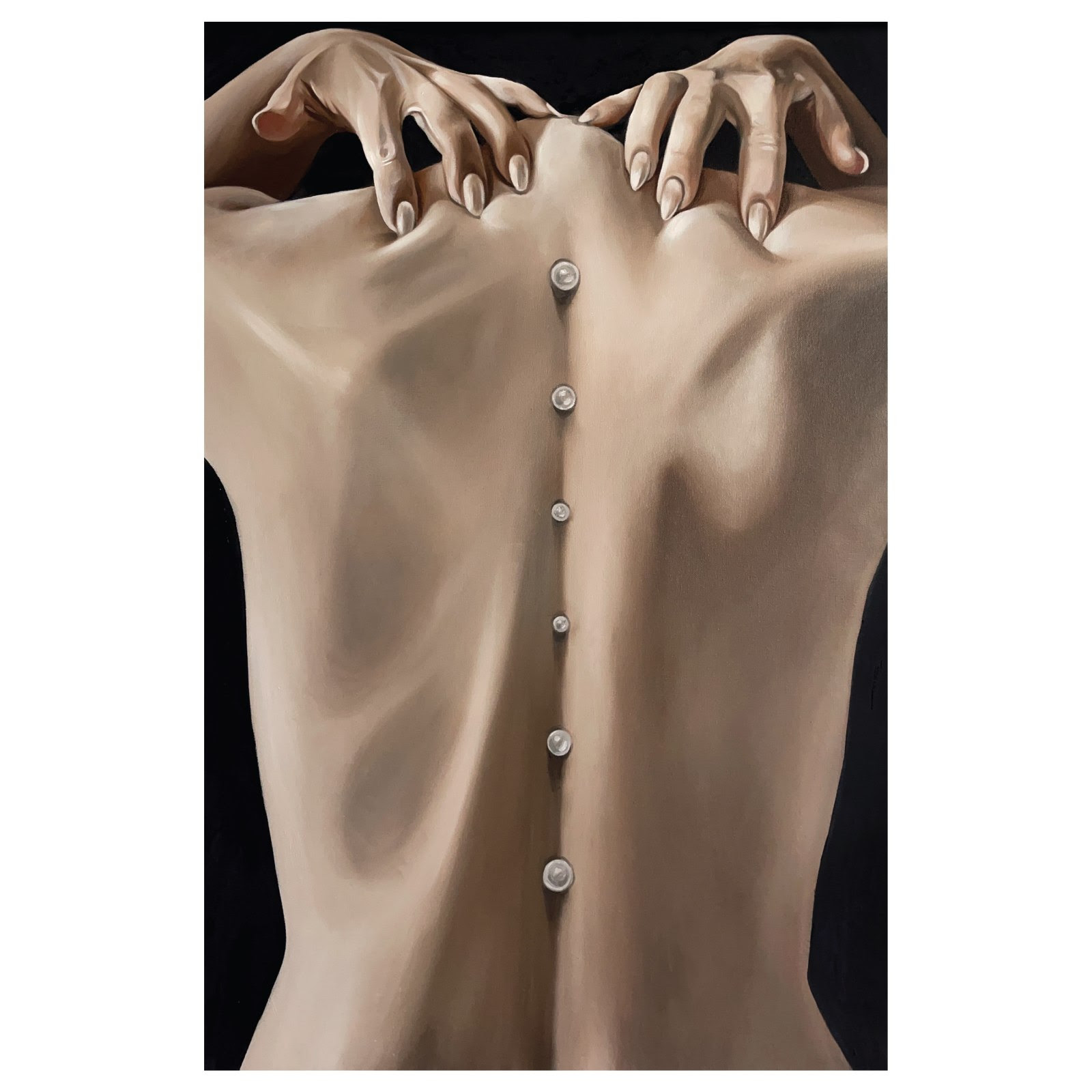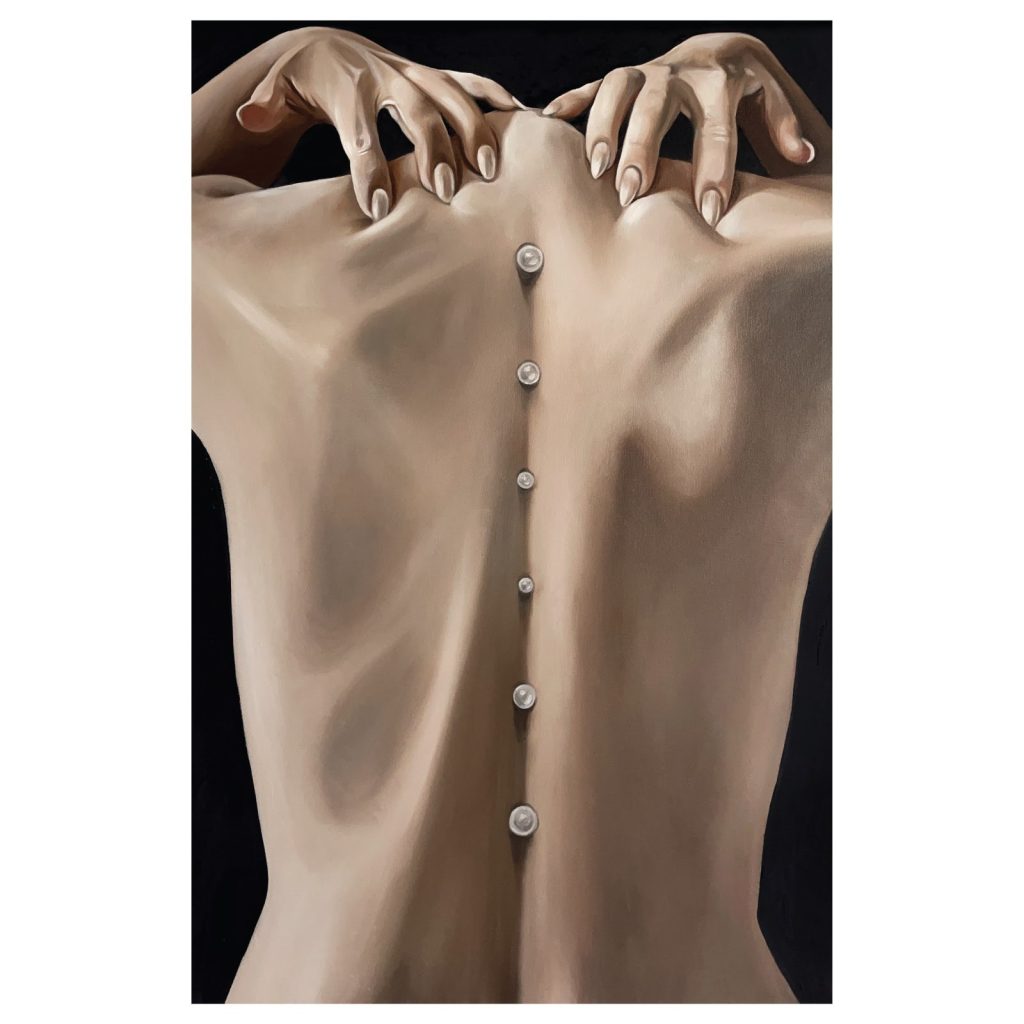 A discussion surrounding life, death, time and ritual is instrumental to all three artists' practices, allowing them to explore their own identity, and pull together a network of stories, ancient practices and offer new narratives around loss and transformation. 
Presented at a moment in history where women's stories, communities and work need to be showcased, The Sudden Opening of Little Leaves creates space to showcase the feminist power of making as a means to connect and heal.
©2023 Pictorum Gallery