The Fandangoe SKIP
October 6th – 10th, 2022
Brookfield Place
Lower Manhattan
New York
London based print artist Fandangoe Kid [Annie Nicholson] announces her latest public art installation The 'Fandangoe SKIP' in collaboration with SKIP Gallery, The Loss Project and Caukin Studio. Fandangoe Kid is a print artist who makes large-scale, narrative-driven pieces for the public realm. Her work seeks to explore universal human experiences, highlight the urgency of activism, and disrupt the conversation around mental health, grief, loss, trauma, and gender constructs.
When speaking about the interactive installation, Nicholson reflects,
"The Fandangoe SKIP NYC is a deeply meaningful installation on many levels. Personally, it marks the 11-year anniversary of the loss of much of my beloved family in an accident in the East River, a tragedy which prompted my practice to explore modes of survival, individual and collective grief mechanisms and the complexities of the human condition when it comes to navigating trauma.
A life's work. It is my hope that with The Fandangoe SKIP, an amazing collaboration with the excellent SKIP Gallery, Caukin and The Loss Project, we are able to reach audiences across the city and create a new space for this eternal and complex dialogue to unfold, without prescription or agenda. I know first-hand how important it is to have responsible outlets to nurture and maintain our individual and collective mental health. We are so honored to bring this to New York and showcase at Brookfield Place."
The Fandangoe SKIP offers a brand-new space in the form of a reappropriated American dumpster with fully integrated arts and mental health program in New York. The installation opens with integrated programming to help smash taboos around mental health, grief & loss at Brookfield Place in Lower Manhattan New York.
The candy-colored, ice-cream-kiosk-in-a-skip offering Brooklyn's Blue Marble ice cream, comes to Brookfield Place New York following its Summer 2022 London tour, with a commissioned documentary by BBC World Service will be airing on November 18 th , 2022. Fandangoe Kid's work is driven by her own story following the loss of family members in 2011.
Her practice is inspired by the desire to create a platform for open dialogue around the still taboo subject of grief. Describing her family as a melting pot of big characters, she has always been interested in big visual storytelling. Nicholson believes everyone seeks connection and created the installation to provide a space for people to share their stories, and decimate the stigmas associated with loss and grief.
The stand-out kiosk will be made of sustainable materials in collaboration with CAUKIN Studio, a social enterprise that creates impact through architecture. The Fandangoe Skip on tour offers a brand-new space, reappropriating the American dumpster for ice cream and mental health. CAUKIN have designed and built an innovative community space which accommodates multiple offerings, workshops, and talks that make up the programme, curated by The Loss Project. The space allows for intimate group workshops and talks in a semiprivate environment, complete with atmospheric lighting and sound, with the backdrop of Brookfield Place and the World Trade Center.
With the dumpster providing nearly three times the amount of space in comparison to its predecessor – the skip, the artist and design team were able to create a more inward facing design, to allow for workshops in a semi-private, semi-public setting. The form and layout is split into two main areas; the larger open sided bench seating, and the internal room – both designed to host different kinds of mental health workshops. As with most temporary structures, rather than using bespoke materials, instead the decision was reached to opt for standardised timber products and simple joints to let the stand-out colour scheme and carefully considered form create the artwork.
Regarding Brookfield Place hosting the installation, Elysa Marden, Senior Vice President, Arts & Events at Brookfield Properties says, "Brookfield Place is thrilled to bring the Fandangoe SKIP tour to New York, after a successful presentation at Brookfield Properties' London property, Canary Wharf. Conversations around mental health and loss are difficult yet important. We are proud to host such a unique
platform that invites our community to heal together through the arts."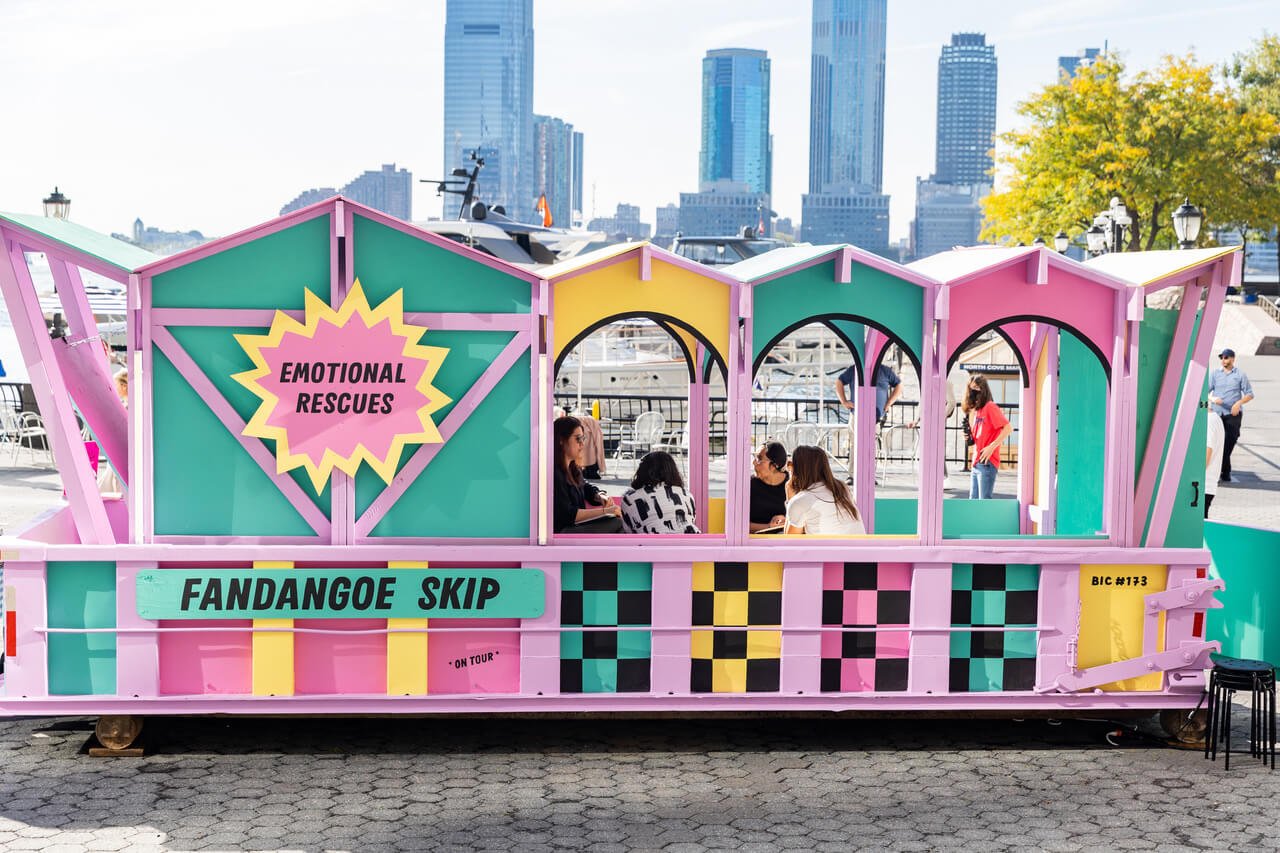 Fandangoe SKIP's thoughtful and far-reaching collaboration with a fully integrated arts and mental health program has been curated by The. Loss Project. All workshops will be accessible in-person with some online. Bookings can be made via a QR code affixed to the Fandangoe SKIP and on BFPLNY.COM via Eventbrite.
The project seeks to connect with audiences on many levels, offering ice cream as an ageless and classless platform for immediate engagement in a non-pressurized environment. In the spirit of celebrating art as collaboration and collaboration as connection, this installation is the labor of love from many partners, minds, and souls. A multi-disciplinary installation, The Fandangoe SKIP is designed to intrigue and inspire via art, communicate via shared human experience, and disassemble stigma with thoughtful programming.
The Loss Project has created varied and free mental health workshops which carefully consider and explore the complexities of mental health, grief and loss as well as helping people to explore their experiences through shared connection and creativity.
Website: fandangoekid.com  
Instagram: @fandangoekid
Twitter: @fandangoekid
Website: caukinstudio.com
Instagram: @caukinstudio
Website: thelossproject.com
Instagram: @thelossproject1
Twitter: @thelossproject1
Website: bluemarbleicecream.com
Instagram: @bluemarblebk
©2022 Fandangoe Kid, SKIP Gallery, Loss Project and Caukin Studio